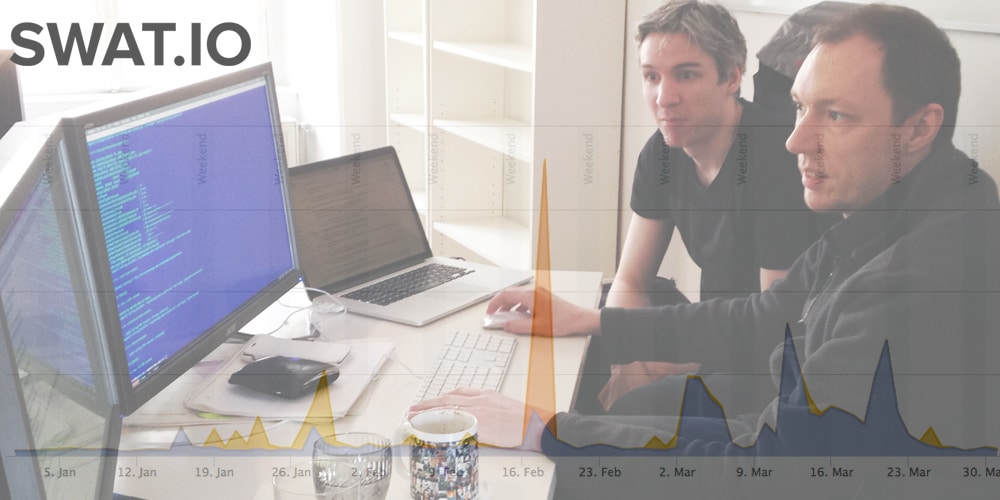 The Complete Guide to Swat.io Analytics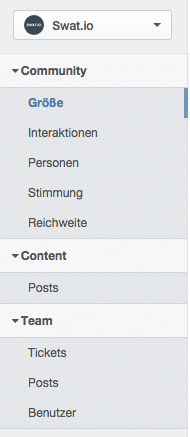 With the new Analytics we've done our best to keep the good parts of our current reports, while adding a ton of new functionality and greatly improving usability all across the board. The new Analytics are grouped in three distinct parts, which can be access through the sidebar navigation:
Community: All about the people that make up your social communities – Size, Interactions, People, Mood and Reach
Content: All about your content strategy – Posts
Team: All about how your team is using Swat.io – Tickets and Posts
But, before we start, here are some general hints on using the new Analytics:
All reports about Tickets and Posts can easily be filtered by one or several tags. The example below will consider all tickets/posts containing the tag "swat.io" or "walls.io". [?]

Community – Size
Naturally, community size across various channels is of big interest for every social media manager. The "Size"-graph is visualizing the total number of fans, followers etc. over time. By clicking on the channel icons below the diagram, you can compare each channels particular size.
Notice: Community size is updated daily at night – for the current day's numbers you'll have to check back the day after.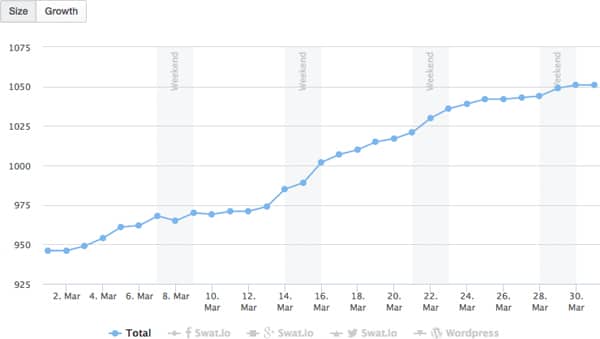 While the diagram covers the changes in community size over time, the table below reflects the community size at the very end of the selected time period (March 31st, in our screenshot). All numbers are partitioned by channel and summarize community size & growth in absolute (Growth) and relative (Growth %) numbers. Growth is always measured in relation to the currently selected time period. The column "Prediction" calculates the estimated community size by the end-of-the-year, based on current growth numbers.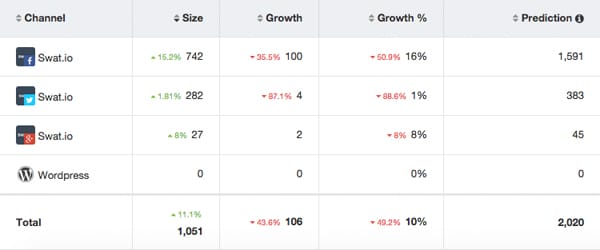 Notice: Swat.io makes comparing KPIs for different timeframes as easy as possible. Whenever meaningful, we'll show you how a particular number has performed in the timeframe preceding the currently selected period (f.e. when looking at the numbers for March 1st – March30th, all numbers will be compared to their respective values 30 days earlier, April 1st – April 30th). Comparative values are displayed in green % when growing, red % when falling.
Switching to the "Growth"-diagram will graph the development of growth, in absolute numbers, over time.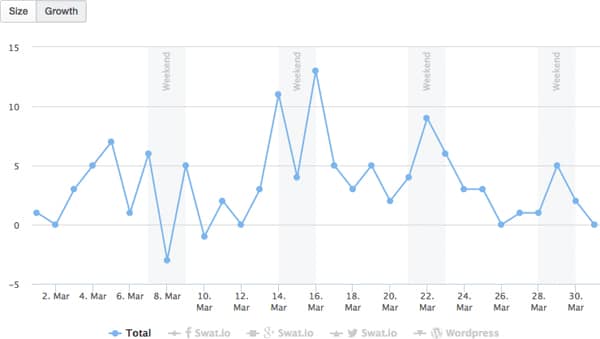 Notice: Since there are days when your communities might actually loose fans (although we don't wish for that!), the line may occasionally drop below zero (f.e. on March 8th in the screenshot below).
Community – Interactions
Size is one thing, engagement another. "Interactions" collects all the data about how lively your community actually is. Depending on the Platform (and their respective APIs capabilities) we track different forms of interactions:
Posts (including private Messages – Facebook, Twitter)
Comments & Replies (Facebook, Twitter, G+, Instagram, WordPress)
Likes & Favorites (Facebook, Twitter, G+, Instagram)
Shares & Retweets (Facebook, Twitter, G+)
Bit.ly Clicks (all platforms)
The "Total"-diagram adds up all these interactions and plots them for the currently selected timeframe. As always, you can select from your channels to compare them in the graph: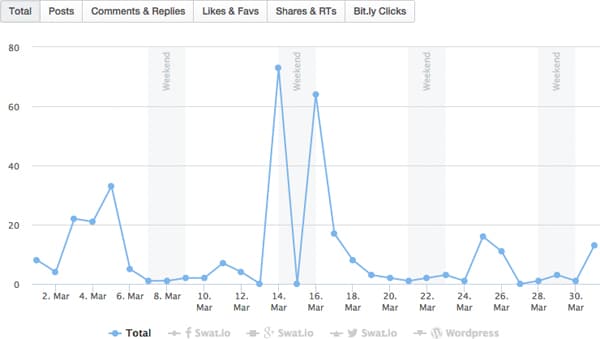 The "Posts"-diagram is a subset of "Total" – including only user-generated Posts, weither it's a private message, a post to your timeline (Facebook) or an @-mention (Twitter):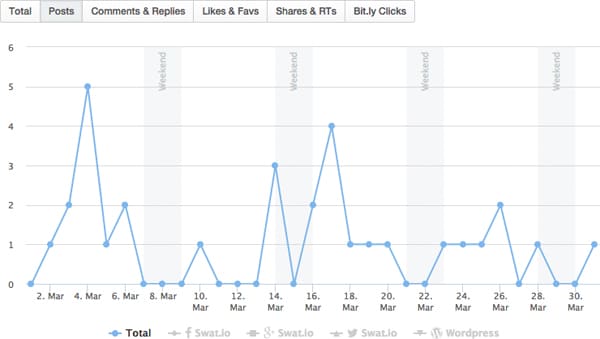 Similarly, "Comments & Replies" includes only comments to a post (Facebook) or replies (Twitter):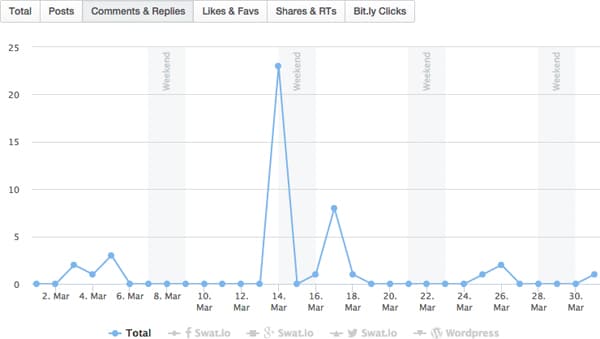 "Likes & Favs" plots how often your community has expressed that they like your content on Facebook ("Like"), Twitter ("Favorite"), Google+ ("+1") and Instagram ("Like"):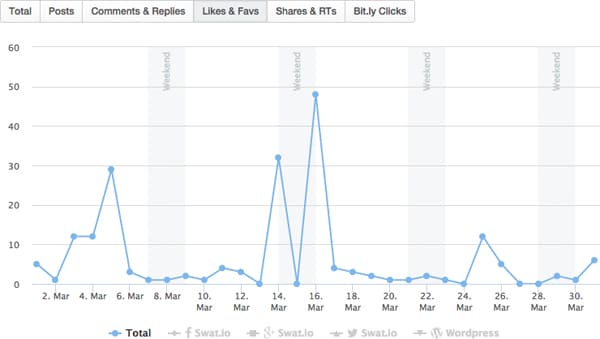 "Shares & Retweets" displays what some consider the most valuable currency of interaction in social media. It tracks how often your content has been shared (or retweeted) on Facebook, Twitter and Google+: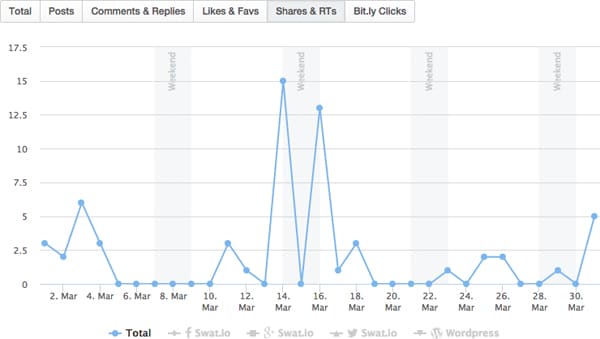 If you're using Bit.ly to shorten your links on social media, you'll love the diagram "Bit.ly Clicks". It simply tracks the number of clicks generated by your posted links! If you are using different Bit.ly links for each channel, you can even drill down to clicks per channel!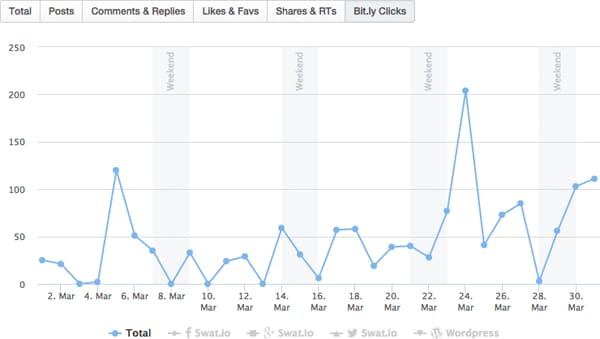 As usual, the "Interactions"-table summarizes all of the charts above by displaying the KPIs at the end of the selected time period. There's one additional number to mention here , the Click Through Rate (CTR). This number represents the % of your audience (people who saw the post) that actually clicked the link. Since audience & reach is only available for Facebook channels, CTR is only calculated for these.

Community – People
What are communities made of? People! 🙂 For that reason, we've built the "People"-tab to give you more insight on the members of your community. "People" lists the 100 [?] most active members of your community, sorted by number of "Posts" (including private messages) and "Comments / Replies".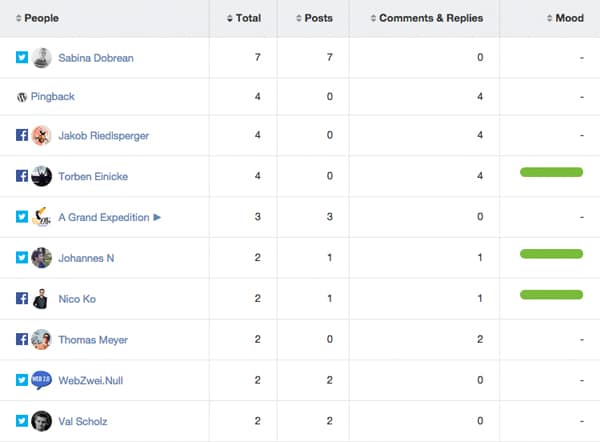 Notice: Don't forget – you can always use the channel navigation in the sidebar to filter for the most engaged people of a particular channel! Are you interested in public or private interactions only? Simply use the filter above!

Community – Mood
Swat.io's ticket inbox can be used to quickly tag user-generated content with mood-tags (Positive, Neutral, Negative). The "Mood"-graph offers a great glimpse of your communities overall mood in the selected timeframe. The coloured areas represent negative, neutral and positive feedback developing over time, while the table below summarizes the absolute numbers at the end of the selected period.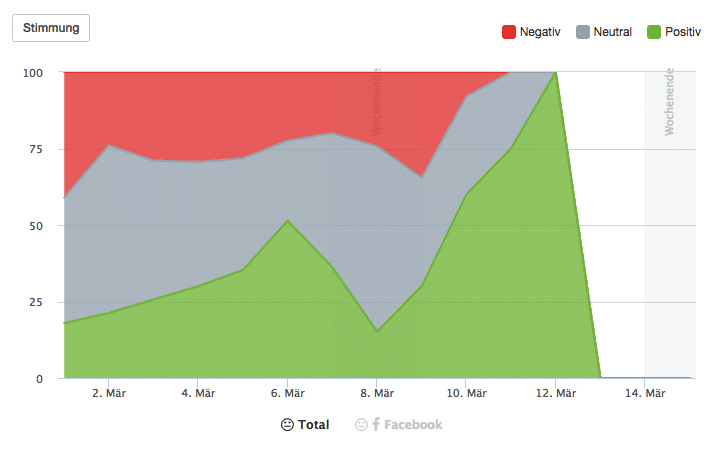 Notice: Did you recognize the "Moody Pills" in the table? Each pill represents the relative mood per channel. Hover on a pill to see the absolute numbers!

Community – Reach
As mentioned above, Facebook is currently the only platform reporting audience, or "reach", on their API. The "Reach"-tab that graphs the size of reach over time is therefor available for Facebook channels only! Total "Reach" is broken down into Organic (reach acquired among your community for free), Paid (reach acquired by paid advertising) and Viral (Reach acquired outside your community through shares and viral distribution).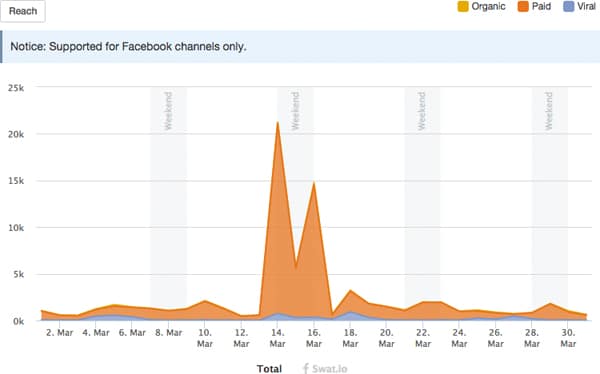 Content – Posts
The "Posts"-tab is all about the content you as a brand or organisation are publishing on your social media channels. Several graphs reveal how well your content strategy is working out. Let's start with "Content Mix", which breaks down your published content by post type (Link-, Photo-, Video- & Text-posts). Hover your mouse over the coloured areas to get the exact – absolute and % – numbers. By clicking on a channel below the chart, you can filter for that particular social media profile (as usual, this works for all the following graphs):

Moving on to the "Paid"-graph, you'll find a visualization of your Paid versus Non-paid content. Oops, somebody should consider buying Facebook ads here! 😉
Notice: Paid posts can currently only be identified for Facebook channels!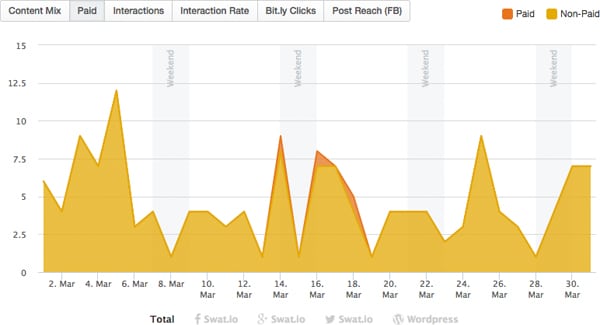 The "Interactions"-graph works similar as described above in "Community" – but this time we display the total number of interactions on your own posts only (excluding f.e. posts users have published to your Facebook Timeline or comments to those). Interactions include Comments, Likes / Favorites / +1, Shares / Retweets.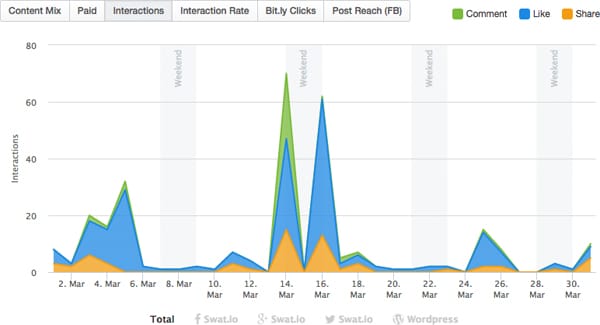 The "Interaction Rate Graph"-relates the total number of interactions (as described above) to the size of your community that day. Let's say you had 1.000 fans / followers accross your channels and got 10 comments total – resulting in an Interaction Rate of 1%. Easy, isn't it?
Notice: Please recognise that the Interaction Rate is not the % of your community interacting with you on a given day, since a single, unique person might do several interactions (commenting and liking, for example)!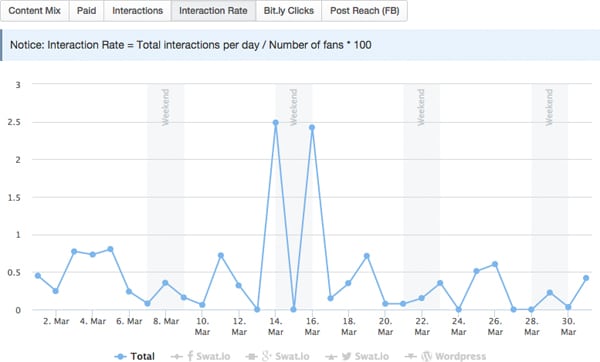 Again, "Bit.ly Clicks" works similar as in "Community", but is limited to clicks on your own posts only (excluding f.e. posts by users, should they use Bit.ly at all). It is basically a gauge for how much traffic your social media content is driving home.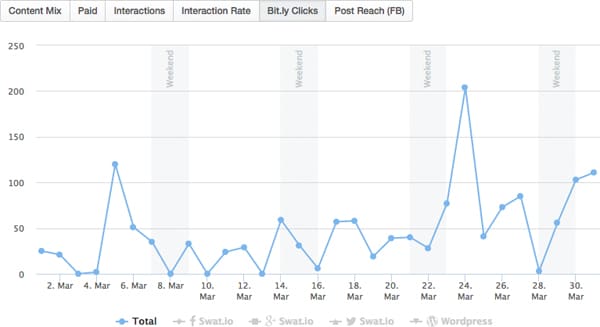 The "Post Reach"-graph is another special available for Facebook channels only. It plots the size of audience your posts have reached over time. Total "Reach" is broken down into Organic (reach acquired among your community for free), Paid (reach acquired by paid advertising) and Viral (Reach acquired outside your community through shares and viral distribution).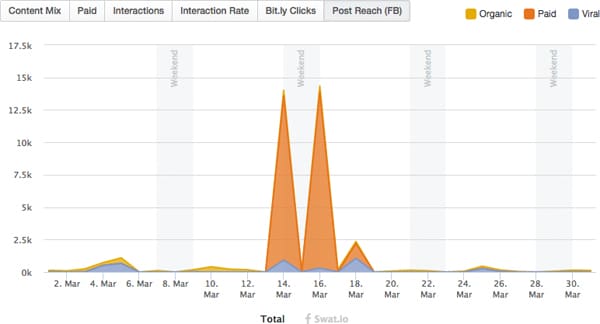 Besides all the graphs, the "Posts"-tab offers a rich table with data on a per-post basis. The table basically lists the Top 500 [?] posts of the selected timeframe, sorted by Interaction Rate. Beside a small preview snippet (including text and image), you'll find all data necessary to evaluate how well a post has performed: total number of interactions, interaction rate, reach and number of Bit.ly clicks.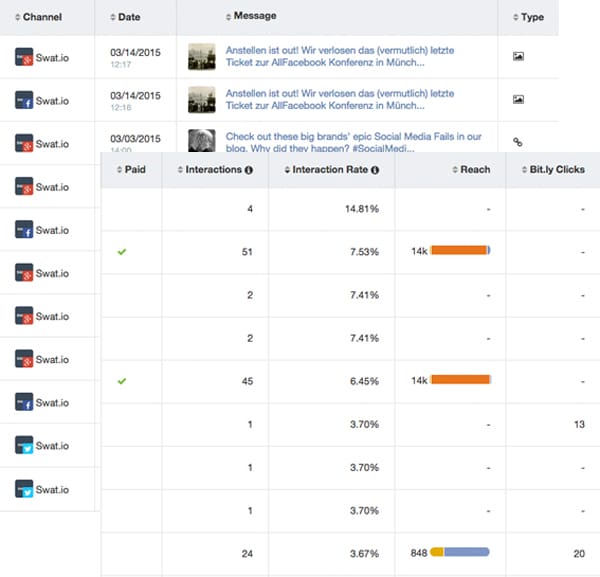 Team – Tickets
Let's move on to the last tab – "Team". This tab includes analytics about… you! It visualizes how you and your team are using Swat.io, which is really useful for reporting and keeping an eye on the workload of your social media management team. Since many of you are using Swat.io for social customer service, the "Tickets"-tab contains detailed information on your efforts in keeping your community happy. Let's start with the "Created"-graph, which simply plots the number of new tickets created each day: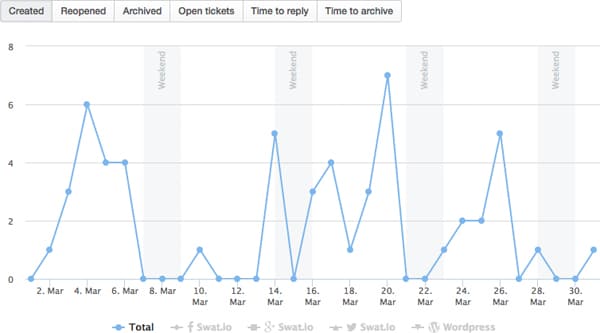 Switching to "Reopened", you'll find the same information for tickets that have been reopened each day. Notice, that we're counting "unique" tickets here, so if a ticket has been reopened several times on a particular day, it will be accounted for only once.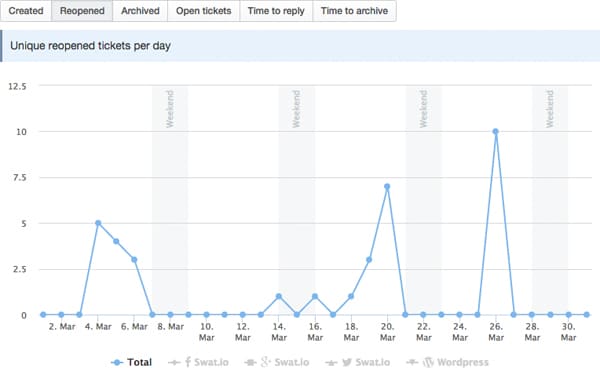 By now you've probably got the idea – "Archived" obviously plots the number of tickets that have been archived each day. Again we're counting "unique" tickets. By the way – as always, you can use the channel selector below the graph to filter for particular channels!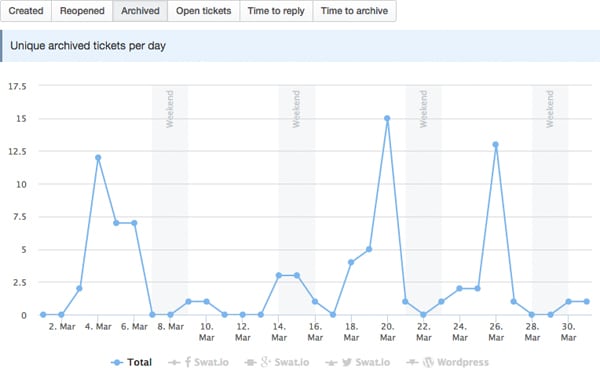 It really gets interesting with "Open tickets" – if you want to keep an eye on your team's workload and the service level of your social media channels, this is the place to be. The chart displays the number of open tickets left at the end of each day (= midnight). Tickets that are "new" (= not assigned) are represented by the red area, tickets that are still open but "assigned" to a team member constitute the orange area. Ideally, both areas would be flat at 0 (meaning that each day, all tickets have been archived successfully). In the screenshot below you can see that we had quite a peak of open tickets around march 16th-19th – the reason being that our social media manager has been sick and we haven't been able to compensate fast enough. What we learned from the "Open tickets"-graph is to have a better backup plan for these situations!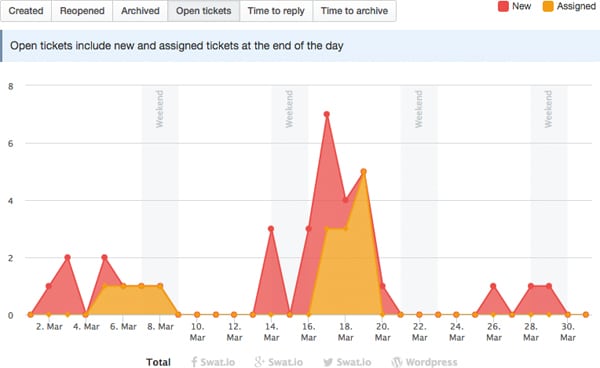 If there's one key metric in customer service, it's "Time to reply". In Swat.io, this is defined as time elapsed until a member of your team has replied to a new or reopened ticket. To plot the line, we calculate the median value of all tickets processed on each day (that way, extreme peaks are compensated):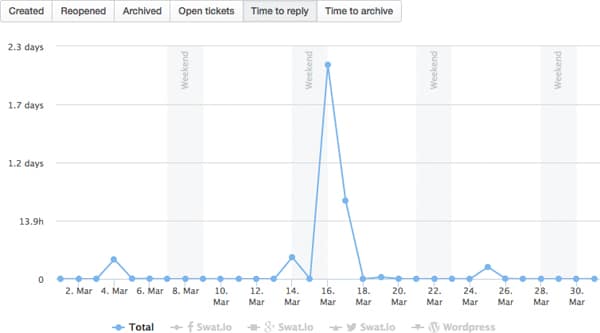 "Time to archive" works very similar, this time we analyse how much time elapsed until a new or reopened ticket is archived by your team. Again, we use the median value to plot the line: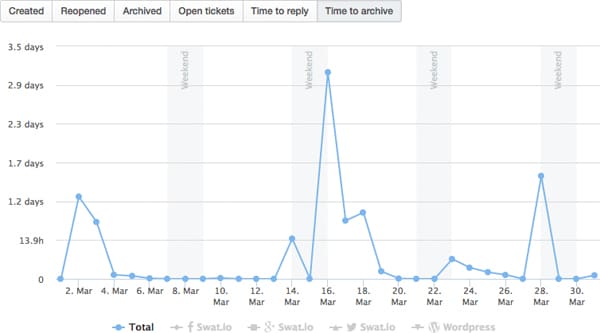 Like in the other sections, the "Tickets"-table below the graph summarises all the diagrams. Since this table relates to transactional data, the numbers represent the total sums for the whole timeframe selected. You'll recognise the additional column "Assignments", which displays the total number of times tickets have been assigned to a team member.

Team – Posts
You're still with me? Good, because we're almost through! 🙂 With the "Posts"-tab we want to give you an idea of how many posts your team puts out on the social web over time. The "Created"-graph displays the total number of posts created each day – including suggestions wich are not yet approved: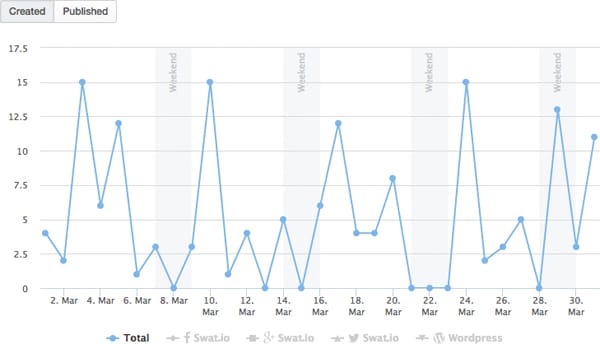 The "Published"-graph shows a similar line for the total number of posts that actually got published to your social media channels each day. This also includes posts that haven't been created on Swat.io but have rather been posted straight to the channel and were imported to Swat.io later. [?]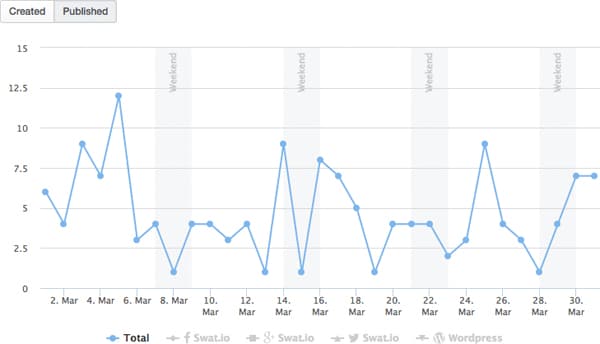 The "Posts"-table summarises the graphs and adds some additional information – "Assignments" again displays the total number of times posts have been assigned to a team member, while "Time to approve" is the median time elapsed until suggested post has been approved by your team: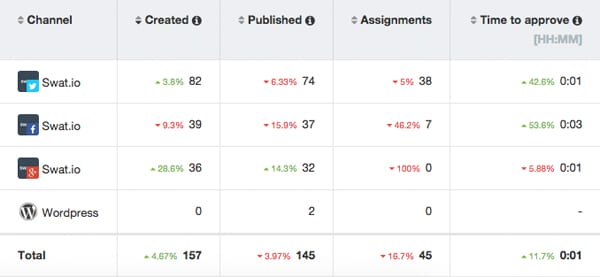 Final Words – What's next for Analytics?
Congratulations – you've made it through our short introduction to the all-new Swat.io Analytics! 🙂 We strongly believe that this relaunch will help you get much more out of your Swat.io account, but are also eager to continue improving Analytics. To do that, we need your feedback! What benchmarks, statistics and diagrams are you still missing in Swat.io? Do you think we could do a better job in explaining the data provided? Let us know, we're excited for your feedback!
You're not a Swat.io user yet and would love to try our features for better social media management? Start your free trial now!
Efficient Social Media Communications With Swat.io