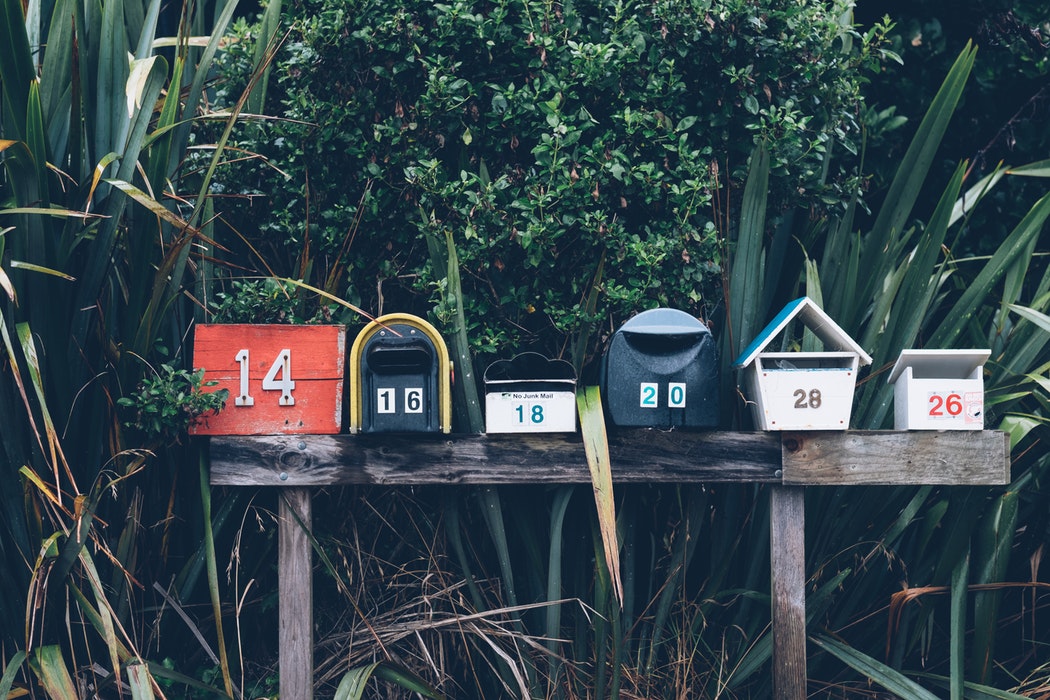 Subscription Messaging with Facebook: Why You Should Apply for Approval Right Now
Facebook's Subscription Messaging is a great opportunity to send messages to your community. However, if you want to keep on using this feature in the upcoming year, you need to apply for Facebook's approval by 31 December 2018. Otherwise, your Messaging Broadcasting will be deactivated from 1 January 2019.
Update December 2018: This deadline has been postponed until further notice. Facebook Product Marketing Manager David Cohen has published the following in his blog:
Subscription Messaging (Beta) Permission Update — As we continue to review our Subscription Messaging policies, developers provided access to send messages via app-level permissions may continue to do so until further notice. We still encourage developers to migrate to the Page-level permission as we evaluate potential updates to this policy.
In this blog post, we will share with you how to apply for Subscription Messaging, which pitfalls to look out for, and why making the effort is worth it.
How does Subscription Messaging work?
Messengers are not limited to customer service communication, and increasingly relevant for marketing. With open rates of up to 90 percent, messages sent through Messengers are far more successful than email newsletters. Facebook's Messenger proves especially handy for reaching your target audience, as it is so widely used. A chatbot helps you in automating and individualizing your communication.
What's the catch, you ask? – Facebook limits Broadcast Messages with promotional content, meaning that you can only send these messages to subscribers who have interacted with you within the last 24 hours.

The good news is that this time frame restriction does not apply to Subscription Messaging. However, Facebook does not allow promotional content for this type of Broadcasting, and limits content strictly to the following:
News: Content that is distributed primarily to inform the recipient about upcoming events or news in finance, sports, real estate, economy, traffic, weather, government, politics, religion, entertainment, and celebrities, and public service announcements.
Productivity: Reminders and To-Dos.
Personal Tracking: Useful information on topics such as health, fitness, or finance.
Fortunately, there are ways to follow these regulations and still engage in successful content marketing at the same time – by informing recipients about events, or offering them content with added value, for example. There even is a (legitimate) way of pointing recipients to a certain product: your chatbot can ask them, whether it may send them details on a certain special offer. If the recipient answers your message by engaging with it (e.g. by clicking "Yes, please."), the message is registered as Standard Messaging by Facebook. As a result, promotional content is no longer restricted.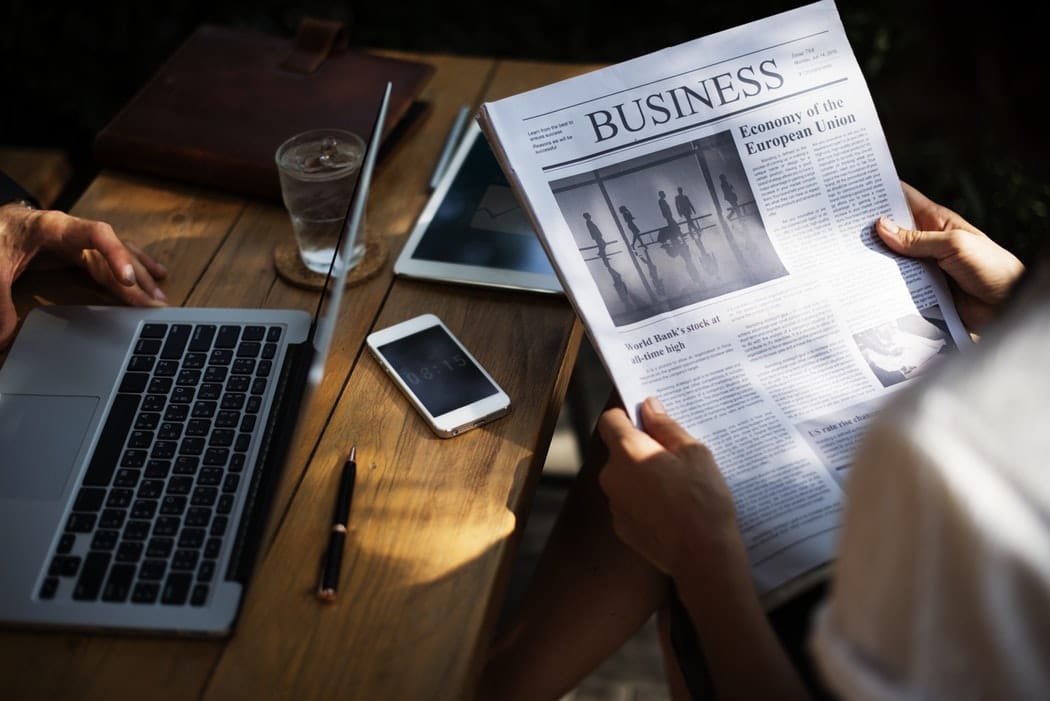 Why it is important to apply for approval right now
Facebook will give permission for using Subscription Messaging at the page level, meaning you have to have your chatbot or newsletter checked and approved for each individual page. Otherwise, you won't be able to send out Subscription Messages anymore from January 2019. This would leave you with only one option: sending Broadcasting Messages with promotional content, in accordance with the timing restrictions mentioned above, as long as you haven't applied for approval. Likewise, you have to request permission for Subscription Messaging for any new Facebook pages you are administrating, before being able to use it.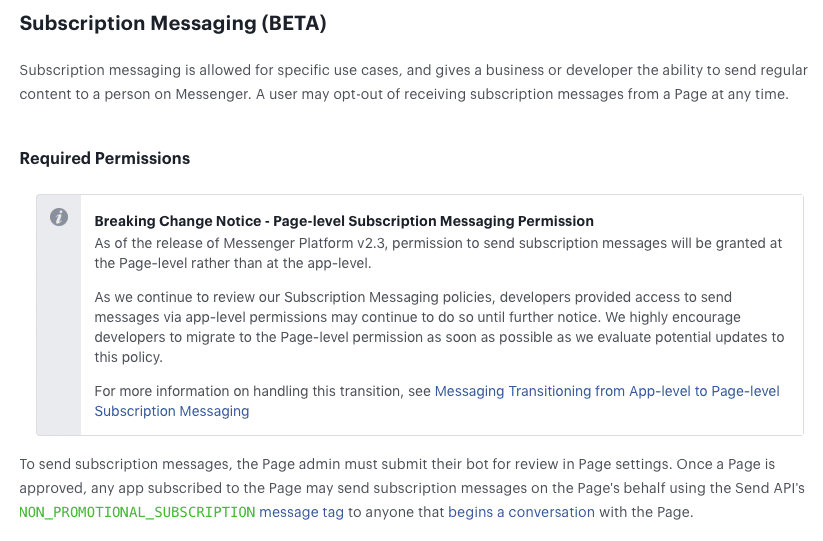 How to apply for Subscription Messaging: a step-by-step tutorial
In order to apply for Subscription Messaging, go to your Facebook page. Then follow these easy steps: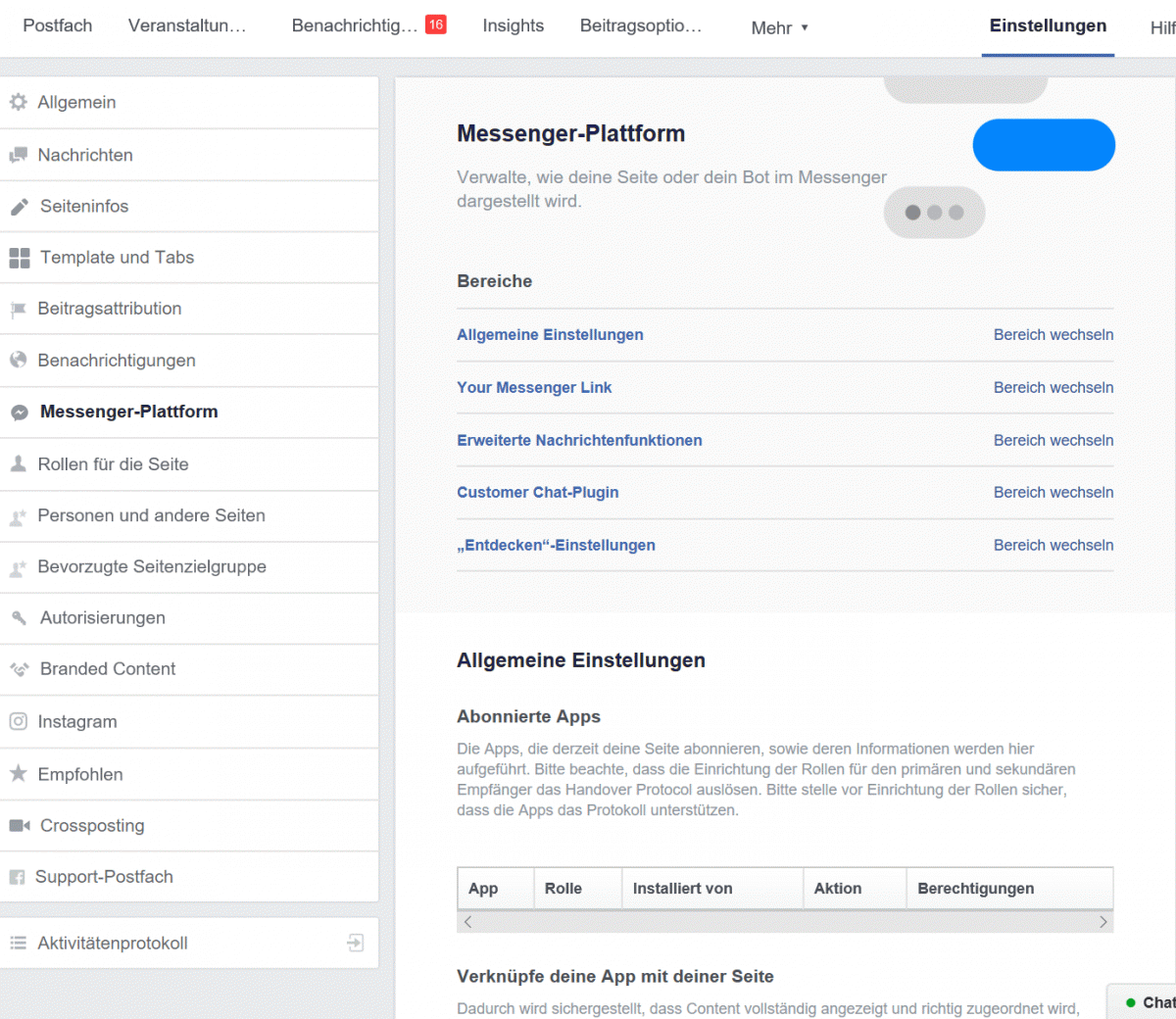 Go to "Settings" and click on "Messenger Platform".
Go to "Advanced Messaging Features".
Select "Subscription Messaging" and then "Request".
Next, you will be asked to:
Define, which types of messages you want to send (news, productivity, personal tracking).
Declare the frequency and type of your messages.
Enter a few sample messages.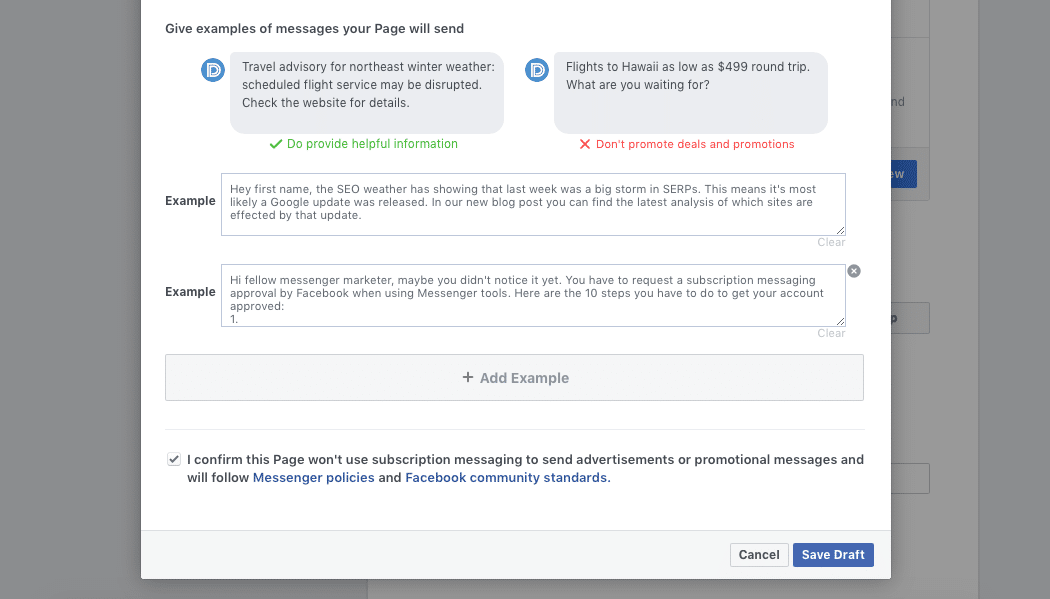 Once you have entered your data and completed the application process, it's time to sit back and wait. Be aware that it might take Facebook a few days or even weeks to get back to you. A green check mark next to "Subscription Messaging" indicates that your newsletter has been approved.
What to look out for when applying for Subscription Messaging
Unfortunately, no one knows the inner workings of Facebook's approval process for Subscription Messaging. However, there are a couple of general things to keep in mind in order to increase your chances of a positive assessment:
Be sure to exclude any promotional content from your sample messages.
Take into consideration that an actual person is checking your application. Draft your application in a personal style!
Do not link to your website. Instead, use prompts such as "Visit our website for more information".
Do not use any of the following words: "sale", "gift voucher", "coupon", "discount", "free"
Finding the right content and presenting it in a way that engages your target audience is a key challenge in Social Media Marketing. Find out how to master it in our eBook "The Art of Social Media Content Creation". Download it now for free!
The Art of Social Media Content Creation
Download our eBook and learn how to plan, create and distribute your social media content while measuring its effectiveness on your relevant social media channels. To ensure you don't miss out on any big social media content trend or best practice, we've also included interviews of 5 experts in this field. Find out how to master the art of social media content creation using the latest available tools and determine what type of content makes your audience tick!
If your request has been denied
Instead of a green check mark, you may find a red bar next to "Subscription Messaging", with a notice next to it, informing you that your request has been denied. You might also be told once more that all Subscription Messaging content must be strictly non-promotional.
This means that it is now time for you to try again. Luckily, you can apply for Subscription Messaging as often as you want.
With your second try, there are also some things to pay attention to:
Be especially careful to avoid promotional content in your sample messages. If you are applying for the second or even third time, feel free to mention this in your application and thank the person working on your request for their time and patience.
Take inspiration from MobileMonkey's video on how to handle the application process.
Keep in mind that you have to request approval for Subscription Messaging for every one of your pages individually.
The most important questions and answers regarding your application for Subscription Messaging
What happens if I don't apply for Subscription Messaging by 31 December 2018?
In this case, your Subscription Messaging will be automatically deactivated. Until you have successfully applied for Subscription Messaging, your only option will be Broadcasting in accordance with the 24+1 rule.
How much time does Facebook need to inform me on whether my application has been successfully processed?
The waiting time is typically a couple of days, sometimes even a few weeks. Unfortunately, there is no way to control the swiftness of the process.
Do I have to apply for Subscription Messaging for every Facebook profile and page individually?
Yes. Since Facebook is giving permission for Subscription Messaging at the page level from 1 January 2019, you need to apply for each of your pages individually.
How do I know whether my application has been reviewed positively?
If Facebook has given you permission to use Subscription Messaging, a green check mark appears next to "Subscription Messaging", in your pages' settings interface. If your application has been denied, a red bar is displayed instead.
Facebook Subscription Messaging Request: Early application pays off
No matter if you are promoting events, establishing your company as the expert in your field, or looking to foster interaction with your target audience – Subscription Messaging is a valuable addition to Facebook's marketing tools.
If you want to make the most of this exciting new opportunity, it's best to get started now, by sending in your application. Chances are you will need two or three attempts to be given the green light, or rather, the green check mark, and the time this process takes should be taken into consideration.
Whether on Facebook, WhatsApp, Twitter, or Instagram – with Swat.io you draft your content in an agile editorial plan and thoroughly track all communication in one central Ticket Inbox. Start your free trial right now and take your Content Management to the next level.
Efficient Social Media Communications With Swat.io