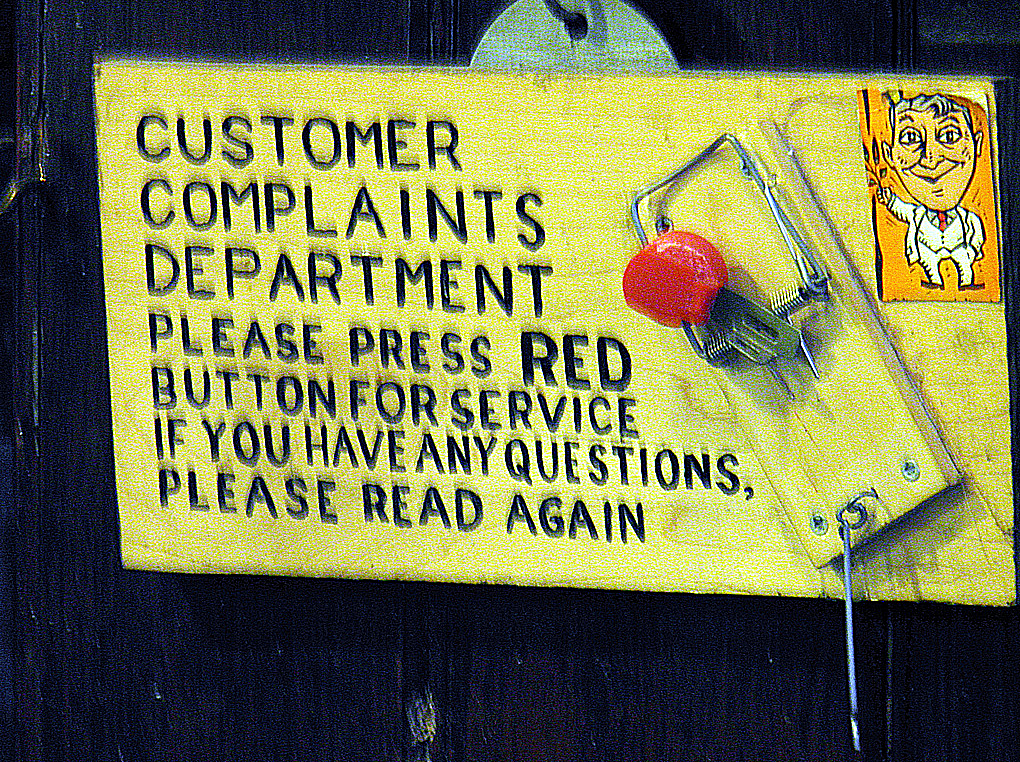 How Mobile Operators do Customer Support on Social Media
Effective social media management can narrow the gap between companies and customers.
According to a 2014 study performed by CTS, 8 out of 10 people cancel contracts on account of poor customer experience. Whether telecommunication companies like it or not, customer service has already largely moved to social media channels. In fact, 33% of users prefer to contact brands using social media instead of the telephone. Since acquiring new customers is always more expensive than keeping older ones happy, client relationships need to be nurtured consistently.
In this regard, it's still a mystery as to why 7 out of 10 brands nowadays still fail to provide quick and satisfying answers on Twitter, Facebook or other social media channels. Or any answers at all, for that matter.
European telecommunication companies are business giants that over time have focused on perfecting their images, both online and offline. But have they mastered the art of social media management? Have they managed to approach their clients by providing qualitative customer support? Let's see how well their social channels perform when it comes to providing quick answers to people's problems.
(Notice: All research was conducted in December 2014, using publicly available data only).
T-Mobile is here to stay.
T-Mobile may look like a winner when it comes to social media, and it's no wonder: the company owns subsidiaries in an impressive number of European countries, as well as in the US and Puerto Rico. Although their offices are based in Bonn, Germany, over the years they have expanded considerably, which is how they have nowadays conquered markets of Croatia, the Czech Republic and Romania. For comparison purposes, we've picked social activities from Germany, Austria and the Netherlands.
Being a colossal corporate business comes at a cost: they own accounts on Facebook, Twitter, Instagram, Google+ and even YouTube, but official pages of T-Mobile provide little to no social customer service and their responses are often too late to be satisfactory. Perhaps if they split their customer service divisions into smaller ones and used a social management tool, they'd be able to keep track of their clients' responses better.
On Facebook, German customers occasionally have complaints regarding service and signal, but company representatives provide answers only after a couple of days.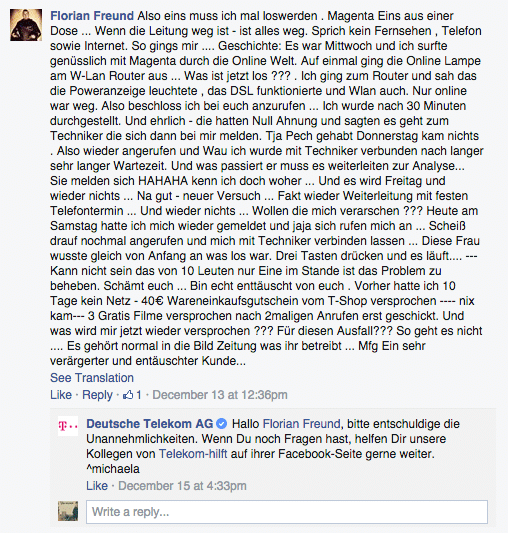 On the other hand, T-Mobile Germany went through the effort of creating a separate page to deal with user issues. The latter goes by the name of Telekom Hilft and was especially put together to provide quick answers. Herein, the carrier handles complaints better, but sometimes it still takes them around 12 hours to come up with the answers.
While it might look like T-Mobile Germany is taking customer service seriously with two Facebook pages instead of one, the problem here is that customers get confused and frequently fail to discover the second one, even though it was particularly designed for resolving their issues.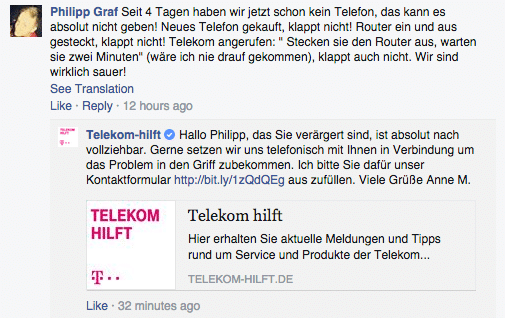 In Austria, the company's doing a bit better in terms of speed, but since many clients are disappointed by the service the carrier is offering, their demands are mostly related to contract terminations.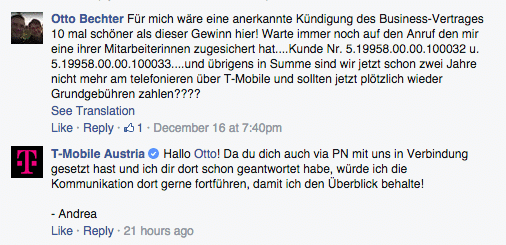 The only Facebook page that seems to be managed properly is T-Mobile Netherlands. Here, company officials sometimes respond to complaints in a matter of 2 hours. Moreover, it's the only Facebook T-Mobile account that has received holiday greetings from multiple satisfied customers.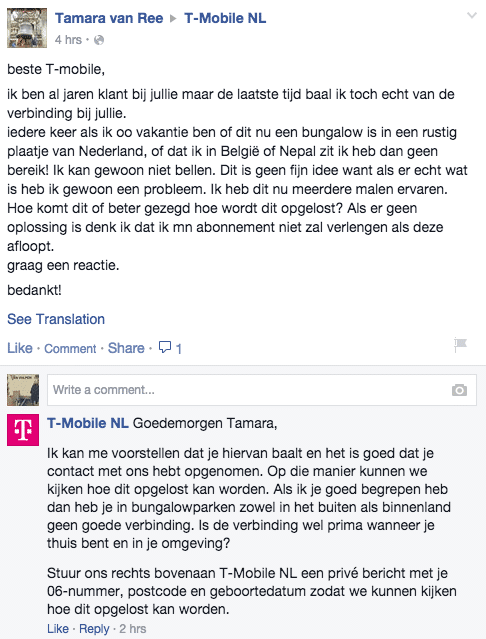 On Twitter, the German T-Mobile account has been offline since September 2014, which can't be said for the Austrian one. Employees actually take the time to answer Twitter mentions and the fact that they sign messages with their own names brings forth a personal touch.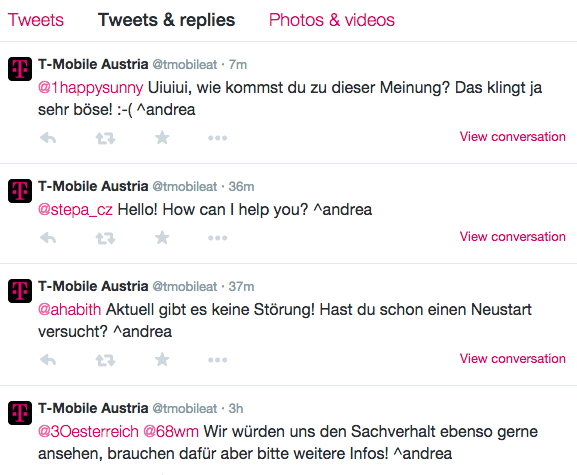 The same goes for the Netherlands page, where responses are given in a matter of minutes and even seconds.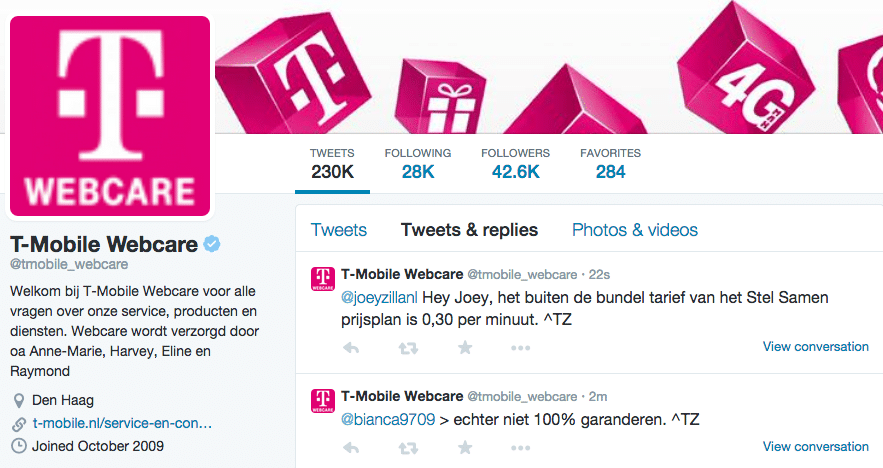 Lastly, the T-Mobile marketing strategy is going strong on various networks, even on YouTube. However, Austrian customers' questions are frequently left unanswered and people end up talking to each other. In the Netherlands, it appears that users aren't engaging on YouTube. The absence of video comments and likes attests to that.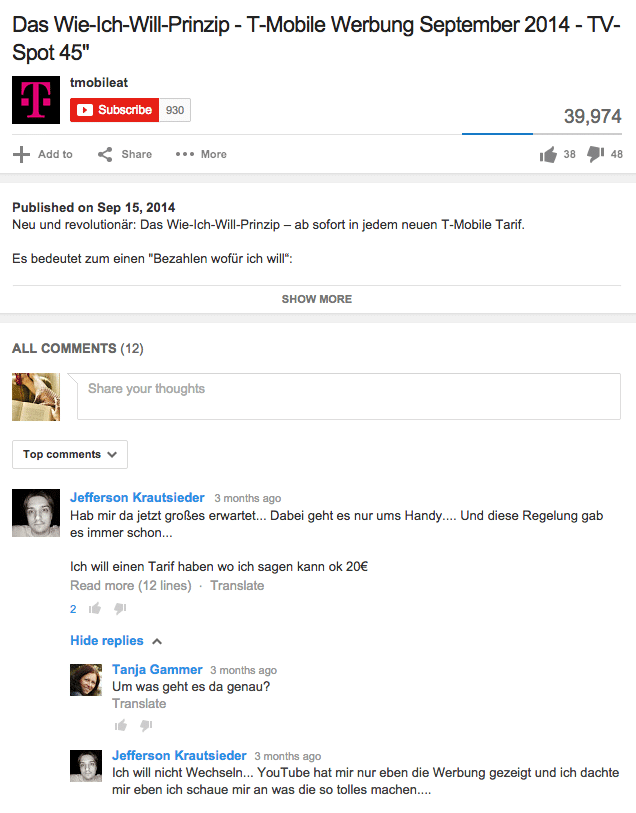 EE. Stop studying. Start learning.
EE Limited (previously known as Everything Everywhere) is the name that T-Mobile UK and Orange UK adopted after their 2010 merger. It is an UK mobile operator that has gone through a number of controversies during recent years. Problems are noticeable from customers' reactions.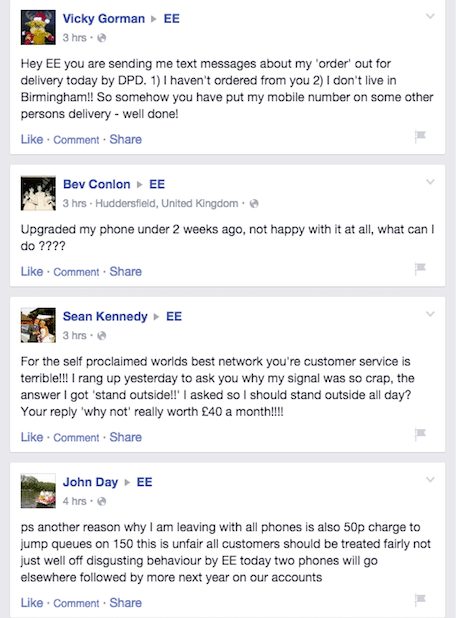 Social customer service doesn't go well with EE. On Facebook, representatives fail to reply on time or at all. Users post desperate messages on their page and receive no answers. On the other hand, when EE posts a piece of news and the latter is commented upon negatively, EE employees take the time to answer; not very professional, is it?.
On Twitter, it occasionally takes up to 24 hours for EE representatives to provide feedback.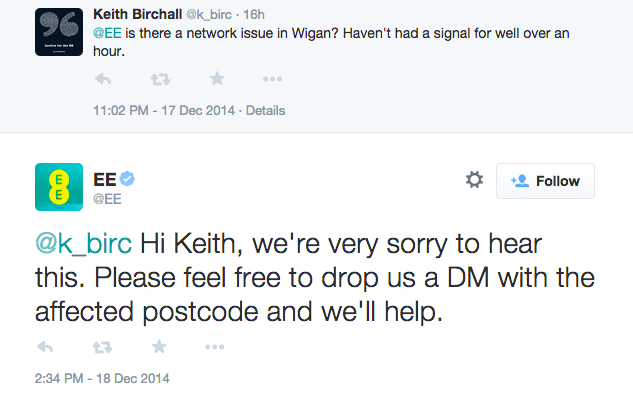 As customers fail to receive quick replies, they resort to using the official YouTube channel belonging to EE. The latter's uploaded only two videos, which gives an idea as to how frequently an EE official checks on it. There's a 1-year gap in between the two videos. Clients are infuriated by the lack of tact and response on the side of the company and their frustration can be noticed in their comments.

Vodafone. Every hour on the hour.
In the world of telecommunication, Vodafone is a notorious brand. The company's evolution was over time marked by ups and downs and its reputation has been lately taking serious hits from dissatisfied customers.
Let's take Vodafone's UK Facebook page, for example. Even though officials post regular updates, it generally takes more than 24 hours for someone to reply to comments of outraged users.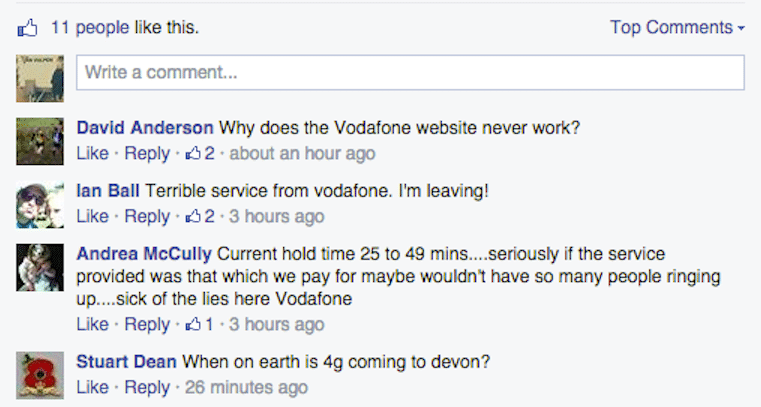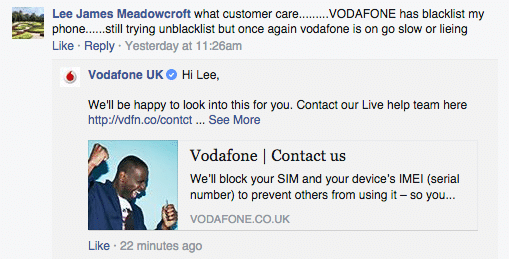 The same mishap is going on in the Netherlands.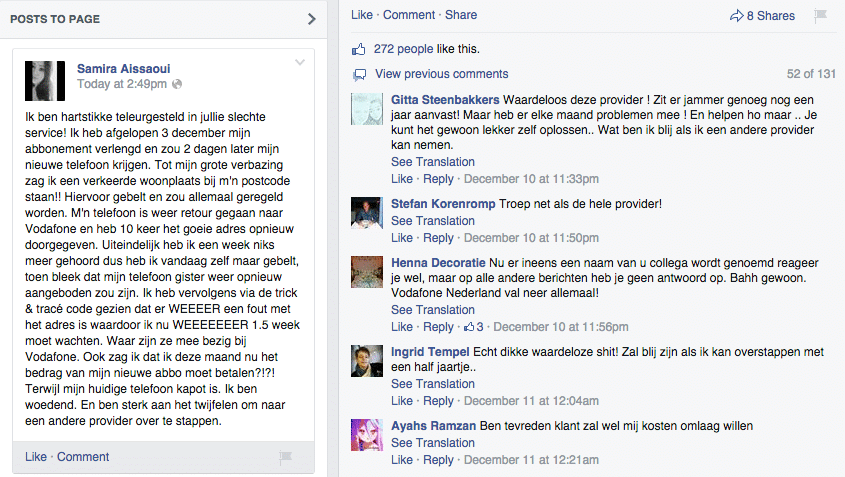 The only Facebook page that seems to be properly managed is the one from Germany.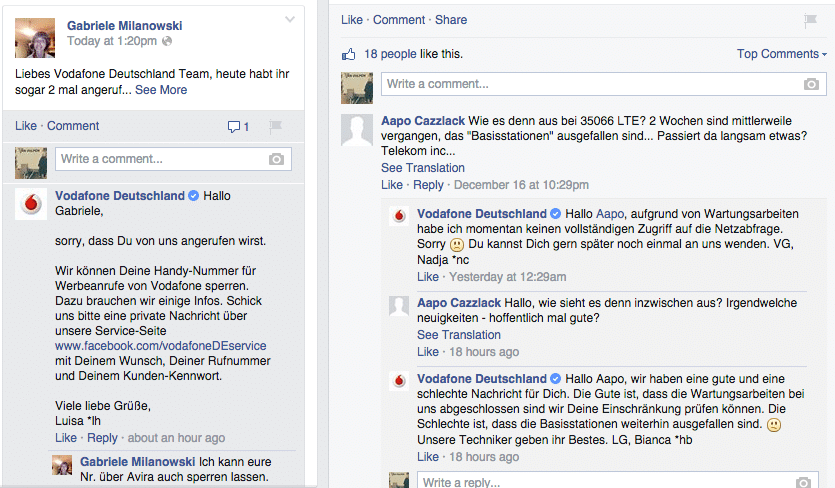 Things aren't all that different when it comes to Twitter, particularly in the case of Vodafone UK. Mentions aren't visible because the British policy of the company seems to rely on ignoring customers' complaints.
Vodafone Netherlands and Germany representatives on Twitter are vivid proof that something good can be made out of a poor customer experience with their service. They provide quick answers and try to solve clients' issues as adequately as possible.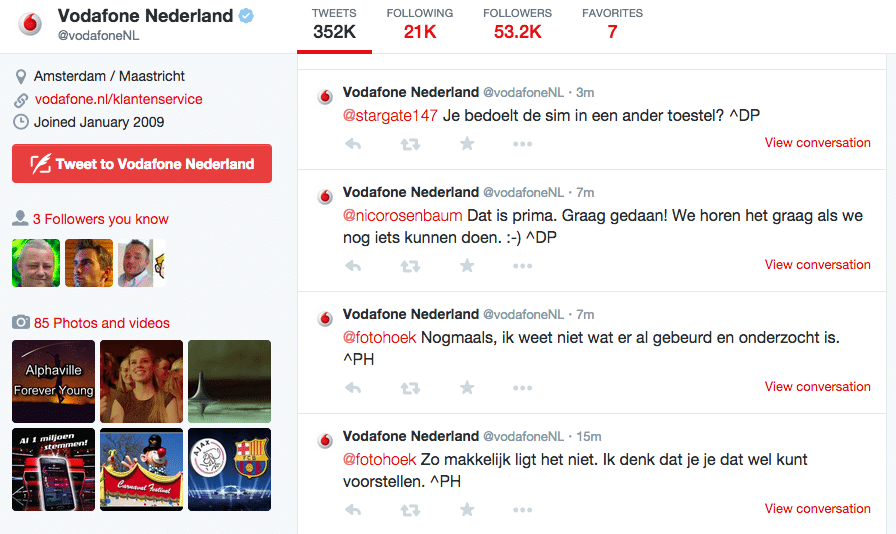 Yet another network Vodafone is ignoring its users on is YouTube. UK customers are pouring complaints all over the channel, and yet they still receive no answer. Fortunately for them, YouTube channels belonging to Vodafone Netherlands and Germany receive little to no attention from users.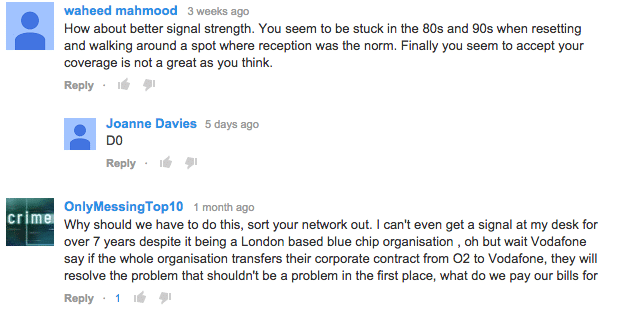 DREI. On the fast track.
(Notice: DREI Austria is a Swat.io customer).
DREI is a subsidiary of Hutchinson, an international corporation operating in various countries over the world. This is the denomination the company uses in Austria. Its British counterpart goes by the name of Three. In Austria, the carrier is among the most well-known mobile operators on the local market. The Austrian subsidiary was approved by the EU in 2012. After the company acquired the former Orange carrier, it became an even more noteworthy telecommunication services provider
On Facebook, DREI is among the rare companies that have included a support telephone number in their description. They also own an app entitled "3Service", which was particularly designed to help struggling carrier users. It usually takes less than an hour for Austrian company employees to come up with responses, which proves their commitment to the cause. Regardless of the nature of the clients' comments, representatives of DREI Austria take the time to provide detailed answers in an impressively short amount of time.
By contrast, UK officials aren't doing such an outstanding job at managing customer support. If clients are unhappy and straightforward about their frustration, representatives oftentimes postpone getting in touch with them, as it can be seen in the following screenshot.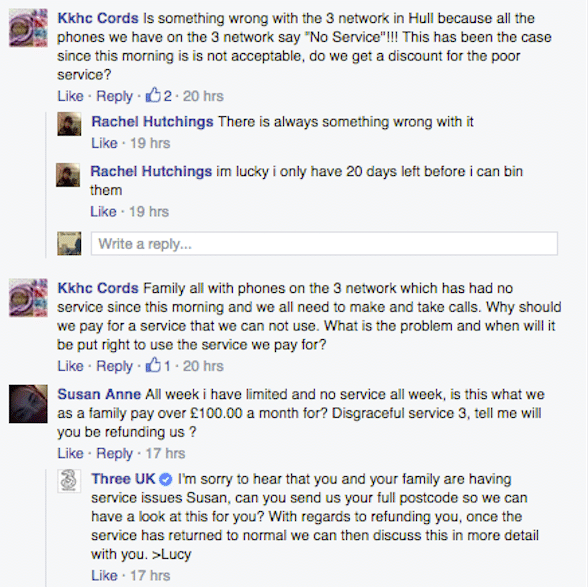 The social customer service belonging to DREI Austria is winning on Twitter, thanks to a significant speed of response. Officials understand that answering in a timely manner strengthens the trust of customers. Not only do they post announcements about the brand, but they also offer remarkable social customer support and give a helping hand both to clients that express momentary dissatisfaction as well as to customers that simply want to reach out and express their thanks.
It seems that even the internet services provided by DREI are known for being highly qualitative by various clients. Multiple tweets express the overall contentment of customers.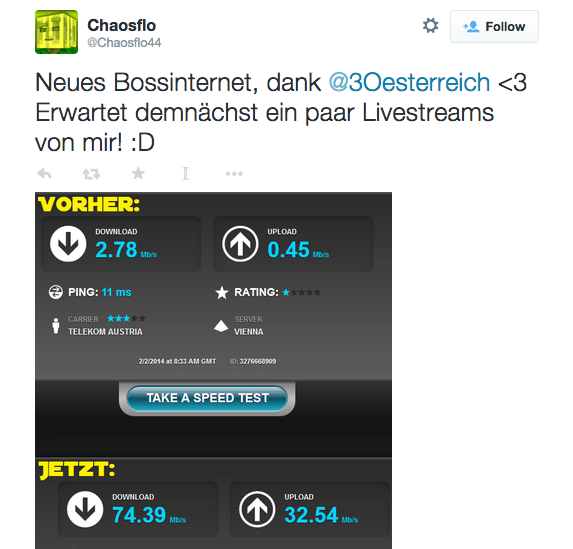 Three UK is also doing a great job at keeping up with clients' requests on Twitter. Compared to their Austrian counterparts, officials' responses are vaguely belated, but they do handle Twitter support competently.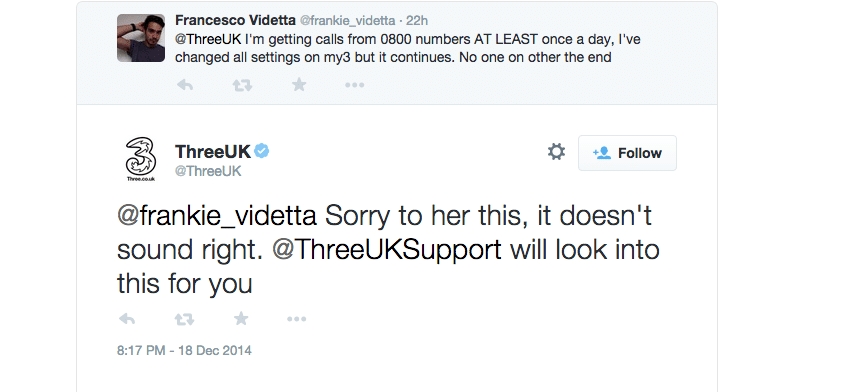 Conclusion
It's difficult to say which carrier is best at handling customer complaints. It could be that some companies spend little to no effort in responding to angry users, while others go through extensive effort to do so. Corporate businesses naturally have a hard time managing customer service, and yet this issue could easily be resolved with the help of a social management tool. It's also worth pointing out that providing great customer service on social media requires serious investment in staff and in infrastructure. What's true for old-school call-centers is still valid for the social web. More heads are synonymous with a faster response. Infrastructure (like a good telephony system or efficient customer service software) helps maintaining a low overall cost.
When companies come up with good and fast answers, they automatically make customers feel comforted, even though the problem might not be solved instantaneously. It's crucial for people to receive an answer, particularly when they're disappointed.
Users that feel neglected can anytime give up on a service and not feel remorseful for a second. That's something any business should keep in mind.
What Swat.io can do for companies struggling with social customer service
With Swat.io, users can not only visualize their social content calendar, but also observe all the reactions social posts have gathered. This includes comments, mentions and direct/private messages. What's even neater about Swat.io is that all people in your team are able to comment and discuss on customer reactions internally – so that no complaint ever goes unnoticed.
Social media is a game changer in how businesses manage customer relationships. Prepare for this challenge with our eBook!
Social Customer Service – The Essentials
Social customer care is quickly becoming a company-wide approach that involves all departments and a common social media engagement strategy. Is your business up for the challenge? Download our eBook today to find out!
In a nutshell, here's how Swat.io can improve your social customer service::
e-mail notifications that let customer service representatives know when they need to respond to new comments, replies and messages immediately;
a "ticket inbox" that aggregates responses, requests and complaints. From here on, 'tickets' can be assigned to team members, therefore ensuring a quick reaction time along with a productive means of getting back to customers;
text-templates that take the hassle out of composing individual messages to clients. However, answering them in a personal manner beats timely and impersonal responses. Signing messages that go out to customers emphasizes the humanity;
fulltext-search along with user-profiles work together in defining the 'vibe' a customer's manifested towards a brand in the past. What if they've complained in the past? Have they formerly received an answer? Swat.io provides answers to these two questions.
Swat.io makes social media management and customer service easy. Start your free trial and find out how our tool can support you with your daily social media work!
Efficient Social Media Communications With Swat.io
Image credits: Gorden Ednie