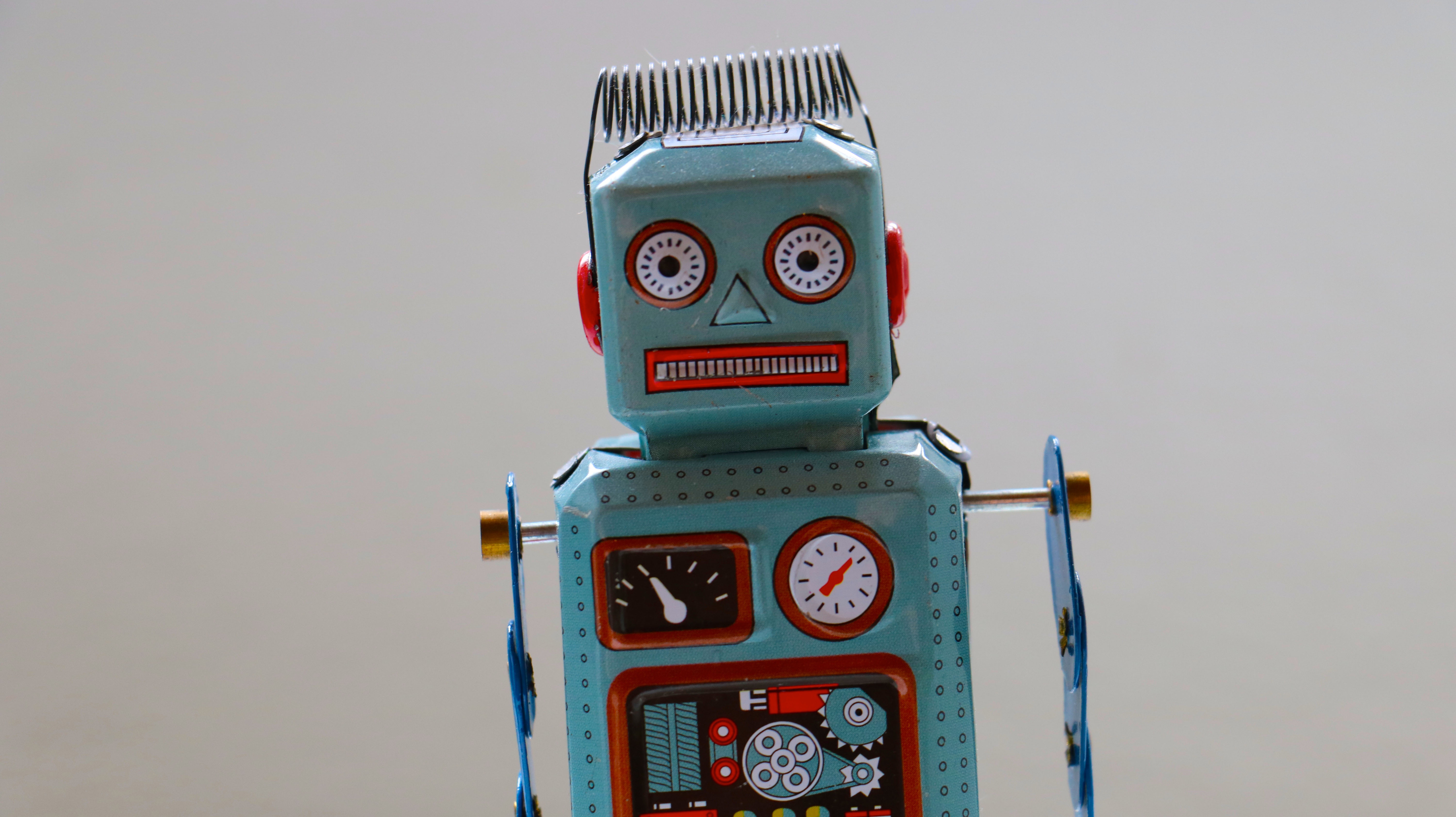 Feature Update March: How the new automations ease your workflows
Today I would like to introduce you to a new Swat.io functionality that has demanded a lot from our developers over the last few months – and will make work easier for you in the future. Automations allow for performing certain steps in Swat.io automatically. You can create them by yourself in just a few steps and watch how your work gets done (almost) by itself from now on. 😉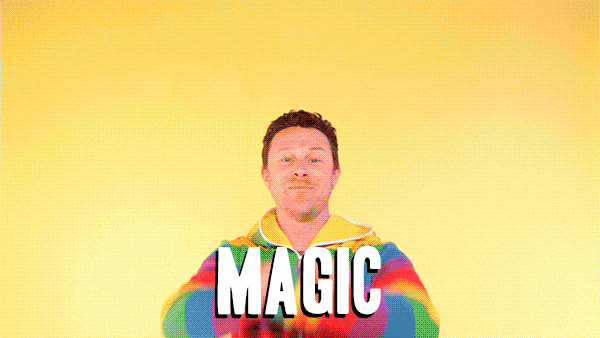 I'll show you some simple examples to illustrate the possibilites of automations in Swat.io.
Automation: Mark all comments as neutral
Many of our customers diligently add a sentiment to all incoming comments in order to get an impression of the mood of their own community later on. We have been asked several times if it is possible to automatically add a neutral sentiment to all incoming comments and posts so that only positive and negative marks have to be added manually. With automations this is easy!
Just create a new automation in the settings pages of the respective channel. Select your keywords for the automation. If the terms match, the automation will be applied to the content. In our example, we want to apply the action to ALL content. In this case, there is a wildcard: if you enter an asterisk (*) in the "Keywords" field, the defined action will be triggered by all content.
In the next step, specify the action you want to be triggered when the automation takes place based on the defined keywords. For the neutral sentiment, choose "Set mood" and "Neutral" as the action. All you have left to do is save your automation and all new content will automatically be marked as neutral!
Automation: Assign to responsible colleagues
Assigning the right person for different questions from your customers can be tricky. With automations, tickets can be automatically assigned to the right person based on keywords.
Let's assume you want to assign a colleague responsible for sales calls to all tickets in which someone asks for the pricing of your product. A perfect case for Swat.io automations! Create a new automation and think about useful keywords. Automations work even if you don't use upper and lower case and also if the defined keyword is only a part of the word. For example, if you define "price" as the keyword, the automation is triggered for "Price" and "prices" as well. In the "Action" field, select "Assign user" and the colleague you want to assign to these tickets.
Automation: Hide swear words
No one likes to see inappropriate content on their Facebook page. With the right automation, you can now automatically hide comments and postings that contain swear words.
Create a new automation and define a set of keywords that you don't want to see on your page. Unfortunately, we can't and won't give you inspiration for those words here. 😉 In the "Actions" section, select "Hide" to automatically hide all comments that contain one of the words you defined.
This example is perfect for creating a combination of several actions. Since you have previously defined an automation to set a neutral sentiment for all comments, the swear word comment also gets a neutral mark. Of course it makes sense to assign a negative sentiment instead. After you have set the "Hide" action, you can simply add another action and set a negative mood on this comment. However, not all actions can be combined with each other. For example, you can't delete a content first and then like it, because it's technically not possible to do that.
Efficient Social Media Communications With Swat.io
How to create an automation – step by step
Can't wait to create your first automation? I'll show you how to do it step by step.
Automations can always be set at channel level – for your Facebook channel, for example. Go to the inbox settings and navigate to "channels". Any Swat.io user who has access to the settings can create or change automations. If automations have already been created, you can see them listed here. They can be edited or deleted at any time and can also be enabled or disabled from this view. To add a new automation, select "Add automation".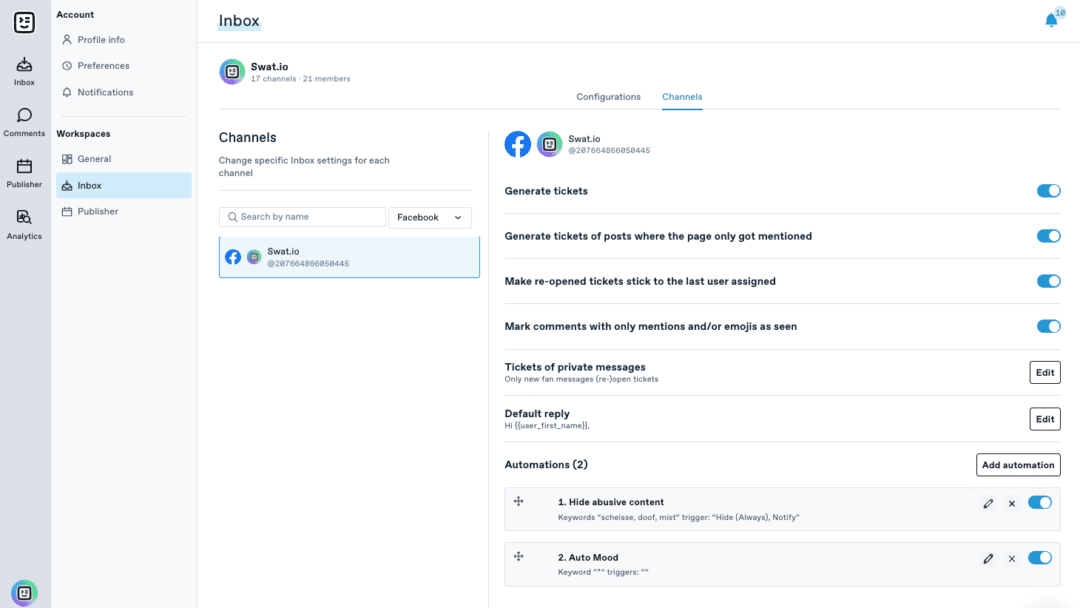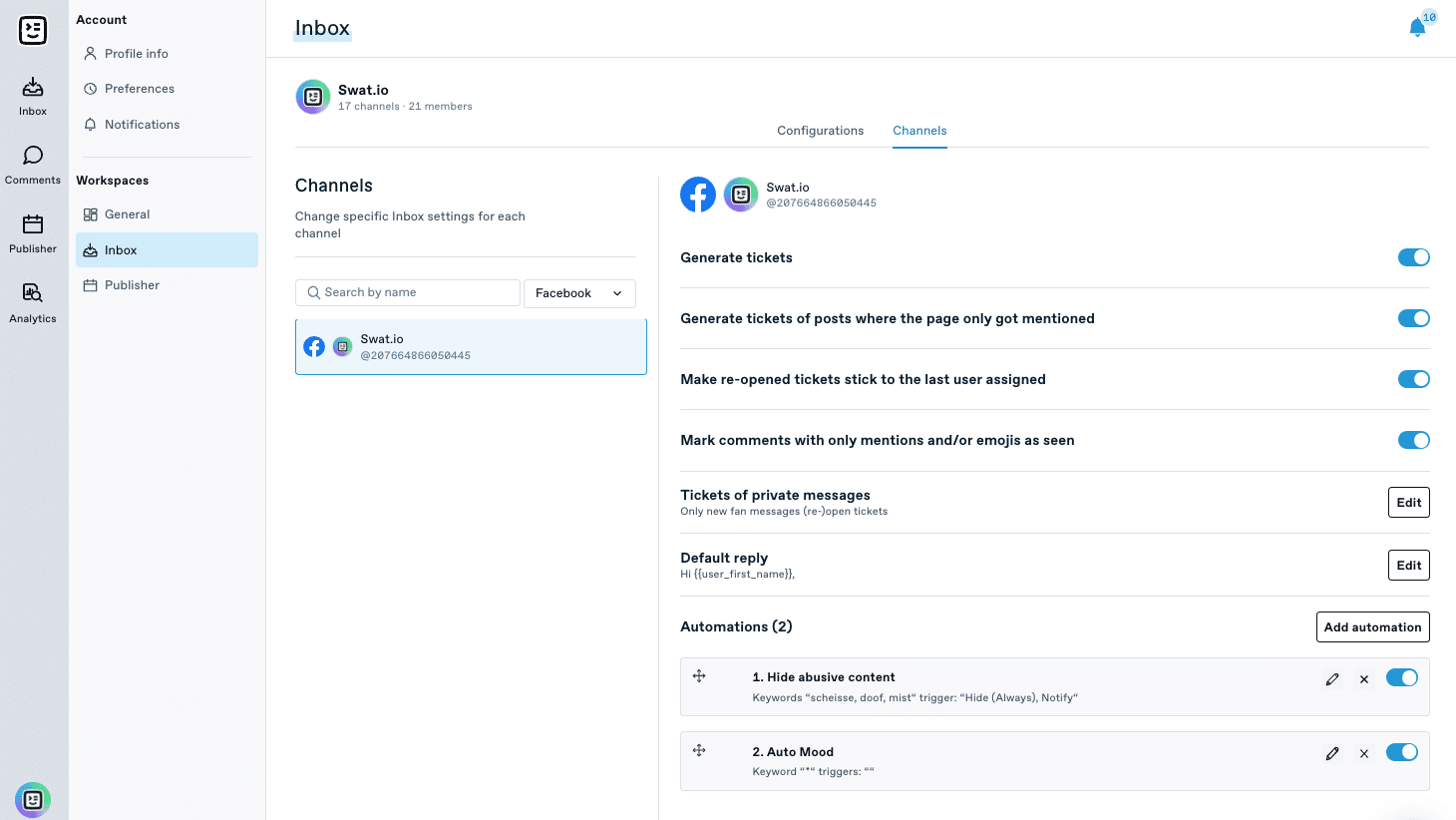 At first, name your automation and specify the type of content it will be applied to. You can select either all content or a specific type of content (e.g. private messages). In the next step, you may define the keywords based on which your automation should be applied. Keep in mind to enter only one word or phrase per line. All content including usernames, Twitter and Instagram @handles will be compared with the keywords. As explained in the example before, you can use a * as a keyword to apply an automation to all content.
Next, set a timeframe for the automation. There are three options: "Always active", " Active during office hours" and "Active outside office hours". I'll explain how to define office hours later. Once you have chosen one of the options, all you have left to do is define the action(s) that your automation should carry out if it applies.
By default, "Notify" is selected as the only action. This will always notify all users of the client who have enabled notifications. Of course, you can easily remove this default setting here. With a click on "Add action" you can create a new action for the automation. The possible actions are described in more detail below.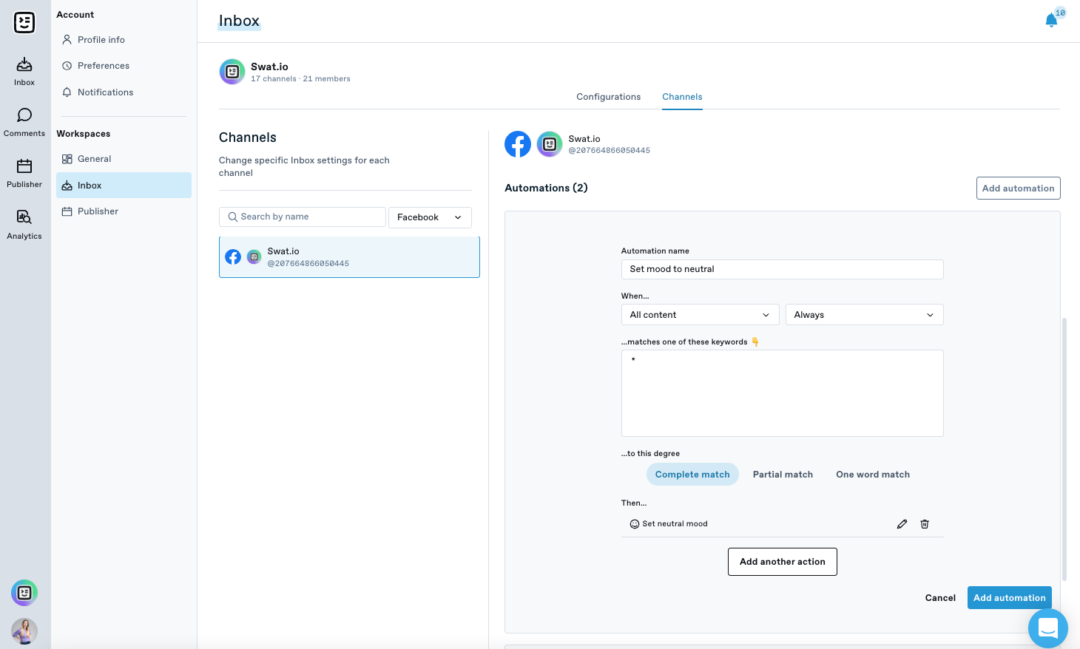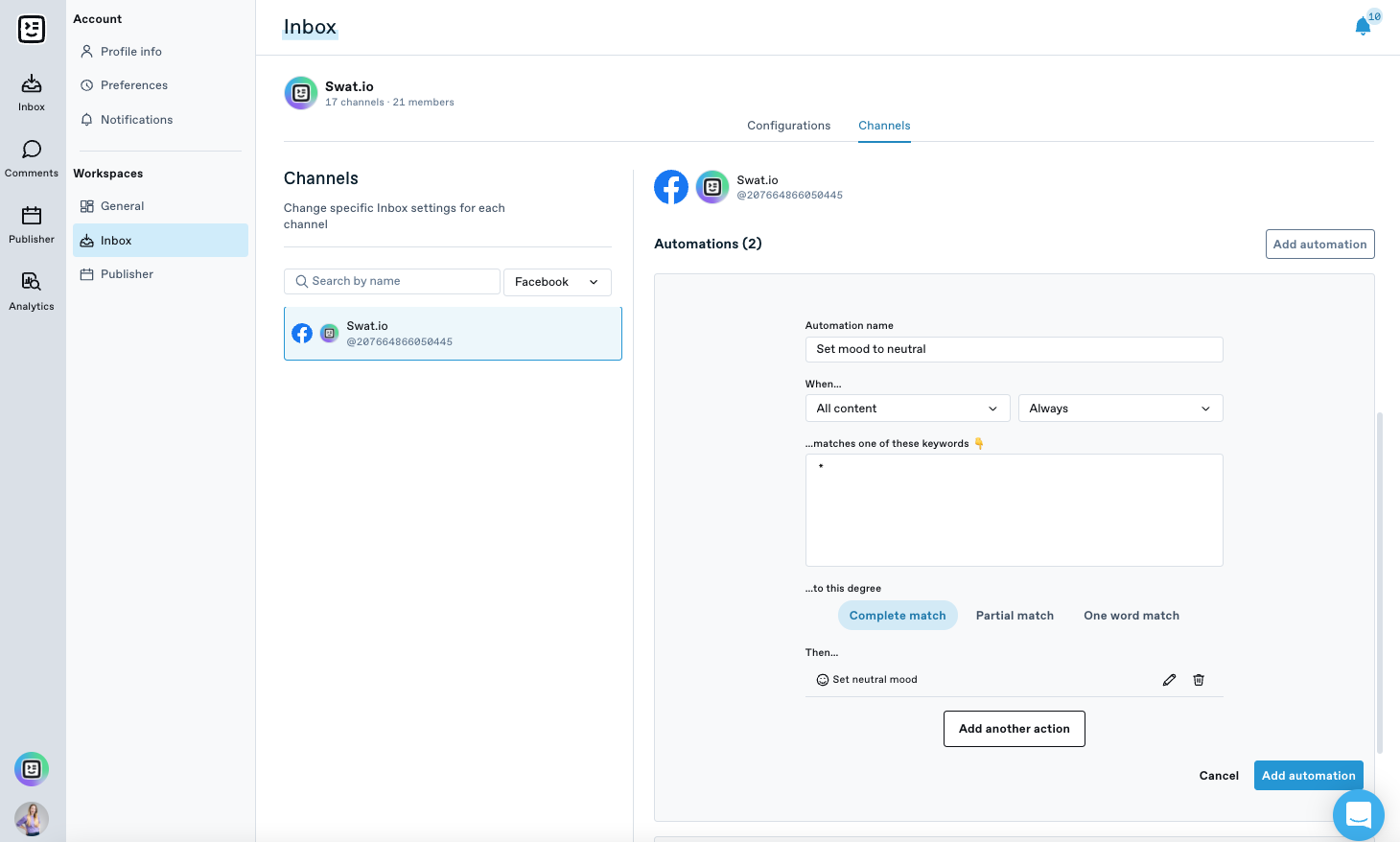 After you have selected all the settings for your automation, just hit the "Save" button at the bottom and you will be taken to the overview page where your new automation will be displayed immediately. And now you can lean back and watch while your work gets auto-magically done by itself! 🙂
Possible actions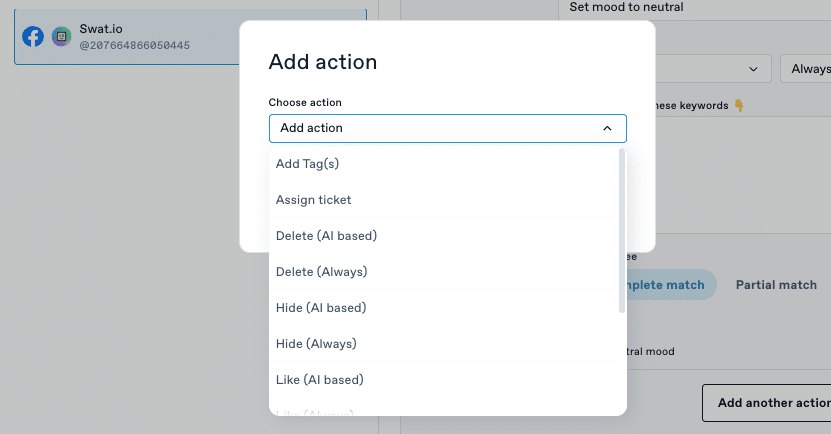 There are a number of actions you can perform with automations. However, due to the different APIs of each social media platform, not all actions can be applied to all channels. This overview shows you which actions can be applied and how:
Available for all channels (including monitoring channels)
Notify
Mark as read (cannot be combined with "Assign ticket")
Assign ticket (cannot be combined with "Mark as read")
Star ticket (highlights the ticket with a star)
Set mood (assigns positive/neutral/negative mood for the comment)
Add tag(s) (marks the ticket with the selected tag(s))
Available for Facebook
Like
Hide (the comment will be hidden, but not deleted)
Delete (the comment will be deleted irrevocably)
Available for Twitter
Retweet (optionally a quote text can be added)
Available for Instagram
Delete (the comment will be deleted irrevocably)
Available for YouTube
Hide (the comment will be hidden, but not deleted)
Available for LinkedIn
More useful tips on automations
Office hours
With some automations, it makes sense to have them performed only during or outside your office hours. In the channel settings you will find the "Office hours" tab, where you can set these. You can specify the exact times when your social media office is occupied for each day of the week. Office hours only affect automations and always apply to all automations of the affected channel that have the "during" or "outside office hours" option enabled.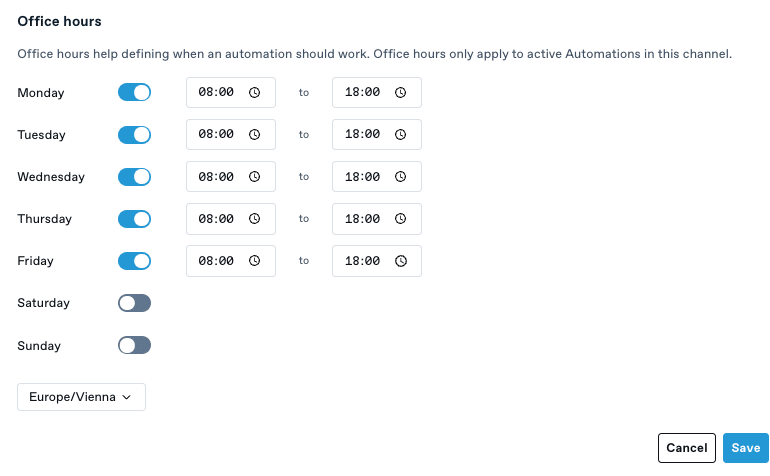 Logging of automations
There is a feature that allows you to always keep a perfect overview of executed automations. In the ticket or comment concerned, a small robot icon appears when an automation has been executed. As soon as you move your cursor over it, you will see information about which action(s) were carried out by automations.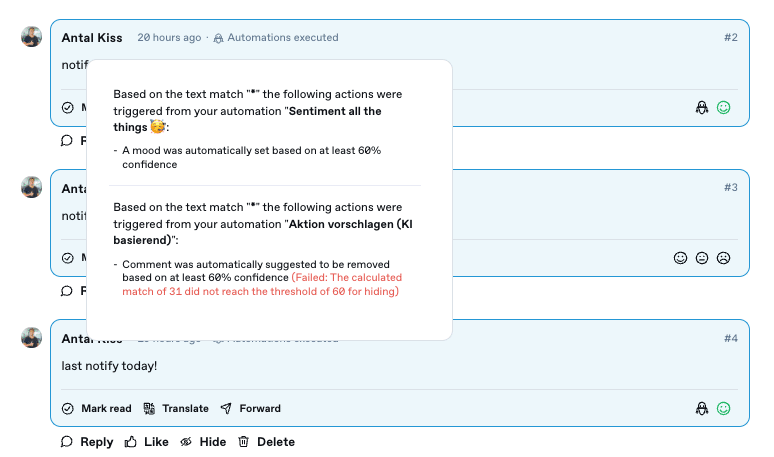 Sequence of automations
On the automation overview page you can see all automations of the selected channel in a list. You can easily change the order by using drag and drop. Always keep in mind which actions should be performed: Let's assume you create an automation that gives all comments a neutral mood and a second one that hides comments with swear words and marks them as negative. Here, it would be important that the neutral mood automation is executed before the swear word automation in order to not tag clearly negative messages with neutral moods.
Simplify your social media work with automations
With the new automations feature, we provide you with a powerful tool that can make your social media workflows a lot easier. We have shown you with simple examples what you can achieve with automations. Now it's up to you to define actions that will make your daily workflows easier. Our support team will be happy to assist you and will be available to answer all your questions – preferably directly via the Chat icon in Swat.io. We are curious to see how you and your team will use the feature.
Don't hesitate to give us your feedback at any time. It will serve as the basis for further automations, which we will unlock in the coming weeks. There is one thing we are sure of: You can do great things with the new automations in Swat.io!
Efficient Social Media Communications With Swat.io