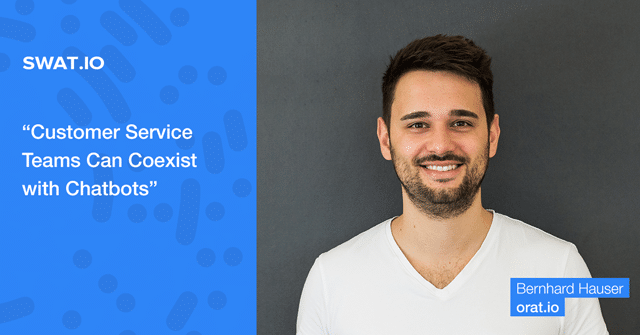 Featured in our latest eBook about Chatbots, Conversational UI and the Future of Online Interaction is an interview from Bernhard Hauser, CEO and Co-Founder of oratio. Read the whole piece below and find out whether customer service teams within eCommerce companies can coexist with chatbots, what the challenges are and how to overcome them. Furthermore, learn whether eCommerce companies should focus their bot strategies on a single platform or go multi-platform and how they could integrate bots into their stores.  
[ebook06]Learn about the history of chatbots, the most relevant messaging platforms, innovative use cases and best practices from international companies![/ebook06]
1. Can a customer service team of an eCommerce  company coexist with chatbots, or will these represent a total replacement? How could both of these work together? Which would be the main challenges and what solutions might there be for them?
Bernhard Hauser: I think before we dive right into the topic it's essential to understand that chatbots have two main features that makes them very interesting. There are two things that chatbots can primarily do. First of all, chatbots can automate conversations by understanding human language. To some extent, you can interact with an intelligent program that in the best case scenario is able to answer your questions right away. Of course, the company's ambition is to save resources. Customer service, in general, is one of the expensive things for companies to do. In fact, the most expensive type of customer service is represented by phone calls, whereas live chat is actually far more affordable for companies, and if they can automate these conversations, that is definitely something companies are aiming for. Automation is only one of the elements that involves chatbots.
The second thing chatbots can do is deliver an interactive experience right within Messenger. This means that as a customer, you won't have to type commands such as "Show me only the red shoes," "What's the status of my order?" or "Show me the next page." Instead, you can write within a conversation with a Messenger chatbot, and you can press buttons. There typically is a persistent menu, or even a carousel of images you can swipe through.
To answer your question, yes, I'm very confident that customer service teams can coexist with chatbots. The ones that are coming to market now and the ones we, at oratio, are working on, as well, deliver an interactive experience right within Facebook Messenger. That means that you can, for example, discover products or buy products right on your favourite messaging app. If you still have any questions related to the products, services, or even the company, you can use the exact same channel, without having to switch to e-mail. All you would need to do is start typing, and in the best case, a customer service representative would get back to you in just a moment.
"We're at a point where companies should show customers the potential in terms of chatbots and automated conversations, rather than trying to educate them."
The aim for customer service representatives and chatbots is to coexist, but in time, automation will make it easier for customer service to be quicker on responding to all inquiries, and eventually will make it unnecessary to have that many people involved in providing customer service.
As for the challenges, I think that the main one is the user experience. We're at a point where companies should show customers the potential in terms of chatbots and automated conversations, rather than trying to educate them. Hence, the main challenge is always to think from the customer's perspective on how you can actually solve a problem and provide a valuable service, and user experience is the core of them.   
2. Should eCommerce companies focus their bot strategies on a single platform or go multi-platform to cover more ground? How exactly could eCommerce companies integrate bots into their stores?
Bernhard Hauser: It actually depends on the customer base you are talking to. The more international a company is, the more sense it makes to be available on different platforms, as it very much depends on what your customers are using. If your customers are primarily on Facebook Messenger, I think it's preferred to be where the customers are. In general, the more platforms you can cover, the better, because one thing we learned at oratio is that messaging networks, even though they can be used worldwide, are very much geographically limited. For example, in South America, the majority is using WhatsApp. In the US, hardly anyone is using WhatsApp, as SMS is still very much used there. Facebook Messenger is gaining grounds very quickly. In South-East Asia, the situation is totally different, as there are other messengers such as Line, Viber and WeChat, the latter being specific to China. It makes sense to go multi-platform.
So far, we haven't found anything on the market that makes it easy for companies to integrate chatbots into their shops. That is why we decided to solve this problem. Our aim is to help shop owners sign up for our service and connect the shop with the platform with just a few clicks. As a shop owner, it doesn't matter what messaging network you and your customers prefer – we take care of everything so you can start selling on messengers.
3. Information retrieval or information entertainment? In which of these two areas will chatbots excel?
Bernhard Hauser: What I think many people don't get right about chatbots is their purpose, and whether they will end up replacing apps. Chatbots are in fact another channel of communication between businesses and customers. It's always a matter of choosing how you want to communicate with customers and in what way. If you're in the business of publishing content, like Buzzfeed or TechCrunch are, you'll use chatbots for delivering a daily digest in the morning for entertainment purposes. When chatbots are used for information retrieval for customer service tasks, the customer gets more proactively in touch with the company. This is actually one important thing about messengers. If we're talking about B2C communication on messengers, it's always the customer who is in control of the conversation and this is very important for the user experience.
4. If two competing companies each develop a chatbot for customer support, what are the elements that could set them apart?
Bernhard Hauser: It pretty much depends on how each company communicates with its customers. After speaking with a couple of chatbot developers, what is many times missing is fun and humor in the conversation. Of course, you could set a different response for the chatbot if it doesn't understand the request. The answer could be "Sorry, I have no idea what you're talking about," or "Oopsy daisy! You're talking pretty fast today! Could you please elaborate on that?" Making these chatbots more personal could help companies step out of the crowd.
"They're not just programs. You can give them a real look and feel… like a personality!"
5. In the future, could chatbots become the subject of mergers and acquisitions? What is their potential of becoming an asset and how would their popularity influence their market value?  
Bernhard Hauser: It depends. If companies used primarily chatbots as a way of communicating with their customers, these could be considered an asset. If you're running your customer service operations through chatbots, I don't think that would happen, but if you're running your whole business through chatbots, the channel is an integral part of your company, so it may be subject of mergers and acquisitions.
[ebook06]Learn about the history of chatbots, the most relevant messaging platforms, innovative use cases and best practices from international companies![/ebook06]
6. Where do you see all of this heading?
Bernhard Hauser: I think that chatbots will be a very important part of the communication between businesses and customers, but not all use cases will persist over time. eCommerce I'm pretty sure is one of them, because people will always sell and buy stuff, and it's always a matter of how easy you can create those channels around this process. What I'm very, very confident about is that it will be emerging countries that will be the major driver of this movement. We in the "Western world" have e.g. MacBook Airs and high-speed internet connections, but if you're looking at the next billion people coming online now, they're using smartphones, and not even flagships, but the more affordable kind. If you're getting online using a smartphone in 2016, a very natural thing to do is to stay in touch with friends or family primarily via messenger apps. This will be the major force in the chatbots movement. If your primary channel is messaging networks and not e-mail, I think this is where the main interest should be, on emerging countries and markets.
As for email, thousands of companies have claimed that it's dead, but that is definitely not going to happen anytime soon. It's an open technology that pretty much everyone can use. On the other hand, messaging networks are privately owned and have their own standards. Messaging platforms will take a part of the communication cake away from email.
In the case of eCommerce, let's say you want to order a t-shirt, and you place that order through a chatbot on Facebook Messenger. You can get the order confirmation and tracking information through the same channel. On the other hand, on Amazon, you get an email whenever you forget your password or place an order. If you're using messengers, you can have this whole conversation happening in one thread, which is faster and prevents you from searching in your inbox for a specific message.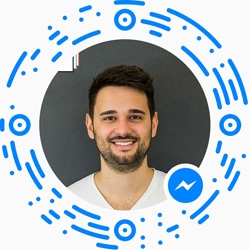 About Bernhard Hauser
CEO & Co-founder of oratio • Biz guy with techie background • Loves messengers • Chatbots enthusiast
About oratio
oratio enables eCommerce businesses to offer customer service, product discovery and sales on messengers.
Want to learn more about the future of chatbots and how they are changing online interaction for both individuals and businesses? Read the interviews on our blog or download our eBook.