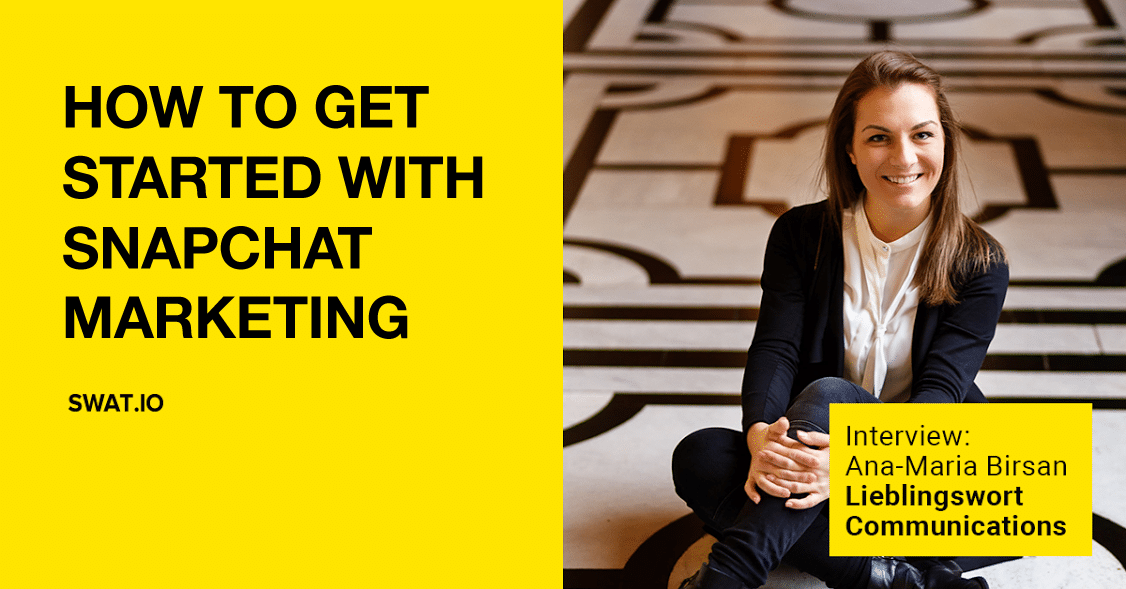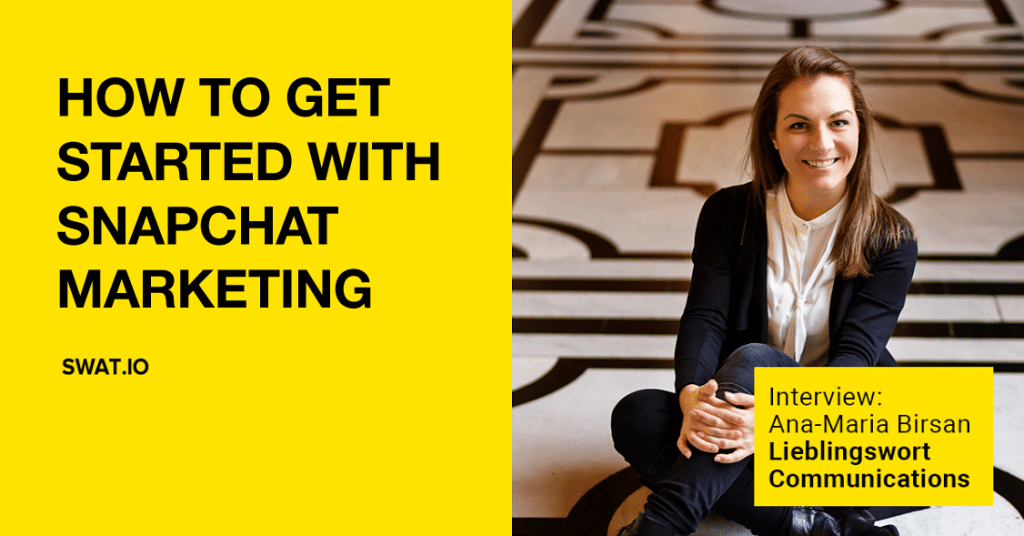 As part of our recently launched eBook on the psychology of Snapchat marketing, we interviewed Ana-Maria Birsan, CEO and Managing Director at the Lieblingswort communications agency in Vienna. Ana has been holding workshops on how businesses should do Snapchat marketing for quite some time now. Read the whole interview below and learn  all about Snapchat's core features for marketing purposes, what businesses need to do to get started on the platform and what rules they need to follow to create successful campaigns. 
[ebook05]Just getting started with Snapchat? Read 4 more expert interviews![/ebook05]
1. When did you start using Snapchat?
Ana-Maria Birsan: I first started using Snapchat a year and a half ago. At that time, my Romanian friends were using Snapchat more than the Austrian ones. A friend of mine was travelling to Australia and he sent me some great snaps and I thought that I needed to use it more often too because it was really cool and I really had the strong feeling that this could be the next big thing for me. Also, in Germany and in the UK many blogs talked about Snapchat so that was the key- point when I said: "ok, I need to get to know this platform before everybody else is joining."
2. We know you've been holding workshops on Snapchat. For what type of businesses does Snapchat work best?
Ana-Maria Birsan: I think it works well for established brands such as McDonald's and Coca-Cola, for bloggers, for media but also for innovative companies, that are really into digital business. It also works perfectly for personal branding – there was no platform like this before. I don't know how bloggers have branded themselves without Snapchat so far. Bloggers live on Snapchat.
3. What would you say is the core feature of Snapchat for marketing purposes and why?
Ana-Maria Birsan: I think authenticity is the core feature. You have to be really authentic on Snapchat and this is what makes the platform so interesting. You can photoshop an Instagram picture, you can edit a video and upload it to YouTube or Facebook. That's not possible on Snapchat. There, you have to be just like you are. I think that, by putting together pictures and videos – creating a snapstorm – and trying the filters and the lenses on them, you can create variations of what is happening and also create an impression for those following you. They have to like you as you are. You are not able to create another "person" or a different version of yourself or of your brand or your company – you feel and have to get naked on this platform.
4. If a business that is not social media savvy wants to go on Snapchat, what does it need to do?
Ana-Maria Birsan: Starting on Snapchat is quite difficult. Many marketers come to me and ask me "What are we doing here?", "What is this platform for?". Getting familiar with the platform and its features, especially with the lenses, is important in the beginning. You don't have to be a pro when you get started. I think that the progress you show in what you are doing is the most important thing. The key element that makes companies or brands famous on Snapchat lies in learning by doing. I also think it's important for brands to show that they are consistent on Snapchat. Snapchat needs to fit within the company's overall social media strategy and work alongside the other social media channels. Snapchat is not a platform that boosts itself. It needs the other platforms to do this as well.
To sum up, on Snapchat it's all about learning by doing, trying what fits best for the company or for the brand, trying to create your own content or get creative people to create content for you. I think that learning by doing on Snapchat is very important.
To get a higher reach, it's important to use the other platforms as a boost for Snapchat. What I did – and what worked out really well – was to change my profile picture on the other platforms like Instagram, Facebook, Twitter and Pinterest and posted my snapcode every 2 to 3 weeks. Snapchat is more or less the behind the scenes platform. While you need to be perfect on Facebook or on Instagram, you can be funny on Snapchat.
5. Are there any rules businesses should be following on Snapchat?
Ana-Maria Birsan: It depends on the brand. To be honest, I haven't yet seen a brand which is perfect in their appearance on Snapchat. At least not in Austria or Germany. We have a supermarket chain here in Austria that is not posting supermarket- related stuff on Snapchat but things that belong to human resources. They use Snapchat as a recruiting tool which is a brilliant idea.
"Snapchat is all about learning by doing, trying what fits best for the company or for the brand."
Vice is also doing it very well here in Austria. Not the Discovery section channel but the Vice corporate channel is quite interesting to watch. They are showing the behind the scenes content at the Vice company here in Vienna.
I think that every newspaper, every magazine and every media company should really take a look at Snapchat and give the platform a chance.
6. If you could change anything Snapchat- related, what would that be?
Ana-Maria Birsan: The linking and mentions part. The filters and the lenses are nice, the Story feature is nice but it really disturbs me that you are not able to tag other people. If I go into a supermarket and make a snap of Coca-Cola, they will never see this because they are not following me. I think that this is the worst thing about the platform.
7. What was the most embarrassing/ funniest snap you've ever sent/received?
Ana-Maria Birsan: The funniest situation was me taking a picture and using a really strange lens which I wanted to send to my sister but accidentally sent it to somebody else. I hadn't talked to that person in a long time and this situation got us talking again. A simple snap.
There is also a girl that I know. She started with Snapchat when the new stickers came out and she creates pictures where you need to find things. She puts many stickers there and writes a single sentence: eg. "find the key". And you need to find the key emoticon among the multitude of stickers in just 10 seconds because that's how long the snap lasts. That's really amazing and she has positive feedback because people want to see it again and again.
It makes them addictive. You see – Snapchat is a very addictive platform.
8. To use or not to use Snapchat?
Ana-Maria Birsan: It depends. If you have the resources and the content for Snapchat, it is the most amazing platform you can use.
To be honest, if big consulting companies like Accenture for example, would be able to use Snapchat as well just to show their everyday lives in the company, it would make them more "human".
In the end, it all comes down to resources. You need to have a person who is always there and on time and you have to brief her very good to know which content is suitable for Snapchat and which content is not. It's a resource thing and resources are money. So if you have enough money to spend on Snapchat, do it just for fun and not necessarily as a sales channel.
I advise companies to use Snapchat especially when they have a younger target group.
[ebook05]Just getting started with Snapchat? Read 4 more expert interviews![/ebook05]
9. Snapchat has recently made some big announcements regarding Advertising….
Ana-Maria Birsan: It was just a matter of time until Snapchat rolled out ads. The point is that I have seen the new Advertising possibilities already on US-Snapchat-Accounts. The Taco Bell Lense was awkward for me. I would never use the lense, unless I am a heavy Taco-Bell-Consumer.
The Ad Sequences between the different Snap Stories seem to be like the Spotify-Free-Version Advertising Strategy. To be honest, I got disturbed by this in-between ads. But as I am a premium Member of Spotify, I do not get any ads anymore. I think that this Ad-Possibilities will not come so fast to the European (Austrian or German) Area. As always, we need a little (lot) more time than our English-speaking colleagues.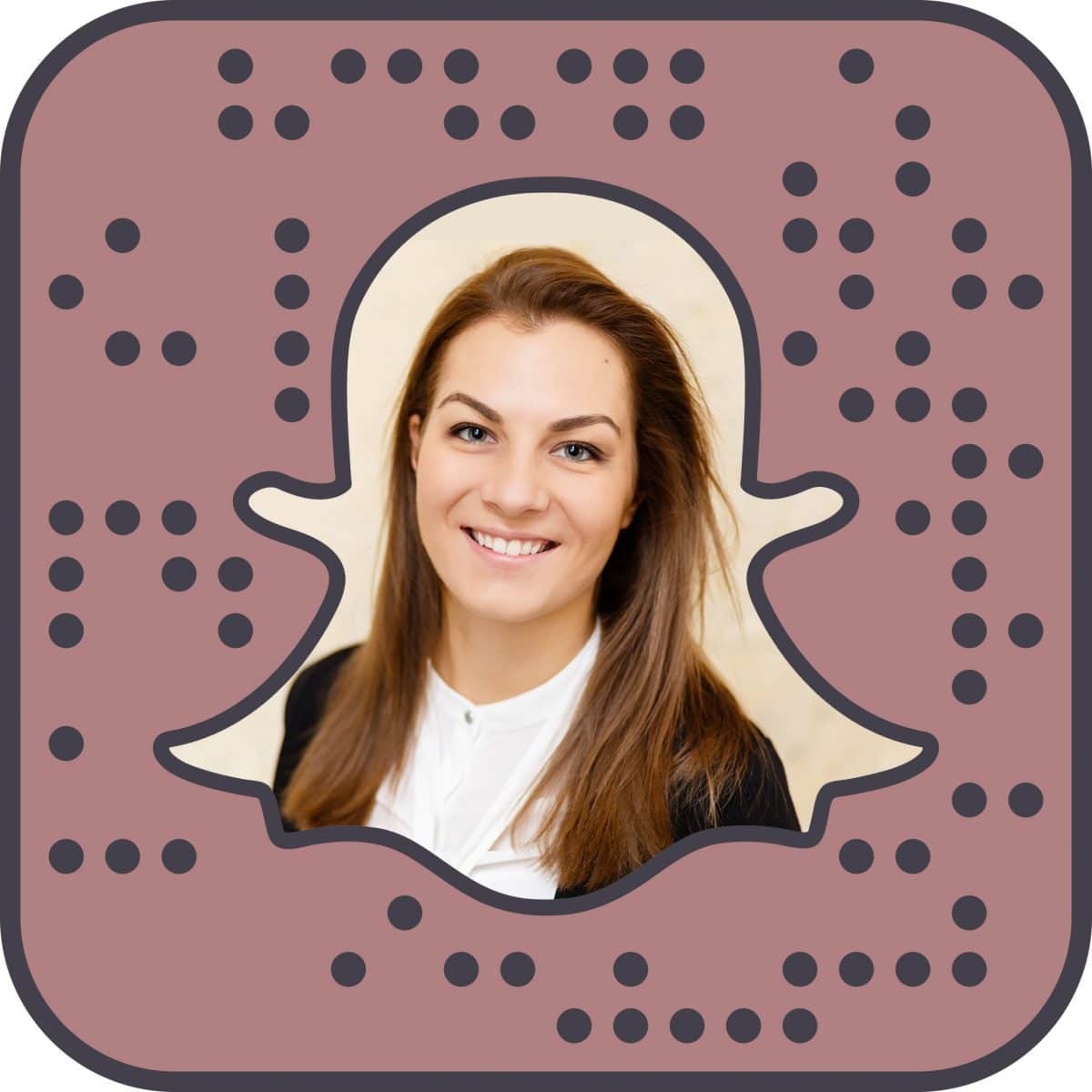 About Ana-Maria Birsan
Ana-Maria is CEO and Managing Director at agency Lieblingswort Communications in Vienna. She is active in fields like Communications-Strategy, Social Media, Blogging, Advertising and eCommerce and likes to surround herself with creative minds whose inputs bring added value but also to bring value to other people, brands and companies. Her goal is to push the Austrian digital and eCommerce industry one step further and to show that companies have a wide range of communication means, more than just on a basic level. Her mission is an educational one – it's a matter of the heart.
Want to learn all about Snapchat marketing? Read all our interviews or download our free eBook!