In our latest eBook about Social Media Content "The Art of Social Media Content Creation" we've included an interview with Becky Shindell, Social Media Marketing Managerin at SEMrush. Read the whole interview below and find out how Becky is using Social Media to engage with potential customers, how SEMrush creates original content for social media and what role it plays in their overall strategy.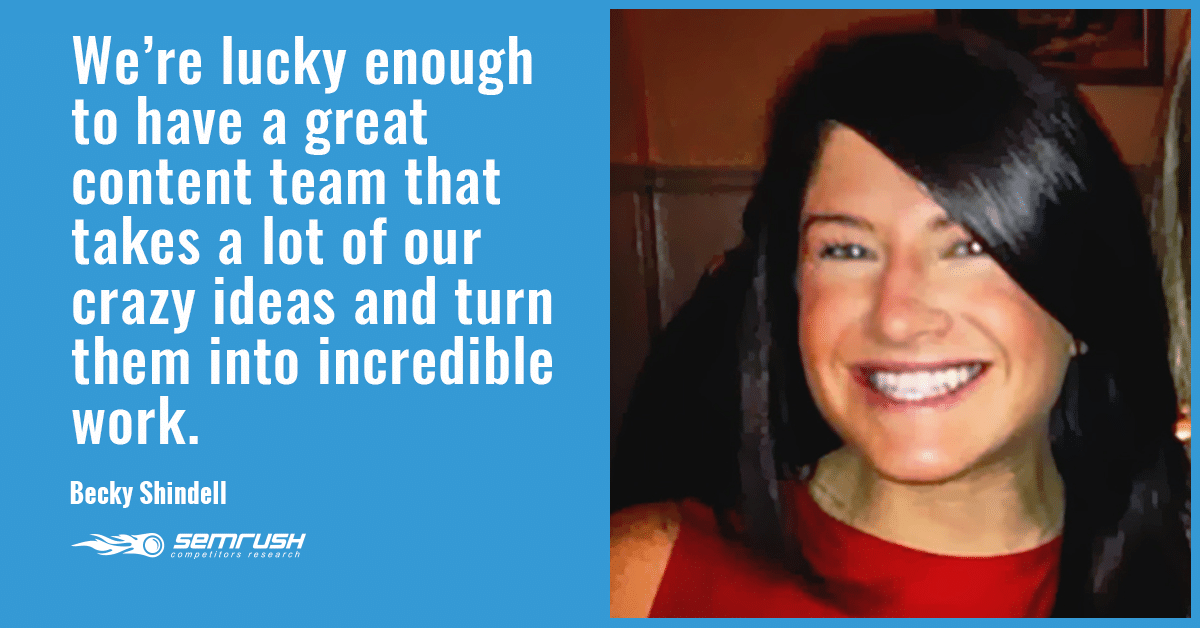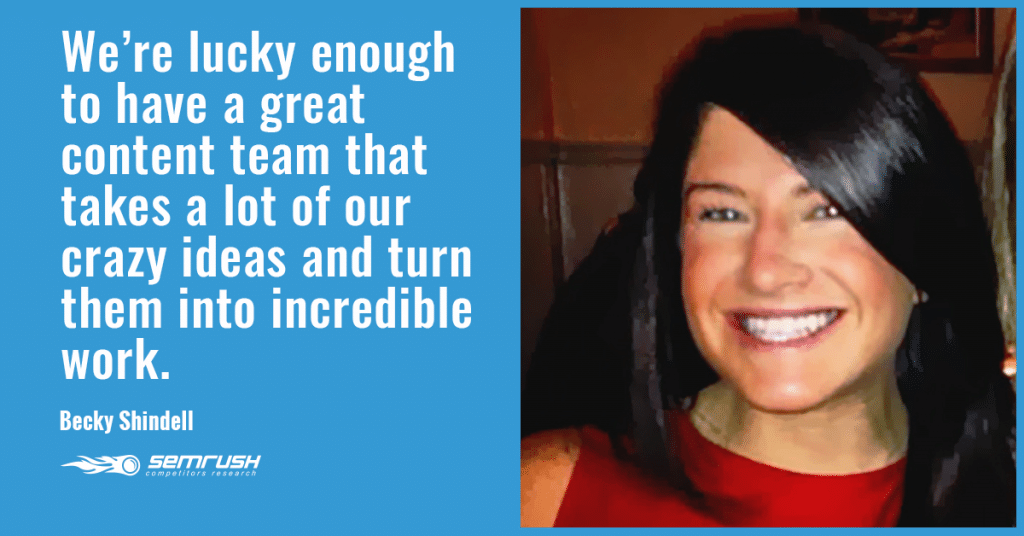 Could you be so kind as to tell us a bit more about your professional background and what your current role at SEMrush is?
Becky Shindell: I went to college and majored in something similar to an Online Marketing degree, so I've been in this online marketing business since I graduated from college 6 years ago. During college, one of my professors in my major told us that many of us would go into a career called "SEO." He was right! I started out doing online marketing and SEO and from there, my role has transformed into the Social Media side of things and I believe it will keep transforming as the industry changes.
1. As an experienced social media manager, you must have witnessed good times and hectic ones. Could you share with our readers some of the greatest challenges you've had to overcome and how you did it?
Becky Shindell: A couple of years ago I worked at an eCommerce company that sold maternity clothes, one of the largest in the world. There was an instance when we were selling a shirt that many deemed inappropriate. It received a lot of backlash both on and offline. All of this was picked up by major news corporations. As a social media manager in that instance, I had to put on a PR hat for the first time in my life and figure out how to handle a social media crisis. It was definitely a huge learning experience because I had never dealt with that before and, luckily, haven't had to since then. At SEMrush, I work under an amazing team, working with Olga Andrienko. She has definitely seen to it that we never have instances like this one, so I'm very lucky because of that.
As for the shirt incident, we had to put out a PR statement, apologize to people online, and had to take various measures for this social media crisis. Even though we didn't expect it to turn into something so crazy, it did.
[ebook07]Improve Your Social Media Content And Become a Better Marketer![/ebook07]
2. If you search for "social media content that works best" on Google, you'll find plenty of articles on the topic. Some bet on videos, others on creative images, and so on. What type of content would work best from your experience and why?
Becky Shindell: For us, original content works best. If we're tweeting out an external article for another publication, instead of using the copy and image that come up when hitting the tweet button, we try to create our own image and our own copy to put out there. Being creative and writing your own copy is a lot better for engagement. Something else that's working well for us that we're just getting started and hope to do a lot more of, is video. Obviously, it's a huge thing now on social media and we're lucky enough to have a great content team that takes a lot of our crazy ideas and turns them into incredible work. Recently we did a 360-degree video that got an incredible amount of engagement. We're still testing what works and what doesn't, but these are the two things that are working really well for us.
We don't have a dedicated video budget or anything like that, but for Instagram or Facebook Live, recording with your smartphone is OK, too. You just need to be different from how others are.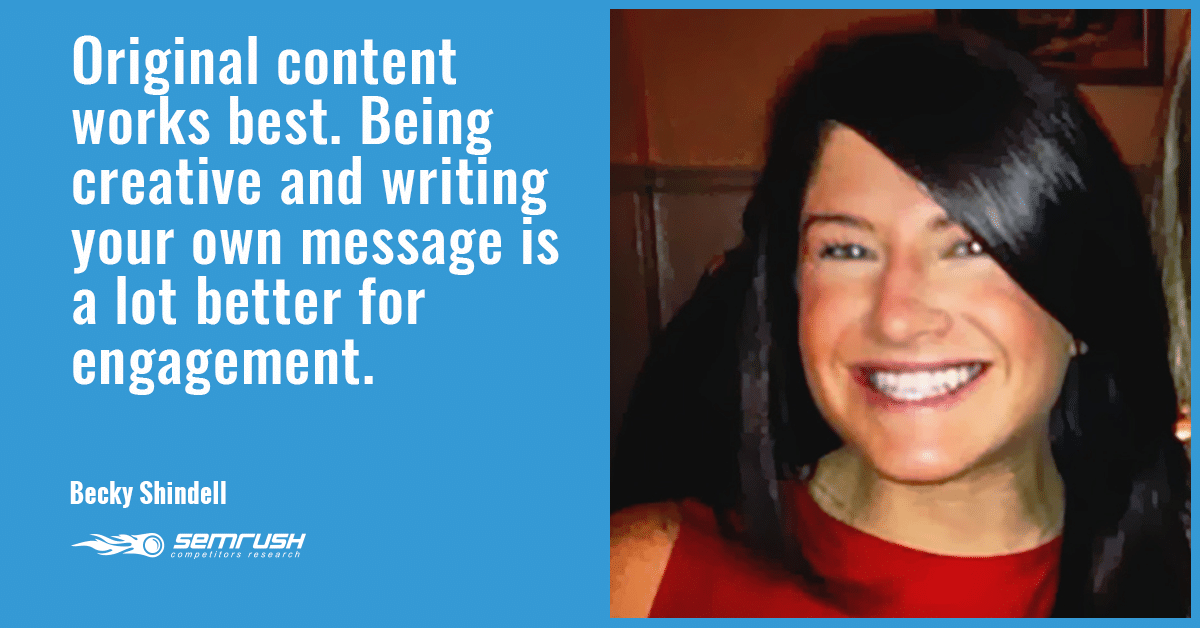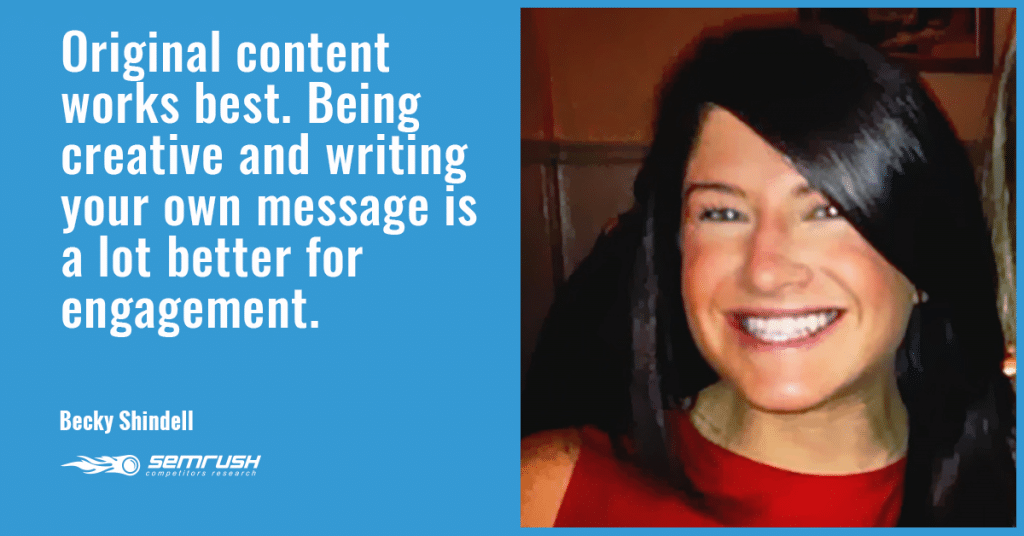 3. As a social media manager, one needs to always be one step ahead of the game – and things are changing pretty fast in the social media space. What's the next frontier in social media? What should social media managers expect to see in the future in terms of social media content? (VR, wearables, on-demand content?)
Becky Shindell: I think that chatbots are the next big thing. They're super helpful for customer service and for communicating with your users. If brands aren't already doing this, it's definitely something they should look into.
4. How can social media support other marketing channels with content and what's your advice on creating a cohesive content strategy across all channels?
Becky Shindell: Social media is a big marketing channel of ours. We use it to support our customer success (customer service) team, plus the e-mail marketing team, the webinar team, basically all of our teams. Social media acts as a core channel for us and it's a great way for people to communicate with us in a quick way. We're using it to get in touch with our users, and it's really important to make sure that you're using it in the right way.
Our goals change periodically. Sometimes, our main goal is to generate more leads, at other times we want more brand awareness, so we constantly need to change our social media strategy to be aligned with our business goals. We meet weekly to talk about everything. It's definitely different, with us being an international team, as things that work in the US might not work in other countries. We try to keep everything in brand.
[ebook07]48 Pages of Awesome Educational Content Including 5 Expert Interviews For You![/ebook07]
5. Could you share with our readers an example of a social media marketing campaign that you loved (it can be created by SEMrush or another company) and explain what made it special to you?
Becky Shindell: One of my favourite social media campaigns as of recent is BuzzFeed's Tasty videos. They're so much fun to watch, and if you're on Facebook, you can't scroll through your News Feed without stopping to watch their videos. One of the reasons I love them so much, and not necessarily as a social media marketer, is because they're really changing the game on Facebook and video marketing. Their engagement is simply unbelievable! I think I could sit and watch their videos endlessly.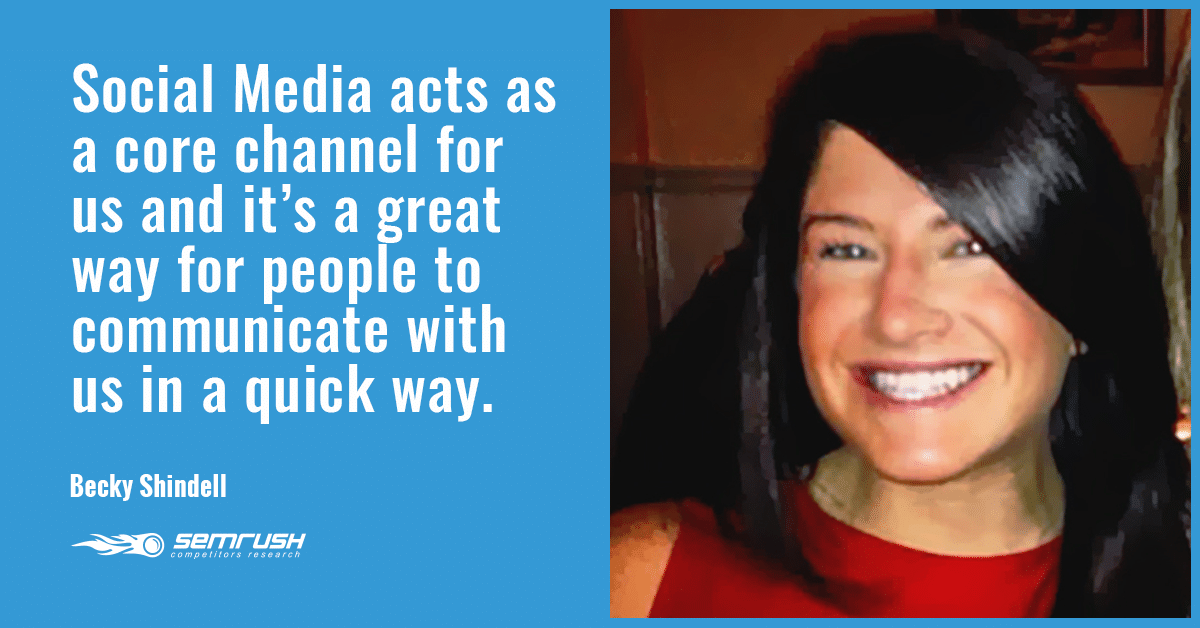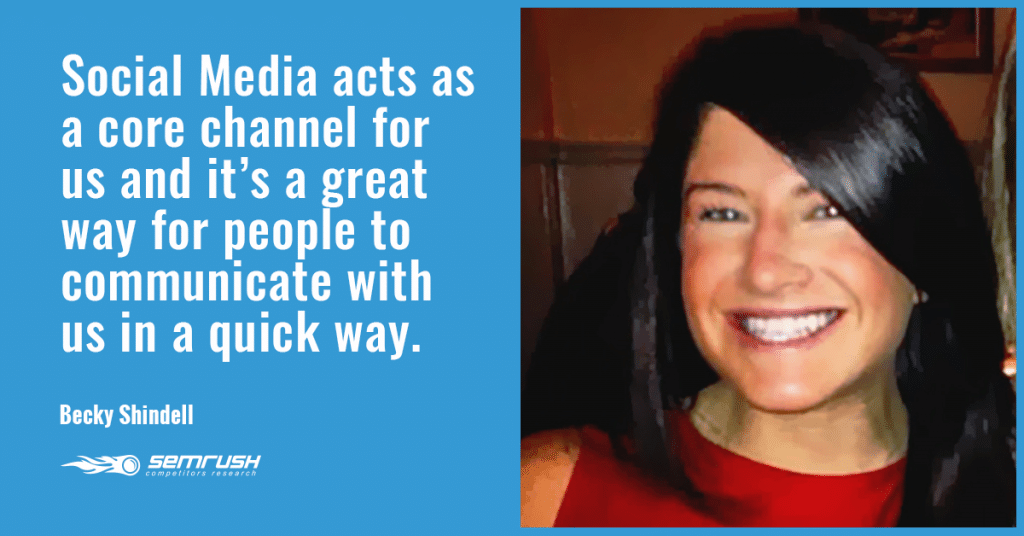 6. What social media KPIs do you monitor at SEMrush and how do you ensure that social media goals are aligned with marketing and overall company goals?
Becky Shindell: A lot of our KPIs are focused on measuring conversations and making sure that we answer people in a timely manner. It's really important to us and obviously, to our users to make known that we really are here and we're not just robots, but real people. Shares, likes, and retweets obviously matter, and the leads also matter, but the most important thing for us is to ensure community engagement and answer people in a timely fashion.
Since we're an international team, there's always somebody there to ensure this. There's only an hour or two when there's nobody in the office. Also, on Facebook Messenger, we have an automated message that shows up on and says something along the lines of "Thanks for contacting us! We've seen this and we'll get back to you as soon as possible." We want to make sure that the customer knows that they're being heard.
I've seen chatbots used in a couple of different ways, but I don't think I'd use a chatbot as our main communication tool. Still, it's a different way of making people spend time on your social media page. Since people are starting to buy things on social media now, and Facebook is turning into a one-stop shop, I think that chatbots will help, but they won't replace people. I don't want them to replace people, because then I'd be out of a job 🙂
7. What 3 pieces of advice would you give a Junior Social Media Manager to succeed in the long run?
Becky Shindell: I think that my #1 piece of advice is not to let people take advantage of you. A lot of people look at social media managers as if it's a job that anybody could do, and that they're not a real asset to a company. It's important to show your worth to your company. Read everything you can, listen to everything you can. There are so many awesome resources, podcasts, and experts that you can follow on Twitter or on Facebook. If you're able, go to conferences, meet people in the industry and ask questions. There's so much to learn, so networking, meeting people, learning, and not letting anybody take advantage of you are definitely what you want to be aware of in this career.
Another thing to note is that Social Media is not a 9-5 job. Most social media people don't get days off because they have to be online, responding to people for hours, so it's definitely a different job. Giving someone a manual when they're just getting started is a good idea. Some brands are very casual, others are very serious, so you definitely have to make sure your future social media managers learn the brand's voice before they send out any messages.
About Becky Shindell
Becky Shindell is the Social Media Manager, US for SEMrush. Her main focus is the companies' Facebook and Twitter accounts and she also hosts SEMrush's weekly #SEMrushchat on Twitter. You can find Becky at many digital marketing conferences around the country spreading SEMrush awareness.
About SEMrush
SEMrush is one of the world's leading competitive intelligence suites and an all-in-one platform for digital marketing professionals that provides data and analysis on websites' SEO, paid search, social media and link-building activities worldwide.  On top of being a powerful competitive analysis toolkit, SEMrush offers necessary features to help companies optimize their own online presence such as site audit, brand monitoring and content tools.
[trial]Plan and Monitor your Social Media Activities – Try Swat.io![/trial]