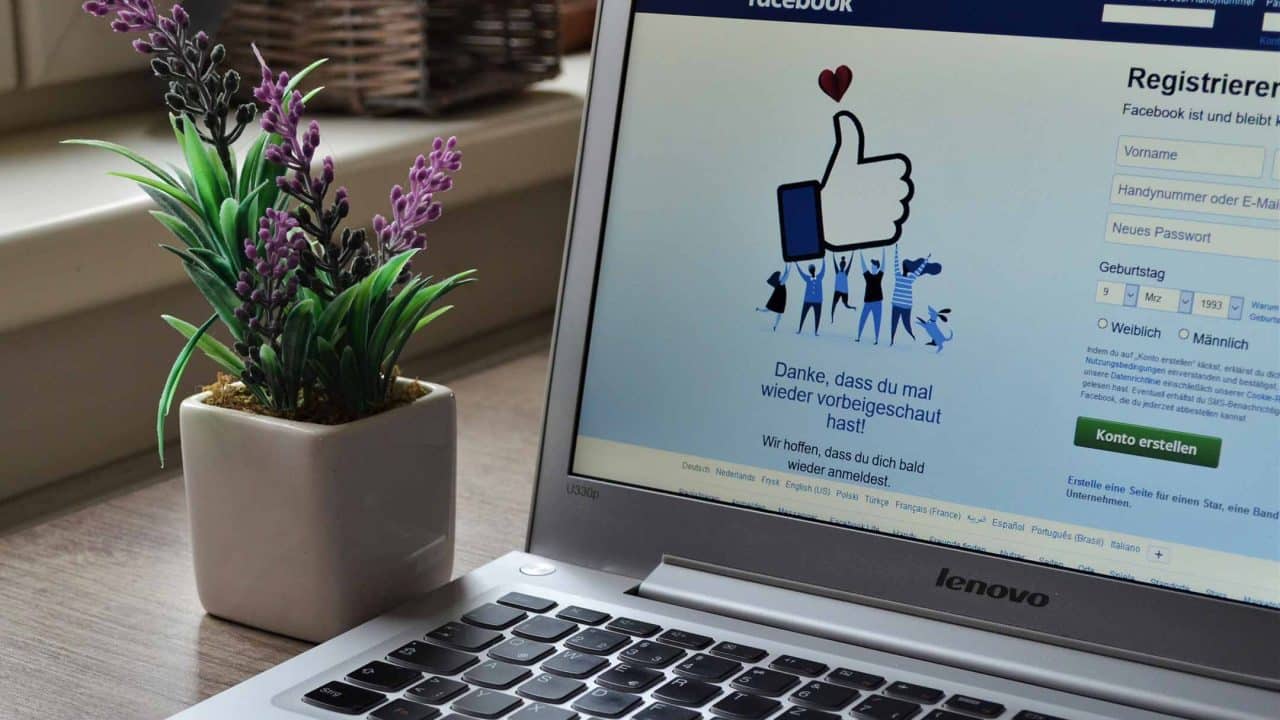 Facebook Ads 2023: Your Guide With All the Info and Tips You Need for Successful Ads
Facebook has made social media advertising an interesting prospect for the great majority of companies. With an extensive self-service tool, numerous ad formats, and detailed targeting options, it's possible to address a wide variety of audiences. That's why Facebook Ads are an integral part of many social media strategies.
In this guide, you'll learn what makes Facebook Ads special. Learn how to set up a campaign in just a few steps and get inspired by our best practices for successful ads. We'll answer all the questions you need to successfully launch your Facebook ad strategy.
A Word About Facebook Ads in the Meta Universe
Since Facebook's parent company was renamed Meta – and probably even earlier – Instagram and Facebook Ads have grown even closer. Many of the company's tools serve both platforms. In this guide, we'll focus on Facebook, even though many of our tips apply to Instagram too.
Why Facebook Ads Are Worthwhile
Is organic reach on Facebook dead? It's not quite as dramatic as many make it out to be. However, according to statistics, organic reach only makes up 6.4% of the number of page likes. Of course, there are outliers and viral posts are still possible. But it should come as no surprise that 93% of social media marketers additionally use ads. In 2022, ad spending by US companies is expected to grow to USD 58 billion.
The biggest advantage of Facebook Ads is that you can reach a large audience. Some 2.93 billion users use the network every month. And don't forget the more than 2 billion Instagram users you can reach with your Facebook campaign.
Another argument is the extensive options that Facebook ads offer. You have a whole range of features at your disposal in both targeting and ad formats to address your audience. In this way, you can increase brand awareness, boost your conversion rate and bring more visitors to your website. Analytics data is helpful here. Facebook calculates the ROAS (return on ad spend) directly from the expenditure and revenue generated, so you can see the impact of your ads at a glance. With a smart approach, the profits significantly exceed the cost of ads.
Overview of Ad Formats on Facebook
The starting point for good ads is the right format. Facebook provides a whole range of ad formats that are suitable for different use cases. Not all of them can be combined with every campaign objective.
Image Ads
Image Ads are the classic Facebook Ads. They consist of an image with a call-to-action button and associated text. Facebook itself recommends using meaningful product images or attention-grabbing visuals.
Carousel Ads
Often, one image just isn't enough. Carousel Ads let users swipe through a series of tiles. These can show products in different use cases, or they can be used for storytelling.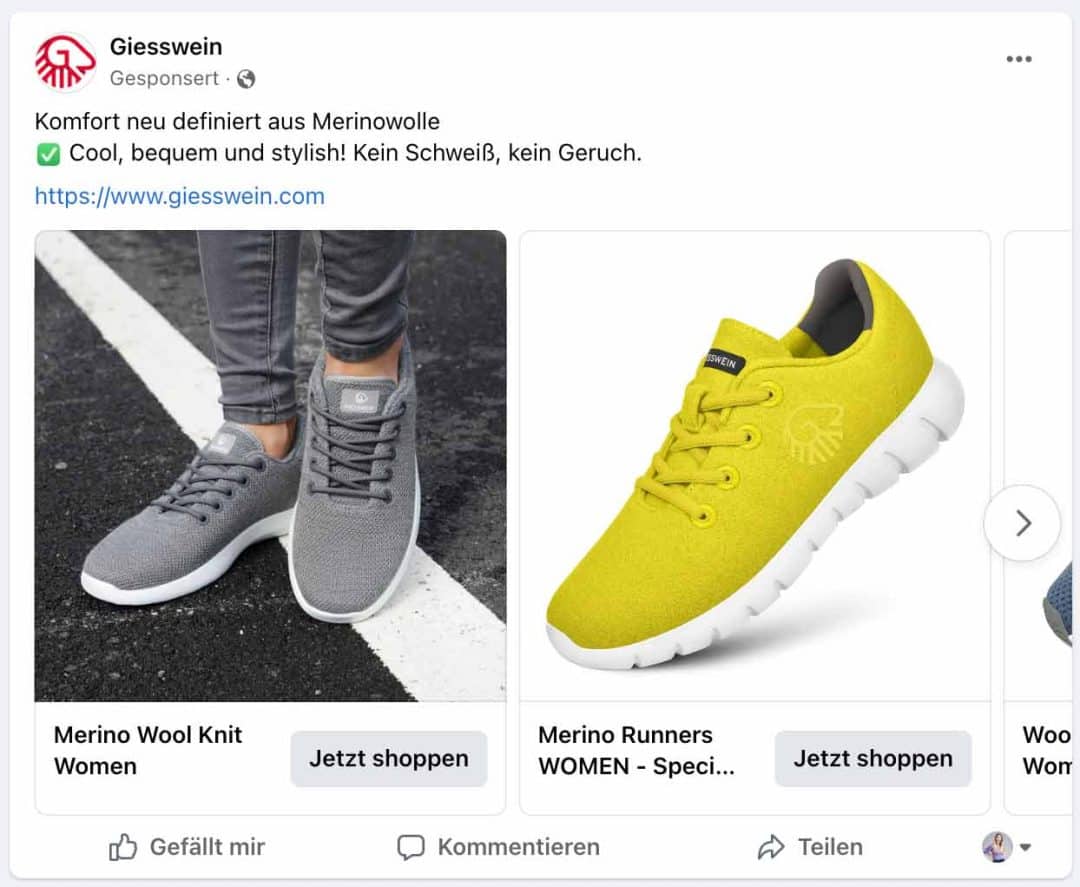 Video Ads
The ongoing video trend in social media marketing is also making its mark on Facebook Ads. Video Ads allow you to showcase your product well and make the people in your company seem real and approachable. Authenticity is becoming increasingly important here.
Collection Ads
A Collection Ad helps you showcase products and bring interested customers to your online store as seamlessly as possible. It consists of a main video and three small image tiles. With a little creativity, this format can be used successfully in more than just e-commerce.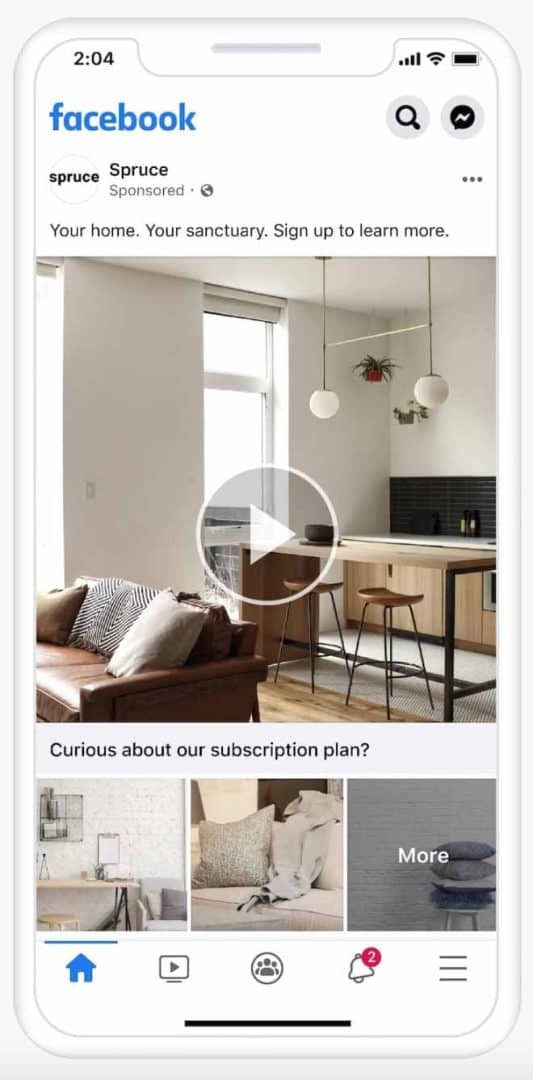 Instant Experience
When users click on this ad, the Instant Experience opens up in full screen. You can include different assets, such as video, images and carousels. The advantage is that users don't have to leave Facebook but still end up on your own landing page with content from your brand.
Overview of Facebook Ad Placements
Ads can be displayed in different places on Facebook. Here are the placements currently available:
Feed: The classic. Users will see your ad as they scroll through their newsfeed.
Marketplace: Marketplace is the classifieds platform within Facebook. Your ads will be displayed between the Marketplace ads.
Facebook Video Feeds: With this placement, your ads are shown between organic videos in Facebook Watch or other video feeds.
Facebook Right Column: The name says it all. What's meant is the right-hand column in the desktop browser.
Facebook Stories: If you select Stories, your ads will be shown between organic Stories from different users.
Facebook In-Stream Videos: In-Stream Ads are shown in video content or live streams.
Facebook Reels: Your ad is displayed in the Reels feed. Note that you need portrait-format content for Reels and for Stories.
Facebook search results: With this placement, your ads will be displayed on the results page of searches.
Facebook Instant Articles: In Instant Articles, other formats are available alongside classic Facebook Ads. For native ad formats or branded content partnerships, you need to contact the relevant publisher directly.
Step-by-Step: How to Use the Meta Ads Manager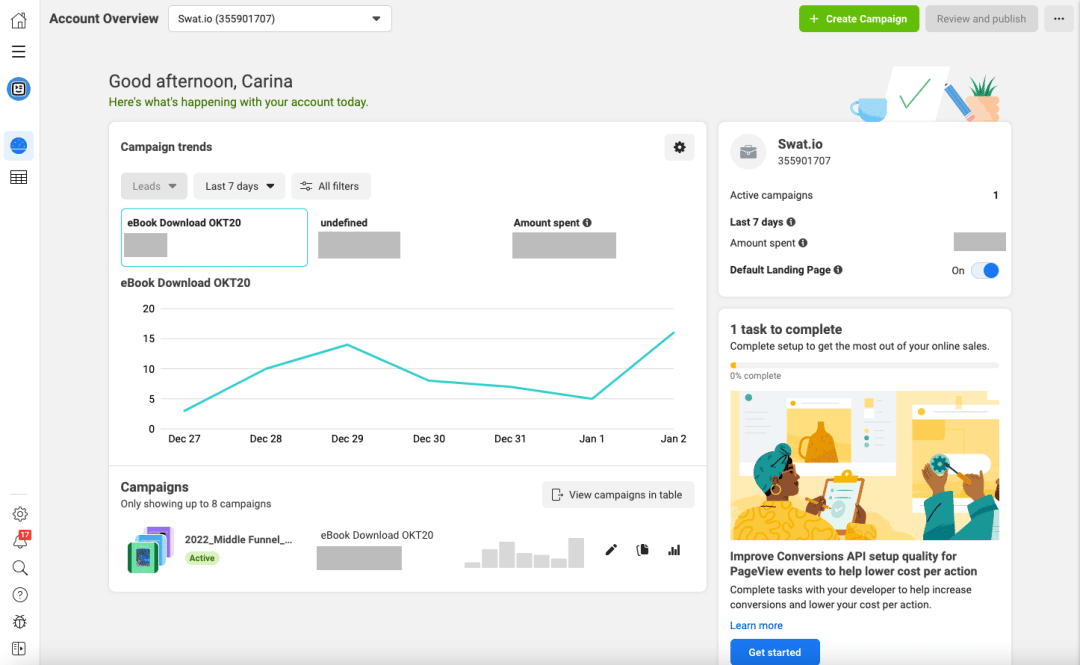 Let's go! The tool you use to run your ads is Meta Ads Manager (formerly known as Facebook Ads Manager). It's the place to go to:
Create ad campaigns
Manage multiple ads and campaigns, and
Measure the performance of your ads.
1) Facebook Ads: Overview of the Ads Manager
First of all, log in to the Meta Ads Manager. This is divided into three sections: campaigns, ad sets, and ads. At the campaign level, you can define basic settings such as the campaign objective. In the ad sets, you can create several groups for each campaign, which differ, for example, by audience, budget, or placement. Each ad set also contains (multiple) ads. This means you can use multiple visuals and different wordings.
The algorithm decides which ads are displayed and how often, based on signals from the users.
2) Facebook Ads: Creating a Campaign
Click the green "Create" button to start setting up your campaign. A popup will open where you can enter a campaign name. When you click "Continue," you'll be directed to the settings for your campaign.
Navigate to the "Campaign" section in the left-hand column. The most important setting here is the campaign objective. You have a number of objectives to choose from in the categories of awareness, consideration, and conversion. Deciding which is the right objective ultimately depends on what your overall social media goals are. You should be aware that not every objective can be linked to every ad placement. Meta has a summary table with information about the available objectives.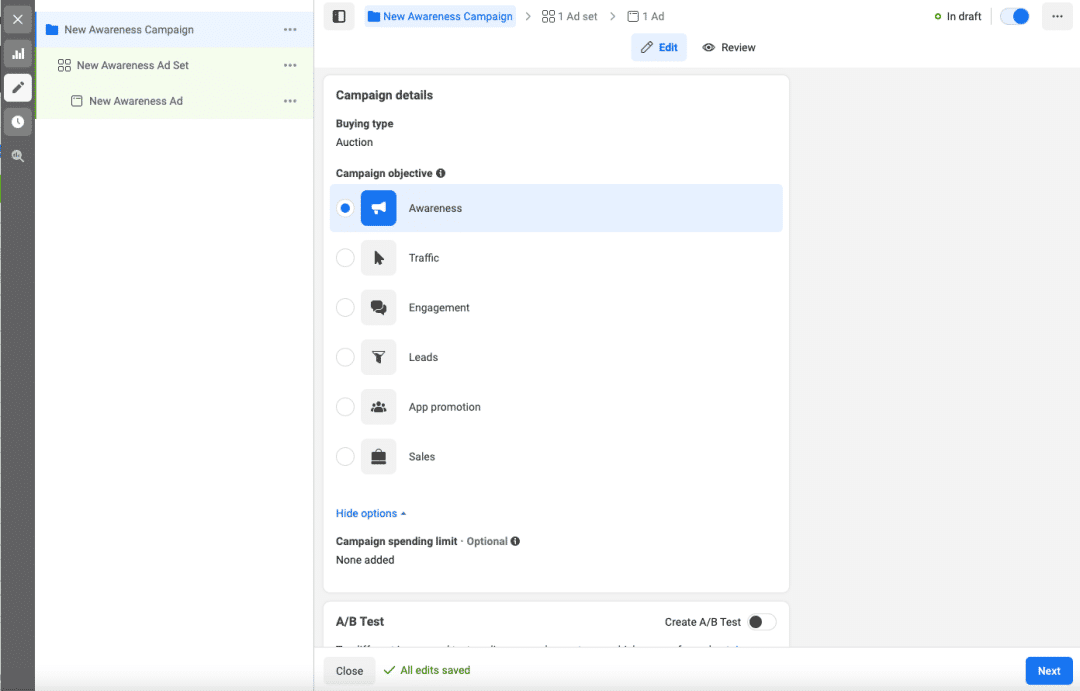 Click "Next" to determine your ad sets.
3) Facebook Ads: Creating Ad Sets
You can create multiple ad sets for each campaign. This way, you can separate different audiences or ad placements, which is a smart choice for a funnel strategy, for example (more on this later). The following settings are the most important for your ad sets:
Budget and schedule: You can choose between a daily or lifetime budget. With a daily budget, Meta spends more on some days and less on others so you end up with the set daily budget on average over a seven-day period. This gives the algorithm more leeway. Under "Schedule," you can set a start date and, optionally, an end date for your ad set to be displayed.
Audience: This is where you define your targeting. Create a new audience or select one of your saved audiences. Demographic data such as age, gender, location, and language are available as options. You can also filter by a wide range of interests and job titles. Use the "Exclude" button to specify characteristics where you don't want your ads to be displayed. 
Placements: This is where you define where you want your ad to be displayed on Facebook and Instagram. We'll explain later why the "Advantage+ placements" option is a good choice.
Once you have defined all the settings, take a look at the right-hand column. Here, Meta shows you whether your audience is more specific or non-specific and what results you can expect on a daily basis. Note, however, that this is only a guideline and an estimate.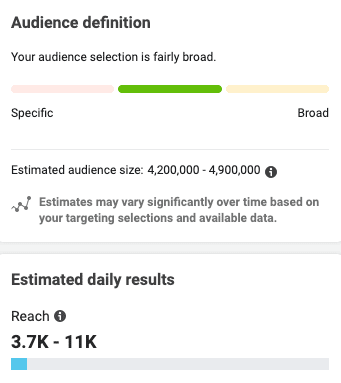 4) Facebook Ads: Creating Ads
At the ad level, you first need to select a Facebook page that will appear as the sender of your ad. If you want to advertise on Instagram at the same time, you will also have to link and select your account. 
In the next step, you can configure your ad. If you want to use different formats in one ad group, you need to create multiple ads. It's generally a good idea to use multiple ads. This way, the algorithm can choose from several options and optimize the ads' display.
Under "Ad creative," you can upload media and set the ad text. When you upload your visual, you'll see a preview of all the placements you've chosen. Make sure to choose good image details or upload your own files in the correct format. This is the only way to make a good impression everywhere.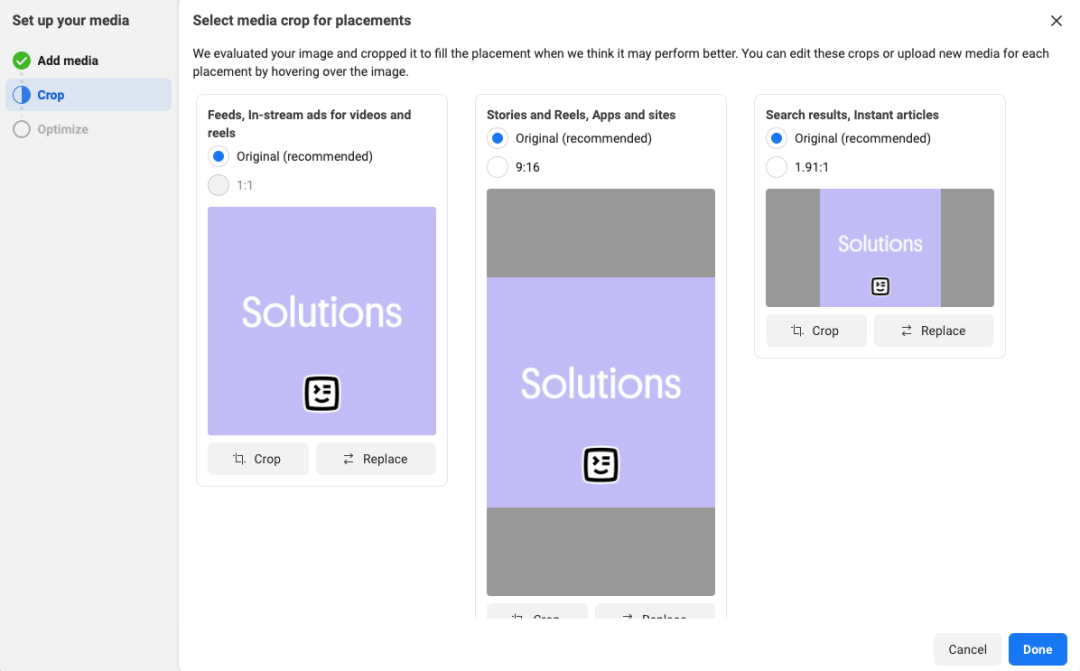 Besides a visual, you need good text. You can add this under "Primary text." You can add up to five headlines and descriptions. You should definitely take advantage of this to achieve the best results. Add an objective to let users know what to do after viewing your ad. You can choose from different call-to-action buttons and link to a landing page or Instant Experience.
Take a look at the ad preview on the right-hand side to make sure your ad looks the way you want it. You can click through all the placements and send a preview to your colleagues under "Share." Is everything looking good? Great! Click "Publish" to make your Facebook ad campaign go live.
5) Facebook Ads: Measuring Success
It's not a good tactic to just wait around and see what happens after publishing your campaign. In the beginning, give the algorithm three to five days to gather initial findings about your campaign. After that, you should take a critical look at all your ad sets and ads:
Which ads are working well?
How high are the costs per action (e.g. per click or per lead)?
Are there any surprises or particular outliers?
Does it make sense to reallocate your budget?
For larger campaigns, it's helpful to export the data for your analysis and evaluate it in Excel. To do this, click "Reports" and select the desired format.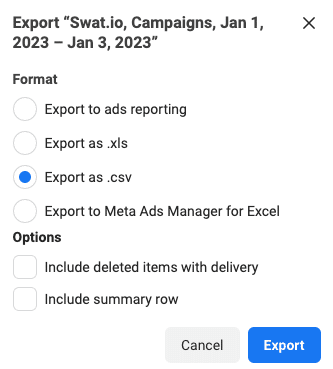 Generally, you should follow all developments with a critical eye and shouldn't be afraid to make changes and try out new ideas. However, it's important to always give the algorithm a few days to adapt to the new conditions.
Tips for Successful Facebook Ad Campaigns
The initial setup is complete. Before you get started with your Facebook ad campaign, check out these promising best practices.
Implement a Funnel Strategy
Very few people will hear about your brand for the first time in a Facebook Ad and buy your product right on the spot. This is what makes funnel strategies promising. They allow you to create multiple phases with different ads.
In the top phase of your funnel, you display ads relatively broadly to an audience that doesn't know your company yet (or doesn't know it very well). The content of these ads is very general. They should appeal to the audience's interests. As for those who interact with your ads, you'll display more ads to them further down the funnel. The further down your funnel they go, the more likely it is that the messages will lead to a sale.
With this strategy, you ensure you're only targeting users when they're ready to buy.
Select Advantage+ Placements
When you run ads on Facebook, you're in the Meta universe. And that includes Instagram, too. Many ad formats can be booked on both platforms, with a centralized setup process in the Ads Manager. 
A best-practice tip for optimally displaying ads is to turn on the automated Advantage+ placements functionality. This way, you give the algorithm freedom to display your assets where they achieve the best results. Even if it feels a bit like losing control, the results speak for themselves. After all, the engine knows best where your ads will do well.
Use That First Impression
You've probably heard that you never get a second chance to make a first impression. It's not quite that drastic when it comes to Facebook. However, you should keep in mind that attention spans are short on the platform.
Especially with video ads, you need to make sure that your material generates interest right from the start. Short-form videos are a good source of inspiration for this. TikToks and Reels often show how good hooks can be used masterfully to keep users from scrolling further.
With other Facebook Ads formats, it's just as important to stand out. Try to make your design stand out from the rest of the newsfeed to arouse interest. We recommend that you run four to seven ads per ad group. This way, Facebook can display different assets to different users and you can see directly what works with your audience. This is the most effective way to use the algorithm.
Try Out New Formats and Placements
Certain formats and placements – such as Instant Experiences and Instant Articles – are only on the radar of a few marketers. That's reason enough to try them out. Especially for ads that don't perform quite as well, it can pay off to put them in a new guise. Start using these new formats alongside your existing ones.
Chances are that a rarer format will catch users' eyes more. What's more, in the past, new formats introduced by Meta have often been given preference for being displayed. 
Our tip: use the same message across all formats right from the start. This gives you direct insight into which one works best. The time you invest beforehand will pay off on the fifth day at the latest when you don't have to create any new assets, but only deactivate those that aren't performing well. In this way, you can create a kind of test scenario.
Conclusion: A Useful Addition for Those Who Like to Experiment
You can spin it any way you want, but very few companies become successful on Facebook with a purely organic strategy these days. However, ads make it possible to address audiences very precisely. The fact that Meta offers a powerful ad tool in the form of Ad Manager makes things even easier for advertisers.
For a successful strategy, however, you need to constantly optimize and be open to new things. If you have the time to explore Facebook Ads options and keep up with new trends and developments, ads can help you achieve your objectives. Our guide will get you started in the best way possible.
Are you still looking for the best possible tool for organic Facebook marketing? Swat.io is the social media management tool for transparent teamwork. Start a free trial now and manage all your channels in one central interface!
Efficient Social Media Communications With Swat.io