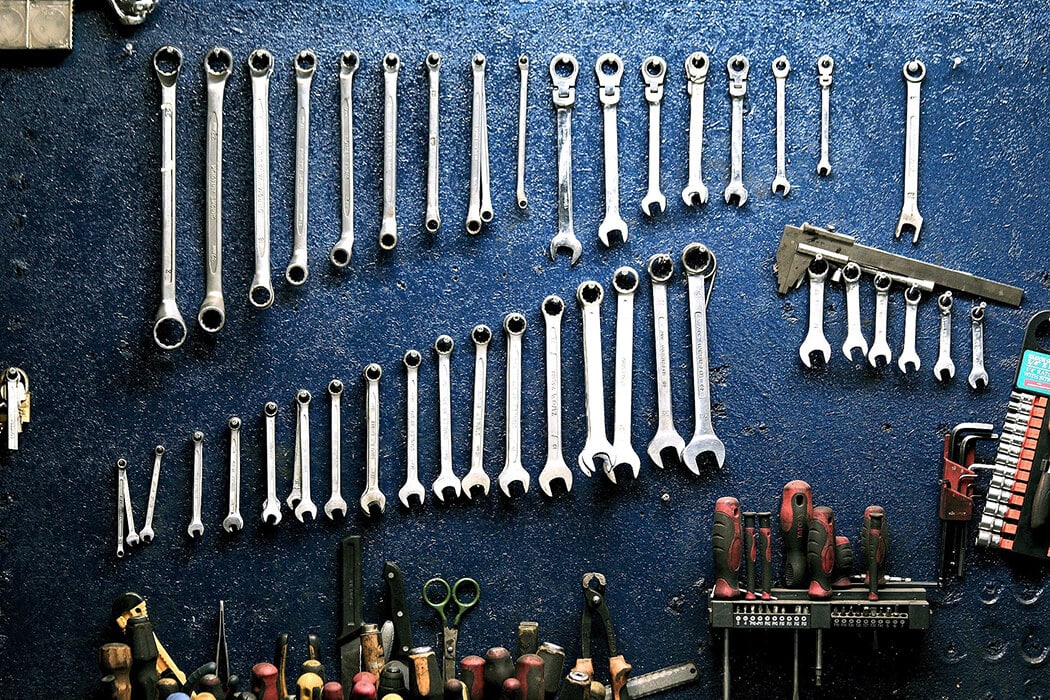 17 Useful Chrome Extensions for Social Media Managers
Chrome extensions are a dime a dozen. The trick is to pick the right ones. We've done the work. In our list of useful Chrome extensions for social media managers, you'll find a current top selection of add-ons that make work more efficient – and in most cases, they're even completely free. Whether it's image search, search engine optimization, or spell check, these extensions are a valuable support in everyday life.
Social Media Chrome Extension #1: RiteTag
Whether on Instagram, Pinterest, or Facebook, deciding on the right hashtags will increase the visibility of visuals. RiteTag is the smart alternative to guessing. The extension provides you with suggestions for images and texts and marks different hashtags according to their potential: green for keywords that are currently trending, blue for those with a long lifespan, gray for rarely used, and red for hashtags with which your post is sure to get lost in the crowd.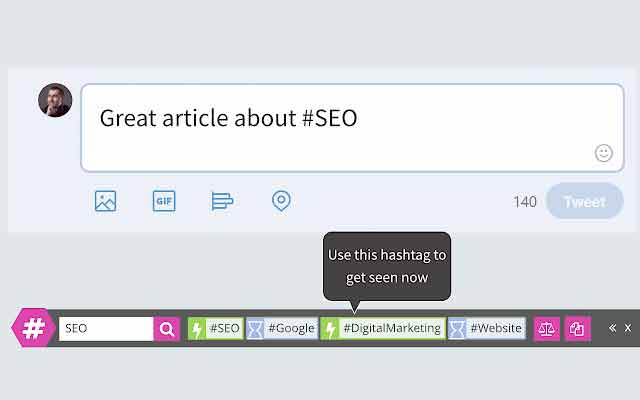 Social Media Chrome Extension #2: Pinterest's Save Button
With its specialization in visual content and rapidly growing user numbers, Pinterest is becoming increasingly important in online marketing. Thereby, regular (preferably daily) pinning is a basic requirement for successful campaigns. Pinterest's save button gives you the opportunity to easily and quickly publish images from a website to one of your boards and transfer an infographic from your blog to the image search engine in seconds.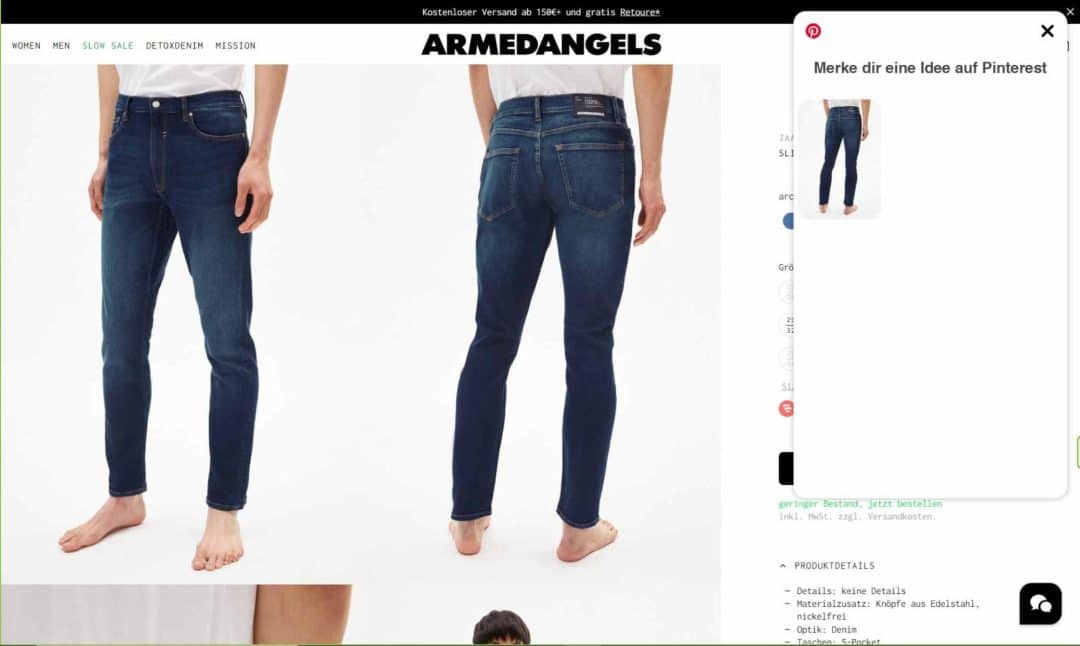 Social Media Chrome Extension #3: StayFocused
You arrive at the office in the morning in a good mood and full of energy, with your to-do list for today already in sight. Just a quick glance at last night's sports results … Three hours later, it's time for lunch, and you're still no further along with your work.
We all know days when it's hard not to get distracted. The StayFocused Chrome extension makes it easier to stay focused at work. It allows you to set time limits for "distractor" websites. Once a limit is exceeded, you can't access that page for the rest of the day. It's a great way to eliminate time-wasters.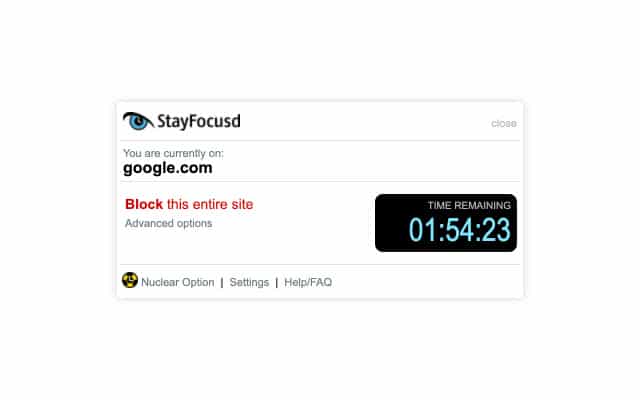 Social Media Chrome Extension #4: vidIQ Vision for YouTube
Want to know more about how your YouTube videos are performing? vidlQ Vision for YouTube will tell you. First you have to install the extension and register for free. Then vidlQ Vision for YouTube analyzes all videos in your own channel.
The add-on creates rankings according to the number of views, shows the number of likes on social networks, reveals the total number of minutes that the video was viewed on YouTube and much more. The vidlQ score is particularly revealing. This metric indicates the probability of a video appearing in YouTube search or being listed via "recommended" or "similar" videos. So you get a whole range of information for your YouTube analysis.
Paid plans offer you even more options. Then you can use vidIQ Vision for keyword research, for example.
Social Media Chrome Extension #5: Grammarly
Often, one misspelled word can ruin the effect of an original and funny post. With Grammarly you can prevent such serious mishaps. The extension automatically checks every English text you write in the browser for spelling and grammar mistakes. In the premium version, it also suggests improvements for your writing style and helps you to maintain a once chosen tone.
But be careful: even a great extension like Grammarly is no substitute for careful proofreading.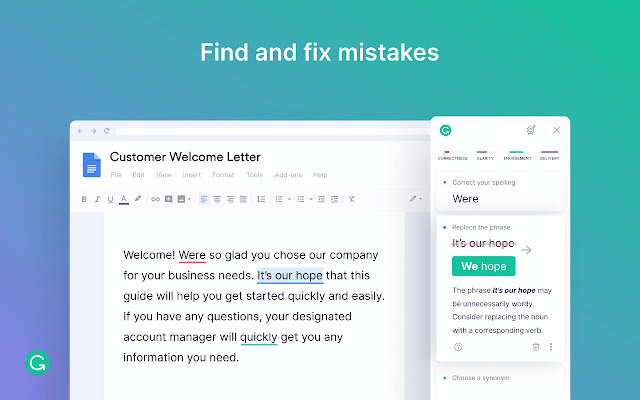 Social Media Chrome Extension #6: Soapbox
Videos are an important success factor in social media marketing, but small teams in particular shy away from the effort involved.
Thanks to a variety of modern apps and extensions, you don't need a lot of equipment to produce impressive social media videos. With the Chrome extension Soapbox, you can easily and quickly record your screen, yourself or both in a split-screen view and switch between the different views. Editing options are also available to you. This makes the tool perfect for creating explainer videos for YouTube, for example.
Social Media Chrome Extension #7: Nimbus
Screenshots are one of those things that you need to take so often as a social media manager that you hardly ever think about them. Whether it's creating content or communicating with colleagues and customers: Snapshots on the internet are a real all-purpose weapon.
Using the Nimbus Screenshot and Screen Video Recorder menu, which opens with a click on the icon, you can capture entire web pages or selected areas, record videos, edit screenshots (for example, add text and highlights) and much more. Thanks to the extension's distinct user-friendliness, all these operations can be performed with ease.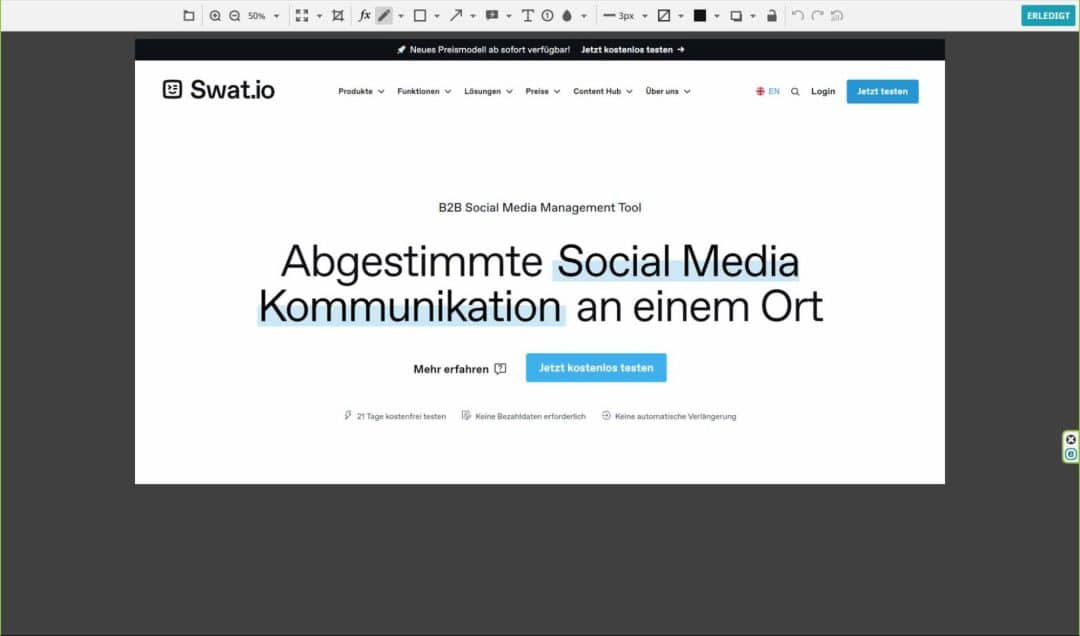 You can find extensive tips for planning, creating, publishing and analyzing content in social networks in our e-Book "The art of social media content creation". Get it now for free and optimize your content marketing!
The Art of Social Media Content Creation
Download our eBook and learn how to plan, create and distribute your social media content while measuring its effectiveness on your relevant social media channels. To ensure you don't miss out on any big social media content trend or best practice, we've also included interviews of 5 experts in this field. Find out how to master the art of social media content creation using the latest available tools and determine what type of content makes your audience tick!
Social Media Chrome Extension #8: Zest – New Tab
Whether it's affiliate marketing, email campaigns or influencer networks, with Zest – New Tab you have access to a huge number of informative articles on various topics of modern marketing. The Chrome extension stands out not only for the quantity of content it provides, but also for its quality.
After all, all uploaded texts are checked by marketing experts before being published. This alone makes Zest – New Tab a valuable repository of information for anyone who wants to stay up to date. You can also upload your own content and exchange information with other members of the Zest community.
Social Media Chrome Extension #9: Flaunt
Social media reporting can be time-consuming. Flaunt saves you time. The Chrome extension allows you to add comments, tags and a rating to screenshots on the "Awesomeness Meter". At the end of the month, you can create a qualitative report from your screenshots with one click and send it to customers or superiors. This is an optimal complement to number-heavy reports.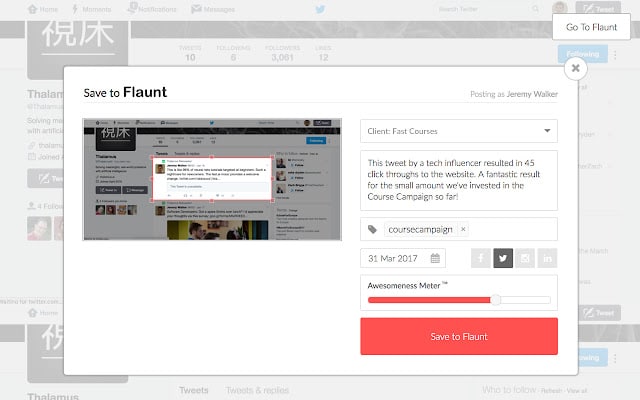 Important: Flaunt is a handy tool, but not a full-fledged replacement for social media reporting, such as you can create with Swat.io. You can't use it to collect data about posts, such as the number of likes.
Social Media Chrome Extension #10: LastPass
Tired of remembering a password for every piece of software you work with? Then it's time for LastPass. With the free password manager, a single password is enough to gain access to all programs or applications. It can be easily added to any device, includes a password generator for creating extra-secure passwords, and allows you to store payment information, pictures, and documents in your online safe, the password vault.
The exact feature set depends on the plan. Last Pass is available free of charge, in a Premium, Families, Teams and Business version. At a maximum of 5.70 euros per month, prices are kept within reasonable limits.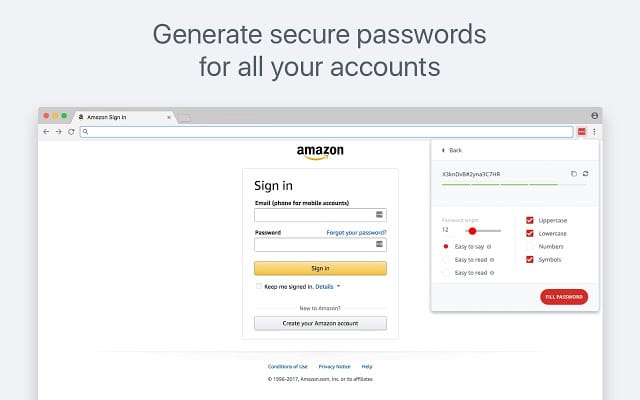 Social Media Chrome Extension #11: RiteBoost
It used to be called RitePush, but today the add-on is available under the name RiteBoost. The new name describes the potential of the add-on quite aptly. Because RiteBoost gives you a whole range of options to boost your posts via the "Enhance Button" or a right-click – for example, by automatically adding relevant hashtags and emojis or images or GIFs. The add-on also shortens links.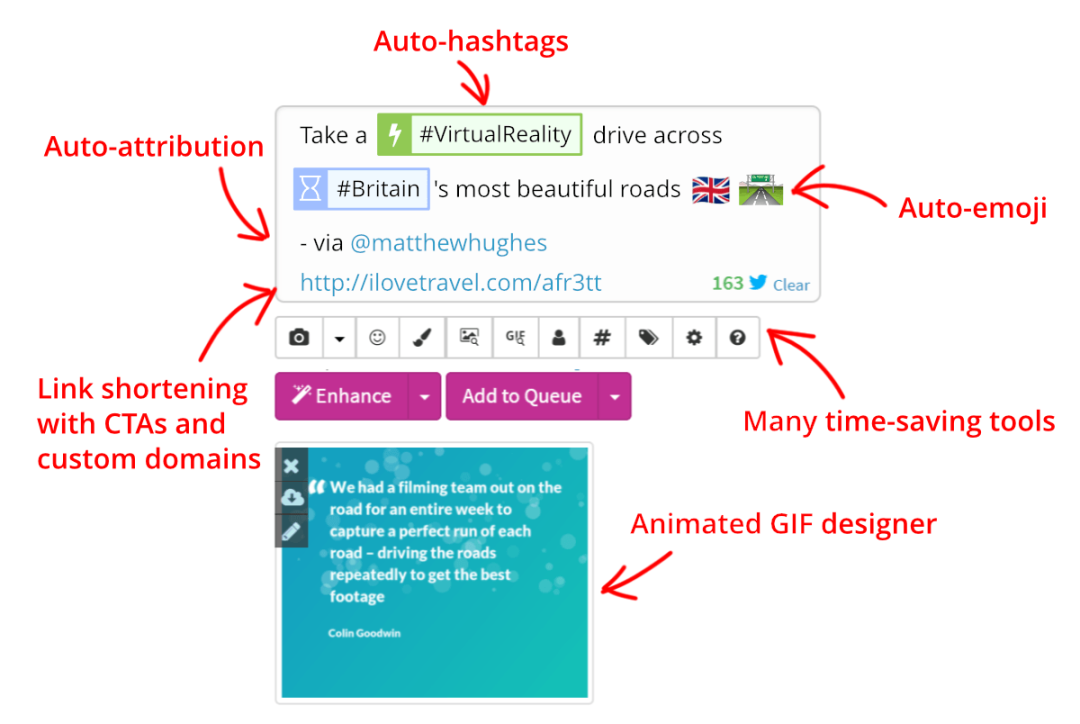 Social Media Chrome Extension #12: Tinybeest Image Optimization
Many social media managers spend more time on simple tasks in Photoshop than they would like. Just resizing images found on the web to the right size eats up valuable time. You can do it faster with this add-on. After installing it, right-click on the selected image and then choose from various offered sizes and formats. This way, with Tinybeest Image Optimization you'll save time for essential things.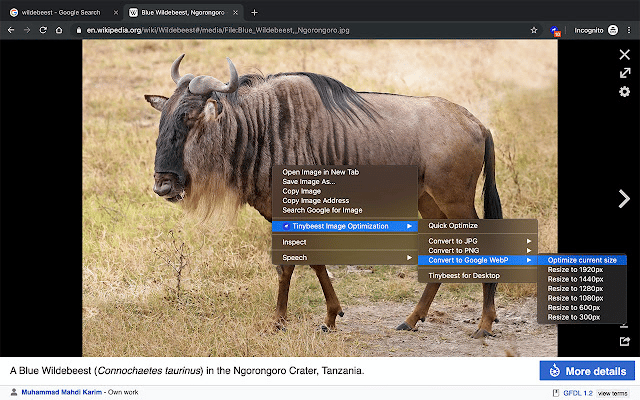 Social Media Chrome Extension #13: GIPHY for Chrome
Sometimes a GIF is worth 1,000 words. With GIPHY for Chrome, you'll find the right one to spice up conversation and put the person you're talking to in a good mood. Just search with the desired keyword and drag the GIF of your choice into your post on Facebook or Twitter.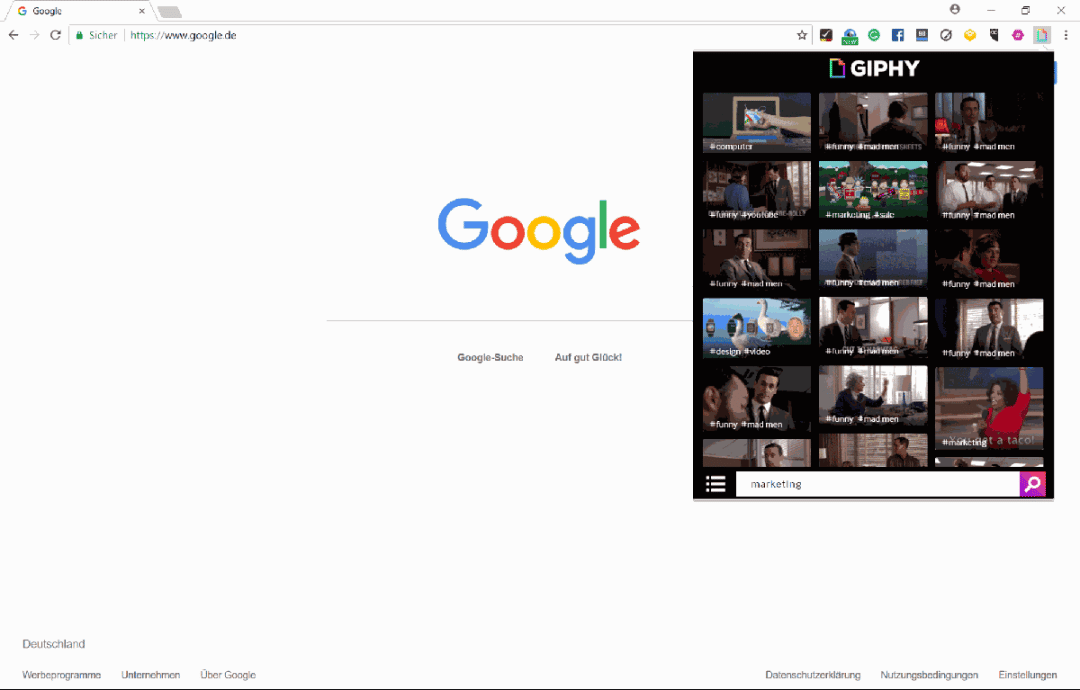 Social Media Chrome Extension #14: Share to Facebook
You want to share a website with your followers in Facebook? With the Share to Facebook extension you can do that without time-consuming detours. Just click on the Facebook button in the address bar and a window will open, where you can share the link in your own timeline or that of a friend. It is also possible to send the link via Messenger. In addition, there is the option to mark a section of text and add it as a quote.
If you are unsure whether you want to share the page in question now, later or at all, save it in Facebook. There is also a browser extension for this purpose. With "Save to Facebook" you can archive articles, videos, etc. directly in the social network and access them on any device of your choice.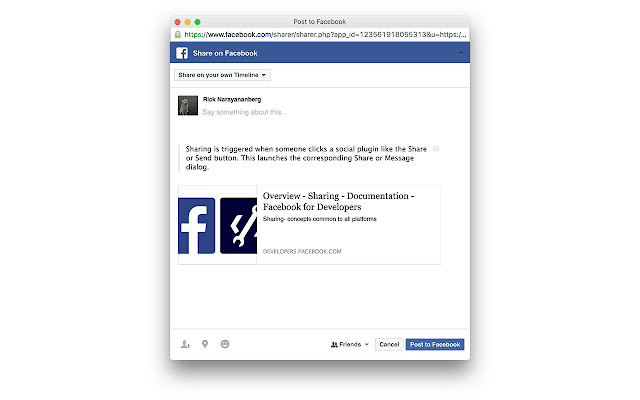 Social Media Chrome Extension #15: Influencer Analytics by Upfluence
The Chrome extension "Influencer Analytics" from Upfluence helps you find the right influencers in social media. How it works is as simple as it is practical.
Go to the social media profile of an influencer (with AdBlocker turned off).
Open the Chrome extension.
Now you can see data about the influencer like the post engagement rate, the average number of views and likes and information about the target audience.
Social Media Chrome Extension #16: Figure it Out
Do you work with people in different time zones? Figure it Out tells you at a glance what time it is in up to ten locations around the world. This makes it much easier to schedule cross-border meetings. After installation, the app automatically replaces your home screen. The tasteful striped design is not only informative, but also nice to look at.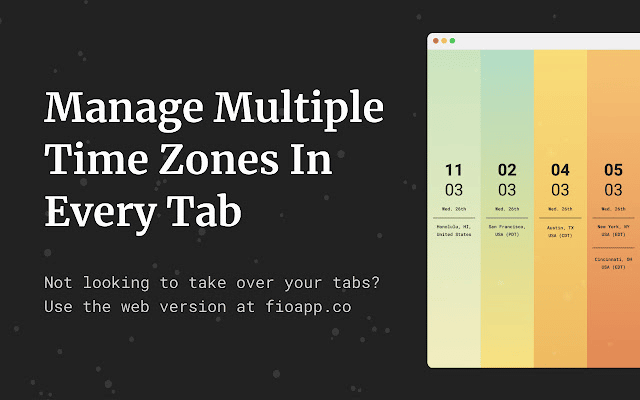 Social Media Chrome Extension #17: Da Vinci Tools
Google Analytics is a great help, including when you want to know how many website visitors are coming to the company's homepage as a result of your new Facebook campaign. But picking the right data out of the sea of information is a challenge. The Chrome extension Da Vinci Tools makes it easier for you with coloring and various setting options.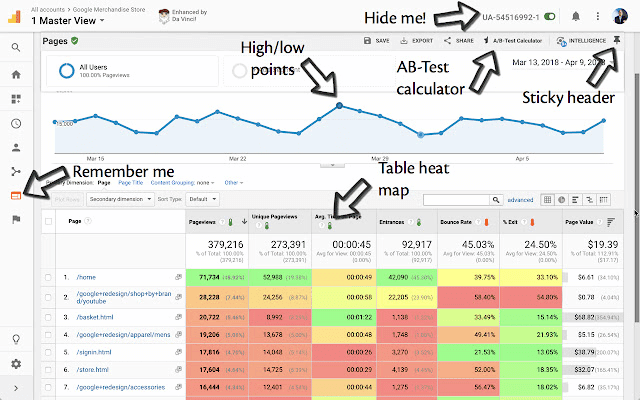 The list of Chrome extensions for social media managers could go on and on. But often less is more. With the extensions listed here, you'll save a lot of time and effort every day, without losing track or sacrificing too much memory.
More important than any Chrome extension is a good social media management tool. With Swat.io you have everything you need for top performance in social media marketing, a clear editorial plan, a central ticket inbox, monitoring, analytics, automations and much more. Try it now for free!
Efficient Social Media Communications With Swat.io