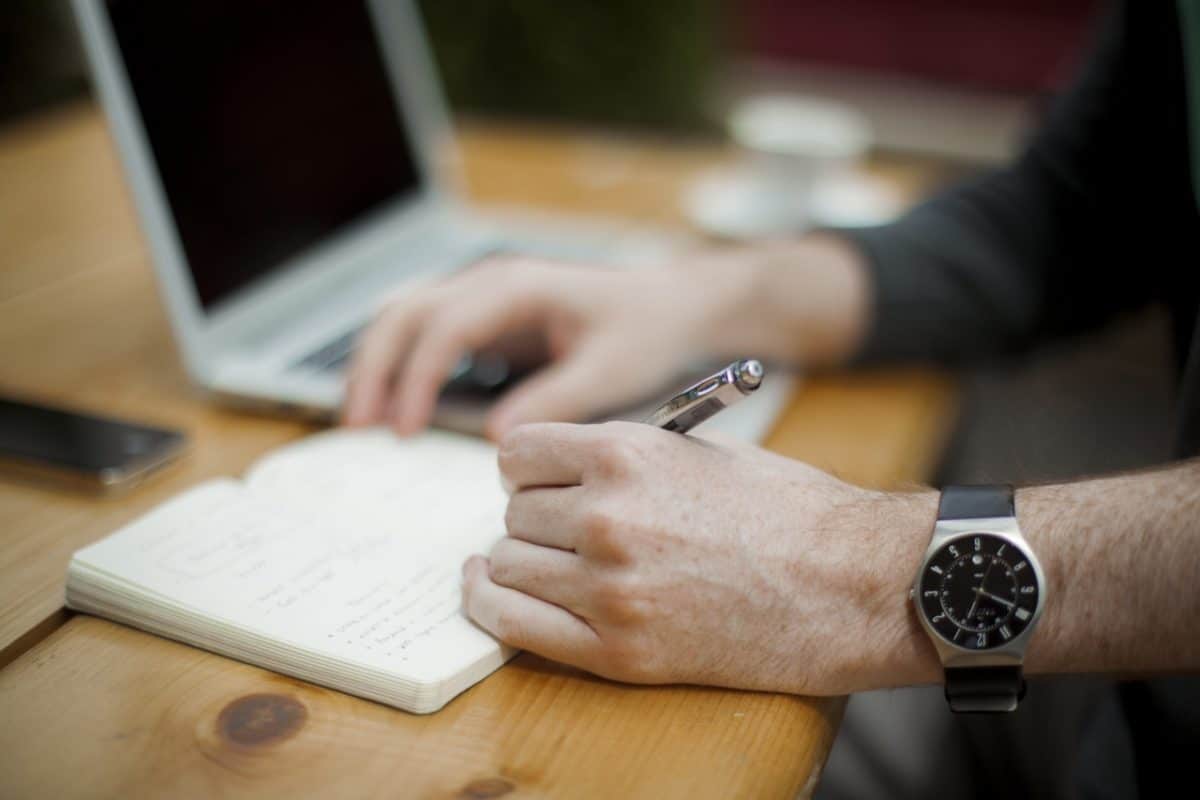 Analysis: The Best Times to Post on Social Media
In this blog post, we're going to discuss when it's the best time to publish content on Social Media, why it's important to be consistent, the specifics of each social network, and how a social media management platform could make your life easier.
Now that you've gone through one or more brainstorming sessions and have gathered all of the brand stories you'd like to share with the world, it's time to focus on publishing social media content. Before logging into your social media accounts and posting the updates manually, let's take a look at a better alternative.
Why is it Important to Mind the Frequency, Day and Time?
The time of the day people check their social media accounts can differ dramatically from one network to another. Since each platform serves a different purpose, people are active on some in the morning, on others during lunch break and again on others they are more or less always on. That's just an example, as each brand's context will dictate the best time and frequency to post updates. It all comes down to your target audience, the social platforms it's frequenting and the time of the day it's the most active.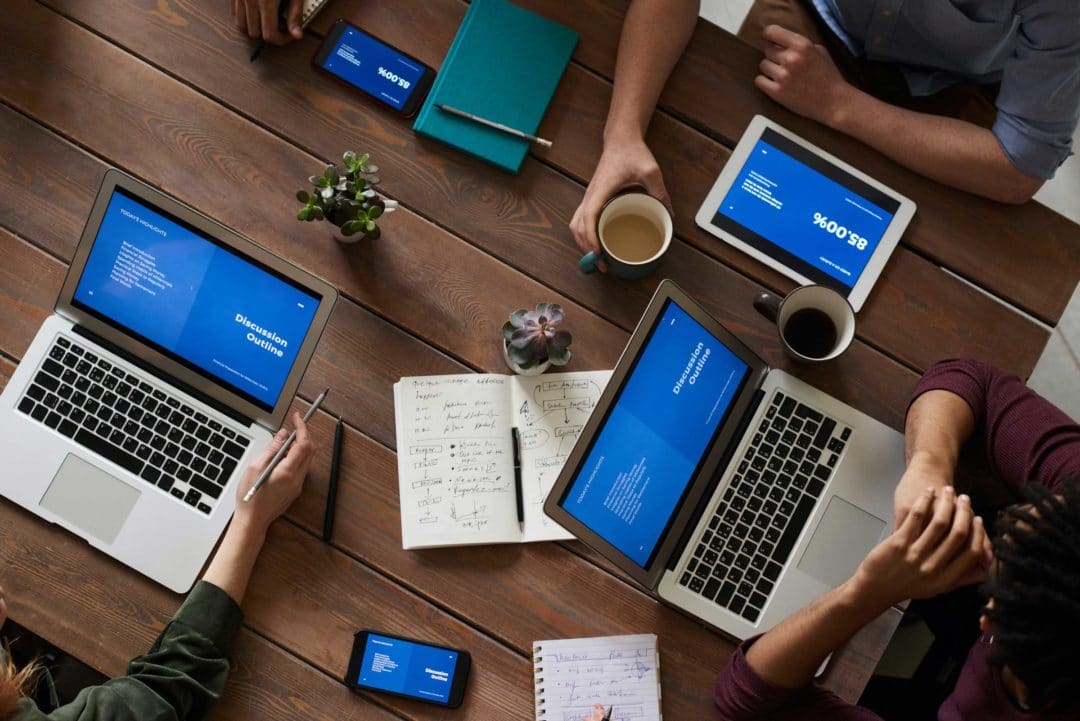 Best Practices for Posting on Social Media Networks
To find the best posting time for different social media networks, we consulted our internal database. We analyzed all posts published with Swat.io in the first half of 2022. From this, we filtered out the days of the week and times that are most promising based on the interaction rates or number of impressions.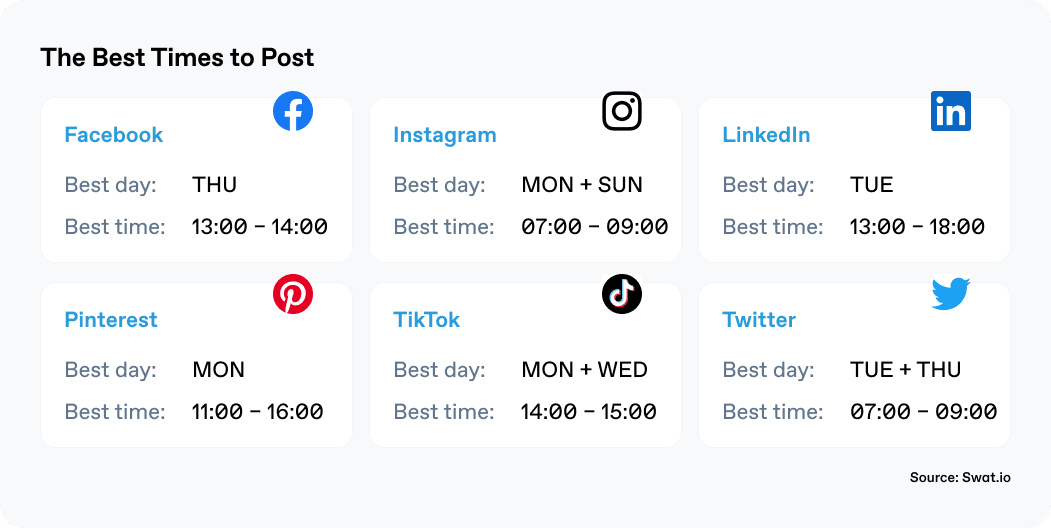 Because each social network works slightly differently, you should consider the specifics and best practices of each in your social media content plan. This is the only way to optimize organic reach and interaction with your social media posts. However, these values and recommendations don't work for every industry. If you notice that you are not reaching your target audience, you should test different posting times and derive your optimal timing from them.
What's the Best Time to Post on Facebook?
Facebook is part of most social media strategies. Since organic reach has been declining for some time and younger target groups in particular are turning their backs on the platform, the optimal posting time is more important than ever.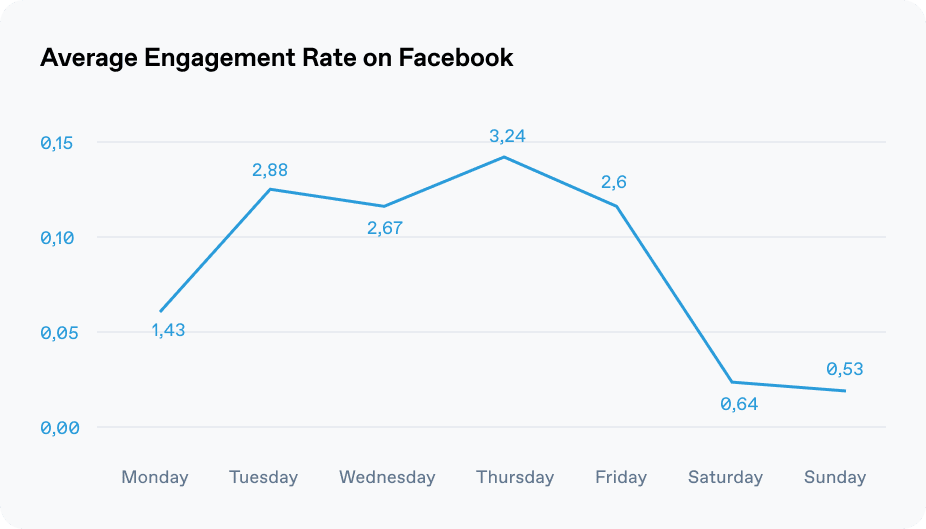 Our evaluation showed that Thursday is the best day to publish a Facebook post. For Tuesdays, Wednesdays and Fridays, the result was also good. The situation is different on weekends. Here, interaction rates are comparatively low.
The optimal time to publish your Facebook post is between 1 pm and 2 pm. Many users are likely to be online on the network during or after their lunch break.
What's the Best Time to Post on Instagram?
Instagram is often said to be the new Facebook. With 1.48 billion active monthly users, that's pretty obvious. Nevertheless, around 80% of profiles have lost organic reach by 2021. Reason enough to align your own posts with the optimal time.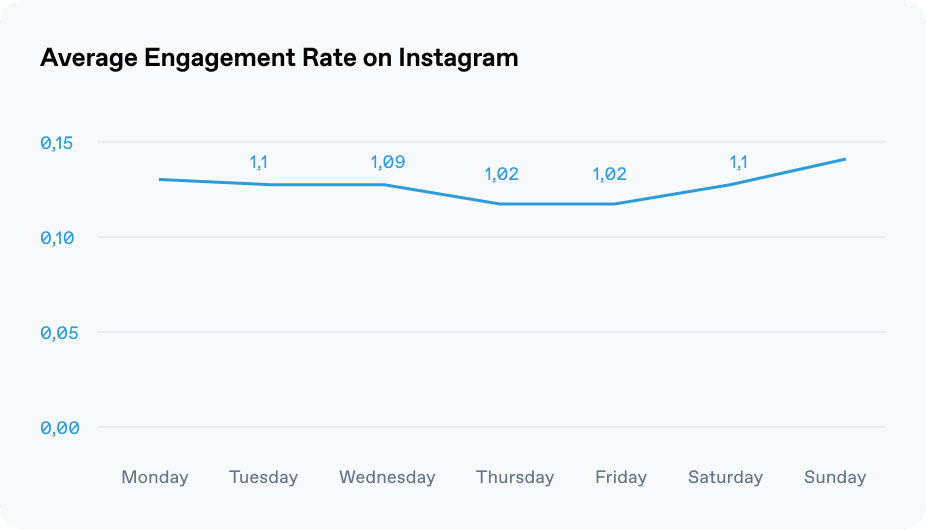 In terms of days of the week, the fluctuations in interaction rates on Instagram are not particularly high. Sunday has emerged as the best day with a rate of 1.2. Monday is close behind.
As far as the time of day is concerned, early risers are in demand. Instagram posts published between 7 and 9 am achieve the most interactions. It seems to be popular to use the network after getting up or on the way to work.
Tip: Don't want to get up at 6am to prepare an Instagram post for your followers? Don't worry, with a social media management tool you can easily schedule posts on all networks in advance!
What's the Best Time to Post on LinkedIn?
LinkedIn is becoming increasingly important in all professional contexts. The platform is not only an important tool for companies to reach target groups, but also enjoys great popularity among private individuals. Many personal branding or employer branding strategies depend on publishing content at the right time.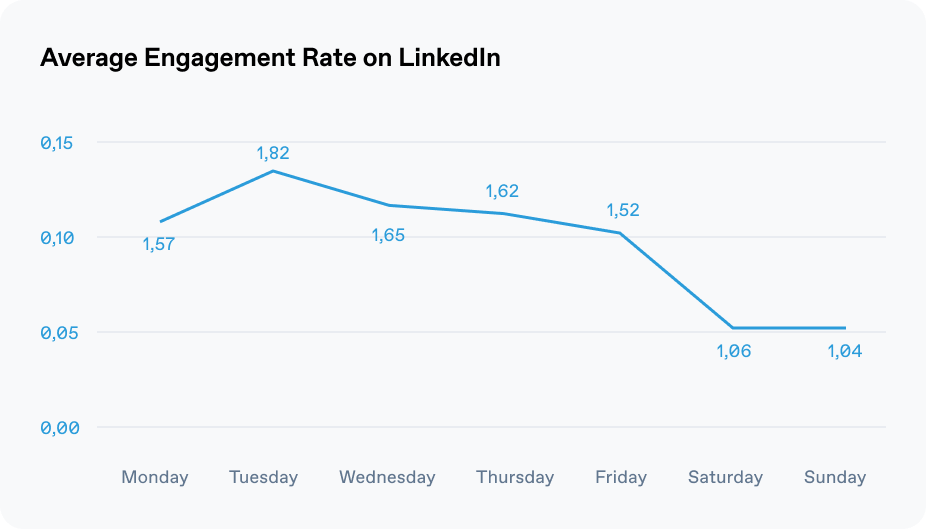 On LinkedIn, the best day to post in our analysis is Tuesday by far. The remaining weekdays achieve fewer interactions, but remain at a similar level. Unsurprisingly, the professional network has fewer interactions on weekends.
LinkedIn users are particularly interactive at several times. Between 1 and 2 pm, between 3 and 4 pm, and between 5 and 6 pm you can expect the most interactions with your posts.
What's the Best Time to Post on Pinterest?
Content on Pinterest is much more long-standing than on other social media platforms. Still, it's a good idea to align yourself with the publishing times that get the most interactions.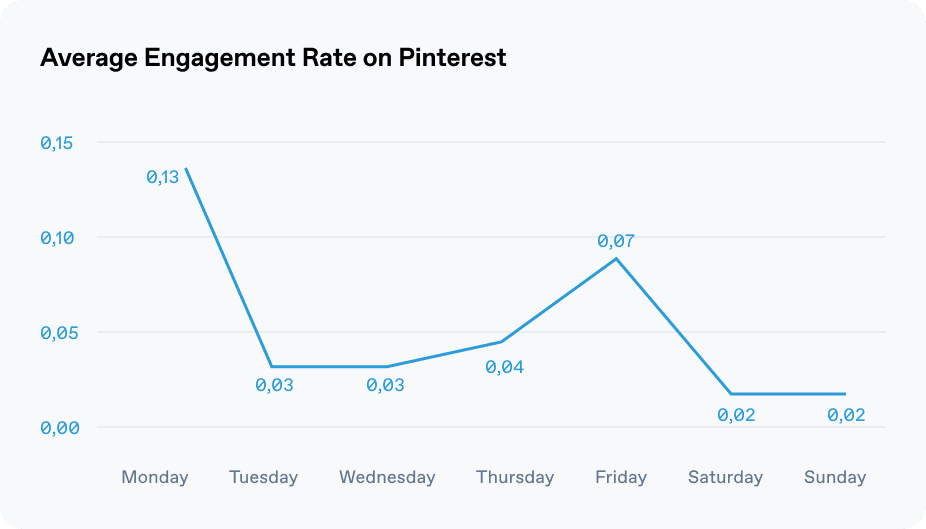 In our analysis, we see strong differences in interaction rates depending on the day of the week. Monday is clearly the best choice on Pinterest. The best time of day, on the other hand, is not so clear. There are clear outliers in two time periods: between 11 and 12 o'clock and between 3 and 4 o'clock.
What's the Best Time to Post on TikTok?
TikTok is without a doubt the current shooting star among social media networks. The platform has more than 1 billion users and continues to grow. One of the secrets of its success is its algorithm, which works differently than on other platforms. If you want to play into its hands, it doesn't hurt to publish your videos at the right time.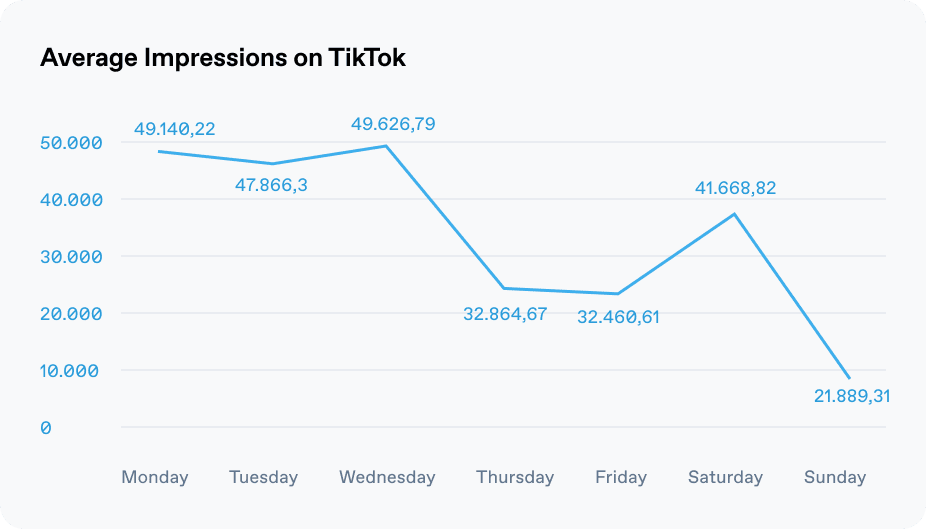 For TikTok, we looked at the average impressions. These are particularly high on Wednesday, with Monday and Tuesday also being hot candidates. Videos posted on Sunday, on the other hand, did not even achieve half as many impressions as videos posted on the first three days of the week.
As for the best time of day, you're good with the afternoon. Between 2 and 3 pm, videos get the most impressions in our analysis.
What's the Best Time to Post on Twitter?
Twitter is particularly popular with decision-makers and opinion leaders. These also have certain times when they interact particularly much with content.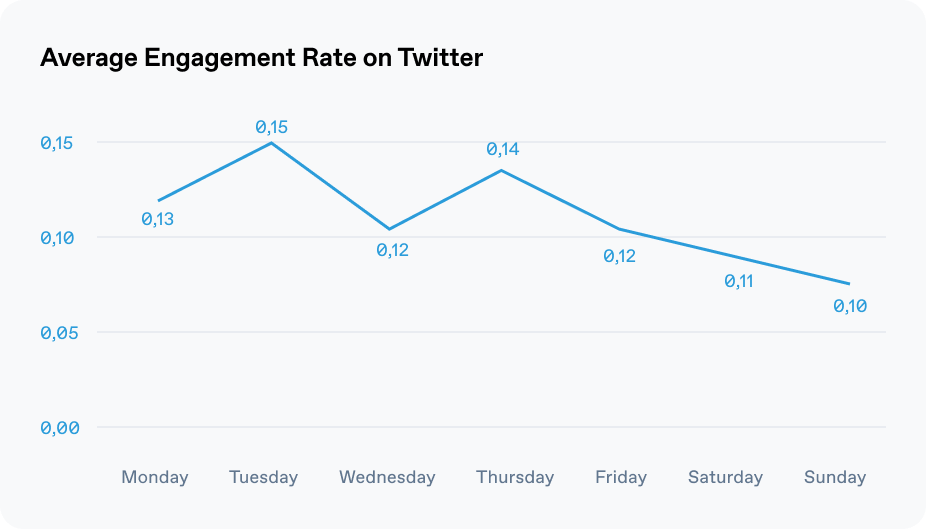 The best day of the week to post on Twitter is Tuesday, closely followed by Thursday. On the other hand, interaction rates drop significantly on weekends. The best time of day is similar to Instagram. Posts achieve the most interactions on average in the morning between 7 and 9 am. Perhaps it makes sense to take into account in your content planning that users are particularly open to interaction during morning coffee.
Use a Social Media Management Platform to Better Organize Your Calendar
If you've ever tried posting social media updates manually, then you already know how exhausting that can be. Not to mention that after a few weeks or months you'd no longer have a complete image of what was posted where. Here's where social media management platforms such as Swat.io come into play.
Instead of writing your social media posts in Word or Google Docs and handing them over to someone for review, why not do the whole process in a single place? There are numerous benefits, including the ability to:
Have a single calendar for all social media posts
Collaborate on social media campaigns to make them more cohesive
Monitor post performance data
Reuse and repurpose evergreen content by automating social scheduling
Using such tools, social media managers can now tackle single-handedly tasks that were done by entire teams not so long ago.
Final Thoughts on Publishing Social Media Content
As a business owner or a social media manager, you'll find out soon enough that there's no one-size-fits-all approach to publishing social media content. What you should do is try to predict the best times by following best practices, act based on those predictions and then measure the results. Should those results be in line with your expectations, repeat the previous steps until the context changes.
You also will notice that the reach is not that high when publishing only organic updates on social media, especially on Facebook. Paid ads can help by generating a higher reach and engagement for your social media posts. What starts as paid reach and engagement could easily be continued organically, provided that the content is good enough. Fortunately, the ads platform of each social network gives you the freedom to pick not only the audience to be targeted, but also the days and hourly intervals when you want your ads to run. Combined with the frequency data from above, you can set up your campaigns so that they get maximum reach in your target group.
Plan and monitor your social media activities with Swat.io! In a free trial you will experience how to optimize your marketing with our social media tool.
Efficient Social Media Communications With Swat.io