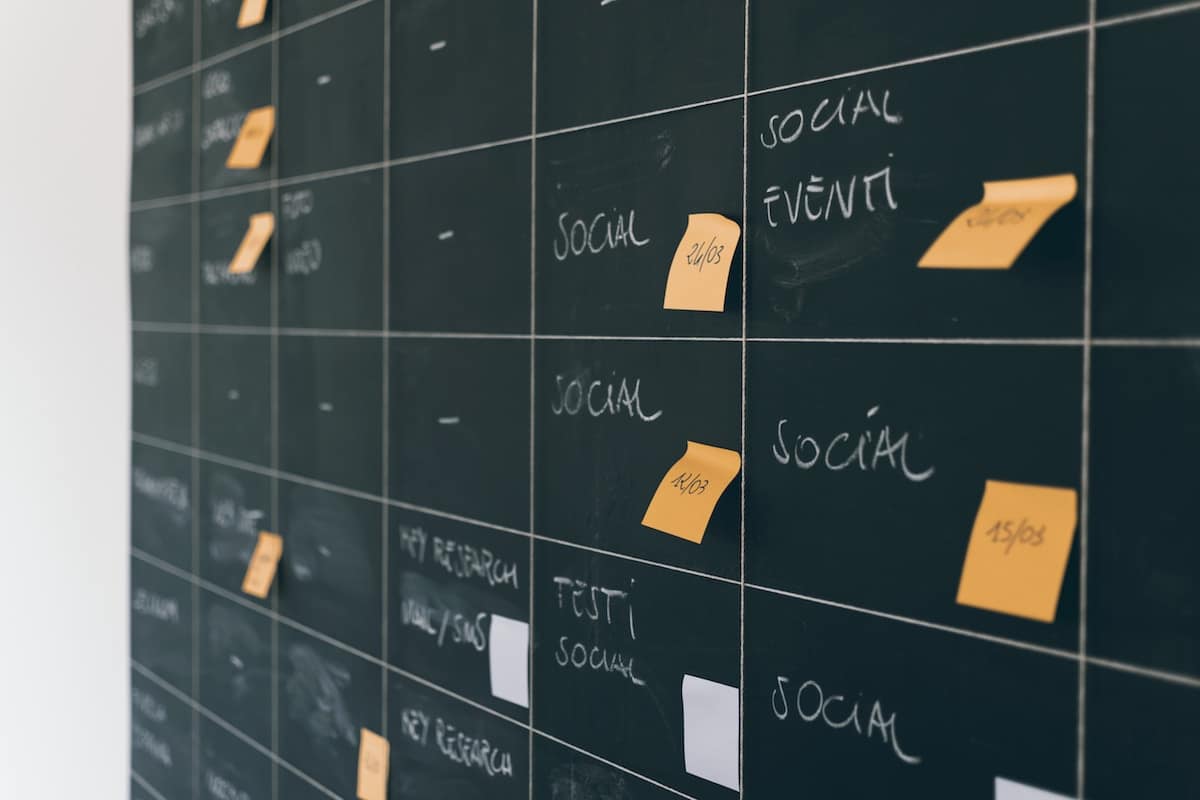 How to Benefit from Using Facebook Business Manager
Facebook Business Manager is still available, but Meta is pushing the Business Suite. This could replace Business Manager altogether in the long run. If you start using Meta Business Suite right now, you may be one step ahead.
Facebook Business Manager is the control centre for Facebook marketing activities. It gives you and your team the ability to manage all your pages and advertising accounts in one place. This includes detailed analysis and the assignment of different roles.
The catch is: The tool is not easy to use. Therefore, it usually takes some time for beginners to get used to the many features of the Facebook Business Manager. Besides, there's no going back. Once you have set up the Business Manager, you will have to use the tool to manage your pages in the future. But is it even worth it and if so, for whom?
Here we would like to give you an overview of the advantages of the Facebook Business Manager and explain why it makes your Facebook marketing more effective and convenient. We will also show you in a step by step guide how the setup works.
The advantages of Facebook Business Manager at a glance
Access management for greater safety
Data security plays a central role in online marketing. Facebook Business Manager helps you protect information from unauthorized access, misuse and inappropriate handling by inexperienced employees.
You have the possibility to assign different roles and associated permissions to your employees in the tool. This allows you to determine individually who has access to which data and who is allowed to use which features.
The Security Center in the Business Manager opens up further possibilities. Among other things, you can use the two-factor authentication. As a result, a security code is required each time a new device is accessed.
Simple user administration through role distribution
There are two levels of role allocation in Facebook Business Manager:
Basic rights include administrator access and employee access.
Employees may be appointed page admins, page editors, page moderators, advertisers and page analysts in connection with the management of individual Facebook pages and advertising accounts.
Both levels work independently of each other. This means that site administrators do not have to be first-level administrators at the same time. In both cases, administrators have the most rights. Administrators for the Business Manager are not subject to any restrictions. Therefore, you should think carefully about whom you assign this role. A complete overview of the different roles and access permissions can be found here.
The benefits of role allocation in Facebook Business Manager are clear:
The work can be divided among several people.
You have the opportunity to give people the permissions that best suit their skills and experience.
Access permissions and responsibilities are clearly assigned.
Better overview when working with multiple pages
Facebook Business Manager is most useful for companies with multiple pages. In this case, you no longer have to jump from page to page to control and manage marketing activities. Instead, you can do all your activities in one central location. Account management provides a better overview, saves time and increases the efficiency of workflows.
From Zero to Hero: The Social Media Marketer's Strategy Kit
Download the strategy kit for social media marketers who want to stay on top of their game. Use the actionable steps, tips, tricks, and guidelines to take your brand and business from 0 to hero on social media. The kit is accompanied by ready-to-use templates to help you define, implement and monitor your social media marketing strategy in all its complexity.
Simplified cooperation with agencies
Similar to the allocation of roles within your own company, the situation is the same when working with an agency. In this case, you can also grant access permissions to the people concerned at will – and revoke them if necessary. This is possible by adding the agency as a "partner". A prerequisite for this is that the agency or the managing person has their own Business Manager account.
Setting up the Business Manager
To set up a business page and therefore also the business manager, a personal account is required. Then proceed as follows:
Open a Business Manager account
Go to business.facebook.com and click on "Create account" in the upper right corner of the page. Then enter the name of your company, your own name and the corresponding e-mail address. This completes the first step.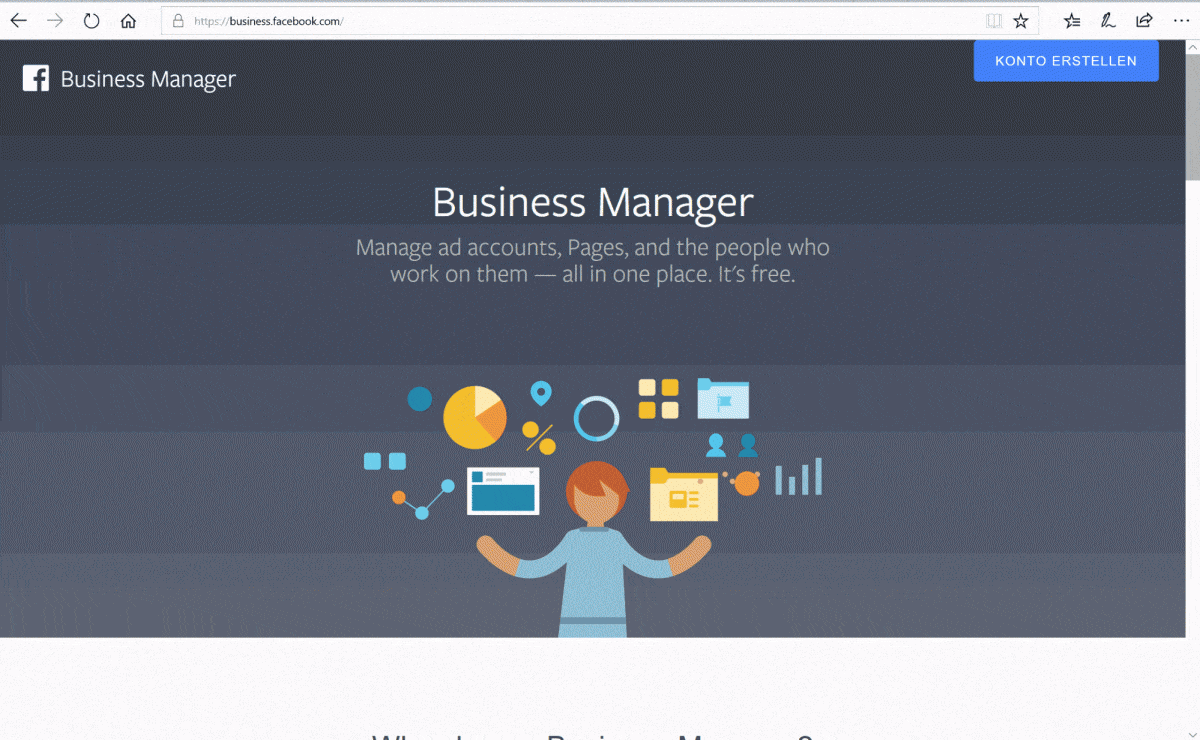 Add Facebook Pages
We assume that you or your company already have one or more pages. Otherwise, it is possible to create a new one here:
To add pages, select "Add New Pages" in the Business Manager.
Go to "Add a Page" again. You also have the possibility to request access to an existing site.
Enter the name or URL of your page in the text field. Usually, the name is completed automatically.
Click on the name and then one last time on "Add page". If you are an admin of the respective page, you will see the confirmation immediately afterwards. If you are not an admin, the respective admin of the page receives a notification and can confirm or reject the access request.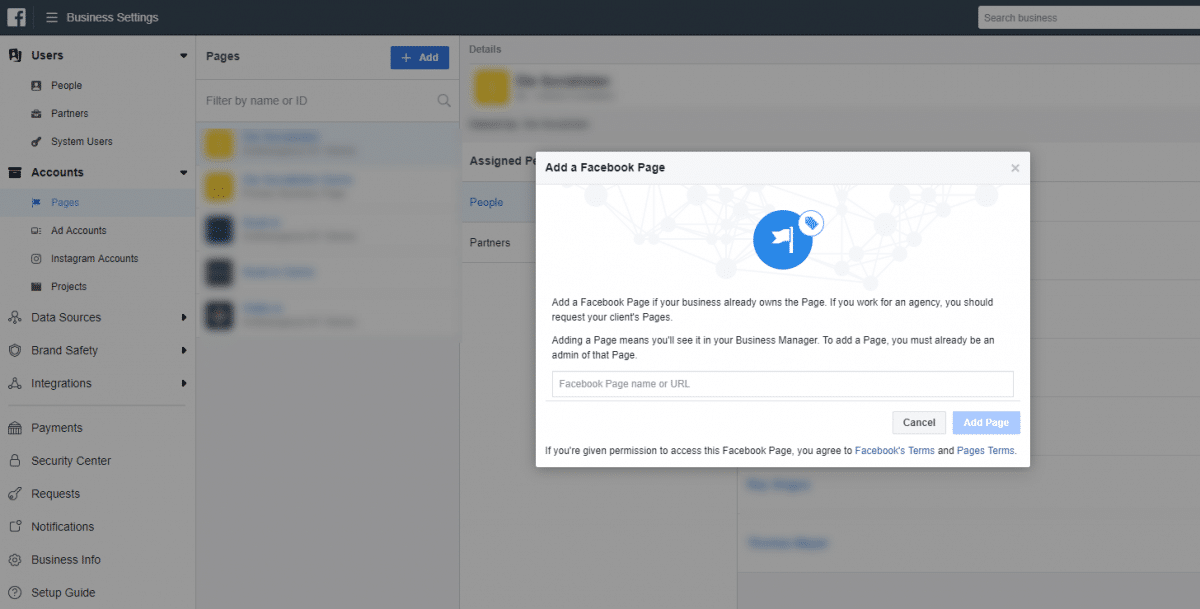 Add advertising accounts
Select "Add New Ad Account".
Then you have several options:
You can add your own account.
You have the ability to ask for permission to add an account that belongs to someone else.
Or you can create a new account.
Important: An advertising account is a prerequisite for placing ads on Facebook. A Business Manager can manage a maximum of 5 accounts. However, you can only create one account and only add the remaining accounts after you have invested money in an advertising campaign for the first time. Several accounts are particularly interesting for agencies that manage advertising accounts for different clients. The limit can be avoided by the company creating the advertising account itself and giving the agency access to it.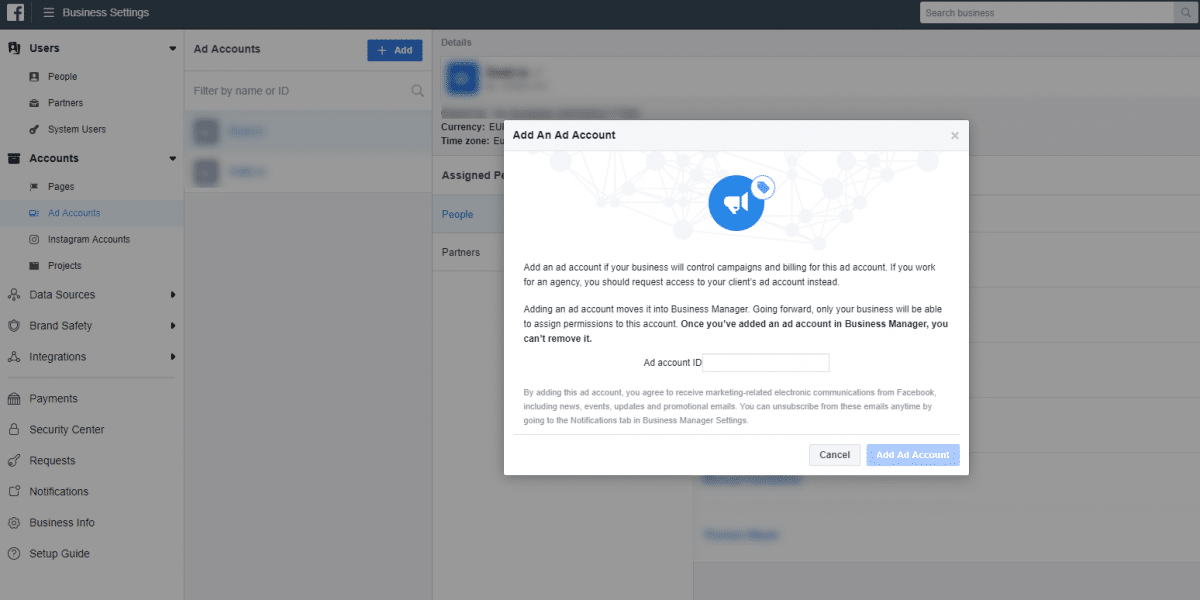 Add Employees
To add more people to your Business Manager, follow these steps:
Under settings go to "People and Assets" click "People" and click "Add".
Invite people via their e-mail address and decide whether to give them full administrator access or "only" employee access.
You can then select the pages that the various people have access to, assign a role to them (page administrator, page editor, page moderator, advertiser, page analyst) and complete the process with "Invite".
Adding people to advertising accounts works the same way. To invite partners, you will find the icon "Partner" in the settings under "Users". In this case, it is also possible to assign different roles. Finally, you will receive a link that you can send to the agency, for example. This gives the "Partner" access to your Business Manager.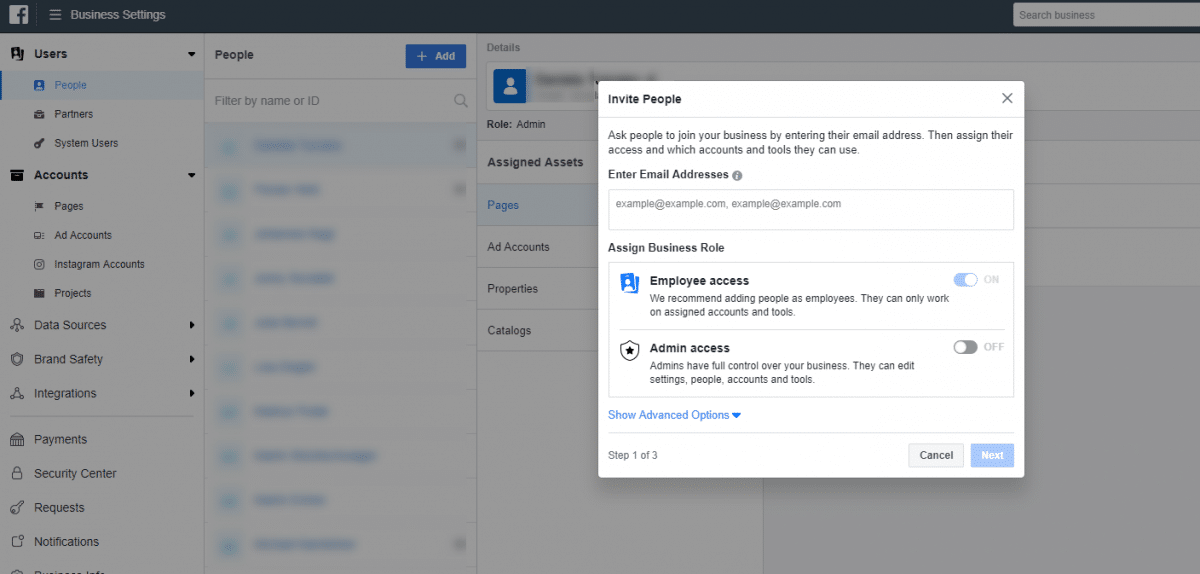 Add your Instagram account
You can also add your Instagram account to the Business Manager. An Instagram Business Account is required. To do this, call up the settings again, go to "Instagram Ads" under "Add an Account" and add the login data.
Start your first campaign
Now that the Business Manager is ready, you can start your first campaign:
Click "Business Settings ", click "Create and Manage" and go to "Ad Manager" and "Create".
Now you have the possibility to create campaigns with guidance.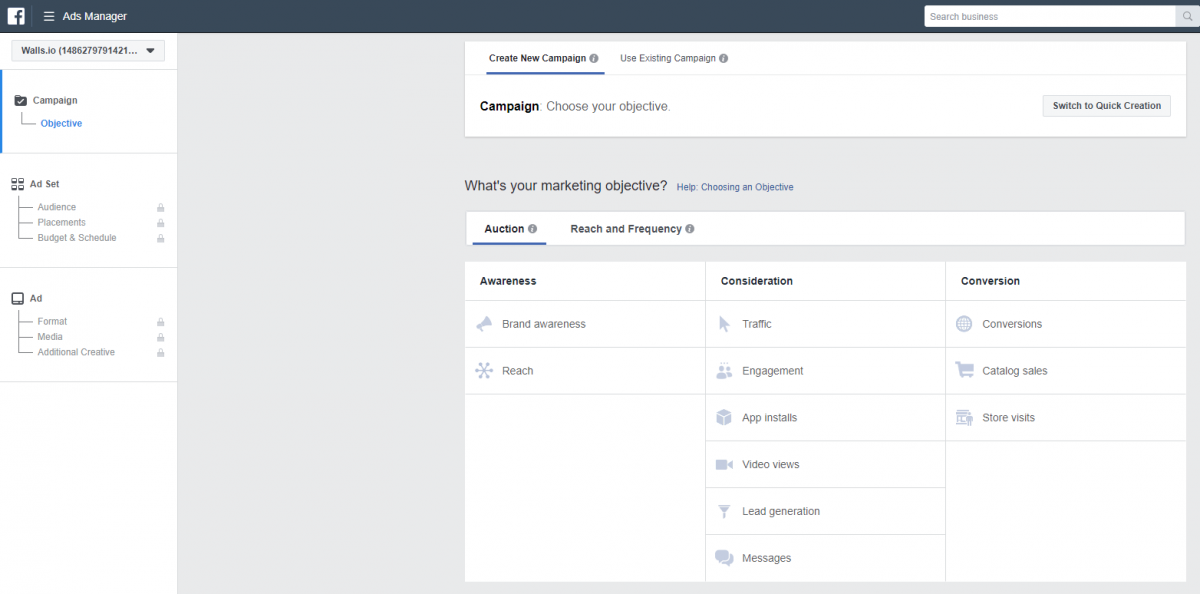 Facebook Business Manager makes your work easier
A single person with a company page on Facebook will continue to do without the Business Manager. Teams that want to manage multiple pages and advertising accounts benefit from the tool on several levels.
As the central place for managing marketing activities on Facebook, the Business Manager ensures that the full overview of all activities is guaranteed at all times. It also improves team collaboration and the security of valuable information. Beginners need time to get used to the tool, but it is worth it.
Are you looking for a control centre for your advertising activities on all channels? With Swat.io you always have an overview of content planning, community management and social customer service. Start a free trial now!
Efficient Social Media Communications With Swat.io