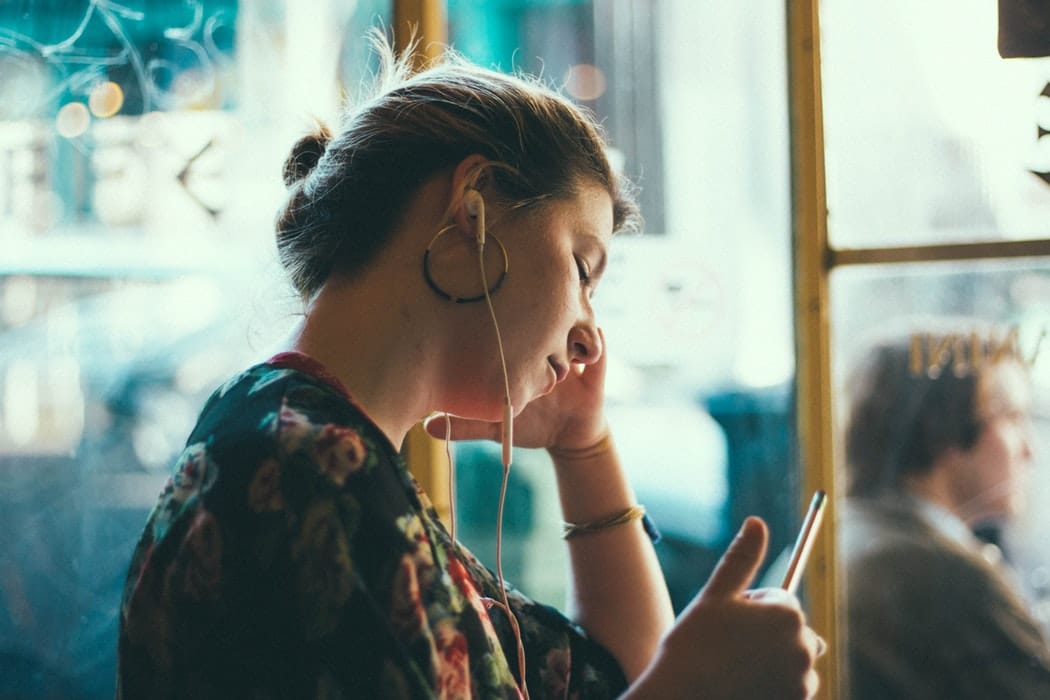 9 Podcasts to Help Improve Your Social Media Marketing Skills
The power of podcasts goes beyond the power of conventional type of content like news, books, and articles. With popular platforms like iTunes and Spotify, interactive talking instead of writing seems like an easier way to consume content for people that don't have much time to spare.
In a podcast done by Social Media Examiner, Jay Baer said "There is something about bringing somebody inside your head through your ear holes that ties you to that person in a way that reading a blog post or reading a book or anything else just doesn't."
In this article, we will discuss in detail about:
The main benefits of podcasts
9 useful podcasts you can listen on the go to improve your marketing skills.
Main benefits of podcasts
Get inspired: hearing the voice of a specialist in a field you have interest in, such as social media, can be inspiring. Someone who has influenced your perceptions through articles and books builds credibility and can make you feel more connected.
Portable medium: to subscribe to podcasts all you have to do is download an app like iTunes or Spotify, and listen to your favorite podcaster share information you care about when you're jogging in the park or driving to work.
Up-to-date information: podcasts can help you learn new things in your industry before anyone else. You can be among the first to know about the latest social media marketing trends, updates, and features. It pays to get ahead of the curve listening to a podcast that provides informative, fresh information.
Emotional medium: The uniqueness of podcasts lies in the fact that the sense of hearing is needed. Spoken words are to be remembered longer and give words more emotion.
Keep reading our blog post to find out which podcasts you should start with to improve your social media marketing skills. Our top 9 list was made based on the following criteria: podcast popularity, social media marketing experience of the host, interviewees, and topics covered.
1. Social Media Social Hour Podcast with Tyler Anderson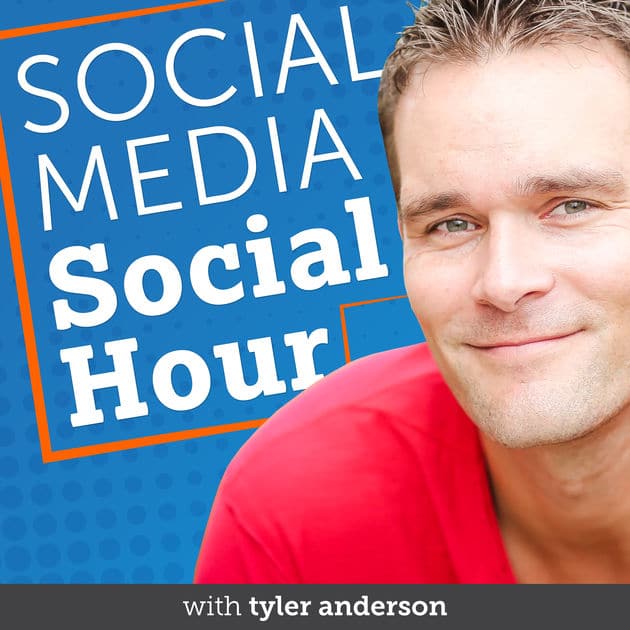 Host: Tyler Anderson
Average podcast length: 20-50 minutes
Podcast format: Interviews, group chats, debates
Available on: iTunes
Topics covered: social media marketing, online marketing, tactics on how to improve your social media marketing strategies across all channels
Social Media Social Hour host, speaker, and marketing entrepreneur Tyler Anderson introduces you to a podcast filled with actionable tactics to help improve your social media marketing strategy across the main channels. During the podcast, Tyler engages in lively conversations with influencers and brands about what works on social and what doesn't. The episodes include talks on social media strategies, growth hacking, building brand authority, video marketing, emoji marketing, and a lot more. The end-goal is to dig deep into main issues brands and influencers have when marketing on social, and come up with actionable tactics on how to adapt to the ever-changing social media scenario.
What's nice about the podcast is that Tyler summarizes essential quotes from each podcast episode to provide you with a quick overview, and give you a general idea of the information included in each podcast episode. His narrow focus and expert input on the topics covered will skyrocket your social media presence on the main channels.
Why you should listen: to discover what works, what doesn't and what needs to be improved in your current marketing strategy across every social media channel. Tyler covers almost all platforms, including the less used ones like Blab, Meerkat, Periscope, and more. By listening to this podcast you'll gain useful insights from experienced marketers and influencers that will motivate you to go the extra mile and rethink your current approach to social media marketing.
2. Social Media Marketing Podcast from Social Media Examiner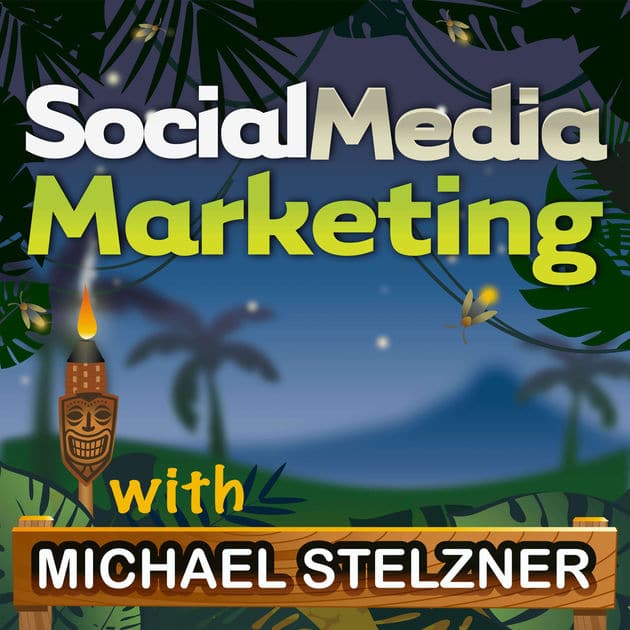 Host: Michael Stelzner

Average podcast length: 45 minutes
Podcast format: Expert interviews, stories, weekly video shows
Available on: YouTube, Social Media Examiner
Topics covered: platform-specific lessons, social media strategy tips, content marketing
Hosted by the founder of Social Media Examiner, Michael Stelzner, Social Media Marketing Podcast helps you "navigate through the social media jungle" and discover successful stories from top industry specialists. The podcast is designed for business owners and marketers that want to stay updated with everything that's happening in the social media world. The podcast includes expert interviews and insider knowledge discussing tactics, strategies and success recipes from marketers that made mistakes but learned from them only to succeed on social media.
What's interesting about The Social Media Marketing Podcast is that each weekly episode begins with a "survival tip", recent social media update or discovery about a new feature, website, or app that you can use to become more efficient on social media.
Why you should listen: a versatile podcast covering different elements pertaining to the social media scenario every week. By listening, you'll learn new strategies and platform-specific lessons to fit your brand's needs and wants. Also, you get the unique opportunity to "meet" social media stars and learn from their expertise to improve your own strategy.
The Art of Social Media Content Creation
Download our eBook and learn how to plan, create and distribute your social media content while measuring its effectiveness on your relevant social media channels. To ensure you don't miss out on any big social media content trend or best practice, we've also included interviews of 5 experts in this field. Find out how to master the art of social media content creation using the latest available tools and determine what type of content makes your audience tick!
3. The #AskGaryVee Show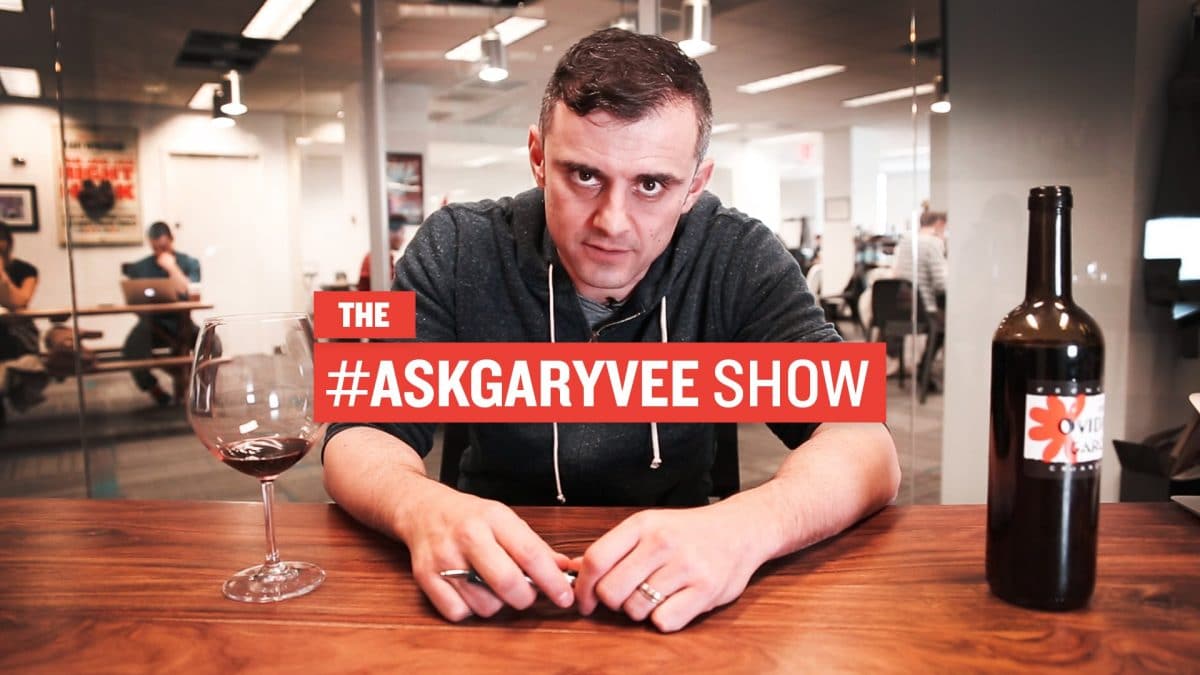 Host: Gary Vaynerchuk

Podcast length: 15-45 minutes
Podcast format: Q&A, interviews
Available on: iTunes, Stitcher, SoundCloud
Topics covered: entrepreneurship, social media, startups.
Hosted by entrepreneur, author, and internet personality Gary Vaynerchuk, the #AskGaryVee Show is a video podcast that encourages you to see social media as a "conversation vehicle", and not as a distribution channel. Unlike other podcasts, the #AskGaryVee Show is a daily show that includes useful advice related to social media, entrepreneurship, and startups in a Q&A format. If you have a question you're dying to ask, you can connect with Gary on Twitter. Make sure to use the hashtag #AskGaryVee and your question might get on the show.
Based on audience participation, the interesting part of the podcast is that each episode is based on the Twitter question Gary decides to answer. His unique perspective on digital marketing and what the future of social media holds, the #AskGaryVee Show centers on the wisdom and insight of someone with more than 10 years of experience in entrepreneurship and business.
Why you should listen: to learn more about best practices and recent trends in the social media landscape from an expert entrepreneur and successful business owner. Gary's podcast covers topics on strengthening your brand image, digital marketing, and entrepreneurship – all these areas are linked to the role of social media in every mentioned category.
4. The Social Toolkit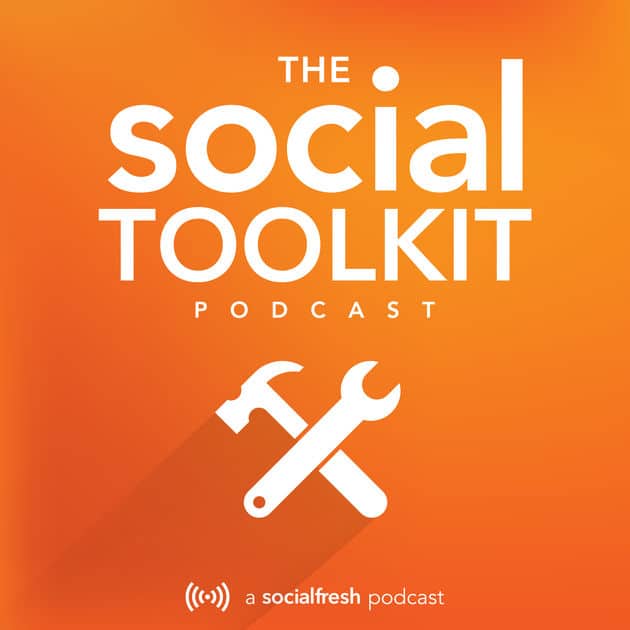 Hosts: Jason Keath and Jason Yarborough

Produced by: Social Fresh Conference
Average podcast length: 40 minutes
Podcast format: interviews
Available on: iTunes
Topics covered: social media tools, digital marketing tool, and software, social media strategy
The Social Toolkit Podcast discusses main tools, apps, software, services and processes behind social media strategies, savvy digital marketers, and community managers. The aim is to help you improve marketing productivity leveraging cost- and time-efficient tools. Every week, the hosts, Jason Keath and Jason Yarborough, interview a digital marketing expert to talk about the tools they use to frame their strategy on social and why.
The interesting part about the podcast is that the hosts and interviewees go in-depth with the given topic. Experts engage in casual, friendly conversations that have a main goal: to answer the "why" and the "how" when choosing a tool to manage social media. Whether you're managing social media marketing for a brand or working at an agency, you're probably facing challenges in social media marketing every single day. Swat.io offers a multitude of features tailored to your needs and use cases.
Why you should listen: to help you choose the right social media tools for your online business. The podcast doesn't just evaluate them. It also focuses on lessons learned by experts, what didn't work for them, and what could have been done better as far as managing social media is concerned.
5. Online Marketing Made Easy with Amy Porterfield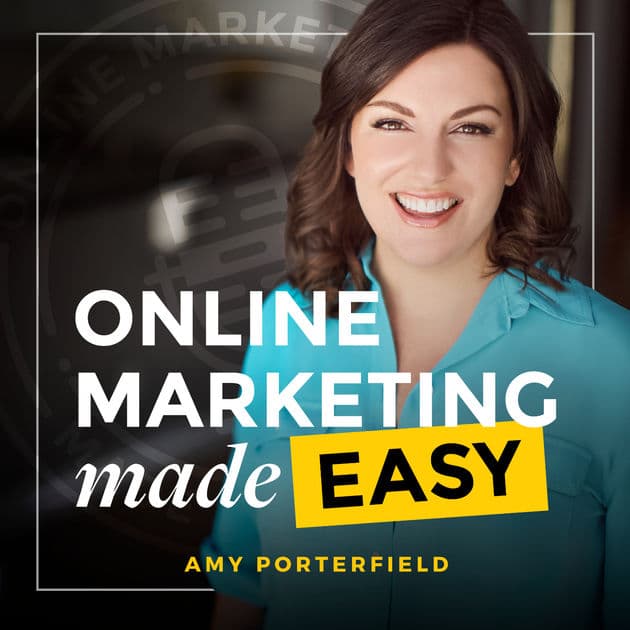 Host: Amy Porterfield

Average podcast length: 20-40 minutes
Podcast format: Expert interviews, behind-the-scenes, mini-marketing classes, step-by-step guides
Available on: iTunes
Topics covered: social media marketing tips and insights
Hosted by author and social media strategist Amy Porterfield, the Online Marketing Made Easy podcast offers tested, actionable lead-generation strategies to monetize your digital marketing efforts. Amy's episodes are centered on educational type of content, including social media marketing tips and insights, and general freelancing advice. She often invites Rick Mulready, Facebook ad expert, to talk about everything that's new with Facebook ads.
What's interesting about the podcast is the experience of the host in social media. As a strategy expert, Amy goes beyond the digital marketing realm. At the end of each episode, she offers free resources listeners can download to help them grow their business in the digital world.
Why you should listen: Online Marketing Made Easy makes Facebook advertising less confusing for those with little experience in the niche. By listening to this podcast, you can learn more about Facebook ads and how to monetize your business using up-to-date, actionable advice from industry experts.
6. Social Pros with Jay Baer and Adam Brown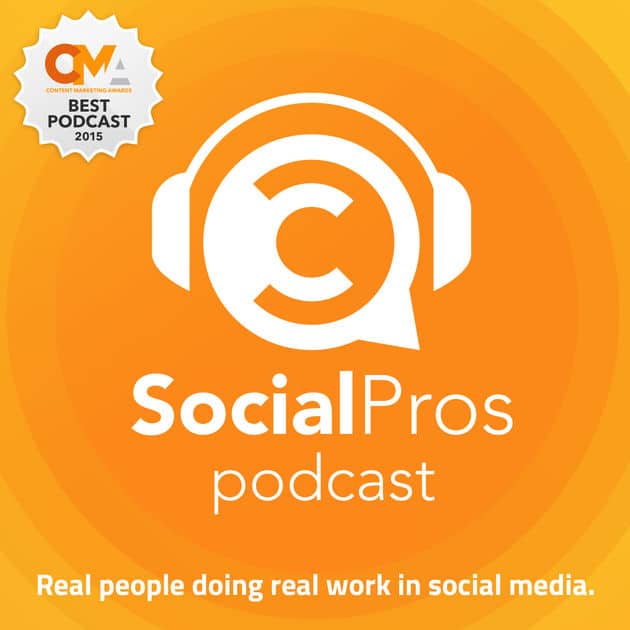 Hosts: Jay Baer and Adam Brown

Average podcast length: 40 minutes
Podcast format: Interviews, behind-the-scenes strategies, stories
Available on: Convince&Convert, iTunes
Topics covered: social media, digital marketing
Hosted by digital marketing experts Jay Baer and Adam Brown, Social Pros dives into insightful stories, strategies, and behind-the-scenes secrets of how brands and big companies like IBM, Dell and Ford manage and track their marketing efforts on social media. Each episode includes a discussion with a social media strategist on current social media marketing trends, which are approved, debated and debunked by the hosts.
What's interesting about the podcast is that the interviewees are able to provide hands-on experience with social media marketing. Most of them are practitioners who know the ins and outs of the social realm. At the end of each episode, the hosts ask 2 marketing-related questions, and the guests have only a few minutes to provide an argumentative answer. A very catchy and informative way to end a podcast!
Why you should listen: to get inspired by the real stories of social media experts, know more about recent trends in the industry, and apply best practices to framing your own social media marketing strategy.
7. Social Media Pubcast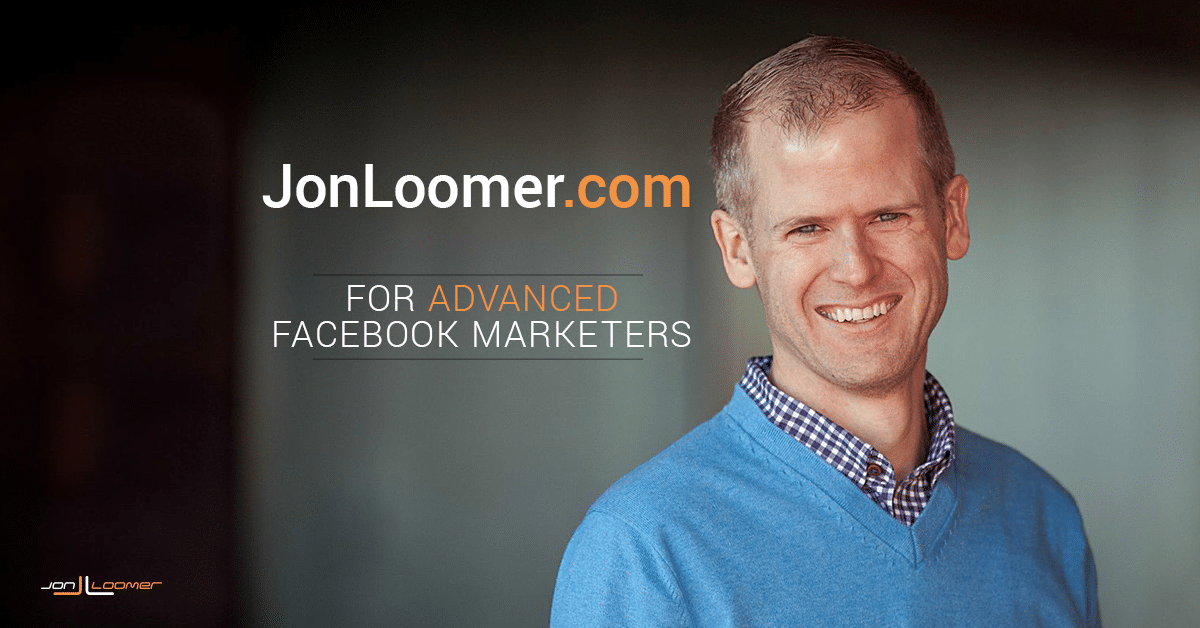 Host: Jon Loomer

Average podcast length: 10-40 minutes
Podcast format: Interviews
Topics covered: Facebook marketing, entrepreneurial lessons, case studies
Marketing coach, strategist, and speaker Jon Loomer covers topics on everything related to Facebook in his Social Media Pubcast podcast. He uses a conversational, natural tone to teach about new optimization techniques for Facebook advertising. Some episodes also include insights about his journey to success in entrepreneurship, as well as the mistakes and challenges he had to deal with over the years.
What's interesting about Social Media Pubcast is the relaxed, conversational tone used by Jon when sharing information. Aimed at those eager to expand their small business using Facebook should find the podcast both informative and fun to listen to.
Why you should listen: to get insights and hands-on tips on Facebook marketing from an experienced Facebook marketing coach. By listening to the Social Media Pubcast, you'll manage to improve your advertising on social media, as well as accept and learn from your past mistakes.
8. #TwitterSmarter with Madalyn Sklar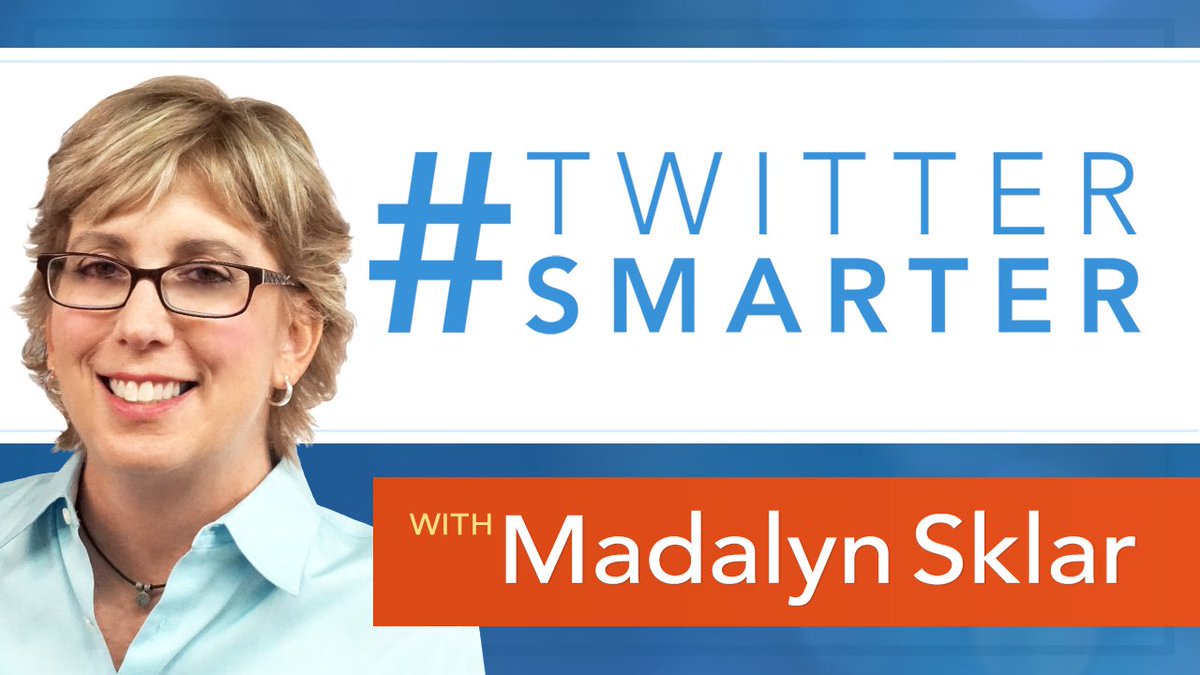 Host: Madalyn Sklar

Average podcast length: 20-40 minutes
Podcast format: interviews, Q&A
Topics covered: Twitter marketing
Madalyn Sklar's podcast covers interviews with marketing pros and social media experts. At the core of every episode lies a Twitter-related question to which the interviewees must answer. All of them will be asked: What are your best Twitter tips? Each episode covers fresh insight on Twitter marketing and what actions need to be taken to improve your current strategy.
What interesting about the #TwitterSmarter podcast is the emphasis on actionable tips in each episode. Don't expect technical terminology but rather pertinent advice on how to make the most of Twitter to connect with your customers.
Why you should listen: to improve your social strategy on Twitter by applying tried and tested tips recommended by industry experts.
9. Hit the Mic with Stacey Harris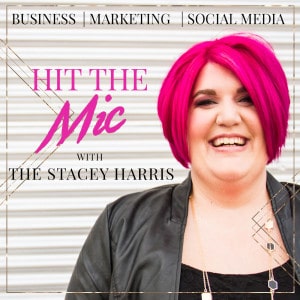 Host: Stacey Harris

Average length: 20 minutes
Format: Q&A, interviews
Topics covered: social media marketing, social media tips, digital marketing strategies
Hosted by digital marketing consultant and social media coach, Stacey Harris, the podcast targets entrepreneurs, marketers, and social media enthusiasts eager to grow their business across the social landscape. In every episode, Stacey advises listeners to stop being perfect on the main channels. Stick to genuine ways to humanize your campaigns and remember that people like and want to buy from other people. This means it's ok to let them see some vulnerability.
The podcast focuses on answering essential questions related to Facebook, Instagram, LinkedIn, and other social platforms. Some episodes are very short but extremely useful and informative. Stacey adopts an honest, relaxed tone to appeal to her listeners and make them understand that "If you're using social media for your business, then consistently engage with your audience and make sure that they truly feel a part of your community."
Why you should listen: to improve your skills across the main channels following the answers and guidance of top online and social media marketing experts.
Efficient Social Media Communications With Swat.io
Conclusion
Listening to relevant podcasts in your industry or niche is an opportunity to receive up-to-date information on recent trends, hands-on advice from experts, and actionable insights. Time is of the essence in the world of social media marketing, which is why podcasts have grown so much in popularity. You can listen to your favorite shows on the go from your mobile device, or at home when cooking dinner and doing dishes.
Because we know how busy you are on a daily basis, we've chosen 9 social media marketing podcasts to help improve your skills and strategy across different social channels. Which of the podcasts selected do you enjoy the most? Can you think of any other we might have missed? Leave us a comment below.