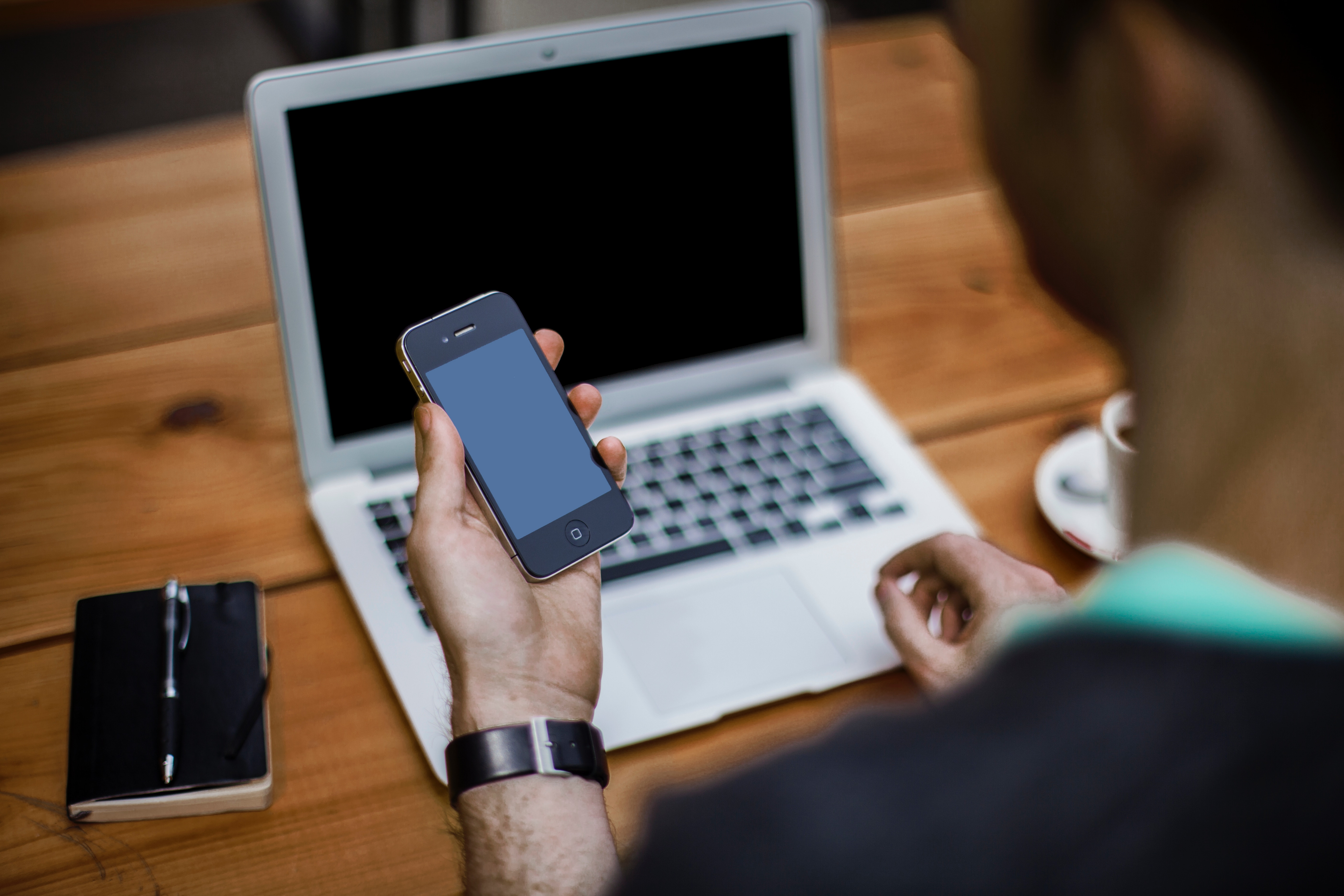 A click is a click – or is it? Useful tips for analyzing Facebook Ads
In the beginning of this year, we shared with you the most important Social Media Key Figures. If you are using the Facebook Ads Manager to stay on top of your Facebook and Instagram campaigns, you should still learn a little more on the topic. Why? Because in the world of Facebook, there are 6 different types of clicks! A click therefore is not necessarily a click – which can lead to a lot of confusion.
In this blog post, we unpack how exactly the various click types differ from each other, so you don't accidentally compare apples to oranges, or generate a faulty report. After all, clicks are the basis of many an important key figure, and especially relevant to link posts.
How to see all of your clicks
In the Ads Manager, you can select all key figures in the top right corner under "Customize Columns"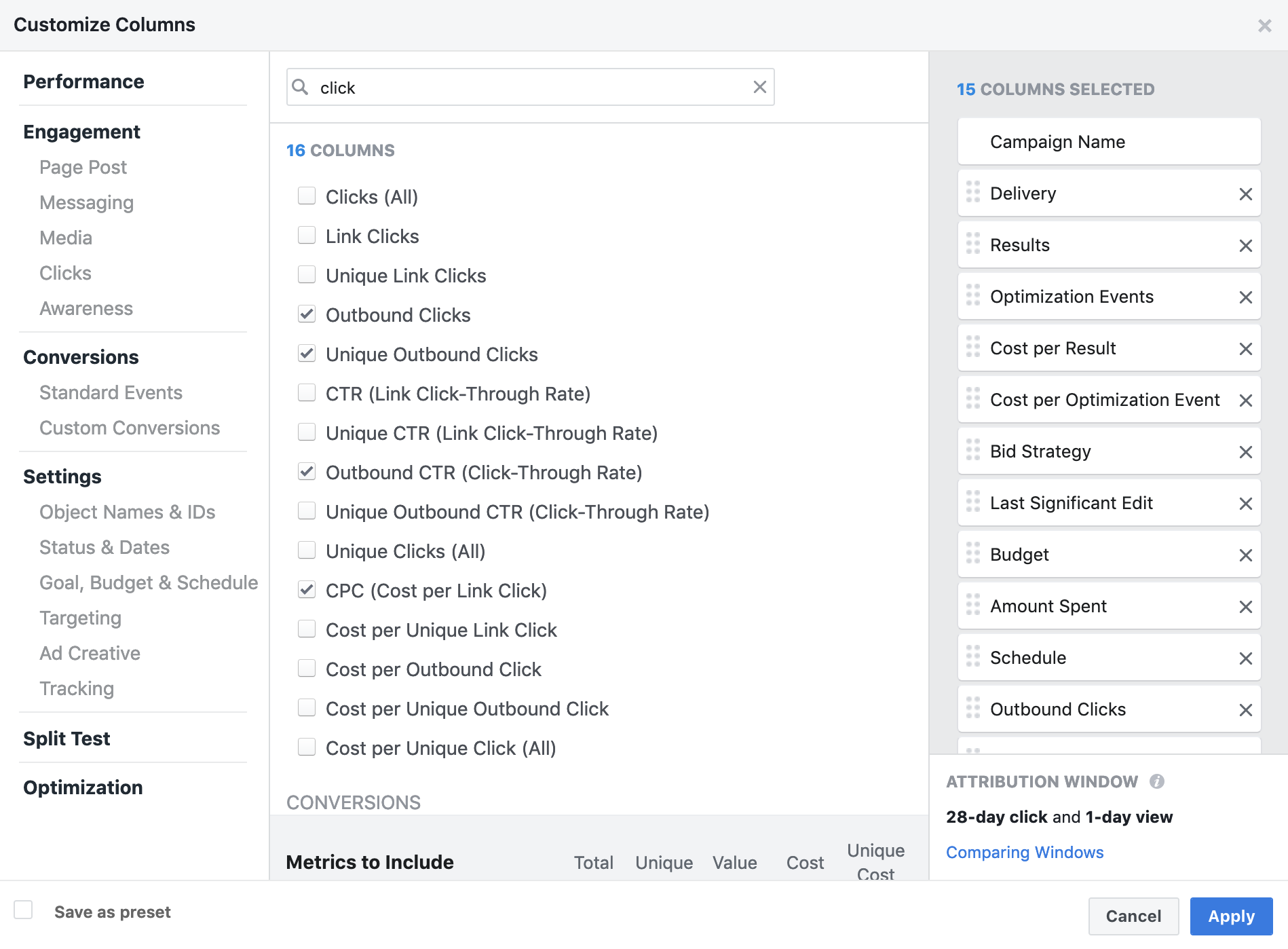 Keep in mind that the data does not differentiate between posts on your business page and actual ads (also known as Dark Posts). You just cannot publish all kinds of ads on your page, too.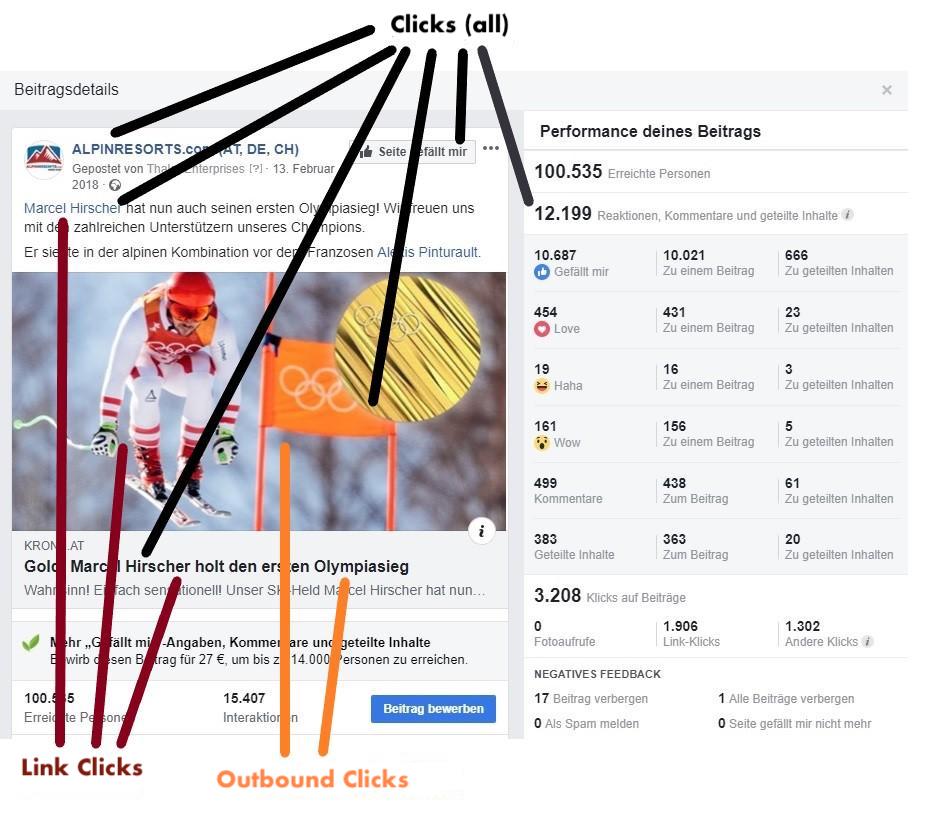 1: Clicks (all)
Here, as you would expect, all clicks regarding a certain post are being counted.
Clicks on a link, no matter if within the text or as a call-to-action button
Clicks on personal profiles or pages marked in the text
Clicks on hashtags
Clicks on the page/profile picture of the page or Instagram profile
Reactions such as "Like" or "Wow"
Comments
Shares
What might surprise you though is that clicks on media, such as when enlarging pictures, or playing/pausing videos, also fall under this category. The same goes for clicks on "See more", in case a text is longer than your smartphone screen can display at once.
For specific campaigns, e.g. for fan generating, campaign results are added here (for instance marking a page with "Like").
2: Link Clicks
This is where all clicks on links for a given post are counted, no matter if the links lead to pages within the realm of Facebook, or to external websites.
Clicks on a picture or a call-to-action button (only for link or messenger posts)
Clicks on URLs in the text of a post
Clicks on ads that forward the user to full screen mode (e.g. Lead Ads, Canvas, or Collection)
Clicks on app stores or deep links to apps
Clicks on videos hosted by another platform (e.g. YouTube or Vimeo)
Clicks on maps/directions
Clicks on a post's headline or comments that lead to an advertiser's profile (only for ads that promote profile views on Instagram)
3: Outbound Clicks
In revenue-oriented performance marketing, outbound clicks are of particular significance: This is where all clicks that lead to external, non-Facebook-related pages, are counted.
Usually, this will be your own website, webshop, or your app. Sometimes, it may be someone else's website.
Keep in mind that this figure is related strictly to outbound clicks, not inbound clicks (which you can find in Google Analytics or a similar tool). If you are using the Facebook Pixel, you can find them under the KPI "Landing Page Views". This figure too will most likely not correspond exactly to your Analytics figures. You can read up on this curious fact here.
4/5/6: Individual Clicks (all), Link Clicks and Outbound Clicks
All the figures in this article represent absolute numbers, like the impressions on an advertisement. They do not represent the number of unique users accessing your content.
However, the Facebook Ads Manager allows you to see your net numbers too, like an ad's actual reach, i.e. how many unique users clicked on your content. You can then allocate these numbers to the three key figures mentioned above.
The key figures 4, 5, and 6 consequently do not count actions, but persons.
Intelligent Monitoring is key for every successful Social Media Marketing strategy. Download our "Beginner's Guide to Social Media Monitoring" for free right now and discover valuable tips on how to get the most out of your analyses.
Cost-per-Click (CPC)
Since there are six different kinds of clicks on Facebook, consequently, there are also six different CPCs.
If you simply want to impress, use the key figure CPC (all). As a result, your CPC will look incredibly small and you can go ahead and sell your webinar called "How to scalably reach a CPC of less than 1 Cent".
In case you would like to compare your Facebook campaign results to results on other platforms, such as Google Adwords, it is a lot more sensible to focus on the cost per outbound click. This way, you can actually compare apples to apples.
In order to exclude AdBlockers and other unpleasantries from your data, you can take a look at the key figure Cost per Landing Page View. This is especially interesting if you are monetizing your website through display ads.
Click-Through-Rate (CTR)
The qualitative figure CTR gives you insights into how "fitting" an ad was for your target group.
Here, too, you need to pay close attention to which numbers you choose to work with. The individual outbound click rate for example is measured by reach, not impressions. It therefore stays the same, even when an ad's frequency increases.
Closely related to the CTR is the Engagement Rate, also called Interaction Rate. Depending on the use case, it is based on different formulas. Facebook has its own key figure for Sponsored Posts, called the Result Rate, which also includes e.g. video views. Benchmarking Tools on the other hand often use the number of fans as a base for their quotient, due to a lack of alternatives. In any case, you should be sure to agree on a definition before boasting about your amazing numbers at your next Social Media meetup.
The differences are considerable
By now it should be clear: A Click is not simply a Click, and knowing how to differentiate between them is key in order to be able to correctly assess the numbers provided by Facebook's Ads Manager. In turn, this is the prerequisite for successfully analyzing Facebook Ads and constantly optimizing your campaigns.
Finally, we have a little illustrative example regarding the Facebook Ads Manager for you: here, 678 persons have clicked a total of 691 times on an external link, and 245 (= 936-691) times on another position.
It's probably quite obvious to you that the differences between similarly named key figures are substantial. Consequently, keeping a clear vision is all the more important.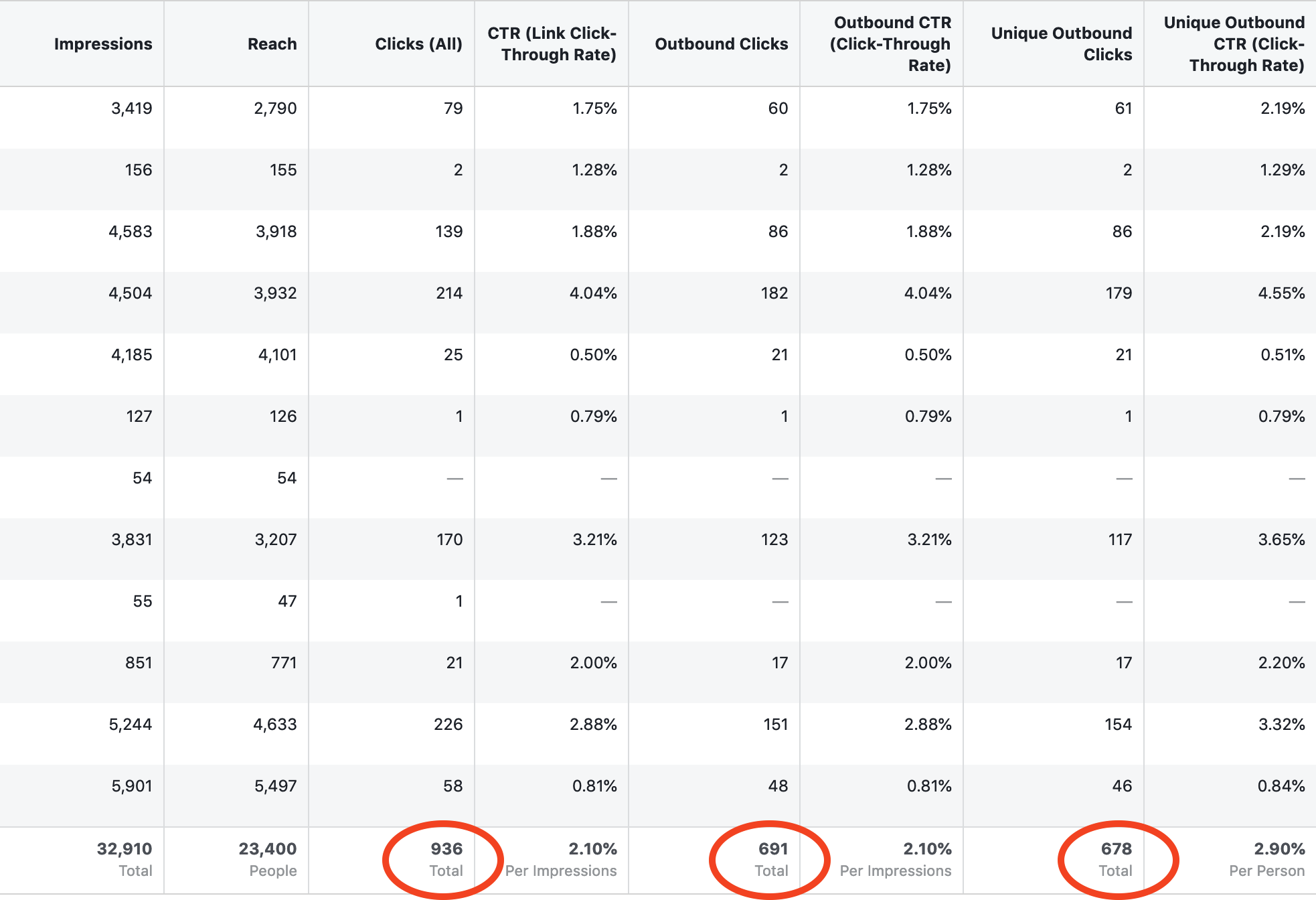 The right tool gets your Social Media Marketing on track in no time. Swat.io makes planning, creating, and publishing content easier than ever before. Start a free trial now, and benefit from its many valuable features on Facebook, Instagram, Twitter, and co.
Efficient Social Media Communications With Swat.io