The Top 20 Pearls of Influencer Marketing – 20 Examples How Not to Do it
What to do with a certain product to make it look good on Instagram? Influencers are facing this question regularly and often the answer is not the right one – you might bring your chocolate to the bathtub or present shower gel on your breakfast plate. In case of doubt the result is often not very beneficial for marketing purposes, but good for a laugh.
The Facebook page "Pearls of influencer marketing" collects especially entertaining influencer fails. We have chosen 20 highlights for you which will make you laugh and show you how not to do it along the way.
Influencer Marketing: The Practical Handbook for Social Media Marketers
Download the free and practical influencer marketing guide for social media marketers. Learn on over 60 pages how to find the right opinion leaders for your company, how to integrate influencers into your campaign and how to develop a campaign from A to Z together with them. This guide gives you everything you need to successfully implement your Influencer marketing campaigns.
Top 20 Pearls of Influencer Marketing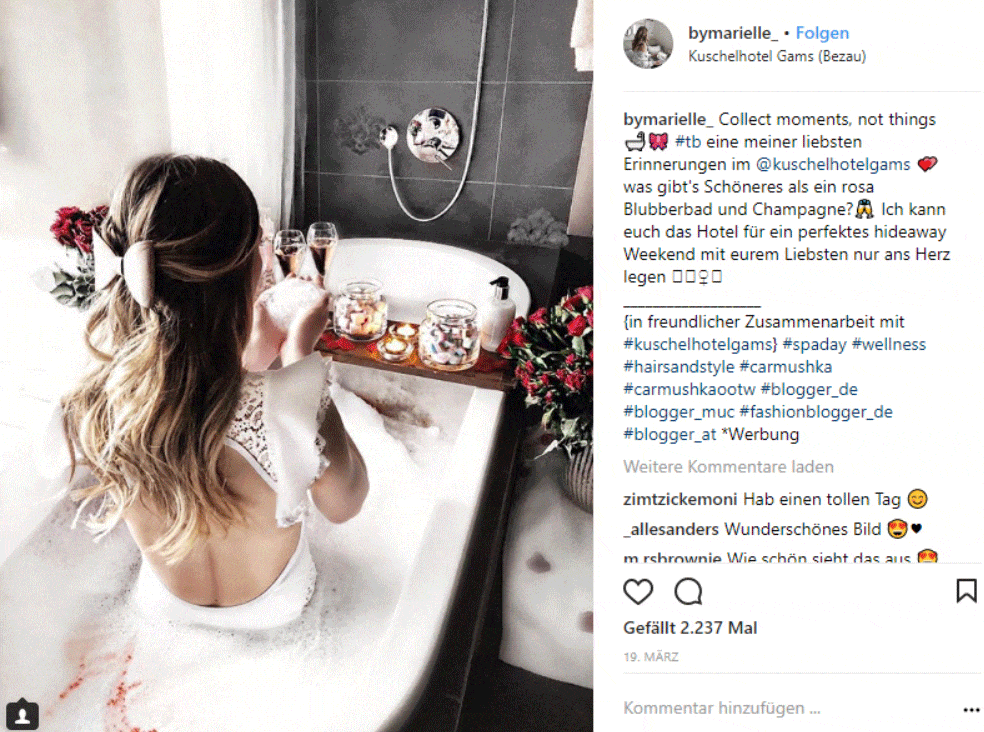 Bathing in the nude is for beginners. If you really want to enjoy "pink bubble bath and champagne" you enter the bathtub in your wedding dress or bathing suit (we are not quite sure 😉 ). And don't forget: Always pour two glasses – this saves time and energy.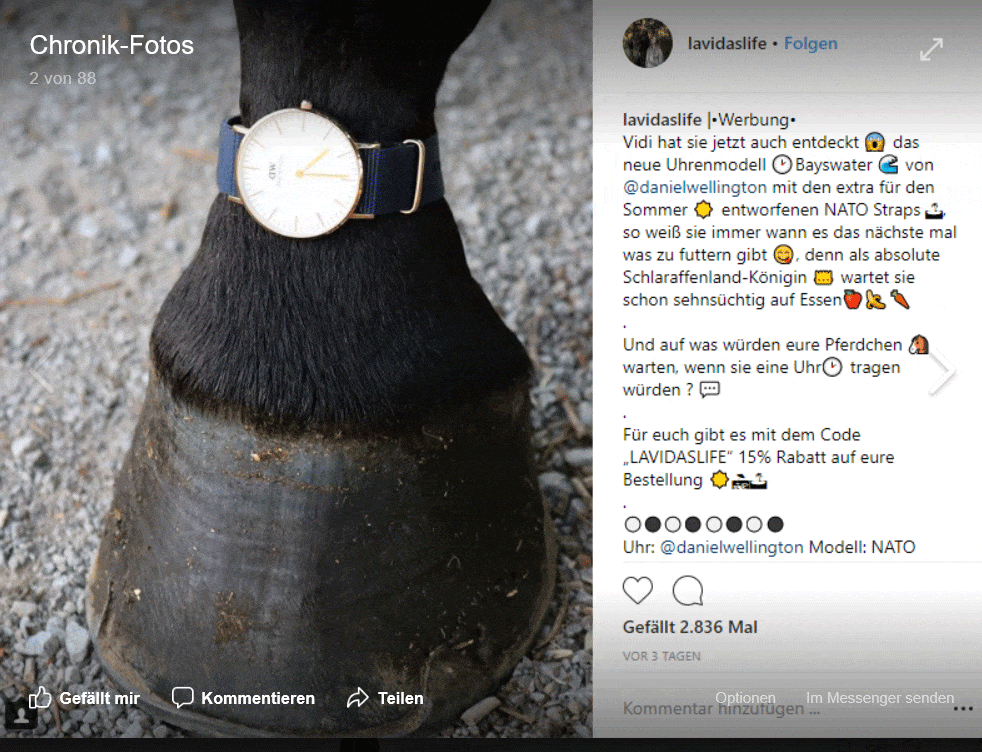 A horse wearing a watch is definitely an unusual motive. If it will make human watch wearers want to buy at Daniel Wellington is questionable. And what does the horse do if it wants to read the time?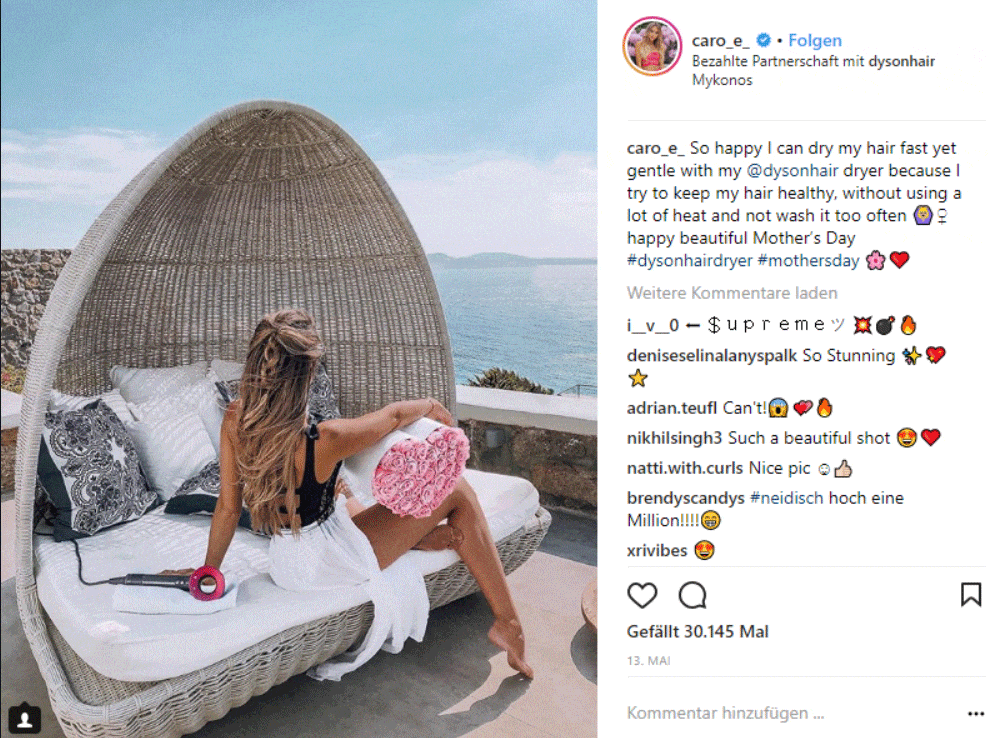 Assuming this beach chair really has its own electric outlet, this picture still raises the question of why this lady goes to the seaside to blow-dry her hair and if she always has these flowers with her.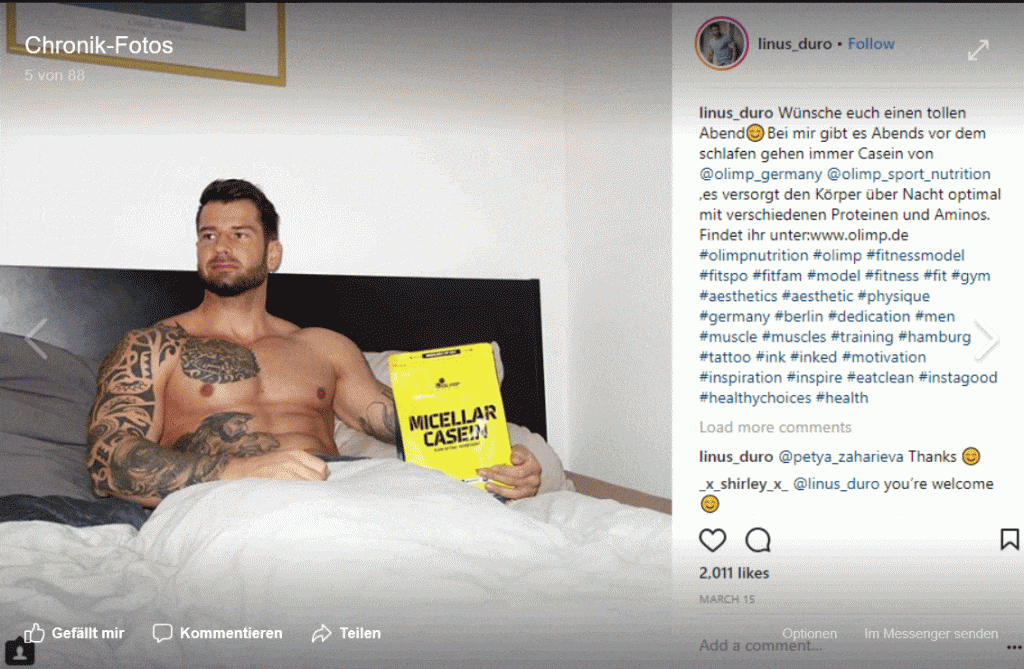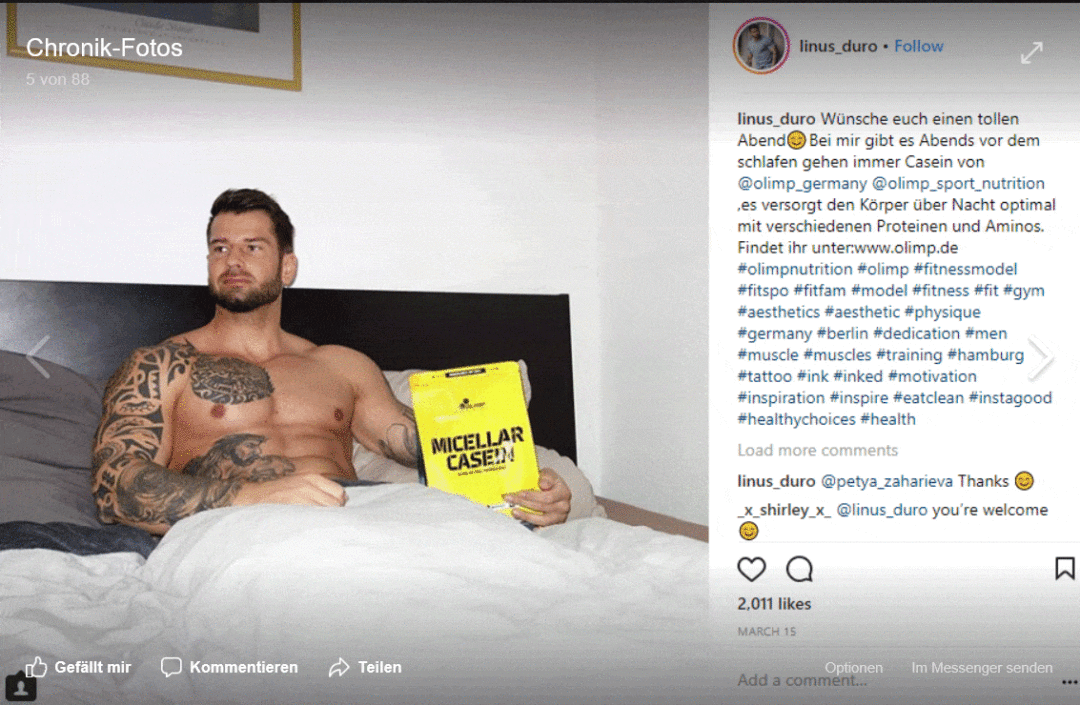 Oh no, the first night of the holiday and totally forgot to advertise the protein powder. Well, a quick snap with the bag in the bed will do. Just make sure the muscles are in the picture and dreamily look out the window.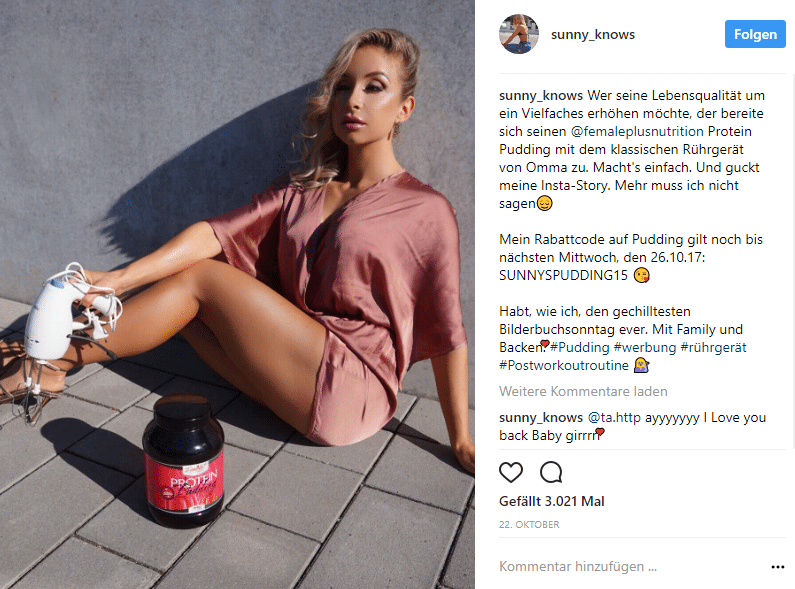 This influencer using her grandma's mixer to whip up her protein pudding might make sense. But why is she outside and where is that wall plug again?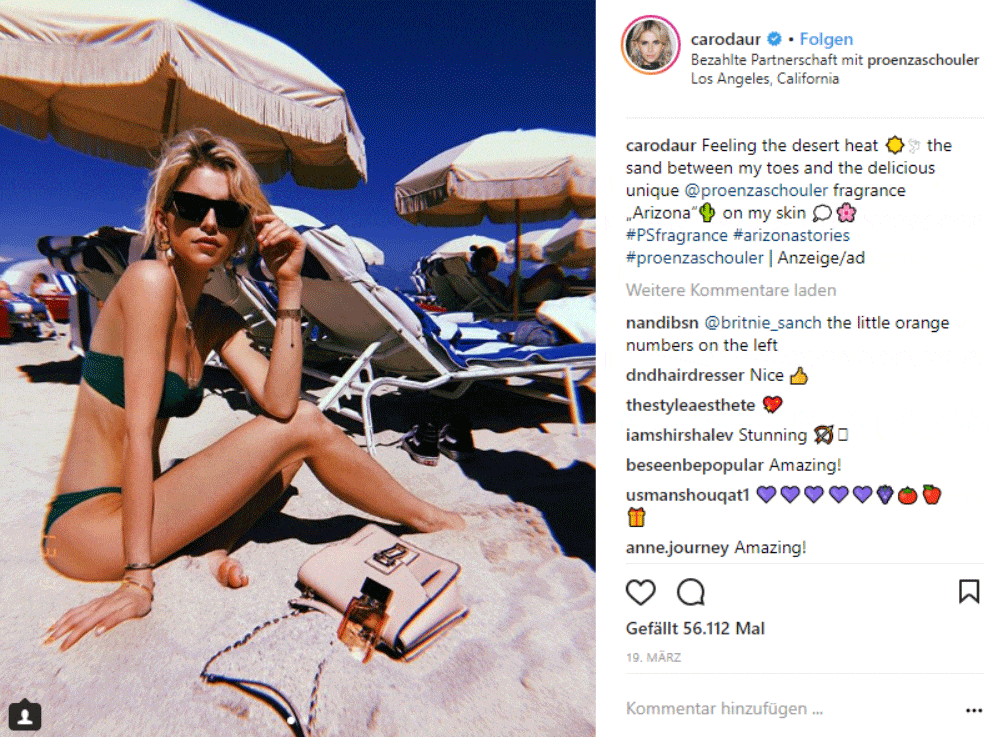 What's the ideal spot for a perfume ad? The beach of course. Just put the flask next to your bag in the sand, put on your sunglasses, done.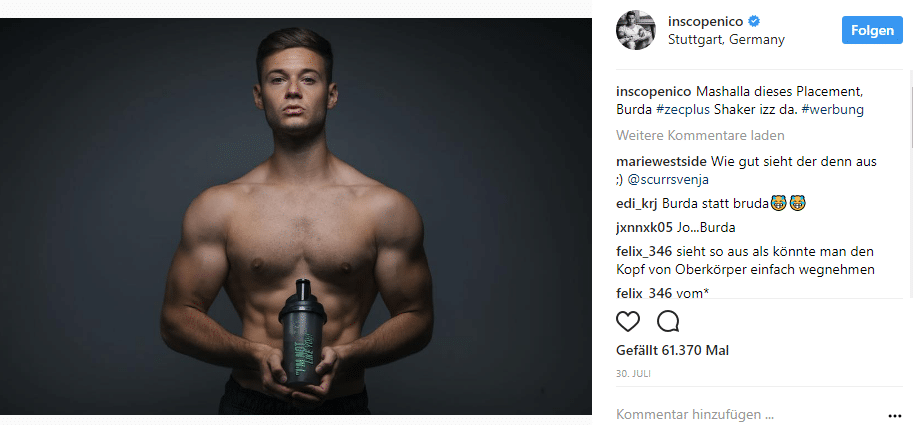 "Digga" and "Bruda" are things of the past. Today you call your homies "Burda", because "Shaker izz here". Totally the right language if you want to reach a young target audience – or maybe not?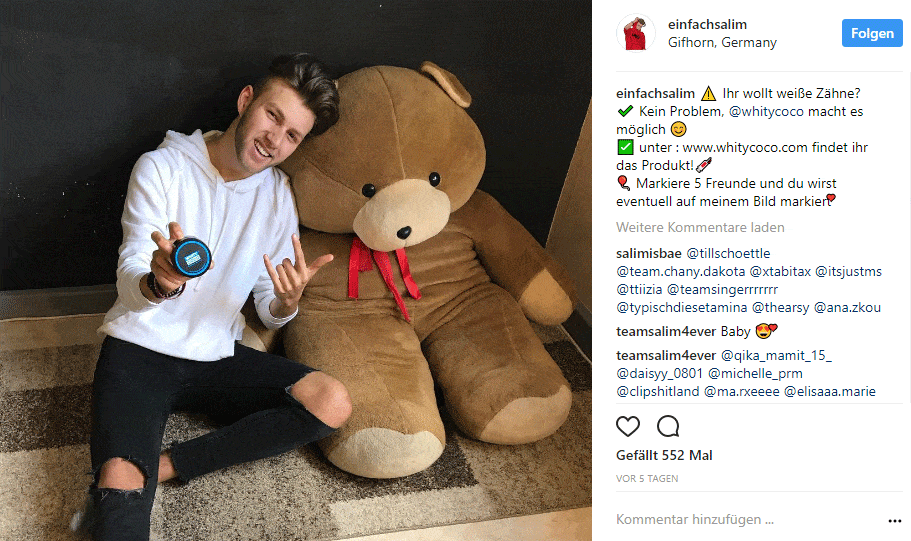 If there is no other motive at hand to present your dental care product why not use a giant plush toy? Teddy bears are always a hit. What we are asking ourselves: What is whiter, the teeth or the sweater? Answer the question and maybe we will flag you in our next post.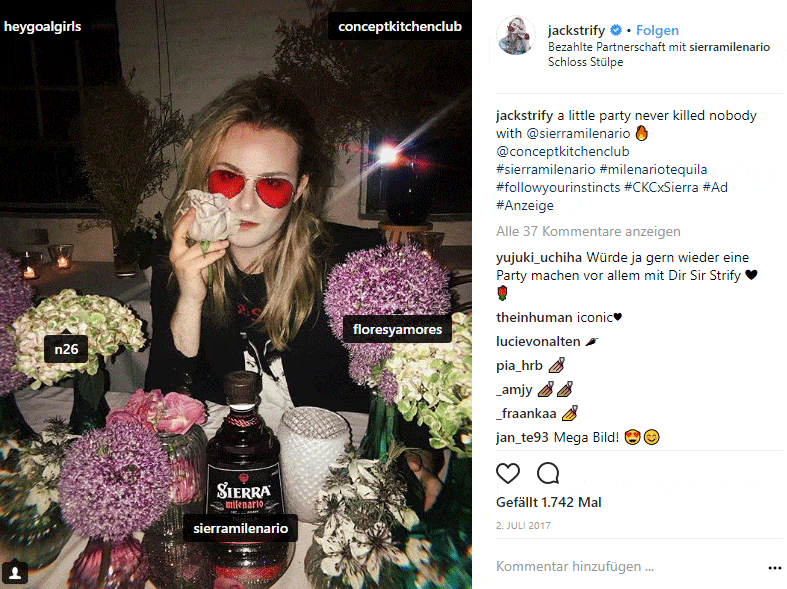 We would advise you not to overdo it with product placements. But of course everyone is free to put as much as possible in a photo and start tagging like crazy.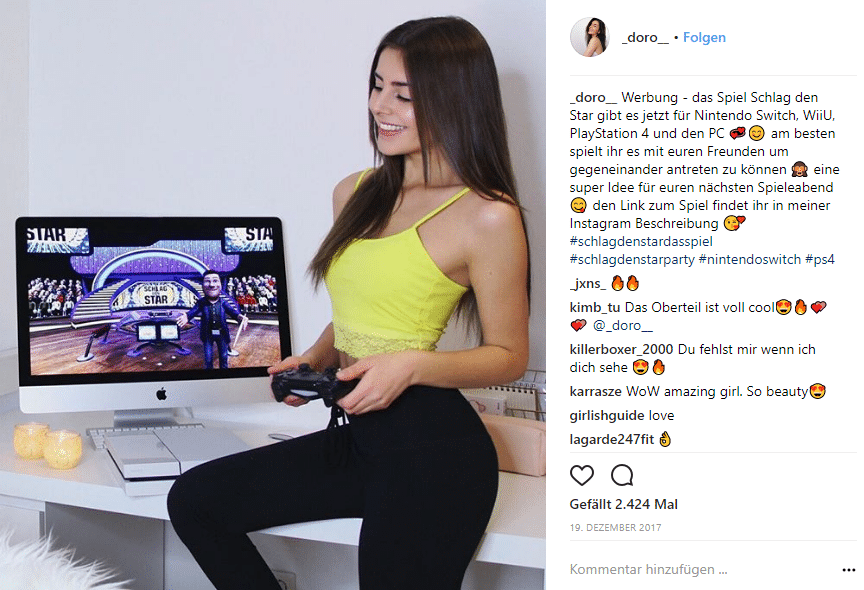 Keeping a good posture is the most important thing about gaming. The best start is to sit on your desk and put two candles under the monitor for a romantic ambience. Then it's not even important anymore that the Playstation is not plugged in and the PC game is running on a Mac.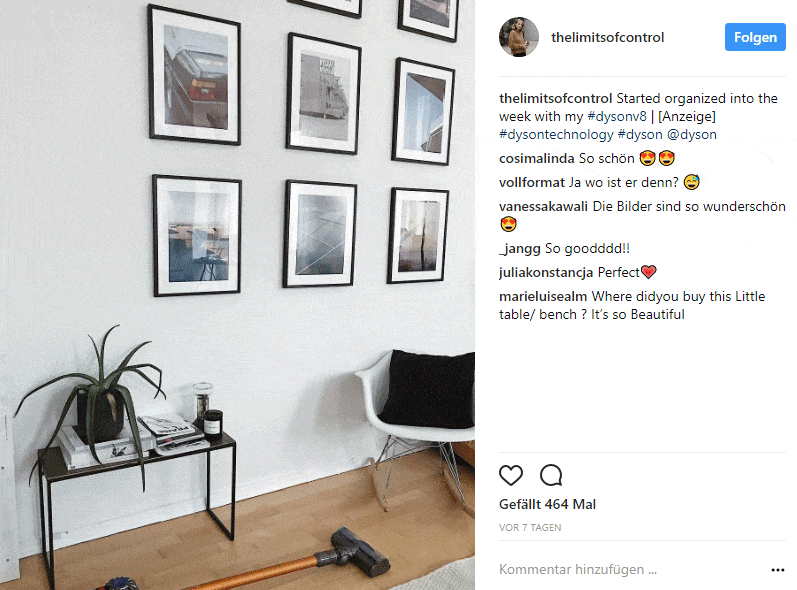 Somehow the vacuum does not fit into this picture. That's why you only show part of it, even though you are advertising it – the rest can definitely be seen somewhere else.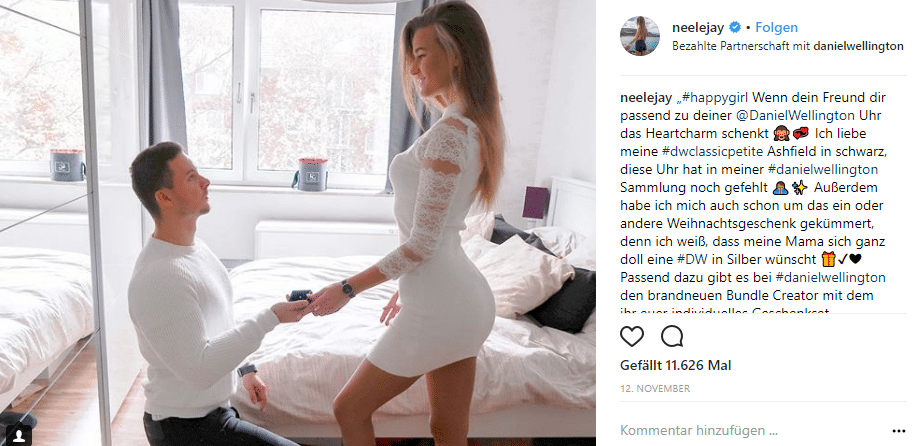 Some men will only go down on their knees when proposing. This young gentleman even does it when giving his girlfriend a Daniel Wellington accessory for her Daniel Wellington watch. Have we mentioned "Daniel Wellington" yet?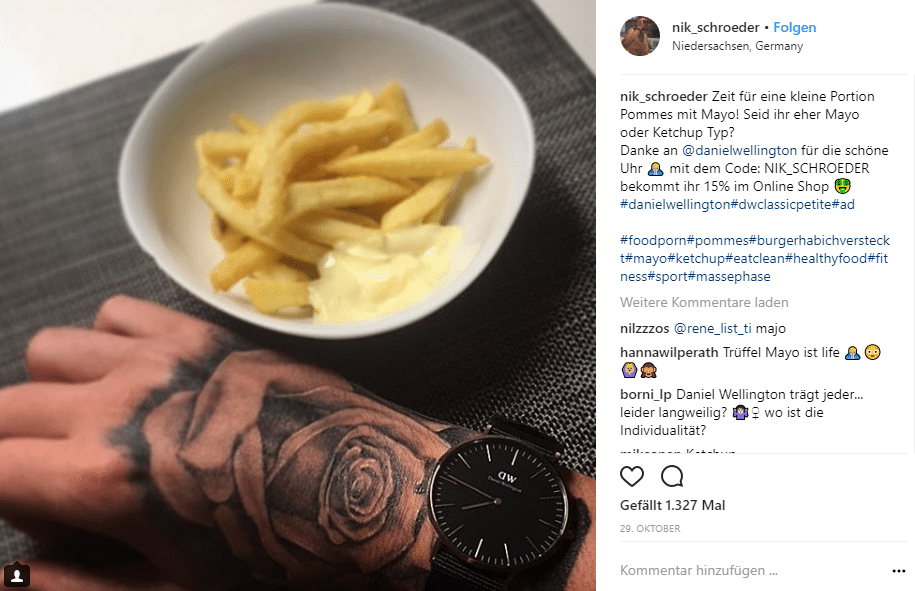 Do you think Daniel Wellington was happy about this arrangement? The fries don't look quite so appetizing to us.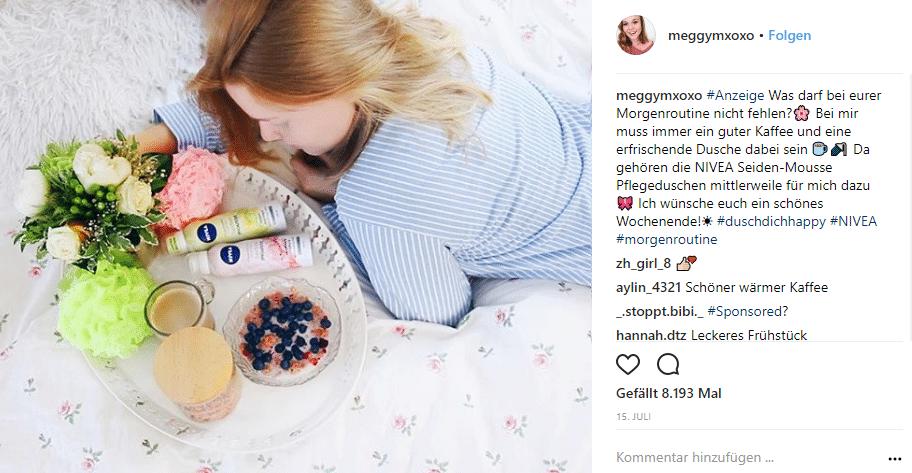 A nurturing shower gel is the perfect ingredient for a healthy breakfast and looks great right next to the flowers.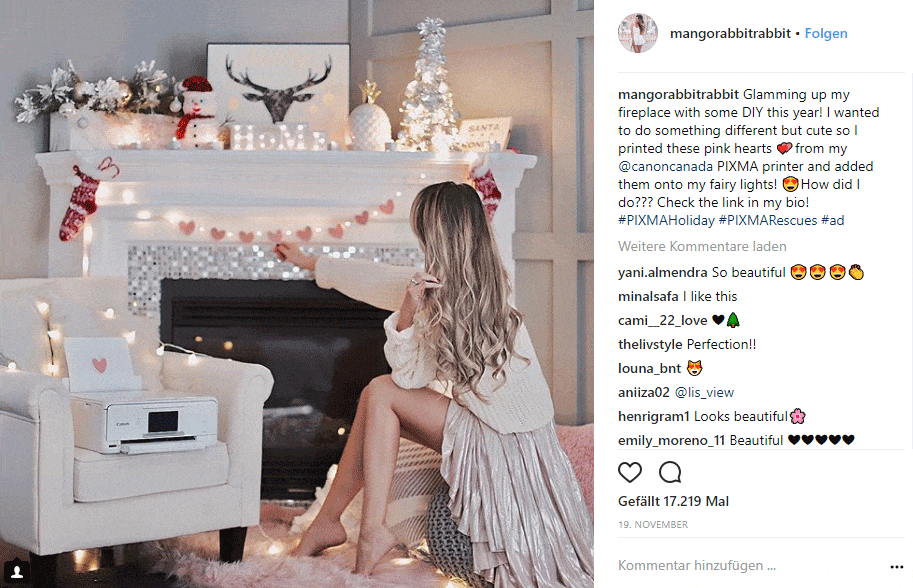 Bored by the same Christmas decorations each and every year? Then get the printer from the basement and print some hearts for your fireplace. But don't forget: just one heart per sheet of paper.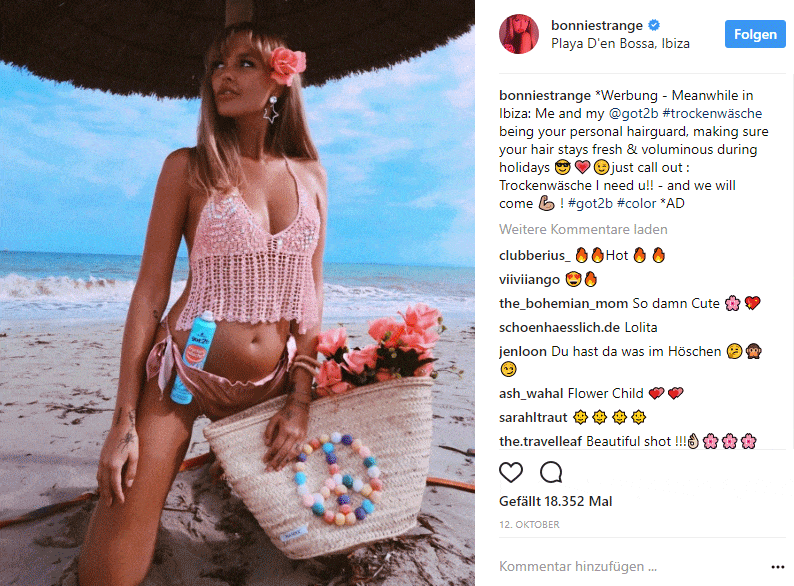 Do not forget the basket of flowers to make your stay at the beach in Ibiza a total success. And tuck the dry shampoo for washing your hair in the sea daily right into your panties. Nothing can go wrong now.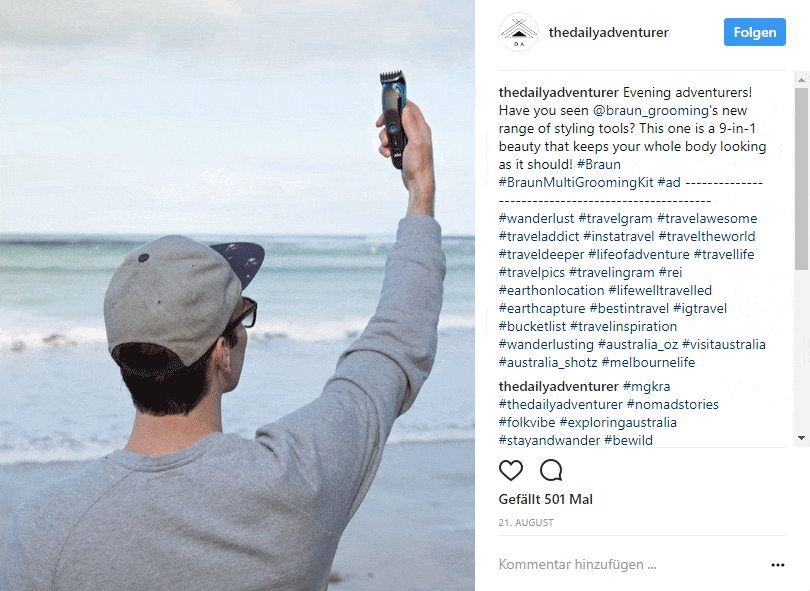 No signal for your shaver? You can still praise its advantages for grooming, even if it seems somehow out of place.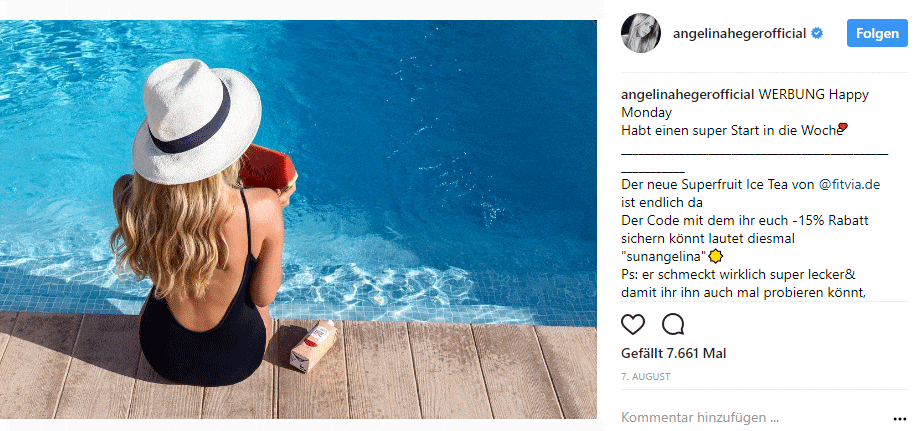 What do you do when you are supposed to advertise ice tea, but actually feeling more like eating a watermelon? Exactly this.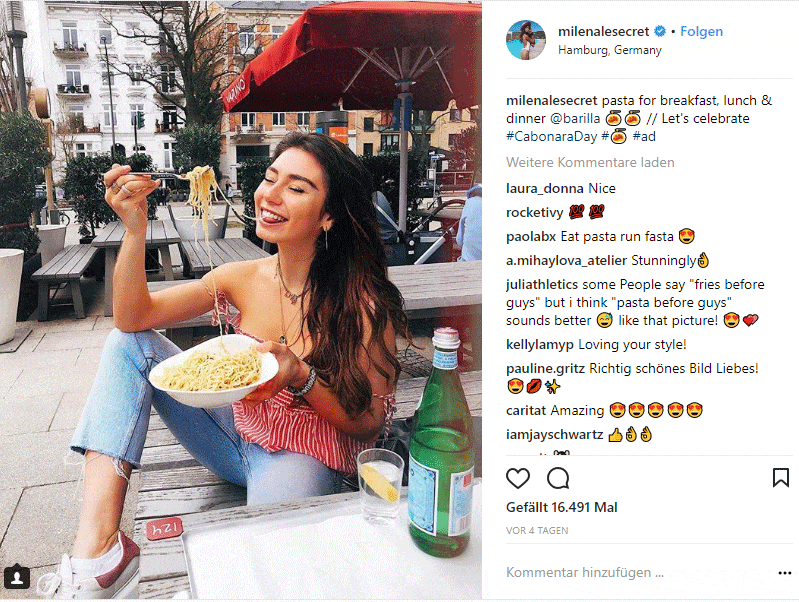 Barilla might not be quite happy with the motive of its influencer, but Vapiano might be and could be the next customer. Maybe next time Barilla will be in focus.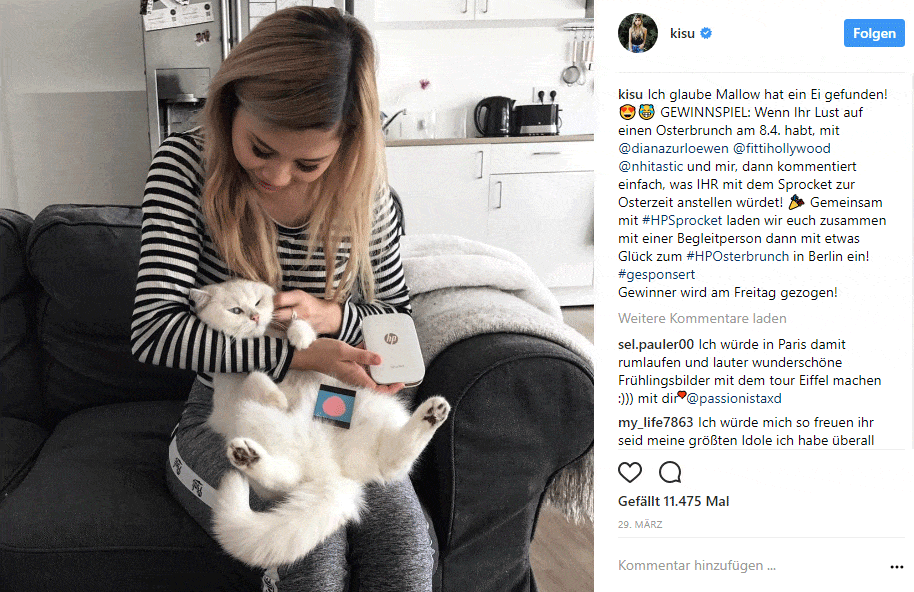 Poor Mallow. First she found an egg, now she's being strangled by her owner. And all this for a Sprocket, whatever that might be.
How to Avoid Fails in Influencer Marketing
Influencer marketing does not run automatically. But you can avoid embarrassing fails by choosing the right course of action. This starts with the search for the right influencers. If you only look for the ones with the largest number of followers you run the risk of the chosen brand ambassadors and their communities not being a fit for your brand. Put your main focus on criteria such as demographic features of the followers and the influencer's willingness to interact with the audience.
Once you have found the right one, plan campaigns together and give the influencer clear specifications. This avoids ending up with photos of random product placements, which might seem fake or even ridiculous to the viewers. Keep an eye on context too. Some influencer postings might fit the product, but not the previous posts of the influencer. This harms the credibility of the influencer, which is a crucial quality if you want to push your sales by using opinion leaders in social networks.
Efficient Social Media Communications With Swat.io