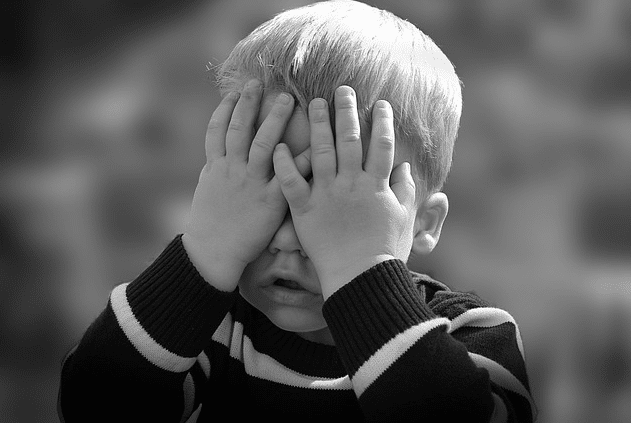 Top 10 Corporate Social Media Fails
What are some of the biggest corporate social media fails and why did they happen?
Social media marketing has gotten trendier than many other marketing strategies over a relatively short period of time. Everybody is talking about it and companies are head over heels into recruiting the best people out there to handle their social media accounts. Actually, social marketing budgets are set to double over the next five years, although confusion is still floating in the air when pointing out exactly what a campaign can and should be expected to achieve.
On one hand, the rise of social media has provided businesses with a whole new way to engage with their customers and increase brand awareness. On the other hand, nothing spreads faster than negative publicity on social media channels. And this type of publicity and negative attention are oftentimes generated by companies' major social media fails.
In this article, we will be discussing some of the biggest fails from the last ten years and the ways in which companies handled those situations.
10. StubHub is "looking forward" to the weekend
StubHub's "Thank fuck it's Friday!" tweet begins this series of social media epic fails. Unfortunately for StubHub, someone who had access to their account forgot to logout before posting the message from the company's Twitter account. Shortly afterwards the company posted an apology tweet. Unfortunately, the damage was already done.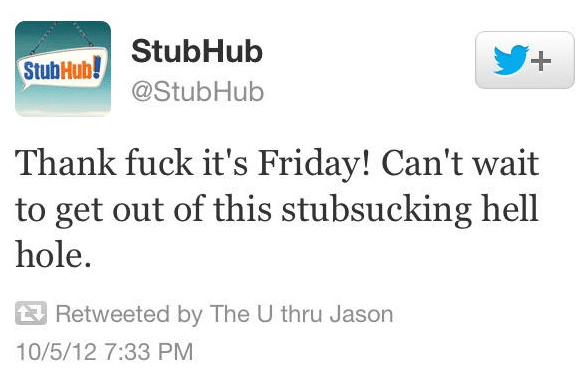 9. J.P. Morgan – Nobody loves banks anymore!
J.P. Morgan representatives thought it would be a good idea to engage consumers through a Twitter Q&A session. The problem with the idea was that, at that time, people weren't really fond of major banks. Therefore, the Q&A with vice chairman James B. Lee Jr. from J.P. Morgan became an open ground where people expressed their frustrations. As a result, J.P. Morgan had to cancel the session altogether.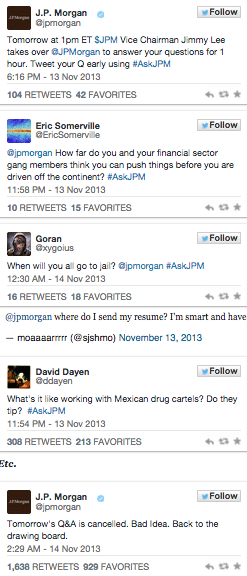 8. Kmart thanked its employees with…some extra working hours!
For 2013 Thanksgiving, Kmart revealed they would be open earlier than ever and would stay open through all of Black Friday. Consequently, angry customers turned to social media to complain about the ethics of the decision. Unfortunately, Kmart's social team found no other solution than to respond with over 100 caveman-like statements.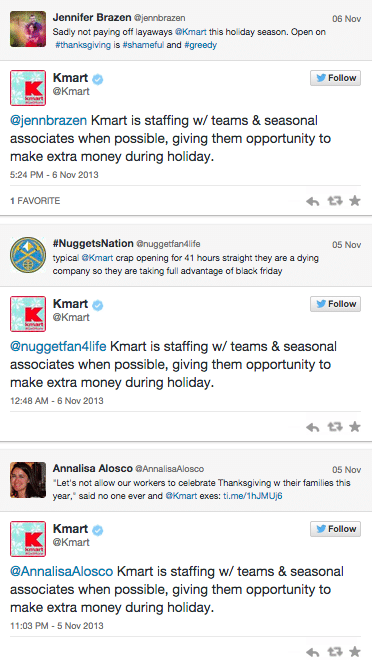 7. LG – Don't make fun of an iPhone from an iPhone!
In 2014, LG thought it would be funny if it smirked at the iPhone 6 Plus for being bendable in tight pants pockets. The idea was to compare it with their GFlex, a phone that is ready-bent. The result: a tweet with the message "Our phones don't bend, they're naturally curved 🙂 #bendgate." sent from an iPhone. How "cool" is that!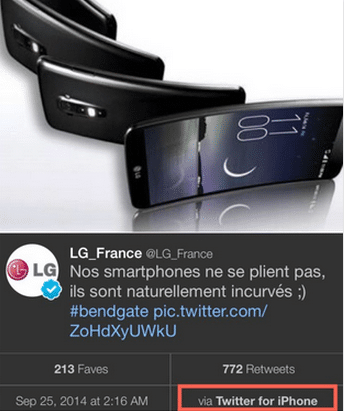 6. Home Depot – You are all a bunch of monkeys!
Apparently, 2013 was the year of social media fails as Home Depot was also one of the brands that suffered from a blunder made by their agency. The latter sent out a racist tweet that got an employee fired. The photo for ESPN show dubbed "College GameDay," which Home Depot sponsors, featured two African-American men drumming. In the middle was a third man dressed up in a monkey suit.
Shortly after the tweet, the retailer issued a public apology, adding that it fired the employee who sent out the offensive tweet: "We have zero tolerance for anything so stupid and offensive. Deeply sorry. We terminated agency and individual who posted it."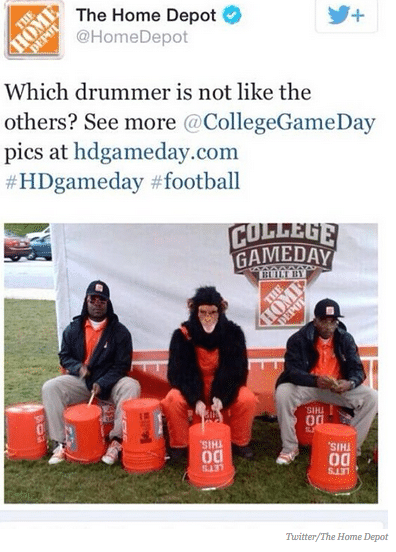 5. McDonald's – Stories can turn into horror movies
At the beginning of 2012, McDonald's attempted to engage customers through two promoted hashtags on Twitter: #meetthefarmers and #mcdstories. Instead the fast food chain received a storm of horror stories about the quality of the food, the treatment from employees, or the sanitary conditions of the restaurants. At least McDonald's quickly realized that the Twitter campaign "did not go as planned" and pulled it out within two hours. Unfortunately, it was enough time to make it famous.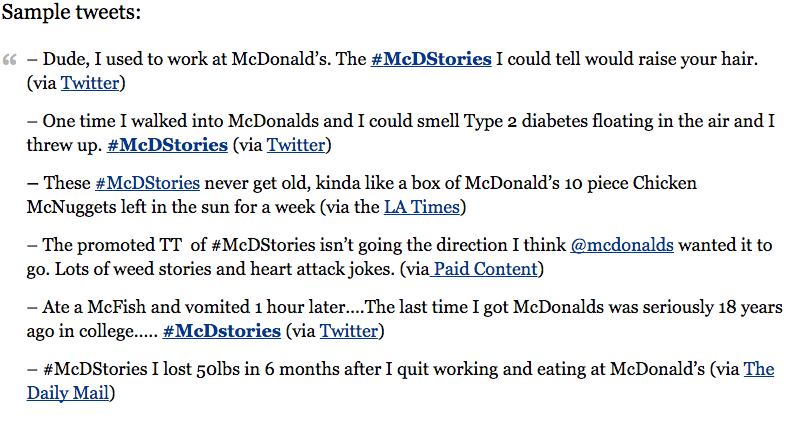 4. Chrysler – Choose your social media agency wisely!
In 2011, one of New Media Strategies' employees dropped the f-bomb in a tweet from client Chrysler's Twitter account. As expected, Chrysler took precautions and decided not to renew its contract with the agency.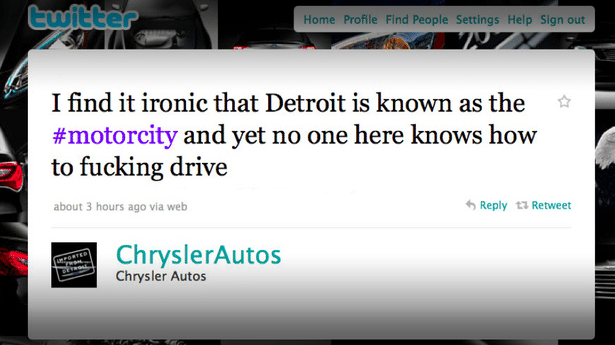 3. Pepsi plays with voodoo dolls
Also in 2013, Pepsi released a set of ads on its Swedish Facebook page showing a voodoo doll of Cristiano Ronaldo – in red Portugal kit complete with visible No 7 – being tied to a train track, having its head crushed by a can of Pepsi and being spiked by needles. The caption "We're going to pass over Portugal" was under the train track picture.
The viral ads were posted on the day of the second-leg of the World Cup qualifying play-off between Sweden and Portugal. Shortly after posting, they were forced to remove the ads and apologize after a Portuguese anti-Pepsi Facebook group formed and gained over 100K fans in a day.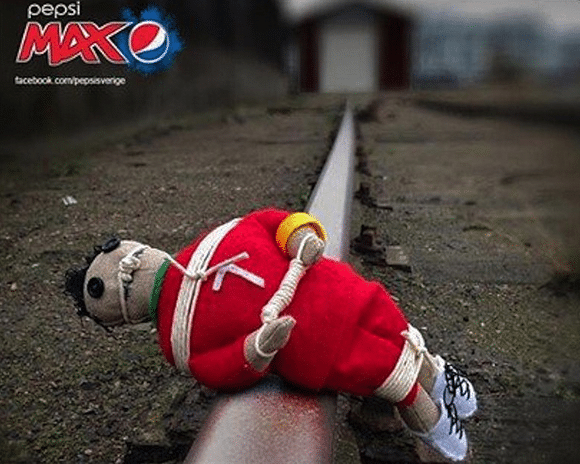 2. Amy's Baking Company Bakery Boutique & Bistro – It can't get worse than this!
This happened in 2013, when the restaurant was featured on an episode of Gordon Ramsey's Kitchen Nightmares. Sources say that the owners were dumped by Ramsey after being too difficult to work with. After a while nasty comments started flooding the restaurant's Facebook page and owners Samy and Amy Bouzaglo joined the conversation with the purpose of defending themselves against nasty users. To make things worse, they also started monitoring a Reddit thread about what was happening on their Facebook page. The result was one of the biggest social media fails of all times.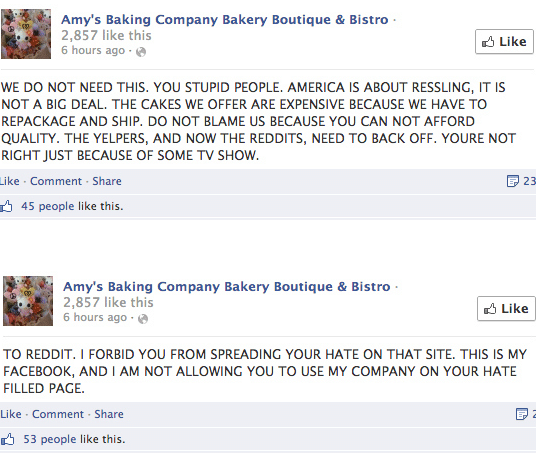 1. US Airways – Wrong image!
In 2014, US Airways tweeted a reply to a customer. Nothing wrong with it until you saw the attached photo of a naked woman with a toy airplane between her legs. The tweet was in the US Airways Twitter feed for about an hour. A representative for US Airways sent the following email to Business Insider: "We apologize for the inappropriate image we recently shared in a Twitter response. Our investigation has determined that the image was initially posted to our Twitter feed by another user. We captured the tweet to flag it as inappropriate. Unfortunately the image was inadvertently included in a response to a customer. We immediately realized the error and removed our tweet. We deeply regret the mistake and we are currently reviewing our processes to prevent such errors in the future."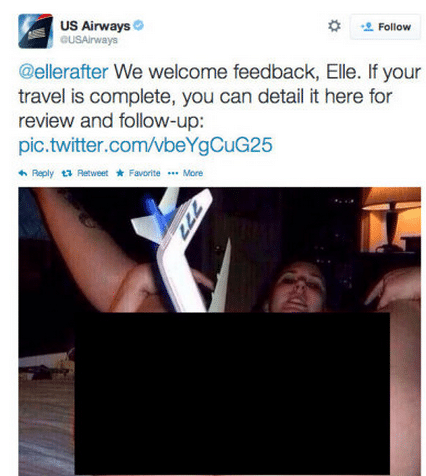 To conclude, it's not corporates who fail at social media management but individuals, people posting from other accounts than their own. This appears to be the main cause for some of the biggest fails from the last couple of years. The question is: why is this happening? Our guess would be that social media agencies overload their employees with more than 2-3 accounts. They manage to keep up for a while but then they snap and Boom! disasters occur.
If you know of any other mind-blowing social media fails, share them with us in the comments!
Swat.io makes social media management and customer service easy. Start your free trial and find out how our tool can support you with your daily social media work!
Efficient Social Media Communications With Swat.io