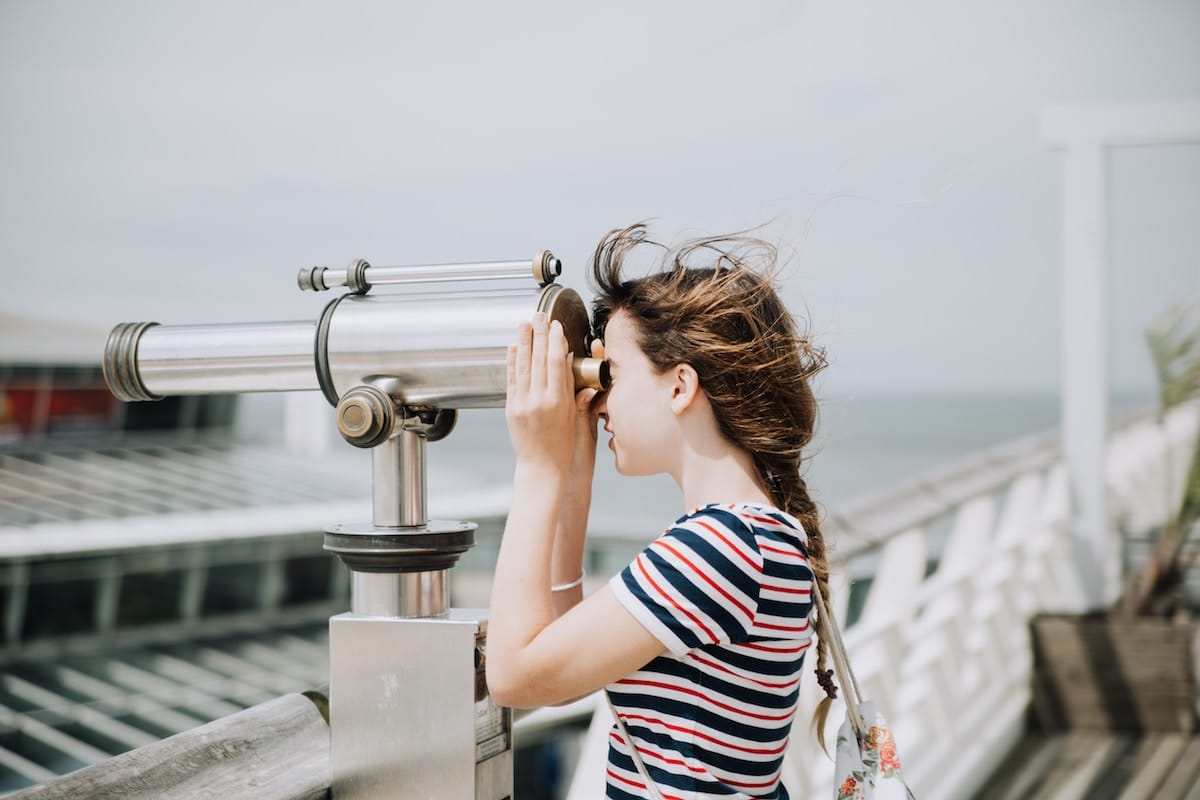 8 Criteria to Find the Perfect Influencer for Your Brand
The realization that influencer marketing is more than just a passing fad is widely accepted by now. This is also true for companies who have been skeptical about working with social media stars up until now. In a survey from 2017, two-thirds of surveyed companies said that they wanted to increase their budget for influencer marketing, while only four percent were planning on a decrease.
But a big budget alone is no guarantee for successful influencer marketing. It is very important to find the right influencers to work with. But where can you find them and how can you tell if they are the right ones? Are the number of followers and reach the only important metrics or are there other important criteria for this choice? In this article we will give you tips on the successful search for perfect brand ambassadors for Instagram and Co. Furthermore we will reveal what a fake influencer is and how to recognize them before betting on the wrong horse.
Ways to Find Influencers
There are a few options for finding influencers for your company. The most common are:
Social Media Monitoring: Social Media Monitoring tools help with tracking your industry on social networks.
Hashtags: Search directly for the hashtags #sponsored, #ad, #blogger and #influencer on Instagram and/or for hashtags connected to your industry and products.
Influencer marketing platforms: A growing number of platforms has specialized in connecting influencers and companies. Some of them provide access to databases of hundreds or even thousands of influencers.
Google: Search on Google for relevant blogs using search terms connected to your industry and products.
You can find the right influencers with all four methods. The most efficient and fastest way is the use of an influencer marketing platform. It gives you the possibility of simply and quickly searching for the right opinion leaders. To compare results you will be given a huge amount of data for each influencer and their community – from demographic data of the followers to engagement rates. Additionally, you can often manage the whole cooperation between your company and the influencer via the platform in question and you can profit from its detailed reporting.
Criteria to Find the Right Influencer
You now know about the "where" but it is also about the "how". This is where it gets tricky. Like in many areas, in influencer marketing size is not always the only metric that matters. To put it differently: Just because an influencer has a lot of followers does not make them the right one for the job. The search for the perfect candidate should take various criteria into account.
1. Context
Influencer marketing will only be successful if the topic and the influencer are a fit. At first, this sounds logical. No one will hire a wine connoisseur to market swimwear. In case of doubt, the influencer will say no to the engagement because they do not want to put their credibility in danger.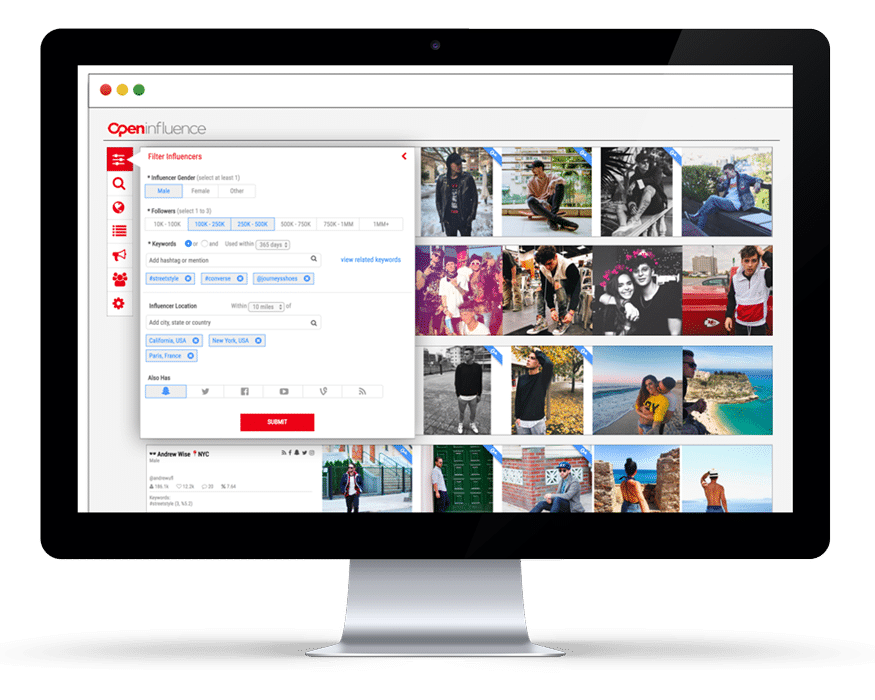 Imagine you are offering swimwear especially for pregnant women. It will make sense to rather use specialists serving a niche than generalists. The former are usually micro influencers with a small community, but cooperating with them, the chances of reaching your target group exactly and minimizing waste circulation are higher. In our example this would mean looking for influencers dealing especially with swim- and sportswear for pregnant women.
2. Follower Numbers
Influencers are split into two groups according to the number of their followers:
Macro Influencer: Macro Influencers have many tens of thousands or hundreds of thousands and even up to millions of followers. Oftentimes they are well-known personalities.
Micro Influencer: Micro Influencers have, depending on the definition, a few thousands or even only a few hundreds of followers. Usually, Micro Influencers will cater to a certain niche.
Micro Influencers are gaining more and more important in social media marketing. They may have fewer followers, but these are usually very loyal and highly interactive. Micro Influencers are in close contact with their community and are often more credible than the stars of their industry. This leads to much higher engagement rates than the ones of Macro Influencers. Also, Micro Influencers are cheaper than their famous counterparts. This makes them interesting partners for smaller companies on a tight budget. But even bigger companies are increasingly working with Micro Influencers. Many choose a mixture of Micro- and Macro Influencers, with some campaigns solely focused on a large number of Micro Influencers.
In general, the number of followers should not be the only deciding factor – oftentimes less is more. After all, what is the use in hiring a star with millions of followers if they are not interacting with their followers?
3. Demographic Data of the Community
It is important to take the interests of the followers community into account: it should fit your company or brand. After all, you don't want to reach just anyone, you want to reach your target group. Influencer marketing platforms will supply you with a selection of valuable demographics data such as:
Age
Place of residence
Gender
Interests
Languages
Occupation
The hashtags the followers are using should be analyzed carefully, marital status or the brands that they are interested in should be taken into account. All those factors combined will give you a pretty clear picture of who you can reach when deciding on a certain influencer.
4. Engagement Rate
As mentioned before there is one metric which is more important than the number of followers of an influencer: the engagement rate. It tells you how the followers of an influencer react to their postings, e.g. by leaving a like or a comment. This makes the engagement rate an important clue on whether the followers are really interested in the postings released by the influencer.
The engagement rate is measured in percent over a longer period. But what is a good engagement rate number for an opinion leader in social networks? The answer depends on the size of the community. The more followers an influencer has the lower the engagement rate will be. The following graph is based on a study by Influence.co and gives you an idea of how much is high enough.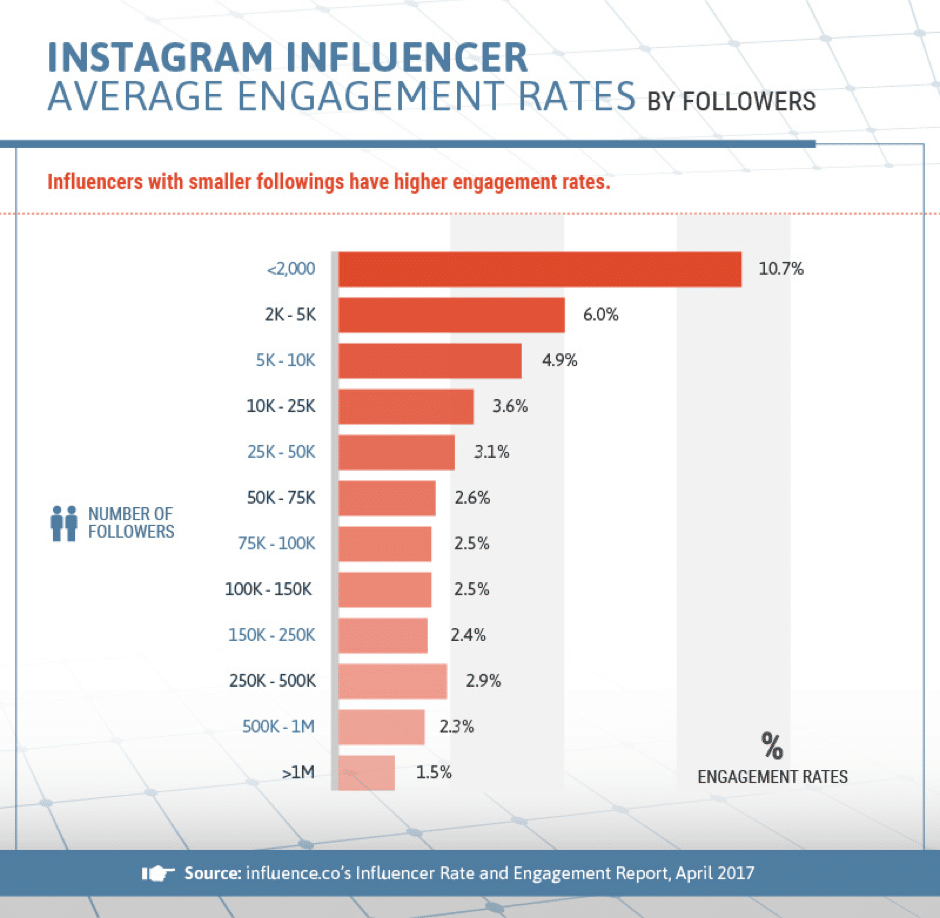 It is important to not only rely on percentages but also look at the type of comments that followers are leaving. Good influencers will start conversations with their community. This includes reacting quickly and individually to questions, comments and other types of engagement. And of course, a host of comments are only a good sign if they are positive comments.
Even when you are not actively looking for an influencer it is important to keep an eye on the interaction on your own channels. In our eBook "Are you listening? – The Beginner's Guide to Social Media Monitoring" you will find many practical and easy to implement tips for successful social media monitoring. Download it for free now and take your marketing strategy to the next level.
The Beginner's Guide to Social Media Monitoring
Download our eBook and find actionable advice on how to use social media monitoring to generate leads, provide better customer service, and gain a competitive advantage. The hands-on tips, tricks, and guidelines will help you develop and implement the right social media monitoring strategy for your brand and business
5. Quality
Quality beats quantity. This is an important argument for taking a look at the posts already published by select people, rather than just looking at the raw data. Many influencer marketing platforms give you a glimpse of the content created by the influencers in their database so you can quickly form a first opinion.
Pay special attention to the following points:
Quality of content
Style
Values
The style applies to the wording or picture language of the influencer. Demonstrative nonchalance or consistent seriousness will not be a fit for every brand. Shared values are also an important criterion. If your company distributes vegan food then you should stay clear of influencers who love to pose with their newest fur coat.
6. Promotional and Editorial Content
The credibility of an influencer will vanish quickly if they promote products at an hourly rate. Make sure that there is a good balance between editorial content and content placing brands or products in the spotlight. The comments of the followers will be a good indicator of whether an influencer is overdoing it and is considered as spammy.
7. Connections to Other Influencers
Is the influencer a lone warrior or well connected with other opinion leaders in social networks – or even in other places? The latter would be ideal for spreading the postings on your brand or product far beyond the network of the influencer by having other opinion leaders share them as well. This is why it often makes sense to prefer well-connected influencers.
8. Personality
Influencers will become close business associates, at least for the duration of the current campaign. This is why it is important to choose people who you and/or your colleagues will consider a good fit for a cooperation. Reliability, honesty, and professionality are important prerequisites for a successful cooperation. Should the influencer take more than one week to answer to e-mails then that is not a good sign. The personality of an influencer also determines how they are perceived by their followers.
How to Tell Authentic Influencers from Fake Ones
Influencer marketing is good business, for companies hiring them as well as for opinion leaders in social networks. Therefore it is no surprise that there is a large number of fake influencers. These are bots or real people faking their influencer role by buying followers, comments, and likes.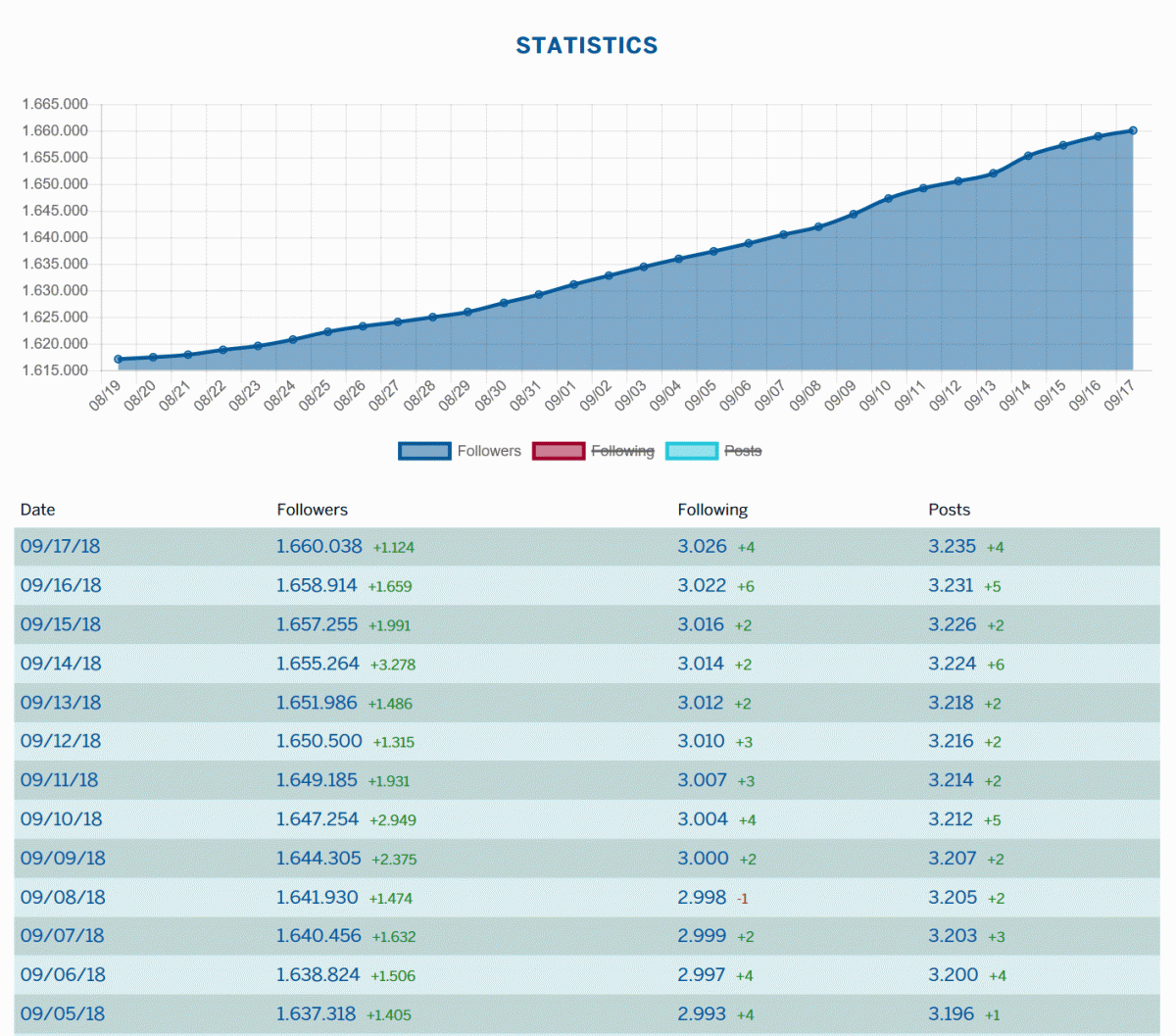 Even large companies are not immune to such scammers. According to a study by the Points North Group the hotel chain Ritz Carlton spent nearly 80 percent of its influencer marketing budget in March 2018 on the activities of fake influencers.
How can you protect yourself from these mistakes? By taking a good look! The following criteria will give you a good reason to be skeptical.
Unnaturally rapid growth: When a community is not growing consistently over a longer period but by leaps and bounds at specific moments in time then that is a sign of the influencer buying followers. Follower numbers that are fluctuating daily are also suspicious.
Many likes, but few comments: The influencer's high engagement rate is based nearly exclusively on likes? This is also a sign of fake followers.
Short comments: The same applies when comments on postings are made up of single words such as "Wow", "nice" or "great".
No other profiles: Make sure that the influencer has profiles in other networks. An Instagram account all alone by itself is more than unusual.
A small amount of video views: Only 200 out of 100,000 followers on average watch the videos published by the so-called influencer? This is a clear sign that something is fishy.
It is hard to identify fake followers at first sight. But some influencer marketing platforms offer features which are a great help for identifying scammers such as graphics and metrics on the quality of followers.
The Search Pays Off
As outlined in this article, it is not enough to simply search for profiles with a lot of followers when looking for influencers. In order to find the right opinion leaders for a successful cooperation you should take your time and look at all criteria that are important for your company or brand. Oftentimes, Micro Influencers with a small community will turn out to be the best choice.
The search for influencers can be time-consuming but it pays off. As statistics show, influencers have high credibility, especially with younger consumers, influence their purchase decisions and increase your own reach. This is why an investment in a brand ambassador will pay off after a short period of time, provided you have chosen the right one.
With or without influencers, it is crucial to always keep an overview of successful content marketing. With Swat.io you can plan and coordinate all content for your channels centrally, assign clear areas of responsibility and much more. Our functions for social media monitoring enable you to generate industry insights and help you in finding influencers in your area. Start a free trial now!
Efficient Social Media Communications With Swat.io