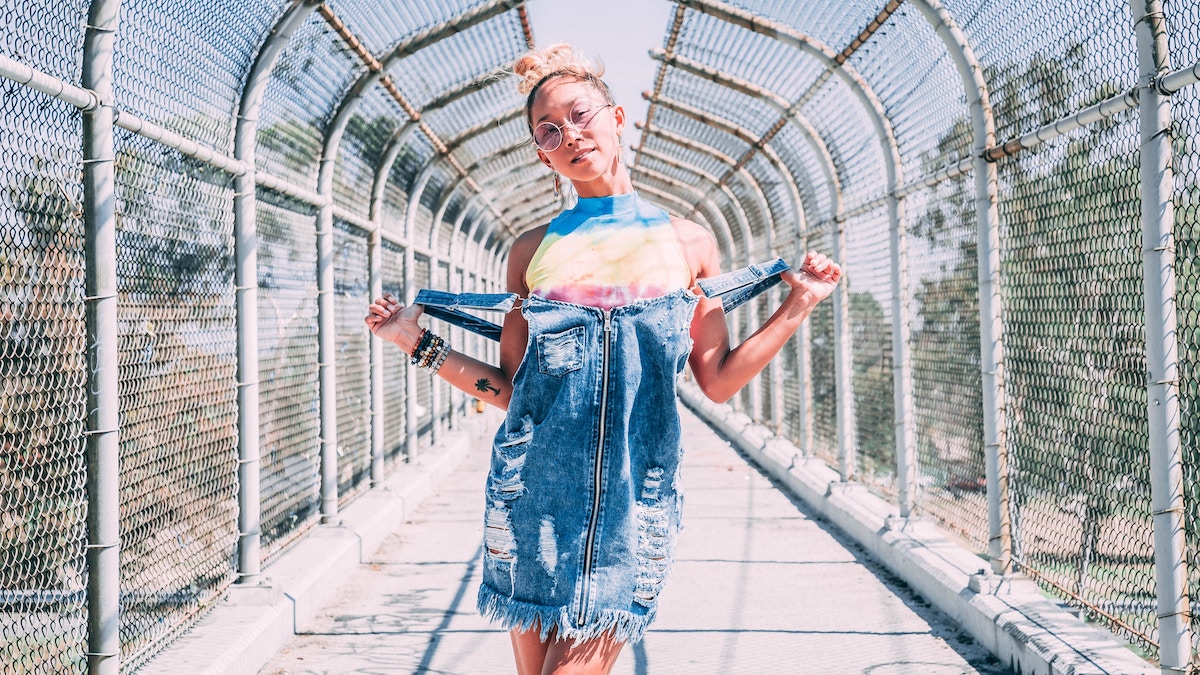 10 Platforms for Successful Influencer Marketing
Over the last few years Influencer marketing has developed into an important part of the marketing strategy, also in German-speaking countries. According to a forecast by Goldmedia the market volume for influencer marketing will rise to 990 million Euros by 2020 in the DACH-region. This development is taking place for a number of good reasons. Influencer marketing is, despite some pessimistic voices, an excellent option to achieve wide reach in social networks and specifically address relevant target groups. A survey by the digital association Bitkom came to the conclusion that 9 percent of German social media users have already bought a product based on the recommendation of an influencer at least once. The success is mostly dependent on the choice of the right influencers for your own brand and your products though. So how can you find these in the huge amount of self-appointed brand ambassadors?
This is where influencer marketing platforms come into play. They work as a link between companies and influencers by using an influencer database and offering various options to search for brand ambassadors for campaigns in great detail. There is already a steadily growing number of these platforms. In this article we will introduce you to 10 influencer marketing platforms which will help you finding the needle in the haystack in different ways.
Advantages and disadvantages of influencer platforms
With the growing number of influencers the possibilities for companies of any size are growing too. But looking for a fitting partner by yourself will often quickly show you your boundaries. Influencer platforms make the search easier:
They offer you access to a great number of influencers for one or various platforms from a central place. The number of connected influencers goes from a few thousand to millions depending on the provider.
The search can be limited precisely by data on the influencer and target group (age, gender, interests, place etc.)
Many influencer marketing platforms additionally support companies with creating and executing campaigns and deliver helpful analysis and reports during the projects and afterwards.
So is it enough to decide on an influencer platform, lean back and wait for success? Sadly it's not that easy. This is because the data delivered by influencer platforms is not the be-all end end-all in all cases. You may get a lot of information on the reach of brand ambassadors and the demographic data of their followers but you normally do not get information on how the influencers are received in groups or forums.
Furthermore most platforms don't provide information on how active the followers of the individual influencer are. This poses the danger of falling for people whose followers are mostly made up of fake accounts. The bad habit of buying followers is gaining ground as more money can be made by being an influencer. This is why it is very important to check the influencer platforms before collaborating. Your first step is the choice of the right platform.
From Zero to Hero: The Social Media Marketer's Strategy Kit
Download the strategy kit for social media marketers who want to stay on top of their game. Use the actionable steps, tips, tricks, and guidelines to take your brand and business from 0 to hero on social media. The kit is accompanied by ready-to-use templates to help you define, implement and monitor your social media marketing strategy in all its complexity.
10 important influencer platforms for companies of any size
1. Buzzbird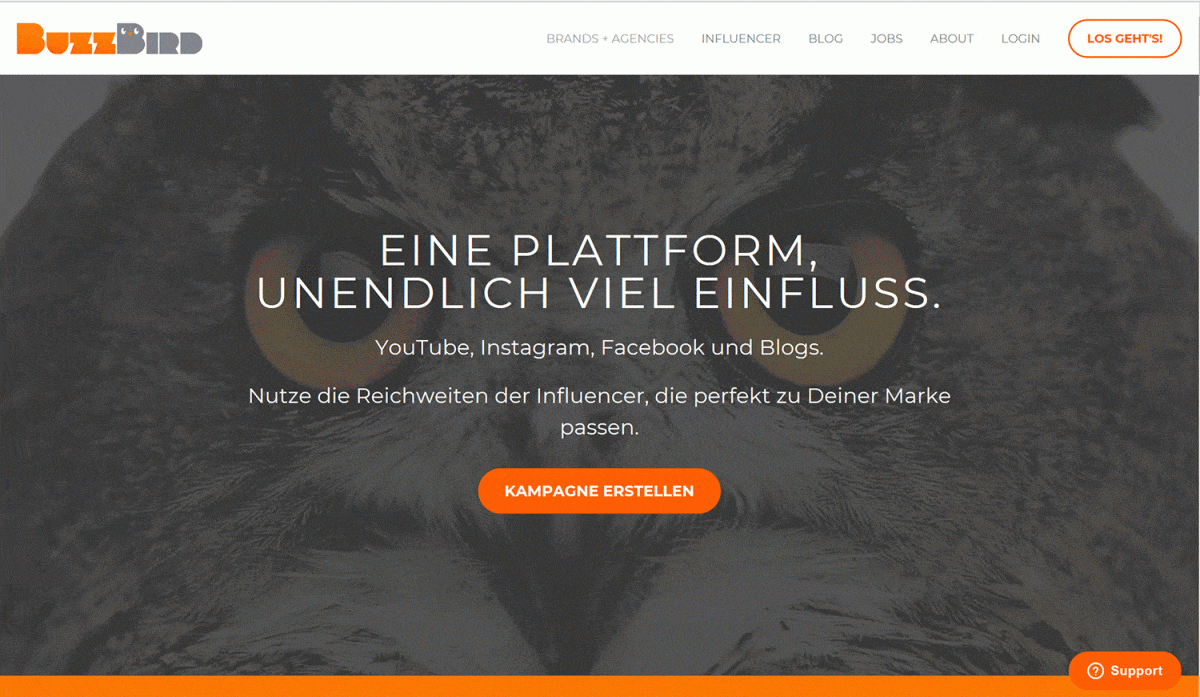 Buzzbird is one of the leading German influencer platforms but is also active in Austria and Switzerland. Founded in 2016 by social agency founder Klaus Breyer, former TV host Andreas Türck and TV host and YouTuber Felix Hummel the platform is an established port of call for influencers and companies today.
The web-based software supports companies in creating a briefing for campaigns. Buzzbird suggests suitable influencers for YouTube, Instagram, Facebook and Blogs to the customer. The access to performance, profile and target group data of the brand ambassadors as well as reach and cost predictions make the choice easier. Furthermore the offer includes a comprehensive reporting after the project. The 6,500 influencers accessible via Buzzbird include many celebrities and micro-influencers.
At a glance:
Supported platforms: YouTube, Instagram, Facebook, Blogs
Countries: Germany, Austria, Switzerland
Pricing: The influencer pays 20 percent of the agreed compensation to Buzzbird. This is based on a CPM.
Advantages: well suited for influencer marketing in the German speaking countries, easy to use software for the whole process of a campaign
2. Famebit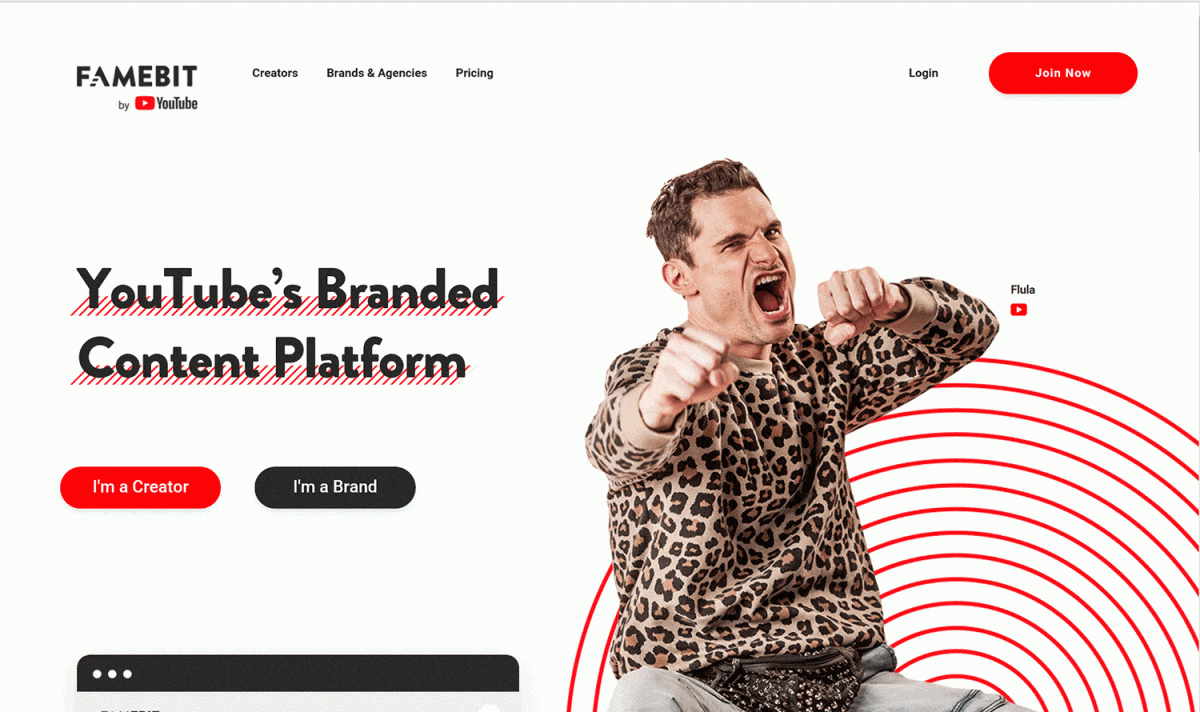 The american company Famebit is one of the pioneers of the industry. It has been taken over by Google and is a great first stop for companies looking for influencers on YouTube. Famebit is also offering services for Twitter, Facebook and Tumblr. Unfortunately Instagram which is very important for influencer marketing is not offered anymore. This could be a problem for many companies.
Famebit offers a wide portfolio – you can find influencers for a great variety of topics and for companies of any size. You can start a campaign with a budget of only 100 Euros. Famebit will generally receive 10 percent of the amount agreed upon with the influencer. This is added to the prize. The communication between influencers and customers works via the dashboard of the provider.
At a glance:
Supported platforms: YouTube, Facebook, Twitter, Tumblr
Countries: All countries except Cuba, Iran, Syria, North-Korea, Sudan, China and Crimea
Pricing: 10 % of the fee agreed upon with the influencer
Advantages: huge influencer database, campaigns can be started with a budget of only 100 Euros.
3. OpenInfluence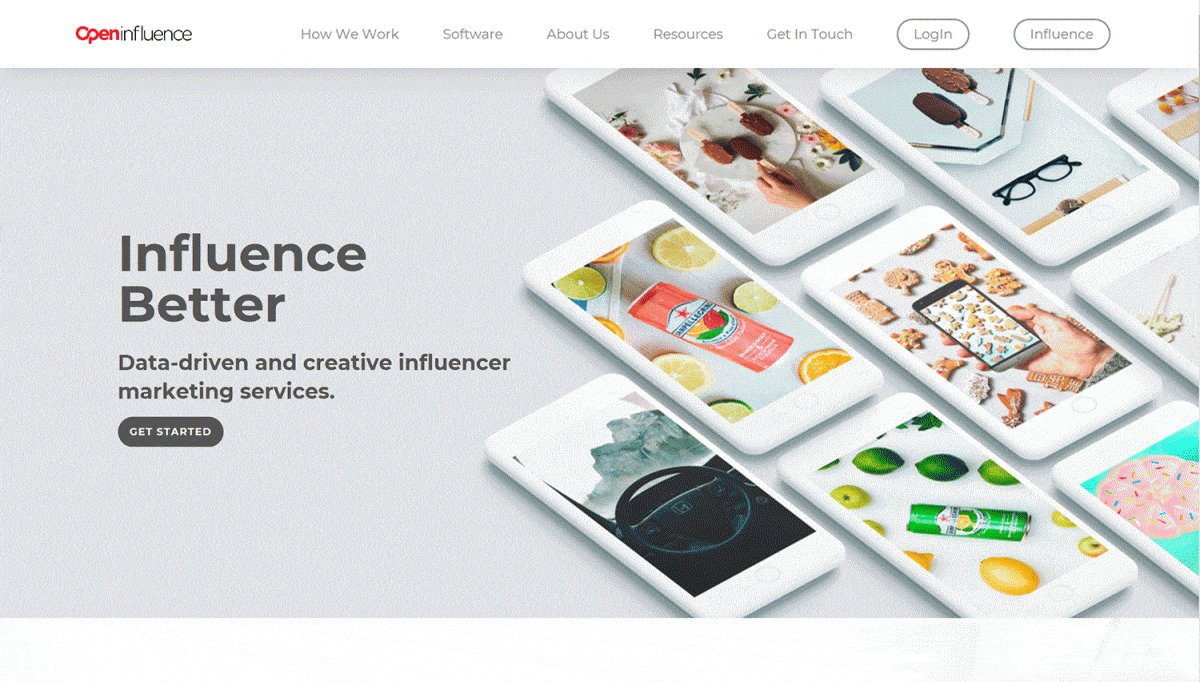 At first glance OpenInfluence seems like an influencer marketing platform like many others. But the sheer size of the connected database makes it stand out from the crowd. It includes nearly 500,000 influencers.
There is a host of other features making OpenInfluence a special representative of its trade. This includes the precise search functionality. By using keywords, pictures, demographic data, topics or interests OpenInfluence opens up many possibilities to find the perfect influencer for your campaign and offers you a huge amount of data, which goes far beyond the usual offerings. OpenInfluence does not only show you how many followers an influencer has but also how active they are. The platform uses Amazon Rekognition amongst other tools for this.
There is one catch though: OpenInfluence is not suited for small companies with limited financial resources. To achieve usable results with the platform you have to calculate at least 500 Dollars a month, and that is without the costs for the chosen influencers.
At a glance:
Supported plattforms: Instagram, Facebook, Twitter, YouTube, Pinterest, Snapchat, Blogs and other platforms
Countries: globally
Pricing: Monthly packages for 50, 100 and 500 Dollars, prize for the premium tariff is not displayed
Advantages: Database with nearly 500,000 influencers, very precise search function.
4. Facebook Brand Collabs Manager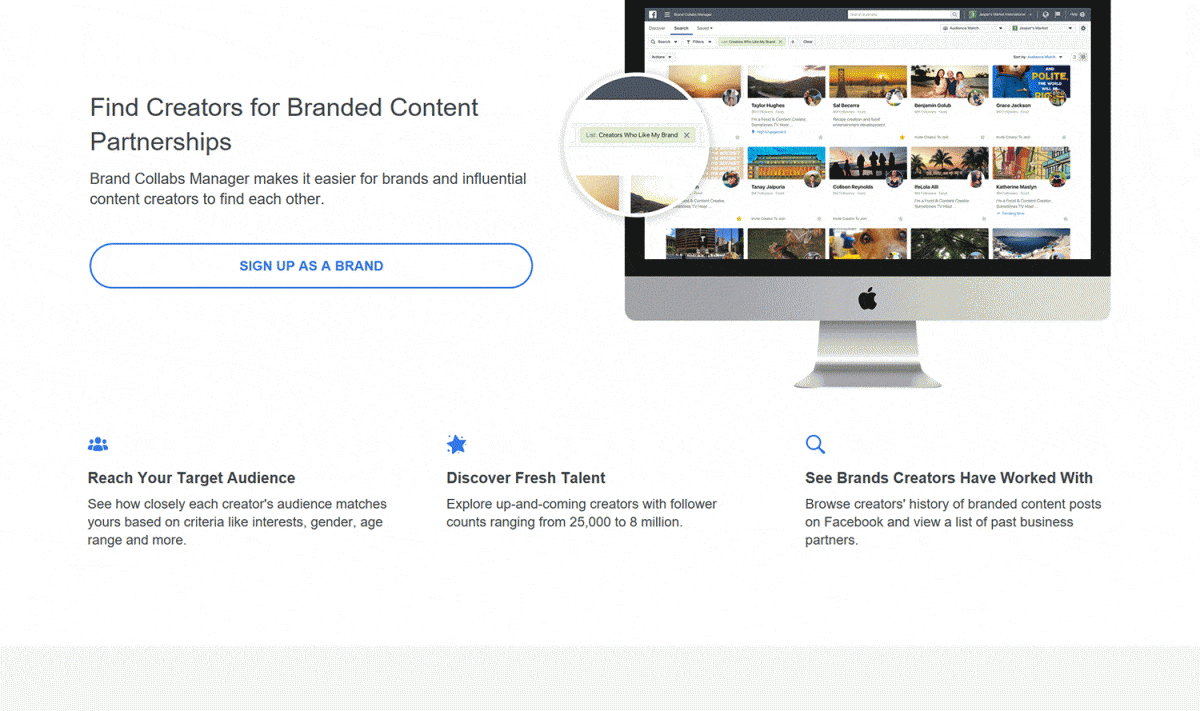 Facebook is also taking part in the influencer market. At the moment the Brand Collabs Manager is still in a test phase and only accessible for a limited number of American companies and influencers. But this will change pretty soon.
Judging by first previews the Brand Collabs Manager will work basically the same way as independent influencer marketing platforms do. It also allows companies to search for influencers for their projects using various data variables. What the conditions will be and what data Facebook will be providing is not known at this point. But the Brand Collabs Manager will surely be a great alternative to cross-platform providers for everybody looking for influencers especially on Facebook and Instagram.
5. Hashtaglove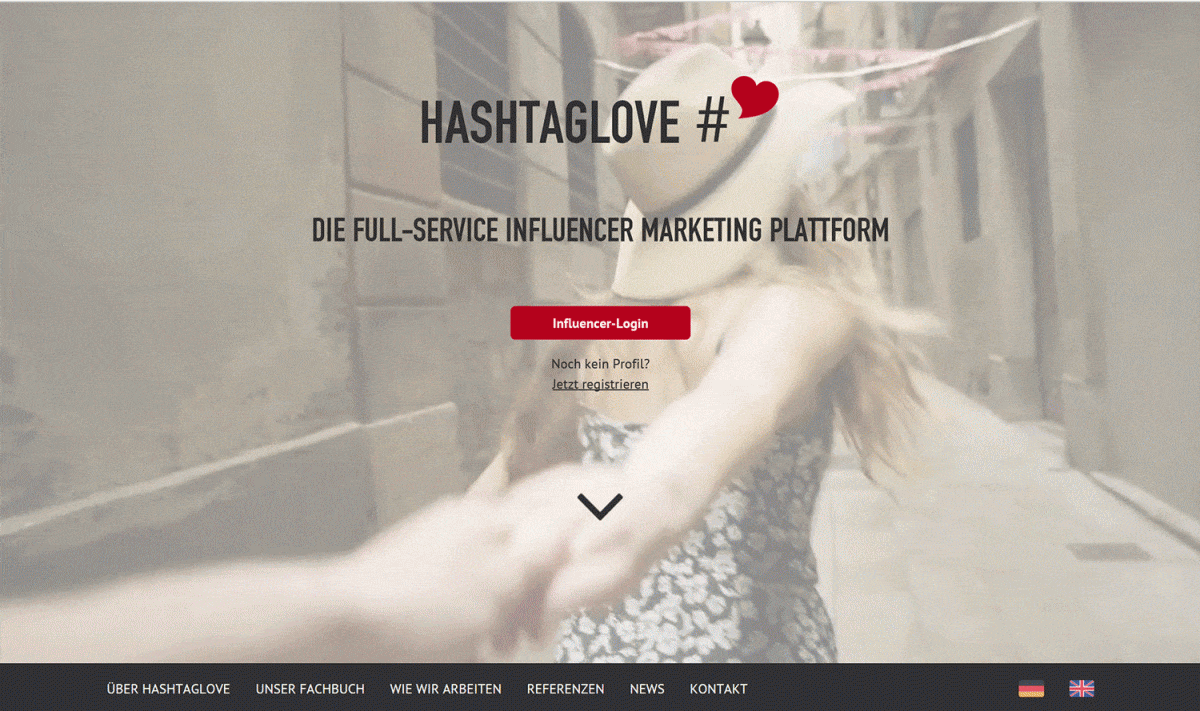 If you are looking for german speaking influencers then Hashtaglove might be a better choice than Famebit or OpenInfluence – even though the German portal cannot offer the same amount of influencers (about 6,000) compared to the industry giants.
Hashtaglove also offers influencers with a high reach and micro-influencers which are suited for marketing in niches for all relevant platforms. Additionally there are live and end reports and a "social wall" showing all the postings by influencers over the course of a campaign. To start a campaign companies have to contact the team of Hashtaglove directly via a form.
At a glance:
Supported platforms: Facebook, Twitter, YouTube, Instagram, Pinterest, Blogs and some more
Countries: Germany, Austria, Switzerland
Pricing: not available
Advantages: wide variety of influencers for German speaking target groups, social wall
6. HelloInfluencer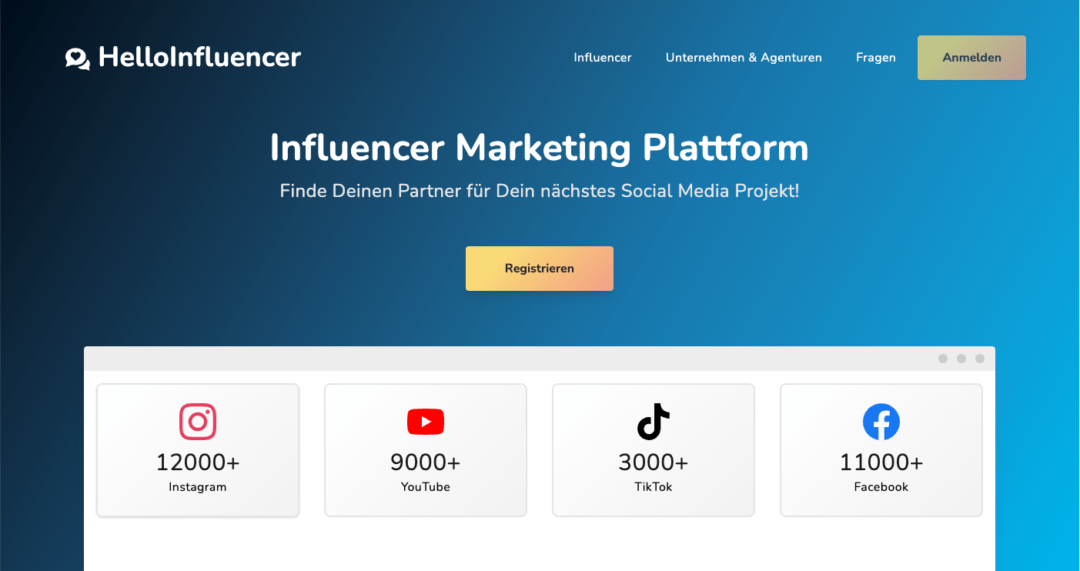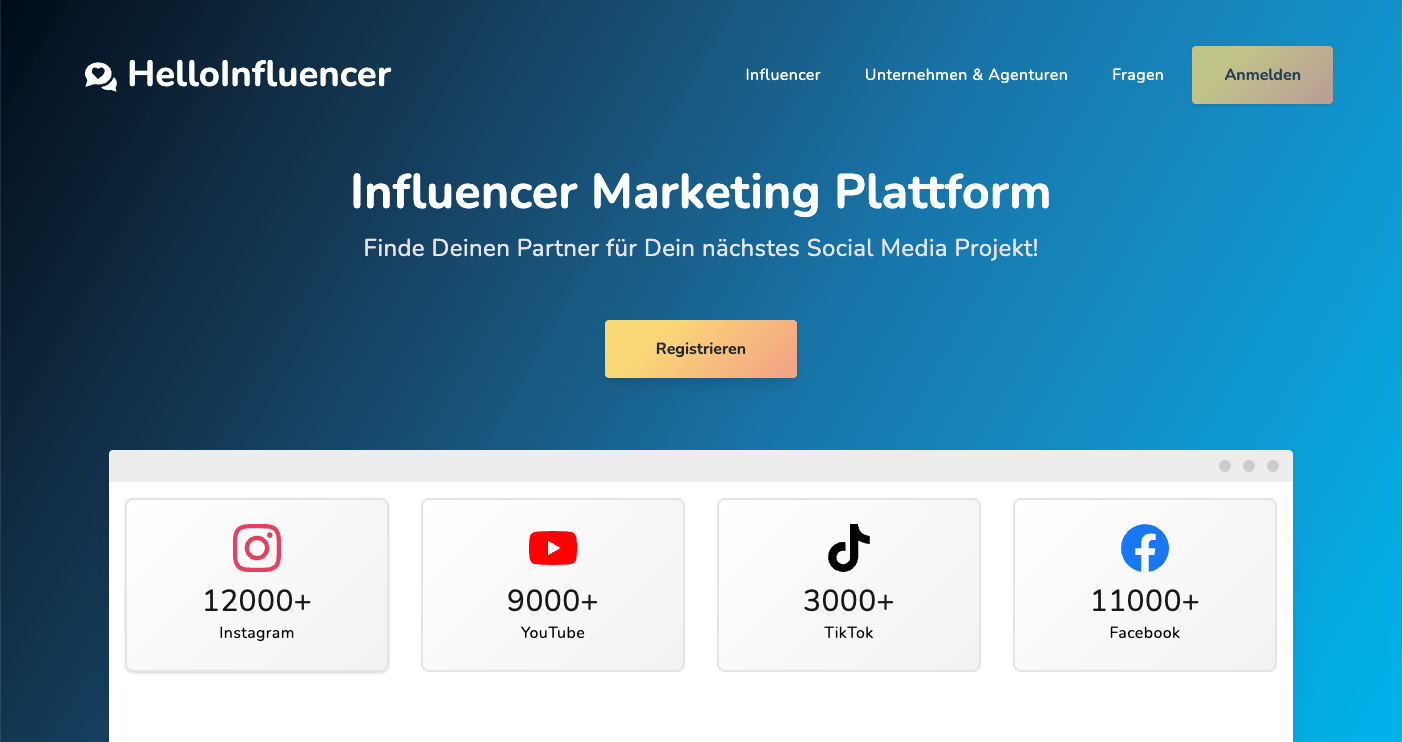 HelloInfluencer is an influencer marketing platform for German-speaking countries that does not require any agency services. As a result, a direct cooperation between advertising partners and influencers is formed. This allows authentic partnerships to be created at eye level. Therefore, HelloInfluencer is not only suitable for companies with large advertising budgets, but is also attractive for advertisers with limited financial resources.
To find suitable influencers, marketeers have two options at their disposal:
Search function: By using several filter options, companies can select suitable influencers from an extensive database by themselves and contact them directly through the platfom.
Campaign option: By creating their own campaigns on the HelloInfluencer platform, advertisers receive applications from interested influencers. Depending on their preference, each cooperation can be decided individually or an automatic approval of brand ambassadors previously verified by HelloInfluencer can be set.
At a glance:
Supported platforms: Instagram, Facebook, YouTube, Pinterest, TikTok, Twitch, blogs and websites
Countries: Germany, Austria, Switzerland
Pricing: 20 percent commission
Advantages: search function with detailed filter option, time-saving campaign option, suitable for any budget
7. HitchOn
HitchOn is also based in Germany, or more exactly in Mainz. As a combination of influencer marketing platform and agency this provider can take over the conception of campaigns according to the customer's wishes, helps with choosing suitable influencers, manages the distribution of the content and finally conducts an evaluation.
Furthermore HitchOn offers extensive services in the segment of video marketing. If you are looking less for a database and more for a full-service partner in the execution of influencer campaigns then this might be the right choice for you. For influencers HitchOn offers a free tool for calculating their market value.
At a glance:
Supported platforms: YouTube, Instagram, Blogs
Countries: Mainly Germany, Austria, Switzerland but also English-speaking countries
Pricing: Individually arranged
Advantages: influencer marketing platform and agency combined, manages complete campaigns for customers.
8. Hypr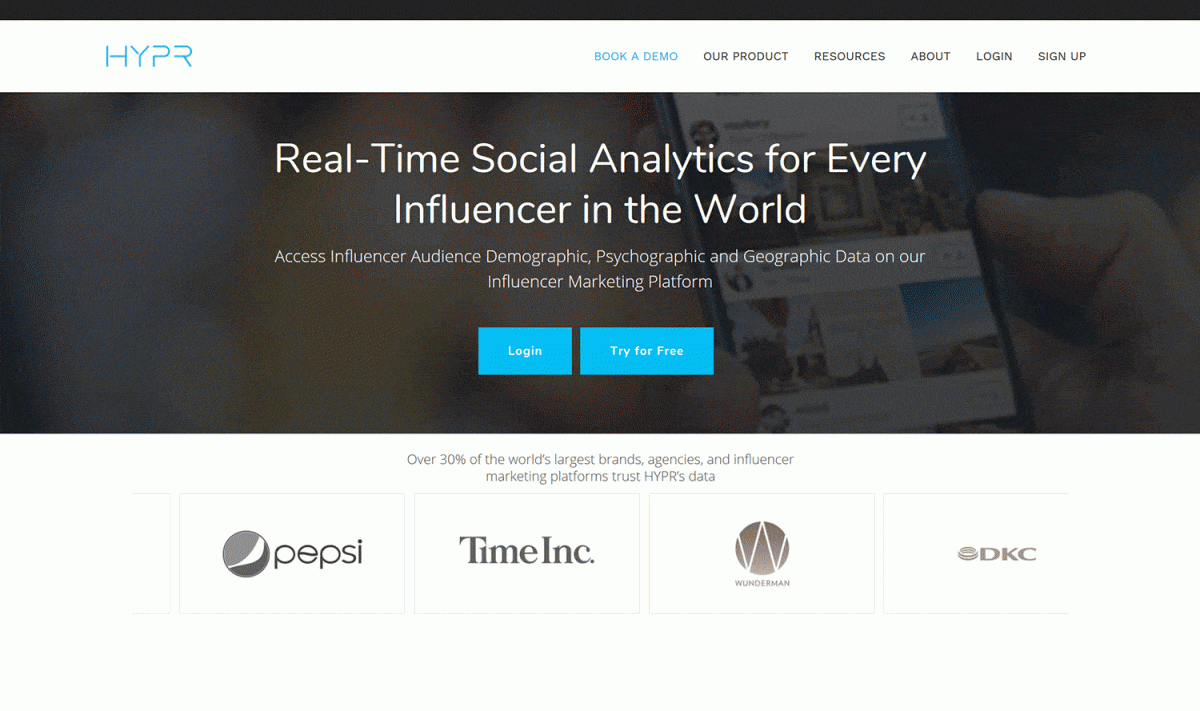 Unlike HitchOn Hypr will outsource the execution of campaigns. The company, founded in 2013, only offers an influencer database and recently added a tracking tool.
"Only" is not the right word here though: The database includes a staggering 10 million influencers. These can be searched by a number of demographic and other criteria. Subsequently you are offered "cards" of the corresponding influencers with further information. This works fast and simple. Unfortunately you do not gain insight into the content of the influencers. But Hypr is definitely the influencer marketing platform with the biggest choice.
At a glance:
Supported platforms: Instagram, Facebook, Twitter, YouTube, Pinterest
Countries: over 100
Pricing: Individually arranged
Advantages: about 10 million influencers in one database, fast search
9. Revfluence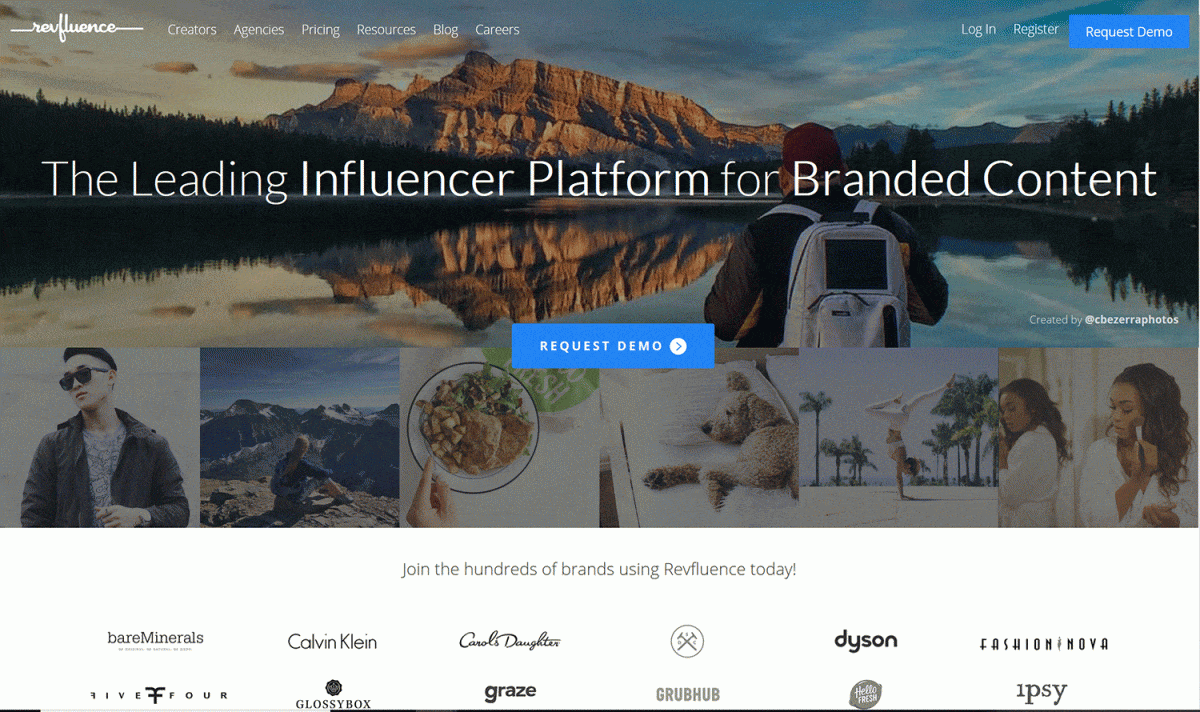 Revfluence is also one of the top dogs in its field and has already worked with a number of renowned brands – from Lacoste to Calvin Klein to ipsy. The platform is not only characterized by access to more than 500,000 influencers, but especially by its variety of functions. This begins with the search for the perfect brand ambassador.
The feature "Quickmatch", described by Revfluence as "Tinder for Influencers" shows you extensive data on influencers. You can directly send the influencer an invitation to collaborate or an offer for an existing campaign, or select "Skip" and the next profile will be displayed. Revfluence also keeps a list of influencers who mention your brand or company. You can even use the so-called "watchlist" to display influencers that mention your competitors. Revfluence also has a number of unusual and useful features to help you execute your campaign. Once you've completed a campaign, the software allows you to create a list of particularly successful content that you can access again in the future. Companies can choose between three service packages – Basic, Pro and Enterprise. However, Revfluence does not publish the prices.
At a glance:
Supported platforms: Instagram, YouTube, Blogs
Countries: globally
Pricing: not published
Advantages: more than 500,000 influencers, wide range of features, valuable features not offered by competitors
10. Influence.vision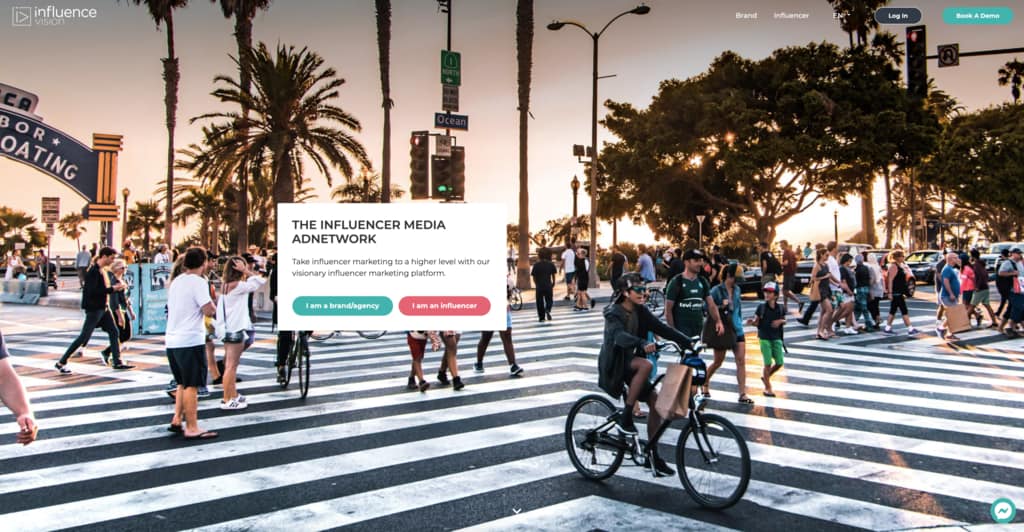 Influence.vision is an automated influencer marketing platform from Vienna. The company connects influencers with brands and agencies. Influence.vision has worked with brands such as Spar, Samsung and Universal Pictures and has generated more than 1500 contributions and 52 million followers.
With its managed service, the platform is also ideal for large-scale influencer campaigns. The service supports brands and agencies from the first step and helps them create briefings. Thanks to automated influencer selection, brands are then directly linked to the appropriate influencer. influence.vision relies on more than 1500 active digital content creators. They create content that is distributed across all media channels using Content Reach Technology, optimizing not only organic reach, but also CPM. Following a campaign, Campaign Reporting delivers all the results achieved in the form of relevant KPIs.
For those who would like to test the service first, Influence.vision offers a bookable demo of their services.
At a glance:
Country: Austria
Prices: 25% commission
Supported platforms: Twitter, YouTube, Instagram, Facebook, Blogs
Advantages: Content Reach Technology, Creative Crowdsourcing, Campaign Reporting, Influencer Hub
Influencer marketing platforms are here to stay
There is no doubt that the task of being the agency between influencers and companies is a business with a future. The topic is also gaining traction for smaller companies.
This is why it is so important to choose the right platform for your own needs. If you want to pursue influencer marketing targeted at german and austrian audiences you might be better off with a local provider than with a large international platform. If you and your company are active in a niche you might prefer micro influencers to well known personalities with hundreds of thousands of followers. The pricing also plays an important role in the end. Sometimes you don't have to pay much for a good result.
With or without influencers, your social media marketing will only be successful if you keep an overview. Swat.io makes this easy. Start your free trial and benefit from the shared calendar with all posts on all channels, targeted reach, detailed analysis and many more advantages.
Efficient Social Media Communications With Swat.io