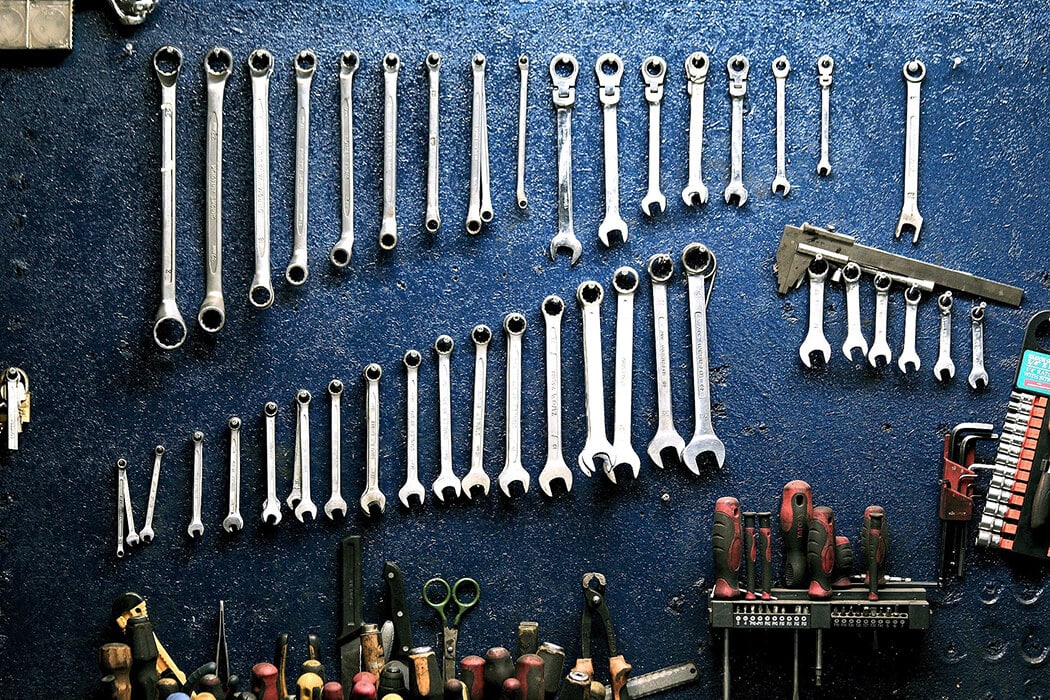 10 Nifty Chrome Add-Ons for Social Media Managers
There are countless add-ons for Google Chrome out there. So, the real art is to choose the ones that are actually relevant to you. We have tested some extensions for you and selected our Top 10. In our list of useful Chrome add-ons for social media managers, you'll find a variety of the latest extensions to streamline your working process – most of them are actually downloadable for free! Whether selecting the right hashtags, content research or searching for the right GIF, these extensions are a valuable support in everyday social media life.
RiteTag
Choosing the right hashtags is vital for visibility on social media, no matter if we're talking about Facebook, Twitter or Instagram. RiteTag is the clever alternative to taking a wild guess. This add-on provides you with suggestions for pictures and texts and marks hashtags according to their potential: green for trending keywords, blue for long-lasting tags, grey for rarely used ones and red for hashtags that wouldn't help your post to stand out.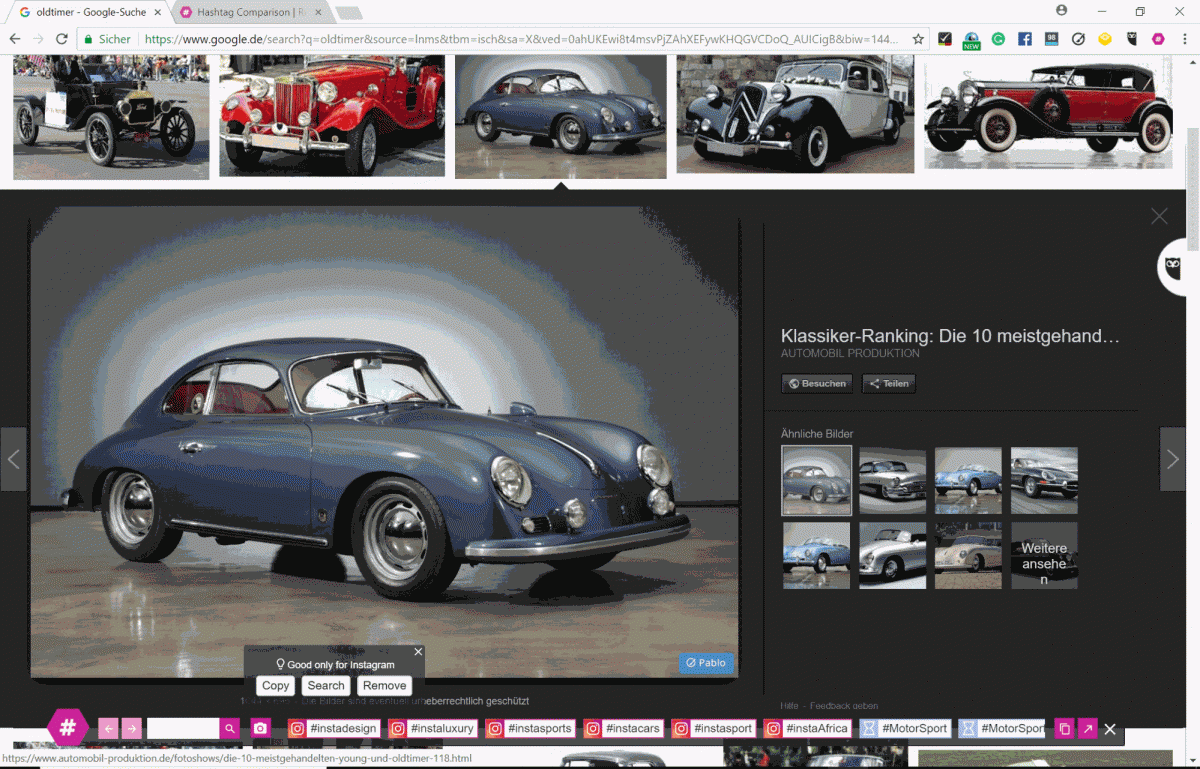 StayFocusd
Everyone knows that scenario: You just entered the office, full of desire for action and you already checked your to-do-list for that day. The only thing that separates you from being productive is a glimpse at the results of yesterday's football match… Three hours later, you find yourself reading click-bait articles and the day's work still isn't done.
StayFocusd is an add-on for all those of you who have a hard time staying focused at work. It helps you to concentrate on what's important by allowing you to set time limits for web pages that distract you and keep you from being productive. Once this limit is exceeded, you can't visit that page anymore for the rest of the day. This way StayFocusd provides you with a great opportunity to avoid distractions while being at work.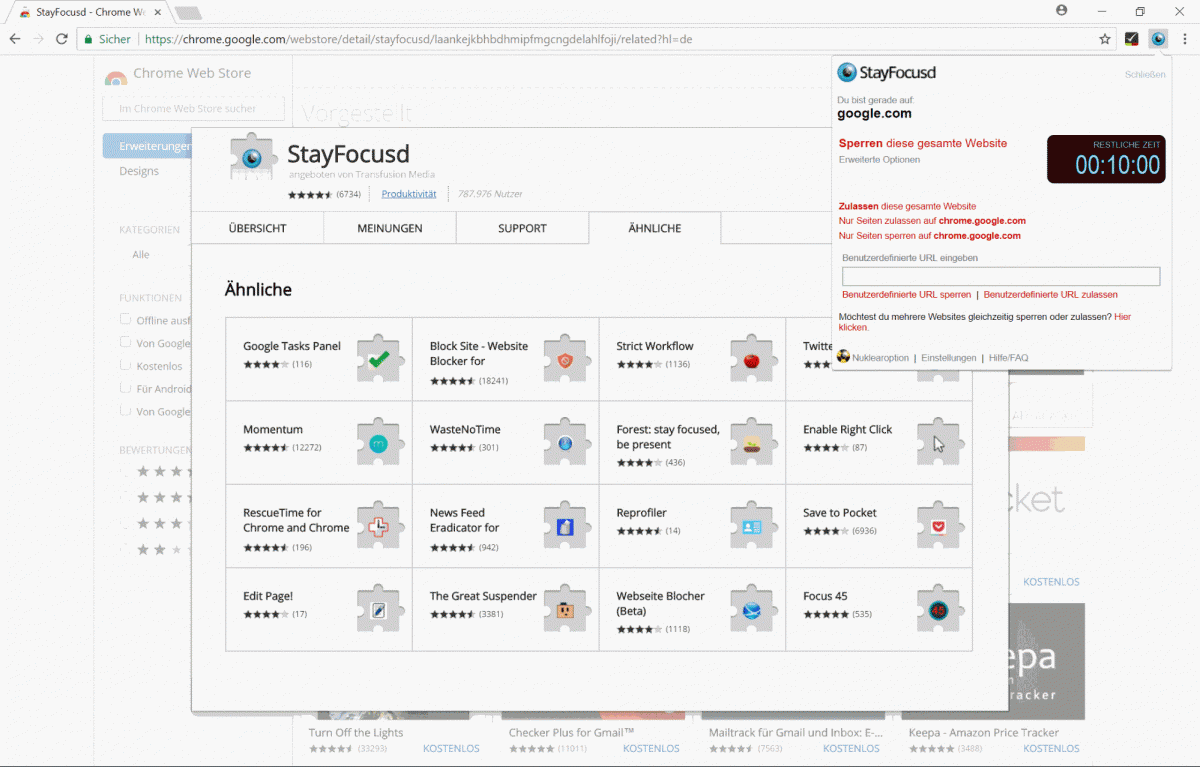 The Beginner's Guide to Social Media Monitoring
Download our eBook and find actionable advice on how to use social media monitoring to generate leads, provide better customer service, and gain a competitive advantage. The hands-on tips, tricks, and guidelines will help you develop and implement the right social media monitoring strategy for your brand and business
vidIQ Vision for YouTube
Do you want to know more about how well your YouTube-Videos are performing? vidIQ Vision for YouTube provides you with insights. First, you need to install the add-on and sign up for free. After that, vidIQ Vision analyses all videos on your YouTube channel. The add-on generates rank lists based on views, likes, the number of minutes the video has been watched on YouTube, tags and so on. The so-called vidIQ Score is especially revealing. It is a score that puts the likelihood in numbers with which your video pops up at searches or in the suggested-section.
Grammarly
Effective posts are not easy to craft. Often a single misspelled word ruins an original and witty post. Grammarly helps you to prevent such mistakes. This add-on double checks automatically each English text that you write in your browser regarding spelling and grammar mistakes. There is also a premium version that suggests different styles of writing based on targeting different audiences, for example, scholars.
But be careful: even a great add-on like Grammarly does not substitute attentive proofreading before you upload a post or hand in a text.
RiteBoost
Formerly known as RitePush, you can get this add-on as RiteBoost nowadays. The new name describes the potential quite properly: RiteBoost provides you with a variety of options to boost your posts. It features an "Enhance Button" as well as options for adding relevant hashtags, emojis, pictures or GIFs automatically when clicking the right mouse button. The add-on can also be used to shorten link URLs as well to track the clicks on every shared URL.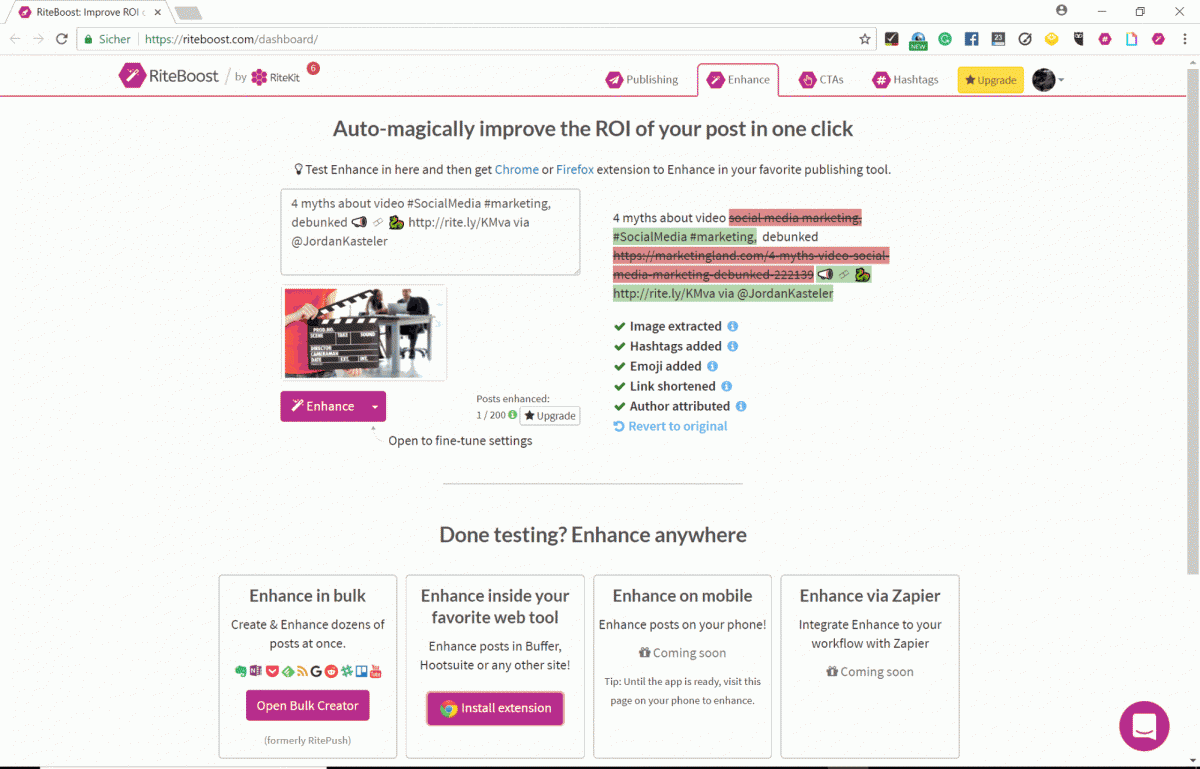 Share to Facebook
Ever wanted to share a website with your followers on Facebook? With Share to Facebook, you can do that without any annoying copy-paste sequences. The add-on allows you to open a window for sharing the website at your or a friend's wall by clicking on the Facebook-Button in the URL bar. You can also send the link to the page you want to share per Messenger. Furthermore, you can highlight a part of the text and add it as a quote.
If you're not sure whether you want to share the page now, later or even at all, you can save it on Facebook. To do so, there is another add-on called "Save to Facebook" which allows you to archive articles, videos or similar directly in the social network. You can recall them on any device linked to your account.
Zest.is
No matter if you're dealing with affiliate marketing, e-mail campaigns or influencer networks, Zest.is grants you access to a huge number of informative articles about a variety of topics concerning modern marketing. The add-on is not only useful because of the sheer quantity of information, also the quality is overwhelming.
All uploaded content is checked on quality by expert marketers, which makes Zest.is a valuable source of information for people that want to stay on top of the game.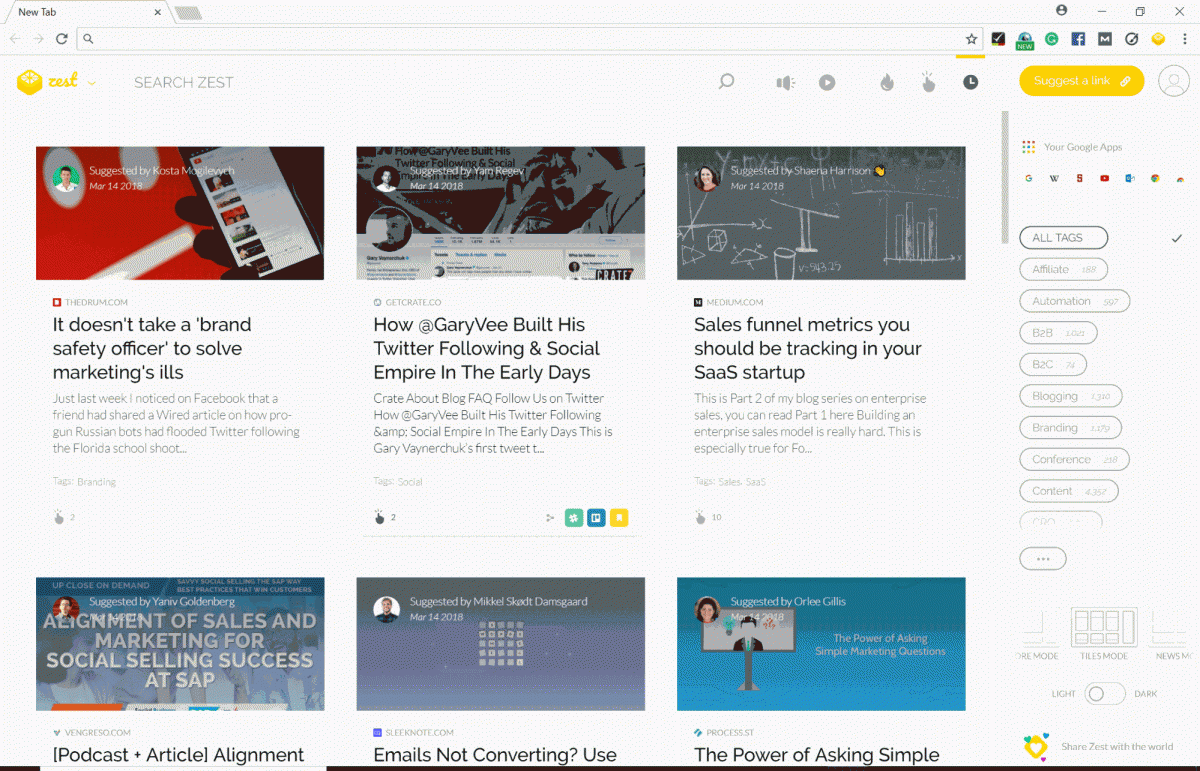 LastPass
Are you fed up with having to remember a dedicated password for every software you're working with? Then it is definitely time to introduce you to LastPass. With this free-to-use keychain tool, you can employ a single password to access all your programs and applications. The password manager is easy to install on any device you own, features a password generator for extra safe passwords and can be used to work together with colleagues more efficiently. The paid premium version of LastPass enables you to share your access to programs and applications without giving away your password. You can decline shared access anytime.
GIPHY for Chrome
Sometimes, a GIF says more than a thousand words. You can use GIPHY for Chrome to find the right GIF in any situation or conversation to delight your conversation partners and to make conversations more interesting. Just type in the keyword you're looking for and draw the GIF of your choice to the conversation window on Facebook or Twitter. Furthermore, the add-on can be used in Gmail, Slack, and Hipchat as well.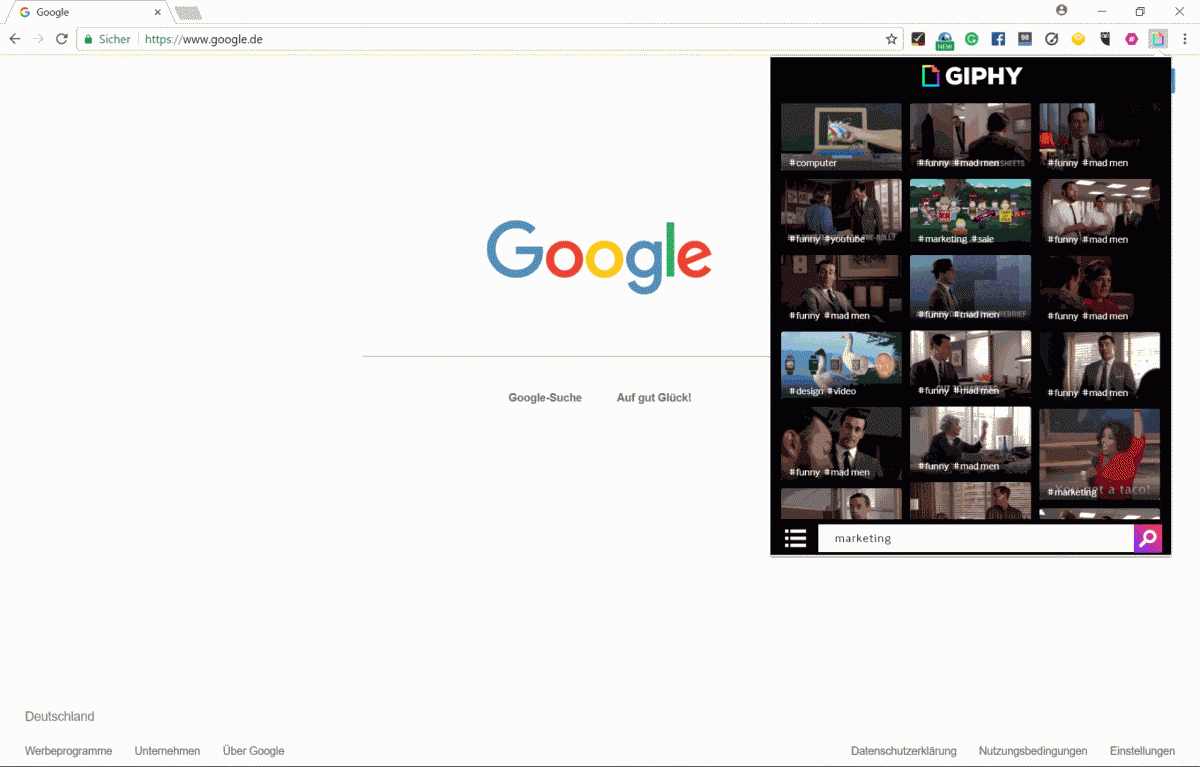 Figure it Out
Are you working together with people from different time zones a lot? Figure it Out displays the exact time on up to ten different locations around the globe. For that reason, it is a great tool to organize meetings. After the installation, the app replaces your default desktop within Chrome. The tastefully arranged stripe design is not just informative but also nice to look at.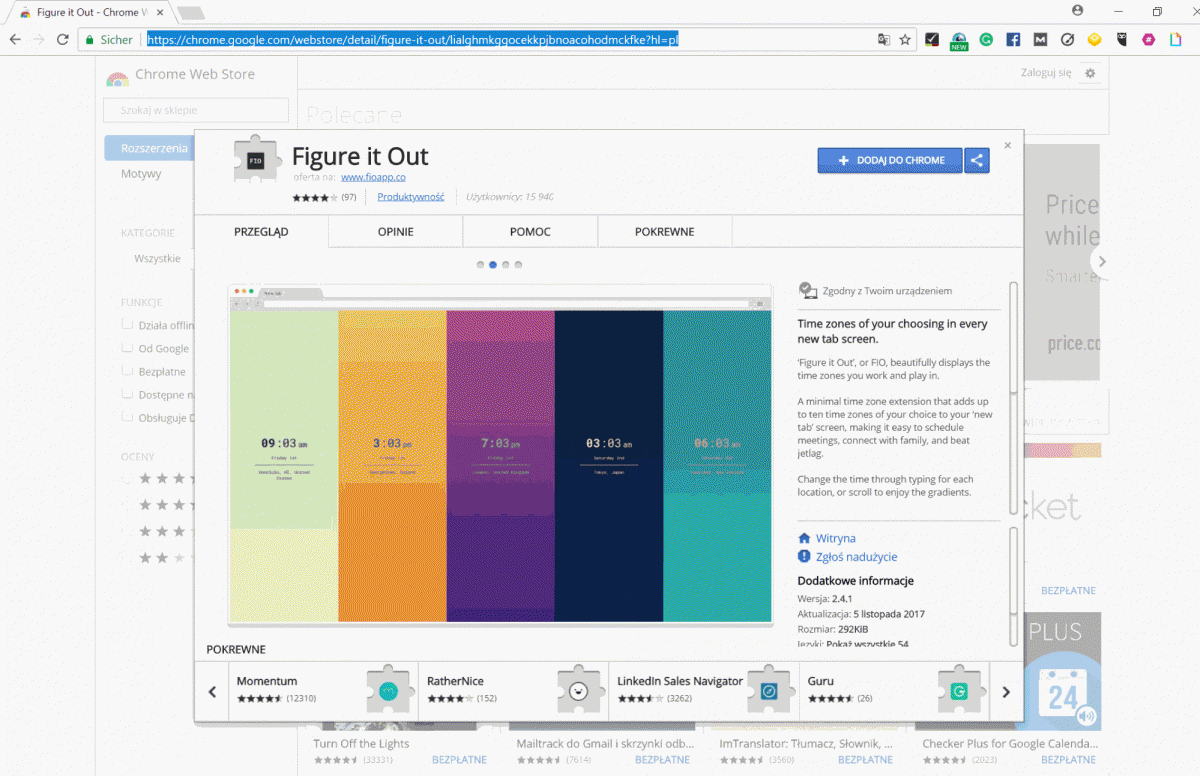 The list of useful add-ons on Chrome for Social Media Manager is long and we could go on introducing you to even more applications. Yet, we have to come to a point. The ten extensions covered in this article can help you to save a lot of time and work without sacrificing the hideous amount of storage or losing track of what you actually want to focus on.
Efficient Social Media Communications With Swat.io