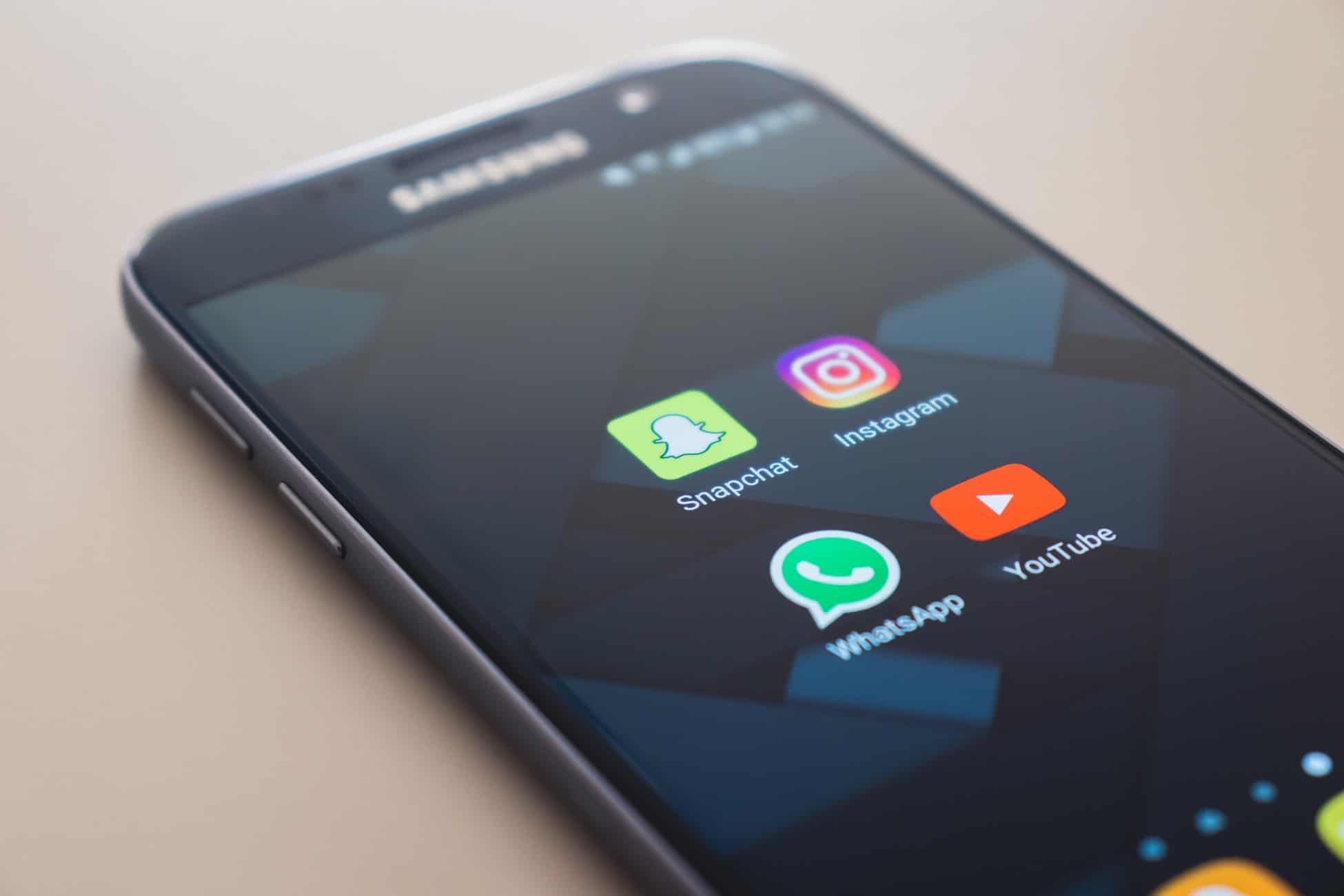 Cross-Platform Social Media Campaigns – How to Benefit from Them
Whether Facebook, Instagram or Twitter, every social network has its strengths. Wouldn't it be great if you could use all of them at once?
With a cross-platform social media campaign you can turn this wish into a reality. We'll give you tips on what to consider when running social media campaigns on different networks.
The benefits of cross-platform campaigns
More platforms means more effort? True, but with the right strategy it will pay off:
By using multiple platforms, you will increase the reach of campaigns and reach different segments of your target audience.
Instagram, for example, provides you with other ways to showcase products and encourage followers to interact than Facebook. Why not use both and increase the effect?
A consistent brand experience across multiple channels gives users an idea of what your brand stands for. This is a way to promote brand awareness and loyalty.
According to a study, the engagement rate can be increased by 166 percent if companies address customers on more than one channel.
In addition, cross-platform social media marketing is usually much cheaper than cross-media campaigns that include radio, television and print advertising.
Social media is becoming increasingly important for lead generation. You can find out how to gain valuable contact information on various networks in our blog post "Lead Generation in Social Media".
Why posting the exact same content on multiple networks might not be a good idea
Maybe now you're thinking, "No problem. I'll just copy the latest product post from Facebook and publish it on Instagram and Twitter as well."
This is of course a tactic that saves a lot of time, especially when you're using a social media management tool like Swat.io. However, there are a few things you should consider when doing this.
Each platform has different formal requirements. Chances are that your Facebook post doesn't look very professional on Twitter, and vice versa, if you simply copy the original post.
The same applies to wording and visual language. Users on LinkedIn want to be addressed differently than users on Instagram. Cross-posting without adaptation may also be irritating in this regard.
Boredom is a no-go in social media marketing. But it may set in when users always encounter the same content across different platforms.
This does not mean that your extensively produced image video should only be shown on YouTube. Quite to the contrary. But if you want to promote it on different channels, do so in a way that is appropriate for each channel and its peculiarities. You can also use different excerpts to avoid repeating yourself unnecessarily. In this context one speaks of "cross promotion" instead of "cross posting".
From Zero to Hero: The Social Media Marketer's Strategy Kit
Download the strategy kit for social media marketers who want to stay on top of their game. Use the actionable steps, tips, tricks, and guidelines to take your brand and business from 0 to hero on social media. The kit is accompanied by ready-to-use templates to help you define, implement and monitor your social media marketing strategy in all its complexity.
Tips for choosing the right platforms
One of the first questions that comes up when considering cross-platform campaigns is: "Which channels are suitable for my campaign?" The answer depends on several factors:
Objectives: Do you want to attract attention, generate leads or establish your company as an expert?
Brand: Not every product and every brand can be successfully marketed on every platform. It is usually easier for manufacturers of sports fashion to present their products visually than for IT service providers.
Target group: Which platforms are popular within your target group? You should find this out before starting your campaign. If you primarily want to address very young people, you could include Snapchat in your strategy, for example. LinkedIn and Xing are a great suit for B2B marketing.
To make your choice easier and find the perfect platform mix for your campaigns, we put together an overview of the most important advantages and key features of popular social media platforms.
Facebook
Although some may think Mark Zuckerberg's network is on the decline, one thing is true for most campaigns: There is no way around Facebook. Even though the organic reach of the social network with the largest user base is quite limited, the number of people using Facebook is still growing. If you provide good content you can still reach many people who will ideally share your posts with their network. Facebook also offers a wide selection of ad types and excellent analytics options.
The network is well suited for sharing informative content with added value such as tutorials, best-of lists, infographics and blog articles and for building a loyal community. Storytelling content, for example in story format, and videos are also popular. With comparatively many ways to set links, you can direct users to your website, shop, or other channels and generate leads or purchases.
The travel provider Restplatzbörse, for example, advertises offers on Facebook including links for direct booking.
Instagram
Instagram is all about visual content. Seeing and being seen is the motto. User Generated Content appears authentic and trustworthy and is the perfect complement to self-created product photos.
Restplatzbörse shows the way:
Instagram Stories and IGTV are ideal for storytelling as part of ongoing campaigns. Furthermore, Instagram is a central network for influencer marketing, especially due to its image load.
Good picture quality is important in any case. Don't just pay attention to Instagram's specifications, but also keep in mind that users are highly likely to view your content on a mobile device.
Unfortunately, links are limited on Instagram. However, the network is great for drawing attention to a brand and its products due to its high reach. Lifestyle images and stories are usually more popular than mere product photos. That's why Instagram is better suited for fashion or sporting goods brands than for insurance companies.
Twitter
You should keep things short on Twitter. This might be a challenge but can also be a chance to achieve big effects with just a few words. Just like toilet paper manufacturer Charmin did with their hashtag campaign "Tweet from the Seat".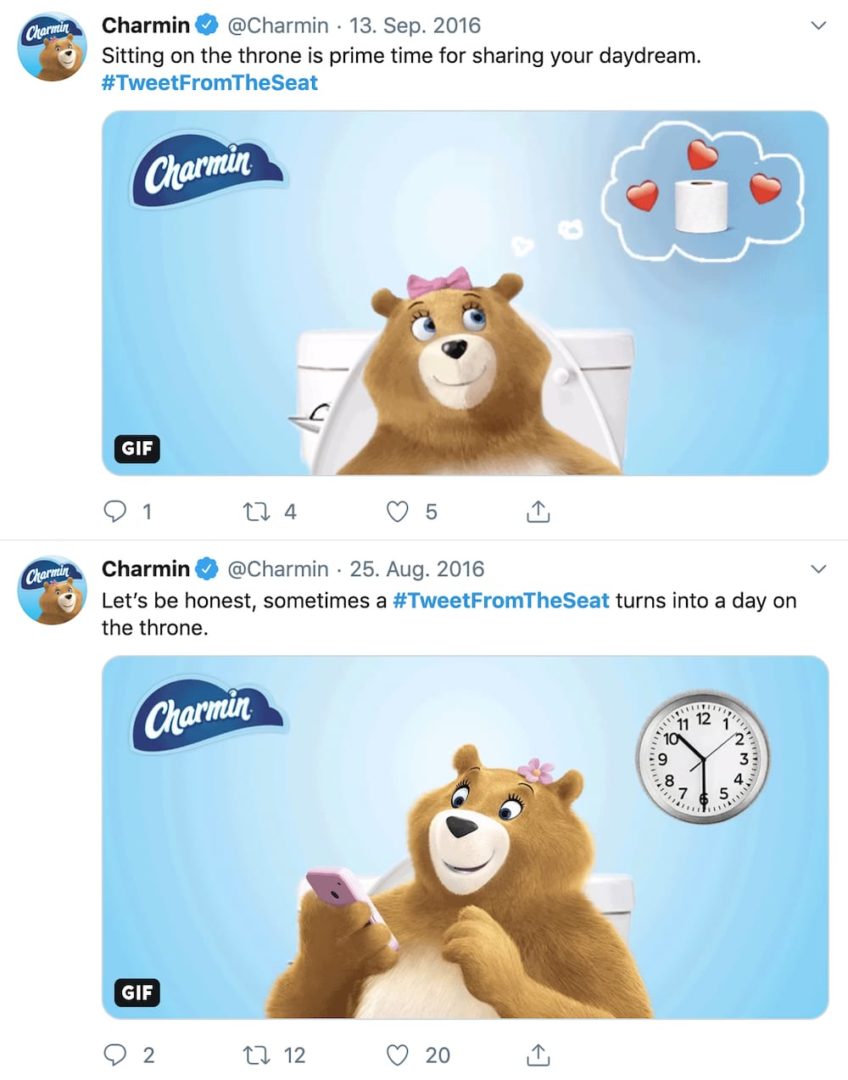 Looking for visual campaign material on Twitter? Apart from "simple" images, GIFs and memes also work extremely well.
YouTube
YouTube is an "old stager" among social networks, but it is as relevant as ever in the video age. On this platform you can use the full potential of moving images, for example with
tutorials
image movies
storytelling videos
product videos
etc.
Very important: Keep it short and try to keep spectators captivated from the first moments on. If you succeed with this, your YouTube videos can also be longer than one or two minutes.
LinkedIn
LinkedIn is the perfect social media channel to address decision-makers in companies and potential new employees. This makes it particularly suitable for B2B marketing.
In contrast to Facebook or Instagram, seriousness and professionalism are the main focus here. Users want to further educate themselves, receive interesting new information and make business contacts. As part of an awareness campaign, for example, you can use LinkedIn to promote your company as an employer.
Storytelling across multiple channels
If you run campaigns across multiple channels, storytelling might be a tool to consider.
Used in the right way, storytelling can do a lot more than a traditional ad campaign that simply highlights the benefits of your products:
Scientific studies show: Stories activate different parts of our brain. They promote trust, motivate and make us identify with something or someone.
People memorize good stories, as opposed to mere enumerations of facts.
Stories clarify a brand's purpose and thus ensure that brands stand out from their competitors.
The cosmetics brand Dove has been demonstrating for years how to use these advantages skillfully with their #RealBeauty campaign. They are always finding new ways to tell visually strong stories about self-love and a positive attitude towards one's own body – in Facebook posts, on Instagram or Twitter.
Promoting one channel on another network
Use your campaigns as opportunities to promote one channel on other networks. This way you could for example attract new followers to a YouTube channel that is less popular right now.
There are many strategies for this. You could try to
Post a preview of your new video on Instagram, referring to the full version available on YouTube.
Draw attention to your Instagram contest on Facebook.
Promote a LinkedIn Guide on Twitter.
Measure and optimize
Continuous measurement and optimization is crucial for cross-platform campaigns. Note the following tips:
Always keep an eye on your goals and determine first which key figures are most important to you.
Be prepared to react when you realize that your campaign is better received by one target group than another. Then, for example, it might be clever to redistribute your ad budget.
Consider special peculiarities on each platform such as hashtags on Twitter and Instagram.
A social media tool that allows you to centrally manage marketing on Instagram, Facebook and Co. is a great help for campaigns throughout different channels. With such a tool you also won't have to split your reportings.
Cross-platform campaigns can be a valuable tool to increase the success of your efforts
Before starting right away and developing a cross-platform social media campaign, you should consider whether you have the necessary resources and whether your target group – or at least parts of it – regularly spends time on different social networks.
If the answer to both questions is yes, it's worth moving away from a "Facebook only" strategy and telling your stories across multiple channels. You may not see the same results as Dove does in the above example right away, but with the right approach you'll quickly realize: It's worth the effort.
To successfully run social media campaigns across multiple platforms, you need the right tool. Swat.io provides the perfect overview. With a central calendar for planning and publishing content on different social media channels and a ticket inbox for user comments from all your platforms you are set for success. Start a free trial now and take your social media marketing to the next level.
Efficient Social Media Communications With Swat.io