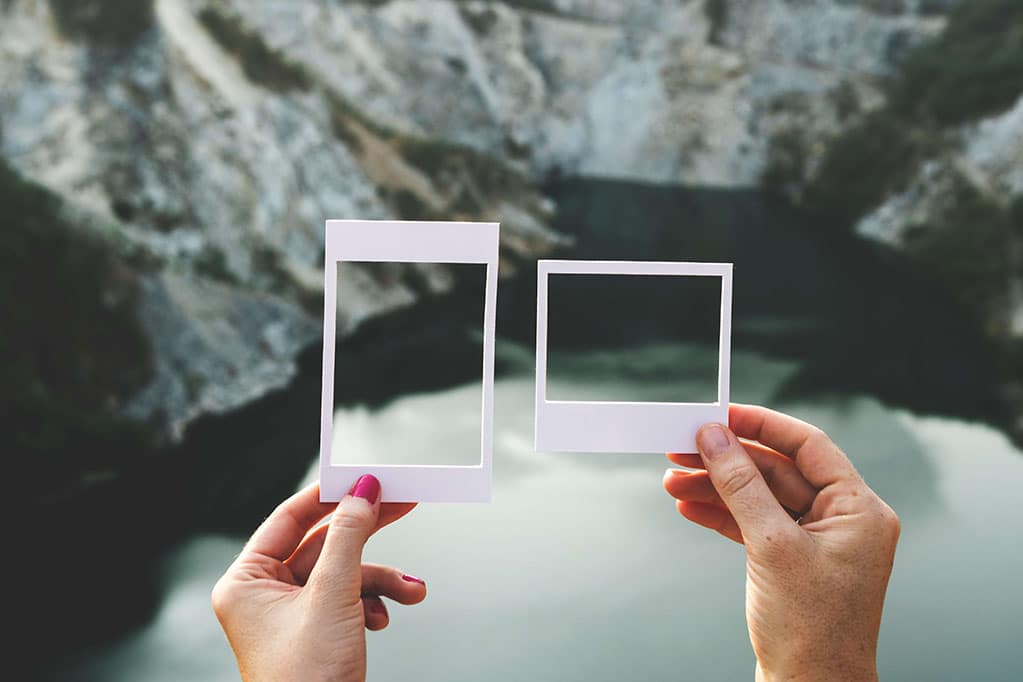 A Guide to Images on Social Media – All Sizes and Dimensions at a Glance
As is generally known in the social media marketing environment, images amplify the effect of social media posts. Figures show just how big the difference is. Analyses by Buzzsumo for Facebook, for example, showed that posts with images generate 2.3 times as many interactions as those without images. The same applies to Twitter and the like.
If you want to exploit this potential, it's not just the content that counts, but also the quality of your images. This includes that they are neither blurred nor cut off at the edges or distorted. But what size is optimal for a Facebook post, a profile picture on Instagram or a cover picture on LinkedIn? With our infographic, you have all the important dimensions at a glance and can use them to ensure a consistent brand image on your social media channels. Ideal for reference or printed out as a cheat sheet on your office wall.
Social Media Image Sizes and Dimensions in 2023
Tips for choosing the right pictures
With meaningful images in the right size, you can optimize the social media presence of your company. This starts with the profile picture and extends to posts, images for events and stories.
Twitter
Profile photo: 400 x 400 pixels
Your profile photo and your header photo are crucial for the first impression you make on your visitors. Therefore, high quality is a must in both cases.
Header photo: 1500 x 500 pixels
Make sure, your header photo fits your company's logo and your general company appearance in order to create a consistent overall picture. A meaningful header photo engages your visitor's attention and arouses positive emotions.
Image post: 1200 x 675 pixels (for one image)
Meanwhile, Twitter allows you to upload more images per post. Then the aspect ratio changes from 16:9 (one image) to
2 images: 7:8 and 7:8
3 images: 7:8 and 7:4 and 7:4
4 images: 7:4, 7:4, 7:4 and 7:4
Facebook
Personal Profile:
Profile picture: 180 x 180 pixels
The profile picture is displayed in the size 170 x 170.
Profile cover image: 851 x 315 pixels, if something may be cut off on the left and right, or 640 x 360 pixels, if something may be cut off at the top and bottom.
Images are displayed on the desktop with a size of 820 x 312 pixels and on the mobile device with a size of 640 x 360 pixels. So you have to find the best compromise.
Images load fastest as sRGB JPG files with 851 x 315 pixels and a size of less than 100 kilobytes.
Business Page:
Profile picture: 180 x 180 pixels
Profile cover image: 828 x 315 pixels (desktop) or 828 x 465 pixels (mobile)
As on Twitter, the profile picture on Facebook plays a central role for a convincing appearance. After all, it is always displayed when you become active on the platform and post yourself or comment on posts. Therefore, it should make a good impression in any size.
If the profile or cover image contains text or a logo, you can improve the quality by using a PNG file. If you decide to optimize for mobile devices, keep in mind that on desktop there will be some cropping at the top and bottom.
Image post: 1200 x 630 pixels (landscape format) or 1200 x 1500 pixels (portrait format)
Link post: 1200 x 627 pixels
Video post: 1200 x 677 pixels
Event image: 1200 x 628 pixels
You can only select one image at a time for events. However, this will be displayed differently depending on the device. Move the most important content to the center. This way you avoid content being cut off. Event photos are displayed in the newsfeed in the dimensions 470 x 174 pixels.
Tip: Many social media marketers make the mistake of optimizing images to look great on desktop. However, it is highly likely that most users will see them on a mobile device. We therefore advise you to put yourself in the shoes of smartphone users when editing.
Instagram
Profile image: 150 x 150 pixels
Photo posts:
Square: 1080 x 1080 pixels
Landscape format: 1080 x 608 pixels
Portrait format: 1080 x 1350 pixels
Text plays a subordinate role on Instagram. All the more important are high-quality images and ideally a consistent visual language.
Video posts:
Ideally, choose an aspect ratio of 16:9 for video posts, which is the format a smartphone records when you turn it sideways.
Story: 1080 x 1920 pixels (for full-screen mode).
Cover for Story Highlights: 1200 x 1200 pixels
Again, keep in mind that the cover will be circular cropped by Instagram.
YouTube
Channel cover image: 2560 x 1440 pixels
YouTube is only about videos? Well, not only. The channel cover images, that are similar to banners, are crucial for your branding. Keep in mind that they might be displayed in different ways depending on the device your channel is watched on.
Profile image: 800 x 800 pixels
If you're using your Google account as your YouTube profile, your Google account profile image is the same for all Google services you're using. Therefore, it is advisable to set up an account dedicated to YouTube.
Thumbnail: 1280 x 720 pixels
LinkedIn
Personal profile
Profile image: 400 x 400 pixels
LinkedIn allows profile images sized between 200 x 200 and 20,000 x 20,000 pixels. However, 400 x 400 pixels are recommended. A professional portrait is usually the best choice.
Title image: 1584 x 396 pixels
Title pictures are great to add some personal flavour to your profile. Keep in mind, that the picture shouldn't be any bigger than 4 MB.
Image post: 1200 x 627 pixels
Pulse article image: 744 x 400 pixels
Company profile
Title image: 1536 x 768 pixels
Logo: 300 x 300 pixels
Hero Image: 1128 x 376 pixels
Business banner: 646 x 220 pixels
Some companies use their logo in a large format as their business banner image. Given the fact that LinkedIn offers many other opportunities to display logos, we recommend to be creative and to seize the opportunity for an additional eye-catcher at a central position within your company profile.
TikTok
Profile image: 100 x 100 pixels
Title image: 900x 300 pixels
Thumbnail: 1080 x 1920 pixels
The maximum file size for TikTok videos is 287.6 MB (iOS) or 72 MB (Android). You can also post horizontal videos, but vertical is preferred.
Pinterest
Profile image: 165 x 165 pixels
Pin: 1000 x 1500 pixels
Make sure the ratio is 2:3 and the minimum image size is 600 x 900 pixels.
Square Pins: 1000 x 1000 pixels
Long Pins: 1000 x 2100 pixels
For infographics you can choose a size of 1000 x 3000 pixels. However, the pin will not be displayed completely in the feed.
Board Cover: 600 x 600 pixels
Xing
Personal Page
Profile image: 1500 x 1500 pixels
The same applies to the profile and cover picture on Xing as on LinkedIn. The best effect is achieved when both create a coherent overall impression and match the corporate identity.
Title image: 1280 x 624 pixels
Individualized cover images open up many possibilities. It can be humorous, as long as the image content fits the person or the company.
Portfolio image: 150 x 150 pixels
Up to 30 images can be used in a portfolio. Three can be arranged next to each other.
Business Page
Company logo: 285 x 70 pixels
Event page
Background image: 984 x 311 pixels
Logo: 256 x 256 pixels
Event background images and event logos are restricted to a limit of 5 MB file size.
Groups
Group image or logo: 512 x 512 pixels
Editing picture sizes and dimensions the easy way – here are the best tools
Now that you know all the important sizes and dimensions, you need tools to edit your pictures to get them in shape! Often, you don't even need to know the particular sizes for using them.
The Art of Social Media Content Creation
Download our eBook and learn how to plan, create and distribute your social media content while measuring its effectiveness on your relevant social media channels. To ensure you don't miss out on any big social media content trend or best practice, we've also included interviews of 5 experts in this field. Find out how to master the art of social media content creation using the latest available tools and determine what type of content makes your audience tick!
Autre planète
The Social Media Image Maker by Autre planète is the perfect web-based tool to edit your pictures for the platform you want to use them at. Twitter, Pinterest, Skype or Facebook – you name it, the tool works for each of these platforms. Pictures can be added by drag and drop and then be edited until they fit the desired dimensions. To complete the process, just download them. The tool looks rudimentary, is easy to use and delivers good results for 16 different networks without even requiring a registration.
Swat.io
You can also edit and crop images to the right format in many social media tools like Swat.io. The right sizes for different channels are already stored in the Swat.io Post Composer. So you can directly upload an image in the perfect format with just a few clicks, without having to go through a separate tool for image editing.
Canva
This is an absolute classic amongst image editing tools. Canva has become an indispensable tool for many Social Media Managers. The software provides a lot of options to edit pictures efficiently while still being very user-friendly. Furthermore, the tool is capable of creating top-notch infographics that look absolutely professional. It also features the option to upload pictures and automatically optimize them for several social networks. Besides that, it offers a tidy number of pictures you can download and use, especially when used in the fee-based full version.
BeFunky
BeFunky convinces in its free version as an easy-to-use alternative to the powerful but complicated Photoshop. It features a resize image tool which does exactly what the name suggests: Type in the pixel dimensions you need and change the size of your pictures without diminishing their quality.
Adobe Spark
If you're owning an Adobe Creative Cloud license, you also got access to the premium version of Adobe Spark. Everyone else has to stick with the free-to-use version. Both versions offer a tool to resize pictures. With our list of sizes and dimensions, you can skip scrolling through the templates and take advantage of using the custom-feature.
Snappa
The online tool Snappa scores with preset image sizes suited for several social networks. At the first glance the free-to-use access looks absolutely great as it features access to a database of over 500,000 high-resolution pictures, that are "totally not cheesy" according to the provider. Too bad, that the download capacity is restricted to 5 pictures per month only. If you want to use Snappa as a professional tool for Social Media Marketing, you've got to get a pro-account. Luckily, the expenses are not that high with 10 Euros per month.
Fotor
Some of you might know Fotor from your smartphone, but there is also an app for Windows and Mac. It is not as well-known as Canva, yet it is a great, cheap alternative to Photoshop – including the option to resize pictures according to the demands of different Social Media platforms.
Keeping up to date on the right image sizes pays off
Whether you resize your social media images to the right size with the help of our infographic or use one of the presented tools for automatic resizing, in both ways you make sure that your images show to advantage in the respective network. Keep up to date, because recommendations of image sizes on Facebook and Co change from time to time.
Are you looking for an option to coordinate und publish posts on different networks successfully? With Swat.io you'll keep track of Content Planning and Community Management almost without any effort! Start your free trial now!
Efficient Social Media Communications With Swat.io