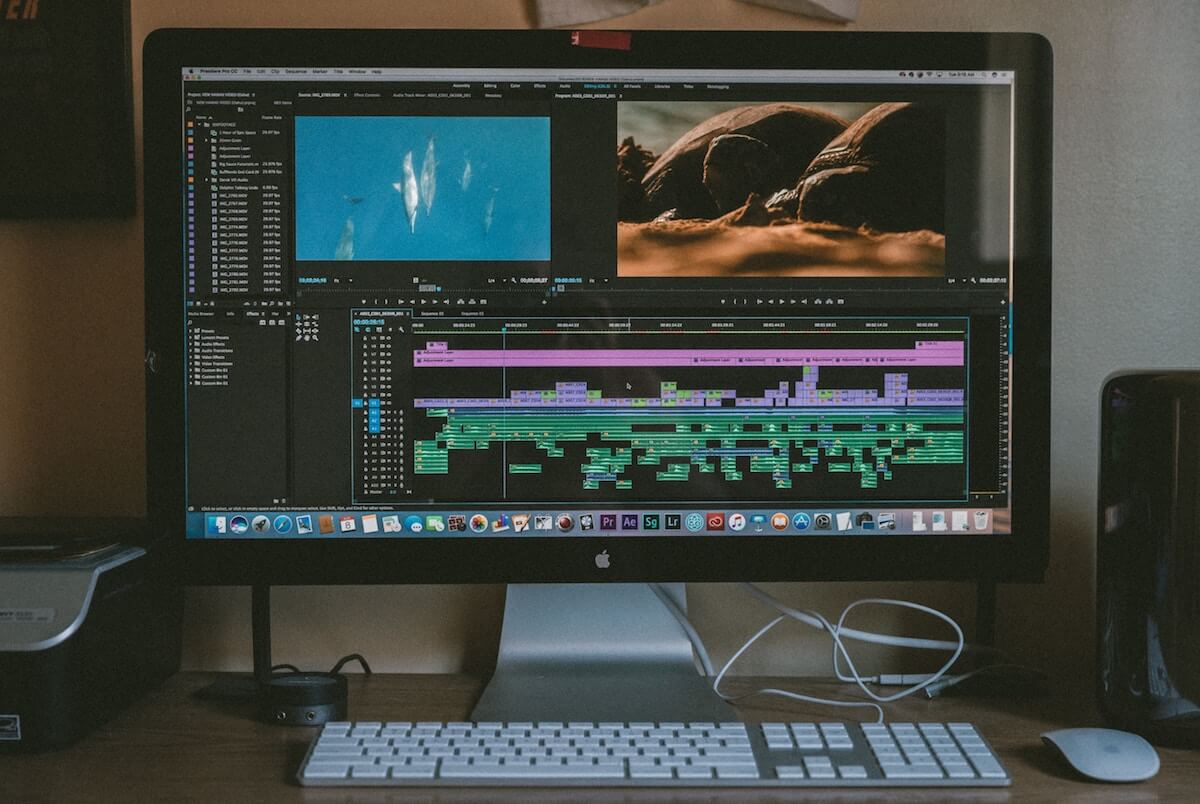 The 16 Best Tools to Easily Create Social Media Videos
Videos are playing an increasingly important role in social media. This is also increasing the importance of tools for cutting, editing and publishing clips in a social media marketing context. But which video tool is right for your needs? After all, the spectrum ranges from intuitive beginner tools to professional editing programs and from mobile apps to cloud software and downloadable desktop programs. And the costs also vary greatly.
Take a look at our top 16 video tools for social media marketing. You'll find out what the individual programs and applications can do, what they're particularly well suited for and what you have to pay for them. With this information, you'll be ideally equipped for finding the perfect tool for image editing and creating efficient videos.
Evidence of the Importance of Videos in Social Media Marketing
The trend towards videos on social networks is nothing new. As early as 2018, statistics indicated the enormous popularity of moving images among users.
With the impressive triumph of TikTok, short-form videos subsequently took center stage. Even top dog YouTube has since responded and introduced its own short-form video platform, YouTube Shorts.
Adam Mosseri from Instagram announced in summer 2021 that the network would focus more on videos in the future.
Overall, it's becoming increasingly difficult to imagine a successful social media strategy without videos.
Important Features of Video Tools
But what does a video tool have to be able to do to use it for social media? The answer, as is often the case, is: it depends. What matters is the channel and purpose for which you want to use the finished tool. It also matters whether you're looking for a tool that excels in many features or one that specializes in a select few and produces handsome results in a short amount of time.
The key features of video tools include:
Editing options: The more options you have available to edit sound and image and add effects or animations to your video, the more flexible you are. However, less is sometimes more and – most importantly – less can be easier to use. Also, some video tools specialize in certain features.
Formats: Can videos be created in landscape and portrait? Can clips be optimized for different social media channels?
Direct import: Save time and effort in social media marketing with video tools that allow you to import directly to Facebook, YouTube and/or other channels.
Usability: Video tools for professionals take time to get used to. For beginners, intuitive and clear programs are more suitable.
Price: Prices vary widely between different video tools. Some free applications and cloud programs open up amazing possibilities. Sometimes, however, it's worth paying. Because, when in doubt, the profits from good marketing are much higher than the cost of it.
16 tools for creating social media videos
1. Animoto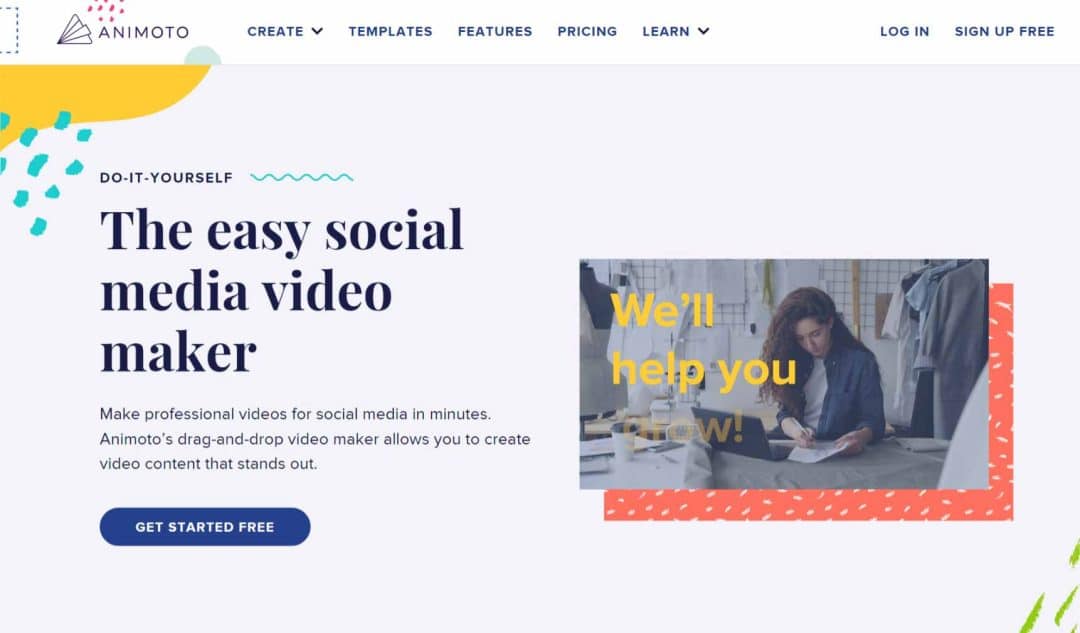 The cloud-based video tool Animoto is great for creating professional videos in a short amount of time. A Social Media Maker with a drag-and-drop editor is available specifically for social media. This includes templates for Facebook, Instagram, and YouTube, among others. You can either use your own photos and clips or access an extensive template library with Getty material. Of course, you can also cut and edit the result in other ways. The video can be published directly from Animoto. There is a free plan to try it out. However, if you want to use Animoto for business, you usually have to pay at least EUR 14 per month as this is the only plan that lets you add your own logo and colors to your videos.
2. VidLab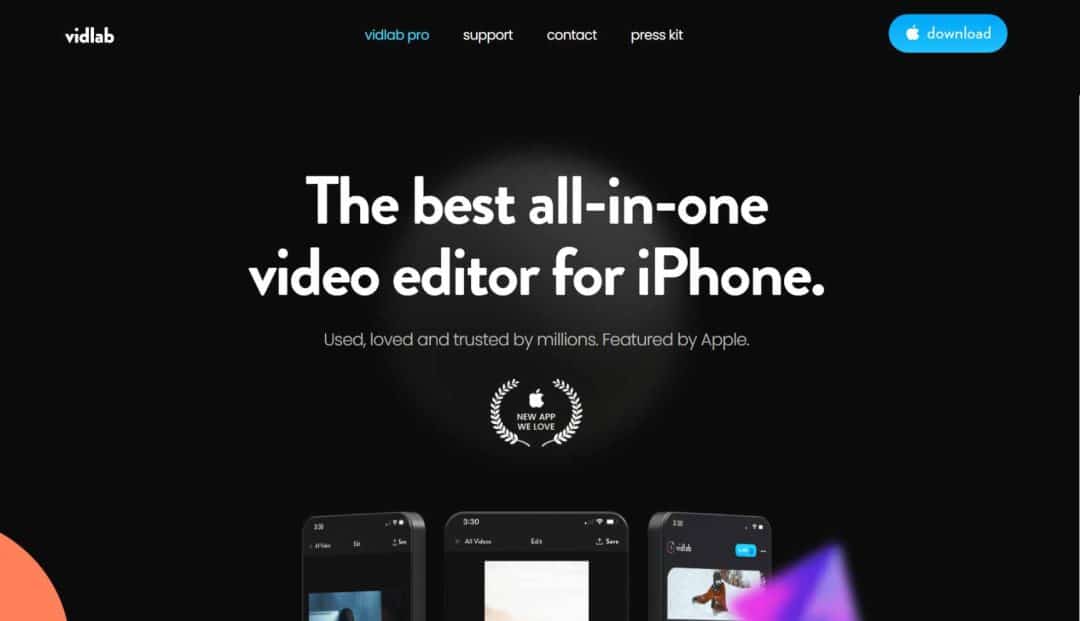 Unfortunately, the VidLab app is only available to iPhone users. But they can look forward to an application with multi-track and multi-clip editing. Even for free, amazing results can be achieved in a short amount of time. If that's not enough, you can pay to unlock various extras, or get them all at once for a one-time fee of USD 59.99. Getting rid of the watermark costs USD 1.99.
3. Magisto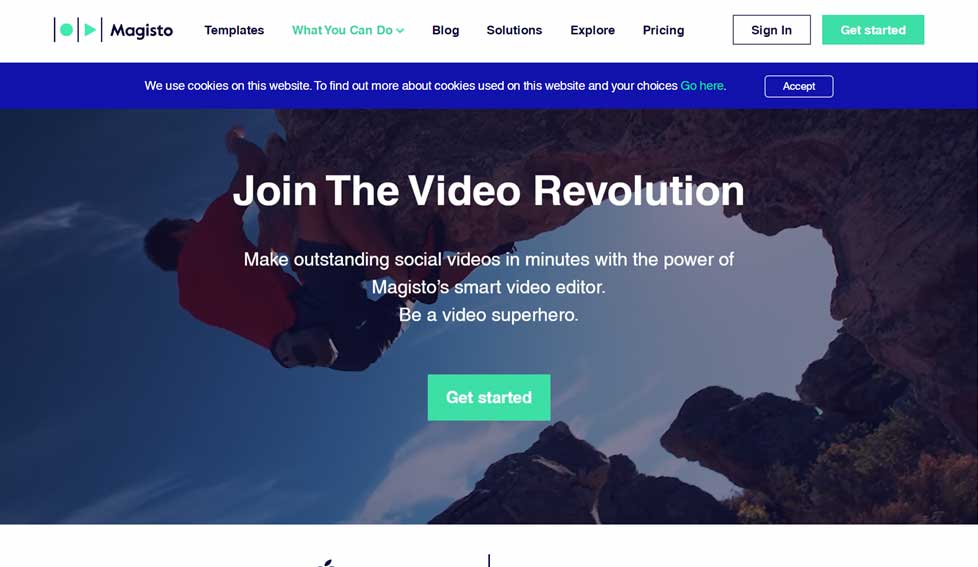 Magisto doesn't offer magic as such, but with a little skill, the tool can be used to create enchanting video clips for social networks. Available for both Android and iOS, and as a web-based tool for PCs, the app's main draw is the minimal effort required to create appealing videos. Choose videos and/or photos, as well as an editing style and a soundtrack from Magisto's music library. The app independently performs the editing or beautification of your raw input. The integrated analytics options are particularly beneficial for content marketing as they give you information about the performance of the videos you publish. If you want to use Magisto for business, you can do so starting at USD 9.99 per month.
The Art of Social Media Content Creation
Download our eBook and learn how to plan, create and distribute your social media content while measuring its effectiveness on your relevant social media channels. To ensure you don't miss out on any big social media content trend or best practice, we've also included interviews of 5 experts in this field. Find out how to master the art of social media content creation using the latest available tools and determine what type of content makes your audience tick!
4. Shakr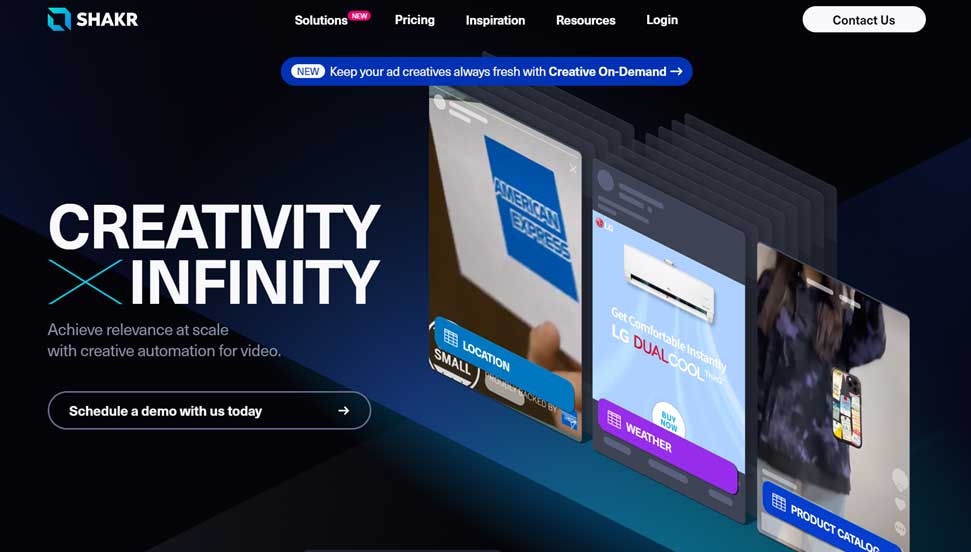 Shakr is specifically designed for companies that want to engage in video marketing on social media.
The tool combines two services in one:
Similar to other programs presented here, it lets you create professional videos with just a few clicks and simple drag and drop functionalities. Thousands of templates are available for this too. 
At the core of Shakr, however, is the option to turn creative assets into scalable templates for video ads. This makes it easy to create different versions of a video for different target groups or locations in no time at all.
You probably guessed: it's not cheap. Even the basic version of the tool costs EUR 200 per month. If you want to create your own video templates with Shakr, you'll pay at least 10 times that.
5. Animaker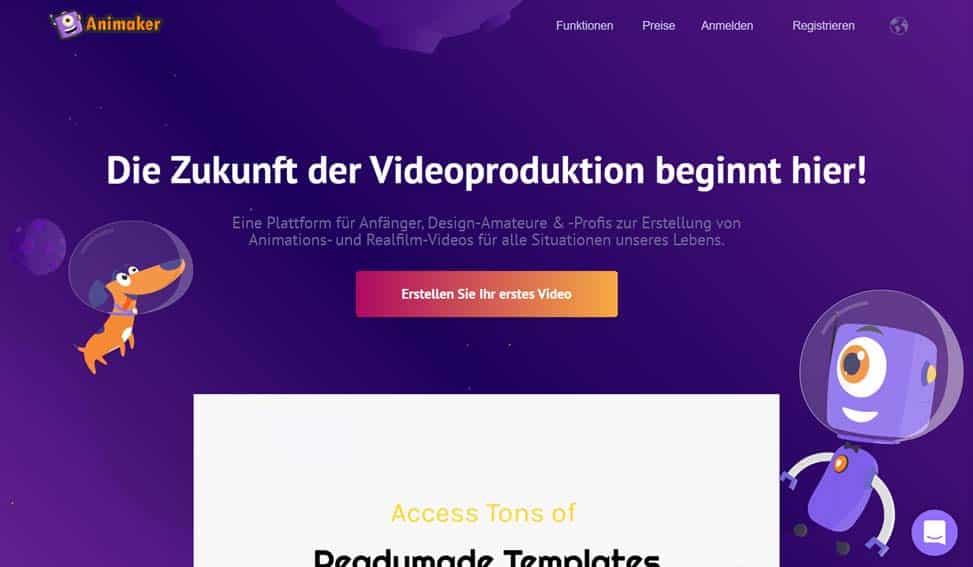 Animated videos are ideal for presenting products and services and explaining complicated things simply and clearly. Explainer videos are currently a big trend. Animaker makes creating animated videos easy. The cloud-based tool also opens up fascinating possibilities for presentations and Instagram Stories. For individual videos, a large number of templates, icons, avatars, and other ingredients for your clips are available. Teams can save colors, fonts, logos, and other elements of their corporate design in a brand kit. This way, they can play it safe and make sure their designs have a uniform look. 
The free version, however, is significantly limited in scope. If you want to export videos more frequently than five times a month and use more design options, prices start at USD 10 per month. For businesses that regularly do video marketing, the Pro package for USD 49 per month is worthwhile.
6. Renderforest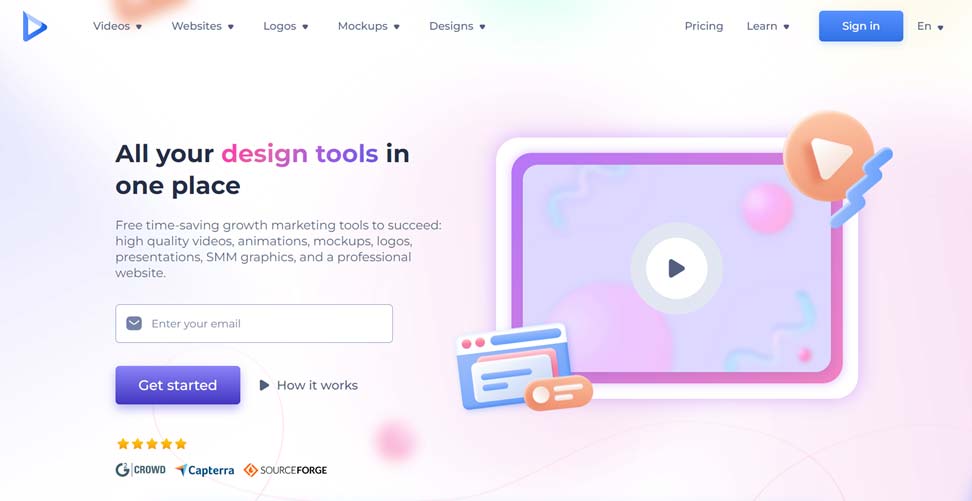 Want to create animated videos even faster and more easily? Then take a look at Renderforest. This tool is super easy to use and offers a wide range of features. As well as videos, Renderforest lets you create and edit logos, websites, mockups, and much more. For corporate video marketing, a monthly package starting at EUR 9.99 per month is worthwhile. This gives you significantly more time for longer videos, and it removes the annoying Renderforest watermark.
7. Typito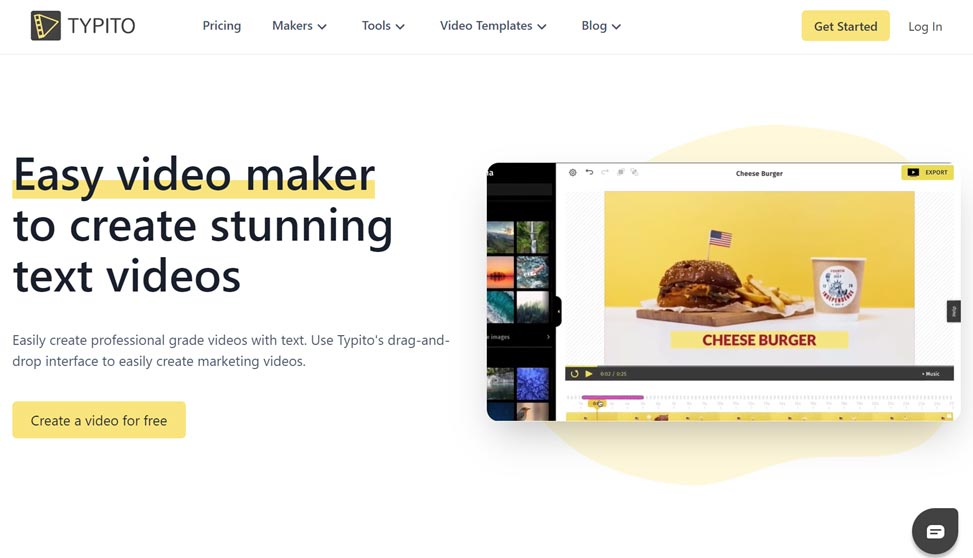 In video marketing, it's often desirable to add text to your video clips. This is all the more true because a lot people watch videos on the go without sound, such as when they're on the subway. Typito makes this possible. Upload photos and videos, add your own layouts, subtitles, and music to them and post the result directly in the appropriate format to the social media platform of your choice. In addition to text templates, extensive editing tools and video templates are available. A free package is available as a trial. For professional use, the tool starts at USD 15 per month.
8. Moovly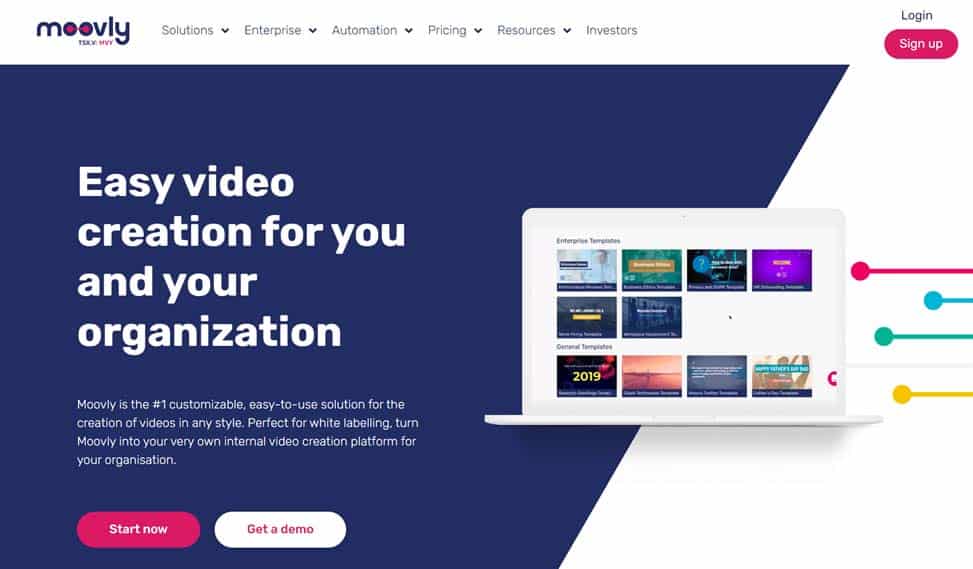 Moovly is among the video tools that are a little more complicated to use. In return, though, it offers an impressive range of features, including many different icons and graphics that you can add to your video. The tool also offers great animations and the option to upload your own voice recordings. Using this as a basis, you can create exciting clips for a wide variety of social media channels. For this tool, too, the free access is good for trying it out. That said, it comes with limitations such as low video quality and a watermark on all videos. For professional content marketing, you have to pay at least USD 24.92 per month.
9. Lumen5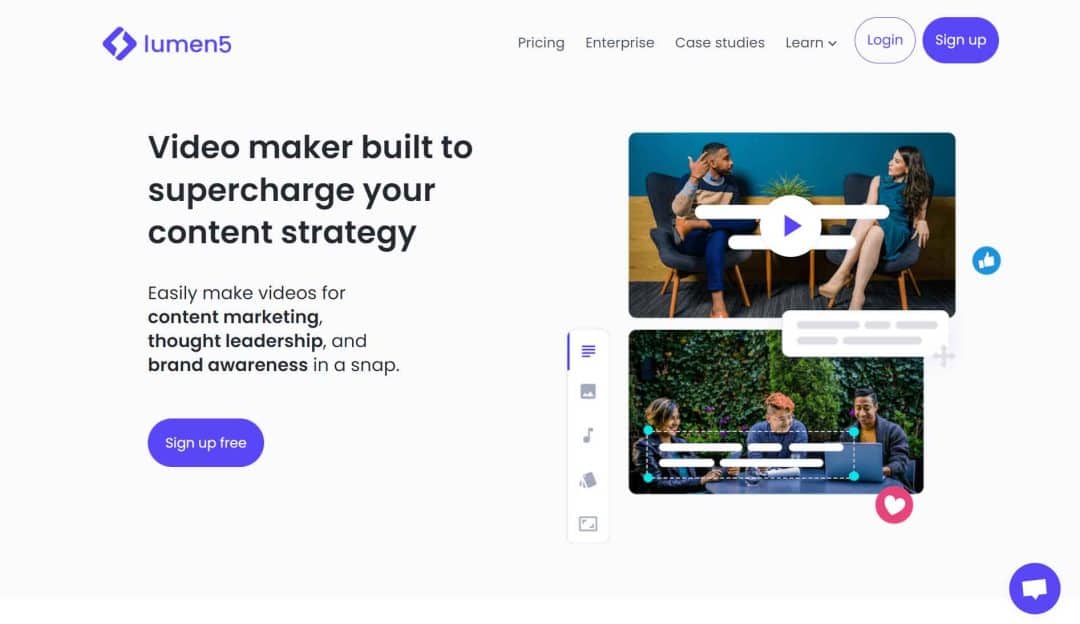 Lumen5 also lets you create and edit videos and upload them to your social media sites in a variety of formats. But the tool's highlight is that it uses AI to convert existing content into videos, including blog articles. Of course, the result can't be compared with elaborately produced image videos but it does allow you to turn long content into convincing video clips with little effort. Just the thing for social media teams that want to exploit the potential of moving images but have limited resources. This comes at a cost of at least USD 59 per month.
10. Wistia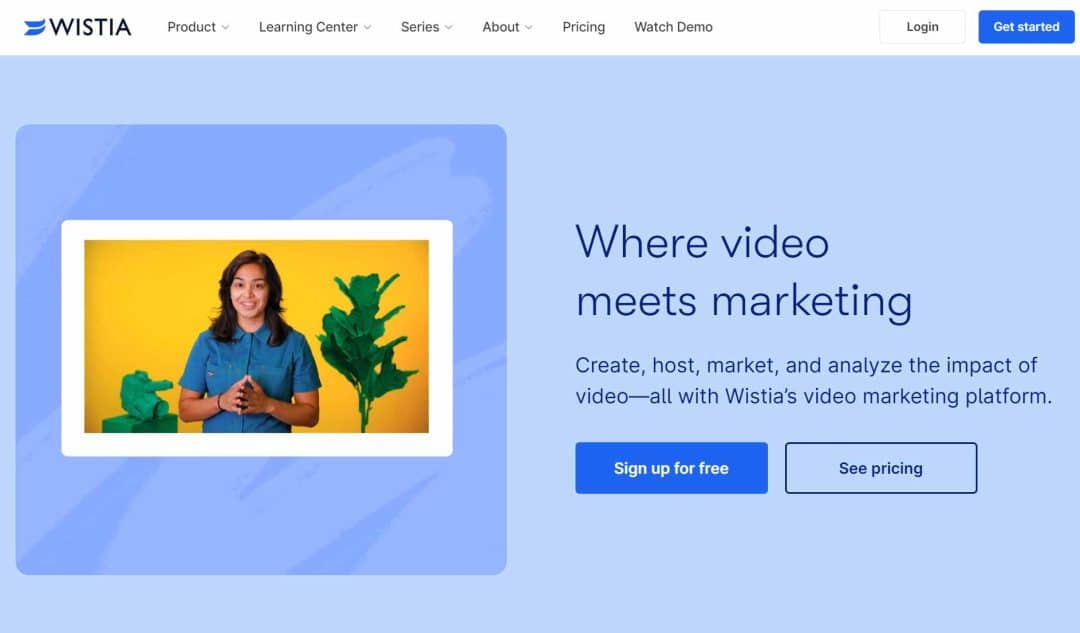 The free Chrome extension Wistia can be installed in a flash. With its help, you can record videos (via a webcam) and edit existing ones. You can also, for example, integrate a free player to play your videos on a website and use the Wistia cloud as a video CMS – with collaboration options to boot. Wistia also includes analytics features including video heatmaps. For business, it is worth getting at least a Plus account, which costs USD 19 per month. However, if you don't mind Wistia's branding and being restricted to 10 videos per month, then a free account will do the trick.
11. Promo by Slidely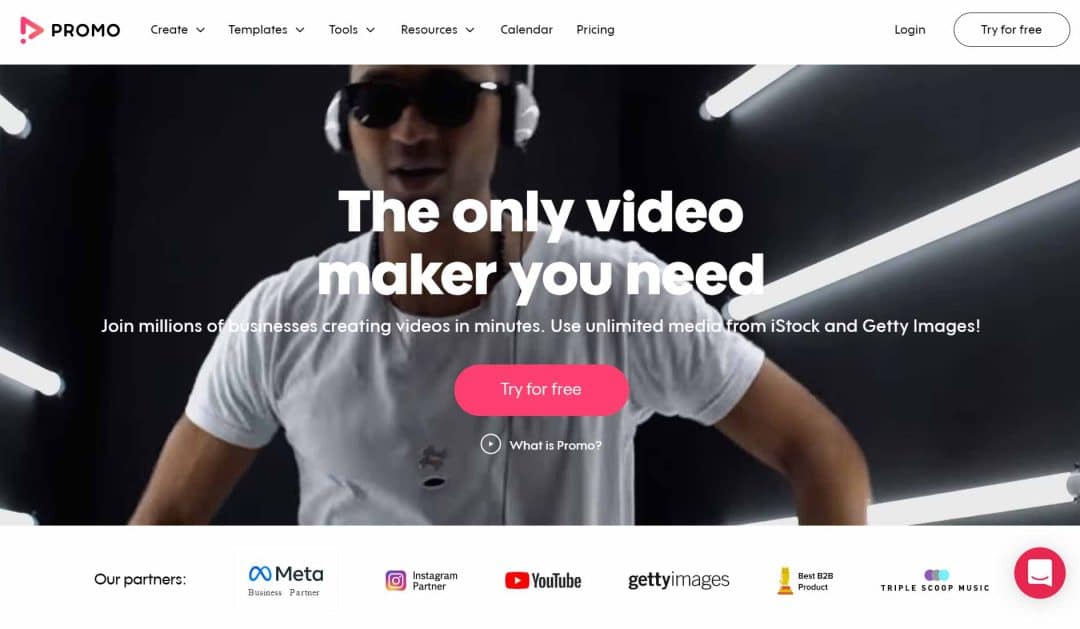 Whether for Facebook, Instagram, YouTube, or even Amazon, Promo lets you create impressive social media videos in no time. Extensive template libraries and intuitive tools for creating and editing your videos help make this possible. You can also edit photos and GIFs with Promo. Prices start at EUR 18 per month.
12. tubics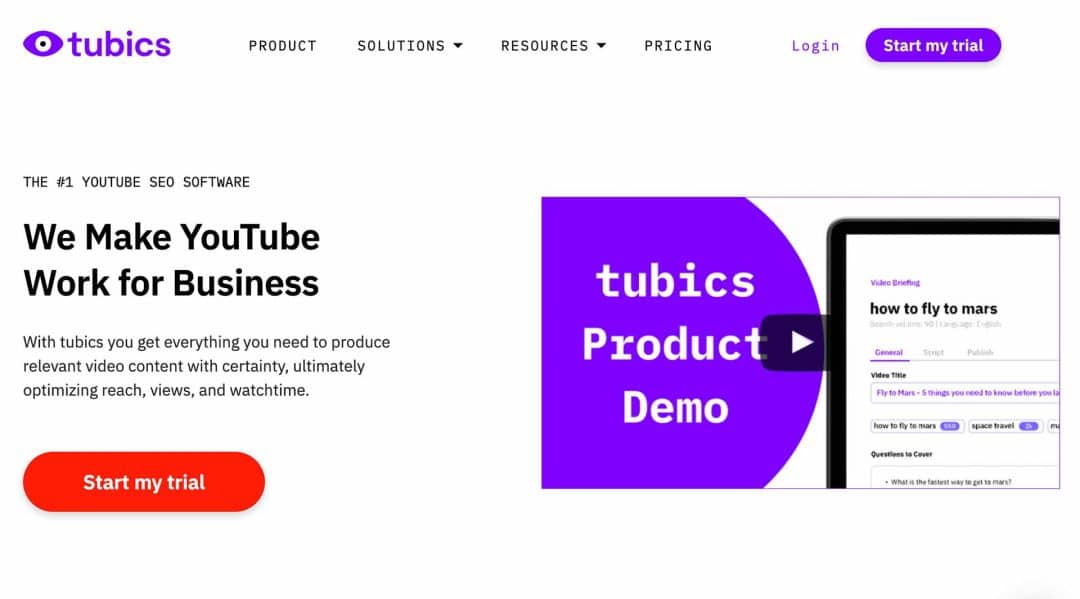 tubics is a YouTube SEO tool that helps businesses and YouTubers get their videos found more easily on search engines like YouTube and Google. It works similarly to search engine optimization (SEO) for websites, but in this case for YouTube videos. Users receive concrete suggestions for optimizing their videos and can implement them directly in the software and monitor the results.
The software generates YouTube tag suggestions based on data from Google, YouTube and Bing. This makes tubics a good alternative to the YouTube Keyword Tool, which was discontinued in 2014.
13. Adobe Premiere Pro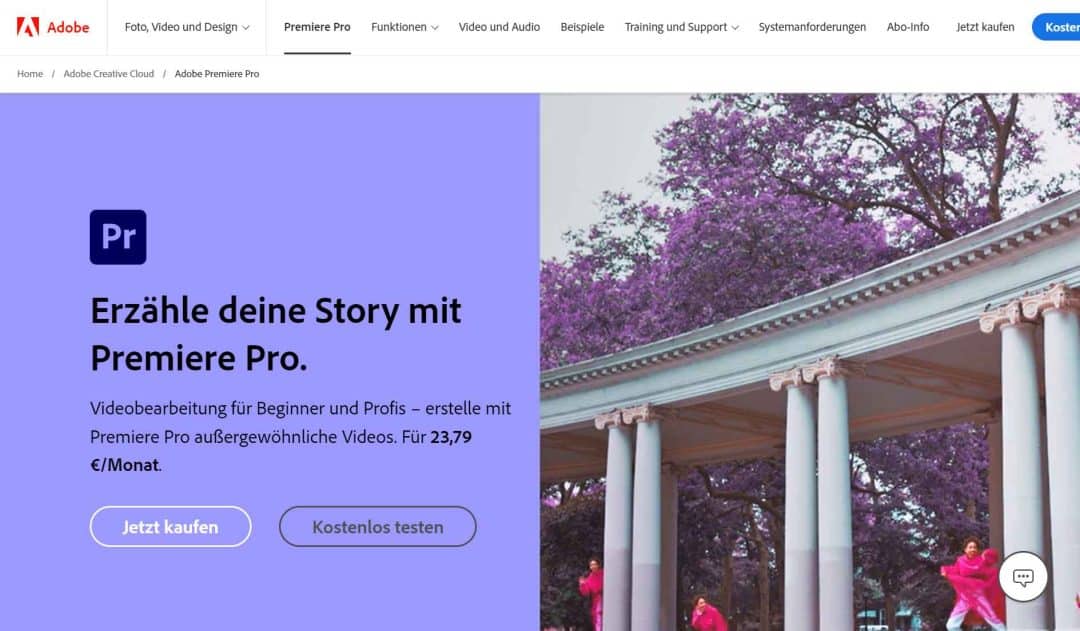 All professionals agree that on the list of video tools, Adobe Premiere Pro sits at the very top. Popular with camera professionals and filmmakers around the world and available as a single subscription for just under EUR 24 per month, the program is suitable for all file formats. Users have countless sound and image editing options at their disposal. However, learning how to use the many features of Premiere Pro can take a long time. For Mac users, we recommend the alternative Final Cut Pro.
14. Adobe Express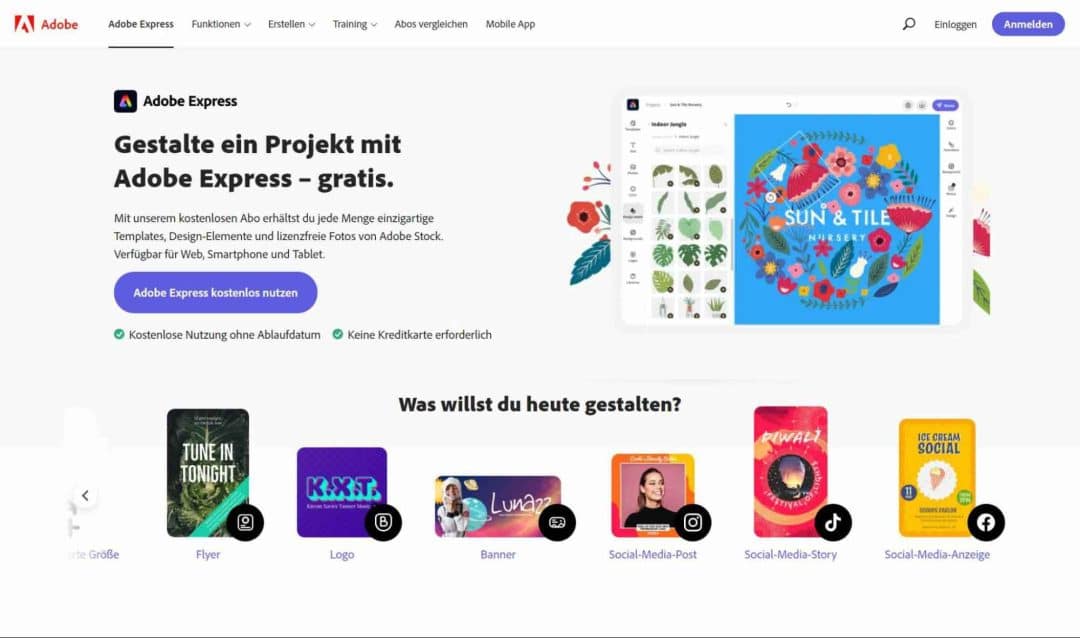 If you want to spend less money, you can use Adobe Express (formerly Adobe Spark). This cloud-based program is specially designed for quickly creating video clips, graphics, etc. for websites or social media channels. The free trial even comes without watermarks. That said, professional social media marketing teams would benefit from upgrading to Premium, which starts at EUR 11.89 per month. 
15. Shotcut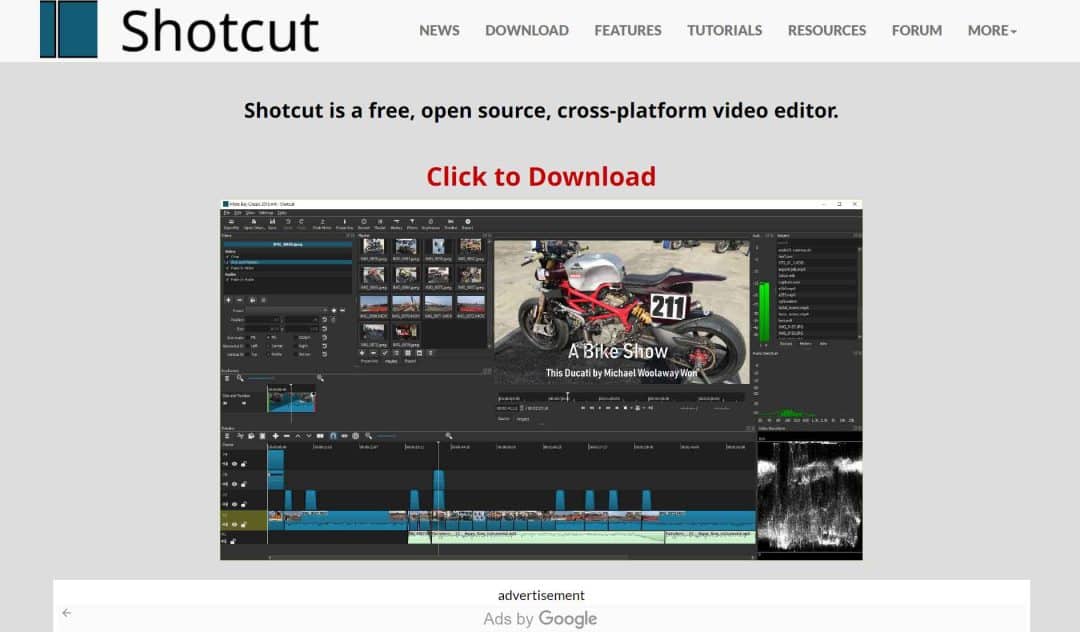 Shotcut is a popular tool for editing YouTube videos – and rightly so. It's free to download for Windows, macOS, and Linux. For a free program, Shotcut offers users a wide range of options for cutting videos and editing sound and images. There are also free plugins for creating effects.
16. Splice
Finally, there's one more app that needs to be mentioned. Splice is aimed at cell phone users, but its cleverly designed interface makes it feel like you're working on a desktop. Whether it's editing, effects, time-lapse, or music, Splice can do a lot – and it's completely free. It's easy to use too. Good things really do come in small packages.
Conclusion
Many people involved in social media marketing are spending more and more time creating and editing videos. Those who get to grips with tools for this at an early stage have a clear advantage. A long learning curve is rarely necessary as many apps and cloud-based programs are easy to use and produce amazing results in no time at all. Still, it's worth investing the time. After all, five billion videos are viewed every day on YouTube alone. If you want to stand out from your competitors, you first have to stand out from the crowd.
Whether it's videos, text, or images, Swat.io supports you in planning, creating, and publishing content. Try it now for free and benefit from targeted reach, effective communication, and a clear overview at all times.
Efficient Social Media Communications With Swat.io