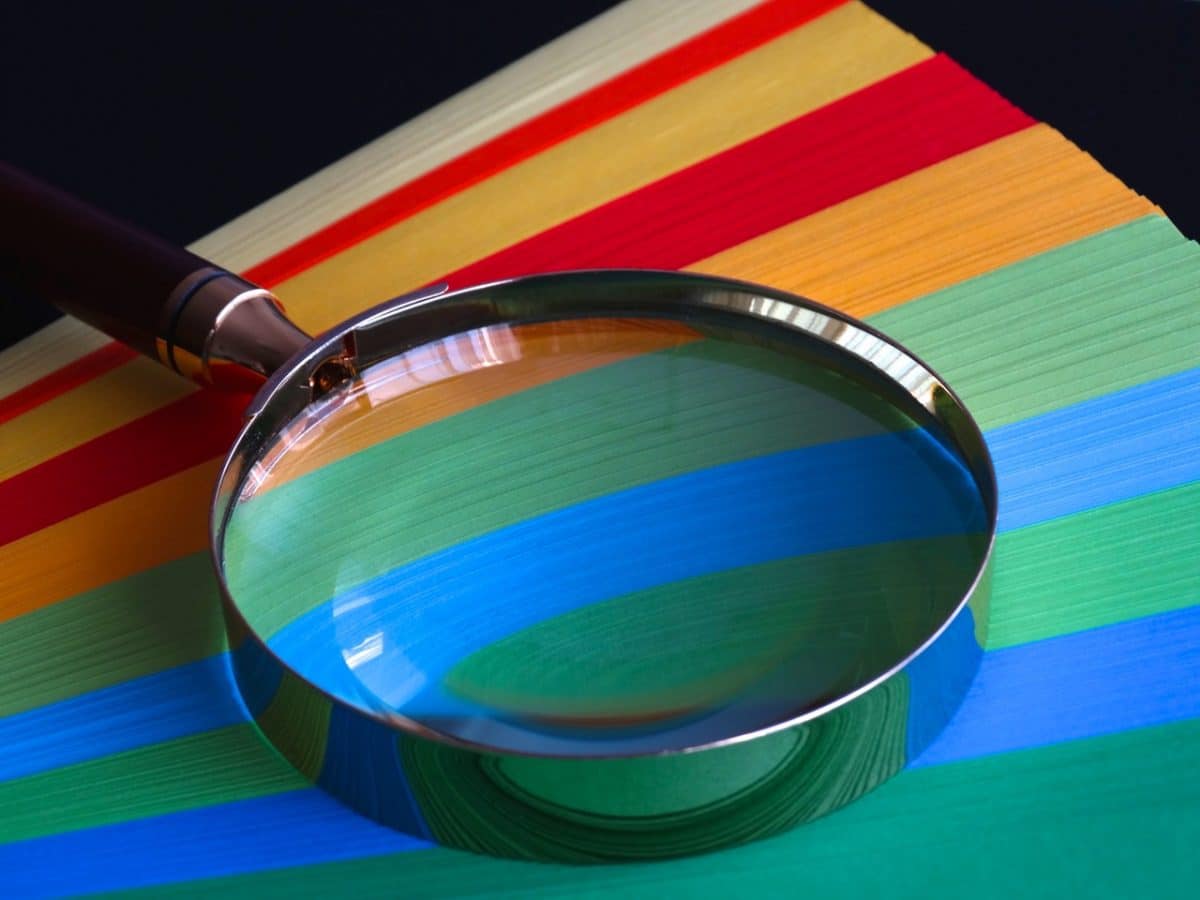 How to Get Started with Social Media Monitoring
Making sure that your organization's desired image is as close as possible to the real image involves keeping a close eye on both websites and social networks. The latter have become the preferred destination for praising and complaining about products and services. Because it's not everyone's intention to mark your brand on social media, you will have to rely on social media monitoring tools and techniques to find out how your brand is perceived.
The Beginner's Guide to Social Media Monitoring
Download our eBook and find actionable advice on how to use social media monitoring to generate leads, provide better customer service, and gain a competitive advantage. The hands-on tips, tricks, and guidelines will help you develop and implement the right social media monitoring strategy for your brand and business
In short, social media monitoring (also known as social listening), is the ongoing process of identifying and analyzing any mentions about your organization, topics, or brands on social media channels with the purpose to interfere when it becomes necessary. There's a bit to learn on the topic of how social media content can integrate mentions, since a lot of messages will be not part of a dialogue with you.
Benefits of Using Social Media Monitoring
As mentioned before, a lot of people turn to social media to express their joy or unhappiness regarding products and services. On top of that, a lot of companies focus on customer feedback when doing product development. Basically, the more feedback there is, the more will the brand know about its audience. When it comes to social media, the reaction time between a praise or a complaint and your brand's response can make or break the company's image. As such, one of the first benefits of social media monitoring is the ability to provide quick responses to complaints and feedback.
Identify #Influencers, dominate competition & react quickly to feedback with #SocialMediaMonitoring.
Using social media monitoring, you can also identify influencers, people whose social updates get a lot of attention from the community. Not everyone who is influential gets paid to mention brands, so you sometimes need to find them on your own. Peer influence plays a great role in how people buy products and services. As soon as you find out who the influencers are, you can approach them directly.
Social listening can also help you keep track of competitors. See what they are doing online, what type of content works for them and how often they post, and take advantage of that. The competitors' weaknesses can easily be turned into opportunities for you.
Not at last, social media monitoring can be used simply for joining conversations with potential customers. Sure, you'll get notifications on each social media platform when you're mentioned directly, but what about industry buzzwords? The only way to find out when these appear in a conversation is to rely on social listening.
Social Media Monitoring Strategy
Your first priority when planning a social media monitoring strategy should be to identify the most relevant keywords and phrases. Monitoring these will help you identify faster and with greater accuracy what people think of your brand. To get started, you should focus on the following types of keywords:
Brand name
Competitors
Industry-specific keywords
Product-specific keywords
Slogans
Names of your organization's executives
Campaign names
Keep in mind that for any of these names, you should consider both the real version and any possible misspellings. Now that you have a general idea of what to look for, you're probably wondering how to do it. Fortunately, there are several social media monitoring tools you could use right away and most of them are free.
Social Media Monitoring Tools
IFTTT (If This Then That), a cross-platform app we've mentioned in one of our recent blog posts, has a high degree of flexibility. Applets known in the past as recipes combine social media platforms with various services so that you can keep track of mentions.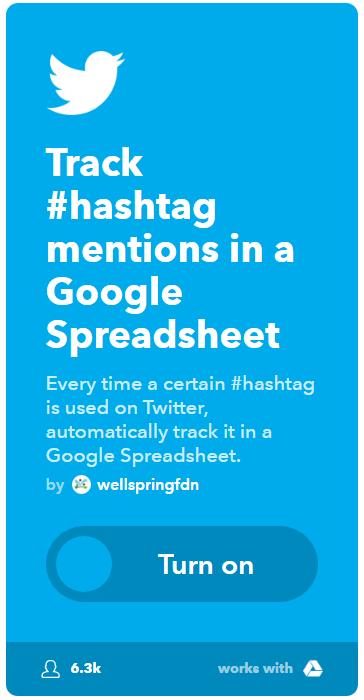 Using IFTTT, you can gather mentions of your brand, keywords or hashtags into a Google Spreadsheet, for further use. Have a look at the social services that IFTTT can integrate in its applets, and see which ones match your context.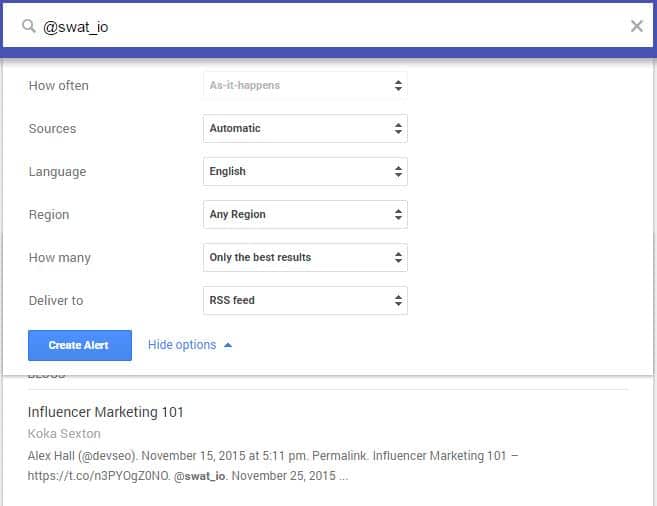 Google Alerts basically sends you notifications via email or RSS feed whenever the keywords you're monitoring are mentioned on the internet. In the context of social media, it can be particularly useful for getting notifications regarding hashtags. All of the following social networks are using these types of labels, so keeping track of them could be useful:
Twitter
Instagram
Pinterest
Google+
YouTube
Tumblr
FriendFeed
Remember that Google Alerts provides a simple, yet barebones option for social media monitoring. Turning to advanced search terms such as "site:www.facebook.com" or "site:www.twitter.com" when entering the query can restrict the alerts to specific pages. If you want to get even more details, you'll need to turn your attention to other, better social media listening tools.
Social Mention, which has a very suggestive name, acts as a search engine for social media. It relies on more than 100 sources to track and measure people's reactions about your company, product or topic. Besides a list of URLs to websites and social networks you've been mentioned on, this tool also provides information on sentiment, top keywords and top users.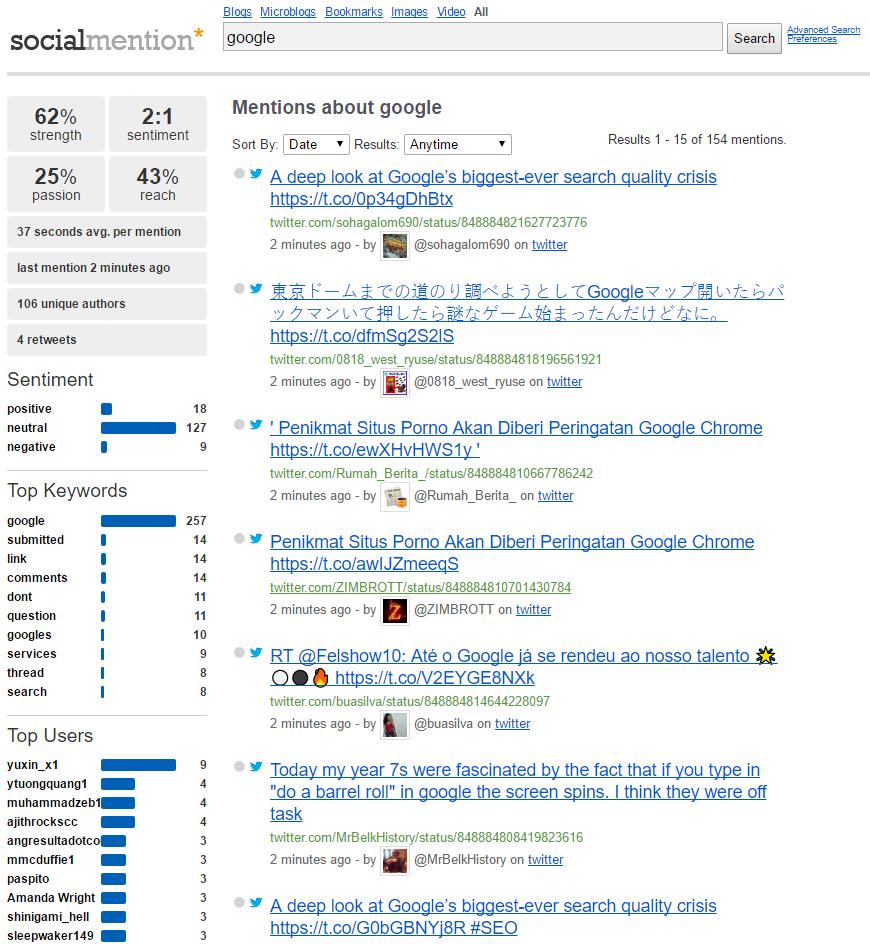 TweetReach focuses mainly on Twitter, so if your main audience mostly uses this social network, give it a try. It estimates your reach, gathers tweets about your brand and gives you a list of the main contributors, their retweets and the number of impressions.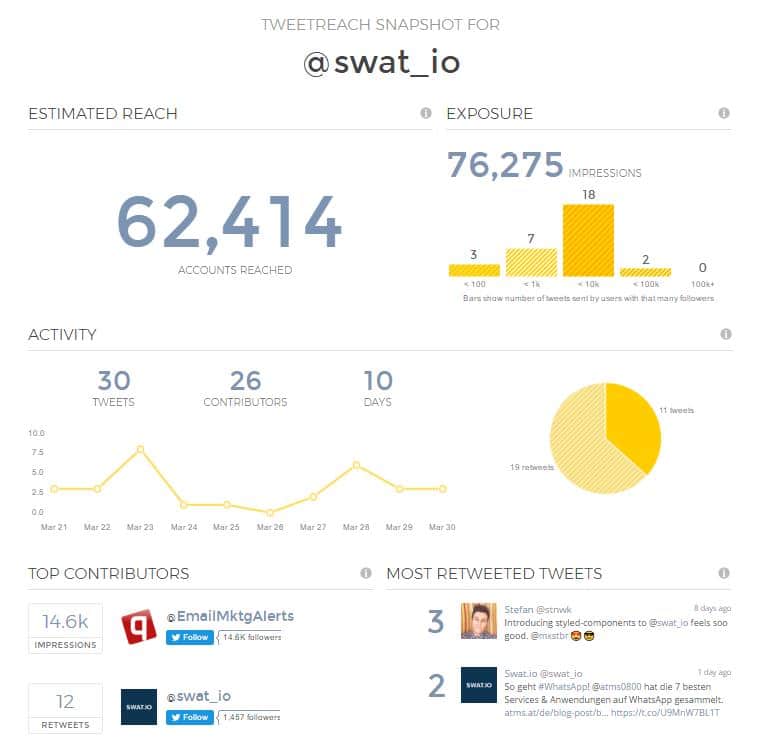 As you can see, some social media monitoring tool developers choose to focus on a single platform, while others can be used across multiple social networks.
Conclusions
Using the right tools and monitoring the right keywords can give you a tremendous advantage over your competition. In addition, you will be capable to assess the feelings of your audience, see how often they mention you and on which social networks. All of these details can be used to better focus your social and marketing efforts in the right direction.
Efficient Social Media Communications With Swat.io
Want to find out more about the social media monitoring discussed above? Stay tuned, as we'll detail each and every one of them thoroughly in our upcoming blog posts. In the meantime, tell us in the comments section below if there are any aspects that we haven't included.