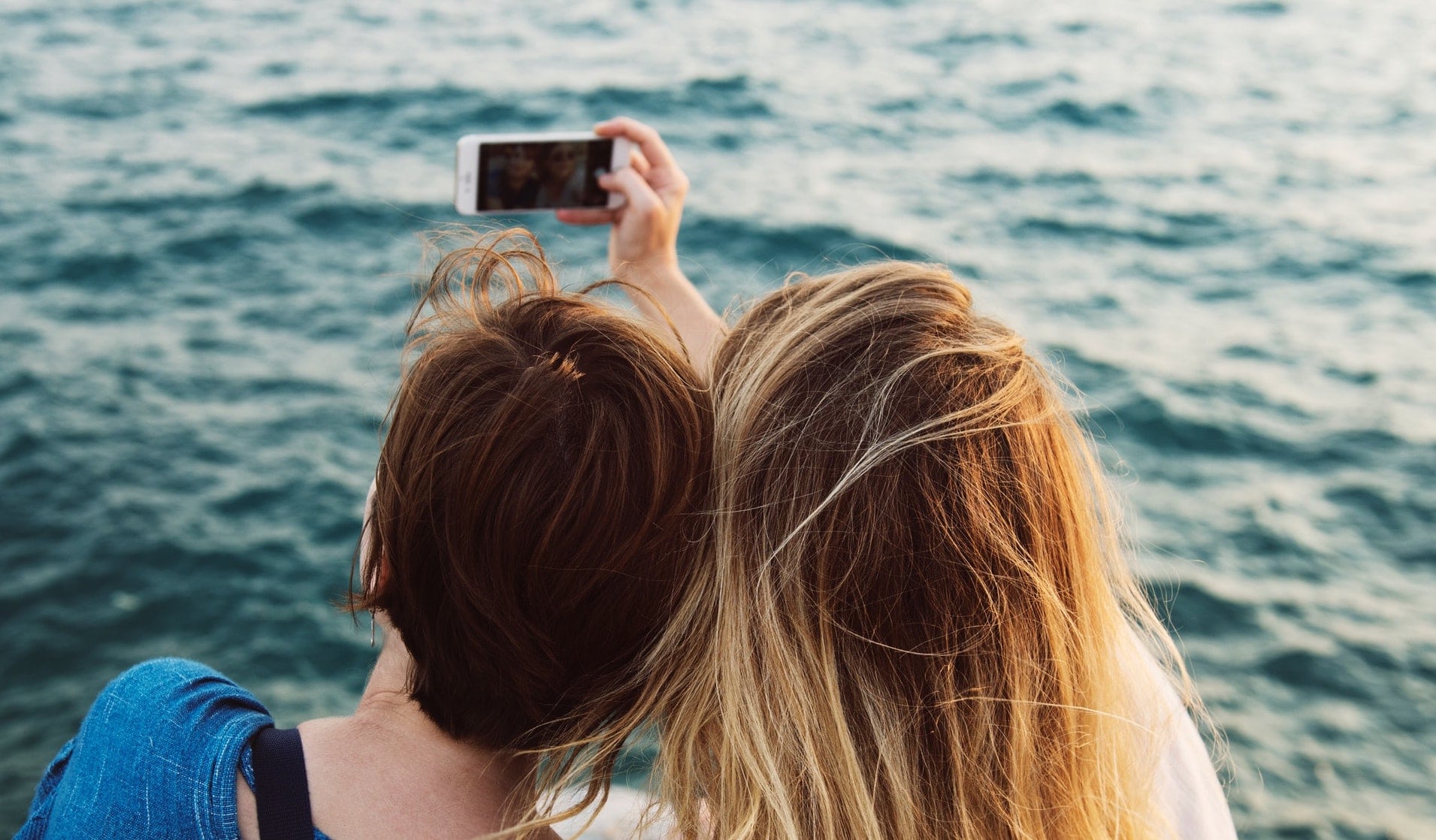 User-Generated Content: Your Secret Weapon for Social Media Marketing
Your Social Media channels are lacking in original content? Let your Followers help you out! After all, User-Generated Content is more than a convenient filler in your editorial schedule. It strengthens your Followers' connection with your brand, and positively influences your brand identity and consumers' purchasing decisions.
There are few things to keep an eye on in order to make the most of User-Generated Content, and in this blog post we'll tell you exactly what they are.
1. User-Generated Content vs. Influencer Content – the differences
User-Generated Content (UGC) is all content that is not created by the owners of an account or page, but by users. At the first glance, this may sound like Influencer Marketing to you – but it is not:
UGC is not produced by online opinion leaders, but by "regular" users.
It is being created without any formal cooperation between companies/brands and users. That doesn't necessarily mean that the creator isn't looking for some kind of compensation, but usually they are not interested in receiving payment for their work.
In contrast to Social Media content that is being created as part of a cooperation with influencers, companies/brands have little to no control over UGC. They may define a framework, and encourage certain outcomes, but there is no way of controlling whether a given user photo on Instagram fits their brand identity.
User-Generated Content is by no means a novelty, and isn't restricted to social networks either. Probably the most common example of UGC are product reviews on e-commerce websites.
Influencer Marketing: The Practical Handbook for Social Media Marketers
Download the free and practical influencer marketing guide for social media marketers. Learn on over 60 pages how to find the right opinion leaders for your company, how to integrate influencers into your campaign and how to develop a campaign from A to Z together with them. This guide gives you everything you need to successfully implement your Influencer marketing campaigns.
2. Why User-Generated Content is so effective
Featuring User-Generated Content has a number of advantages:
More reach: Companies achieve less and less organic reach through Social Media. One of the few things you can do to counteract this process is having private persons create content for your brand. Apart from increasing reach, your interaction rate will also be influenced positively by taking this step.

More trust: Consumers put a lot more trust in their friends' and acquaintances' opinions than in advertisements, as evidenced by Nielsen's global study "Global Trust in Advertising". Trust in ads is on the decline at roughly the same pace as organic reach.

Closer relationships with Followers: Humans are social beings, happiest when in company and able to participate. UGC gives your Followers exactly that opportunity.

More conversions: Even purchasing decisions can be influenced positively by UGC. This of course can in turn be attributed to the trust it fosters.

Low cost: Using UGC is not entirely for free, as is true for other strategies. However, you don't have to pay a salary to users who voluntarily provide you with an Instagram picture. Consequently, financial investments are going to be rather small.
3. How to motivate users to provide you with content
Followers don't simply start churning out Social Media content for your brand because it's a rainy day and they're bored of watching Netflix. Usually, they will need a special kind of motivating factor.
There are two kinds of motivation regarding UGC creation:
Extrinsic motivation
Here, the user creates and publishes content because they are hoping for some sort of compensation from you. This can be a bonus, a special deal, or the prize in a contest. The potential of gaining more reach for their profile can also be extrinsically motivating. In some cases, even the desire to behave altruistically – the joy of helping out someone else – could be at play.
Intrinsic motivation
This is motivation that comes from within. Most often, there is a desire for self-display or the wish to be an active participant in a group of like-minded people.
Most of the time, you will achieve the best results by interconnecting both extrinsic and intrinsic motivation. Consider for example an Instagram contest, where the winner will get a prize, but every participant also has a unique opportunity to increase their individual reach.
When it comes to creating content, it makes sense to elicit help not just from your Followers, but also your employees. Read up on how to encourage them to be successful brand ambassadors, in turn ensuring more credibility and reach in our blog post "Employee Advocacy Marketing with LinkedIn".
4. Integrating UGC into your Social Media strategy: tips and best practices
4.1 Put UGC in the context of products
UCG campaigns really lend themselves to being product-focused. The simplest way of implementing them is by requesting Followers to post pictures with your products, and reference your brand or campaign with a hashtag.
Many fashion producers are running particularly successful campaigns of this type, but BMW has shown that they also work well for cars. Those who have a BMW can show off their car with the hashtag #bmwrepost on Instagram.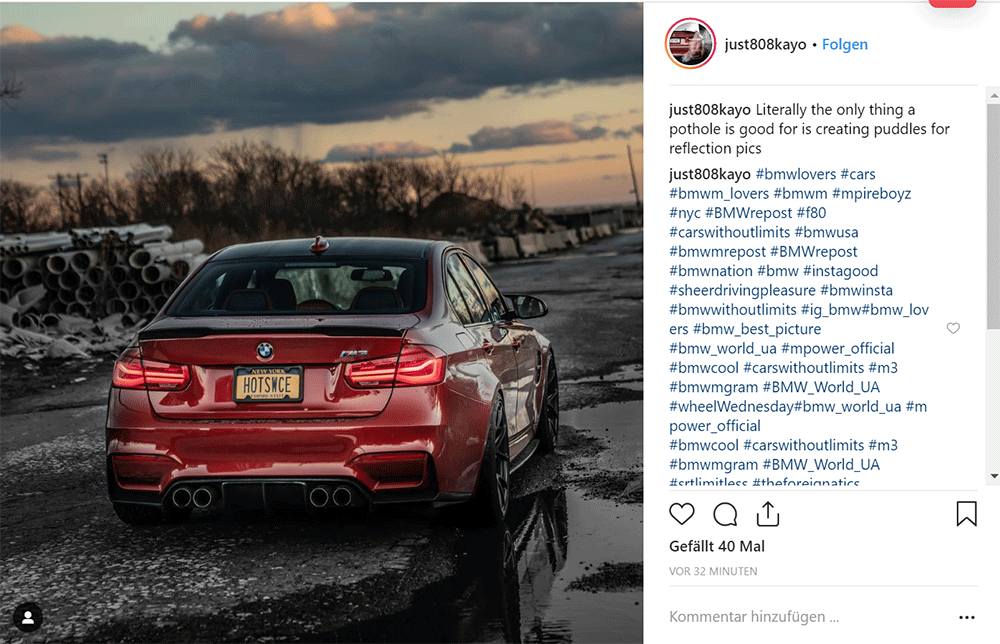 4.2 Organize contests
Contests may have been around forever, but they're still very effective. Not least, this is true for UGC. After all, there is no better motivation for creating content for brands than being able to publicly compete with other users and possibly even win a prize.
One cleverly conceptualized Instagram contest was run by the Prosecco brand Valdo. They encouraged users to publish their own cocktail creations with Valdo Prosecco plus the recipe with the hashtag #WhatsinYourValdo. The winner of the contest was gifted an exclusive trip to Italy for two. Extra smart: The 25 best pictures were chosen by users – an efficient way of increasing interaction. Additionally, the brand was given a whole lot of creative recipes as a bonus.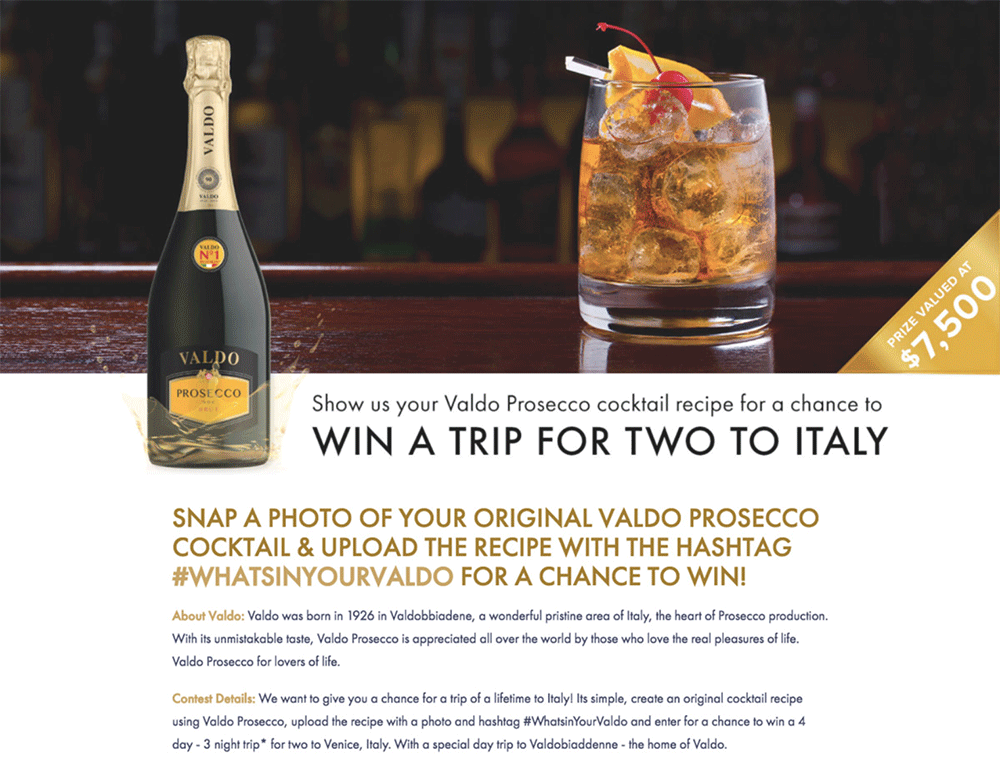 4.3 Use UGC for Stories
Stories are popular across platforms and for UGC, this diverse format is especially well-suited. You can use photos of Followers with your products, pictures that scored highly in a contest, or simply pictures that suit the topic. In any case, be sure to obtain your Followers' permission before using their content.
Converse and their #foreverchuck hashtag are an example of a brand that uses UGC in their Stories regularly.
4.4 Integrated UGC in Ad campaigns
User-Generated Content is not limited to organic content, but can also be used for ads. For instance, you could include your customers' raving reviews into the ad text.
Crown Resorts went one step further and used their guests' photos for Facebook Ads, consistently pointing out that the pictures were not promotional ones, taken by themselves, but photos that were provided by other travelers. Maximum authenticity: check.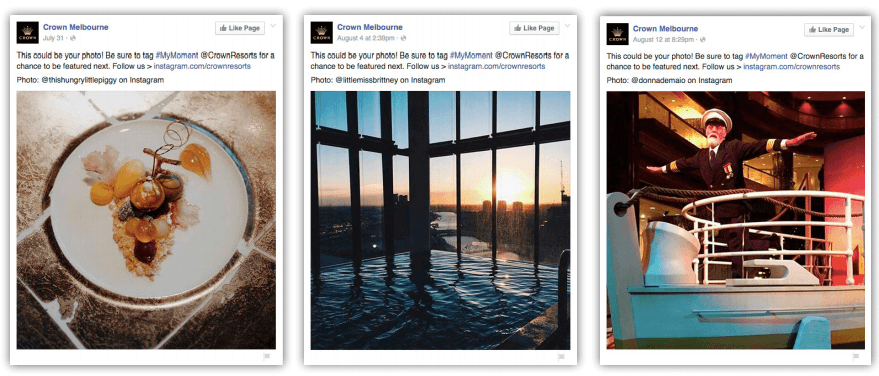 4.5 Present Social Walls on your websites
With a social wall you can go straight from User-Generated Content to sales by using photos and videos from real people to tell your brand story. Here's how:
Embed the wall on your website to integrate UGC published on different channels. On top of that, a physical Social Wall will aid you in raising brand awareness at an event you may be hosting.
5. Copyright laws and how to respect them
One thing that you should always keep in mind when working with UGC: this is content that someone else has created. This means that you cannot simply use any image that fits your brand for your next marketing campaign. Worst case, you will get in legal trouble.
In order to avoid any copyright complications, take note of the following tips:
Always ask for permission before using another user's content. In general, doing so via a comment or direct message should be fine.
Some companies go one step further and have users sign an agreement before using their content.
When you are hosting a contest with a specific hashtag, the right to use any content provided by users is a prerequisite for participating in the contest. In order to avoid misunderstandings, you may want to ask for explicit permission nonetheless.
Don't forget to credit the original creator when publishing UGC, in both the description/caption and as a link
UGC is a manifold tool
User-Generated Content can prove to be a real secret weapon for your Social Media Marketing. This is especially relevant in our time, which is characterized by a growing mistrust in advertisements, while authenticity and personal exchange are becoming more and more important for marketing.
It is key to thoroughly think through how you can find Social Media content created by your users, how you intend to use it, and what your goal is when doing so. This is particularly important since, by using UGC, you are giving away control over your marketing a little. Therefore, you need to be grounded in a solid strategy all the more. All you need to do then is asking for permission – and off you go, venturing into the world of User-Generated Content Marketing.
No matter if you are using your own or User-Generated Content – Swat.io will keep you balanced. Start a free trial now, and discover amazing ways of planning, creating, and publishing content on your Social Media channels.
Efficient Social Media Communications With Swat.io