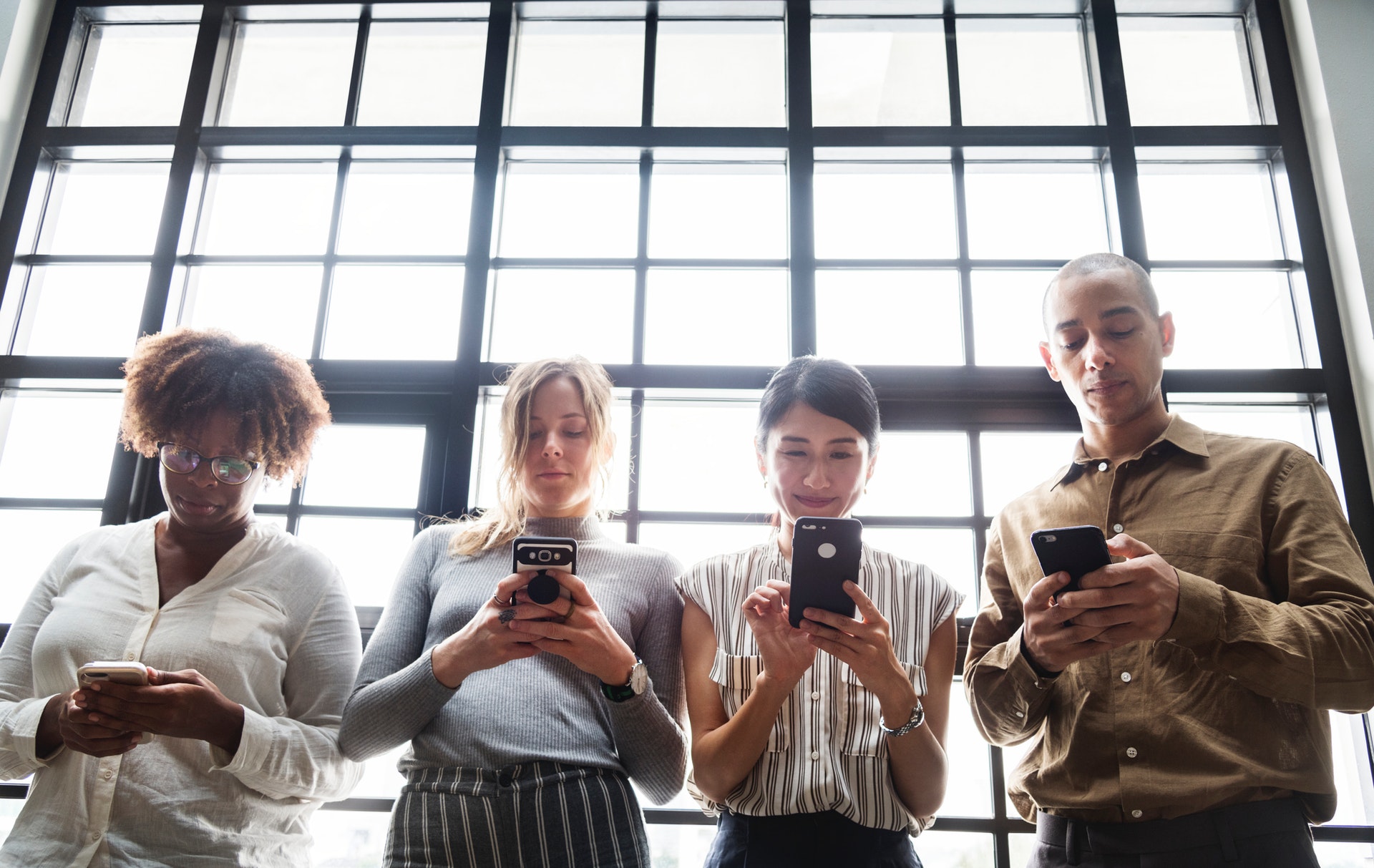 Facebook Messenger Ads: Insider Tips for Effective Facebook Marketing
Facebook Messenger Ads have been a thing for a while now, giving you a chance to get in touch with your (potential) customers right where they are used to communicating all the time anyway. Messenger Ads also allow you to contact your target group directly and in a personal way.
Curious yet? We're going to show you the types of ads available, how to set them up, and why they will be a valuable addition to your Social Media Marketing. Of course, we also have a couple of clever tips for your successful Facebook Messenger Marketing debut.
How Messenger Ads work
Messenger Ads are divided into three categories:
Facebook Messenger Ads
Messenger Ads work just the same way as traditional Facebook Ads. If a person clicks on them, they will be redirected to a destination pre-defined by you. This could be a website, or an app. The fundamental difference to other Facebook Ads? – They are being displayed in the Facebook Messenger, too. "Too", seeing as you can only choose the Messenger as a placement option if you are are also opting for "Feed". Depending on your destination and placement decision, ads are being shown in the inbox between messages, and/or in Messenger Stories.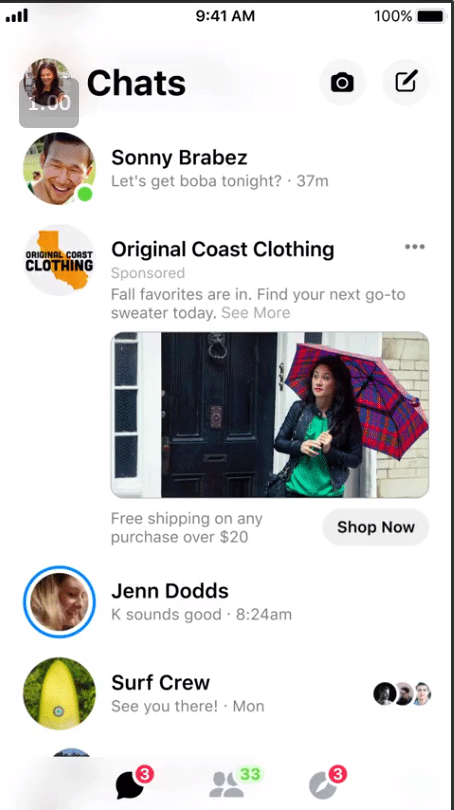 Click-to-Messenger Ads
Click-to-Messenger Ads are particularly popular. They can be placed in various locations on Facebook and Instagram. Clicking on them redirects the user to a Messenger conversation with your company or a Facebook Messenger Bot, respectively. We'll further discuss advantages of this method down below.
Sponsored Messages
Sponsored Messages can be sent directly to specific people, but not to random ones. The prerequisite for this feature is that the person you are trying to get in touch with has been talking to your company via the Messenger before.
Creating Facebook Messenger Ads – A comprehensive guide
How to set up Facebook Messenger Ads depends on the type of ad:
Messenger Ads
Click on "Create" in the Ads Manager.
Select a campaign objective.
Enter placement, target group, budget, and timeline. Keep in mind that the "Messenger" placement is only available if "Feed" is selected at the same time.
Decide on a format. You can choose between the same formats you know from other types of Facebook Ads: pictures, videos, carousel, and collection.
Finalize the process by clicking on "Done" and "Place order".
Click-to-Messenger Ads
Click on "Create" again.
Select either the campaign objective "Messages" or "Conversions".
If you have selected "Messages", now go to the ad set settings and click on "Click to Messenger", if you have selected "Conversions", click on "Messenger".


Now, select a target group, placement, timeline, and budget again.
Choose a format.
In "Messenger Setup", you have two different options for editing the content that will be shown to users once they click on your ad:
Standard template: The content is created automatically, based on best practice examples. You can then use it directly as it is, or adapt it.
Customized template: You create the content according to your ideas, and have text, pictures, and videos available in this step. You can then save the completed ad as a customized template, and use it again for your next campaign.
Finalize the ad.
Sponsored Messages
Click on "Create".
Select "Consideration" – "Messages".
In the drop-down menu in the ad set settings, click on "Sponsored Messages" and then decide on the preferred page.

For "Target group", you have the option of either creating a new target group, or using one you've created previously.
Enter your budget. Keep in mind that Sponsored Messages are automatically billed per number of impressions. In this context, an impression equals a person seeing your message in their inbox.
In "Messenger Setup", you can choose between the two formats "Text only" and "Text and picture".
Enter a message and upload a picture, should you want to include one.
Add buttons or quick replies under "Client activities" (optional).
Finalize the process by clicking on "Confirm" and "Place order".
The advantages of Facebook Messenger Ads
It's quick and easy to set up Facebook Messenger Ads. But why should you get started on it in the first place? Isn't it enough to just place regular Facebook Ads?
There are actually a number of reasons to include Messenger Marketing and specifically the Facebook Messenger in your Social Media Marketing, starting with its widespread popularity.
In 2018, Facebook Messenger was used by 1.3 billion monthly active users worldwide – this huge number puts Facebook Messenger right behind the global number one, WhatsApp. In the US, Facebook Messenger is the undisputed frontrunner, and in Germany, it is growing steadily in popularity. Previously very big messengers, such as Skype, are lagging far behind.
In fact, chances are high that you will reach your target group through Facebook Messenger Ads – potentially higher than by using regular Facebook Ads. Additionally, this way of advertising lets users get in touch directly with your company. A messenger conversation feels personal, even if there is a chatbot at the other end of the line, and personal and direct communication are among the things that people value very highly in social networks. Experts agree: we are moving away from the Feed.
Additionally, Facebook Messenger makes retargeting easier, as people who have had a conversation with your company before by way of Click-to-Messenger Ads can be contacted again later on, easily and with a clear purpose. Since your message won't just be showing up somewhere in the Feed, but in people's inboxes, it will be a lot less likely to be overlooked.
In summary, you gain the following advantages by using Facebook Messenger Ads:
Wide reach
Direct, personal contact with your target group
Easy retargeting
Chatbots aren't new, but in the wake of the rise of Messenger Marketing, they are growing in relevance. Download our e-book "Chatbots – Conversational UI and the Future of Online Interaction" for free right now and learn more about the enormous potential that chatbots have in store for your company, and how to make use of that.
Chatbots – Conversational UI & the Future of Online Interaction
Download our eBook and learn about the history of chatbots, the most relevant messaging platforms, innovative use cases and best practices from international companies. We've included interviews with 5 experts in chatbots and conversational UI. Find out how chatbots are changing online interaction for both individuals and businesses!
Tips and Best Practices for successful Messenger Ads
Whether in the News Feed or in the Messenger – every ad campaign is only as successful as your ads permit. The following tips for both beginners and advanced marketers will make it easier for you to tap Facebook Messenger Ads' full potential.
The first impression counts
No matter if you are using regular Facebook Ads, or Facebook Messenger Ads: Attractive visual content garners attention. Autoplay videos are even more efficient than pictures, and equally as important is an eye-catching call to action.
Use Ads as the starting point for a sales talk
When someone sees an ad for an interesting product, first of all, they might have some questions. By using Facebook Messenger Ads, you are giving people a chance to ask all those burning questions right away. Try out engaging appeals such as "Find out if this product is right for you". This way, you are turning Facebook Ads into the first step in your consultation or sales pitch. Of course it's necessary to actually answer all relevant questions, for instance by making use of a cleverly set up Facebook Messenger Chatbot.
Purposefully shorten the Customer Journey
You have a much greater chance of a customer making a purchase, if you are keeping the customer journey short. That doesn't work all the time, though. Sometimes, as we have stated above, it makes more sense to offer consultation. In other cases however, it is best to make a purchase with just a few clicks. Seize this opportunity and make it as easy as possible for your customers.
Sephora, a popular beauty store chain, did a particularly good job at this. They enabled for people to schedule an appointment at a nearby store through a messenger bot.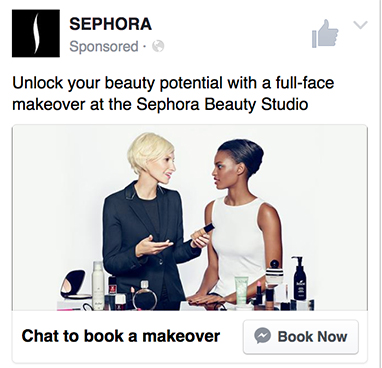 Use Messenger Ads to build up new target groups
Obviously, it is not just potential customers who have questions for you. You can also use Messenger Ads to get to know your customers better. This way, you can optimize your targeting step by step, and create ads specifically tailored to a particular group of people.
Among the companies using this tactic particularly well is Shop Spring.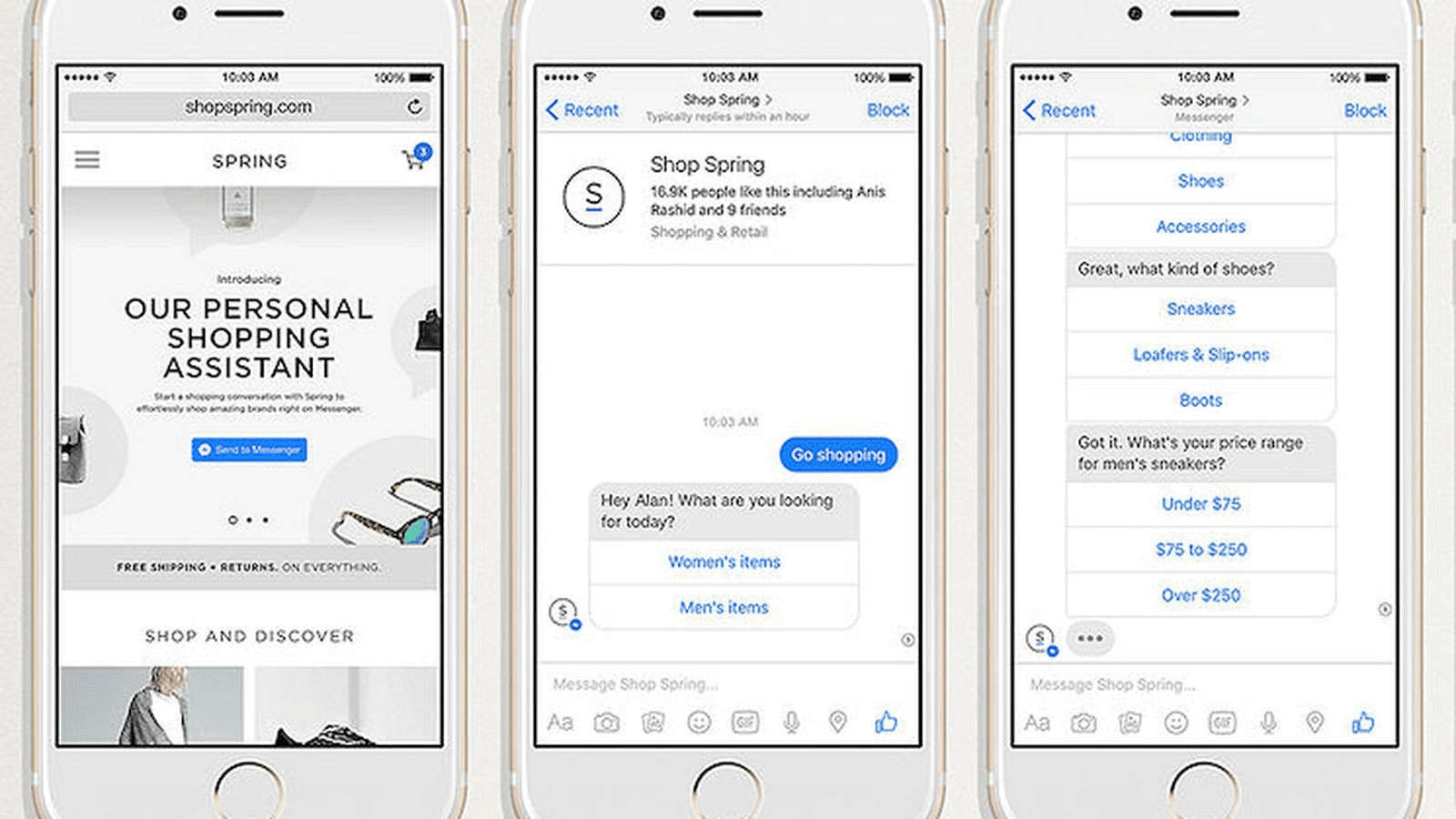 Advertise through special deals and promotional offers
Messenger Ads are ideal for drawing your target group's attention to special offers. You can do so in a variety of ways: You can send Sponsored Messages with special offers created according to their interests to specific customers. You can also advertise your summer sale to everyone. Or you can come up with something extra special to catch people's attention.
In this context, an ad campaign run by Absolut has practically gained cult status. They invited people in various US regions to pick one of three cocktails in Facebook Messenger. Subsequently, these people received a code which got them this particular drink for free at a local bar. According to Absolut, their campaign exceeded all of their expectations.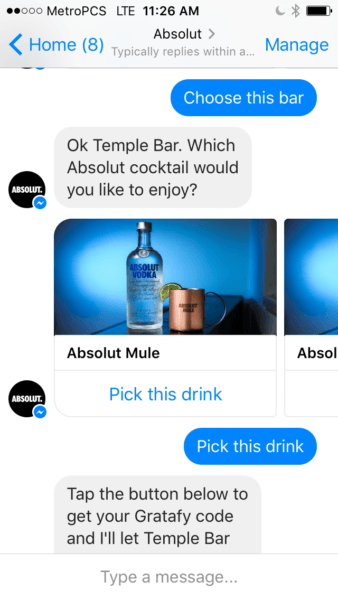 After the purchase, keep up the conversation
Placing an order is not where your conversation should end. For example, you could offer your customers the option to track their shipment through the Messenger, ask them for feedback, or inform them about follow-up offers. This way, you'll keep in touch in a natural way.
Messenger Ads live up to their full potential when used scarcely
Messenger Ads are versatile. They are useful for strengthening brand awareness, winning new leads, or closing a sale right away. The fact that all of this is taking place in the personal sphere of the people you are communicating with can be a great advantage, provided you have the right instincts for this kind of communication.
Your Messenger Marketing can easily come off as aggressive if you are bombarding your target group with Sponsored Messages. If you are instead moving at a slower pace, your chances at success are much higher. This way, people will appreciate the opportunity to get in touch with your company quickly and directly.
You want to optimize your Social Media Marketing? With Swat.io, you are at an advantage with a shared calendar for planning, creating, and publishing content on various channels, an all-in-one solution for customer care, and much more. Start a free trial now!
Efficient Social Media Communications With Swat.io