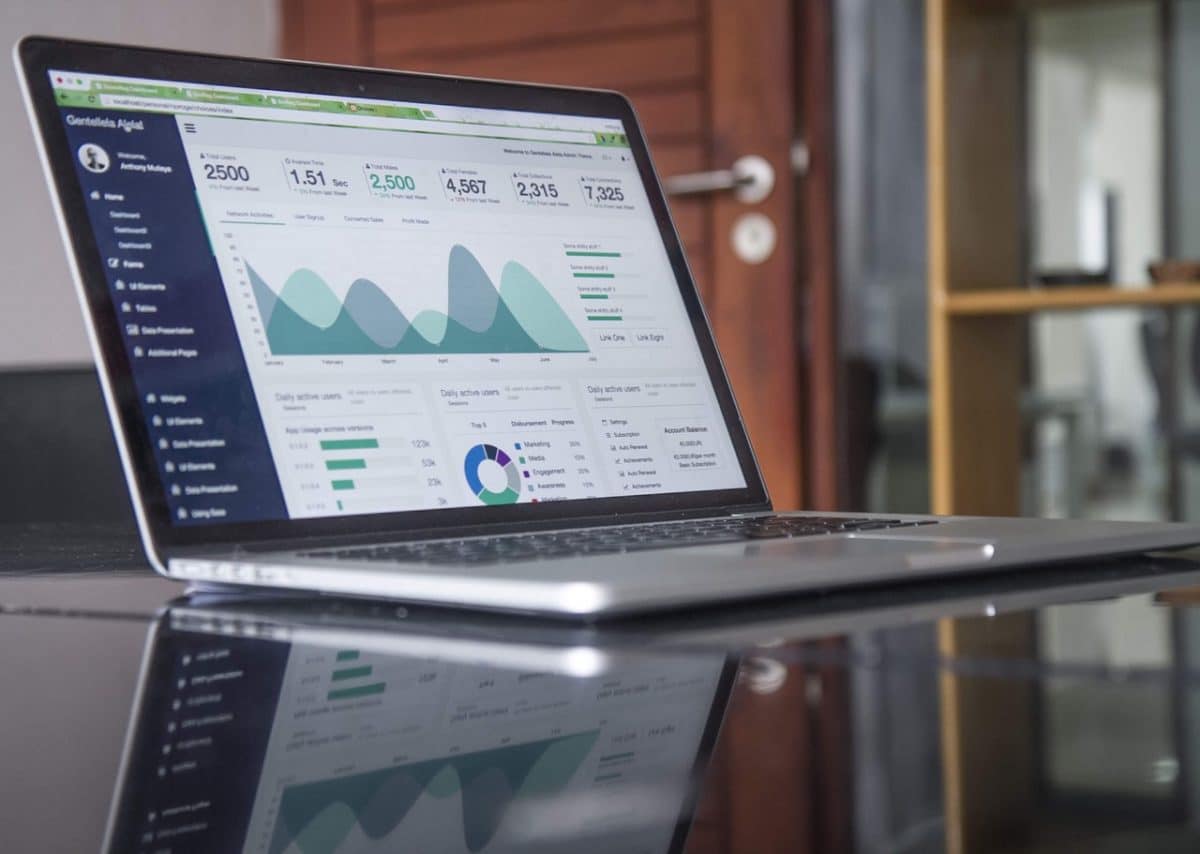 How To Measure Content Effectiveness with Social Media Content KPIs
Keeping track of your social media content's performance is an essential step in the content publishing process. Past and actual performance enable social media managers to pivot whenever necessary, not to mention that it can help them take better decisions and adapting their social media strategy. Regardless if you're just getting started with your social media campaigns or are looking for a change, knowing what Key Performance Indicators to track will let you assess the effectiveness of your tactics and the strategic objectives to focus on.
Before taking a look at the main categories of social media KPIs, you should know that each of them is tied to a social media goal, which in turn should be aligned with your main business objectives.
Main Social Media KPIs to Monitor
The main KPIs to focus on, in order to ensure that your business is not wasting time and money by reporting on efforts that aren't generating results, include:
Reach and engagement
Site traffic coming from social media
Social media return on investment (ROI)
To have a clear image of your social media content's performance, you should prepare regular reports based on your social media content KPIs. Assessing the above metrics every week will enable you to pivot quickly whenever necessary. While reach and engagement can be tracked on the social media platforms themselves, to monitor traffic, conversions and revenue coming from social, you will need access to Google Analytics or another web analysis tool.
Paid social marketing metrics are also worth looking into, as they indicate whether the money invested in social media actually help your company reach its objectives. Unlike previous KPIs, these should be monitored daily so that adjustments are made before overspending or targeting the wrong audience.
How to Measure Reach and Engagement
To get things started, let's first take a look at what reach and engagement are. The former refers to the number of people that can see your message. The latter includes all sorts of interactions people have with your content, from clicks and likes to reactions, comments and shares. The engagement rate is defined as a ratio between the number of people who have interacted with your content and the reach of your post.
The formula to calculate your engagement rate
Engagement Rate = # of people who have engaged with the content / # of people who saw your post
Even though appreciation is expressed differently, as one social network's "Retweet" is another platform's "Share," it can all be monitored and measured. Reach and engagement metrics are revealing the number of people that saw your content, as well as the number of people reacting to your message in one way or another. In this regard, some of the KPIs you should keep an eye on:
Post Reach / Total Reach
Fans or followers gained/lost
Active followers
Engagement or Interaction Rate (Content Likes, Shares/Retweets and Comments)
Mentions
You can find these metrics in the analytics platform of the social network that your target audience uses. Once you identify them, you can save them to a separate file, in order to have them ready for a report.
The Art of Social Media Content Creation
Download our eBook and learn how to plan, create and distribute your social media content while measuring its effectiveness on your relevant social media channels. To ensure you don't miss out on any big social media content trend or best practice, we've also included interviews of 5 experts in this field. Find out how to master the art of social media content creation using the latest available tools and determine what type of content makes your audience tick!
LinkedIn's recent website overhaul has moved reach and engagement from where they used to be. Provided that you're logged in and that you're an admin of a page, you can see the reach and the engagement by clicking on Manage Page and then scrolling down until you see these two graphs. By default, LinkedIn displays the reach and engagement for the past 15 days, but that period can be changed, so you can even track the performance of your updates on the last six months.

Facebook Insights features a similar section for tracking both the reach and the engagement for each update. Social media posts with greater reach and engagement should serve as a model for your future organic and paid campaigns. However, the reach and engagement of paid campaigns are displayed separately, in the ads manager of each platform.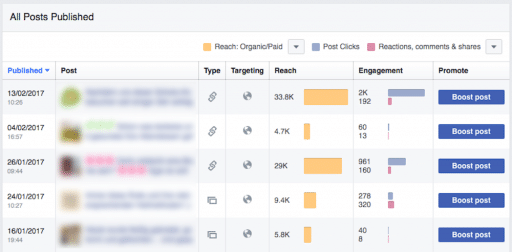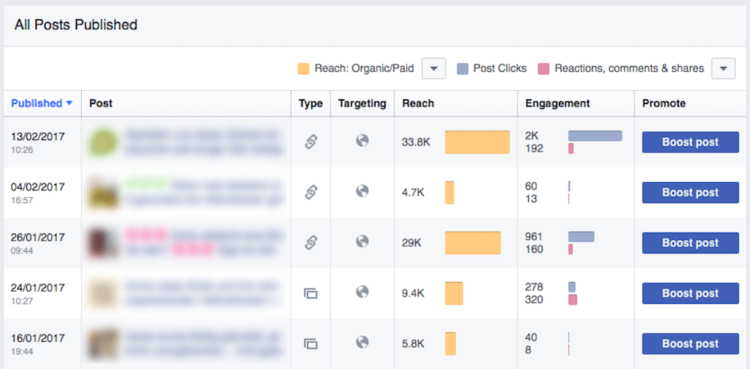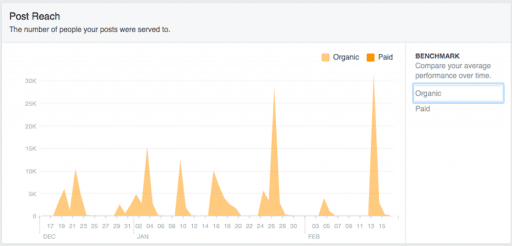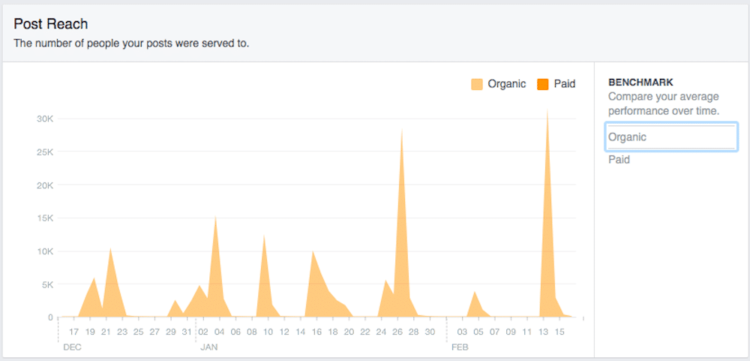 On Twitter, you can get access to this data by clicking on your profile image in the upper right corner and selecting Analytics from the drop-down menu. For example, the reach is determined by the number of people who have viewed your tweets in the past 4 weeks.

This is merely an overview, as you can see a breakdown of the reach that each Twitter update got. Bear in mind that the period can be customized, so you can actually get an idea of how each tweet performed.
Monitoring Site Traffic Coming from Social Media
Website traffic from social media can also act as an indicator of how well your social media updates perform. To find this out, you need to log into the Google Analytics dashboard, go to Acquisition, select Channels and then click on Social. What you will see next is the number of sessions coming from each social network, like in the following image.

The above will help you determine if people who like and share your social media updates go beyond that and actually click on your links.

On the other hand, if you need to see how much traffic from social a particular landing page has gotten, you should log into the Google Analytics dashboard, go to Behaviour / All Pages and type part of the URL in the search box next to the Advanced link. Then select Social Media from Secondary Dimension and see on which social networks the views originate from.
Based on these numbers, you will know which social media updates perform well and which platforms require additional efforts.
Social Media Return on Investment Indicators
Let's first take a look at what social media ROI actually means. Begin by tracking all of the costs involved by your social media activities. That range from the wage paid to the people doing the research, posting the updates and reporting the results to the money invested in paid advertising and in social media management tools used for scheduling the updates. Basically all your expenses that are necessary to market your brand on social media. This is called the monetary investment.
To figure out the ROI of social media content, you'll have to identify the types of activities and the amount of potential customers they are drawing. Next, you should also find out the messages that makes them convert. The social media ROI indicators you should be aware of include:
Traffic
Sign-ups, inquiries, downloads
Qualified Leads/Customers
Customer Lifetime
Sales and Revenue
Then attribute a value to each social media goal, which can range from sign-ups, and downloads to leads and customers obtained through these activities. Social media ROI is calculated like this:
ROI = (return – investment) / investment
A positive ROI indicates that your efforts are not in vain, and moreover, that you should invest more resources in the same general direction. In the contrary, a negative social media ROI suggests that there's a need to make changes either in the content or in the audience you're targeting. Start with small changes, so you can keep track of the results, and see which yields the best outcomes.
Of course it's not that easy to calculate the ROI for social media with all criteria involved, but it's better to have an approximate number than none you can focus on to optimize the effectiveness of your social media content. Keep your business objectives in mind at all times, correlate them with your social media content KPIs and see which metrics really make sense in your business context.
Paid Social Marketing Metrics
Your paid social media marketing metrics are equally important, as they can reveal whether your investments have any effect on the audience you're currently targeting. Kepp the following KPIS in mind to pick the right metric that matters depending on the ad type you are using and the goal you are hunting for:
Cost per Lead
Cost per Sale
Revenue Ratio
Cost per Thousand Impressions (CPM)
Cost per Click (CPC)
Cost per Download
Cost per View for video ads
To keep track of these KPIs, visit the ads manager of each social media platform you're running paid ads on. Since all of them are monetary investment metrics, abnormal values require immediate action. For example, if the CPC is too high, it means one of two things. First, your audience is too broad and should be narrowed down using additional criteria. Secondly, you're bidding against companies who can afford large investments in social media. If narrowing the audience is not an option for you, make sure you set spending limits or rules for each ad set.
Final Thoughts on Social Media Content KPIs
Social media has become an indispensable part of digital marketing. In fact, some businesses deciding to ignore this opportunity are doing themselves a tremendous disservice. As a social media marketing manager in charge, you should be aware of all the KPIs that are relevant to your social media and business goals. Keep a close eye on your social media ROI at all times and focus on the metrics that can help shorten the way between your brand and its objectives. If at all possible, build your own dashboard in order to keep track of the social media content KPIs that matter to you.
Efficient Social Media Communications With Swat.io
Think there are any social media KPIs we left out? Please mention them in the comments section below, along with some arguments on why businesses should mind them.