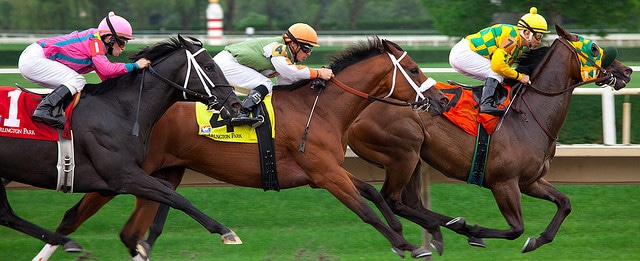 Social Media KPIs for Dummies
What Are the Social Media KPIs that You Should Be Tracking?
Social media engagement, the new industry buzzword that promises to revolutionise marketing as well as customer services and bring loads of benefits along the way. You know it has to be valuable, continuous, on different social media platforms, etc. but what exactly should you be measuring in order to know whether you're doing it right or not? Here is a selection of the top social media KPIs that you should be tracking on a regular basis:
Community Size – Fans and Followers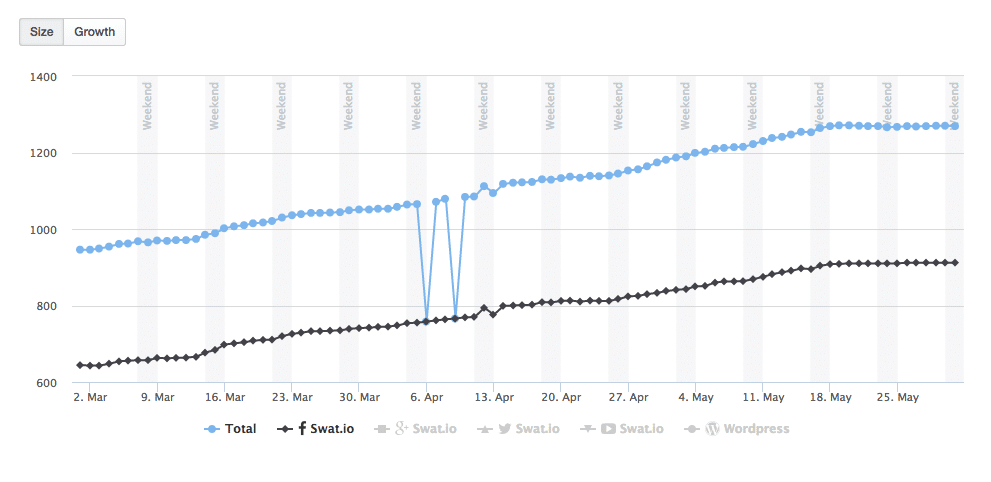 Community Size can be tracked in absolute & relative (Growth) numbers.
Community size represents the number of people who are connected to or follow your profile on Facebook, Twitter, or on another social media channels. Although many are generally aiming for this number to be as high as possible, it's important not to get sucked into the idea that more fans and more followers alone represent a sign of success. It's true that the more people you reach, the more likely you'll be able to convert some into customers and then into brand evangelists, but make sure that you also cultivate those relationships in a meaningful way.
Demographics
The demographics of the fans and followers you attract represents an important element that can help you understand the success or the failure of your social media campaign. Basically, the demographics help you shed light upon how well your fans and followers fit your target audience by analysing variables such as age, gender, interests, socio-economic status, and perhaps most importantly location of your fans and followers. Available information on demographics differs widely for each social media platform – Facebook generally offers the most comprehensible data.
Social Customer Service – The Essentials
Social customer care is quickly becoming a company-wide approach that involves all departments and a common social media engagement strategy. Is your business up for the challenge? Download our eBook today to find out!
Engagement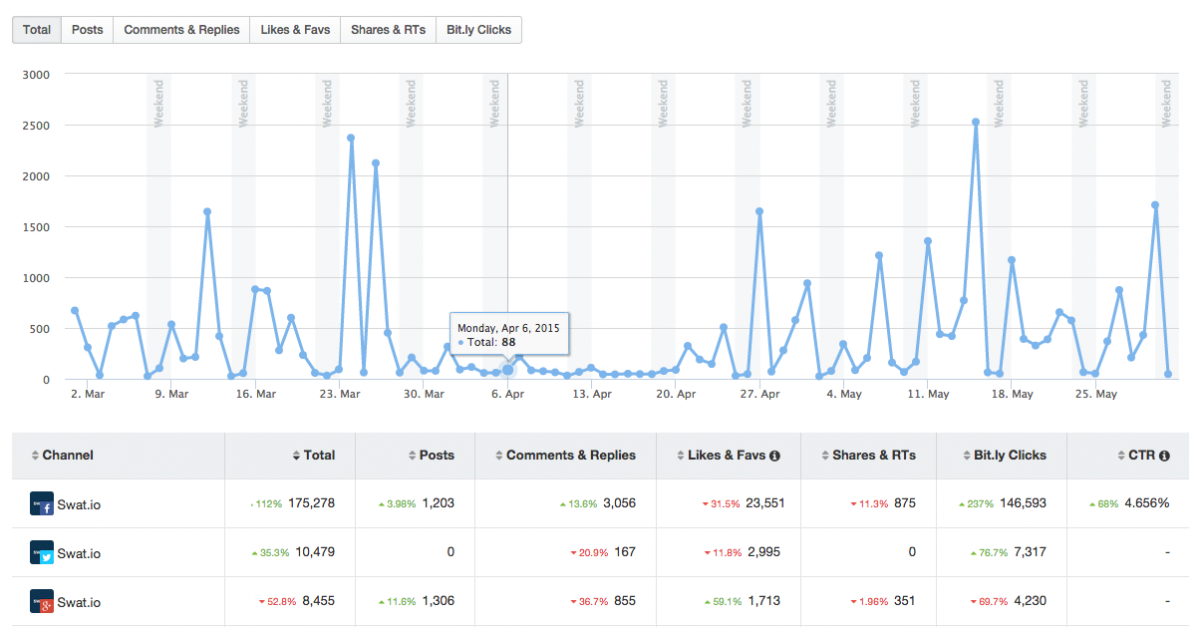 Tracking the various ways of community engagement in a unified dashboard is crucial.
Likes
Normally, "Likes" should be seen as good signs of a social media campaign gaining some traction. However, remember that taken only by themselves, they are not solid proof of anything more than maybe a well-chosen photo illustration or timely post.
Favourites
While liking a post is Facebook's way, the rough equivalent on Twitter is the favourite. As with 'likes', favourites could be a sign that a campaign is gaining traction but you should not fall into the trap of making favourites your ultimate goal. Clearly enough, if you're achieving plenty of favourites but sales are still stagnant, there is still work to be done.
Comments
We all agree with the fact that typing a comment supposes an extra effort which demonstrates a deeper level of engagement with your post or tweet. Comments, be they positive or negative, are a source of immediate and valuable feedback from existing customers as well as potential ones. Be sure to implement it into your business and adjust your social media campaign accordingly.
Mentions
While comments are people talking to you, mentions are people talking about you. Always track the posts that mention your company name. Remember that on platforms such as Twitter, these mentions can be customers or potential customers reaching out to you with different queries. Therefore, ensure that you make engagement a core element of your social media strategy. It important to track your mentions, but also to react to them!
Sentiment
In broad terms, sentiment can be either positive, negative, or neutral. Take the time to look at the feedback you're receiving, the words that people use when interacting with your brand, the tone of the comments that appear on your social media streams, etc. Using a social media management tool can really help you understand how your campaign is going.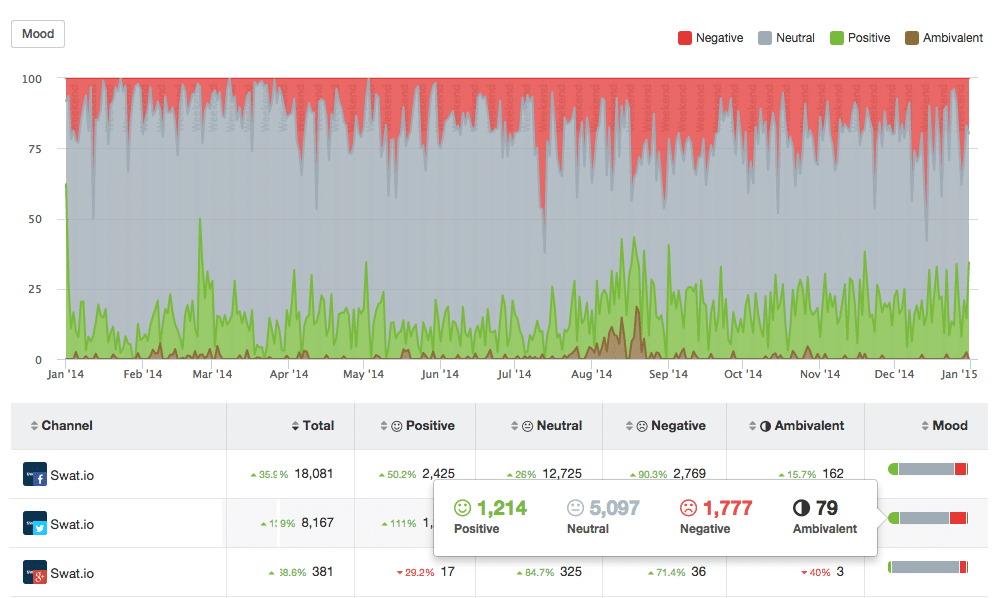 This graph shows the sentiment or "mood" of a community over time.
Shares
As you know, your audience can share your social media posts on various channels. Additionally, major social networks allow you to track the sharing of your articles, posts, and tweets within their own networks. You may want to keep track of the number of shared posts as well as investigate a bit among those who share them in order to understand if your social media campaign is gaining traction, as well as identify who is becoming important as a brand evangelist for your company.
Retweets
Retweets are a specific to Twitter, they are public, immediately visible and can be tracked easily. What retweets basically do is allowing your tweet (message) to quickly move from your potentially limited audience to a much larger audience. When a tweet gets retweeted by dozens of people, you will see your reach increase as you attract new followers. Apart from amplifying your message, retweets also provide you with new opportunities to engage and build relationships.
Referral Traffic ("Clicks")
For many brands, generating traffic to their website is a primary goal of their social media strategy. What you should do is investigate and analyse the most commonly used navigation paths among social network referrals and use the gathered data to optimize your website and social media presence in order to make the most out of this traffic. Using a link shortener like Bitly is an easy way to track referral traffic generated from your social media channels.
Make Customer Issue Resolution a Top Social Media KPI
Nowadays, customer service revolves around creating meaningful connections with customers, regardless of the channel they use to reach out to you. We see more and more people using social media channels for issue resolution and it is expected that the numbers will increase in the future. In this context, speed of reply via social media is a crucial aspect, with 72% of customers expecting complaints made on Twitter to be answered within an hour. You should always know what channels your customers use to reach out to you in order to ensure that the busiest channels are monitored and staffed appropriately.
That's it from our side on social media KPIs. Are you monitoring any other relevant KPIs? Please share them with us in the comments!
Efficient Social Media Communications With Swat.io