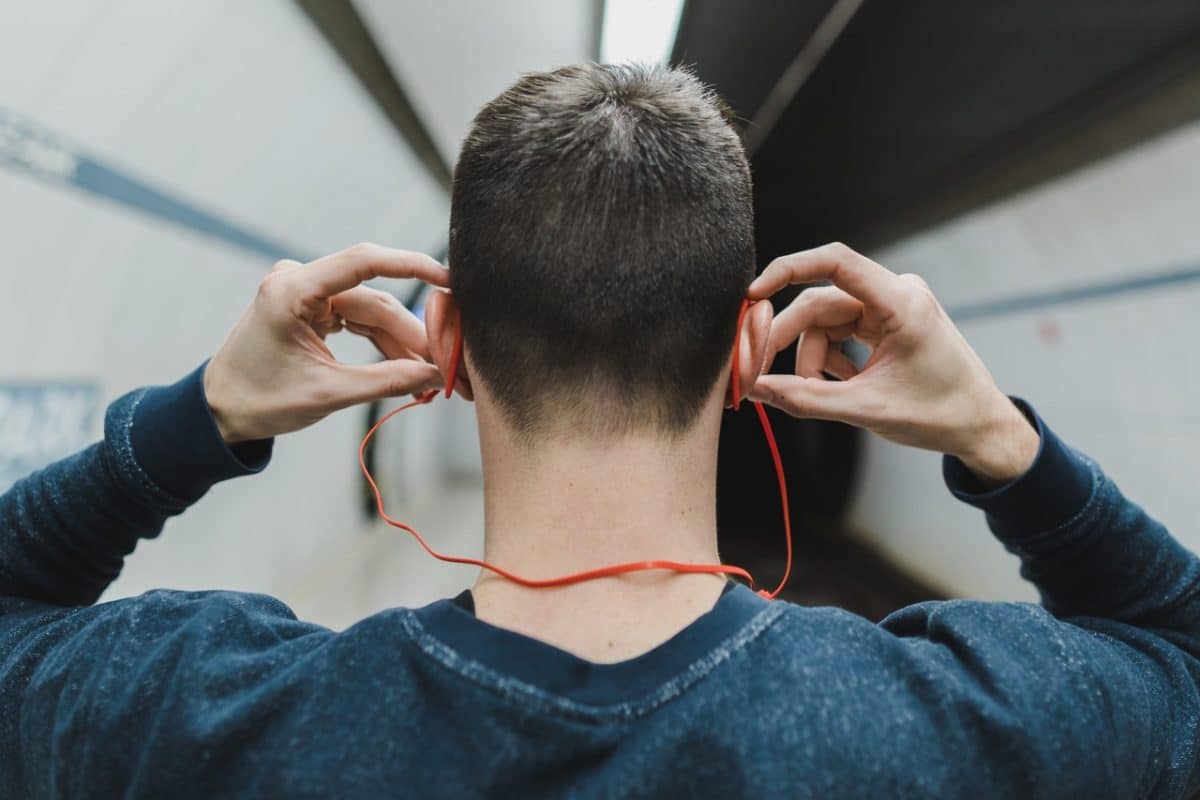 5 Social Listening Tools You Should Know
There's no shortage of social listening tools, and that can only be good news for brands from all industries. Whether you want to monitor your own brand, the competitors, niche-specific keywords, potential influencers or want to prospect geographical areas before expanding the market, chances are that there is a social media monitoring tool that can help you. The choice depends on what you wish to achieve, how simple or how complex the monitoring options should be, how far it should be connected and integrated with your social media marketing tool and not at last, on how much your organization is willing to spend on such a software.
In this blog post, we're taking a look at 5 social listening tools out there and their major up- and downsides.
The Beginner's Guide to Social Media Monitoring
Download our eBook and find actionable advice on how to use social media monitoring to generate leads, provide better customer service, and gain a competitive advantage. The hands-on tips, tricks, and guidelines will help you develop and implement the right social media monitoring strategy for your brand and business
Google Alerts Makes a Great Basic Option
Being available for free, Google Alerts is a favorite among brands who are just getting started with social media monitoring. That is not to say that it doesn't perform well. In fact, in a comparison made by Matthew Woodward on his blog, Google Alerts comes out victorious in several scenarios. For example, it managed to send more alerts using the same keywords over a period of 22 days.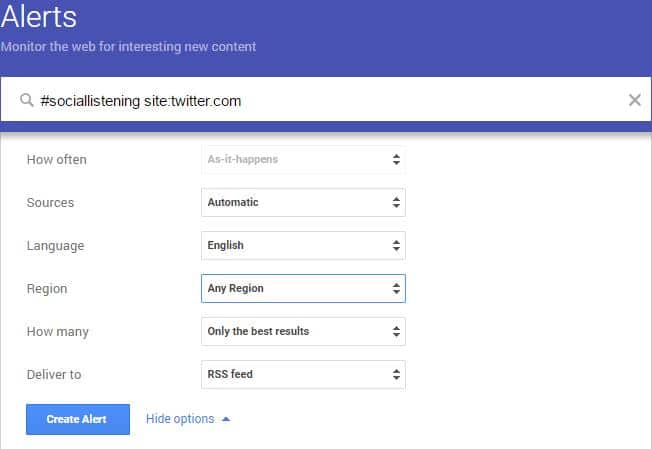 Setting up an alert is very intuitive. You enter the keyword to be monitored in the text box and choose how often you'd like to be alerted. The sources range from News and Blogs to Web and Video, but considering that you'll want to monitor social network activity, you'll have to enter special search parameters as in the above example. The language and region enable you to find social media updates from specific geographical areas. You can also choose to have the best or all results delivered to you, either by email or in an RSS feed.
Google Alerts is not without downsides. First of all, there's no granularity in the sources, fact that makes getting relevant results more difficult. Secondly, choosing between the best results and all results is a bit confusing, as only Google knows the algorithms behind each option. Having the results delivered to your email address or RSS feed is also a limitation, and so is the lack of analytics.
TalkWalker – A Free(mium) Tool for Social Mentions
Have you ever considered that your brand might be monitoring the wrong social networks? Sometimes social updates get posted in places that might surprise you. One of TalkWalker's main advantages is that it keeps track of your brands mention, while highlighting their sources. This platform provides additional options over the previously mentioned one, as it can also help you learn of engagement levels and influencers. The type, language, frequency and amount of mentions can all be used like criteria.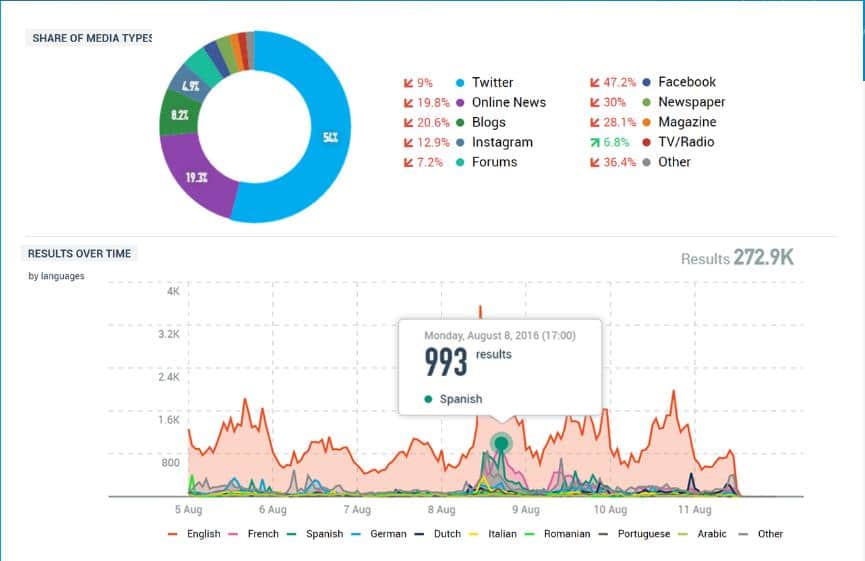 The difference in features is also seen in the price. TalkWalker subscriptions start at €500 for small brands and go up to €2,300 for enterprises, all for a 24-month contract. Fortunately, providers of paid solutions such as TalkWalker offer brands the possibility to try out the product before committing for such a long period of time.
Ubermetrics Brings Social Media Content and Influencer Marketing Together
Ubermetrics Delta is one of the solutions that acknowledges the importance of real-time alerts. Depending on the chosen plan, the platform enables you to track from 300.000 to 1.8 million mentions using between 20 and 50 search agents.
Another aspect worth mentioning is that Ubermetrics Delta can provide you with historical data going back as far as 2013. However, this features is not available by default and can only be provided on request. Historical data is invaluable for future planning, as it can reveal how your brand handled certain campaigns. Social listening tools such as Ubermetrics Delta can fuel data-driven marketing strategies. With all variables known, your marketing team can better handle their tasks, not to mention that the generated reports for each campaign are easier to follow. The reporting tool can be customized, if you're not happy with the pre-designed templates.
Ubermetrics goes into a lot of details that are organized intuitively. There are detailed help guides for Boolean queries and other advanced filtering tools. Search results can be easily categorized, updated and compared. With this data at hand, you can identify the most relevant social media network for your audience, analyse sentiment and bring influencers to surface. When you're done, you can generate clean reports that compare social mentions week over week or month over month.
Radian6 – Scalability For High Budgets
With 650 million sources it can tap into, including Twitter, Facebook and YouTube, Radian6 seem to be among the most scalable social listening solutions on the market. Salesforce, the company developing this platform, is fully-aware that identifying and replying to the most relevant social media updates can help build relations with influencers. Not only that, but doing so can also mend relationships with detractors.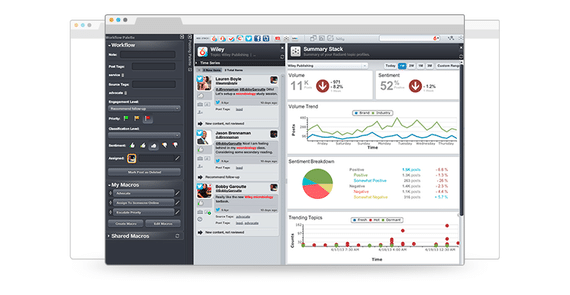 Besides identifying the data, Radian6 helps you make sense out of it by providing insights on sentiment, demographics, intent and trends, among other aspects. All of that is achieved by combining the functionality of 15 analytics tools into a single one.
Oracle Social Cloud For Large Data Sources
More of a social relationship management (SRM) solution, Oracle Social Cloud can monitor more than 40 million data sources and sites from all over the world using LSA listening technology. Based on customizable social indicators, it can capture intent and psychographics. Moreover, it can determine trending themes and perform a granular qualitative analysis of them.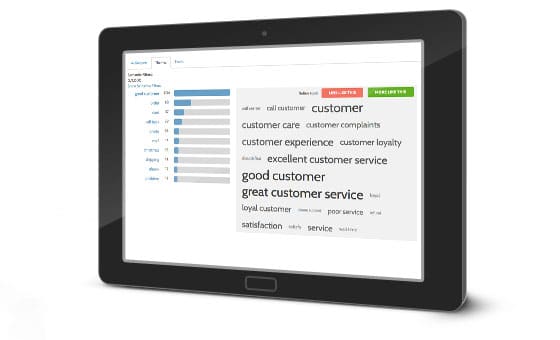 Final Thoughts on Social Listening Tools and Pricing
Keeping an eye on the competition and the industry is important from the very first days of any organization. Depending on how quickly your brand manages to secure funding and how vital it is to monitor social media around the clock, you allocate a sum for the listening platform and for the employees handling it. While in the beginning free options such as Google Alerts might make the most sense, you might realize in time that more complex solutions can help you save time by getting more relevant results. As we've discussed in our previous blog post on must-have features, there is no one-size-fits-all solution and it depends on your business needs what's the perfect tool match for you.
What other social listening tools would you say that were worth a mention? Leave your suggestions in your comments section below and don't hesitate to share this blog post on social media, if you've found value in it.
Efficient Social Media Communications With Swat.io