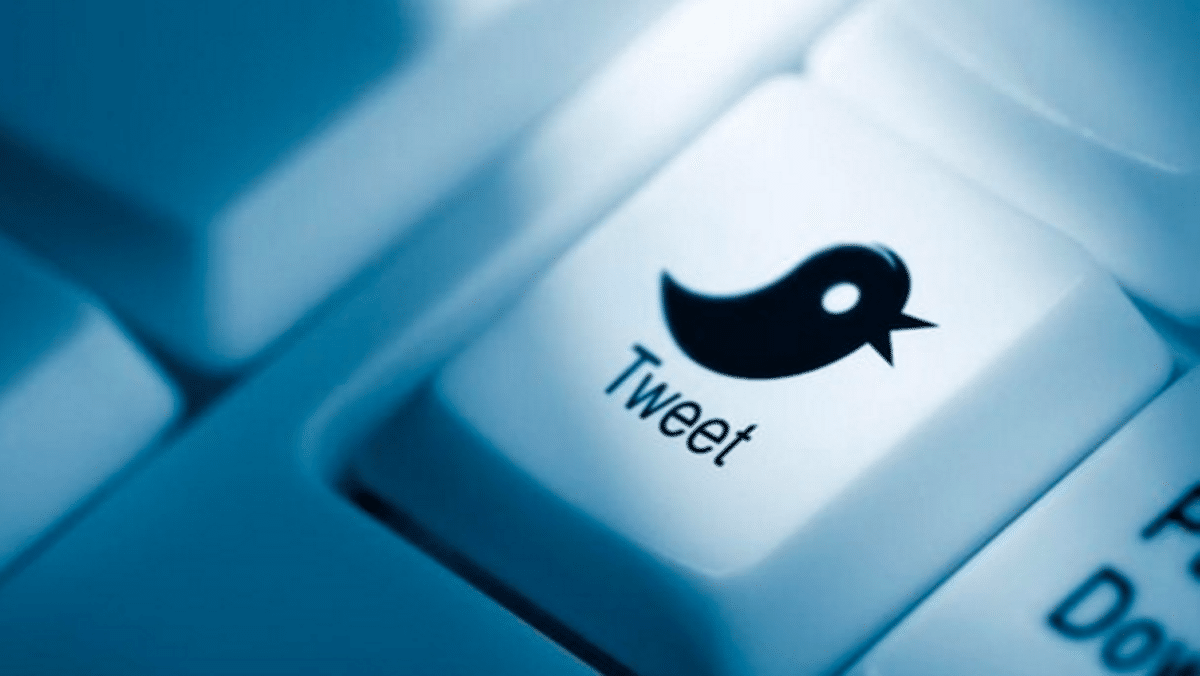 6 Companies that Totally Get Social Customer Service on Twitter
Exceptional customer service makes you fall in love with these amazing companies
We've been writing about customer support on social media for quite some time now… if you're not yet convinced about the importance of providing customer service on these channels, here are two things you need to know:
So, will you give your social customer service strategy a second thought?
To help you understand the difference that great social customer service makes, we've researched a set of 6 amazing examples of customer service via Twitter.
JetBlue knows the meaning of being responsive
We all know how frustrating airline delays can be and there are many passengers out there using social media, especially Twitter, to voice their dissatisfaction whenever a flight is delayed.
@JetBlue understands this and builds customer loyalty not only by engaging with happy customers but also by responding to messages from frustrated customers in the shortest amount of time. As seen in the example below, whether they send a public @reply or a private DM to answer a question, they are quick to interact – it took them less than 60 minutes!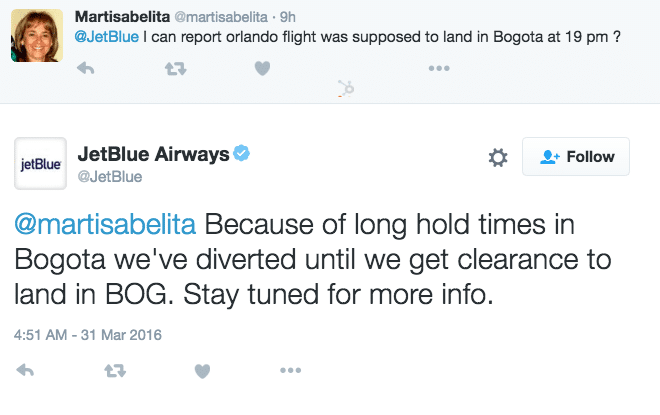 Key takeaway: Respond quickly, preferably in less than an hour.
Nike creates separate support handle
Why is this remarkable? Well, because Nike is a huge company with different types of sports equipment and apparel lines. Nike currently manages several Twitter handles to accommodate followers who are interested in specific items or store locations.
The Blueprint – Successful Social Customer Service in 13 Steps
Download our eBook and learn the 13 steps that will take you on the right path to social customer service success in no time. It's all about the strategy and we've come up with the perfect one for you!
Through @NikeSupport, the company makes sure that its representatives constantly respond to followers on Twitter regardless of topic, time and date. They actually respond to someone new every few minutes: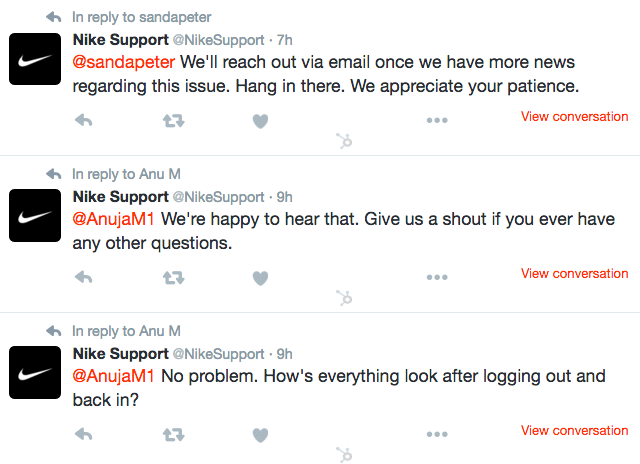 Nike Support has tweeted over 453K times!
Key takeaway: Make it easy for customers to complain and get answers
Seamless delivers around-the-clock customer service
Online food ordering service @Seamless clearly understands that we're no longer living in a 9-5 world and that companies need to be available at all hours, especially on social media.
What Seamless does is to engage customers through contests giving away free food while also providing around-the-clock social customer service. And the great part about their Twitter customer service strategy is that they reply quickly to each and every customer tweet, regardless of whether it's a complaint or just a positive remark. Seamless will respond with a great sense of humor and they'll probably even follow you back, too.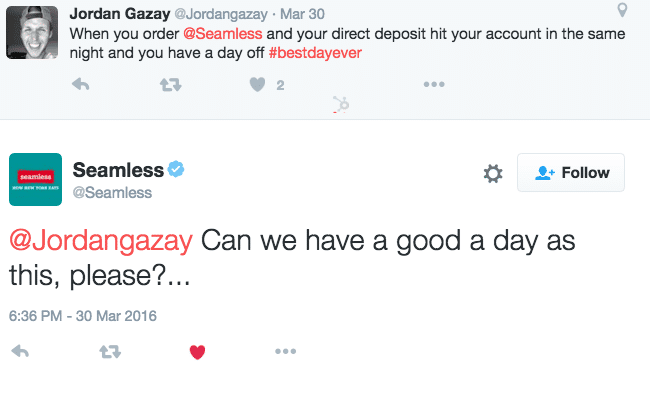 Key takeaway: Know when you're needed and be there. If your company is global, be sure to satisfy customers who are in the same city, as well as customers who are halfway across the globe.
Starbucks cares about your feedback
@Starbucks surely knows how to rock customer service on Twitter! Besides the fact that the coffee giant is always active and quick to respond to customers' questions, complaints and remarks, it does that in a personal and at the same time professional manner. No customer will ever forget Starbucks' unexpected funny replies such as the one below: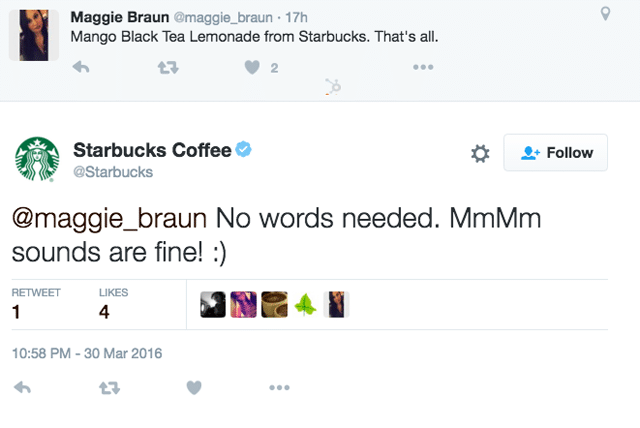 Similar to Nike, Starbucks started a separate Twitter account dubbed @MyStarbucksIdea as an additional way to engage with customers. This is a place where customers can submit and discuss ideas to make Starbucks better.
Key takeaway: Always find ways of getting customer feedback in order to perfect your products and services.
Xbox is the most responsive brand
Did you know that in 2011 Xbox held the Guinness World Record for the most responsive brand on social media? And they also have a separate Twitter account for customer service purposes, @XboxSupport.
In the account's short description, Xbox clearly lists the hours during which the customer service team is available to respond so that users know when they're more likely to get an answer. XboxSupport has 2.49 million tweets sent out to date which clearly means that the brand takes pride in its clear and efficient response times. In their case, efficient doesn't exclude fun nor friendly. Their Twitter team do a great job at mixing all of these ingredients for a perfect recipe.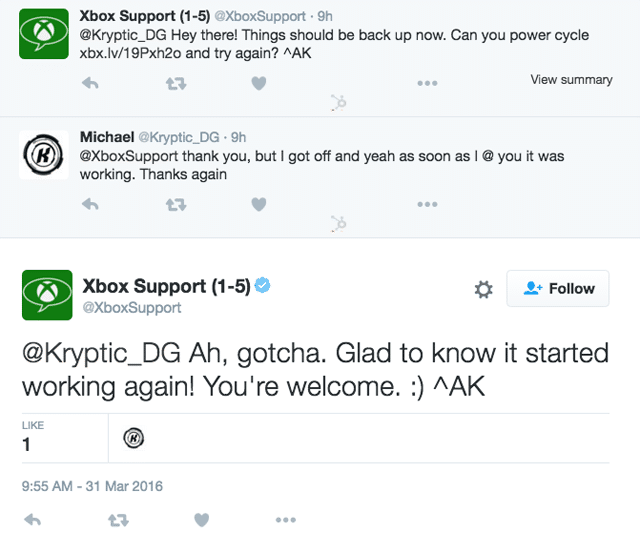 Key takeaway: Don't get too serious. Using a friendly tone will always get you closer to your customers.
Oreo has a genius social media team
Some might actually believe that @Oreo doesn't need a social media presence since the delicious cookies sell themselves. Still, Oreo's social media team is one of the best ones out there. Why? Because they know when to be funny, witty, helpful and seize every opportunity. Take for example the Super Bowl blackout when Oreo immediately came up with that unforgettable tweet "Power out? No problem. You can still dunk in the dark." How genius and timely is that?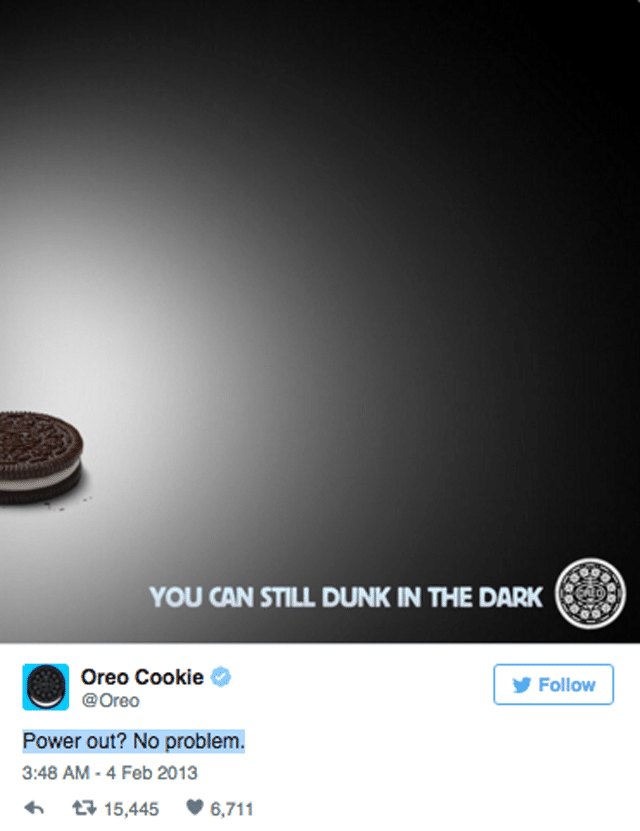 Key takeaway: Seize every opportunity!
Conclusions
Your business may not be as big or as profitable as these brands out there but that doesn't mean that you should be neglecting social customer service. Start small, one channel at a time, but be thorough and determined. After all, Rome wasn't built in a day 🙂
Have you stumbled upon other companies that provide stellar social customer service? Please share your favorites with us in the comments. We're sure there are still many things to be learned!
Efficient Social Media Communications With Swat.io