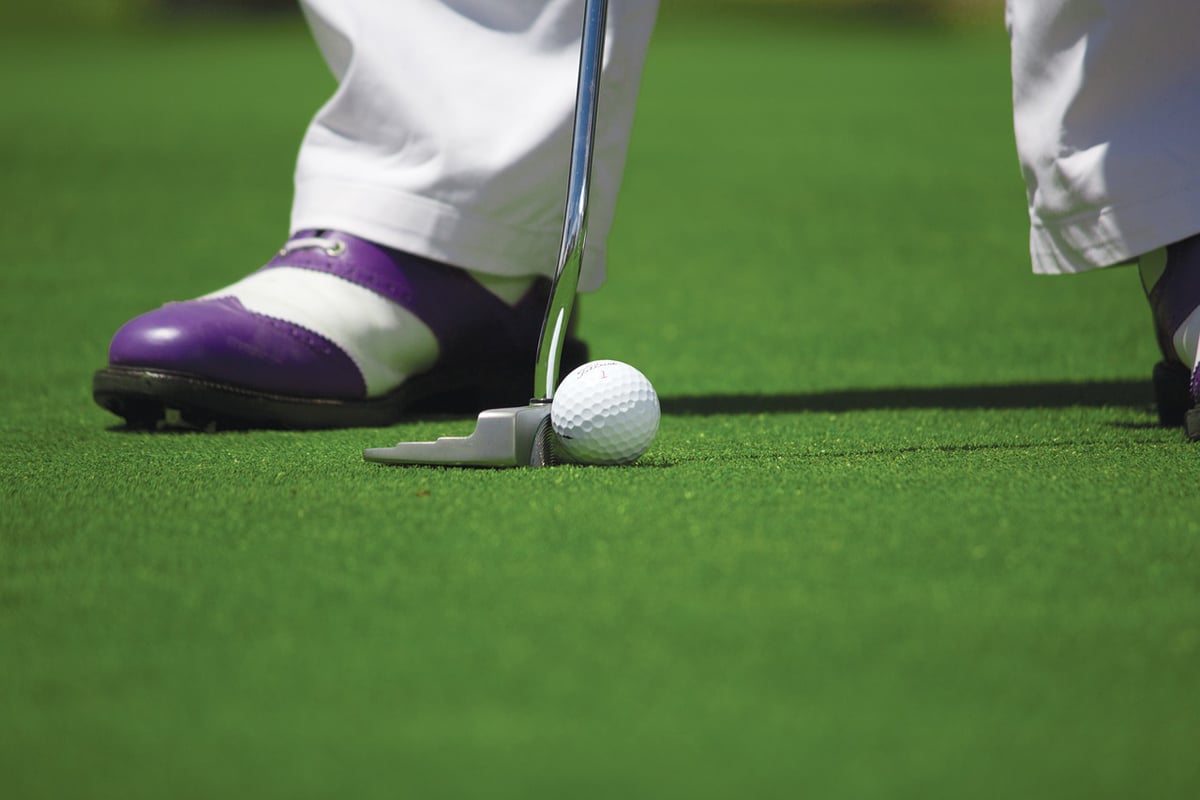 6 Customer Relationship Management Tools To Keep the Ball Rolling
Customer relationship management (CRM), customer service (CS) and customer experience management (CXM) are tightly intertwined. Why? Because they're about one thing: making customers' journeys and experiences meaningful enough that they wish to come back for more.
Since we've discussed social customer service and social customer experience in two previous articles, it's time we tackled the third pillar: CRM. And because we know that one major stress factor resides in finding the right customer relationship management tool for your business, we've come up with a list to shorten the decision process. Here are 7 CRM tools that we find particularly useful: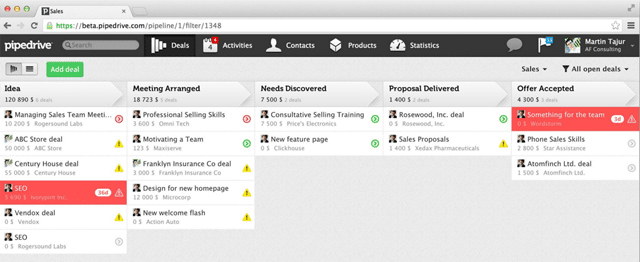 Pipedrive is a CRM software that uses activity-based sales methodology and enhances the visibility of the users' sales pipeline. Pipedrive can be incredibly efficient when used by small teams with complex sales processes, but even bigger teams have seen great success in using the software.
Its main features include:
A clear overview of the users' sales pipeline

Timeline Review

In-depth sales reporting

Google Apps integration

Smart email BCC
Pipedrive is well known for being easy to use with highly developed importing features. Encryption and cloud storage means user data is safe and always available.
Pricing: 12 Euros/ user/ month
There's a free trial period of 30 days.
The Blueprint – Successful Social Customer Service in 13 Steps
Download our eBook and learn the 13 steps that will take you on the right path to social customer service success in no time. It's all about the strategy and we've come up with the perfect one for you!
Intercom enables sales and marketing people to have an up to date customer base dashboard. They can see when their customers were last contacted, how often they come on the website, etc. This makes it a great tool to segment one's customer base, to see retention rate, etc. While Google Analytics shows data from anonymous visitors, Intercom shows you exactly what your "real" registered users are doing.
You can also use Intercom to communicate with your customers: the dashboard enables you to do so via emails, website notifications (which will appear directly on your customer's screen) and a chat tool.
Intercom actually consists of 4 modules that you can purchase separately. Each of them starts at $49 per month. If you choose to start with 3 modules at a time, it will cost you $57/ month instead of $147.
Take a look at what you can do with each of the 4 modules below: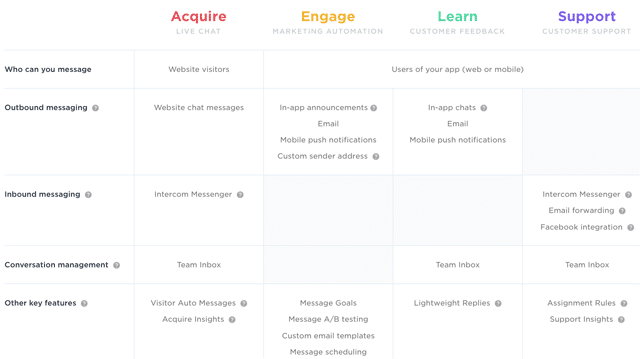 There's a free trial period of 30 days for any of the 4 products.
As you'll see on their homepage, Insightly is great for small businesses. However, in some reviews, you will find that Insightly is not ideal for bigger businesses, particularly because its functionality is not capable of handling the demands of a larger business.
What sets Insightly apart from other CRM tools out there is its built-in email marketing system. Although small businesses that don't do email marketing will probably opt for the freemium level and will have very limited access to the system, bigger companies opting for the paid version won't need to spend extra on a second system for their emails.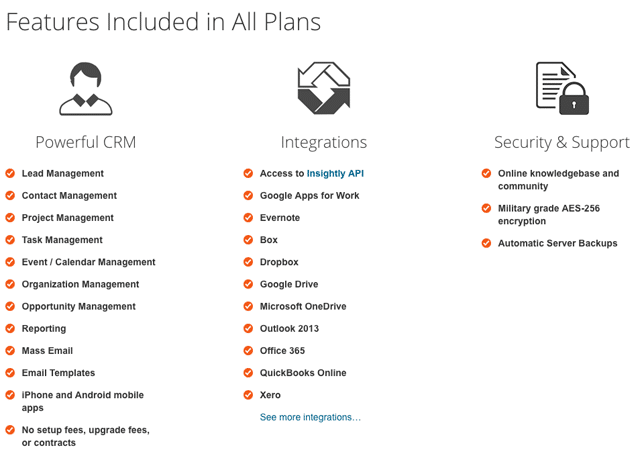 Insightly is free for two users, 2,500 records (which they define as any stored item from contact to note), 200 megabytes of storage and 10 custom fields. New features on the freemium level include advanced reporting and 10 emails a day.
The upgrade fee is $12/user/month and includes 25,000 records and 1 gigabyte of storage.
Businesses looking for a cost-effective CRM solution will find the free version of Zoho CRM particularly useful because of its core functionalities.
Features include:
Multi-user. Zoho CRM allows users to onboard up to 10 members of their team for free.

360-degree view of contacts, sales cycles and pipelines

Automation. The software allows users to manage and automate tasks, calendars and call logs.

Collaboration. Zoho CRM can also work as a social media platform, in the sense that it includes a newsfeed where team members can post status updates and share files. A direct messaging feature is also available.

Social CRM. Zoho CRM integrates with Twitter and Facebook, automatically linking contacts to their social media accounts.

Mobile CRM. Users can access customer data while on-the-go with the Zoho CRM mobile app.

Third-party integration.

Analytics.
This CRM version is free for 10 users and 5,000 records. It comes with a mobile app and social CRM. Their first step upgrade (for more users, features, and 100,000 records) is $12/user/month. Here is what the paid versions have to offer: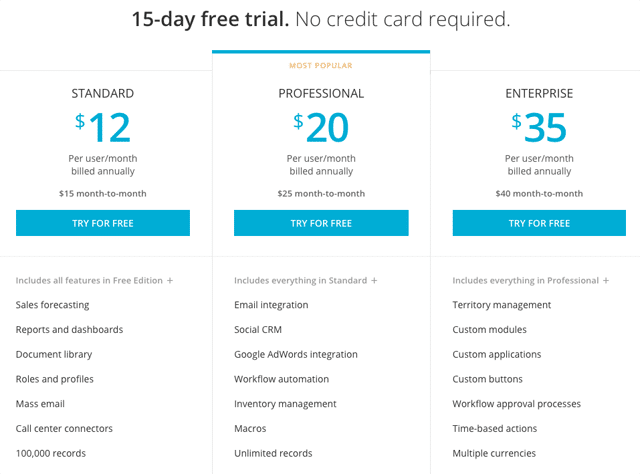 It's a 100% free CRM, designed by marketing automation specialists with the purpose of eventually convincing users to start using HubSpot's marketing automation software. The great thing about HubSpot CRM is that users no longer need to manually enter all the data in the CRM. HubSpot pulls data about people from their internet profiles and activity and email engagement rates among other things. These functionalities turn out to be particularly useful, making the CRM an intuitive part of their marketing automation software.
Key features:
360-degree view of contacts, sales cycles and pipelines

Customized views

Synchronised with Hubspot Marketing and HubSpot Sales

Enhanced prospecting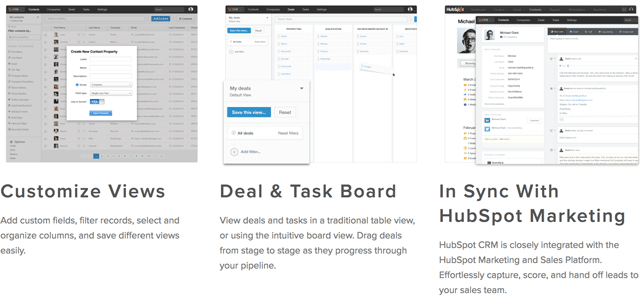 It's important to keep in mind that Hubspot's CRM is extremely lightweight. It is really only an option for small to midsize businesses that have never used a CRM before.
You definitely know about the Salesforce cloud, an all-in-one, cloud-based CRM software, offering a broad suite of CRM apps for small, medium-sized and large organisations. Its main focus lies on sales and support.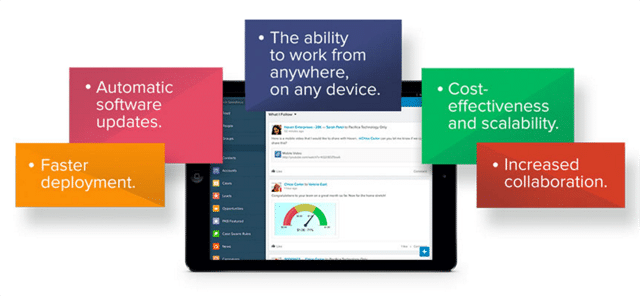 Contact management. The contact management system allows users to store phone numbers, addresses and other contact information.

Lead generation. The software gives users an overall view of each lead by tracking them all the way back to which campaigns and marketing channels they came from, including social media.

Opportunity management. Representatives can create PDF quotes that automatically populate data (customer information, quantities, pricing, payment terms, delivery information, etc.) and email it to the customer directly from the Salesforce platform.

Forecasting. Sales forecasts include details from monthly and periodic quota attainments to categories, revenues, contract values and customers.

Reports. The drag-and-drop reporting tools include real-time charts, graphs and the ability to zero in on categories and the smallest details.

Collaboration. The platform includes a social news feed where users can share files, insights, data, sources, leads, etc.

Automated workflow. Sales representatives can automatically assign tasks, make recommendations and respond to approval requests including expenses, discounts and order placements.

Mobile access. Salesforce1 Mobile App allows users to access their CRM on the go.
You can purchase Salesforce.com automation and CRM products on a per-user subscription basis and you will be billed annually. For the Group edition, Salesforce licences start at $25 per user per month and can rise as high as $250 per user per month for the Unlimited edition.
When you engage customers through a CRM system, the odds that they will spend more on their next transaction by 20-40% increase significantly. Furthermore, customer relationship management tools improve the buying experience and customers are more likely to recommend the purchased product or service to friends and family.
That being said, what CRM tool do you use? Share the info with us in the comments section below.
Efficient Social Media Communications With Swat.io