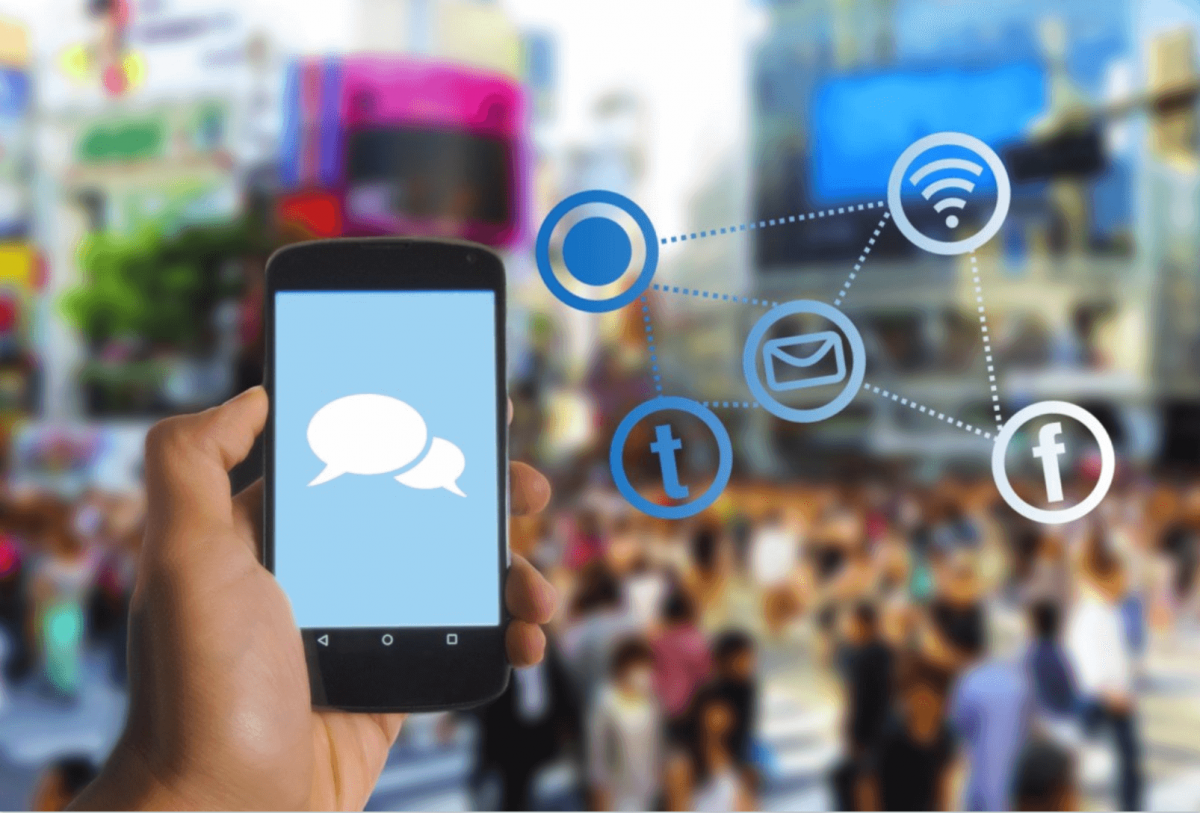 Contacting Made Easy – 8 Contact Widgets and Live Chat Plugins for Better Communication
You want your website visitors to have an intuitive and convenient option to contact you? A contact widget removes hurdles and facilitates communication for both sides. It thus supports customer acquisition and customer retention in equal measure. The popular contact widget PEPPER by Swat.io, unfortunately, is not available anymore as it was discontinued in March 2018.
Hence, we put together a list of 8 nifty alternatives to PEPPER. The tools we chose range from embedding a contact form to full-grown live chat plugins. All of them are geared towards improving your customer communication, which is amazing given the fact that most of them are free to use!
1. GetButton
GetButton especially serves the needs of smaller companies. You can download "Message Us Buttons" that lead your visitors directly to the apps you're offering as contact options. In addition to Facebook Messenger, WhatsApp, Telegram, SMS, and many more are also supported. You can choose the buttons at the GetButton website and edit their color and your specific call-to-action format. You can add your individual logo as well. After having done your choices, you'll receive the code to embed the messenger buttons per e-mail.
Features:
Messenger buttons to lead your visitors directly to your communication app of choice
Different configuration options
Chatbot functions when using a pro-account
Charge: Freemium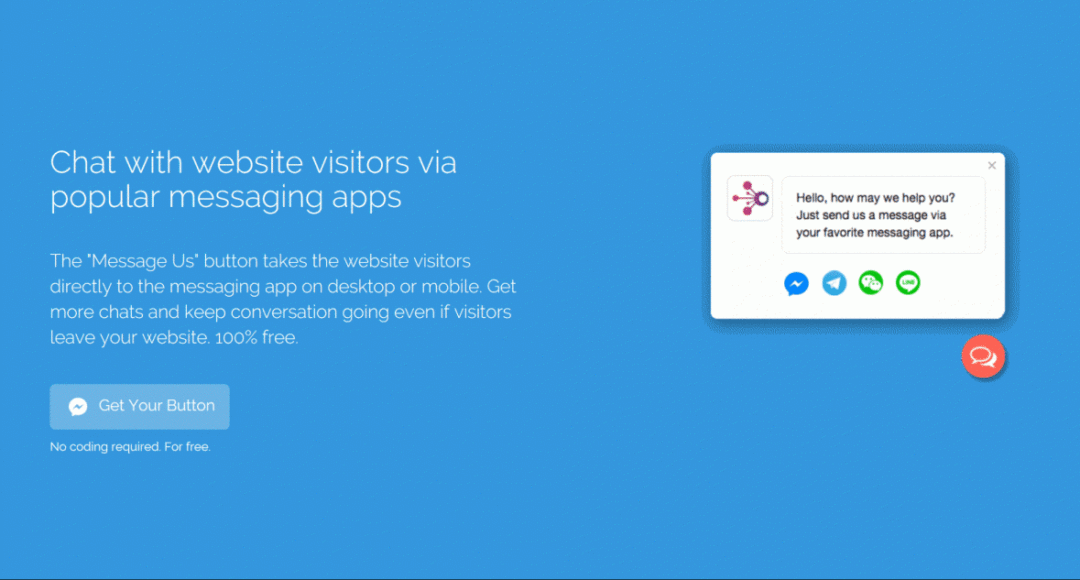 2. WP Contact Slider
The established contact form is an important constituent of many websites. WP Contact Slider is a free to use WordPress plugin, that gives your contact form a modern twist, as it allows you to integrate it as a stylish slide. Furthermore, you don't need to worry about the contact form messing up your design. A single click on the contact button is enough to open the form. The button can be placed on different positions, which makes this plugin even more dynamic and flexible. With the help of additional add-ons, several sliders can be integrated into a page, background images can be inserted and much more.
WP Contact Slider can be combined with different contact plugins and does support HTML. All in all, it is a more exciting alternative to conventional contact forms that is still convenient to set up. Two clicks are enough to activate the tool.
Features:
Allows integrating one or more contact slides in websites
Individual options to customize your slider
Supports different contact plugins and HTML
Charge: free to use Open Source Software
3. Perfect Easy & Powerful Contact Form
This WordPress plugin focusses on integrating contact forms in websites as well. Perfect Easy & Powerful Contact Form has a lot of configuration options, which is probably its biggest advantage. There are light effects, animations and some ready-to-use layouts that can be edited without much effort. The plugin is not completely free, but costs are limited to 19,99 € per year.
Features:
Allows the integration of contact forms
Lots of configuration options and visual effects
Efficient spam filter
Charge: 19,99 € per year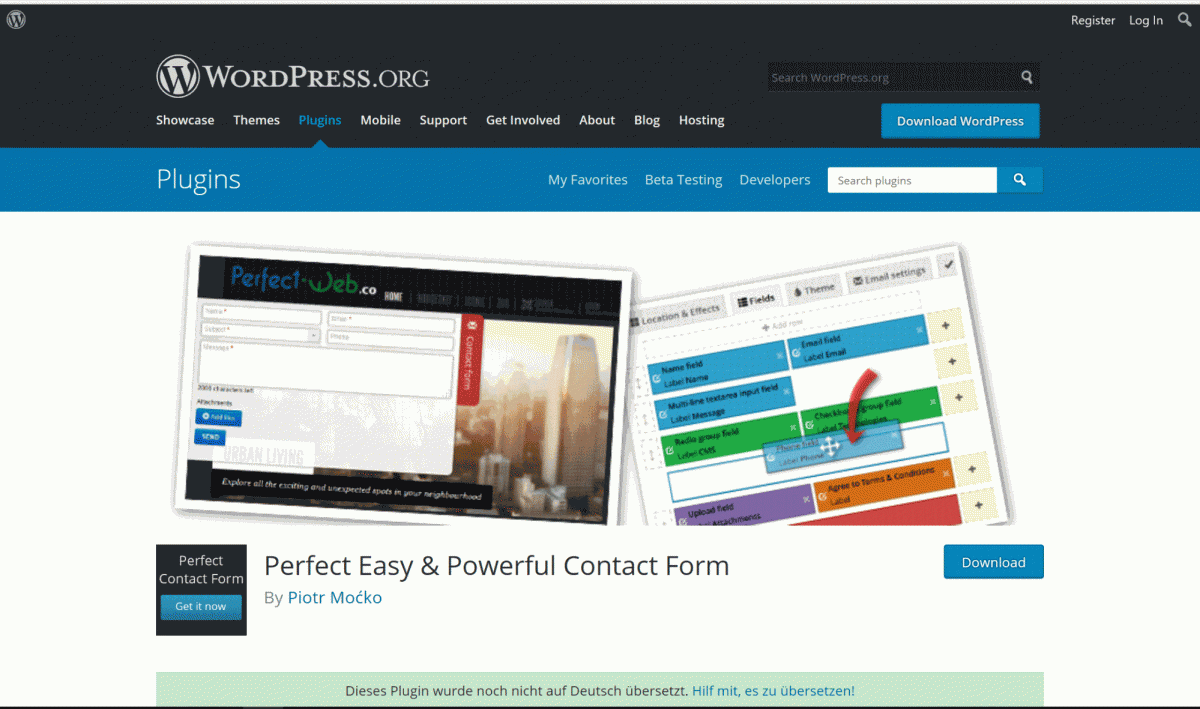 4. LiveAgent
The LiveAgent is a ticketing software that simplifies customer communication. All communication with a customer is stored as a "ticket" in one place, whether e-mails, chat messages or other data. This means that all important information can be viewed centrally at any time. The tool features a variety of contact widgets as well. You can integrate contact forms, live chats, contact or call buttons for calls from smartphones or computers. The best of all those features: it takes you almost no effort at all to integrate them. Just copy the HTML codes and paste them to your code.
The software is available in three packages, starting at 12 € a month, but you can try out the software for 14 days free of charge. So, those of you who are looking to get a ticketing software anyways might take a close look at this one here.
Features:
Ticketing software that includes different contact widgets
Contact forms and buttons for chats, calls and customer feedback
Extensive tool to communicate with website visitors
Charge: between 12 € and 59 € per month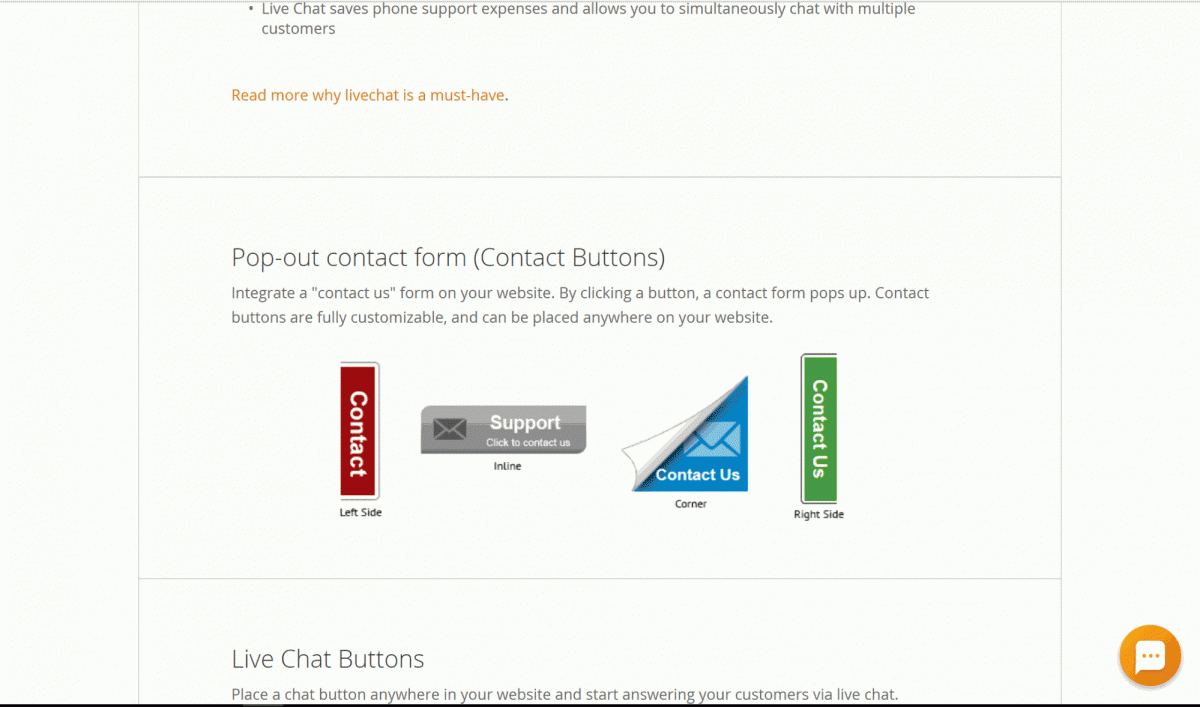 5. Elfsight Contact Form Widget
Are you looking for a contact form tool that is easy to setup and looks good on any device? Look no further, Elfsight Contact Form Widget is what you're looking for! This useful plugin is absolutely user-friendly. Setting up and customizing contact forms is absolutely effortless with this tool. You can add pictures or a pre-written thank-you-for-contacting-us-message as an automated response to messages from website visitors. With this plugin, you don't even need any knowledge in programming as there is an editor to customize and individualize the contact form.
The provider offers a "Lite" version of the tool as a free-to-use demo. However, this only contains a maximum of 250 views, which corresponds to the number of visitors to a page. For 5 € the tool is available for 10,000 views. There is a distinct plugin for WordPress as well that is compatible with all themes.
Features:
Plugin to integrate contact forms
Many options to individualize
Compatible with almost every website
Charge: from 0 € in the "Lite" version up to 25 € for the "Unlimited" tariff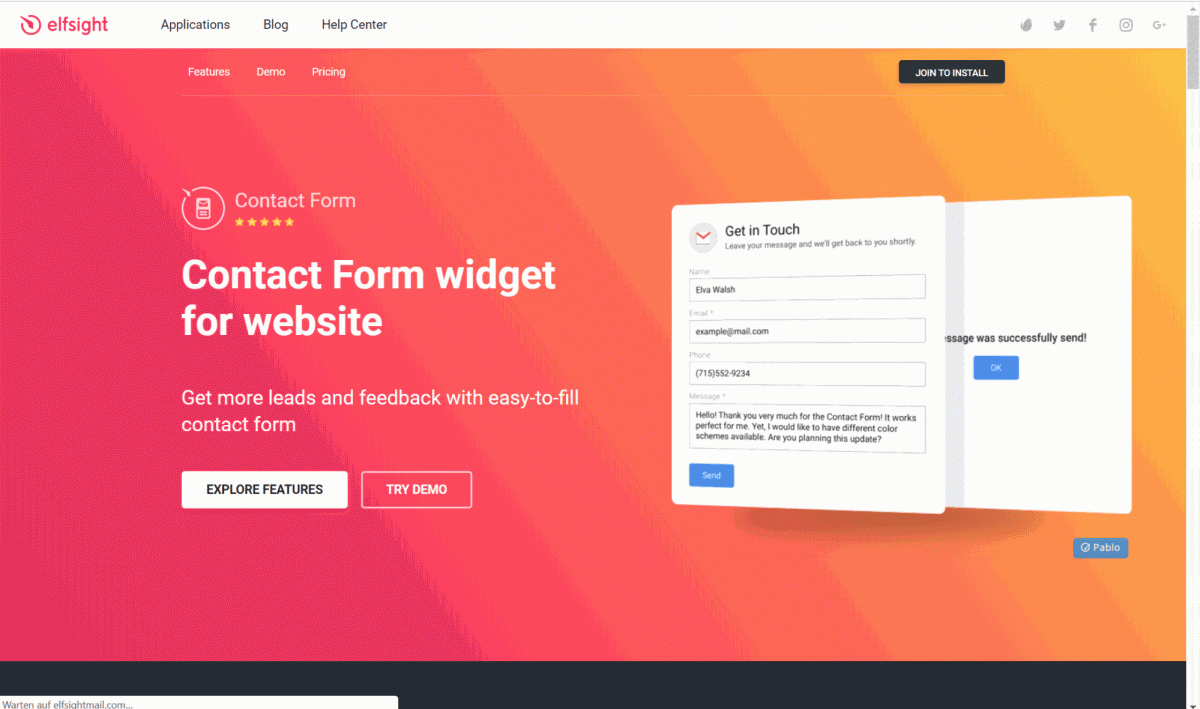 6. Contact Widgets by GoDaddy
Fans of simple, easy to use applications will love this one. GoDaddy offers simple, yet effective tools to integrate contact options in WordPress-format websites. You can integrate e-mail addresses, telephone numbers or social media profiles. You can even add a map of your location to your address.
The plugin requires at least PHP 5.4 and is a free-to-use Open Source Software.
Features:
WordPress plugin to add contact information and social media profiles to your website
Includes options to integrate location maps
Intuitive operation
Charge: free-to-use Open Source Software
7. Tawk.to
More and more companies of all sizes are discovering the potential of live chat software for communicating with customers and website visitors. Unfortunately, many tools that serve that market are expensive. This is where Tawk.to enters the stage. The software allows you to use any number of people in your company for any number of chats, personalize widgets and much more. In comparison to applications such as "LiveChat", Tawk.to is absolutely free to use. For that reason, the tool is great for startups, one-man companies or small companies that want to improve their customer support. In order to integrate the tool to your software, you just need to copy the Javascript and paste it to your code. Alternatively, you can choose one of the different plugins or apps.
Features:
Live chat software
Easy to integrate by using an API, plugins or apps
Many different functions
Charge: free of charge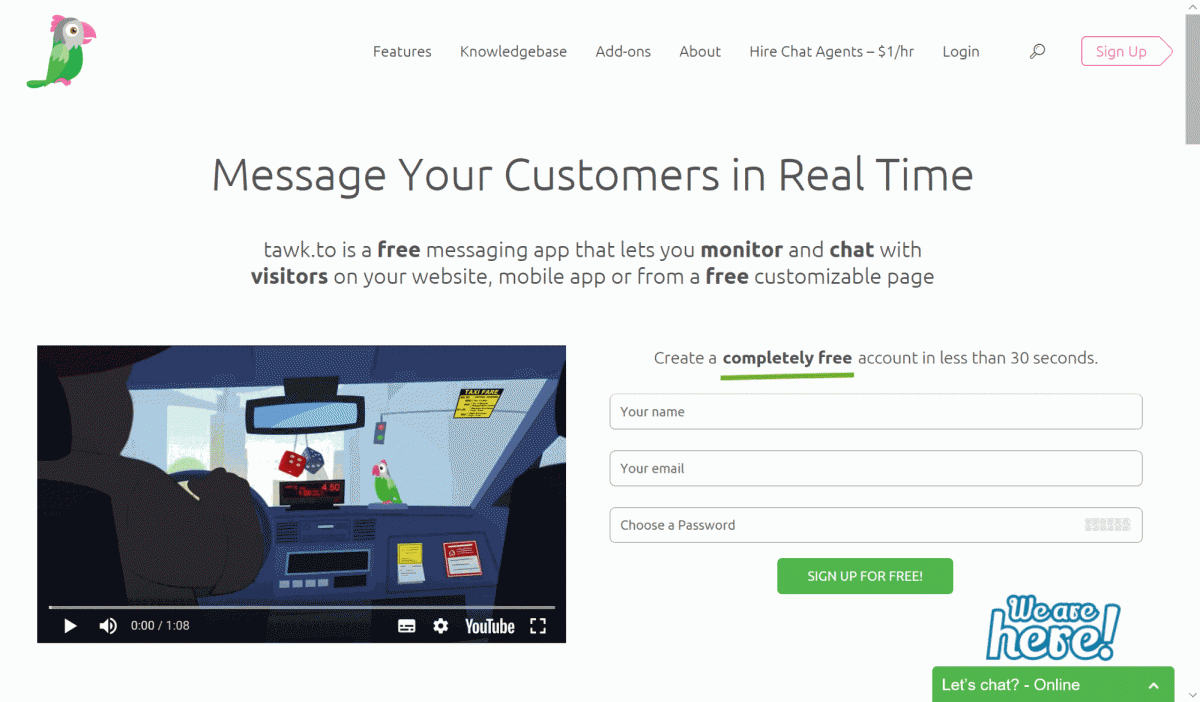 8. Tidio Live Chat
Tidio Live Chat is another chat-solution with really good cost-efficiency. After all, the free version includes an unlimited number of conversations by three employees, even at the same time. The integration as WordPress plugin is almost effortless.
In case of nobody being online at your company, the plugin sends a contact form to the customers automatically.
Tidio Live Chat allows the integration of automatic messages, for example welcome messages, and is multilingual. For 15 € per month you can benefit from "Live Typing". This way you can see which text visitors enter before they click on "Send".
Features:
Live-chat-software
Available for WordPress
Multilingual
Charge: free-to-use if used in the "free variant" (unlimited conversations distributed to up to three people)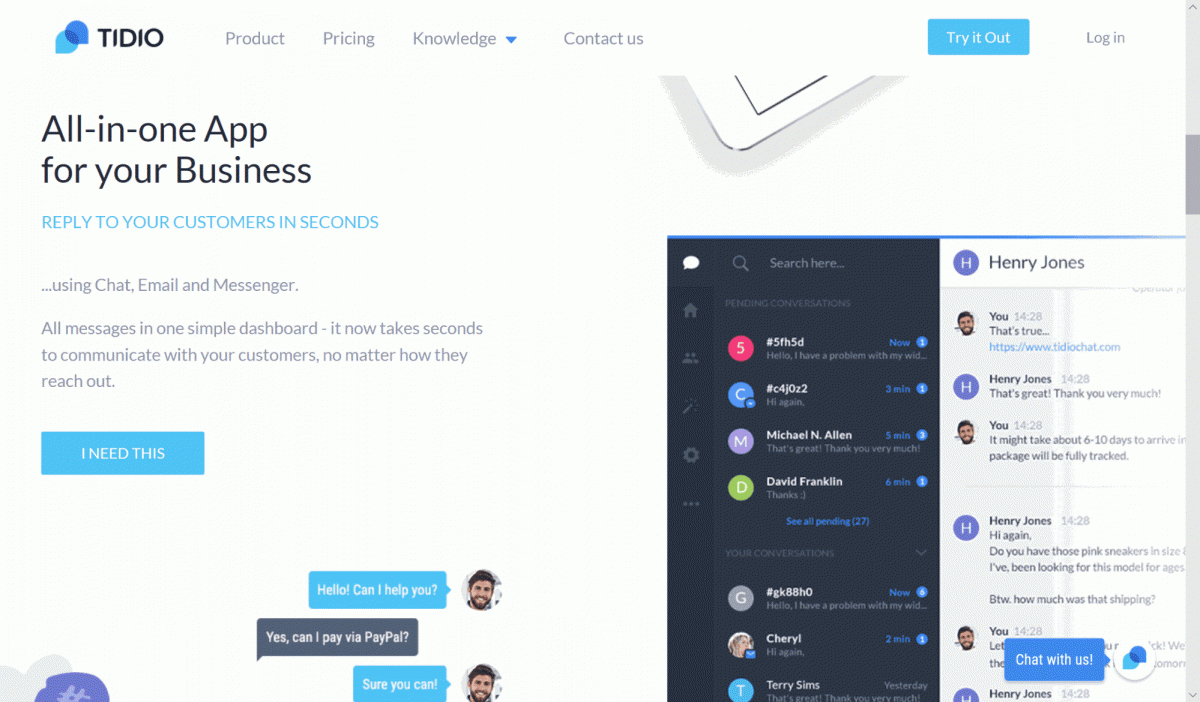 Bonus Tipp: Use this WP Chatbot plugin to easily add, customize and communicate via Facebook Messenger in Web Applications with your prospects and customers.
Contact widgets and live chat plugins bear much potential for customer service
Experience shows: The easier it is for website visitors to contact the company concerned, the higher the chances that they will do so. A well-placed contact form can work wonders to improve customer communication. Live chat options take the whole thing to the next level as they provide visitors and customers with an option to contact your company directly without even picking up a phone to call you.
Which option is best for you depends on what you actually need. A live chat plugin is only a good choice if you actually have a customer service team, that is able to answer messages immediately. Otherwise, a contact form would fit the purpose much better.
Are you looking for ways to optimize your social media marketing? Have a look at our list of useful Chrome-Add-Ons for Social Media Managers!