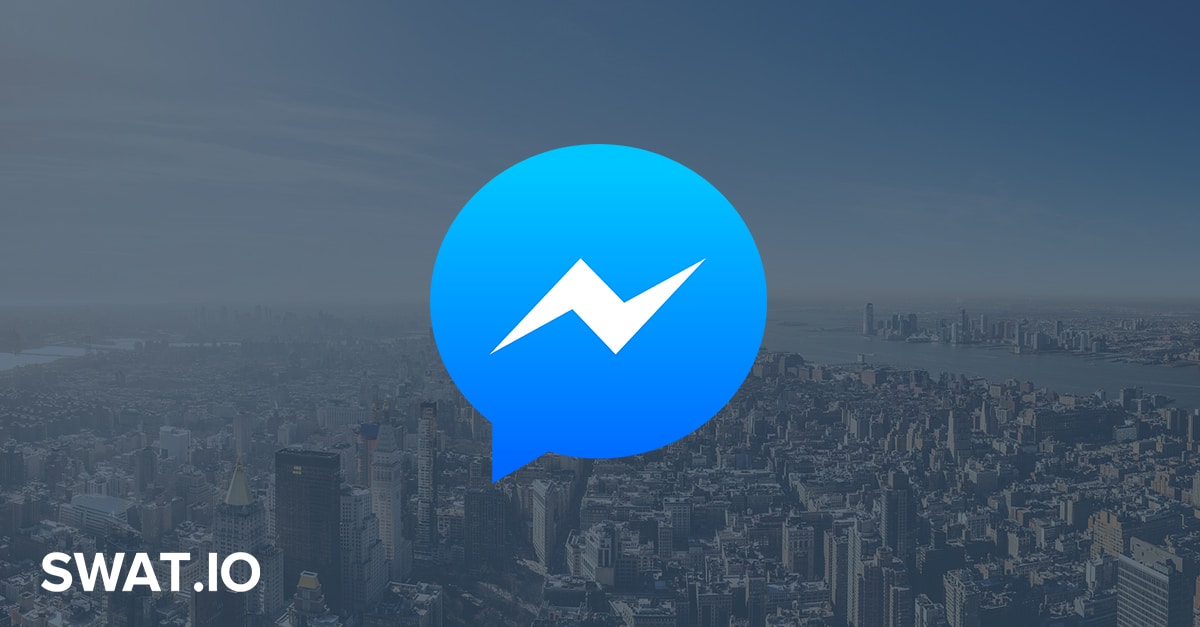 Best Practices: 8 Messenger Bots that Drive Online Interaction
In August, just four months after Facebook launched its own bot platform on Messenger, there were no less than 18,000 bots approved. While it's beyond any doubt that not all of them were professionally built or are even worth a try, some are really impressive and practical. While there are already several directories of chatbots, the exponentially growing number of these digital little helpers makes compiling a top list difficult. However, we've put up a list of 8 Messenger bots from brands that are looking to change every aspect of our lives, from how we work and shop to how we travel and workout.
Chatbots – Conversational UI & the Future of Online Interaction
Download our eBook and learn about the history of chatbots, the most relevant messaging platforms, innovative use cases and best practices from international companies. We've included interviews with 5 experts in chatbots and conversational UI. Find out how chatbots are changing online interaction for both individuals and businesses!
Kayak Bot Speeds Up the Search for Flights and Accommodation
Any experienced traveler knows that booking a flight or accommodation can take a lot of time, but it doesn't always have to be like that. Besides booking per se, other time-consuming activities include browsing TripAdvisor, WikiTravel, Prepaid with Data and so on. Developing a bot that could handle all of these aspects will probably still take some time and money, but already today we're getting Messenger bots that master at least some of them.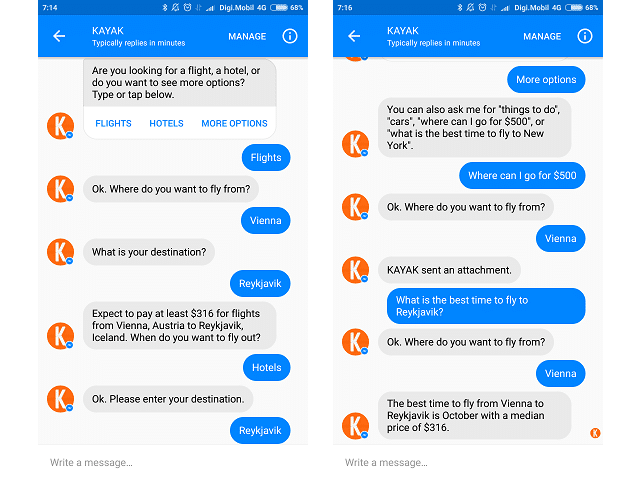 Kayak's Messenger bot enables travelers to find information about affordable flights and accommodation (among many, many other things) simply by typing the destination. The bot functions similarly to the mobile app, but is platform-agnostic, doesn't take any storage, and doesn't require any additional resources, besides the ones already consumed by Facebook's Messenger. And since it's also capable of managing your trips, you can think of it as your personal travel assistant.
Uber's Messenger Bot Could Make Hailing a Ride Even Easier
The world's top ridesharing platform is trying to continuously improve its service wherever it is operating. Uber Mobile apps are already very easy to use, and since they're always just a few taps away (provided that you have an internet connection), hailing one of Uber's black cars couldn't have been easier. Or could it?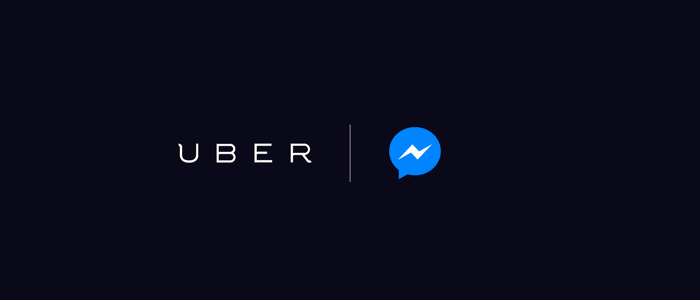 The company has launched its Messenger service back in December 2015, thus enabling Uber users to hail a car without even having to install the app. All you need is to make sure that you're logged into your Uber account when conversing on Messenger.
HealthTap Gives Messenger Users Free Access to 100,000 US Doctors
While it might sound like HealthTap's Messenger bot is meant solely for US citizens, it can basically be accessed by any Messenger user. You're still recommended to go visit a doctor concerning any medical problems, but for some quick advice, this bot seems to be the perfect solution.
"We're excited to be the first healthcare company to deliver fast, high-quality information from compassionate doctors directly to people all over the world through the Messenger Platform," stated Ron Gutman, HealthTap founder and CEO, back in April, when the company's Facebook Messenger bot was launched. "With this cutting-edge application of HealthTap developed by some of the brightest engineers, product managers and designers in Silicon Valley, it's now easier than ever to access top doctors immediately in a succinct and personal way. The new Messenger Platform enables us to extend the ability of our dedicated and generous doctors to help people everywhere feel good."
In case users are not satisfied with the answer they're getting, they even have the option to talk to a doctor, but each consult comes at a cost. This is a great example of how brands can use bots to complement their paid services with free access to knowledge bases.
Keep Track of Your Workouts with Gymbot
Messenger bots cannot only help you identify medical conditions, they can also help you stay fit, or at least keep you motivated while doing so by allowing you to input your workouts straight into Facebook's Messenger – enter Gymbot!
As seen in the above video, typing "stats" determines the bot to send you a link to the Gymbot website, where you can see your exercises neatly organized by date. The statistics are connected to your Messenger account, so you don't have to worry losing access to them after deleting your cookies, for example.
Boost Productivity with Jarvis, the Messenger Bot Handling Reminders
Having a busy schedule? We all do, but having a more organized daily agenda can really make the difference between productive individuals and… the rest of the world. We suspect that the creators of Jarvis might have drawn some inspiration from Marvel's J.A.R.V.I.S. (Just A Rather Very Intelligent System), Tony Stark's advanced computerized AI, that really handled a bit more than just reminders for the Iron Man.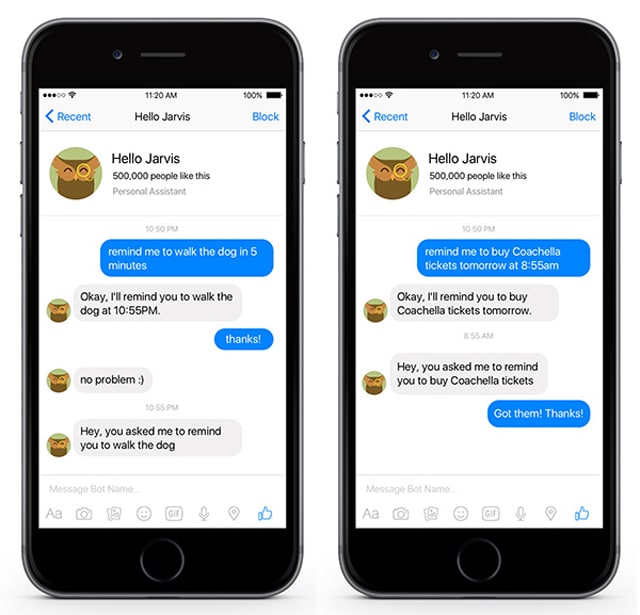 While we're not sure that Jarvis could be used in a business context, when it comes to setting reminders for events taking place in the spare time, it works wonders! Sure, you might say that there will be hundreds of such bots in the future, if there aren't already, but Jarvis excels at being easy to use and straightforward, which are two sought-after characteristics.
TechCrunch Opened the Way for News Recommendation Messenger Bots
There are a lot of online publications that have their own bot now, but TechCrunch was the first to launch a personalized news recommendation chatbot on Facebook Messenger.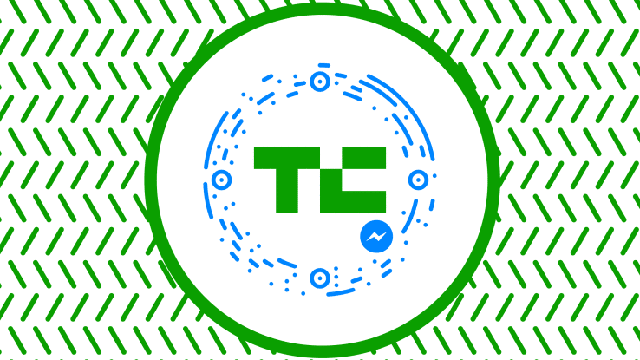 TechCrunch has been really active as far as bots are concerned, as the Messenger version came a month after the Telegram one was launched. It's really up to you what type of news you want to get in your Messenger, as there are many categories. Ready to give it a spin? Scan the above code using the Facebook Messenger mobile app or click here.
Spring Messenger Bot Gave Fashion Lovers Something to Talk About
Another early adopter of Messenger chatbots was m-commerce startup Spring, which got the chance to exhibit its virtual assistant at the F8 developer conference on April 12, when Facebook announced the launch of its bot platform.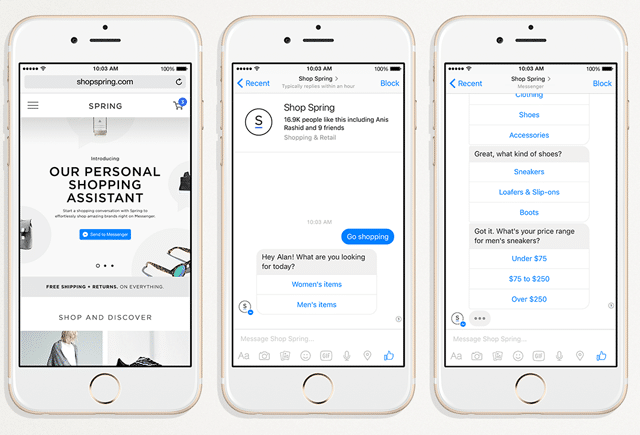 Some mobile apps are here to stay, and browsers or camera apps are among those, but as far as mobile commerce is concerned, don't be surprised if entire e-retailers move their businesses from extremely complex websites and apps to Facebook Messenger. After all, the goal is to enhance the user experience and to provide customers quicker access to everything they need.
Disney Lets Kids and Grown-Ups Converse with Muppets' Miss Piggy
This list wouldn't have been complete without the world's greatest empire of joy. Disney is no stranger to mixing entertainment and technology, as its research labs have come up with a lot of innovative ideas from children's books built with Paper Generators and AR-enabled drawing books to layered fabric 3D printers and accurately 3D-printed human hair. However, when it came to launching a Messenger bot, Disney turned to Imperson for help.

This conversational bot creation technology company built a chatbot based on the personality and communication skills and patterns of Miss Piggy, the beloved Muppets character. The sad news is that as of recently, the bot sends an automated message, asking you to look for more details about it on Miss Piggy's Facebook page. Still, the fact that it hasn't yet been completely deactivated by the company means that there's still hope that we'll be able to converse again someday with this speaker of Franglais.
Bonus: PageInsights Bot powered by Swat.io
Naturally, our development team is excited about bots too, and that's why it comes as no surprise that we've recently launched our first experimental messenger service, PageInsights Bot. This is a "single-purpose" bot that helps you keep track of the Facebook Pages you manage or like. PageInsights Bot will send you periodical reports on the key metrics of your Facebook pages (like fan growth, interactions, reach), it will (optionally!) also send you a notification each time a new post is published – a great way to track your personal favourite Pages, or even your competition!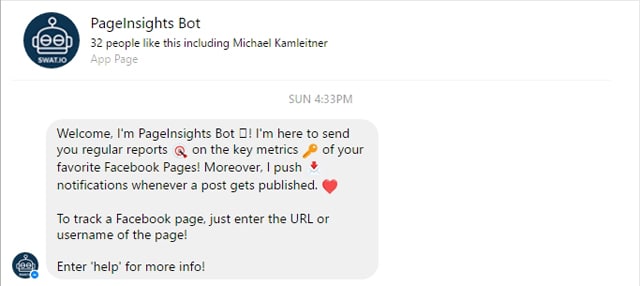 Are you curious to see how else can Messenger bots and chatbots, in general, influence our lives, improve customer service and entertain us? Then stay tuned, as we'll launch an eBook on this topic at the end of this month!
Efficient Social Media Communications With Swat.io