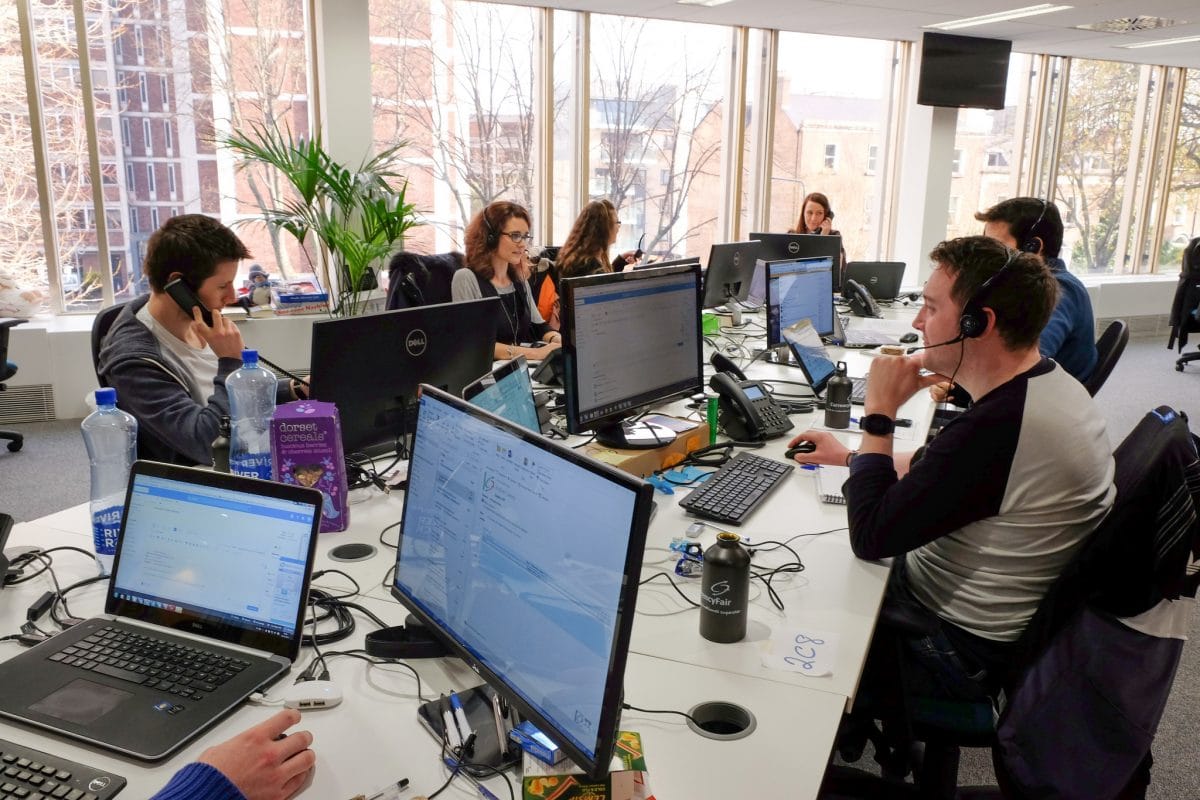 The Benefits of Social Media Monitoring for Customer Service
Social media monitoring for customer service is all about using the right techniques, tools, and practices to delight, engage and improve the way customers perceive your company's brand and business. Through monitoring, you can spot concerns and then respond more efficiently, hence pay better attention when providing excellent customer care.
By catering to the needs of customers and prospects, excellent customer service helps change the way people perceive with your products and services. Outstanding customer service allows you to connect on a more personal level to your audience. To do it right you need social media monitoring to anticipate the needs and wants of your buyers.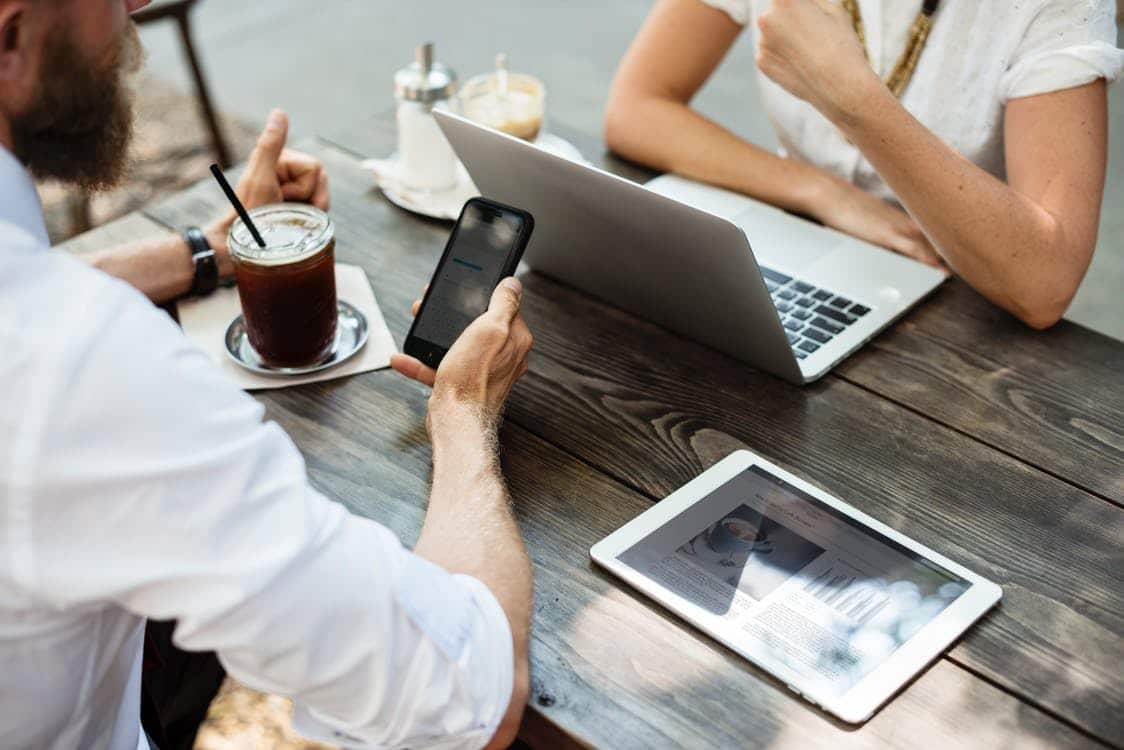 In this article, we will talk about how social media monitoring can be used to improve your customer service, as well as how to implement the best techniques to:
Create delight by exceeding expectations
Reduce customer service costs
Transform your business and increase ROI by leveraging the power of a social media monitoring tool
Proven statistics that show how important good customer service is:
Bad customer service is two times more powerful on social media than good customer service
To fix 1 negative comment you need 12 new positive experiences
80% of companies claim their customer service is "superior". Yet, only 8% of people believe those companies provide "superior" customer service
Takeaway: When measuring customer satisfaction, you have to decide on fundamental metrics. It's not enough to listen to your intuition. If you claim that you provide "superior" customer service, you have to be able to prove it with rock-solid data. To measure success, it might be a good idea to survey your customers and ask for feedback.
By resolving a complaint in favor of the customer, chances are they'll do business with you again in 70% of the cases.
1+ million people view customer service tweets per week. About 80% of the tweets are either critical or negative.
Takeaway: By monitoring brand mentions on social media you can respond to complaints in a timely fashion before they escalate to full-blown negative comments. It is a unique chance to "wow" them with excellent customer service.
Social media monitoring helps you gain customer insights
A customer insight is better defined as a "non-obvious understanding about your customers, which if acted upon, has the potential to change their behavior for mutual benefit".
In the social media realm, you can gain customer insights by constantly monitoring customer activity. Metrics and modern measurement tools help streamline the process. After gathering the data, make sure to review primary results (e.g. total sales, revenue generated, top-performing products/services).
Gather feedback going beyond the conventional surveys
Rather than ask 5 conventional questions, a better alternative might be to test in-person surveys or interviews. Open-end questions set the ground for discovering what keywords best describe your products. Then you can use the keywords to set up a social media monitoring campaign leveraging the power of a tool.
To make the most of your customer insights, conduct in-person interviews including both loyal and not-so-loyal customers; this will help you assess why people are also buying from your competition. The better you understand the WHY, the better chances to make to make improvements.
As opposed to conventional customer insights (via in-person interviews), with social media monitoring, you can collect more valuable customer insights because you get the chance to respond in real-time to the most important complaints, concerns, or questions your customers might have.
Begin by setting up an account on social media and use it exclusively for customer service.
For example: eBay has a dedicated channel for customer service on Twitter (@askebay) where eBay customers and even prospects can use to address their concerns and seek advice. The purpose of the channel is not to replace the PR or marketing department, but to focus on catering to the needs of the people, and finding a way to make sure they have a memorable experience with the company.
After gathering customer insights, cultivate and maintain relationships
One of the best ways to cultivate and maintain relationships after gathering customer insights is by building customer loyalty. It might seem simple in theory. In essence, it requires a sensible amount of commitment from your customer service department. To instill trust, you need to know your customers on a personal level. Social media monitoring helps you become part of a conversation; not just provide a response and move on.
To do it right and make sure people are truly satisfied, integrate a social media monitoring tool within your social media channels. The greatest benefit of automating customer service is that you will know whenever someone mentions or interacts with your brand or product 24/7. You will also know when they mention the competition; giving you the upper hand: to become part of that conversation and provide a solution.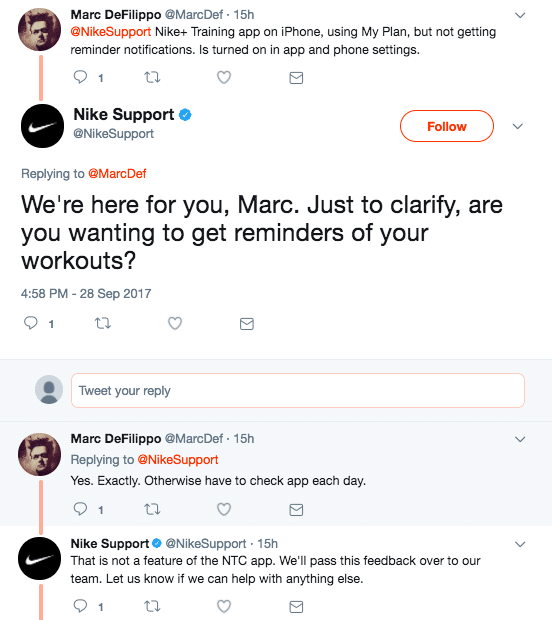 Check out how Nike handles customer service on their dedicated Twitter page.
Takeaway: Customer Marc DeFilippo contacted Nike with a concern at 4:52 pm. Nike responded at 4:58 pm the same day. What does this mean? The best way to build relationships when using social media monitoring is when you are prompt, be present on social.
Improve internal processes with social media monitoring for customer service
For your company's customer service department to be able to provide excellent support, first, it needs to improve internal processes. In the context of customer service, the internal processes that might need improvement could be:
Response time when handling replies to concerns, questions, and complaints
Engagement (e.g. engaging with a customer on one-on-one level improves relationships and exceed expectations)
Sentiment (active listening on social media helps your customer service department spot dissatisfaction levels; as well as work to improve perception and general opinion about your brand or product)
After acknowledging what internal processes need to improve within your company, implement social media monitoring and:
Demonstrate authority by leveraging knowledge and expertise
Track personal conversations about your brand, product, and services
Uncover your competitors' and customers' whereabouts (an insight that will help you decide on the social media channel with the highest level of traction)
Improve customer retention
Strengthen customer loyalty
When General Motors emerged from bankruptcy, one of the first steps to improve their strategy was to revamp the way they handled customer service. The newly-formed customer service team was aimed at tracking negative comments about the company's products on the web.
The team implemented social media monitoring and began tracking real-time conversations on Facebook and Twitter. Their new approach was to integrate automated systems into their customer service efforts to provide more practical, timely solutions to their customers.
Takeaway: by tracking real-time conversations with social media monitoring you have the opportunity to change customer perception; tackle negative comments and provide practical solutions to give customers a reason that what you have to offer can live up to their expectations.
Efficient Social Media Communications With Swat.io
Selecting a social media monitoring tool
Before selecting a social media monitoring tool for customer service, you need a starting point: Knowing the key attributes what this tool should have. For a social media monitoring tool to be suitable for customer service, it should integrate several key attributes, such as:
Be flexible in setting up your monitoring queries
Handle different languages and segmenting the results
Get you the right results in time
Answer/Interact directly through the monitoring tool
Provide real-time notifications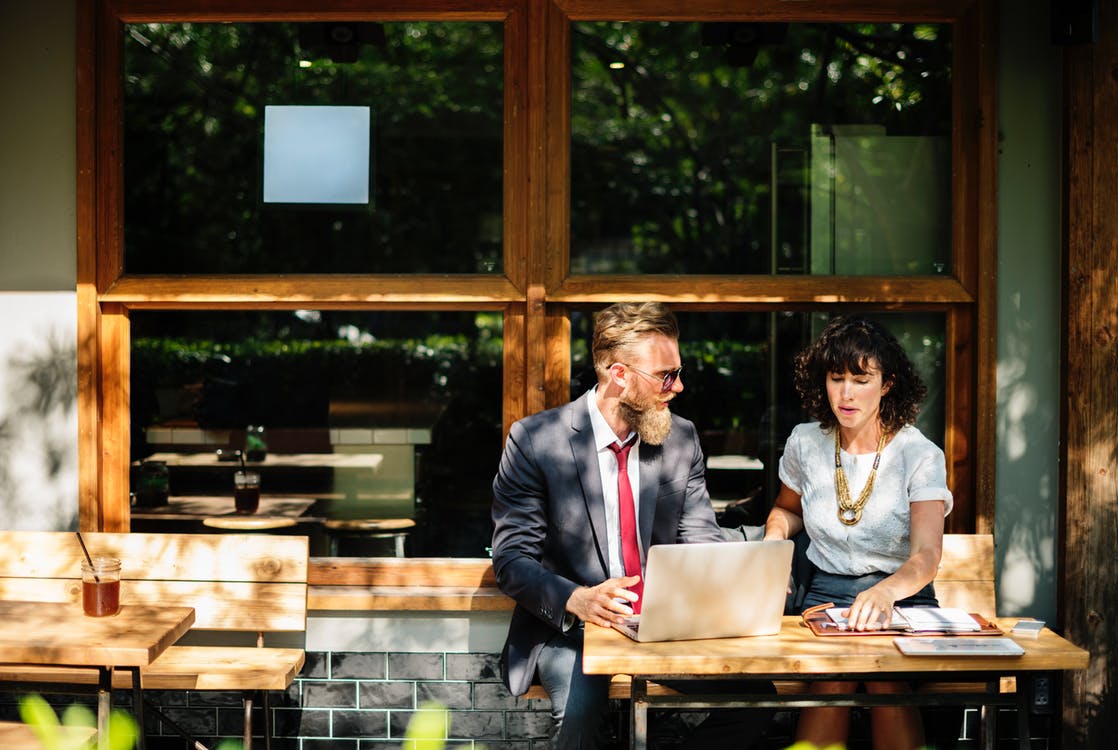 Conclusion
Social media is a great medium for improving customer service because it connects companies to prospects/customers in real time and with social media monitoring you can become part of the conversation as soon as it happens. By leveraging the right monitoring tool, you can identify relevant conversations; assess them, as well as respond in real-time.
The end goal of social media monitoring for customer service is to increase brand loyalty and visibility, as well as exceed customer expectations by creating delight.
The Beginner's Guide to Social Media Monitoring
Download our eBook and find actionable advice on how to use social media monitoring to generate leads, provide better customer service, and gain a competitive advantage. The hands-on tips, tricks, and guidelines will help you develop and implement the right social media monitoring strategy for your brand and business