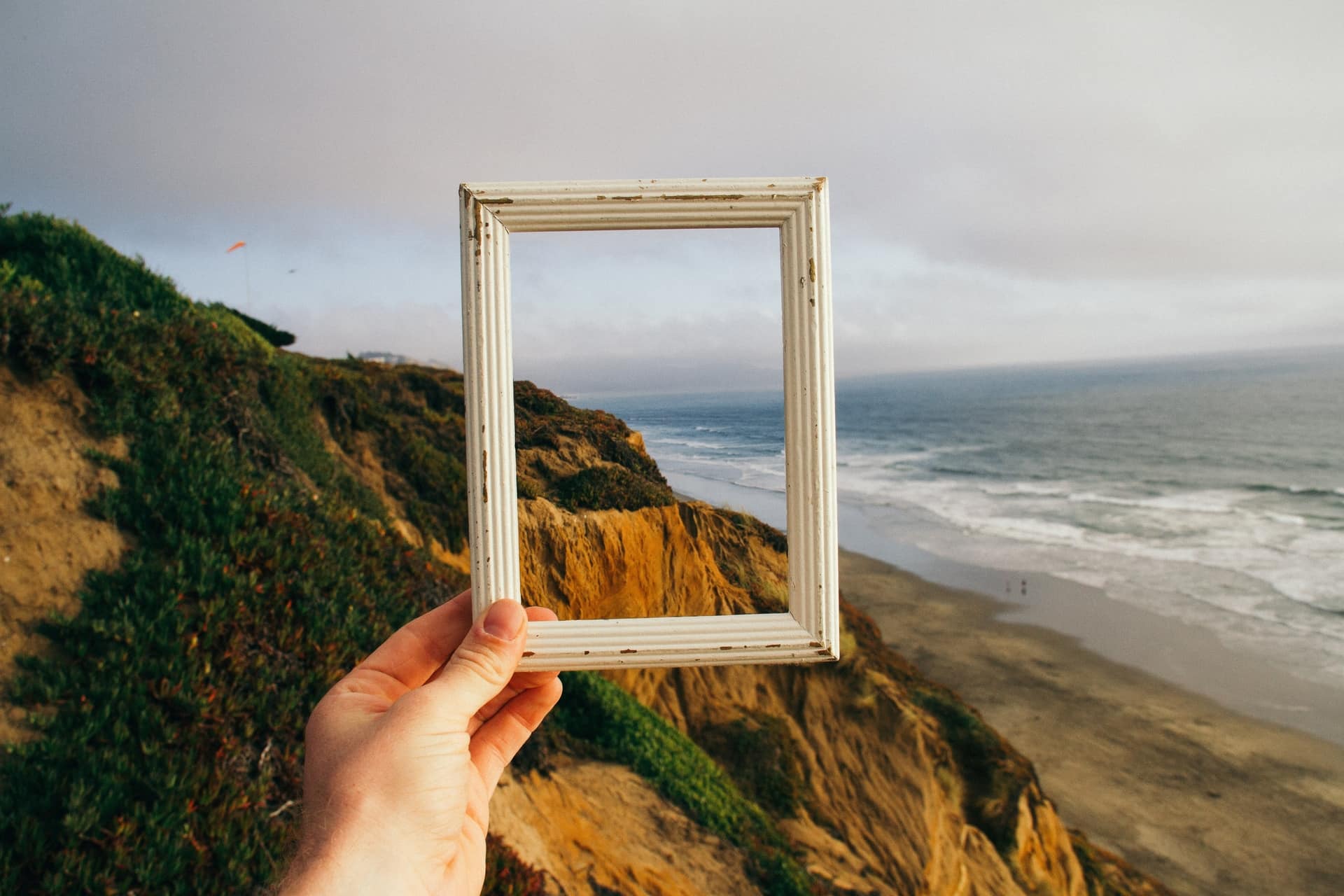 How to Raise Brand Awareness With a Facebook Frame
It is all too easy to overlook the seemingly small details in Social Media Marketing. For instance, did you know that Facebook gives you the option to create your own Profile Frame and share it with your followers?
In this blog post, we show you how Facebook Frames may seem insignificant at first, but can indeed make all the difference. On top of that, we'll walk you through the process of creating your own Frame in a step-by-step guide.
What we love about Facebook Frames
A Facebook Frame is an image that glams up your profile pictures and stories. Think Snapchat filter, or an artistic picture frame.
It is more than a simple gimmick though – you can use Frames for raising brand awareness, and promote events and other activities of your company. Since Frames are for free, they are a great option for efficient marketing at no cost.
How to set up a Frame using the Frame Studio: a step-by-step guide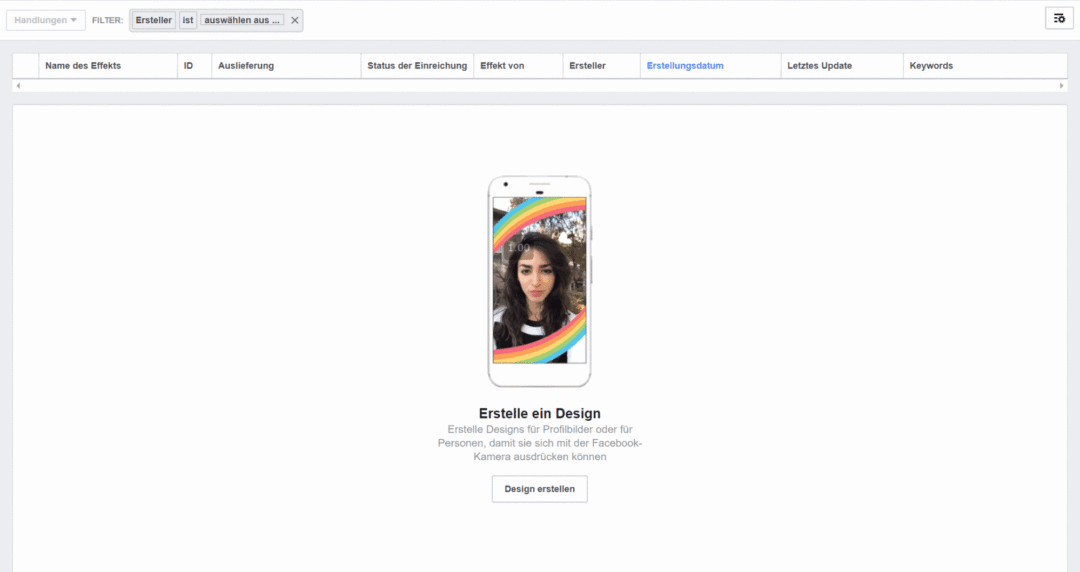 The easiest way of creating your Frame is by using Facebook's Frame Studio. This is how you set up your Frame:
Go to the Frame Studio.
Click on "Create Frame" and "Get started".
An editor will open up, where you can upload an image file in PNG format. Be sure that the image has a transparent background. In this step, you also get to choose whether you want to set up the Frame for your profile pictures, or the Facebook Camera, i.e. your Stories.

Upload an image to create a Frame.

You can then edit the image, e.g. by repositioning it.
In the following step, add the Facebook page you want to use the Frame for, along with a name for your Frame, a publishing date, and keywords.
Additionally, you can decide whether your Frame should be shown to all users, or just the ones in specific locations.
Note: Once this process is completed, you cannot alter your Frame anymore. Also, Facebook needs to approve your Frame before you can use it.
Why your Facebook Frame might get rejected
The prerequisites for having your Frame approved by Facebook are primarily their Community Standards, along with the Camera Effects platform's Terms and Policies.
Common mistakes include:
Your Frame covers a large portion of your picture even though you haven't chosen a corresponding effect.
It includes links to places outside of Facebook, e.g. in the form of a QR code.
Photos of real or fictional persons are being used.
Copyright is being infringed upon.
Generally, Frames need to be suitable for Facebook users from the age of 13, which means sexually suggestive imagery is taboo.
How to share a Frame
In order to share a Frame with your followers, use Frame Studio's home page. You will find an overview of all of your previously created designs there. Then follow these steps:
Choose the Frame that you want to share.
Click on "Sharing" and "Create a post".
Then you can add a text to your design (optional).
Click on "Post" in order to complete the process.
Users who want to decorate their profile with a Frame can find a suitable design here, or hover over their profile picture, click on "Update" and then on "Add frame". If you want to use a Frame on your Stories, go to your Facebook camera and click on the smiley face left to the shutter button.
Tips for creating and using Frames
A Facebook Frame is pretty, but that's not the main reason why you should go through the trouble of creating and using it. In fact, they increase the popularity of companies, brands, and events. The following tips help you in unlocking that potential.
Promote brands with Frames
There is a very straightforward and simple way of promoting your brand by way of a Facebook Profile Frame: using your brands' or company's logo in the Frame. Contrary to their previous terms, Facebook now allows you to do so. Alternatively, you may want to use a claim, or another part of your corporate branding, and make it part of your Frame.
It is of course key that the result is visually enticing. After all, that's how you get a significant number of Facebook users to use your Frame with their profile picture.
Create Frames for events
You can also promote events with your Facebook Profile Frame. Besides companies, many political parties, large organizations, as well as social movements make use of this option. For instance, there were designated Profile Frames for the "Volksbegehren Artenvielfalt" (a political referendum) in Bavaria, as well as International Women's Day.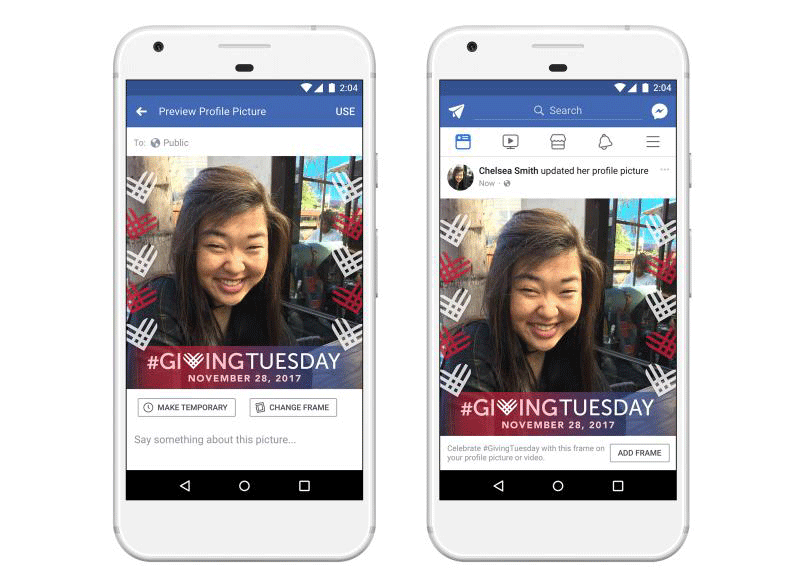 Finally, the Facebook Profile Frame is also quite useful for displaying attitudes and opinions. For example, there are a large number of Frames with anti-racist visual language.
Expanding visibility with keywords
When creating your own Facebook Frame, you can select up to ten keywords. They fulfill the same function as elsewhere on the Internet: they increase how easily and often your Frame is being found. Consequently, be sure to take your time in figuring out which keywords your target group might be searching for.
Tips for designing your Frame
These tips help you in creating a Frame that visually appeals to your followers and other Facebook users:
Use a program such as Canva or Photoshop for your design. Keep in mind that the background must be transparent.
Don't make your Frame too dominant. It should complement a given picture, not outshine it. If it is too dominant, the design might go against Facebook's guidelines and thus be rejected.
Keep your design simple. If there is too much going on, the user experience could actually become less engaging, especially if the user is viewing your Frame on a phone.
For both the big picture and the minute details of Social Media Marketing, we provide useful tips in our e-book "From Zero to Hero". Download it now and get your Social Media Marketing to the next level.
From Zero to Hero: The Social Media Marketer's Strategy Kit
Download the strategy kit for social media marketers who want to stay on top of their game. Use the actionable steps, tips, tricks, and guidelines to take your brand and business from 0 to hero on social media. The kit is accompanied by ready-to-use templates to help you define, implement and monitor your social media marketing strategy in all its complexity.
For advanced users: Spark AR Studio
Apart from Frame Studio, there are more options available for creating Facebook Frames. With Spark AR Studio you can create amazing AR visuals. However, the tool is mainly targeted towards companies and individuals who want to take a deeper dive into the matter, which is primarily useful when you want to win over Facebook users with more extravagant designs. For a start, sticking to Frame Studio is absolutely fine.
Getting started on using Frames is worth it
A Facebook Frame is not a secret weapon in the realm of Social Media Marketing. The scope of its effect, and whether it is indeed effective at all, largely depends on your brand and target group. Most Facebook users don't use a Profile picture Frame long-term. Nonetheless, a well-made design can boost your popularity for a short amount of time, at no cost at all.
Whether on Facebook, Instagram, or Pinterest – Swat.io is the perfect tool for coordinating your Social Media Marketing. With a central calendar for planning, releasing, and publishing content on various platforms, Social Media Monitoring, and many other features. Start your free trial now!
Efficient Social Media Communications With Swat.io