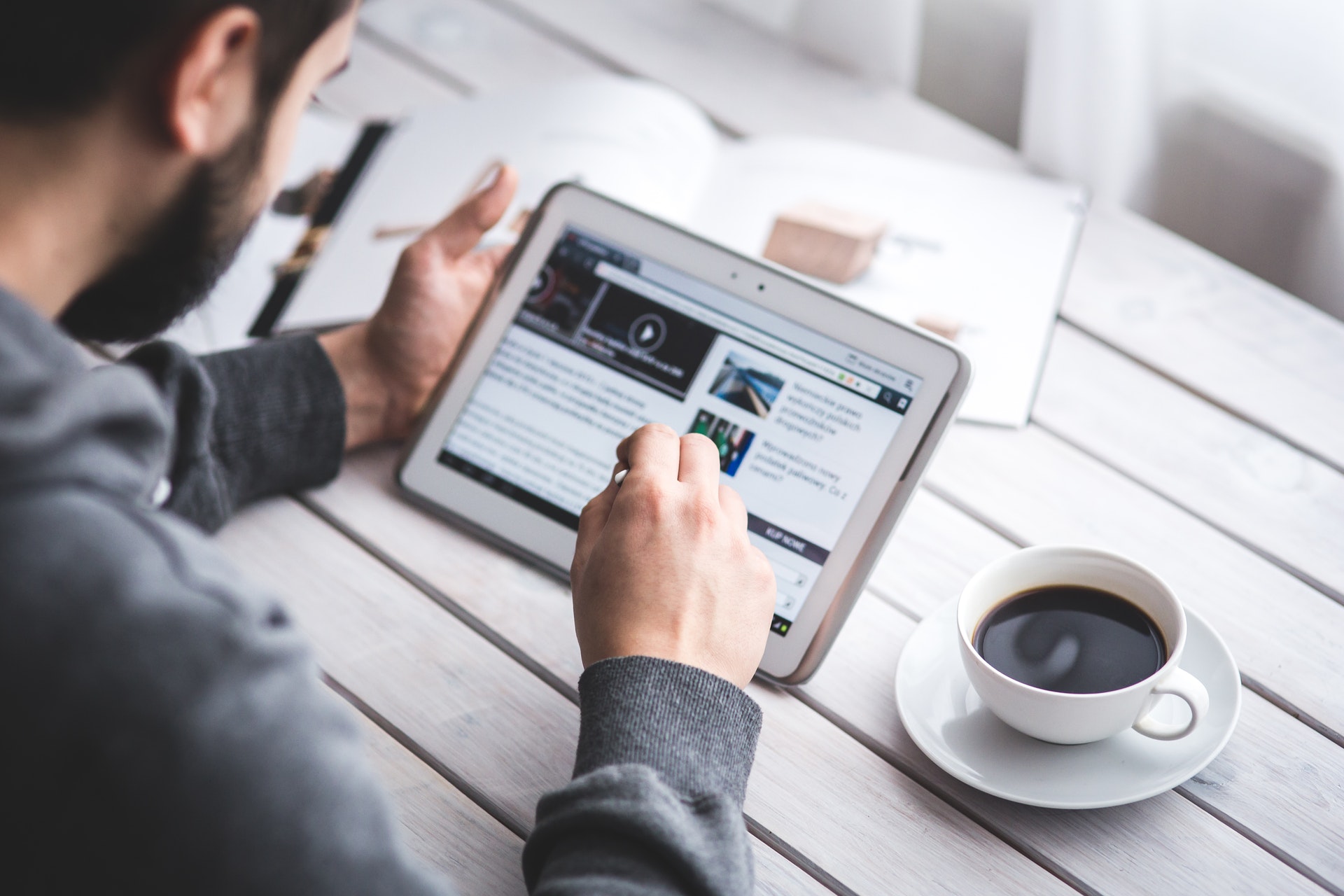 More than 5 Million Fans across 100 Channels: FOCUS Online and Swat.io – a success story
Focus Online is the uncontested number one among Germany's quality digital media, reaching more than 20 million unique users per month. Through the FOCUS Online Website, along with the tablet and smartphone apps and all relevant Social Media Channels, the media company provides current news and solution-focused service information around the clock. Today, FOCUS Online is active on about 100 channels on a variety of Social Media platforms, where they provide news on politics, economy, entertainment, and society, as well as innovative report series, such as "14 Länder, 14 Reporter – Lösungen, die für unsere Gesellschaft Vorbild sein können" ("14 countries, 14 reporters – solutions that can be a model for our society"), to more than 5 million fans. In order for all of this to run smoothly, the Social Media team counts on Swat.io.
In celebration of the 5-year-anniversary of the partnership between FOCUS Online and Swat.io, we are looking back on our past years of collaborating. In this blog post, we are showing you how Social Media at FOCUS Online has evolved over the years, and the indispensable role Swat.io has played there.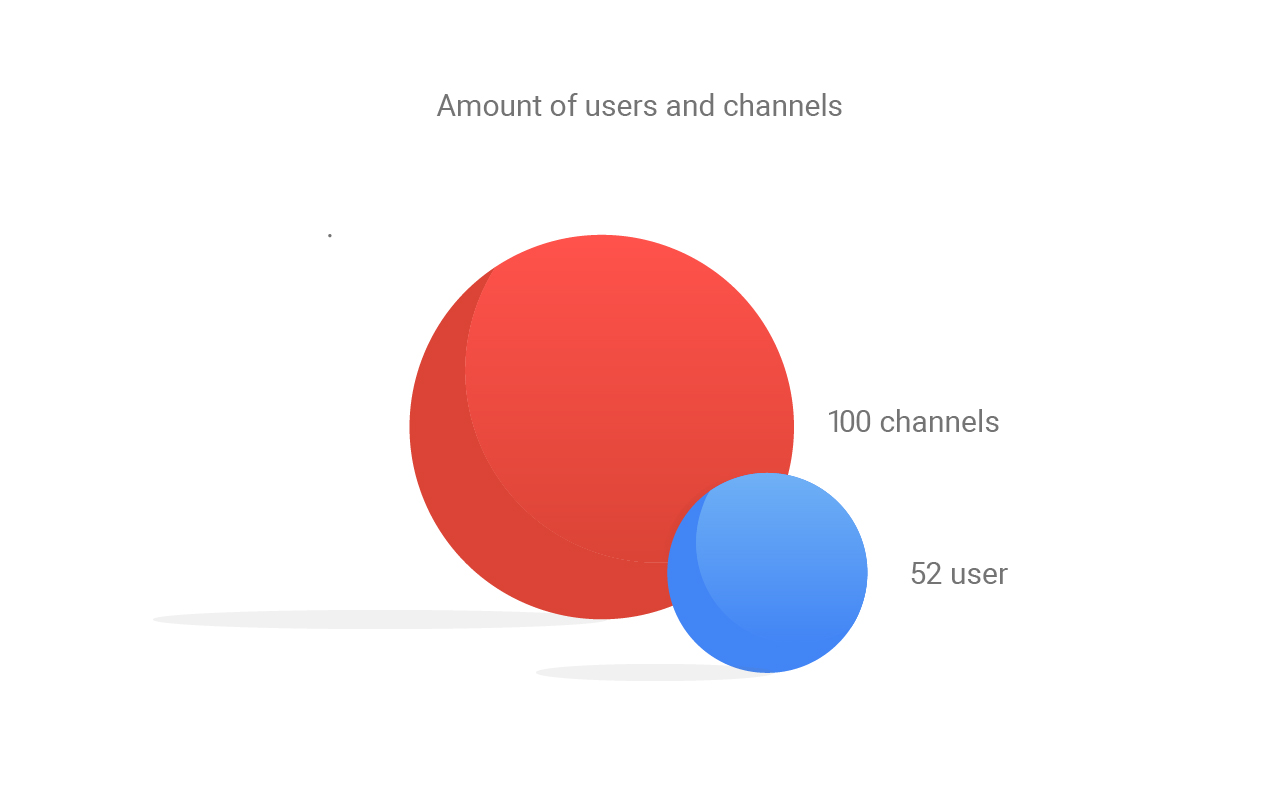 FOCUS Online Statistics
Community Growth per network and month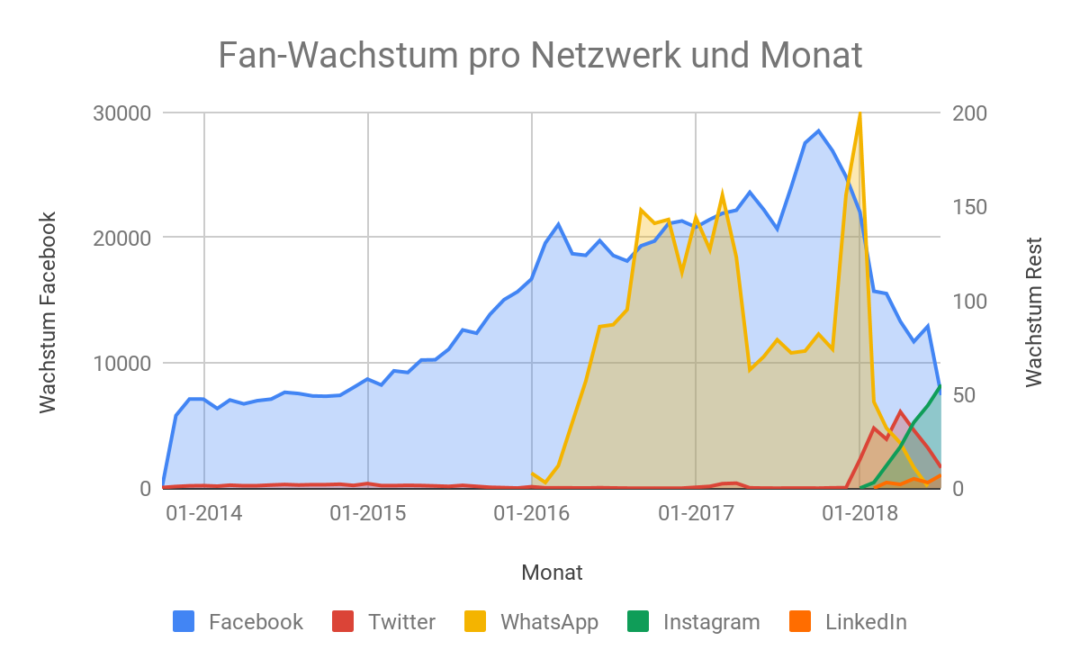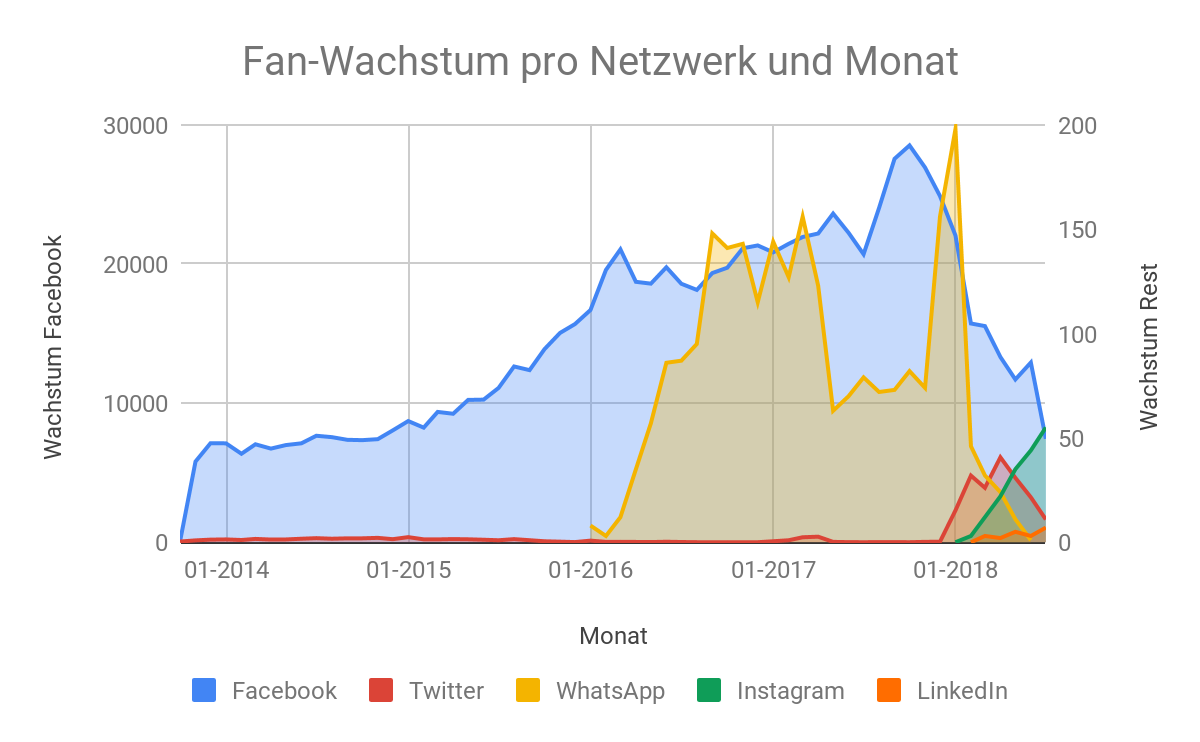 Over the past few years, the number of FOCUS Online followers on Facebook and WhatsApp has increased significantly. The decrease in growth and the change in 2018 primarily illustrate two developments: for one thing, the growing diversification in Social Media Channel usage, and additionally, the ramifications of the countless changes in the Facebook algorithm, which has also had implications for publishers' organic reach. The visibility in the Newsfeed, and therefore organic growth too, has been more challenging ever since. In addition, FOCUS Online now uses prominent content positions, originally used for follower generation, for other elements.
There are many key figures for Social Media Monitoring, but which ones are truly significant? Find out what really matters in our blog post "25 key figures you need to know in 2019", and discover why your community's size on its own is not enough to know if you're failing or succeeding.
Facebook Community growth by Channels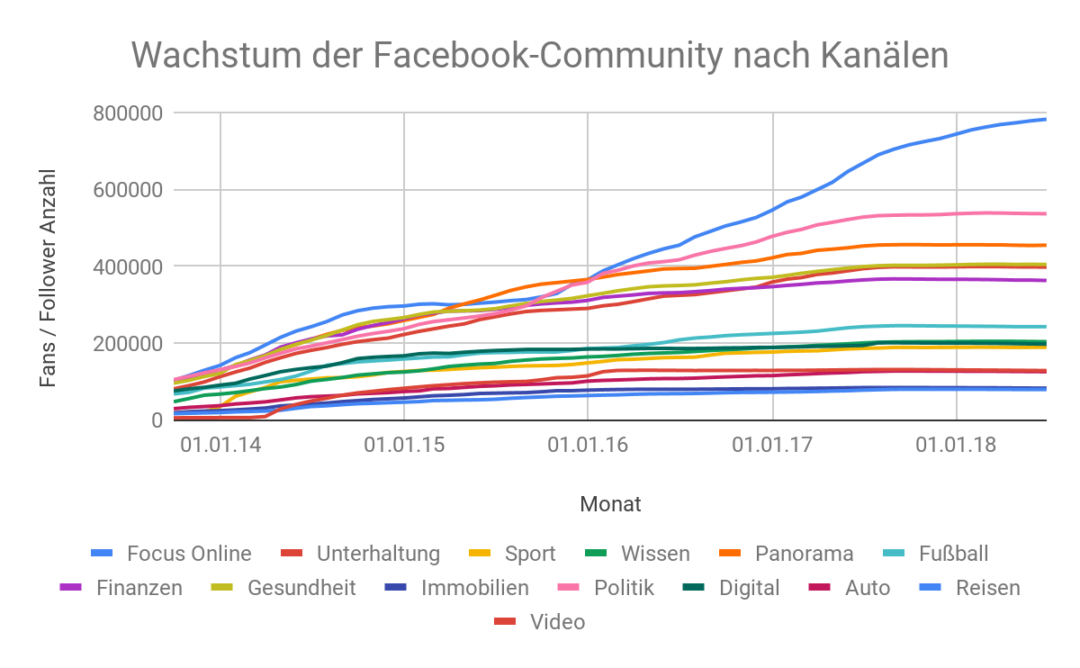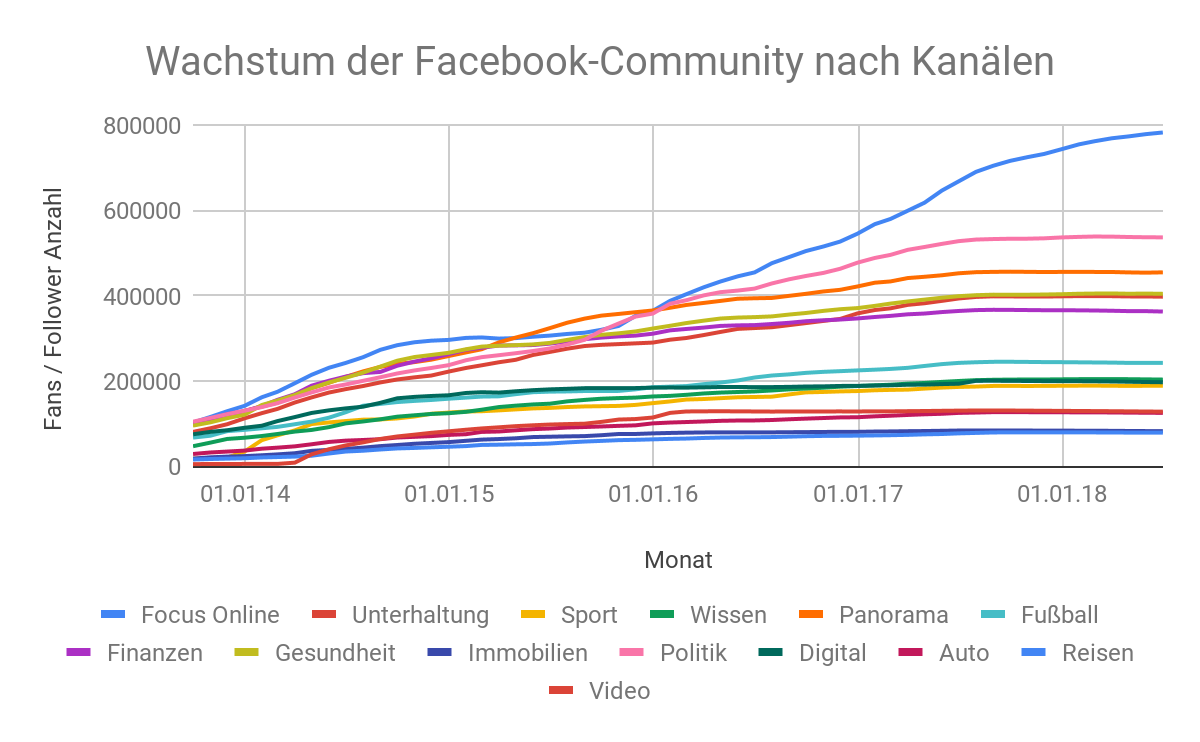 The uncontested front runner among our various Facebook Channels is the FOCUS Online main channel, which offers a mix of relevant topics from various resorts to its followers. Other large channels are FOCUS Online Politik (Politics), FOCUS Online Panorama (Miscellanea), FOCUS Online Sport (Sports), and FOCUS Online Unterhaltung (Entertainment).
Development in number of channels and posts per month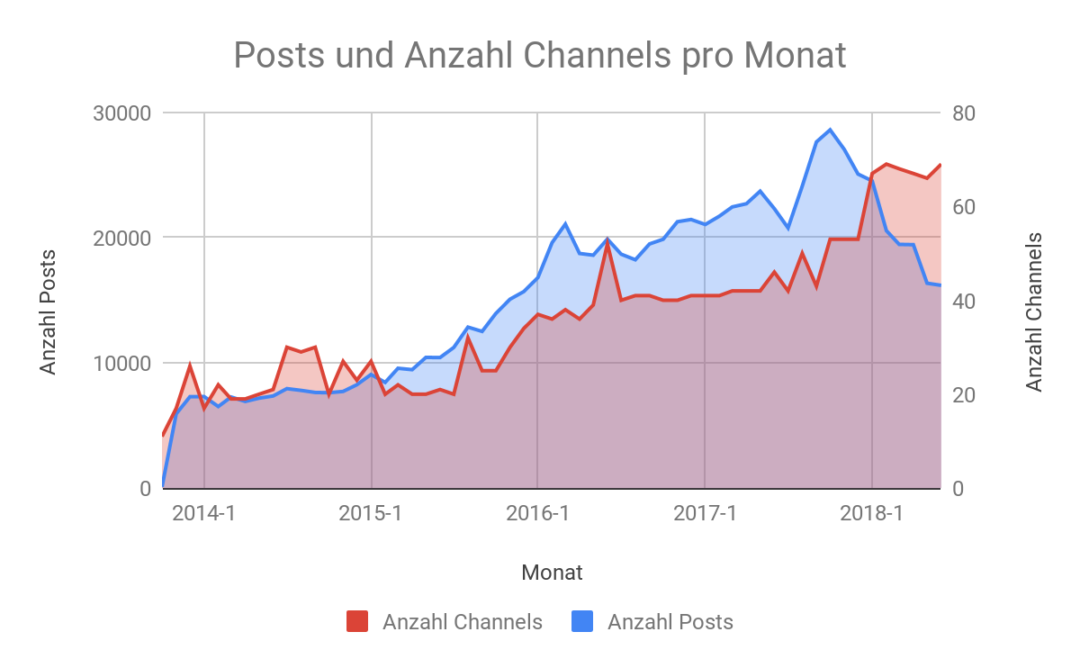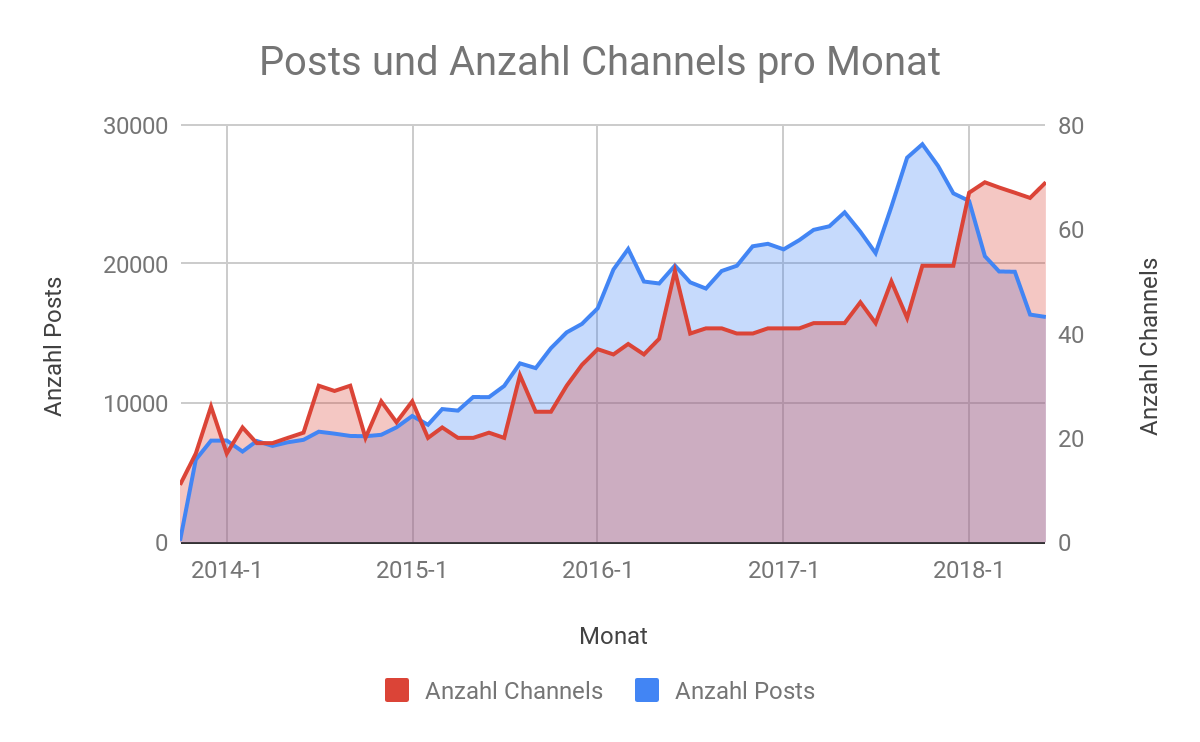 The number of posts had been growing along with the number of FOCUS Online's channels for a long time, but the Social Media team has reduced the number of posts purposefully, in order to focus on the quality of our content even more.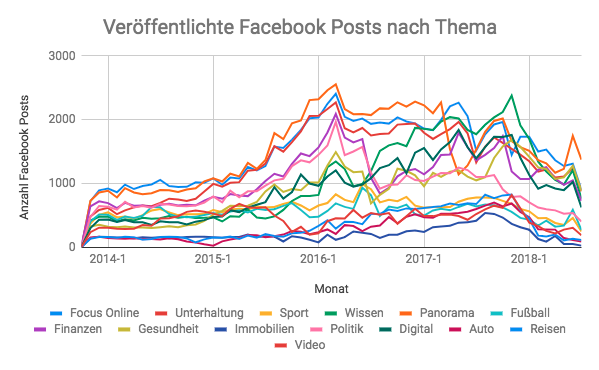 Analyzing the top Social Media posts
A hacker network against terrorists, missing person reports, soccer – the posts with the most Likes, Shares, Clicks, and Comments on FOCUS Online couldn't be more diverse.
Likes
The news about the hacker network Anonymous having exposed an ISIS terrorist received almost 87.000 Likes. Half as many Facebook users reacted to the request to honor Joshua Kimmich's debut for the German national soccer team.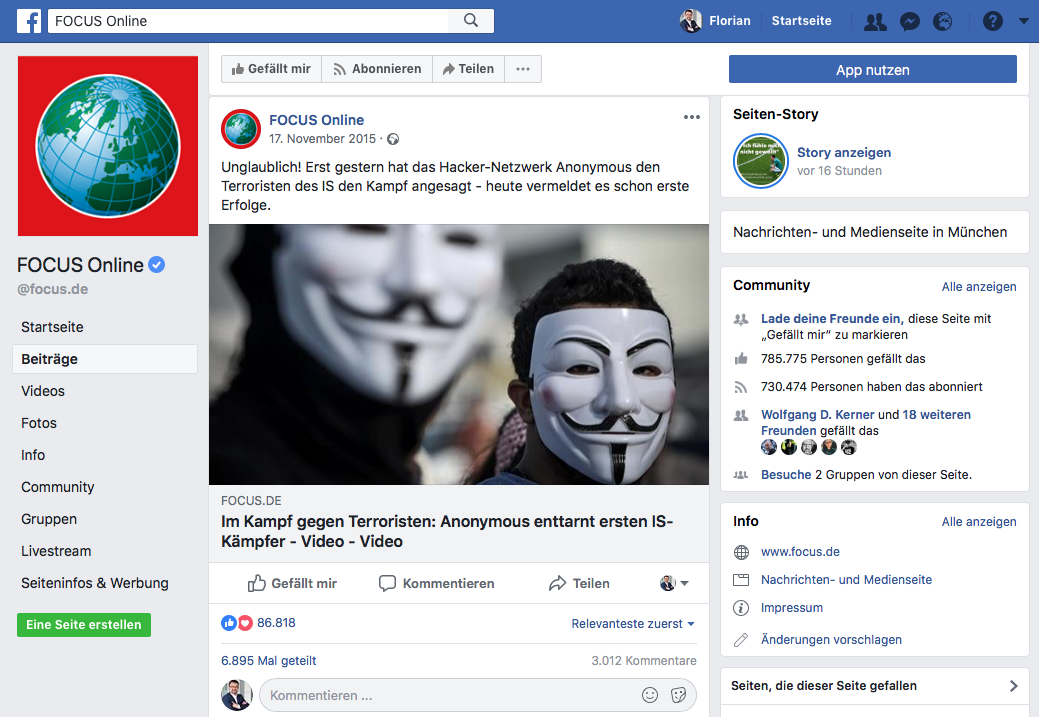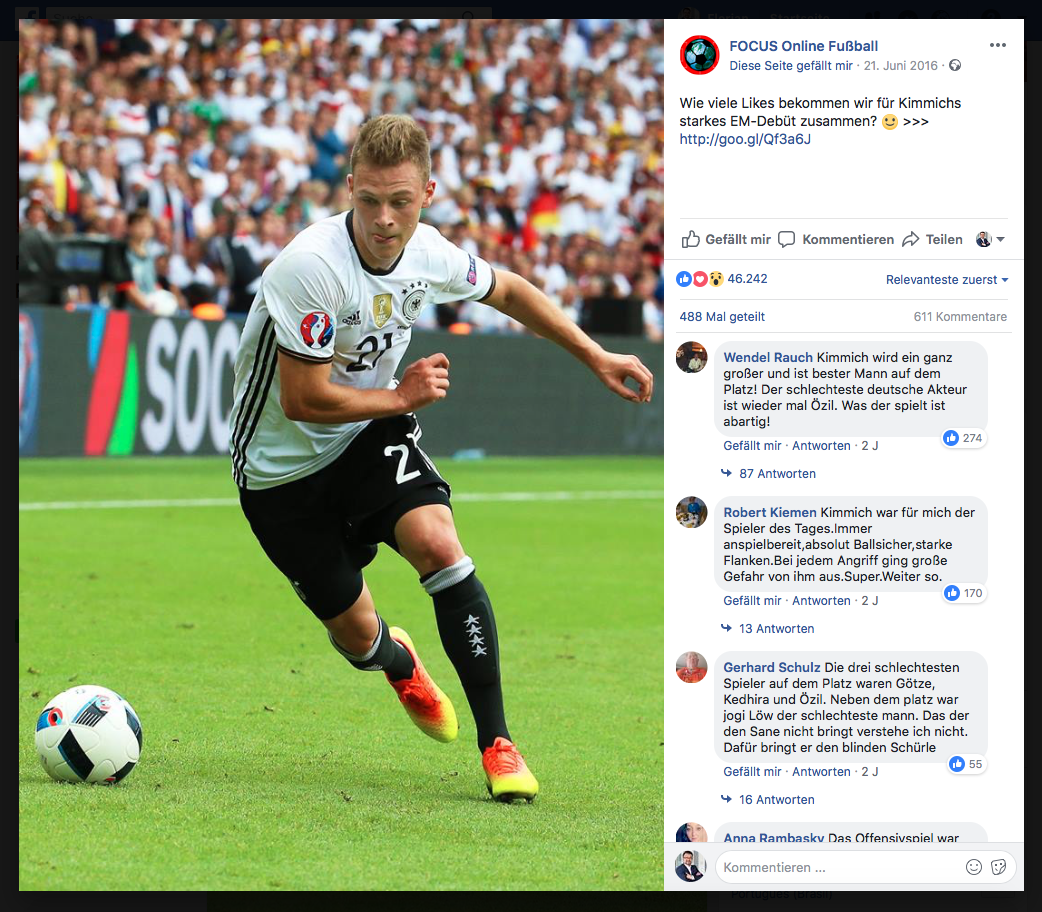 Shares
At a rate of more than 23.000 Shares, the missing person report of 11-year-old Gina was shared very eagerly. Luckily, the girl was found shortly after the news about her disappearance started spreading.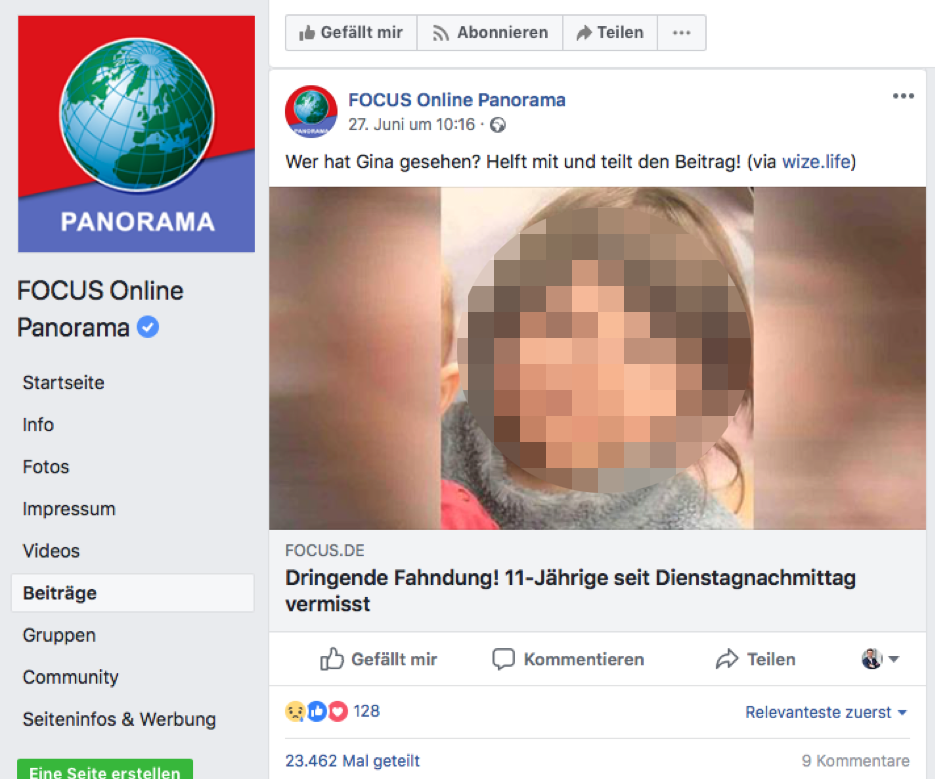 This touching ad, put out by the family of an 18-year old survivor of a motorcycle accident in order to find his unknown first responder, was shared almost 14.000 times.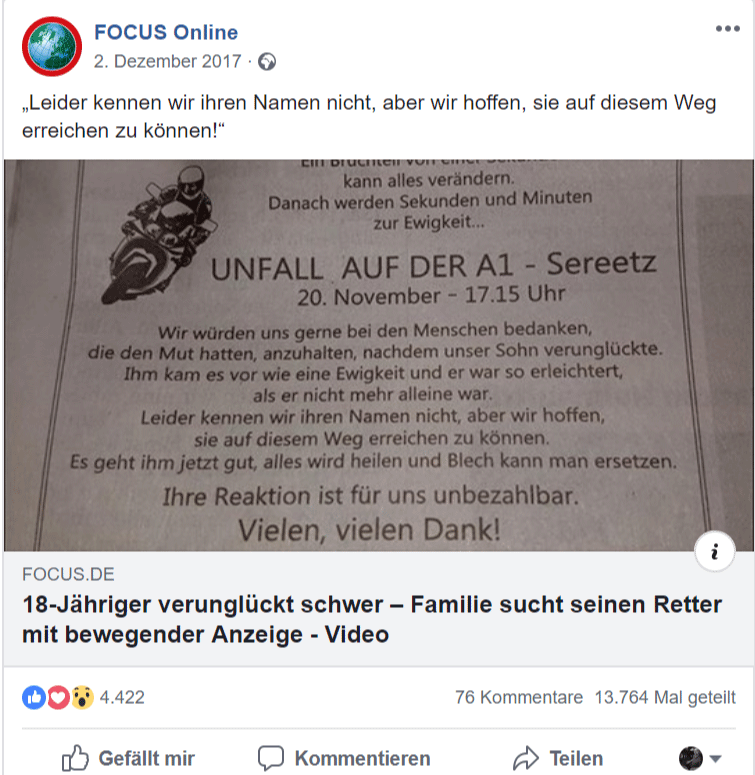 Clicks
When taking a look at the Facebook posts with the most clicks, we meet an old friend again: The post featuring the hacker network Anonymous gained about 2 million clicks. Likewise, an unusually honest obituary received 1.5 million clicks.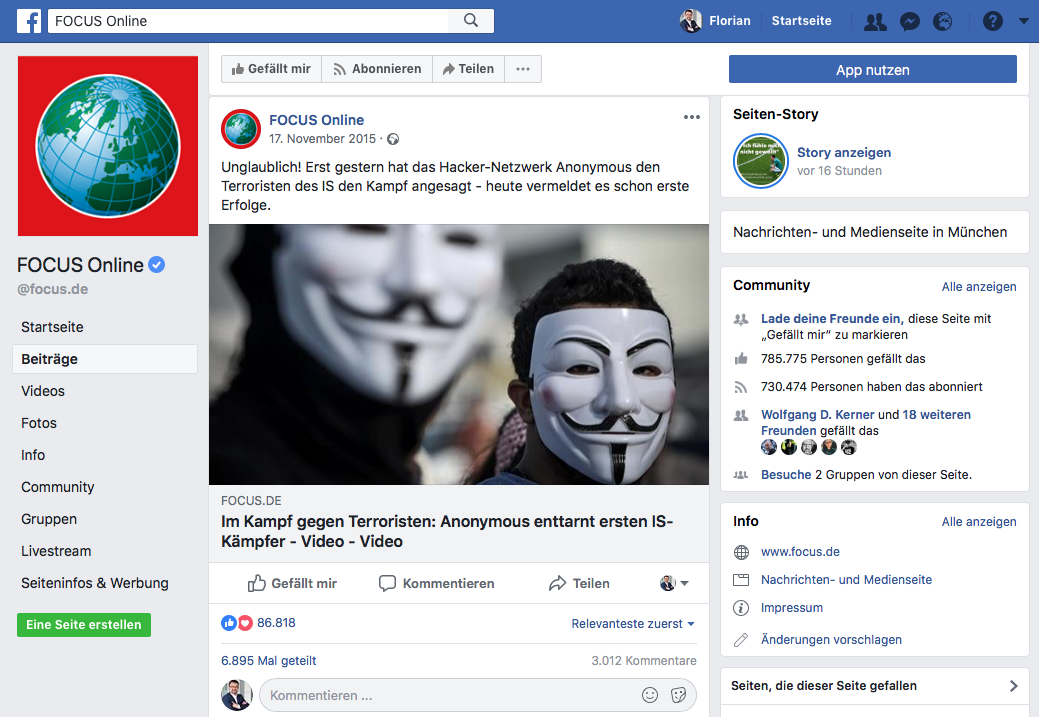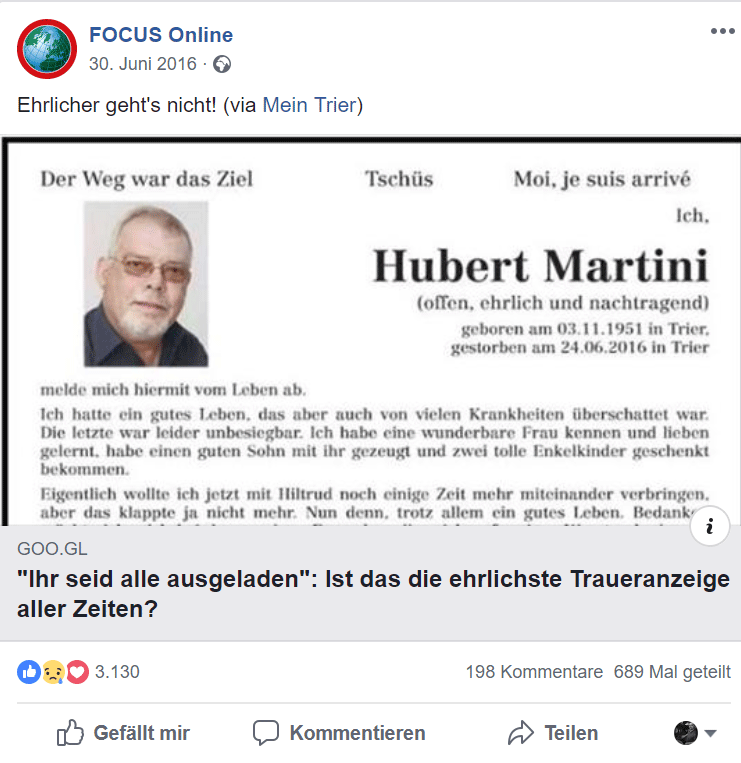 Comments
As we all know, stress is a widespread disease, and at work, it is particularly rampant. Could it help to punch an oversized enter button to get rid of some of those pent-up emotions? This idea, presented in a video, proved to be tremendously successful in sparking interaction.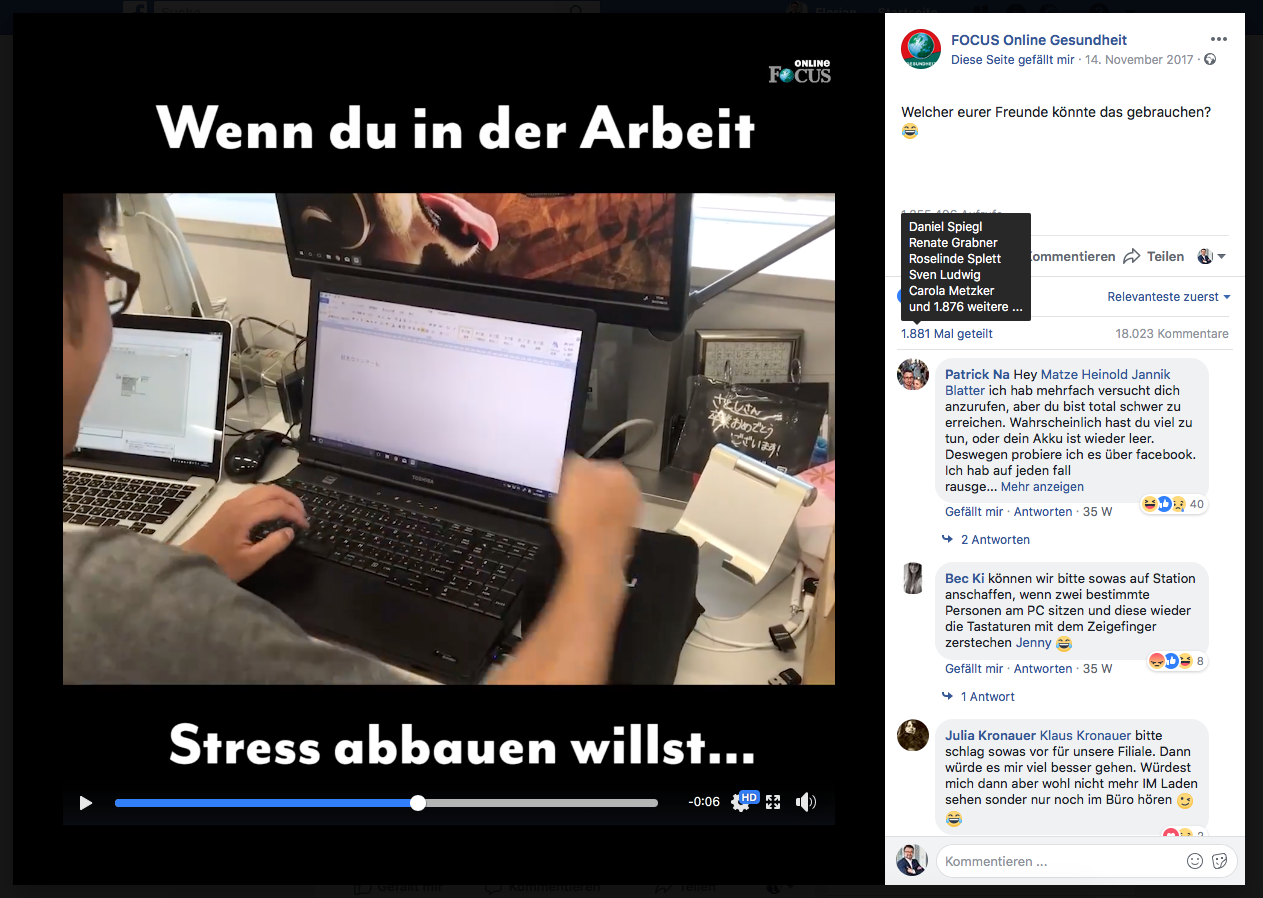 The fact that Netflix, depending on the subscription plan, allows for multiple people to share one account, is happily exploited by groups of friends. Maybe that is why the following post received almost 50.000 comments.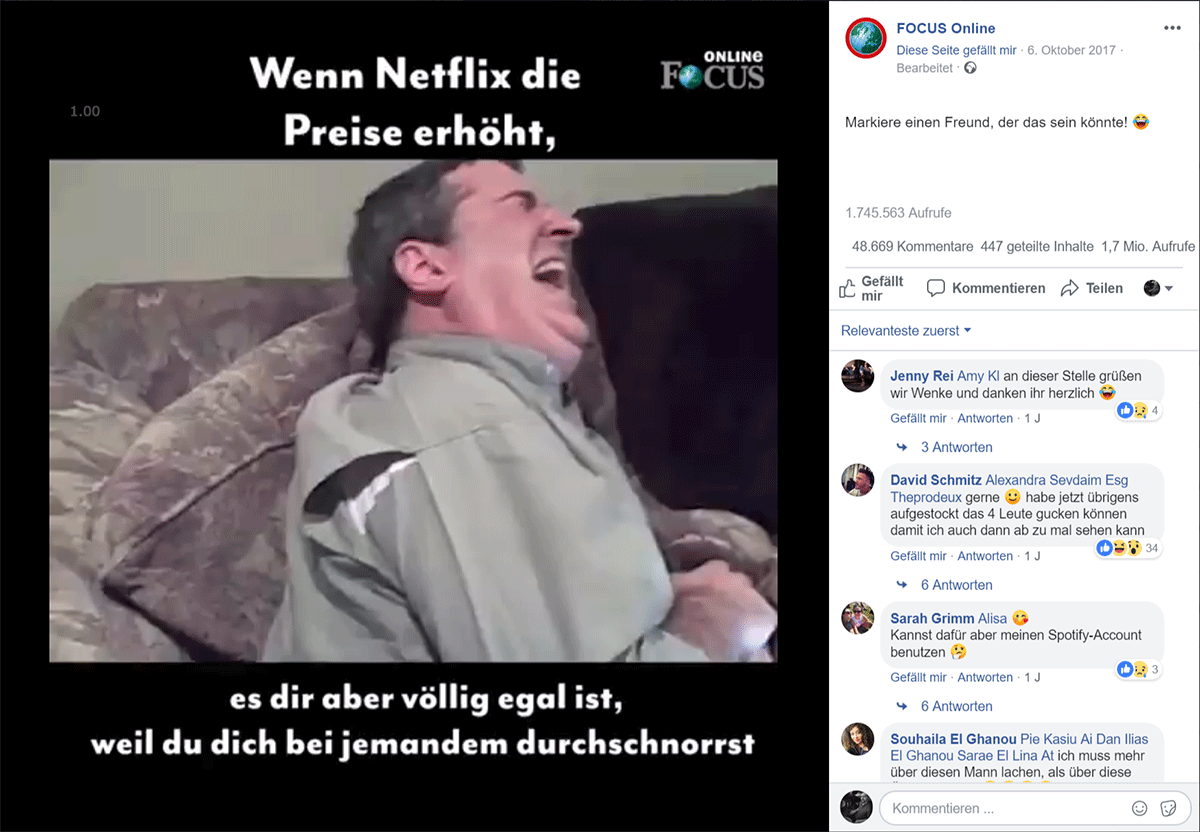 Reactions
An article about a courageous car driver who prevented a multiple pileup in an unusual way, received a lot of attention.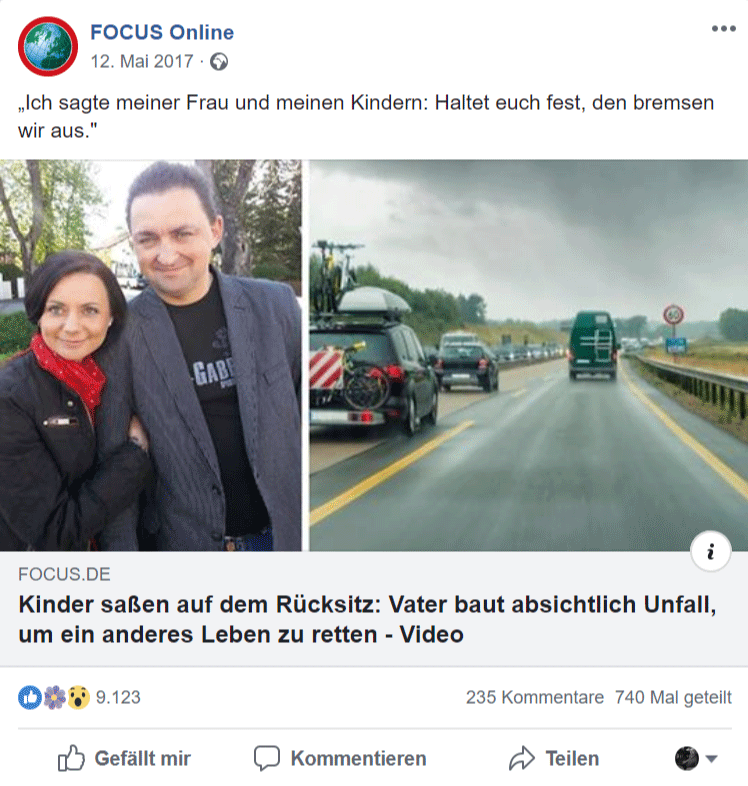 A true hero! A tattoo artist covers up scars and mutilations free of charge and has made lots of people immensely happy by doing so. On Facebook, a great number of people were touched by this story.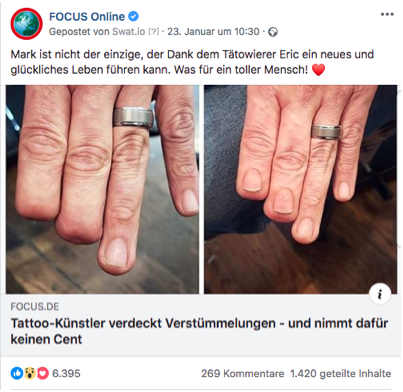 Other especially successful posts
Do you enjoy stealing your partner's french fries? Doing so might cost you more than you think – so be careful, and avoid what happened to this poor Brit. Probably not least due to his peculiar character, this post attracted more than 7.000 comments on FOCUS Online's main Facebook page.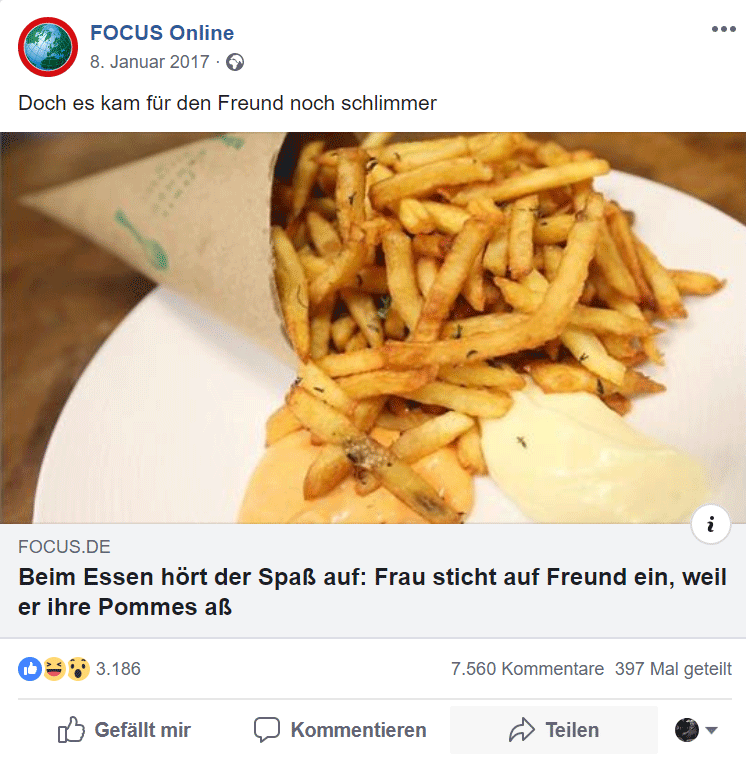 A couple who had been married for 70 years died only a few minutes apart, hand in hand: This moving story gained about 4.700 reactions and almost 2.600 shares on Facebook.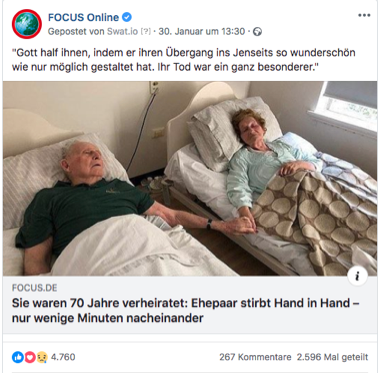 The news concerning a statement by Health Minister Jens Spahn on the pensionable age keeping on rising even after the year 2030 garnered many Likes, Shares, and Comments.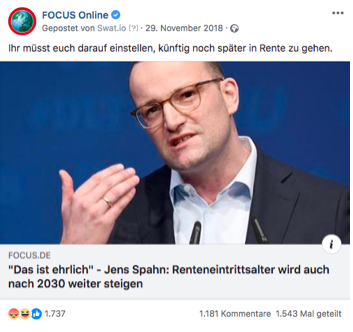 Interview with Maurice Brodhun of BurdaForward
As the Head of Social Media at FOCUS Online, BurdaForward's Maurice Brodhun is working with Swat.io daily. We have asked him a couple of questions about his work and development at FOCUS Online over the course of the past five years.
5 years ago, what was the starting situation at FOCUS Online, and which goals and demands were defined? Which developments then took place in the past couple of years?
When I joined the FOCUS Online Social Media team 5 years ago, we were at the very beginning. In accordance with the different departments on our Website, we had a main channel and a couple of additional Facebook channels that we posted to daily. With Facebook's stark growth however, we quickly developed the channel structure we are still working with today, and gathered a fanbase of over 5 million followers. Our Social Media team grew accordingly, and we implemented a 7-day-desk soon.
How do Swat.io's features support your Social Media strategy? What advantages do you see in using a Social Media Management tool?
Swat.io is extremely helpful when there are is a group of people working together to curate a company's Social Media presence. For us, the most important features are the calendar and the analytics tab. Considering that we now have more than 50 Facebook pages, we use Swat.io to always keep a clear overview of them all, and switch between Channels efficiently. It helps us in content planning and, through a custom link with our editorial CMS, allows us to publish our content quickly and easily on various platforms. Especially with short-lived information, such as breaking news, every second counts. We particularly value our individual trackings, implemented in cooperation with the Swat.io team. They help us measure and analyse our performance and enable us to better understand our users and cater to their interests.
Only the right strategy will make your Social Media Marketing truly successful. Download our free e-book "From Zero to Hero" now and, with our tips, tricks, and guidelines, make the most of your Social Media presence.
On Facebook, you are counting on organic reach and your content's virality. What is your secret recipe in terms of editorial planning, and how do you react to changes in the newsfeed/algorithm? Which role does Paid Social play for you?
We ask ourselves every day, which content will excite people on the Social Web, and could provide added value to them. We want to emotionally address and win over people with our content. For this, we mostly count on our channels' organic power. A cornerstone of this principle is close coordination with the editors and individual departments of FOCUS Online. As part of the editorial conference, as well as a daily Social conference, we always work on stories that are meaningful to our Social Users. We find it especially important in this process to continuously screen for trends, using tools such as Crowdtangle and Storyclash. However, most importantly, we need to be flexible and creative – both as a team, and on the individual, personal level. Especially in the wake of the ever-changing algorithm, we keep challenging our workflows and always try to react swiftly, and prioritize in new ways. The question at the heart of our processes is: Where do FOCUS Online and Facebook's infrastructure meet each other in the most effective way?
You have integrated an impressive number of Channels into Swat.io, as well as a large team of Users who work with it. How do you keep your overview, and collaborate editorially?
Among our greatest challenges is staying on top of the massive amount of editorial content, and identifying those contents suitable for our Social Media Channels. Because of our cooperation with by now more than 100 different news portals within our publishing network, we get a large amount of content from various areas. This is where a clearly structured distribution of tasks and competences within our team is key. We currently have separate teams responsible for pages focused on News, on Service and User Value, and our Local Communities.
The worlds of both news and Social Media are developing at a similarly fast pace. How do you work with trends and new features such as Live formats, Stories, or Instagram TV?
We are absolutely open to new trends. We regularly screen changes and new features, discuss them, and evaluate how we can best implement them and shift our processes accordingly. This isn't just true for changes on Facebook, but likewise for other platforms, such as Pinterest.
Facebook is your primary Channel. Which pros and cons for publishers do you identify when comparing Facebook to other social networks?
At this very moment, Facebook is still the most popular social network in the german-speaking countries. Therefore, it offers the easiest way of reaching the most people. Another plus are link posts and other ways of linking to your website. Of course, with reduced visibility of publishers in the Newsfeed, it has recently become a lot more difficult to get the exposure and amount of highly successful posts we would like to have. Consequently, it is exciting to see how other platforms such as Instagram or messenger services like WhatsApp are developing and which linkout opportunities they will have in store for us media brands.
This is how you and your company benefit from Swat.io
FOCUS Online's success story shows how modern media companies benefit from using Swat.io in their daily work. After all, it is increasingly difficult to maintain an overview of your Social Media presence, considering the growing number of different channels, higher post volumes, and the steady increase in your follower count. At the same time, the requirements for Community Management keep on getting broader and broader.
Swat.io has everything you need in order to keep a clear overview, even with 100 and more Channels:
a uniform calendar for planning, discussing, and publishing content as a team
a centralized Ticket inbox for successful Community Management
extensive Analytics and Social Media Monitoring features
and much, much more
You want to learn more about Swat.io's advantages for your company? Start a free trial now and take your Social Media Marketing to the next level.
Efficient Social Media Communications With Swat.io