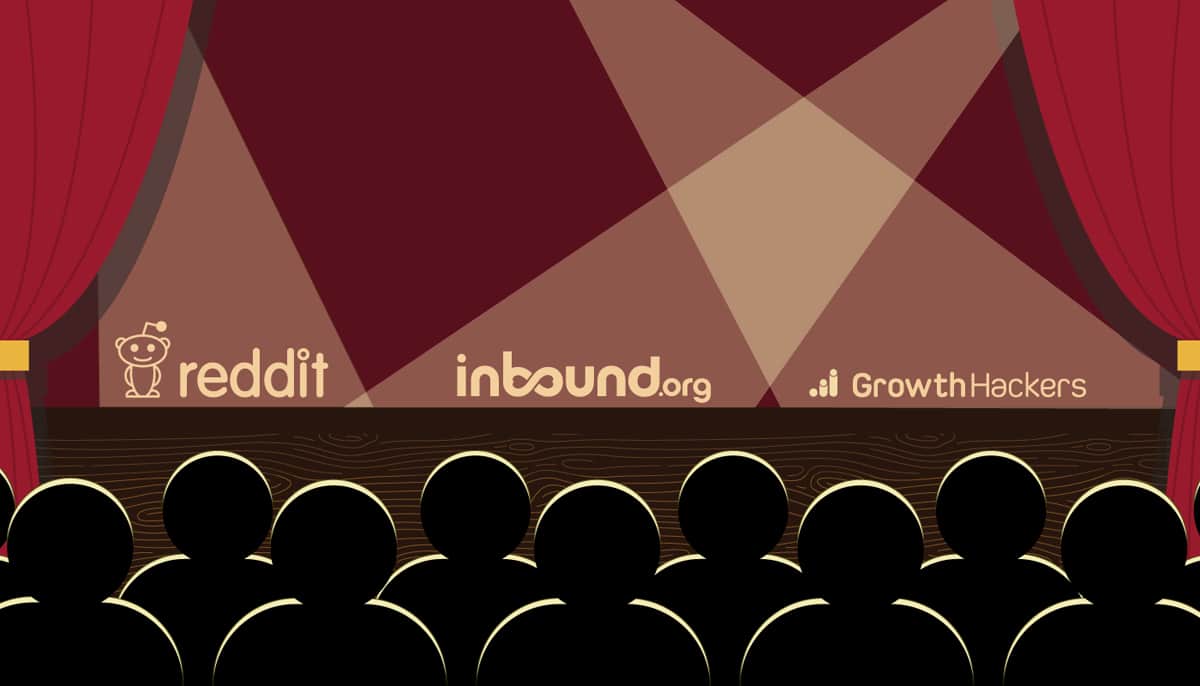 Guest Post: How to Go Beyond Social Media – Promoting Content in Online Communities
Social media is not the only avenue you can take when it comes to promoting your brand online. Instead of focusing on creating your own audience, you can also try to engage already existing audiences on various community platforms. By showcasing your content on websites like GrowthHackers, Inbound.org or Reddit, you can reach completely new audiences and customers.
We've recently managed to create quite the stir on one of these community websites by inviting a prominent figure in the social media world to share a bit of advice with other online marketers. Learn how that turned out and how you can start promoting yourself on these community pages.
Why it pays off to engage communities
Online communities give you access to a completely new pool of potential customers at no cost. Apart from the time spent on preparing your content, exposure on these platforms is free. You only have to provide good quality content to the community.
Another benefit of promotion on these platforms is that you don't have to build the community yourself. When you step in, there are already hundreds of members who can see your content. As opposed to your social media channels, you will be able to start getting a decent number of views on your articles, guides or webinars immediately.
The extra reach these platforms provide can be amazing. Its members will often share the best discussions on social media, providing some extra exposure. If the discussion about your piece of content blows up, you also get the chance to appear in a community newsletter.
Here are a couple of communities we use regularly:
Using AMAs to promote your brand
Communities give you the unique chance to have users participate in your promotion. This is why all kind of discussions are possible on these platforms. Instead of simply blasting a particular material to the community, you can start a discussion and have multiple members participate, add to your message and make it more valuable to others.
One of the more awesome ways of sparking an interesting discussion is hosting an AMA session. AMA stands for ask me anything and is a format that gives anyone a chance to ask someone famous a question. For example, Bill Gates hosting an AMA on Reddit and answering questions from the users. It's like a Q&A session you could see during a conference but a lot more people can participate and it all happens online.
The Art of Social Media Content Creation
Download our eBook and learn how to plan, create and distribute your social media content while measuring its effectiveness on your relevant social media channels. To ensure you don't miss out on any big social media content trend or best practice, we've also included interviews of 5 experts in this field. Find out how to master the art of social media content creation using the latest available tools and determine what type of content makes your audience tick!
We had the great pleasure of organizing an AMA like that on GrowthHackers. We asked John Yembrick, the social media manager of NASA to answer a bunch of questions on his view of social media, his methods and so on. GrowthHackers users asked a lot of fun and interesting questions and John provided some great answers. As a result, the discussion got a lot of attention and views. Since Agnieszka, our social media manager, was mentioned as an organizer, we also got some exposure out of the whole event.
We didn't stop just at the AMA though. Since it was so popular, we decided to follow it up and approach John to host a quick interview. Once the interview was available on our blog, we updated the existing AMA with the link to the content for those interested in even more valuable knowledge from John.
Thanks to the AMA, the GrowthHackers community was given a chance to take a look at what happens behind the stage of NASA's social media. In return, our brand got some exposure and we showed that we can produce some pretty interesting stuff.
Sharing knowledge and content in discussions
Another way of spreading the word about your brand in online communities is to share valuable knowledge with the community. If you find a discussion on a particular topic that you know inside and out, you can share your experience. This is a perfect way to share a link to an article or guide you wrote.
If it's not blatant promotion and you share some neat tips, your content will be greatly appreciated by the community. If enough people likes it and 'upvotes' it, the discussion can start trending and will show at the top of the list of ongoing conversations. The more valuable knowledge you share, the more trending discussions and clicks on your links you will get.
Here's a couple of ideas on how to get a topic trending:
Share valuable content

– This is the basic rule you always need to follow. If it's on point and shares some unique advice, you will have no problem with sparking some interest among the community.

Pick the right category

– When starting a discussion, make sure to add it to the most fitting category and add any related hashtags. If people have trouble finding your discussion or the placement doesn't make sense (talking about

marketing

in a

customer service

category), you can't expect to get a lot of traction with it.

Be responsive

– You should respond to all questions and comments users leave under your content. It's a way to provide some extra insight as well as get many people participating in the discussions. If they see you already answered several questions, they will be more eager to also ask one.
Promote the discussion – If your topic starts getting some views and comments, it may be a good idea to promote it further on your own social media channels. If people liked your article enough to leave a comment and upvote it, there's a good chance others will do too. You can even try to get some industry influencers on board and ask them to answer a particular question in the discussion. If they like the questions, they may even share it on their own channels.
Leverage the power of online communities
If you feel like your content has reached some kind of ceiling, participating in community discussions can be a great way of keep growing past that barrier.
Getting access to a huge number of qualified leads is possibly the most important perk of joining these communities. Since they are centered around a product or industry, they give you access to potential customers who don't have to be educated on why they need your product.
Give it a go yourself and try promoting your next piece of content on a community platform. There's plenty of them to choose from: for all industries, use cases and products. And once you do, make sure to share your results!
See you in the comment section under your next discussion!
Efficient Social Media Communications With Swat.io