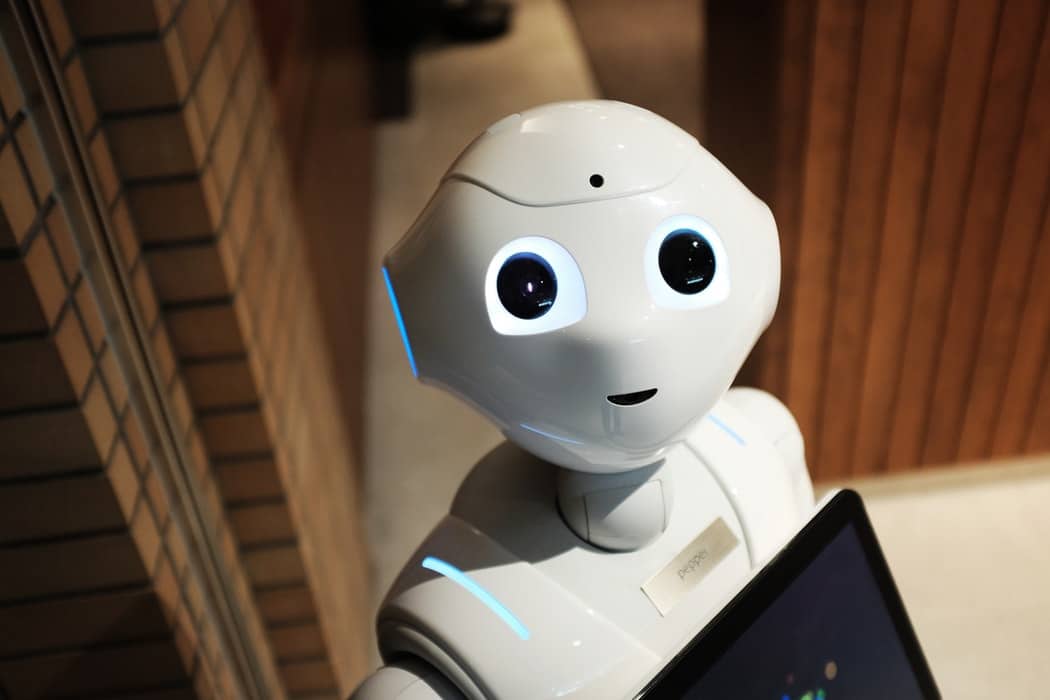 How to Use Facebook Messenger Chatbots Effectively in Marketing and Customer Service
In the near future we will regularly communicate and interact with robots according to predictions – be it while shopping, doing our banking or when we require medical care. Sounds like science fiction? Think about the last time you interacted with a chatbot: Most likely this did not happen a long time ago. This is why the phrase "human-computer-interaction is turning into human-chatbot-interaction" is becoming increasingly relevant in everyday life.
An ever growing number of companies is using chatbots, especially Facebook Messenger chatbots, in customer service and marketing. In this article we will look at the advantages of this and how you can leverage the advantages of Messenger chatbots for your business.
What is a chatbot?
Chatbots are dialogue systems. They are programmed in a way that allows them to independently communicate with customers, answer questions, give recommendations and take on certain tasks, e.g. booking accomodation.
Chatbots are not a new phenomenon. At the turn of the millennium they were already considered a hot trend in customer communication. But the development of artificial intelligence has opened more possibilities for companies to use chatbots more often. Next to chatbots based on clearly limited databases there are versions that can have complex conversations with human counterparts and that learn by themselves. Most small and medium companies limit themselves to comparatively simple solutions. These are already quite powerful and can be created and adapted without programming knowledge thanks to tools such as ManyChat or Chatfuel.
The advantages of Messenger chatbots
Facebook Messenger is the second most popular messenger service, after WhatsApp, with about 1.3 million monthly active users worldwide. In Germany it occupies second place as well. This is a good reason to use it as a channel for communicating with your community. Additionally many people prefer chats to writing e-mails or phoning when contacting customer service. This even holds true when they are communicating with a bot instead of a human being.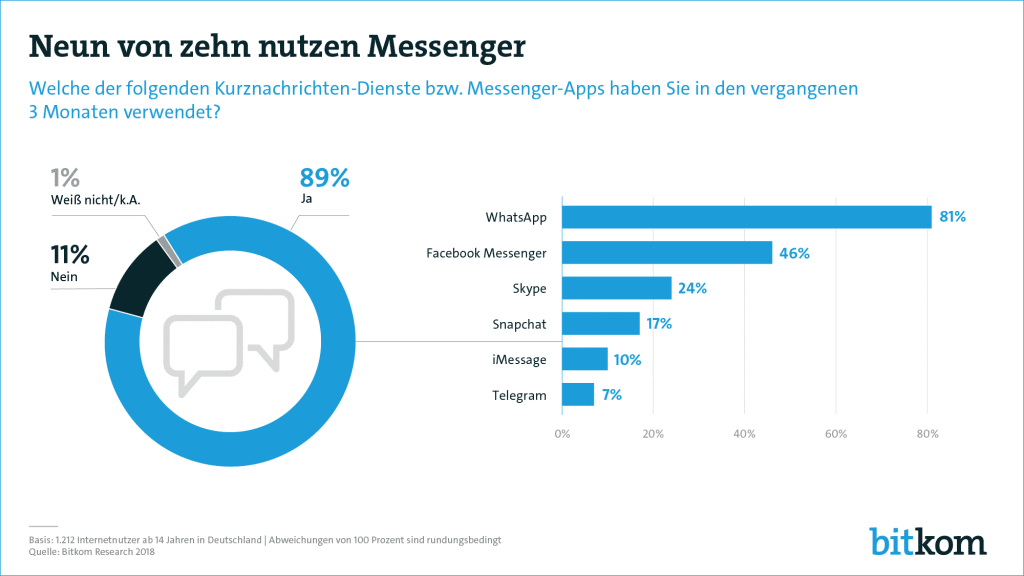 Why should you add a bot to your team? There are many good reasons:
Around the clock availability: Customers appreciate it when companies can be contacted around the clock. Chatbots enable you to provide this service.
Saving time and money: By using chatbots you need less staff in customer communication. At the same time your employees don't need to deal with the same questions over and over again and only take action when the chatbot reaches its limits.
Quickly deployable: Human employees need time for training and must be trained again and again for new tasks. Chatbots also have to be programmed and adapted but at a fraction of the time and effort required for actual employees.
Versatility: Depending on the type of chatbot it can take over various tasks from greeting customers to support and even the final sale. The additional bonus: The whole transaction is processed in one channel. This lowers the bounce rate.
Consistency: Even your best employee will sometimes have a bad day. Chatbots will always react in the same friendly way, independent of the tone of the conversation partner.
Additionally chatbots will make you stand out of the crowd. Even though more and more companies are using the advantages of chatbots, the number of 300,000 existing Messenger Bots shows there is still room for improvement. Offering your customers a Facebook Messenger chatbot is not a given. If done right your service will appear more attractive just by having a bot.
WhatsApp also offers many possibilities to make your marketing more effective, starting with an impressively high opening rate of newsletters. Recently a version of the popular messenger especially for companies was launched. Learn how to use it successfully in our blog article "WhatsApp Business – the complete starter's guide".
Examples of bot use
The scope of industries using chatbots is as big as the variety of use cases. The following examples illustrate this:
Sephora Messenger Bot
The chatbot of cosmetics chain Sephora gives customers make-up tips and recommends products. To better understand the needs of the respective conversation partner it starts the conversation with a little quiz. Customers can also book an appointment at a store via the messenger. The bot helps to reduce personnel costs on various levels because it is also used in stores of the brand to give shopping tips on the premises.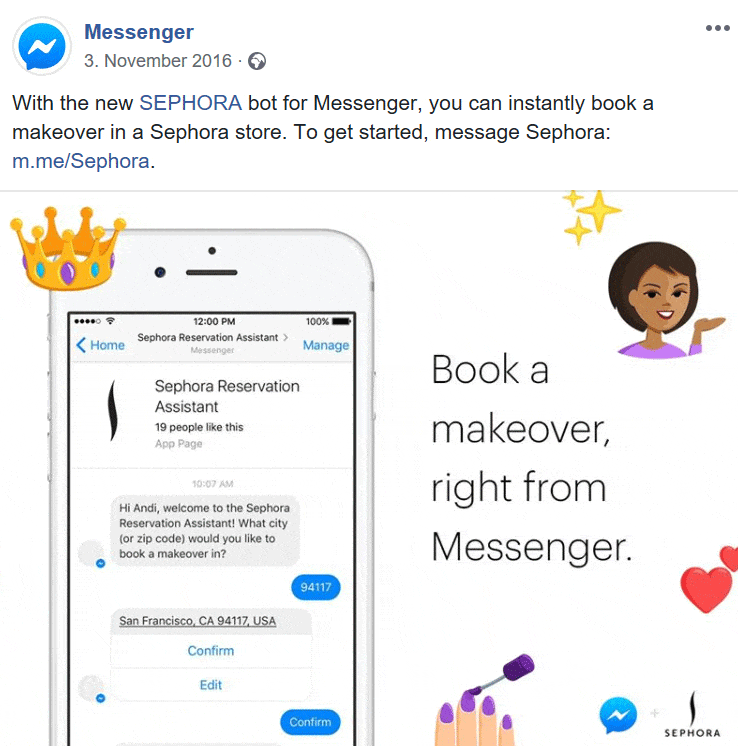 Pizza Hut Messenger Bot
You can order at Pizza Hut using Facebook Messenger. A chatbot is ready to take your order. Among other options it gives the user the opportunity to choose a pizza from their recent order history.
Sparkasse Messenger Bot
An unusual and very successful example of a chatbot is "Der Bote" ("the messenger") by Sparkasse. It was developed especially to motivate younger customers to use the mobile app Kwitt. This can be used to transfer small amounts of money quickly and easily.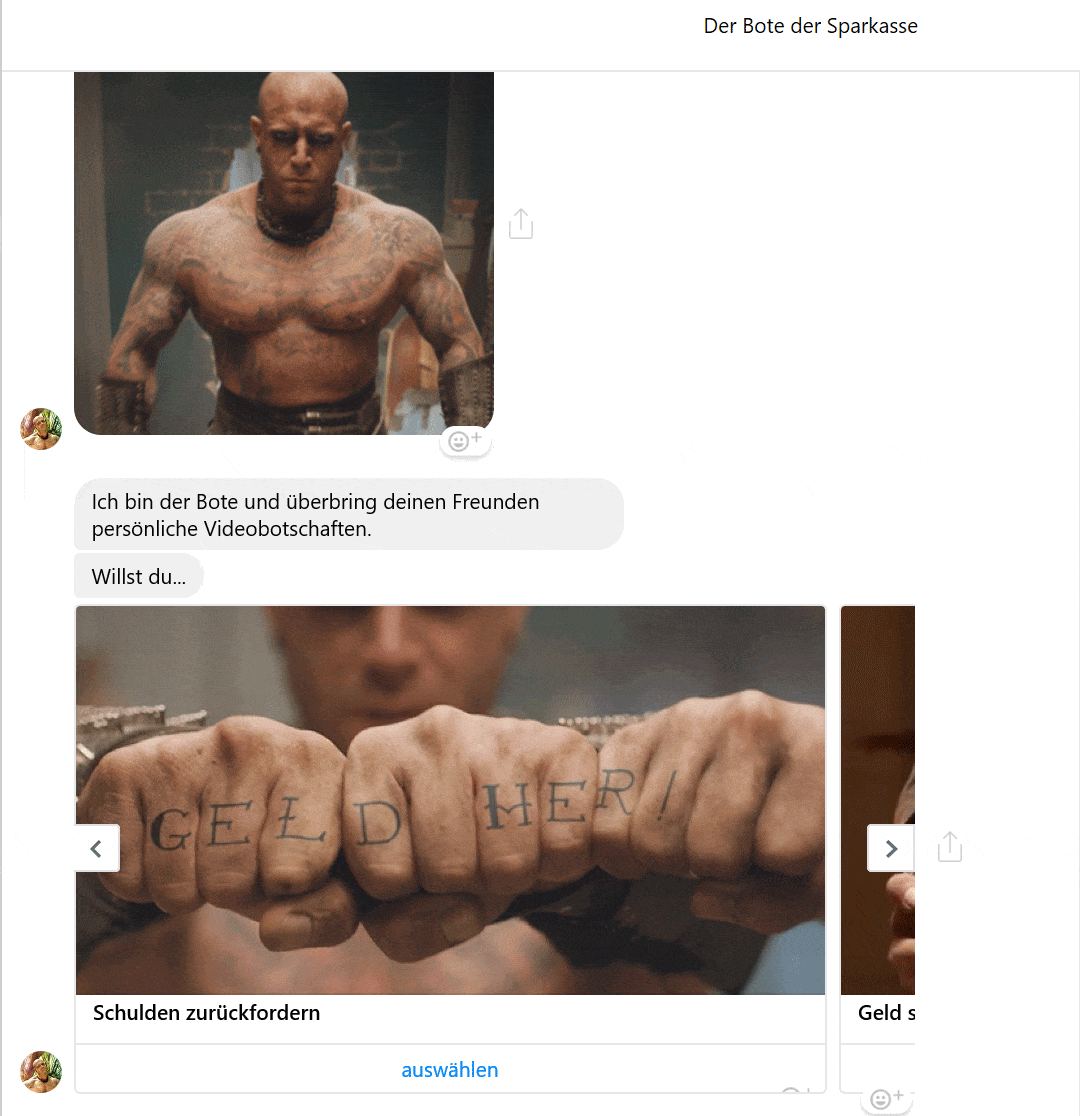 "Der Bote" is personified by a muscular man covered in tattoos who takes on orders. He will remind friends to pay back debts or invite them to parties. This is done via a small video clip which "Der Bote" inserts at the end of each conversation.
The success of this funny and unusual software is impressive. According to the Deutsche Sparkassen- und Giroverband users created 135,000 personalized videos between February and December 2017. The usage of Kwitt was boosted by 22 percent within 6 weeks.
ARAG Messenger Bot
Insurance companies can also use the potential of chatbots. ARAG was the first in the industry to activate a chatbot. It enables users to configure travel insurance step by step. At the end the bot will forward the customer to the website of the company to complete the transaction. For a casual and entertaining conversation it will add emojis and GIFs at certain points.
How to create bots for your company
You have decided to test the use of chatbot. Good! Now you only need a bot tailored to your needs and wishes. Fortunately you are able to create chatbots without knowing how to code. There are a number of tools with different scopes. Most programs offer additional options for Messenger marketing next to the creation of bots. The following three are especially recommended:
1. Manychat
Manychat is among the most popular tools for the creation of chatbots. Its main advantage is its ease of use, operation is based on drag and drop. At the same time it offers you many options to sensibly include the bot in the communication with your target group, through automated videochats or by smileys and co. up to automatically generated broadcast messages.
The comment functionality enables you to automatically send messages to people who have commented on your Facebook articles. You can create landing pages for your bot as well. You can try the tool in a free version, but you'll have to live with limited scope and Manychat's branding. The prices of the pro version depend on the size of your community and start at 15 Dollars a month.
2. Chatfuel
Chatfuel is also very popular and has well known brands such as Forbes, TechCrunch and The Wall Street Journal as customers. The software is similar to ManyChat when it comes to scope of functionality and pricing. It also includes comment and landing page options. Use is as simple as ManyChat and both solutions offer very helpful analytics capabilities.
3. MobileMonkey
Whether MobileMonkey really is "The World's Best Messenger Platform", as the website of the tool proudly claims, is debatable. But it definitely is a serious contender for the better know solutions Chatfuel and Manychat that we already mentioned.
The possibilities to generate and adapt bots are similar to the ones offered by the competitors.
Chatbots are especially suited for lead generation and processing data of users. This is why it is very important to work within the limits of the General Data Protection Regulation (GDPR) which has been in effect since the middle of last year. It might necessitate a mention of your own data privacy statement within the chat flow.
Tips for the successful use of Messenger chatbots
Die Existenz eines Chatbots ist noch keine Erfolgsgarantie. Wenn du die folgenden Tipps beachtest, erhöhst du die Chancen deutlich, dass dein Bot zu einem wertvollen Mitarbeiter wird.
1. Define clear roles and targets
Do you want to use the bot mainly to help with problems, gather leads, or make sales? Should it inform first, encourage interaction, or advertise a product?
The answers to these and similar questions will help you in developing a dialogue structure that makes sense and to use your chatbot in a targeted way. This way you can design your chatbot to be of best use.
Social media is an important part of modern customer service. You can find out how to develop a successful strategy for various channels and how to offer your customers the service they want in our eBook "Social customer service – the basics". Get it for free now!
Social Customer Service – The Essentials
Social customer care is quickly becoming a company-wide approach that involves all departments and a common social media engagement strategy. Is your business up for the challenge? Download our eBook today to find out!
2. Start with the expectations of your customers
Chatbots are most successful in customer service when they meet the expectations of your customers. You should have a clear picture of these, e.g. by looking at the conversations you have had so far. Bots working only with FAQs are very limited in their possibilities. Ideally you should configure the bots so that they can react to certain keywords. This takes more effort but is definitely worth it.
Free or guided dialogue? This is one of the questions to be answered when starting the use of chatbots. A free dialogue offers you and your target group greater possibilities – while having higher demands on databases and the design of dialogue structure.
3. Make sure the customer reach their goal quickly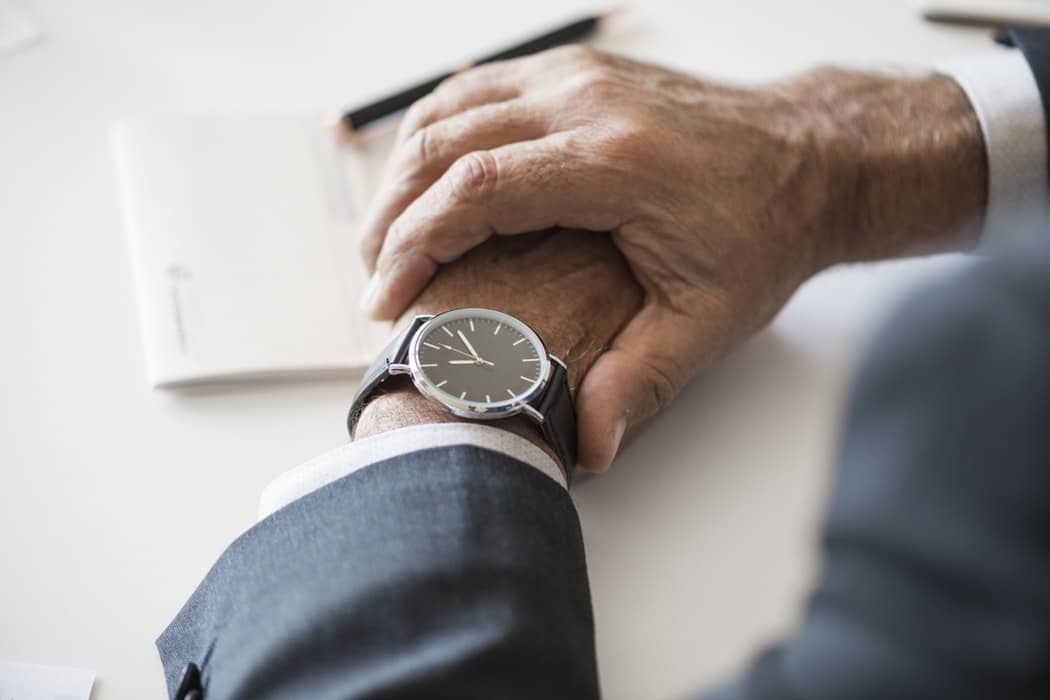 Chatbots should save time – for you and your customer. Make sure that your bots get to the point quickly. Should the customer get the feeling they are being forced on detours or made to wait the danger is high that they will quit the conversation.
4. Give your chatbot a personality
Usually customers notice at once that they are communicating with a chatbot – and that is a good thing. On the other hand people appreciate it when bots present themselves like their human counterparts and not like a virtual tin can.
Try to give your chatbot some personality. A touch of humour is welcome when it fits the company and your offerings. Furthermore you can adapt your tone to match your target group. The more character your bot develops and the more natural the flow of conversation the better the feeling for the counterpart.
5. Make sure a human can pitch in
On of the least pleasant experiences with chatbots is getting stuck in a conversation with no way out. This is why it is important that a human can pitch in before this happens. Tools for the creation of chatbots like the ones mentioned above include automated alarm systems which will notify you should the conversation reach a dead end.
6. Never stop optimizing your chatbot
No chatbot is perfect. Make sure to regularly enhance your electronic helper. Keep adjusting it to the needs of your customers and changes in your offerings.
7. Embed your chatbot to your website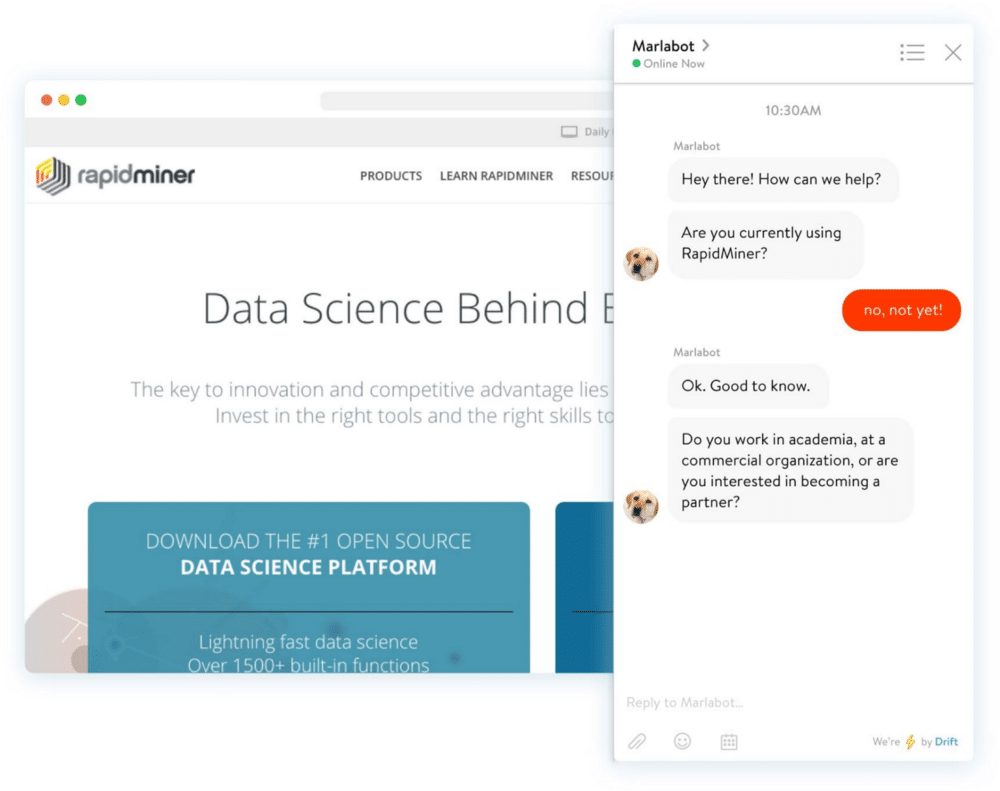 Once you have created your bot you should use it whenever you can. This includes putting a button or link on your website which will let the user start a conversation with the chatbot.
Chatbots are the future of messenger marketing
They still have not totally taken over customer service – but chatbots will most likely gain further importance over the next few years. This means: the earlier you get to know their possibilities the better. Messenger chatbots offer the option to make use of the popularity of Facebook Messenger – and all that, thanks to tools such as ManyChat, with comparably small effort and at low cost.
It is important to configure the chatbot in a way that makes it fun to use. Only then can it reach its full potential.
With or without chatbots, using Swat.io you stay in control of your customer service at any time. Start your free trial now and use the many advantages of an intelligent enterprise and agency solution for content planning, community management and social customer service.
Efficient Social Media Communications With Swat.io