3 Brands that Know the Meaning of Effective Social Listening
Social listening, if used properly, can represent an invaluable resource for increasing engagement, developing new content strategies and creating new advertising campaigns. In this day and age, simply being present on social media is far from enough, as brands also need to identify what their fans think when they're not addressing them directly. Luckily, social media monitoring can help a lot with that.
Read on to find out how Nescafé Dolce Gusto, Arby's and Dell are using social listening to revolutionize their strategies!
Dell Tried Multiple Social Listening Tools Before Launching a New Business
As one of the largest computer companies in the world, Dell was fully aware from the beginning that using a single tool won't cut it. Each social listening platform has its strengths and weaknesses, and sometimes to overcome the latter it's necessary to combine more tools. Enterprises rarely shy away from such investments, as they are looking to increase efficiency in the long run, and a large initial investment can save a lot of resources later on. Brands who can afford experimentation should not hesitate to do it.
In the end, Dell chose one of the most popular social listening platforms and developed its own analytic tools on top. This helped the brand find out who was talking about Dell, who the influencers and detractors were, and what the competition was talking about. Not at last, being able to perform a quick sentiment analysis helped a lot.
Soon after establishing their own Social Media Command Center, Dell put the bases of Idea Storm, a community where customers shared how they'd improve the brand's products. Launching that community wouldn't have been possible if Dell didn't listen to what customers had to say on social media right after buying a product. In one case, an open-source notebook caused a lot of negative reactions among developers, not three hours after the product was launched. This came out as a shock to the brand. Using social listening, Dell realized that one of the product managers had priced the open-source notebook more than a Windows notebook, which shouldn't have been the case. Fortunately, the company was able to remedy the situation right away, to the satisfaction of its customers.
The Beginner's Guide to Social Media Monitoring
Download our eBook and find actionable advice on how to use social media monitoring to generate leads, provide better customer service, and gain a competitive advantage. The hands-on tips, tricks, and guidelines will help you develop and implement the right social media monitoring strategy for your brand and business
How Nescafé Improved Its Social Content Strategy
When Nescafé Dolce Gusto entered Malaysia, it joined forces with digital marketing agency Lion & Lion to develop a social content strategy. The goal was to increase engagement and the number of followers locally. In turn, Lion & Lion cooperated with Talkwalker, one of the main players in the social data intelligence industry. The insights provided by this social listening tool enabled the agency to create a more relevant content calendar. In just three months, the number of Instagram engagements quadrupled over the previous quarter, the number of Instagram followers increased fivefold, and the number of brand mentions skyrocketed reaching 8 times the previous numbers. But how did they do it?
The first step was to find out what makes coffee lovers tick. Besides coffee, that is. Talkwalker helped Lion & Lion identify the hashtags and keywords that Malaysians associated with coffee-related keywords. This enabled a better understanding of coffee lovers, including when, what and why they talk about Nescafé Dolce Gusto.
Using social listening, the brand also discovered an active Instagram community of tastemakers. Not only did Nescafé benchmark itself this way, but it also found out what the competition looks like. This helped the brand build its visual identity in the country. Soon enough, Nescafé realized that coffee is more than just a beverage, and that it often sits at the core of great experiences. Not at last, the brand relied on user-generated content and included tips on how to turn into an at-home barista, all based on insights from the social listening platform.
"To say we are pleased is an understatement. The insights from social listening have allowed for a more thorough understanding of our customer – who they are, what they're passionate about, and where key conversations are taking place – all of which have been integral in informing our social media strategy." – Cyndi Chin, Senior Brand Manager of Nescafé
Arby's Used Social Listening to Create New Ad Strategies
Josh Martin, Senior Director of Digital and Social Media at Arby's, experienced first-hand the way social listening can shape a brand's future strategies. In this particular case, the output of social media monitoring wasn't used for improving the products, but rather for advertising them.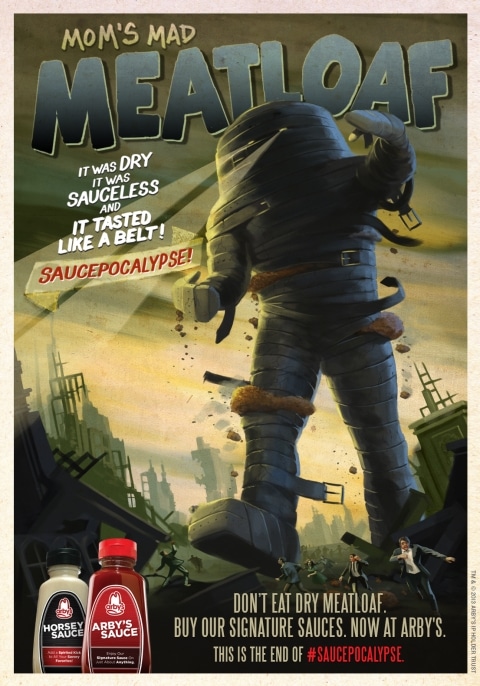 Arby's team discovered that their customers mentioned the brand on social media quite a lot. Their love for Arby's sauces was not only noticeable, but also measurable, thanks to Oracle's social listening tools included in their Marketing Cloud platform. Upon making this discovery, Arby's team decided to capitalize on the audience's FoMO (Fear of Missing Out), which gave birth to a new advertising campaign. Using visuals in the style of movie posters from the '50s, Arby's brand marketing team created stories of what would happen if there was no sauce while preparing the barbeque. The Saucepocalypse campaign enabled the brand to take listening to the next level, through the associated hashtag/keyword.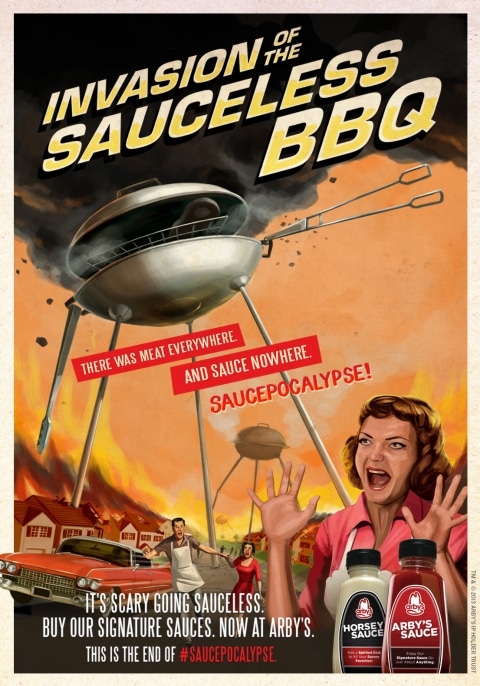 Arby's positive experience with social listening did not stop there. Their Meat Mountain campaign poster featuring meats that were different to roast beef determined the audience to think that the brand was in fact creating its own sandwich. Not only that, but the customers were anxious to try it. Instead of explaining the audience that they misunderstood the campaign, the company proceeded to do just that. And thus, Arby's Meat Mountain sandwich was born, proving that social media monitoring can be used for product development, as well.
Final Thoughts on Effective Social Listening
As you can see, social listening can enable brands from very different industries to ultimately find out what customers want and build on it. Some have successfully entered new markets by turning an ear to what the locals had to say, while others have developed new products after discovering their audience's thoughts. Your brand could achieve similar results, but that depends largely on the potential of the social media listening tool you're using.
Efficient Social Media Communications With Swat.io
Now that you know of several brands that used social listening to turn around their social content and advertising strategies, you probably want to learn more about the tools of the trade. Stay tuned, as we'll discuss in our next blog post about the features you should look for in a social media monitoring tool.