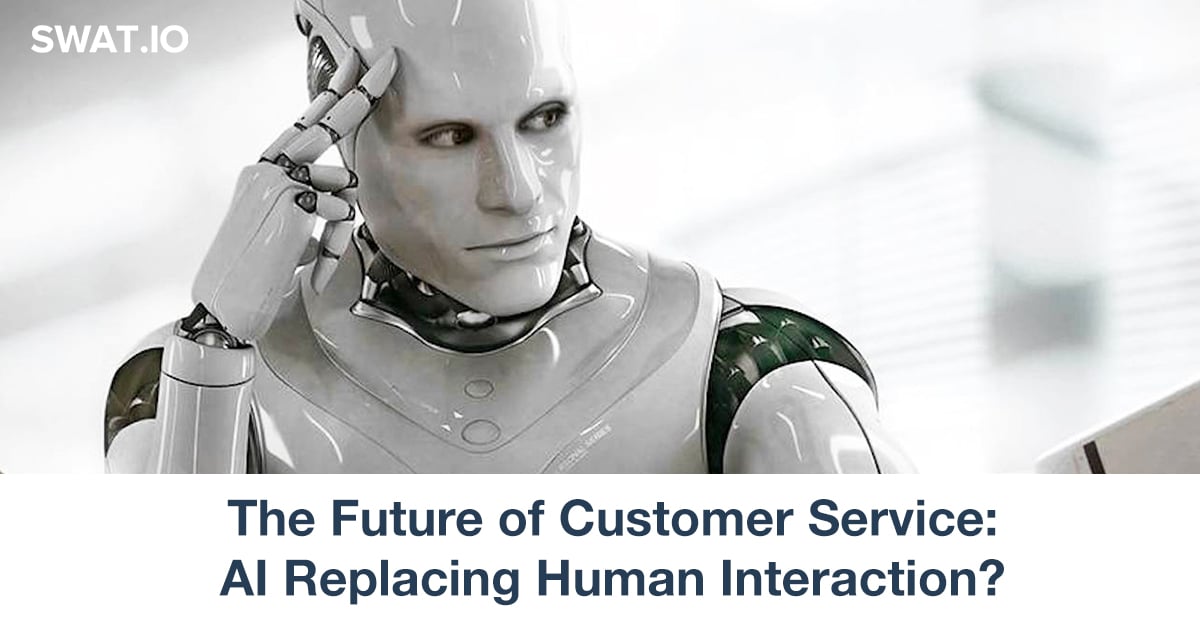 The Future of Customer Service: AI Replacing Human Interaction?
Human interaction has been often perceived as an irreplaceable component of customer service. However, technology progresses at an incredible pace, and many activities that were handled by real human beings in the past will be eventually assigned either to robots or directly to computer programs and artificial intelligence. The latter is seen more and more as a viable option, as large companies such as Swedbank, IBM, and DigitalGenius are doing research and even implementing solutions based on AI.
Customer Service Statistics and How AI Might Change Them
A Gartner survey from back in 2014 found that 89% of companies anticipated to use customer service as the main differentiating factor, as opposed to 36% in 2010. According to a poll of 2,000 U.S. adults by Harris, some 70% claimed that the quality of the customer service can determine them to pick one brand over another. A whopping 86% pointed out that a bad customer service experience could make them have a change of heart on a particular brand, and that could ultimately result in them turning to the competition. A Global Consumer Pulse Survey by Accenture revealed that repeating their issues to more than one customer service operative caused 89% of consumers to feel frustration.
All of the above statistics indicate without any trace of a doubt that investing in customer service is essential for the survival and success of any business, no matter how small or large it is. Whether AI is the ultimate way of improving customer support experiences remains debatable, but mostly because media depicts this field rather as something that could bring the end of the human race and not just of human interaction within customer service.
Progress in AI Could Mean Progress in Customer Service
The advancements made in studying and implementing artificial intelligence are simply staggering. Google's voice recognition technology had an accuracy of 98% in 2014, as opposed to 84% in 2012. Facebook's DeepFace can now recognise faces with a 97% accuracy, and IBM's Watson, an AI we're going to detail further down below, is now 2,400% "smarter" than 5 years ago when it emerged victorious at Jeopardy.
The Blueprint – Successful Social Customer Service in 13 Steps
Download our eBook and learn the 13 steps that will take you on the right path to social customer service success in no time. It's all about the strategy and we've come up with the perfect one for you!
DigitalGenius Brings Humans & AI Together in Customer Service
And yet, we don't have an Artificial Intelligence per se, but rather platforms that are built around this idea. Most current solutions are based on conversation trees that drive customers on a certain path based on the choices they make along the way until they get their answer.
"AI is a concept, not an actual technology," explained DigitalGenius CSO Mikhail Naumov in an interview with VentureBeat. "If you talk to the people at DeepMind and Facebook's AI Labs, AI gets all the attention in the press, but the industry itself is far away from Artificial General Intelligence," he said, "It's not Ex Machina."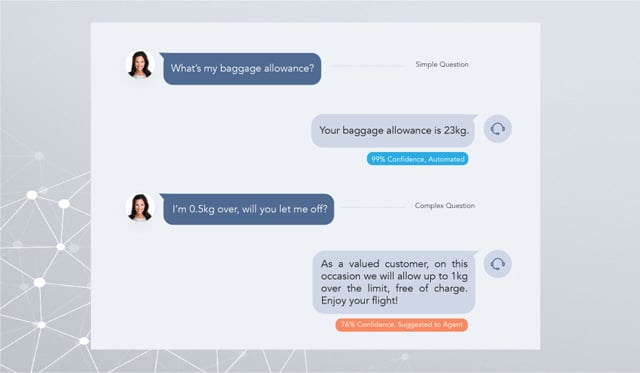 DigitalGenius is a startup that raised $4M this April to bring its Human+AI Customer Service platform to life. One could say that this company has taken the safest route by leaving some human interaction in the mix. That's not the wrong thing to do, at all, as non-human solutions are not yet 100% accurate.
The company realised that most businesses are confronted with a finite number of customer problems and solutions, and came to the conclusion that an AI system could successfully navigate through mathematical vectors based on words, and could come up with a satisfactory solution faster and better than a human ever could.
AI-Powered Customer Service Enables People to Add Real Value to Businesses
As with any other human activity that will eventually be taken over by a computer, AI-powered customer service will first of all focus on automating repetitive tasks. A good example of that would be the two million transaction calls that Swedbank, one of Sweden's largest retail banks, takes on a yearly basis.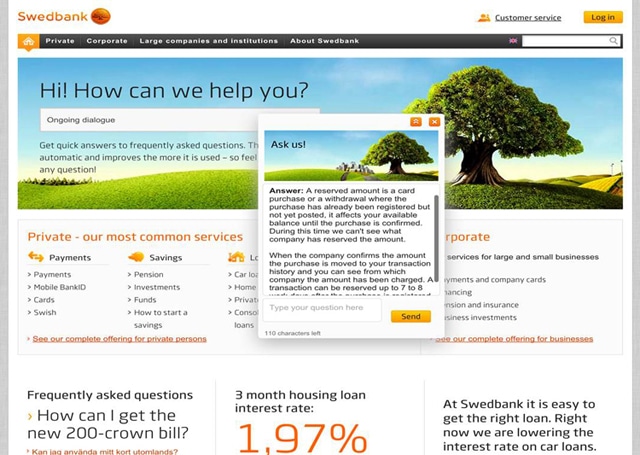 "Out of those two million calls, transactional calls took up almost all the time of our contact and branch office workers. But we wanted them to do was spend time on more value adding, relationship building activities. For example, instead of helping people transfer money from one account to another, we want our people to help them purchase a car or insurance for their mortgage," pointed out Swedbank head of operational support Martin Kedback.
Swedbank's business-saving solution came from enterprise software provider Nuance in the form of a virtual assistant called Nina. The knowledge database behind this AI features two components: the history of customer internet searches made on the financial institution's website, and the details provided by customers when calling contact centres. Initially, Nina had only 100 conversations that it could guide customers into, but since then that number has exceeded 250. Moreover, within the first 3 months since implementation, Nina resolved 78% of queries during first contact.
IBM's Watson Fuels the Future of Customer Service in Hospitality
Better known as a Jeopardy! player (and winner) than a solution for customer service, IBM's Watson will play a major role in transforming the latter. This question answering computer (or is it answer questioning?) will power such AI-driven customer service systems such as Ivy from Go Moment.
The world's first smart texting service for hotels, as the parent company likes to call its product, comes into play from the moment guests check in. The human front desk attendant asks customers for their mobile phone number to register them in the program. Assuming that they opt-in, the first interaction with the Watson-powered Ivy comes in the form of a welcome message that is sent when getting to the room. Any requests that customers make from that moment onward are interpreted and dispatched to the correct department automatically. How is this all possible? Using Watson categorization, of course!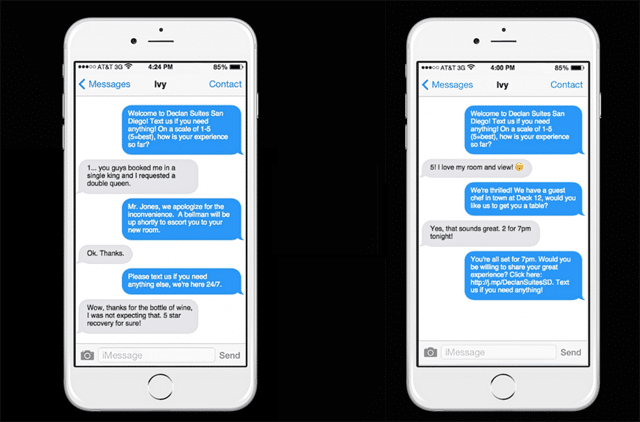 It should be noticed that in the case of negative feedback, the system will dispatch a human, so the equation doesn't miss the human touch entirely. The above image features Ivy's reactions to negative (left) and positive (right) feedback, fact that proves that the system works, even if ultimately a human is needed for solving the problem in a satisfactory manner.
Final Thoughts
As you can see, most solutions don't ditch human interaction entirely, but merely complement it with AI. The involvement of humans is most often the ultimate course of action when customers provide negative feedback, or when the answer provided by the AI platform is not entirely accurate. Whether artificial intelligence will replace human interaction completely remains to be seen, but for the time being, the results are rather promising. AI-driven customer service systems enable companies to cut down the costs implied by such activities, while also enabling humans to focus on more complex matters that add more value to businesses. Ultimately, AI could bring a degree of efficiency to customer service that could never be matched by humans.
Efficient Social Media Communications With Swat.io