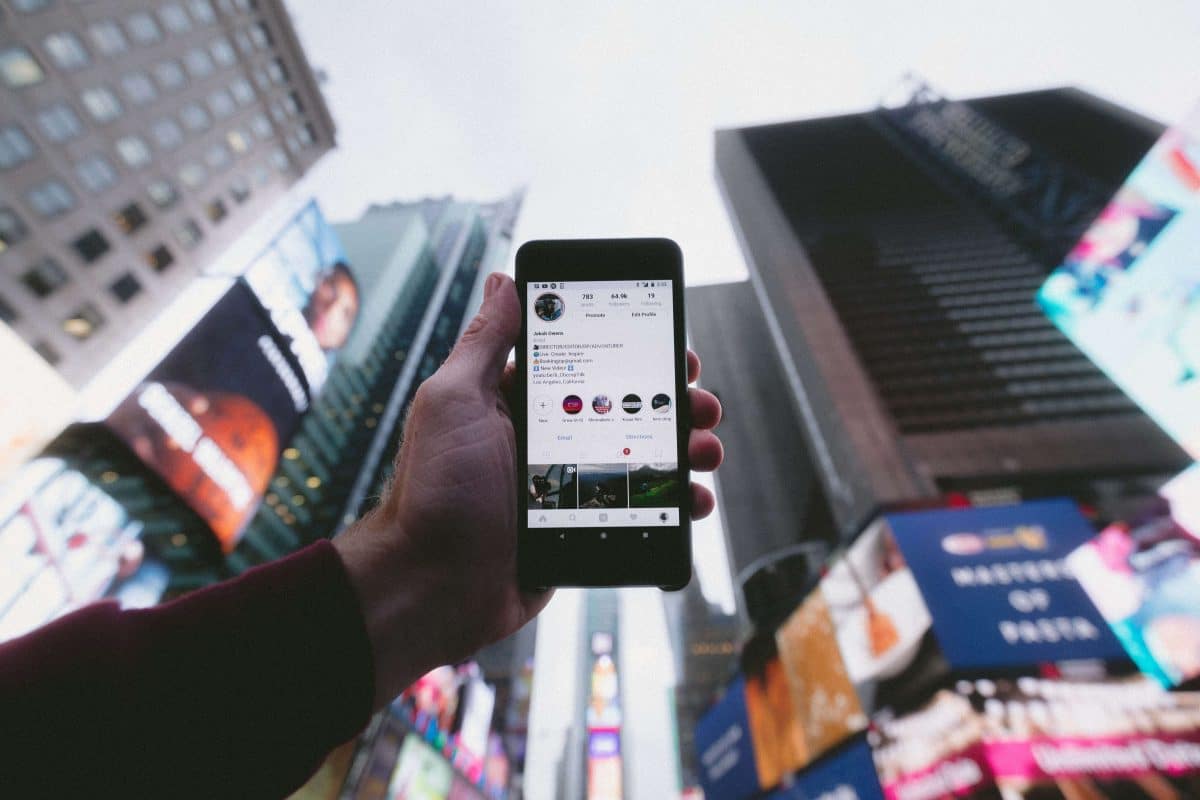 7 Tips to Create Quality Content to Engage Your Instagram Followers
With over 500 million people accessing Instagram daily, sharing over 250 million content pieces, Instagram has become a creative content hub with promising social media marketing potential. At the core of an engaging Instagram post lies your content, which can make or break your social media marketing strategy on Instagram.
However, managing your content and community on several social media platforms can be challenging when you don't have a tool to schedule and publish your content. Creating Instagram posts may not be an issue for individuals. But for companies, the situation is different while they are operating on several channels.
To cater to an obvious need, Instagram recently opened their API to allow businesses to schedule and publish photos with 3rd party tools, including our own Swat.io. Have a look at our previous blog post to read more about that new feature.
In this blog post, we will talk more about how you can use content to reap the benefits of your social media marketing efforts on Instagram. Keep reading to find out more about:
Why quality content matters
How to create high-quality content on Instagram that engages your audience
Best practices you can leverage to drive more engagement with your content, including tips on Instagram posting frequency and scheduling in Swat.io.
Why quality content matters on Instagram
Quality content is the framework of your brand's identity on social media. On Instagram, to grow your target audience and establish brand credibility, you have to make your content stand out on a consistent basis. Before setting up a shoppable feed, showcasing products, or establishing influencer campaigns, your content is what hooks your readers and gets them to become your followers. The better the quality the higher the chances to:
Build loyalty
Social media is a competitive medium where you have one shot at setting yourself apart. Quality content matters because it helps build loyalty and instill trust. To succeed on Instagram, stick to the 80/20 rule of value and promotion. Focus on providing value 80% of the time, and keep brand promotion at 20%.
Increase conversion rates
User-generated content, CTAs, contests, and rewards are content forms with high potential of boosting conversion rates and conversion opportunities on Instagram. Use every opportunity Instagram provides. For example, even if Instagram doesn't allow hyperlinks in captions, you can still use a CTA to drive your followers to take action and convert them into potential customers.
In its latest campaign, GoPro uses CTAs in captions to invite people to participate in the GoPro Awards contest, where they can submit their best traveling photos, videos or raw clips shot with a GoPro to earn cash prizes and promotions. And it works, even without a clickable link.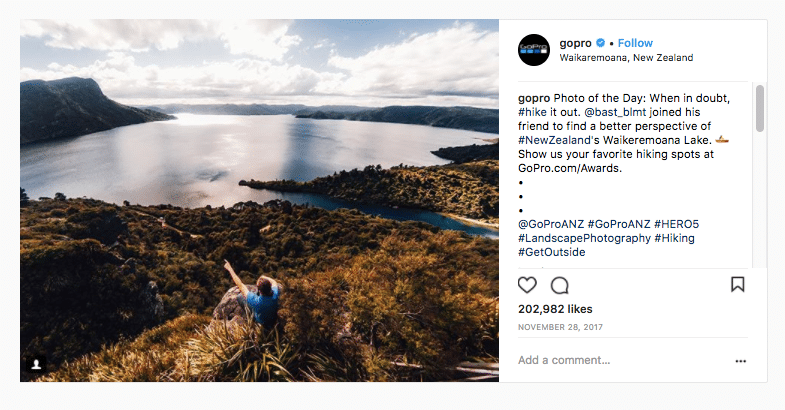 We've given you the main reasons quality content matters for your Instagram business. It's time to slide over to the "how to create content" part. Whether your goals are to establish visual consistency for your brand, build loyalty and trust, or boost conversions, the following guidelines will help strengthen your social media marketing efforts.
How to create content that engages your audience?
As a visual-based social media channel, the content you need to engage your audience on Instagram is based on photos, videos, and Stories. Before posting anything, you need an objective. What do you want to accomplish with your content? Some of your goals could be:
To get more followers for your business page and increase awareness
To promote an upcoming or existing product
To get people from your Instagram page onto your company website
After you've decided on a clear set of objectives, the next step is to create content that engages. Here are some guidelines to help you get started:
1. Get to know your audience
Before creating content, you need to understand your audience: how they use Instagram, what other Instagram accounts they follow, and what they hope to get from accessing the platform. To narrow things down, you can conduct surveys or interview several members of your target group to tackle their pain points and understand what matters to them.
2. Build content themes & patterns
Review both your goals and your audience's expectations, and settle on brand elements that can be best emphasized through your Instagram content: brands products, services, company culture, team members all provide a good basis for a list of great content themes. Move on to brainstorming subjects that fit your photos, videos, and Stories, and make sure your content themes are in alignment with your visuals.
3. Own your filters
According to Canva, Clarendon is Instagram's most used filter. It highlights, shadows and brightens your images to make them pop. To step up your social media marketing game on Instagram, use a consistent filter that matches your brand's persona and gives it a unique, consistent look. In a study performed by Georgia Tech and Yahoo Labs, using filters and adding great copies to photos may increase viewability by 21%, and boost number of comments by 45%.
4. Convey visual consistency
Look beyond stunning photos when creating content for your Instagram Business account. Make sure they're visually consistent as well. After choosing a theme, keep it to establish professionalism. Take full advantage of color psychology when deciding on an aesthetic theme, in order to generate promising emotional responses from your target audience.
BioLite is a perfect example of visual consistency on Instagram. The company uses filters that bring out the brand's signature tones of white, green and yellow.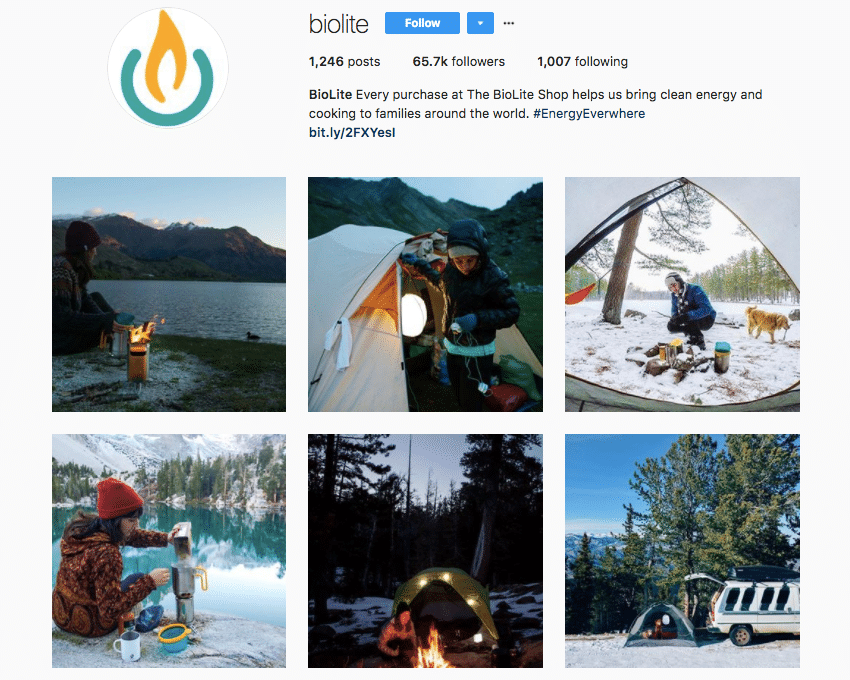 The Psychology of Social Media Marketing
Download our eBook to understand the benefits of applying psychology principles to social media marketing! Learn what works on every specific platform and how you can use psychology to convert and satisfy your community on social media. With a better understanding of your audience's behaviour, you'll able to target your strategies and campaigns far more effectively!
5. Hail thy hashtag!
The beauty of hashtags lies in their ability to make the content you post on Instagram discoverable, thus growing both your audience and post engagement. Instagram leverages hashtags to classify content. A best practice is to use them for the keywords mentioned within your copies.
Did you know that #love is Instagram's most used hashtag with over 988 million posts containing it? To make the most of your content, consider integrating branded hashtags into your posts. This way, you can tie them back to your brand, and monitor them using a third party social media listening tool of your choice.
There isn't an exact recipe for the number of hashtags you can add in captions. But it is important to stay relevant and include hashtags that relate to your Instagram posts, not cram your posts with tens of hashtags just for the sake of adding more.
6. Harness the power of Stories
Integrate Stories into your content marketing strategy on Instagram to promote a product or advertise an upcoming product release. Showcase weekly/monthly sales, increase engagement around your special offers or use them to share fresh, unique content that defines your brand voice. Your end goal should be to make your Stories resonate with your viewers. To achieve that, use visual, emotional, or narrative type of content.
7. Try out ephemeral content with Instagram Live
Another form of content that keeps followers engaged is ephemeral content. With Instagram Live, you can live stream a video to announce a product release, promote an offer, or share an important update. Unlike the above-mentioned forms of content, Instagram Live videos create a sense of urgency because the video disappears when you're done streaming.
Best practices to drive more engagement with your content
There are several best practices you should take into account when your marketing goal is to drive more engagement with content on Instagram. Now that you know how to add content that resonates and speaks to your audience, implement the guidelines mentioned below to make your brand's content stand above a vast ocean of photos, videos, Stories, and live streams.
Mind the posting frequency
Posting frequency on Instagram is different for every brand. Based on your target audience and time zone, read here what's the best time to post on social media. The alternative is to use a 3rd party scheduling tool, now that Instagram has opened their API. As of January 30, business accounts can schedule and publish posts via social media management tools.
You can also plan and publish your Instagram posts in Swat.io. Although the update does have limitations (no support for video or carousels, location or branded content, the maximum size of 8 Mbyte for images as well as certain criteria regarding aspect ratio), the update is part of a wider strategy that Instagram has planned for the whole year.
To drive more engagement on your content minding the post frequency, now you can analyze the time of day your followers are the most active on Instagram, and schedule your posts to go live in that particular time frame.
Use captions to spice your content and tell meaningful stories
Although attractive visuals are fundamental on Instagram, an efficient Instagram caption is equally important because it triggers engagement, boosting likes and comments on your posts.
According to Instagram, posts in user feeds are displayed based on that user's potential interest in the content being provided. Simply put, it means that photos/videos/stories with lots of likes and comments are better suited to be featured at the top of your followers' Feed.
The role of your Instagram captions is to showcase the personality of your brand, put the content into context, entertain your audience, and prompt followers to act. Use captions to tell compelling stories that serve your brand's end goal. Although, there's no one-size-fits-all recipe for a killer caption, the best way to succeed is through trial and error.
Nike's Instagram captions are truly unique. Some of them are motivational, others are meant to inspire its target audience, and believe they can achieve more.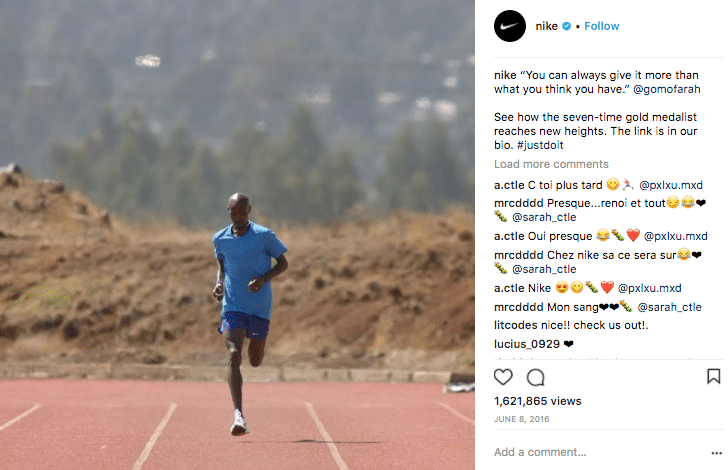 In the example above, the caption used by Nike in its post has several purposes:
It inspires with a quote triggering engagement
It boosts conversions subtly recommending its audience to check their bio for a link to the campaign
Embrace user-generated content
User-generated content is organic content that references your brand and is created by your existing customers. It works as a great endorsement because it instills trust, encouraging potential customers to treat your brand more seriously.
A great example of a brand that understands the importance of UGC is Weber Grills. Armed a branded hashtag (#grillon), engaging photos that speak for themselves, and subtle CTAs, the company has found a unique way to use customer posts and market their products.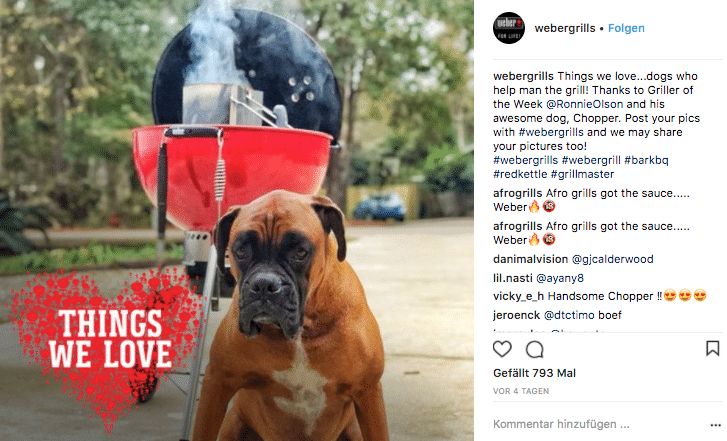 Integrate call-to-actions
Your Instagram content should have a double purpose: 1. it should help widen your brand reach while keeping your existing followers engaged. 2. it should give followers a good reason to connect with you via other mediums.
Instagram can pave the way to a more meaningful relationship with customers and prospects. However, you need enticing call-to-actions to make them take action. Make sure your call-to-actions are relevant and on par with the content you share, although many brands choose to ignore them because on Instagram links are not allowed in image-like posts.
Home Depot uses sleek call-to-actions to prompt followers to check out the link in their bio to shop the look in the images they post on Instagram. By combining great photo-like content with a discreet caption to convince them to make a purchase, Home Depot instills desire. An approach that got them 1,400+ likes for the image below.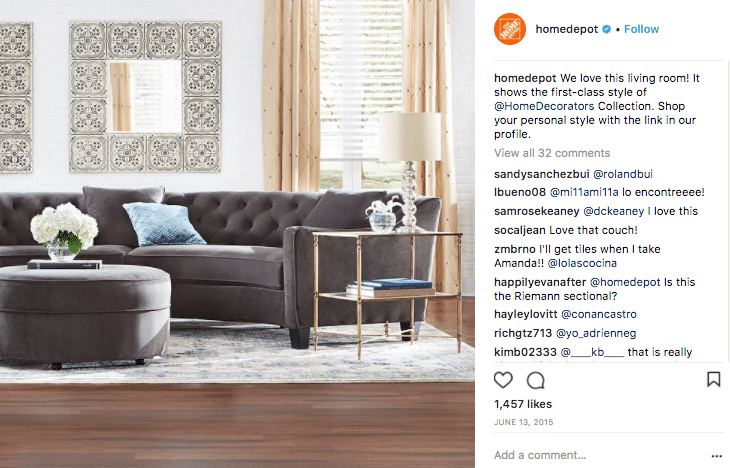 Conclusion
Quality content is the framework of your brand's identity on social media. To reap the benefits of your social media marketing efforts on Instagram, quality content:
Helps convey brand credibility while also fostering growth

Boosts engagement

Increases conversion rates

Builds brand loyalty and trust
Instagram has prepared us for a great year ahead. After opening their API to allow businesses to third-party tools to schedule and publish posts, it looks like more updates for this year are on the pipeline. If you haven't tried scheduling your Instagram posts, you can do it in Swat.io.
Bottom line: As a creative content hub where visual consistency is key, to attain your social media marketing goals on Instagram, humanize your brand with dynamic content, foster relationships with meaningful CTAs, and use captions that cater to the needs and wants of your followers.
What sort of content are you using to make the most of your social media marketing efforts on Instagram? Leave us a comment in the section below.
Efficient Social Media Communications With Swat.io