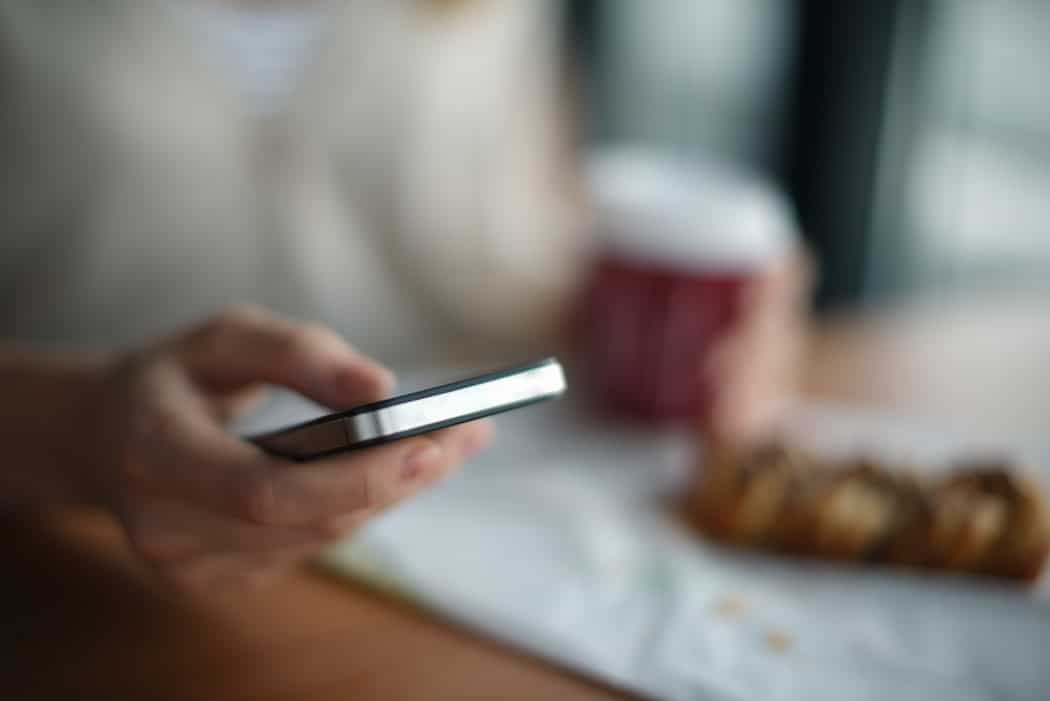 WhatsApp Business – The Complete Guide for Getting Started
Messengers have long played a central role in private communication, with providers increasingly targeting companies. With its Business App, WhatsApp wants to make it easier for small and local companies in particular to communicate with customers and open up new avenues for successful marketing. We took a closer look at WhatsApp Business and checked out its features and potential.
What are the marketing benefits of WhatsApp?
As a relatively young discipline, Messenger Marketing raises the question of why companies should pay attention to this in the first place. In fact, there are some good reasons for this:
Distribution: Messenger services are popular across different age groups. With 1.5 billion active users per month, WhatsApp is the undisputed leader in its class, directly followed by Facebook Messenger.
Personal approach: Because messengers like WhatsApp are primarily used to communicate with friends, family, and acquaintances, the style of communication here is personal by default, even when messaging with a company or a chatbot.
Visibility: Messengers do not yet have a spam filter that blocks company messages from reaching their intended audience.
Uncomplicated: Communication in WhatsApp and Co. is simple, direct and fast – anytime, anywhere.
These advantages are reflected in high opening rates of over 80 percent and click rates of 20–30 percent for newsletters sent through messenger services.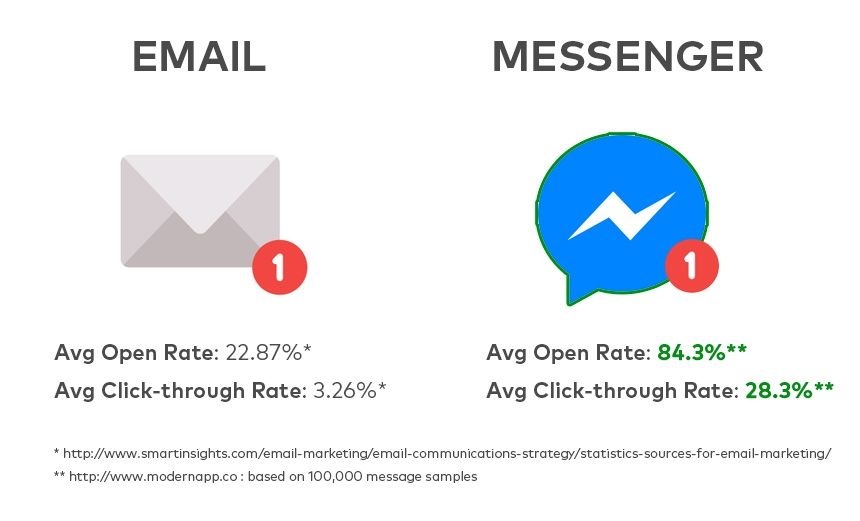 And why WhatsApp? The service's proud user figures alone boast great opportunities to reach your target audience. In addition, the use of WhatsApp is constantly increasing, unlike for example Facebook's.
However, until now WhatsApp lacked a dedicated tool targeting companies. WhatsApp Business has changed that.
If you want to know more about why Messenger Marketing is worthwhile for your business, read our blog post "Messenger App: More Social Media Success Despite Less Reach".
How does WhatsApp Business differ from a private WhatsApp account?
At first glance, the WhatsApp Business interface looks deceptively similar to the traditional version of Messenger. The key differences are the following:
Business functionality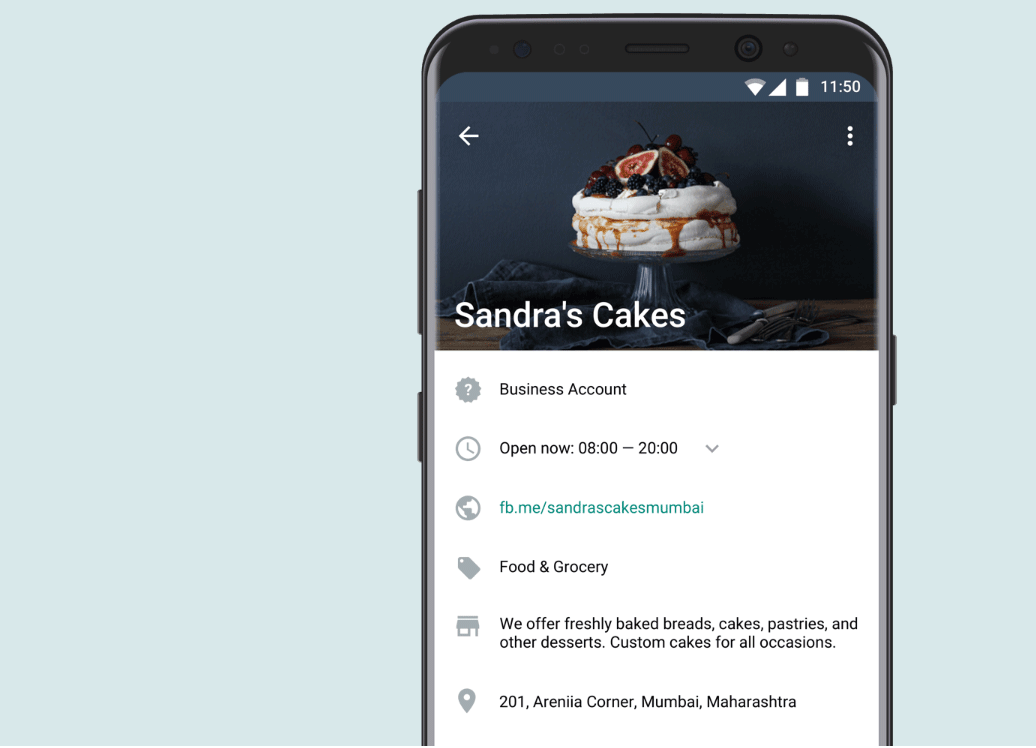 With a profile in WhatsApp Business, you can provide important business information to your customers. This includes the location of your company, opening hours, website address, and phone number. Verification with a green seal is also possible. But while a "confirmation" of the verification of the connected phone number is both possible and necessary, WhatsApp only awards verification to selected companies. According to the provider, factors such as the recognition value of the brand are decisive here. Currently, only a few business profiles received verification.
Marketing Automation
If you don't want to hire someone to answer WhatsApp messages 24 hours a day, 7 days a week, you can use the automation capabilities in WhatsApp Business to send out-of-office messages. These can be customized, the feature will be enabled and disabled automatically depending on the time frame you specify.
You can also send automated greetings to new customers, saving valuable time and effort.
Quick Auto-Replies
Customer service usually is confronted with loads of similar requests. WhatsApp offers pre-formulated quick answers accessed with a self-generated abbreviation and a slash (/) so you don't always have to completely rewrite your response.
In the mobile version of WhatsApp Business, quick answers are not limited to text alone: You can also use media such as images, GIFs, or videos. These stylistic devices are not yet available on the Web version.
Chat-Labels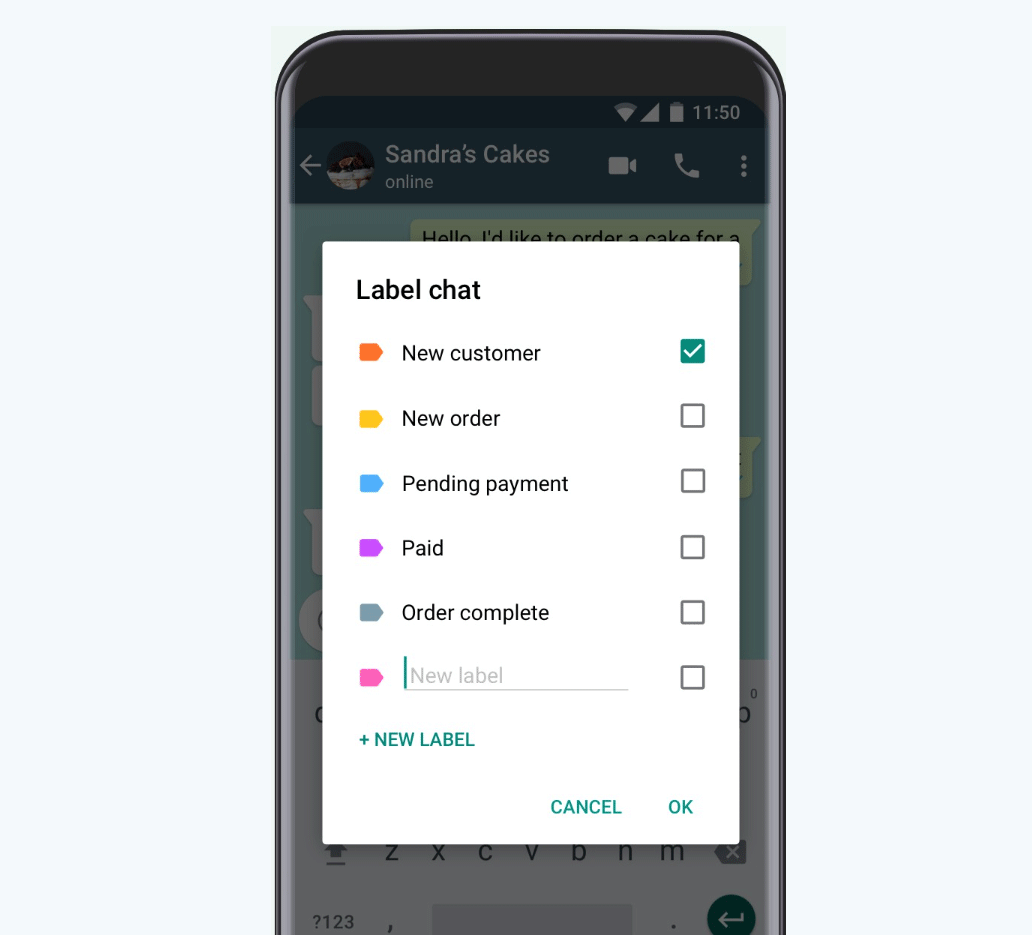 Another handy feature of WhatsApp Business is the ability to mark conversations with labels of varying colors. This way, you can categorize conversations thematically and know their topic at a glance. Some labels (including "New Order" and "New Customer") are pre-configured by WhatsApp, plus you can create as many custom labels as needed.
Analytics options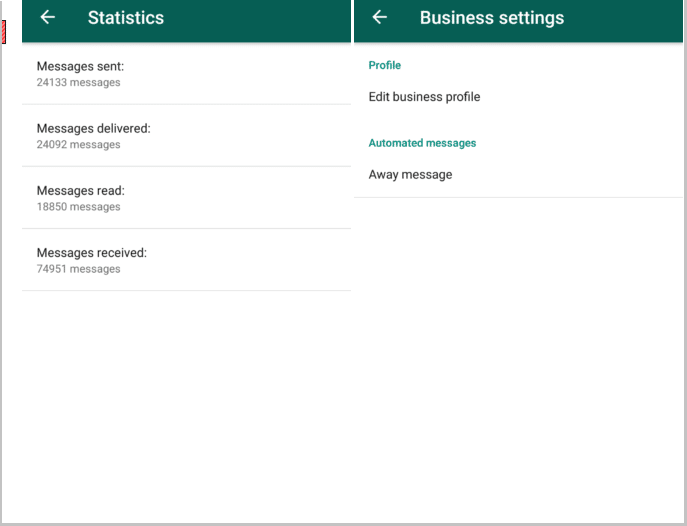 The ability to analyze the success of applied measures is crucial in marketing. The statistics that WhatsApp Business provides you with, however, are still quite rudimentary. With their help, you can see the amount of sent, delivered, received and read messages.
Setting Up WhatsApp Business – Important Notes
Currently, WhatsApp Business is only available to Android users right now. However, an IOS version will be available in the near future. You can also use WhatsApp Business on your PC via WhatsApp Web.
Please note that you can't use a conventional WhatsApp account and business profile on the same phone number. If you want to use both on the same smartphone, you need a dual SIM phone.
To set up WhatsApp Business, follow these steps:
Go to the Google Play Store and download the WhatsApp Business App.
Verify your corporate phone number.
If you want to convert a private account to a business account, you can now restore your chat history.
Then enter your company name and complete your profile in Menu – Settings – Company settings – Profile.
Examples of Marketing Opportunities with WhatsApp
Customer Service
A popular area of application for Messenger Marketing is customer service. Messengers have the advantage that customers or potential customers can send their questions quickly and spontaneously without having to place a phone call or writing an email. At the same time, this form of customer communication is very personal, regardless of whether companies use chatbots to answer questions or answer personally. Even insurance groups such as ERGO Direkt now make use of messenger marketing.
But small companies can also benefit from the use of messengers in customer service. This is where usage of WhatsApp Business pays off: The app's automation options help you to be reachable outside of opening hours and to handle large numbers of enquiries without a great deal of manpower. It also helps you to meet the expectations of many customers for an immediate response.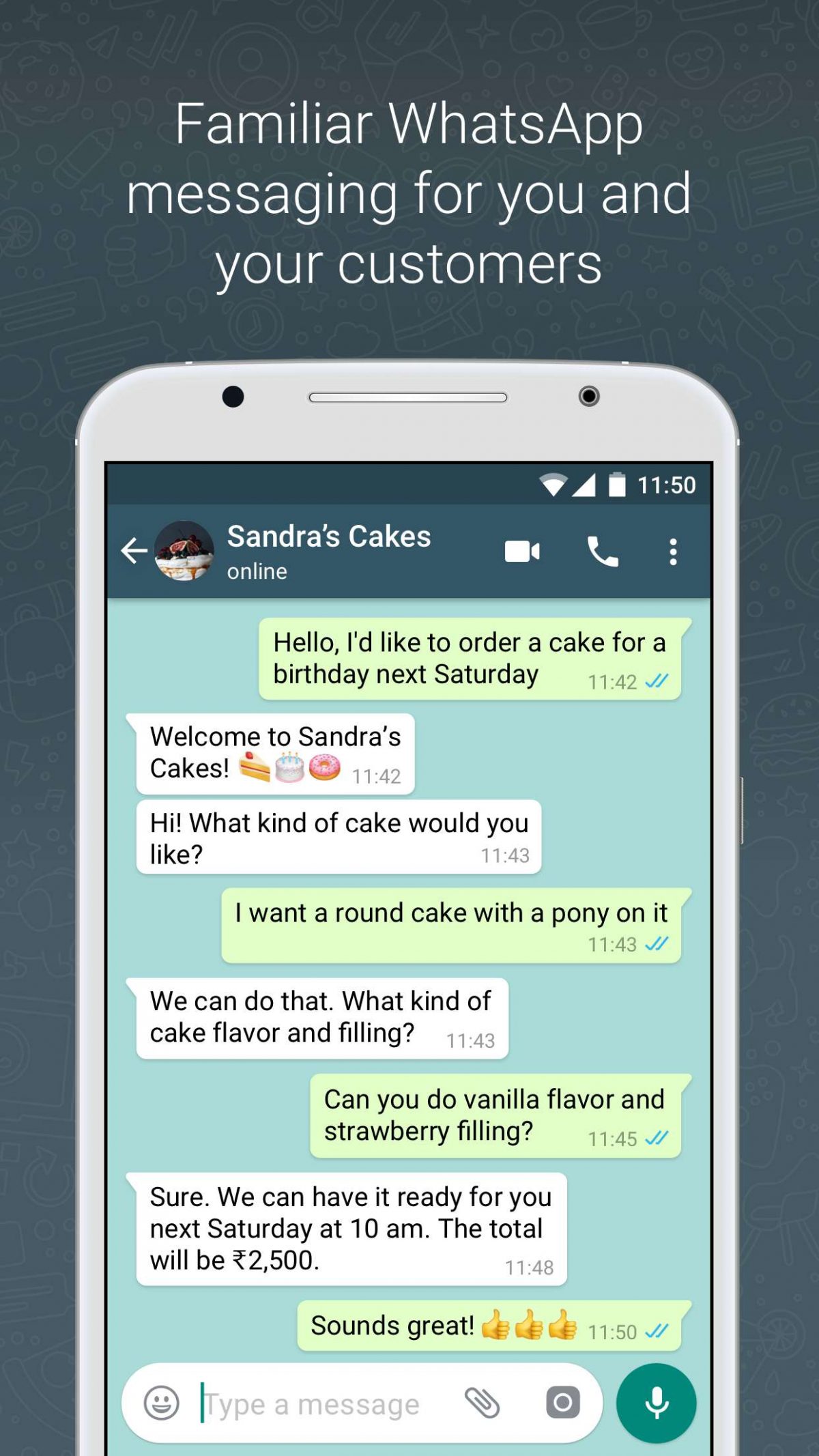 Today, social media is an important part of customer relations. Our eBook "Social Customer Service – The Basics" tells you about the benefits of social media and how you can use it across multiple channels. Download it now for free.
Social Customer Service – The Essentials
Social customer care is quickly becoming a company-wide approach that involves all departments and a common social media engagement strategy. Is your business up for the challenge? Download our eBook today to find out!
Generate Sales
Sales via WhatsApp is still a rare use case. But some companies are already showing how to do it: Those include, in particular, travel providers such as holidaypirates, who offer the possibility to book flights and complete travel offers directly through WhatsApp. Here, too, it is the simplicity of the booking process that is well received by customers.
Initiate interaction in a creative way
The Brazilian mayonnaise brand Hellmann's wanted to encourage consumers to conceive mayonnaise as a possible ingredient in refined recipes. As part of the "WhatsCook" campaign, the company invited consumers to leave their own telephone number and a photo of their fridge's contents on its website. Those who accepted this invitation were connected with chefs in a WhatsApp chat who provided a recipe based on the photographed food and Hellmann's mayonnaise. Tips for the preparation including pictures were included.
This successful campaign is a prime example of how WhatsApp can be used creatively to stimulate interaction with customers. Of course, messenger platforms are suitable for competition based campaigns as well.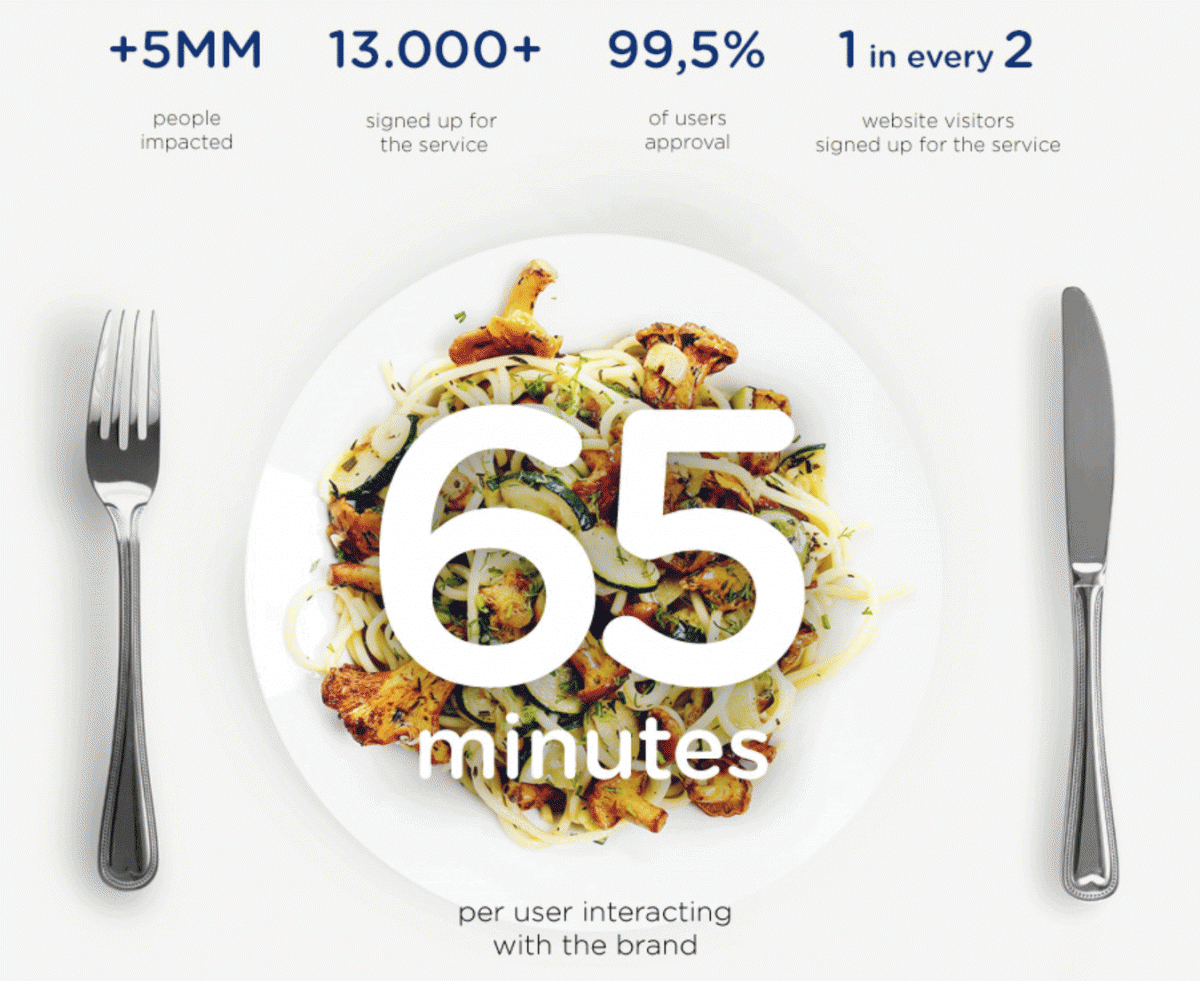 Tips for Using WhatsApp Business
Whether you are using WhatsApp Business or the traditional version of the tool, if you want to successfully market with WhatsApp, you should consider a few important tips:
In brief …
The naming is not coincidental: WhatsApp is a short messaging service. That's why you should limit yourself to the essentials when it comes to information, newsletters and the like and get to the point quickly. After all, the chance is high that your addressee is sitting on the bus, in a taxi or a waiting room when they read your message.
Use your possibilities
This means above all not to limit oneself to sending text alone. Use GIFs, images, and videos to make your content more eye-catching and include some variety. This however only applies to cases where a picture or a GIF is appropriate. If a customer wants a quick answer to a specific question, you should give them exactly that.
Save time with automation
Customer service with WhatsApp is effective, but also poses challenges. That's why many companies rely on chatbots to automatically answer common questions or answer the first part of conversations. Remember that even here, at least during opening hours, an employee must always be prepared to step in when the bot is not able to deal with the request on itself. This is exactly what your customers expect.
With WhatsApp Business's automation capabilities, you can save time and provide customers with a minimum of messenger support even outside of business hours.
Pay attention to legal requirements
Since the introduction of the DSGVO, the requirements for social media marketing have become stricter. Caution is also called for when using messengers for advertising purposes. After all, it is necessary for the respective contact person to give you their telephone number. Of course, this must be done voluntarily.
Customer communication via WhatsApp is harmless if a customer engages with you first, as is usually the case with support enquiries. The situation is different when sending newsletters and the like. Here it has become established to ask the interested party to save your company account's number to their phone and send a message with the text "Start". For this, it is of course necessary to inform them, for example on your website, about the procedure and about the fact that they can cancel the newsletter with the message "Stop" at any time. In addition, your privacy policy must contain an explanatory clause.
WhatsApp Business is a Step Forward for Small Businesses
From the beginning, WhatsApp has made no secret of who it is targeting with its business app. In fact, small and local companies that want to use a messenger solution for customer service without setting up a call center and programming their own messenger are likely to benefit the most.
WhatsApp Business gives them the ability to manage customer support via mobile phones or through WhatsApp Web. The automation and labeling capabilities help save time and keep track of customer requests. And, of course, WhatsApp Business can also be used to take advantage of the many other options that WhatsApp offers, for example when sending out newsletters.
Larger companies will be particularly interested in the WhatsApp API. It is currently only available to selected companies, but this is likely to change soon. This could fundamentally change WhatsApp marketing once again.
WhatsApp is just one of many important building blocks for successful social media marketing. With Swat.io you keep track of every one of them. Start a free trial now and benefit from many great solutions for content marketing, community management and customer service.
Efficient Social Media Communications With Swat.io