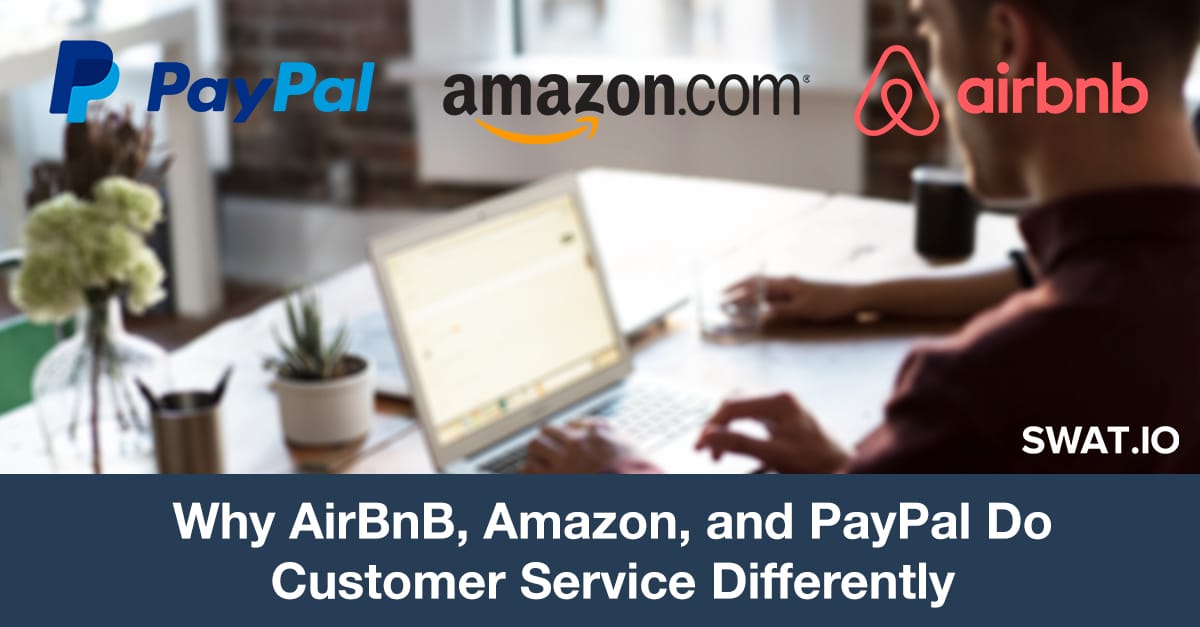 Why Airbnb, Amazon, and PayPal Do Customer Service Differently
A week ago, we discussed how Uber, Google and Booking changed the game of customer service. You can read that story here. Now, we continue our approach to great customer service with other three international giants.
Who hasn't heard of Airbnb, Amazon or PayPal? They represent innovative business models that have disrupted entire industries: hospitality, e-commerce and electronic payments. How did they do that? By identifying consumers' needs that hadn't yet been satisfied by other companies. Apart from their unique and creative business models, what Airbnb, Amazon and PayPal have in common is their strong approach to customer service, one that has changed the customer service game at an international level.
Airbnb – A Clever Customer Service System, from FAQs to Phone Calls
Home-rental company, founded in 2008 by two roommates who couldn't afford their San Francisco apartment rent, Airbnb's customer support went through some extensive changes during the past years.
In 2011, Airbnb opened a 24/7 support line. As the company kept growing fast, the amount of messages coming from customers increased dramatically. The only way to limit the huge amount of direct contacts without increasing the number of employees, which wouldn't have been sustainable, was for Airbnb to invest in providing support resources to its users. That's why, if you want to contact Airbnb via email, you will have to go through a contact form which you will find inside of its FAQs section.
In an attempt to reduce the workload of the customer support team and engage more the user base, Airbnb rolled out a Community Center and a mentoring program through which users can learn and receive support from other members of the community.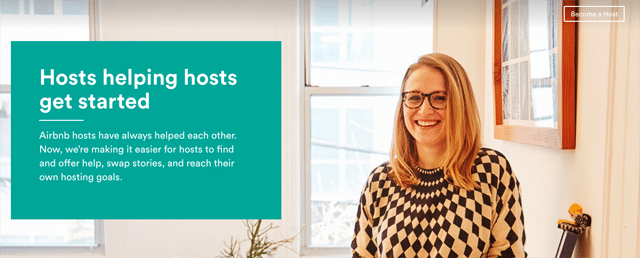 Given that most customer questions are basic or very common, users can find the answers on Airbnb's help page. Although there are hundreds of support agents working 24/7, the workload is still huge (hundreds of emails and calls every hour) and human resources have to be optimised the best way possible. That's why phone and email support are dedicated to more complicated questions.
If customers can't find their answer on the help page, they can submit a support request via a web form. When doing this, it's important for customers to be logged in and select the trip that their question is referring to. This will help the system better route their question. Questions submitted for ongoing trips are set as urgent and other before or after the trip are less "urgent". For Airbnb, the priority is to help hosts or guests who are "during the trip."
The Blueprint – Successful Social Customer Service in 13 Steps
Download our eBook and learn the 13 steps that will take you on the right path to social customer service success in no time. It's all about the strategy and we've come up with the perfect one for you!
If the customer still hasn't found the solution that he was looking for, he can, of course, call Airbnb. Each country is provided with a local. Customers will get a list of numbers on their reservation message. Upon calling, the system will lookup their number, check who they are and then route that call to the appropriate agent who can deal with their issue and help them in their native language.
Here's what Airbnb's CEO Brian Chesky says about customer service and experience: "The paradigm with customers today is 5 stars. The problem with 5 stars is you have to be really bad to get 4 stars. Reaching 5 stars is just being nice enough — we wanted to build a product that you loved so much you would tell everyone."
How many stars would you give Airbnb?
Amazon – Customer Service Reps can Make a Difference in Online Shopping Experiences
Amazon has completely changed the way consumers approach shopping, beating brick and mortar retailers at their own game. Nowadays, Amazon is the synonym of secure online experiences and customers love its free shipping policy, competitive pricing and proactive customer service. As a matter of fact, Amazon ranks 2nd in the Customer Service Champions survey in the US, receiving top marks for its customer service.
What is great about Amazon's customer service is that it's not limited to 1 or 2 options. Customers can choose from several options, depending on their preferred method of communication and the type of problem they're facing. Consequently, customers can contact Amazon by phone, by chat, by email or use the Amazon Co-Pilot option.
If you want to reach Amazon regardless of the issue that you're having, you can do so by calling their toll-free number 1(877) 586-3230. If you want Amazon to call you, that's also possible! Just select "Phone" on their Contact Us page and enter your phone number. They'll call you in a couple of minutes.
However, the most useful way to communicate with Amazon is to chat with a representative online. Their response times are always low and sometimes quite funny too. Check out the conversation between customer service representative Thor and customer Odin here.
If you choose to contact Amazon via email, the good thing is that you can send all the information in the initial email which might be enough for customer service representatives to solve your issue without further communication.
In 2015, Amazon introduced Co-Pilot, a new form of customer service for people who are less familiar with online shopping or who are just having a hard time going through all the directions on the website. In order to access Co-Pilot, you need to be on the phone with a customer service rep who will give you a code for you to enter on the Co-Pilot home screen. After that, they will be able to navigate the Amazon website for you on your computer.

A bit similar to Co-Pilot and available on Kindle Fire HDX, Kindle Fire HDX 8.9″, Fire HDX 8.9, and Fire Phone devices is Amazon's Mayday service. In order to use it, you need to register your device to an Amazon account and have a strong internet connection. By tapping the Mayday button from Quick Actions, you connect to an Amazon Tech advisor directly on your Fire tablet. Depending on what works best for you, the Tech advisor can draw on your device, walking you through different actions or doing them for you.
Jeff Bezos, Founder and CEO of Amazon, says that: "It's our job every day to make every important aspect of the customer experience a little bit better." Given that they're number one in consumers' preferences for quite some time, they must be doing a great job.
PayPal – Mixing Email and Phone Support with Social Customer Service
PayPal is a highly used secure payment and money transfer website. As you can imagine, when you've got many transactions and operations happening at the same time, some things can go wrong and that's what usually generates customer complaints and questions.
Luckily, there are several ways for customers to reach out to PayPal's support representatives. Whichever option they choose, they first need to log into their PayPal account.
After that, they can choose to call PayPal by going on the Contact Page and clicking the "Call Us" button. The new page will display PayPal's customer service phone number 1-877-569-1116. It will also display a one-time six-digit passcode that users can input when prompted when they call PayPal customer service in order to get help faster. The passcode expires in an hour.
Customers who think that they can better describe their issue in written words, can send PayPal an email by clicking on the Message Centre, selecting a topic and a subtopic for their message and then writing their poignant issue and press "Send."
PayPal has even thought about those customers who'd rather reach out to companies via social media. Technical support for PayPal can be found on Twitter. You know what the great part is? That they're providing it in Chinese, English, French, German, Japanese, Portuguese, Russian & Spanish! Here is how their Twitter answers look like: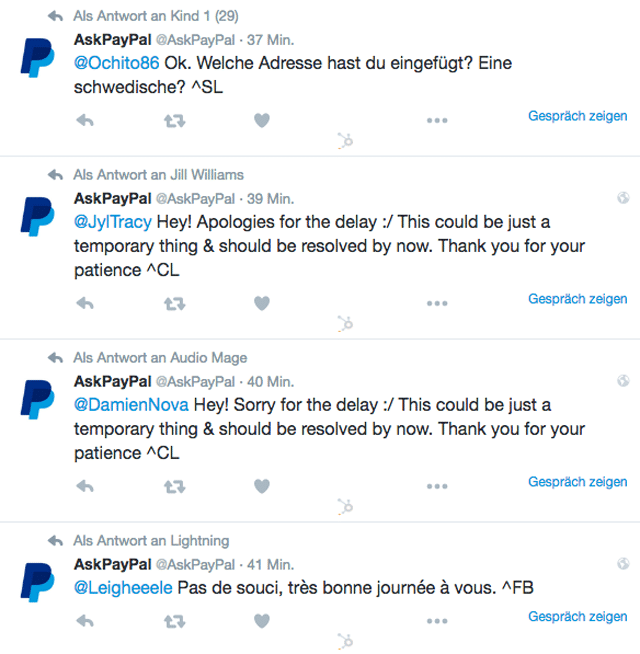 Users can also reach PayPal on Facebook.
While some companies still believe that customer service is restricted to a single company department and are only using one communications channel, the big players have understood that successful customer service involves a company-wide approach and that omnichannel support is not only desirable but also highly appreciated by customers.
Airbnb, Amazon and PayPal are doing a great job because of their proactive approach to customer service, their dedicated teams, their highly performant software and their desire to do more and be better.
If you were to name your favourite company in terms of customer service, which one would it be? Write the answer in the comments section below.
Efficient Social Media Communications With Swat.io