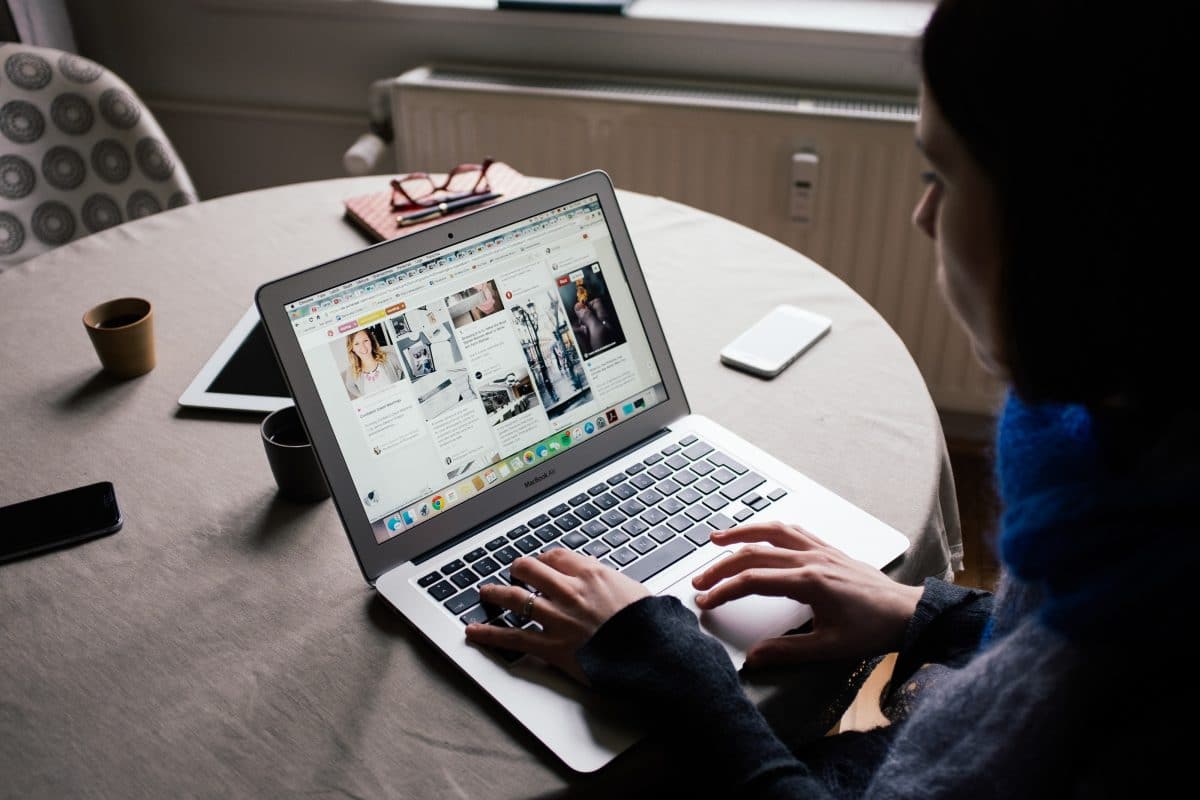 5 Things Companies Should Definitely Know About Pinterest
Only a few still don't have Pinterest for businesses on their marketing list. With an exponential growth in user numbers and meanwhile 400 million users (as of Q2 2020), the visual search engine should no longer be underestimated.
You read that right! Pinterest is not just another social media platform but a search engine! And as such, it is becoming increasingly important for companies.
Millenials use Pinterest just as often as Instagram. 72% of users will buy something offline that they saw on Pinterest.
Bloggers have already recognized the power of this traffic source. For many of them, Pinterest is nearly as important as Google when it comes to links – far ahead of Facebook!
Companies should join now and use the opportunity that many content themes are not covered on the platform just yet. Pinterest does not only work for fashion, recipes, and travel, but also for business topics – when done right.
How to create a Business Account and apply for Rich Pins is explained on the help pages of Pinterest or you can just read it in our Pinterest Marketing 101 guide here.
#1 Pinterest is an (image) search engine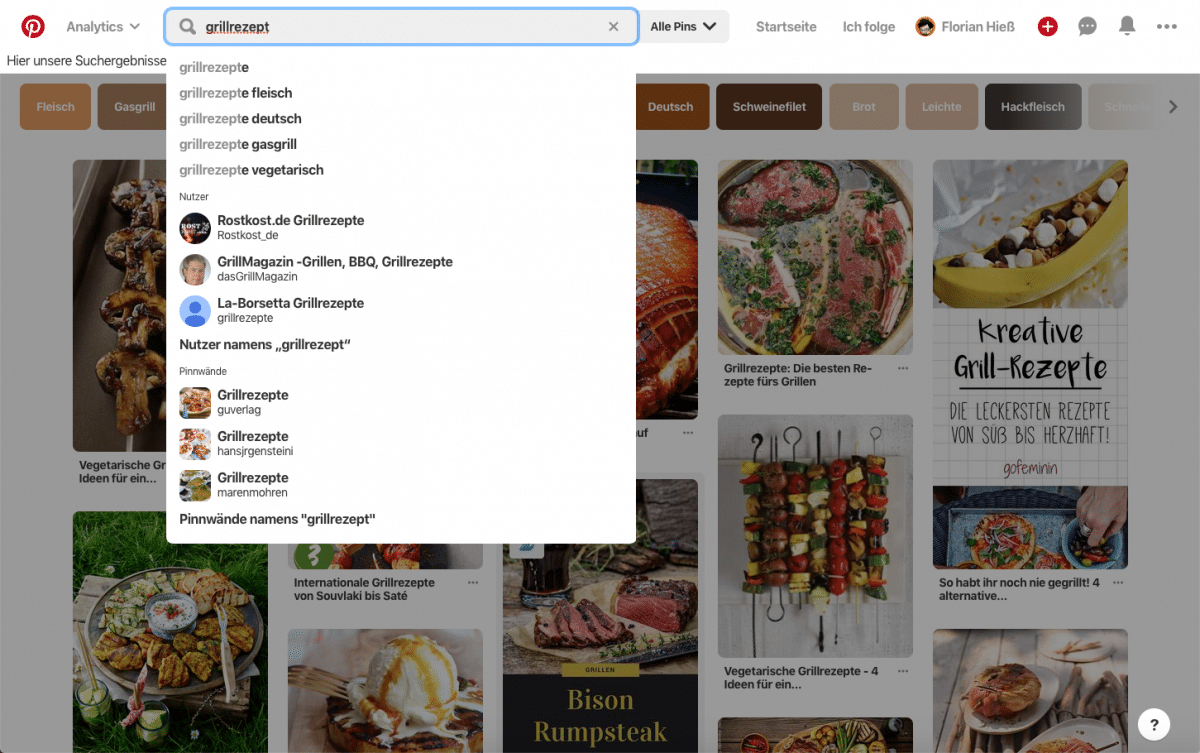 The most important point at the beginning: Pinterest is a search engine and should be treated as one.
How does Pinterest decide which pins are shown?
Today Pins are displayed by "best ones first" instead of "newest ones first" in the feed. The smart feed prioritizes and assesses pins by quality and relevance.
Just like the algorithms of search engines, the one of Pinterest is very complex and kept a secret. Just like with Google the criteria for selection are only known and confirmed in their basics.
The smart feed is made up of three basic building blocks:
Pins of users you are following (Following Pool)
Similar Pins (Related Pool)
Pins based on your interests (Interest Pool)
Pinterest collects Pins out of these three segments and shows them in the feed.
4 main factors influencing whether your Pins are shown in the Smart Feed of others:
The quality of your site
The quality of your Pins
The quality of your pinning
The relevance
When you have understood how to optimize these 4 factors then you are on the right track to regularly and sustainably gain good traffic to your website through Pinterest.
The big plus: by optimizing your website for Google you have already taken the first steps for an optimization for Pinterest.
#2 Keywords and trends are the clincher in Pinterest SEO
Keywords are essential for good SEO – this also holds true for Pinterest! The best keywords can be found directly on Pinterest because similar to Google, Pinterest also offers a "type-ahead" functionality and shows keyword combinations.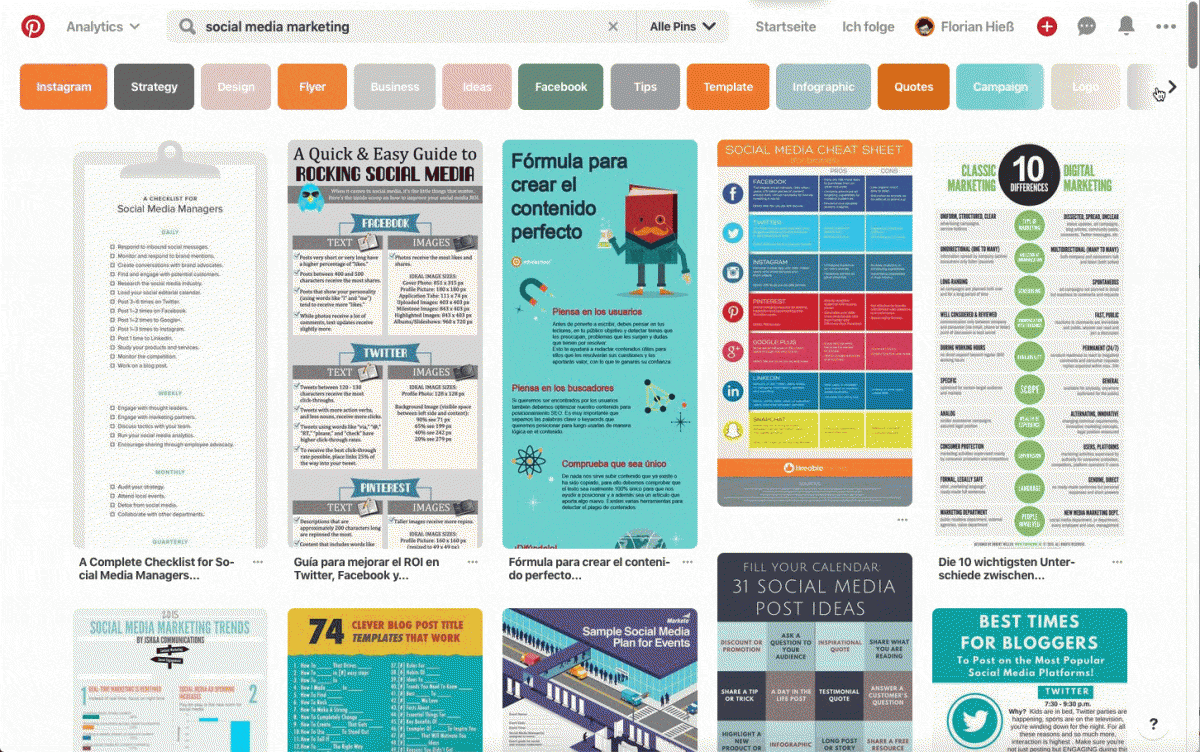 The keywords most important for your topic should appear on Pinterest in the following locations:
Your Pinterest name
In your short info
In your Board titles
In your Board descriptions
In your Pin descriptions
If you want to know more about Pinterest SEO I recommend the eBook "Become a Pinterest SEO Professional".
Pinterest will let you discover trends at an early stage! Pinners collect Pins long before a purchase decision has been made or even a concrete idea has been formed.
Pinterest itself regularly publishes trend reports which might even help you with your next product idea.
When you create Pins for these trends and include relevant keywords your content will almost spread by itself.
#3 Creative and inspiring content works on Pinterest
The most successful Pins capture the attention of the user in order to make them curious and click on those Pins. The click on the website should be the main goal since this is the true power of Pinterest for companies: Pinterest can bring a ton of traffic to your own website which "only" needs to be converted.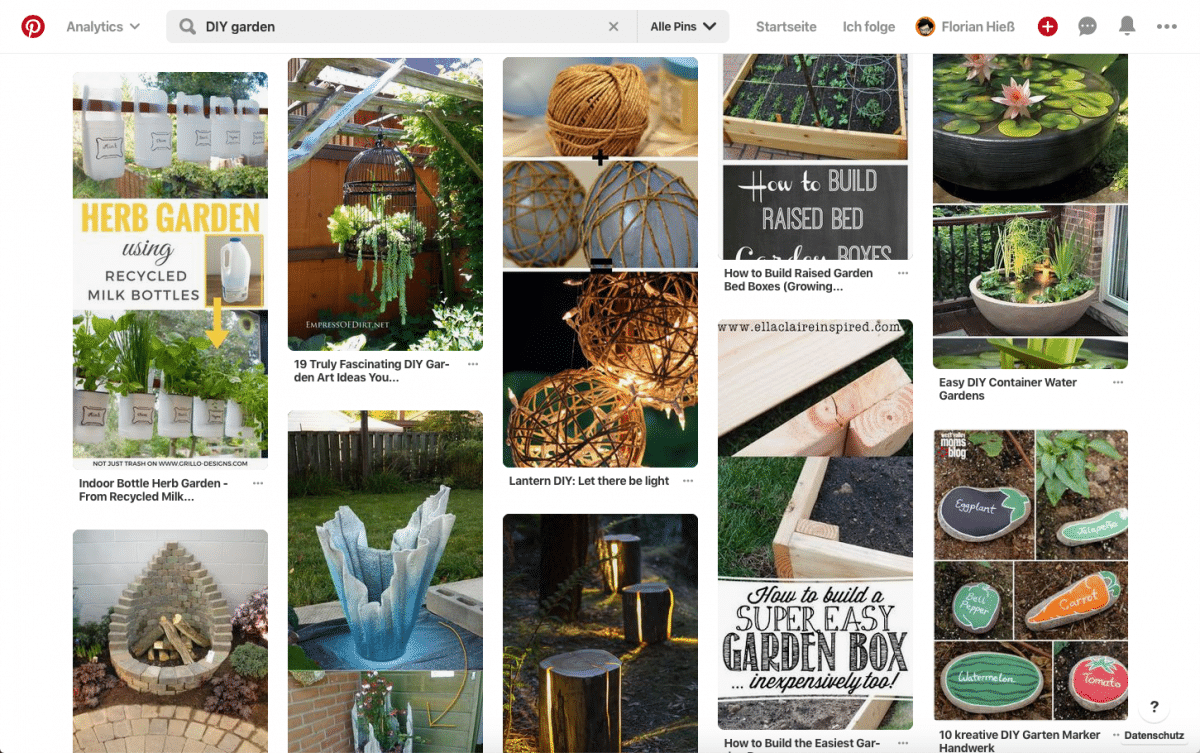 Clipped product photos, which are important for online shops, are clicked less on Pinterest than pictures showing the product being used and therefore inspiring the user and stirring their emotions.
How to increase the click rate of your Pins:
Use high-quality photos.
Use text overlays in the picture.
Pique curiosity.
#4 Pinterest is a Mobile-first platform
Similar to Facebook, 85% of users use Pinterest on their mobile phone. Always think about this when creating your Pins!
This means that Pins should
be in Portrait mode (the best ratio is 2:3),
use the right fonts and contrast to ensure readability
lead to a website optimised for mobile devices.
#5 Pinterest Marketing must be thought long-term
While posts on Twitter or Facebook usually have a lifespan of about 15 to 90 minutes, Pins can get more successful over time! The usual lifespan of a Pin is 3.5 months! And even older Pins can drive great traffic to your website without any further measures.
So think long-term and frequently ask yourself these questions:
What type of content has the potential to be evergreen?
What type of content is seasonal and should, therefore, be pinned about 45 days in advance?
Which Pins have good click rates but high bounce rates? Can you enhance the linked sites?
If you are running an online shop it is important that products which are out of stock do not produce a 404 page but that similar products will be shown instead.
In the last one and a half years, Pinterest has gathered enormous growth rates, more than half of the users are from outside the USA. New functionality has been launched and visual search has been optimized. The future lies in the connection of the offline and online world. That's why now is the right time to jump on the "Traffic express train Pinterest".
A varied editorial plan is key to marketing on all channels, including Pinterest, Facebook or Instagram. In our eBook "The art of social media content creation" you will get valuable tips on the planning, creation, and publishing of content. Get if for free now!
The Art of Social Media Content Creation
Download our eBook and learn how to plan, create and distribute your social media content while measuring its effectiveness on your relevant social media channels. To ensure you don't miss out on any big social media content trend or best practice, we've also included interviews of 5 experts in this field. Find out how to master the art of social media content creation using the latest available tools and determine what type of content makes your audience tick!
Important Pinterest phrases explained:
Boards: Boards are the pin boards collecting Pins for a certain topic.
Pin: A Pin is a single picture on Pinterest. A Pin consists of the picture itself, a link and a description.
Rich Pins: There are normal Pins and Rich Pins. Rich Pins offer additional information e.g. the ingredients for recipes. Depending on the Pin type (article, recipe, product) more elements such as title or price can be added.
Pinboards: You Pins thematically on pinboards – there are three types of pinboards: public, secret and group boards.
Pinning/Repinning: Adding a pin to a pinboard is called Pinning. Should you use an already existing Pin on one of your Pinboards then this is called Repinning.
(Smart) Feed: The Feed is the start page of Pinterest. It is created by Pinterest tailored just for you.
Business Account: A Business Account is a free company account and offers a row of advantages such as access to Analytics data and the use of Rich Pins.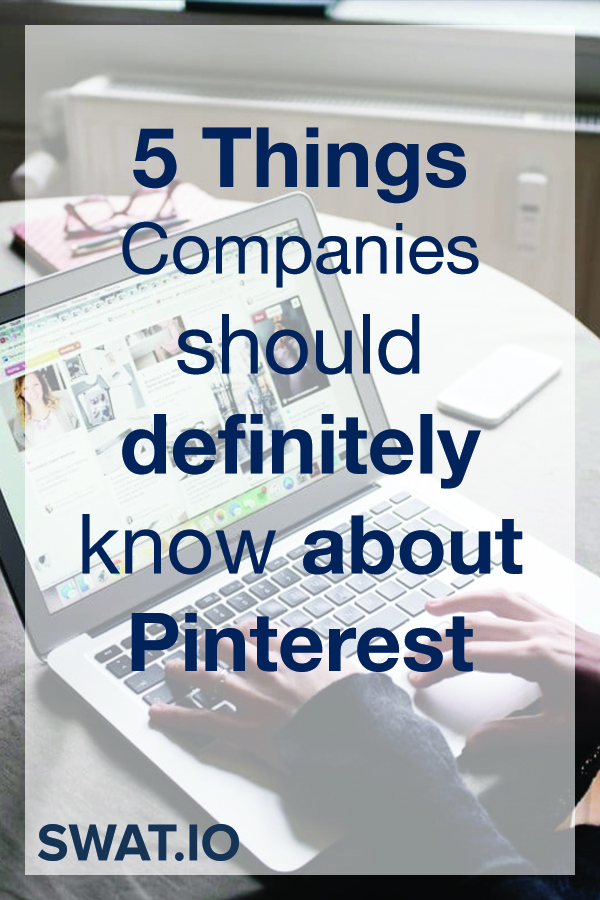 Efficient Social Media Communications With Swat.io