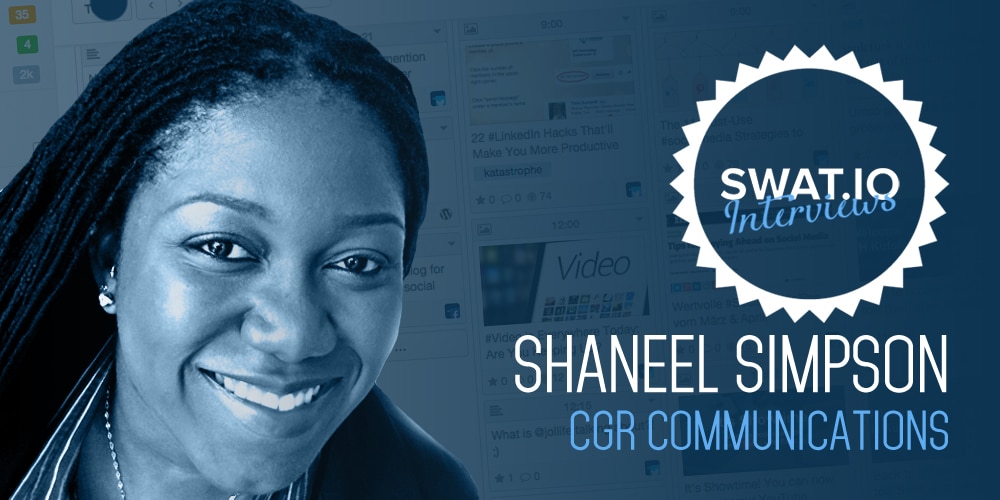 Shaneel Simpson, CGR Communications (Jamaica): "Become super organized and learn to live in a super dynamic environment."
Many believe that the position of Social Media Manager in an agency can be risky business. And it is! Handling social media can be very overwhelming, to the point where a Social Media Manager spends 12 hours/ day in the office, without a minute to spare.
The main challenge is finding ways to better manage multiple social media accounts for several clients with a small team, while also providing transparency and clarity for clients. Additionally, the Social Media Manager is confronted with the difficult task of maintaining coordination between team members' and clients' social media activities.
Social Customer Service – The Essentials
Social customer care is quickly becoming a company-wide approach that involves all departments and a common social media engagement strategy. Is your business up for the challenge? Download our eBook today to find out!
The question always is: what can busy Social Media Manager do to achieve more with a limited number of resources? In other words, how can they enhance their social media community management?
In that sense, we've interviewed Ms. Shaneel Simpson, Social Media Manager at multidisciplinary marketing communications agency CGR Communications (Jamaica), who's been kind enough to share her knowledge and expertise with us.
1. Tell us a little bit about your clients, who they are, vertical, size, profile, etc.
CGR Communications has a range of small to large-sized clients. In total, we have 11 clients and over 20 pages. Some of our clients are leading companies in Jamaica's food industry.
Our biggest clients include KFC Jamaica (with a fan base of 211,302), Pepsi Jamaica (128,688 fans) and LIME Eastern Caribbean with 11 separate country pages.
2. That sounds like a lot of work! What does your usual day look like?
HECTIC! (laughing) Let's say we can't complain about productivity in the office. Being in charge of the social media management as well as the content management for all 11 clients is pretty challenging and keeps us fully booked in the office from 9 a.m. to 10 p.m.
3. What tools do you use to better manage your workload?
We have a range of social media management tools we use for content planning, tracking and reporting, etc. such as Swat.io, Mentions, Social Bakers, Engagor and Sprout Social.
4. Could you tell us a bit more about how things were before using Swat.io? (f.e. did you use other tools, or did you mainly collaborate with email, content plans on Excel etc.)
Life was … (indescribable in words). Imagine doing manual content scheduling, posting, support for a client with 33 pages in total (Facebook, Twitter and Instagram) with a team of only 3 people. YUP, that sums it up quite well.
5. Which of Swat.io's functionalities are most valuable to you and your team? (f.e. do you mostly use the calendar for scheduling, or do you mostly manage incoming comments etc.)
Thankfully, with the introduction of the Swat.io social media management tool and the extension of our team, we are now effectively able to handle all of our tasks much easier than we could months ago. The easy content management and ticketing support system is what really won us overall. It's basically an all-in-one platform that meets our daily social management demands, saving plenty of time without the need to manually filter or navigate between individual pages.
6. How do you think Swat.io is different from other tools you could have chosen?
It actually does what it was designed to do. Other social media management tools that we had previously used were buggy and unreliable. Swat.io has proven to be reliable, especially for us, an agency with demanding clients highlighting every mistake we made. It's good to know we can set it and then forget it. While we have also tried other tools with built-in customer support functionalities, with Swat.io it was a relief to see our team latch on and start using it without having to go through a steep learning curve. As mentioned, it did what it was designed to do!
7. In your opinion, what are the main challenges faced by Key Account Officers? (f.e. managing multiple clients in a limited amount of time, keeping the overview on several publishing calendars…)
The digital landscape is barely understood by our clients and doing our job of managing their social media presence while balancing their expectations about something they don't quite understand just yet is a huge challenge. This happens at all levels but it gets harder due to the fact that things tend to change very quickly in this space. Therefore, sometimes it's difficult even for us to keep up, let alone informing and educating the client.
8. Finally, please share with our readers some useful tips that they could use to improve their social media management activities and successfully overcome these challenges. (f.e. using a shared calendar for content planning…)
Become super organized and learn to live in a super dynamic environment. Efficiency is a key component and finding the right social media managemet tools (like Swat.io) to help achieve this will always remain important. From there, you can better find the time to get ever more creative with your strategies in order to meet your social media goals and make your clients happy.
With a passion and drive for marketing and promotions, Shaneel's creativity and awareness in cultural trends and changes lends to innovative ways of accomplishing projects, coupled with an extensive background in project management and events marketing.
She has also been involved in brand marketing campaigns, benchmarking competitors and working closely with Sales & Marketing teams, successfully combining her experiences and intuitions about social media with the knowledge of traditional marketing.
As an avid reader of blogs and an intuitive and talented individual; she is often an attendee of digital marketing webinars or hosting training sessions. Developing skills from her social media marketing and online community management skill, she now works as the Content Director for CGR Communications Limited in Kingston Jamaica, spear-heading their digital content creation department that hosts 6 major clients thus far.
We are a multidisciplinary marketing communications Agency with expertise in advertising, public relations, interactive, branding and sponsorship. Formed in 1971, CGR has leveraged its reputation as a leading agency in Jamaica, to acting as a strategic partner with the instincts, capabilities and flexibility to work with a range of clients, from startups to global brands in local and international markets.