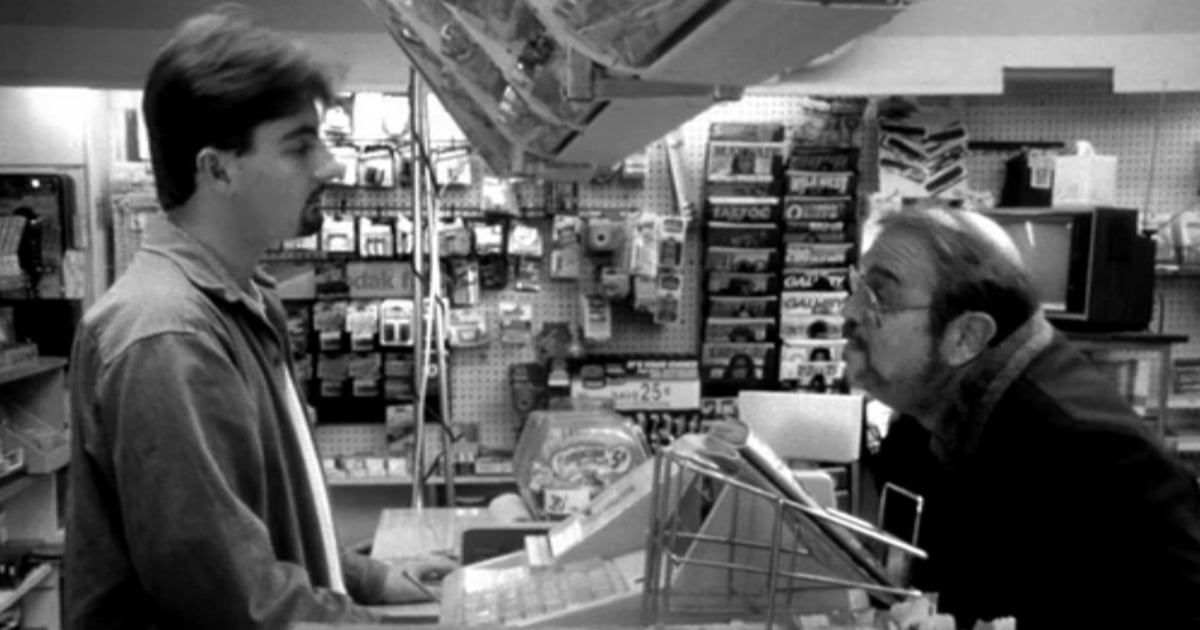 Case Study: How SMEs Handle Social Customer Relationship Management
Social customer relationship management, an integrated strategy for many European SMEs.
Some might think that investing time and resources into perfecting social customer relationship management is only specific to big companies because they are the ones with thousands and even millions of customers waiting to be served and listened to. However, the same applies to SMEs. Even though their customer base is not as large, their business literally depends on how much their customers love their products and services.
Ignoring the importance of direct, immediate responses via social media can have huge negative impact on a business. At the opposite pole, putting effort into creating a personal connection with customers via social media, and letting their wishes or dissatisfactions be heard can work wonders for SMEs.
The Blueprint – Successful Social Customer Service in 13 Steps
Download our eBook and learn the 13 steps that will take you on the right path to social customer service success in no time. It's all about the strategy and we've come up with the perfect one for you!
Here are several examples of European SMEs and their actual strategies in handling social customer relationship management.
King of Shaves – "Very Responsive to Messages"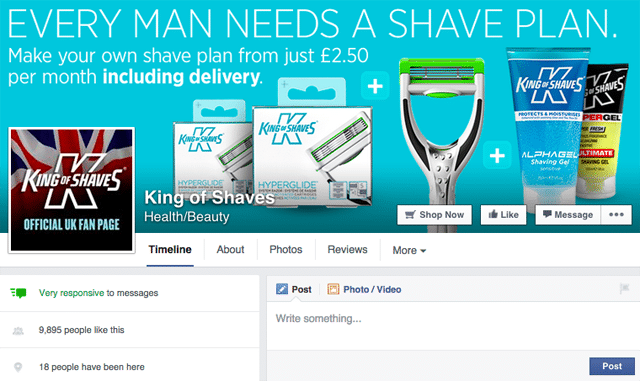 This is the first thing that you see in their Facebook page, right below their picture and, after taking a closer look at their feed, you actually understand that they are actively practicing what they preach and actually listen to what their customers have to say. Their customer service representatives are fast and caring.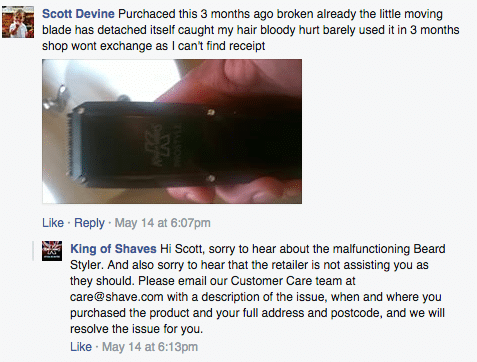 Apart from that, they are also doing a great job at keeping spirits high and promoting their products via funny posts
In what concerns King of Shaves' Twitter activity, you can't help but noticing their frequent tweets – they are posting between 2 and 5 times every day and have 13.9K followers. They also share with their customers how well their campaigns are going and reply to every comment in the shortest amount of time, even to the ones that are not complaints. And they even have a Pinterest account! The recipe of a job well done!
No, don't take their name literally. They are not selling rubber boots, they are a modern meat shop in London but it's their name that really catches your attention first. Muddy Boots' Facebook page doesn't have much activity going on. Still, they are committed to posting updates and photos from the shop and, whenever someone comments to congratulate them, they reply. Not in a fast manner but at least it's in a personalised way.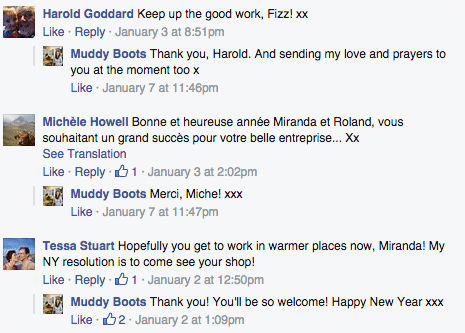 On the other hand, they are very active on Twitter, constantly retweeting posts and keeping customers up-to-date with the latest news, events and anything associated with their company. Interestingly enough, people aren't complaining about their services, everybody seems happy which could mean that Muddy Boots rocks when it comes to customer relationship management.
Hippopotamus Restaurant – They Seize Every Opportunity!
Looking at their Facebook page, you easily understand that these people seize every opportunity of connecting their promotional messages and campaigns with exterior events be they the last days of spring, the beginning of sales periods, the hot weather, Father's Day, the end of university and the list can go on. The great part is that they are very good at this and they build every campaign around their mascot, the hippo, which their customers love. Similarly, they're also doing a good job at providing replies to customer queries. Although they still need to work on the timing (it sometimes takes them a whole day to respond), none of their customers feels ignored.
For Twitter, they have the same strategy. Although they post on a regular basis their customers' preferred channel is clearly Facebook.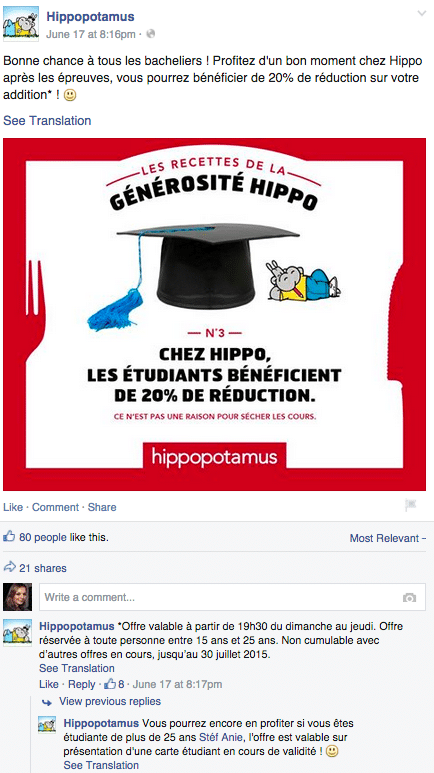 Pure Living Bakery– Their Customers Must Really Love Them!
Interestingly enough, this Vienna-based bakery only has a Facebook page where they post pictures of their delicious products and invite people to come and enjoy the "beach feeling". There aren't any recent complaints on their wall and they have 10k people who like their page, which may suggest that they are pretty well-known and that people love them. Actually, there are only words of praise to which Pure Living Bakery politely replies in short time intervals.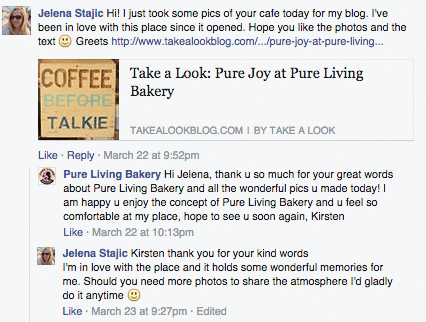 Brillantengrund – A Great Place Worth Talking About On Social Media
Facebook and Twitter are their main social media channels where they usually post announcements of soon to come events, the latest additions to their menu, or their famous courses. The restaurant is oftentimes hosting events or is featured in different publications. There isn't much interaction on their Facebook page and their Twitter account sees almost zero interaction. An idea would be to find ways of reaching out to consumers instead of only posting things about the hotel. Customer feedback is an essential component in businesses' recipes for success. Therefore, finding ways of getting that feedback and engaging with consumers at a personal level should be integrated into Brillantengrund's social media strategies.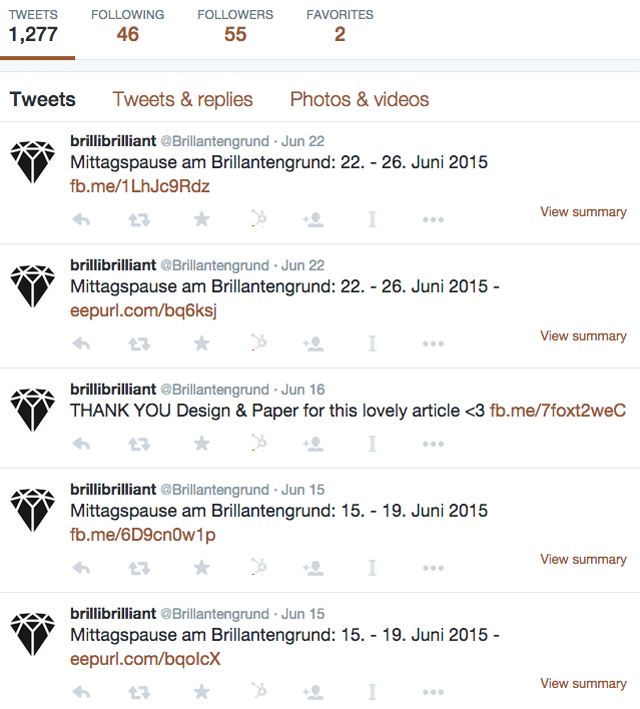 The Importance of Social Customer Relationship Management
Compared with big companies dealing with hundreds of customers on a daily basis, it's easier for SMEs to control and personalise the social customer experience on different channels.
The challenge comes when their business starts to grow. If they are currently using Facebook and Twitter to get their message out in the hopes that people will hear it and fall in love with their products and services, later on they'll probably use these channels also for handling customer complaints. Although complaints probably aren't front of mind at the moment, SMEs need to be prepared for when that moment comes.
Last but not least, here are several tips that may come in-handy:
Ensure that your employees know and respect your code of conduct on Twitter, Facebook and other social media channels from the moment that they join. This may mean that you need to provide them with training on social customer relationship management. Better do this from the very beginning in order to avoid any blunders.
Always stress the importance of immediate and personalised replies. Never ignore a customer query or complaint via social media! A customer with 1000 Twitter followers who posts something negative equals 1000 complaints.
Remember that social media is public. Therefore, use the same rules that you would use to deal with a dissatisfied customer in your shop/ restaurant. Be friendly, offer a helping hand and deal with the situation in a private and discreet manner.
Via social media channels, you have the liberty of showing off your personality and values to existing as well to potential customers. Don't make your strategy a corporatist one! Be transparent and respond in a kind way to every comment or post. It's the beauty of interacting with people so make the most of it!
Plan for a crisis ahead of time – or at least try to do so. Remember the saying: "If you fail to plan, you are planning to fail."
Efficient Social Media Communications With Swat.io