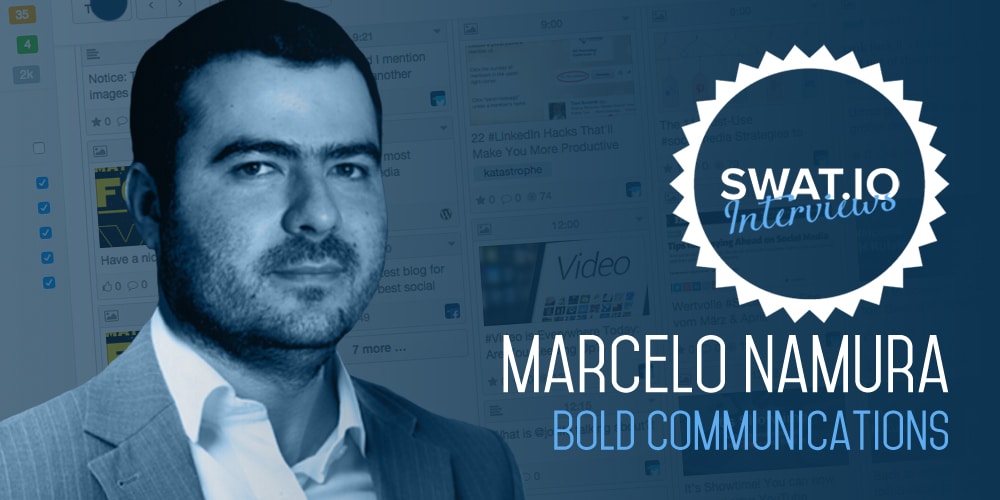 Marcelo Namura, Bold (Brazil): "Our team's efforts could change consumers' lives"
If you're reading this in English, then you might not even know that Swat.io is pretty big in Brasil. In fact, just this week we launched our Portuguese landing page! Our next interviewee is from sunny Brasil as well: Marcelo Namura is the Senior Business Intelligence and Media Manager at Bold, an São Paulo agency, which is part of the international Bold Worldwide network.
Tell us a little bit about your clients, who they are, vertical, size, profile, etc.
Bold is one of the best content specialist agencies and the first one to integrate content projects with business and communications strategies for brands in Brazil. Our team's efforts could potentially change consumers' lives.
Among our clients there are big brands such as Danone, Skol, Outback, Bimbo, Honda Motos, PEDIGREE®, Snickers, Mizuno, Samsung, Ray-Ban, Centrum and Spain Tourism. These brands use social media as a channel for content delivery and you can imagine how complex it is to effectively manage everything.
That sounds like a lot of work! How does your usual day look like?
There is no usual day. With such big clients, things happen very fast and there are always strategy changes that need to be made or different situations that come up out of the blue and need to be dealt with. We have a team of Project Managers, Creative Specialists, Social CRM and Media Analysts working together every day to make the magic happen.
How TV & Radio Broadcasters are Managing Social Media
Download our whitepaper to find out how TV and radio broadcasters are using social media to create a tight bond with their audience. Find out which social media channels they are using, what works and what doesn't, as well as what the big players are doing to market their shows via different social media platforms. Bonus: a case study on how broadcasting companies are using WhatsApp to increase their reach!
What tools do you use to better manage your workload?
In order to effectively manage all the workflows, Bold uses some tools ranging from software used for client communication to content publishing tools. Also, when your clients have millions of customers, it is crucial to use a social media management and monitoring tool that aggregates all community activity, customer requests, complaints etc. in one place and across all your social media channels, with a way to forward/assign tickets to members of your team.
Which of Swat.io's functionalities are most valuable to you and your team?
When Bold found Swat.io, we were looking for the perfect tool to accomplish two main tasks, content scheduling with approval workflow for social media channels and the possibility to organize all received interactions so that the response time is as closer to 0 as possible.
How do you think Swat.io is different from other tools you could have chosen?
Swat.io delivers more than just content scheduling and social media management functionalities. For example, we're using its analytics feature to better understand what works and what doesn't. This helps us improve processes in the shortest amount of time and have a clear overview of what we should change in the future.
Also, Swat.io provides others great features such as long uptime, fast load time on page and an efficient support.
In your opinion, what are the main challenges faced by Key Account Officers?
The main challenge is finding ways to better manage multiple social media accounts for several clients with a small team, while also providing transparency and clarity for clients. Additionally, the Key Account Officer is confronted with the difficult task of maintaining coordination between team members' and clients' social media activities. If everyone posts at the same time without following certain rules and keeping an updated calendar, there's a high risk of chaos, which ultimately leads to ineffective marketing campaigns.
Finally, please share with our readers some useful tips that they could use to improve their social media management activities and successfully overcome these challenges.
It's highly important that every team member knows their duties in terms of content marketing, as well as social media community management and plans & tracks all activity. When you're working with multiple clients, delegating responsibilities is key. So, don't be afraid to delegate!
Another useful tip would be to organise your social media posts into categories (i.e.: Promotional Content, Product-related Content, Funny Content, Blog, etc.) and schedule which category goes online when. This will highly reduce the chaos for all team members 🙂
Marcelo Namura
Experienced professional in the Brazilian digital industry with more than 10 years background and strong knowledge in various aspects of the Web, including product development and project management. My experience include development, coordination and management teams (peoples) in areas such as Business Intelligence, Metric Analysis, UX, software engineering, New Business Development (benchmarking, planning and proposal) and online media (display, CPC, CPA, CPL etc.).