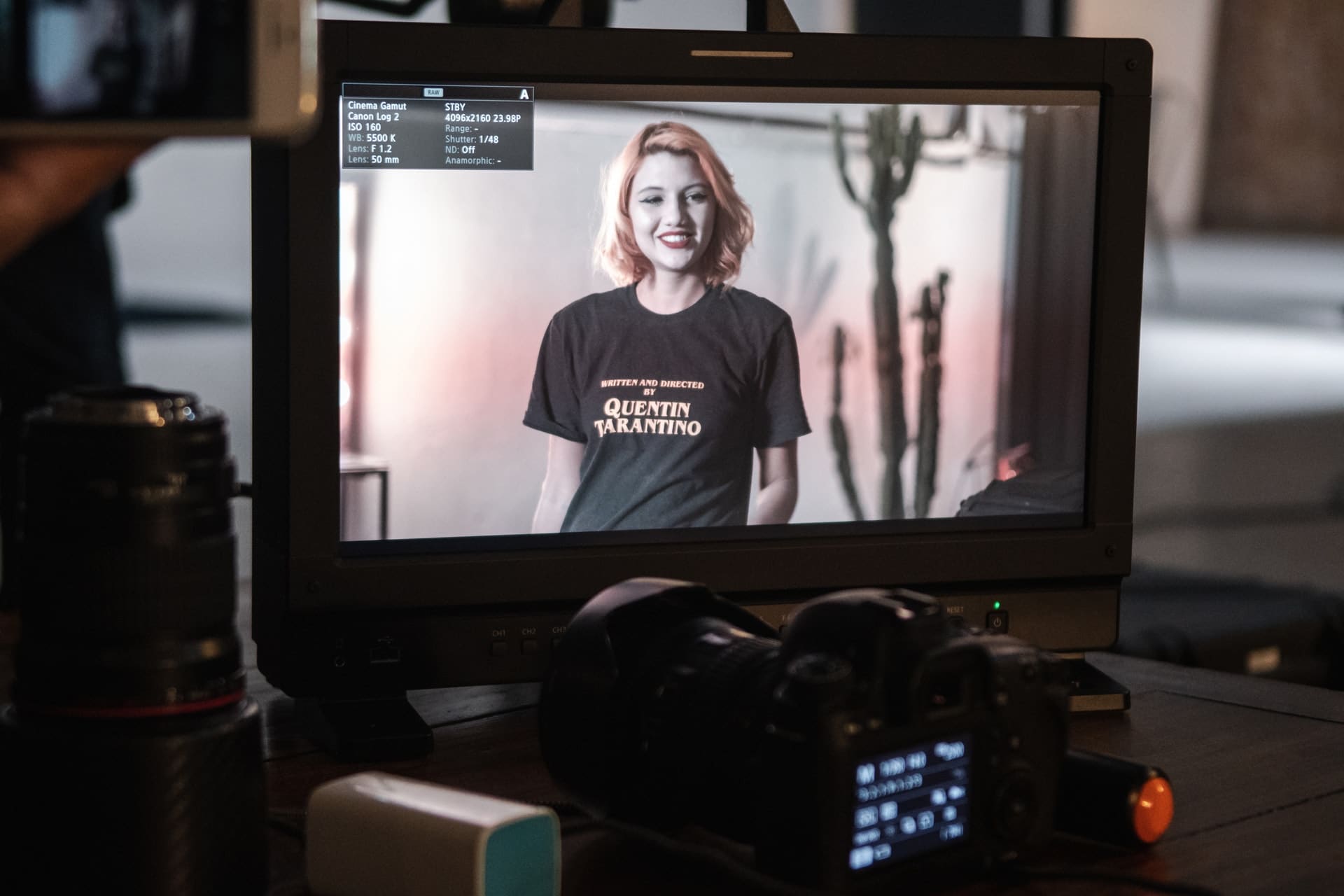 Instagram TV Best Practices – How to use IGTV for Highly Effective Instagram Marketing
Roughly one year ago, Instagram TV (abbreviated to IGTV) entered the arena of online video with the goal of becoming an alternative to YouTube. However, restricting the format to vertical videos has proven an obstacle to their mission.
Apart from getting rid of this restriction, they have recently added a preview option for the feed. As a result, IGTV has gained traction again, which is the reason we are going to take a closer look at why it makes sense to have IGTV on your radar.
How Instagram TV works – A quick overview
Just like YouTube, IGTV is a video platform where a user can create an account and then upload their videos. There are two ways of connecting with the platform:
Through an exclusive app
Through a button on the Instagram app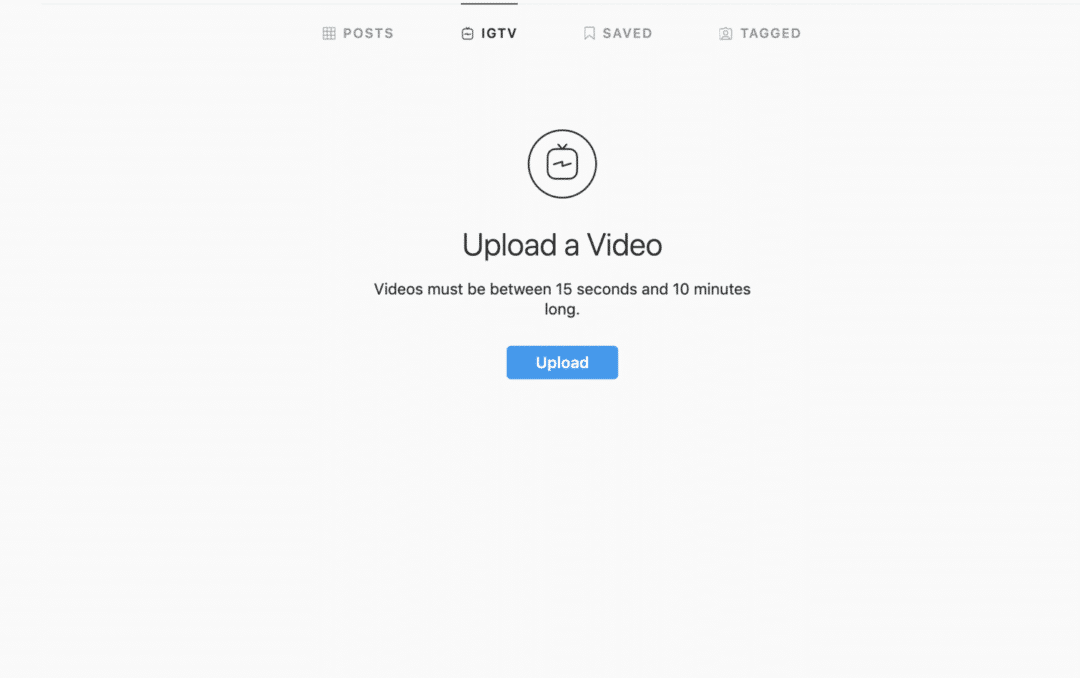 You can add a title and a description to your videos. The key difference between IGTV and Instagram videos in the feed is the maximum video length. Clips on IGTV can be up to 10 minutes long, and bigger, verified accounts can even publish videos that are up to an hour in duration.
How improving IGTV brought it back to life
As we have pointed out above, IGTV did initially not meet users' expectations, even though videos are becoming ever more important in Social Media Marketing. In light of the rapidly decreasing number of views, some had even predicted that IGTV will meet the same inglorious fate as Google Plus.
Right now, IGTV seems to be making its comeback and two recent changes are the reason for that:
In addition to vertical videos, you can also publish horizontal ones now. This is particularly useful for brands, that now don't have to produce videos exclusively for IGTV anymore.
Instagram now also allows you to showcase a preview of your IGTV video in the Instagram feed. This preview clip can be up to a minute long. This gives users the chance to decide whether they want to watch the rest of the video on IGTV. At the same time, brands are being given a great opportunity to bring awareness to their content on IGTV, which had been exceedingly difficult beforehand.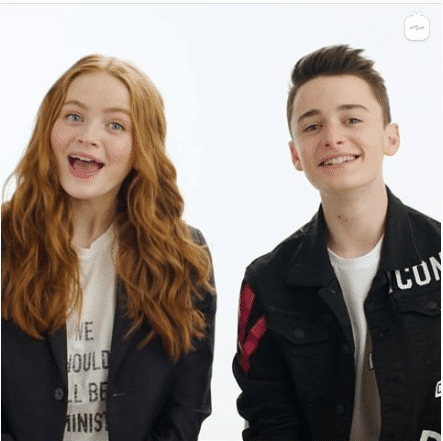 Right now, no official numbers concerning the effects of these changes have been shared, but many with an IGTV account are reporting that views are skyrocketing.
And that is by no means the end of story: if this upward tendency continues, in the near future, IGTV could give their users the opportunity to earn money by making videos, just like on YouTube.
Social Media Marketing ideas for IGTV
Clearly, there are lots of good reasons for Social Media Marketers to take a closer look at IGTV right now. To help you figure out how to go about it, we have compiled our top tips for effectively integrating IGTV into your Social Media strategy.
Sneak peaks and behind the scenes videos
While short clips on Instagram are lacking in this department, IGTV is made for it: giving your audience a sneak peak and showing off behind the scenes material on your brand. Whether you go for virtual tours or show a co-worker's work day, your options are endless. All of them give you a chance to foster customer loyalty and add that pinch of authenticity to your brand or company.
For example, ElleUK regularly provides IGTV users with "Behind The Scene Videos" from their fashion shows.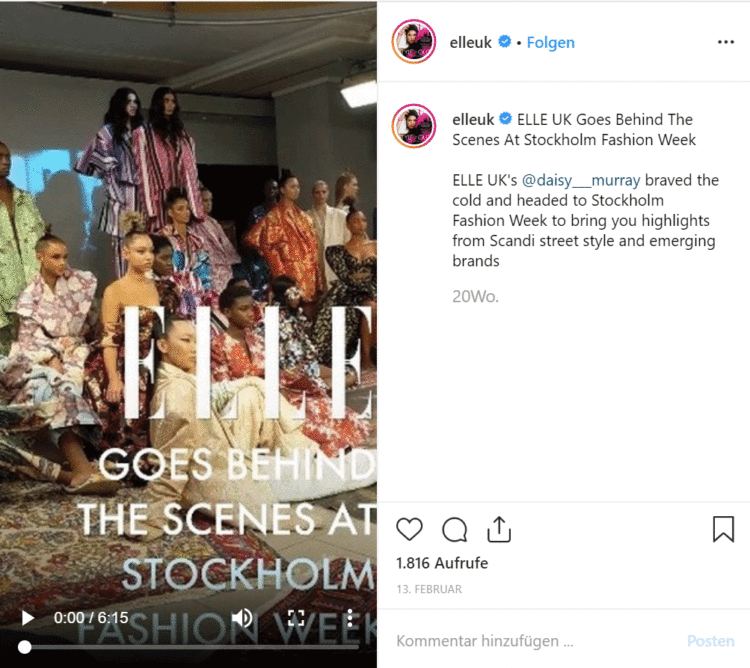 American fashion company J.Crew uses IGTV to present employees of their shops, among other things.
Make video series
Video series aren't limited to Netflix. On IGTV too, they were quite popular early on. IGTV is useful in this context, since they allow for long videos and display individual episodes next to each other in a "feed", as opposed to them being scattered among other posts. Curated like this, IGTV does indeed resemble popular streaming websites.
Ideally, video series encourage users to keep on coming back and be on the lookout for the next episode. A great example for such a series is Lele Pons' "What's Cooking" – a cooking show with a twist.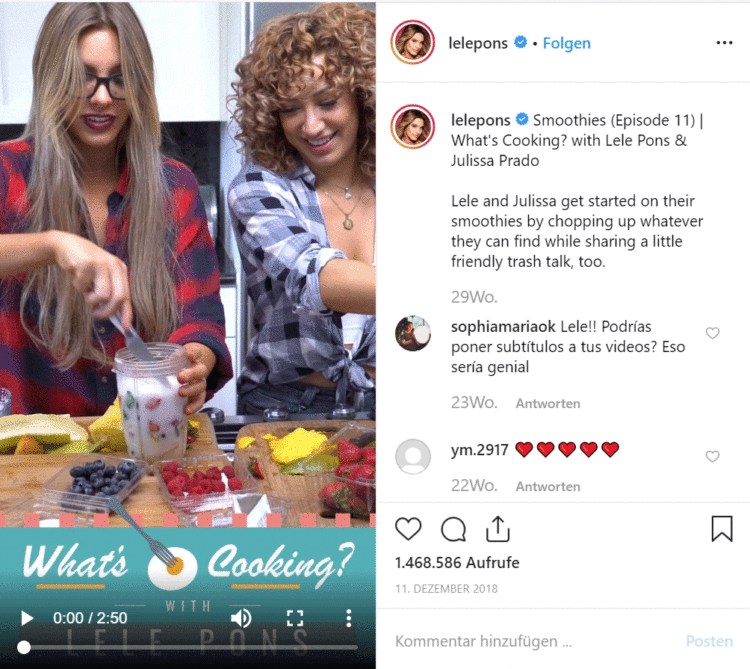 Re-using videos from other platforms
Recycling made easy! Previously, it was hardly possible to publish a YouTube video on Instagram, due to the differences in format constraints. However, those constraints have been loosened, and now you can easily address users of different platforms by just tweaking your videos a little here and there.
Tutorials
If you are doing tutorials and how-to-videos, the additional video length is clearly advantageous for you. However, that doesn't mean you should simply put out lengthy videos with complicated instructions.
Short videos featuring many valuable tips, combined with an attractive look, are more likely to succeed on IGTV. Working with popular influencers, such as in this video by Vogue, is of course always a good idea.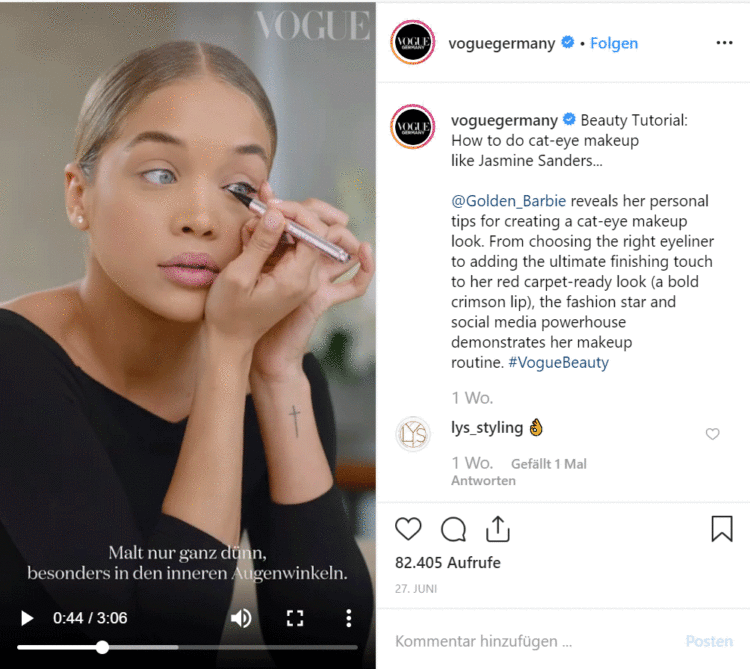 Influencer Marketing: The Practical Handbook for Social Media Marketers
Download the free and practical influencer marketing guide for social media marketers. Learn on over 60 pages how to find the right opinion leaders for your company, how to integrate influencers into your campaign and how to develop a campaign from A to Z together with them. This guide gives you everything you need to successfully implement your Influencer marketing campaigns.
Playing with expectations
If you want to make the most of your IGTV channel, it pays off to look into alternative new content and formats.
A prime example for this kind of unexpected content was delivered by Netflix, in the early beginnings of their IGTV channel: they published a video featuring Riverdale-star Cole Sprouse, eating a burger, for an entire hour. This video has risen to what by now seems like everlasting online fame. By week 54 of its existence on the platform, it has amassed 1 million views and more than 6000 comments.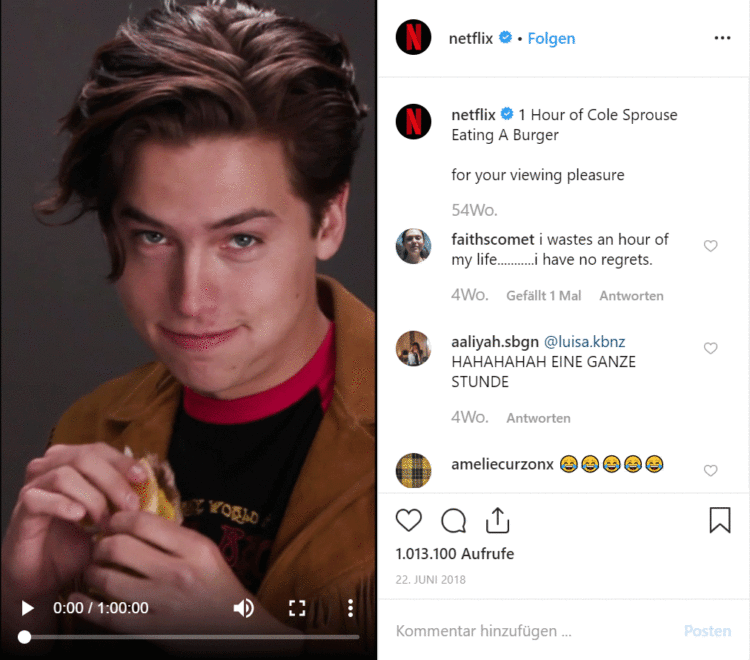 Presenting products
Having the freedom of creating longer videos also allows you to thoroughly present your products. In this clip by BMW, Domagoj Dukec, the Lead Designer at BMW, presents the brand-new model series BMW 1.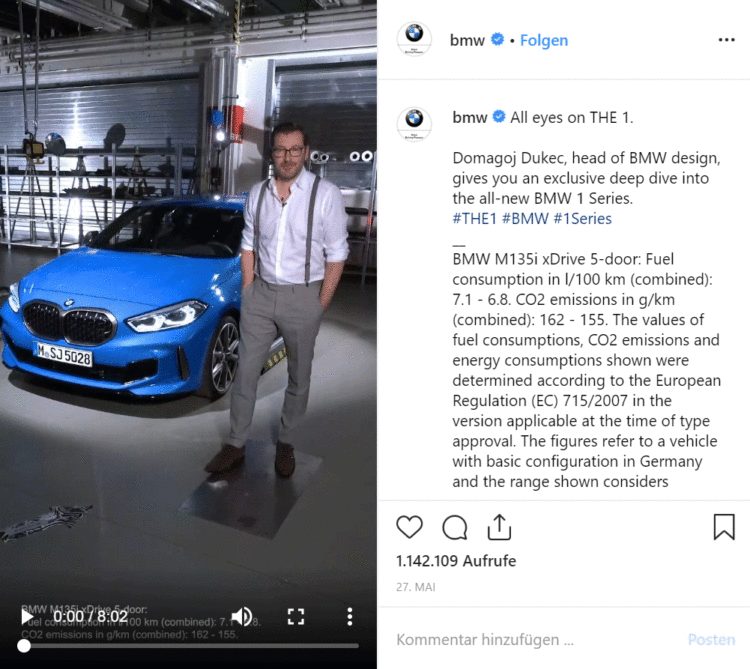 General tips for IGTV Marketing
No matter what type of content you are going for, there are some general guidelines for Video Marketing on IGTV that will help you in getting the most out of your channel.
Produce for watching on mute
Chances are high that many of your viewers will watch your videos while they're out and about, during a break at their workplace, or in another situation where they cannot turn up the volume.
This is why it makes sense to produce videos for IGTV in a way that makes them watchable while on mute. Thankfully, you have the option to add subtitles to your videos, which helps with making your videos accessible.
Short and snappy trumps long and elaborate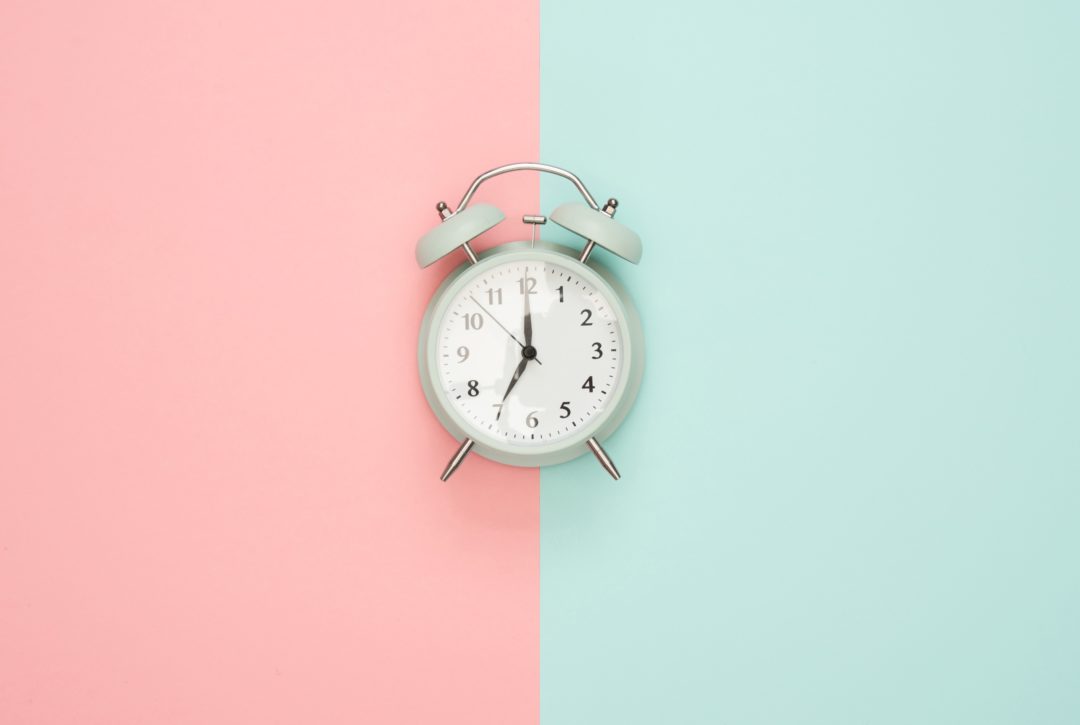 We have already hinted at it: just because you can do a 10-minute video doesn't mean you should. Indeed, often you'll be better off providing the same content within 2 to 3 minutes.
There is no ideal length for videos though – it depends hugely on your audience and the kind of video you are producing. The examples we chose for this blog post show this quite clearly: Vogue's audience most likely enjoys quick tutorials, while BMW can safely assume that their audience, comprised of those interested in expensive new cars, may want to know a little more about the same.
Exciting entrance instead of long-winded introduction
The average user spends a maximum of 15 seconds on checking out a video and deciding whether they want to take the time and watch it all the way through, which is why you should pay special attention to those first few seconds of your videos. Give your audience a convincing reason to stay.
Cross-channel promotion
Since Instagram has introduced the new preview feature, brands have had a much easier time attracting users to their IGTV channels, so make use of this feature as much as possible. In addition, be sure to use other platforms, such as Facebook, to promote your IGTV videos.
Write effective descriptions
You can use your video description to get your viewers excited for the video itself, but also do a little more than that. For instance, adding relevant hashtags to your description increases the probability of your videos being found by users who are not already following your brand.
Paying attention to a high-quality appearance
For run-of-the-mill Instagram videos, the crude smartphone look might be a good idea. However, if you put an emphasis on authenticity in the Feed and in Stories, you should pay close attention to achieving a high-quality look in your IGTV videos. Take the TV part of IGTV serious and put time and effort into storyboarding, creating, and editing your videos.
Perseverance pays off
Time is of the essence, all the more so in Social Media Marketing. The fact that Instagram haven't dropped their TV feature once immediate success wouldn't set in may have paid off, though.
All signs are suggesting that IGTV will become a serious feature of the platform, sharing the limelight with Stories. In any case the potential for a big future is there. After all, videos are highly popular, and with the option of publishing videos of up to 10 minutes or even 1 hour in duration, there are many ways of successfully enhancing your Content Marketing.
Efficient Social Media Communications With Swat.io