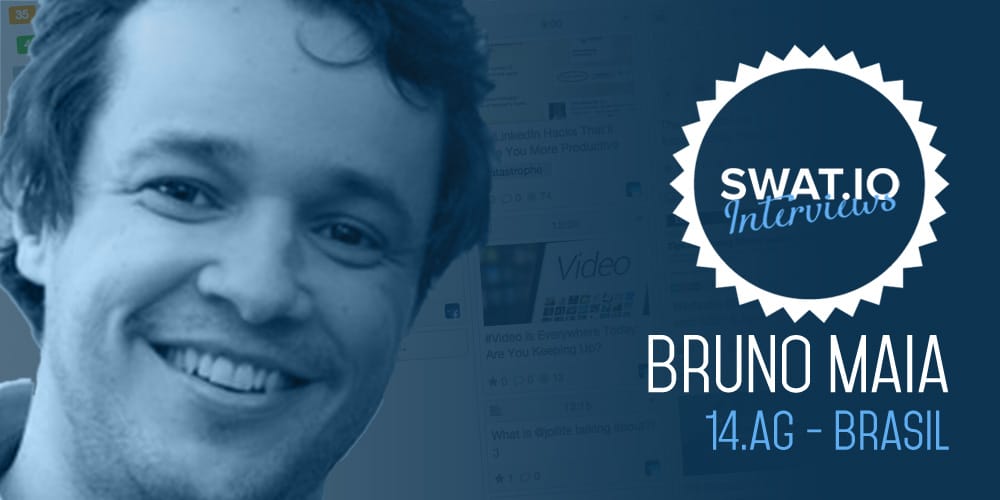 Bruno Maia, 14.ag (Brazil): "It is all about planning before creating."
Working in a content agency is never easy. Founding one and being head of creative content is even more challenging. Every client is different, has different needs and expectations and agencies just need to find ways of being efficient while also staying profitable. We've recently interviewed Bruno Maia, Founder and Creative Content Chief at strategic content agency 14.ag (Brazil), in order to find out what they do to overcome the challenge of creating content for multiple clients and managing multiple accounts.
1. Tell us a little bit about your clients, who they are, vertical, size, profile, etc.
We are not a "digital agency", but a "Strategic Content Agency". It makes a lot of difference in terms of usability of digital platforms. For our "new" business model, it strategically was very important to start with Entertainment & Events clients. They were much more open to risk something new. We have some of the most important account events in Brazil (like Sònar, Paul McCartney Tours, Circuito Banco do Brasil, Vivo Open Air, etc). In 2014, we moved into Brands' business. Since then we've been leading digital and content strategy for 6 shopping centers of Ivanhoe Cambridge in Brazil and that's an amazing challenge. Lots of information changing all the time, very intense and dynamic. Lastly, we've been chosen by the Universal Music Group to start a review of their digital media strategy.
From Zero to Hero: The Social Media Marketer's Strategy Kit
Download the strategy kit for social media marketers who want to stay on top of their game. Use the actionable steps, tips, tricks, and guidelines to take your brand and business from 0 to hero on social media. The kit is accompanied by ready-to-use templates to help you define, implement and monitor your social media marketing strategy in all its complexity.
2. That sounds like a lot of work! What does your usual day look like?
We have a great team, each member with a different skill set, required by each project's specifications. We don't work with "account teams". Every member can be involved in every project depending on the moment. We have our strategic people working closely with production people, so that we are able to develop and produce a lot of original content for our clients, following an agile process. Everything is very well planned and we try to create an organised workflow since everybody knows what his/her tasks are at any given moment. Swat.io is our main platform to organise and publish social media posts.
3. What tools do you use to better manage your workload?
We use Basecamp to organise our internal workflow and have a document titled "Editorial alignment" to guide our clients through our planning process of content and topics for the following weeks – and this makes it easier to have an overview of where we currently are and where we are heading. We use Swat.io a lot, it is an amazing platform to publish and schedule posts – and we feel very close to the development team so as to talk about improvement.
4. Could you tell us a bit more about how things were before using Swat.io? (f.e. did you use other tools, or did you mainly collaborate with email, content plans on Excel etc.)
The main change with Swat.io is that it has made our lives easier while also improving our clients' perception. We used to have Excel sheets, that always had some "version update" problem, or the client did not know how to edit, it was not well designed and was pretty hard to actually have an overview. With Swat.io, clients can be more present and they feel really pleased about the cleanness of the layout. It is very friendly and interactive.
5. Which of Swat.io's functionalities are most valuable to you and your team?
(f.e. do you mostly use the calendar for scheduling, or do you mostly manage incoming comments etc.)
It's a really great platform for our clients and for us. With Swat.io, we bring our clients one step closer to the entire process and manage to keep them fully involved by providing both clarity and visibility. It improves all the workflow by preventing us from making mistakes. The "grid" (calendar) is amazing and very easy to understand and to use. Moreover, it is simple to navigate and change posts from one day to another and it keeps all the history of the process clear to every team member.
6. How do you think Swat.io is different from other tools you could have chosen?
Our team always mentions the fact that Swat.io allows them to schedule posts on all platforms, not only social networks. Besides this, Swat.io offers a great support team which makes it easy to get things done. You don't feel as if you were dealing with a startup but with a part of your own team which could very well be in the next room.
7. In your opinion, what are the main challenges faced by Key Account Officers? (f.e. managing multiple clients in a limited amount of time, keeping the overview on several publishing calendars…)
I guess that the main challenge has to deal with managing multiple clients, each with different needs. We need to be able to combine different strategies for different clients. We have very specific demands depending on the features of the business and on the people. With Swat.io, we can offer a lot of things that our clients hadn't received before we started using the tool and that's why they're now asking for many more. But this is a good thing, right?
8. Finally, please share with our readers some useful tips that they could use to improve their social media management activities and successfully overcome these challenges. (f.e. using a shared calendar for content planning…)
For us, it is all about planning before creating. The more importance you give to planning and organising processes, the better and more effective your creation will be, especially in terms of creativity and results. Consider planning as many aspects as you can.
Bruno Maia is founder of 14. Passionate by content creation, he believes that brands are the new publishers and that they are responsible to create the new stories that people want to share. He says he is not up to Advertising. "Advertising is one thing you use when you want to convince someone about something. Content is when you want to share something you believe in with another person, based on your values and purpose." Specialized in transmedia content creation, he has earned his MBA in Berlin School of Creative Leadership. Leaded thousand of campaigns for major brands in Brazil and directed 4 musical DVDs.
We are a strategic content agency. We produce as a newsroom, play as a publisher and manage like an agency.