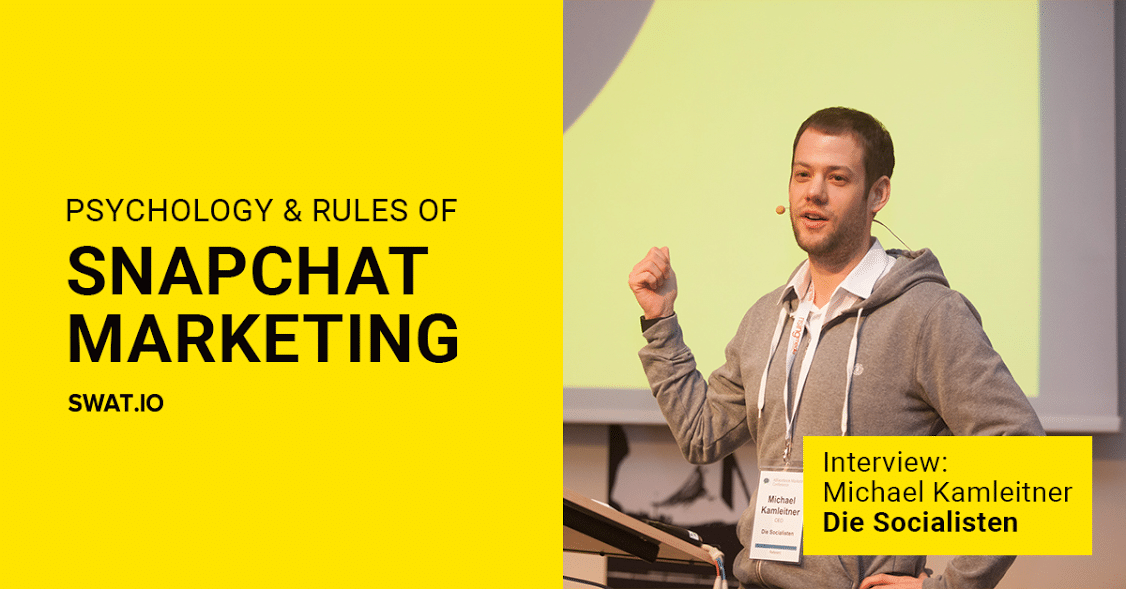 Michael Kamleitner, Swat.io: "Snapchat Marketing Tools for Businesses"
We've recently launched our latest eBook on the psychology of Snapchat marketing, featuring interviews from several Snapchat experts. I was proud and happy to give my take on the best available tools that businesses can use to manage their Snapchat presence and on why we're witnessing all this hype around the platform. You'll also find out whether Swat.io's future plans include Snapchat 🙂
The Psychology of Snapchat Marketing
Download our eBook and learn about the psychological principles that keep Snapchat's community going, and how this affects your marketing strategy. To ensure an in-depth and thorough approach, we've also included the interviews of 5 Snapchat experts. Find out why your brand should be on Snapchat, what content works best and which tools to use.
What's your opinion on the current hype around Snapchat marketing?
Michael Kamleitner: It's hilarious! Watching marketing executives and digital agencies jumping the bandwagon left and right after years of neglect… fomo all over. But seriously: Snapchat really is the collective mid- life crises of social media professionals kicking in. (And this, obviously, is including myself) After almost 10 years of social media marketing, many of us naturally have lost the initial enthusiasm for this new world of communication, both in terms of business and private use. Long gone are the days of organic growth and viral messages spreading like wildfire. Gone is the childlike excitement whenever a new platform or channel has arrived on the scene ("new toys, let's play!").
Instead, we got dull, "paid reach" and the need for big advertising budgets to even get noticed. For a short period of time, Snapchat brought us back the wild west mentality most of us experienced back in 2008 when we started to work on the Facebook platform.
Ephemeral messages (1EUR for every time I have to google the spelling of this word…), scrappy image effects and a tendency to "not-care-too- much" made social interaction fun again, and not just for private use, but also for the people managing brands. Given the growing numbers of active users worldwide (even surpassing Twitter recently!), it's safe to say that Snapchat is past the hype phase and a marketing channel that's here to stay.
But don't be fooled: Snapchat's monetization strategy is kicking into high gear with the recent release of their Ads API. The lifecycle of social platforms (Inception – Growth – Monetization – Decline) is turning faster and faster. For us Snapchat late-adopters, this simply means we just got to the party right in time for the monetization part – welcome! 🙂
Are there any Snapchat tools that businesses can use?
Michael Kamleitner: That's an interesting question. The short answer is: there are currently no legit tools since there's no official API allowing third parties to interface with Snapchat yet. The longer answer is more interesting, however.
"Snapchat really is the collective midlife crisis of social media professionals kicking in."
If we look back at the most successful platforms from recent years, they have all accelerated their growth phase by providing external APIs, building a strong ecosystem of third party developers. But whenever a platform switched to monetization mode, those APIs proved to be a natural threat for their business model. Who wants to use the official Twitter app, loaded with advertising, when there's ad-free alternatives just a click away in the appstore? The natural response of course was to clamp down API access, either by the removing functionality or by limiting access through rate limits, terms of service and approval processes. Recent platform breakthroughs like WhatsApp and Snapchat seem to have learned their lesson: riding a comfortable wave of organic user growth, these services passed on providing a public API completely (WhatsApp), or offer very limited APIs only in regards to monetization (the recently teased Snapchat Ads API). Also: the sheer idea of an API allowing to suck content out of Snapchat is obviously completely contradictory to the idea of ephemerality (there, I googled it again!).
"Ephemeral messages, scrappy image effects and a tendency to "not-care-too-much" made social interaction fun again."
That said, where there's demand, there will be supply. Like with WhatsApp or Instagram, there's already a number of startups offering Snapchat tools on the market. Whether these tools are based on the reverse-engineering of protocols or the emulation of smartphones running the original Snapchat app, I can't say. They all come with the potential risk of getting blocked by Snapchat, so commercial use is generally not advisable. Of those tools I've tried, Snaplytics definitely made the best impression. It provides a downloadable archive of all your published stories, basic analytics, and even the possibility to schedule & auto-publish to your story. They are even offering an API, which could lead to all sorts of interesting use cases. All this comes at a price – Snaplytics starts at USD 179/month (USD 200 if you want API and scheduling). Also keep in mind, that using Snaplytics and Snapchat on your phone in parallel requires you to constantly re-enter your password – pretty cumbersome. As for the low-budget tools available on the appstore ("Snap Loader", "Snap Upload"…) – stay away from those, I wouldn't trust them with my user credentials.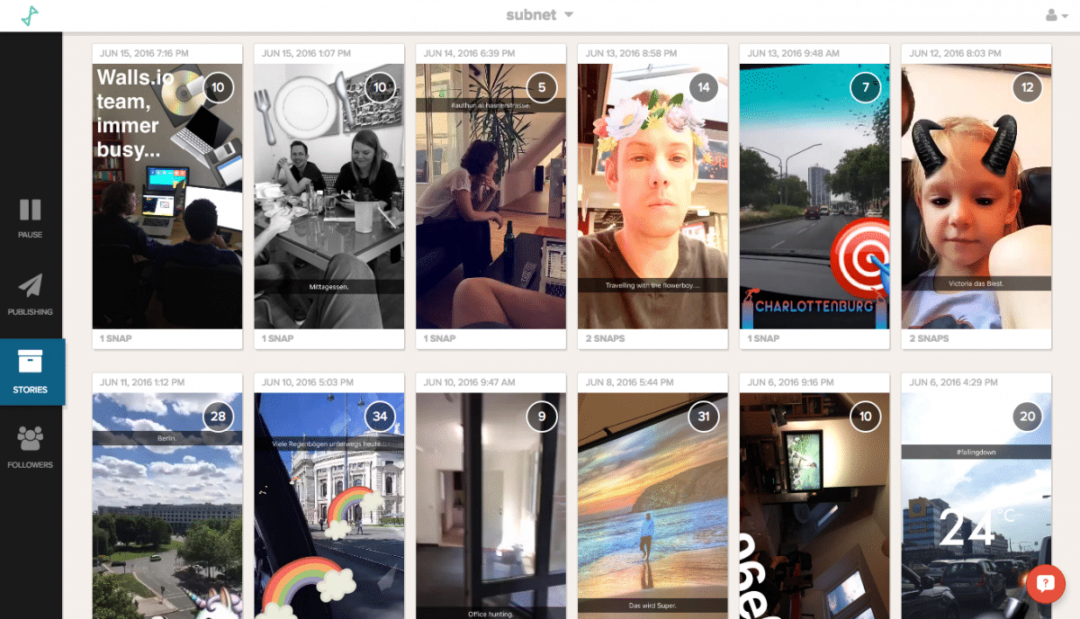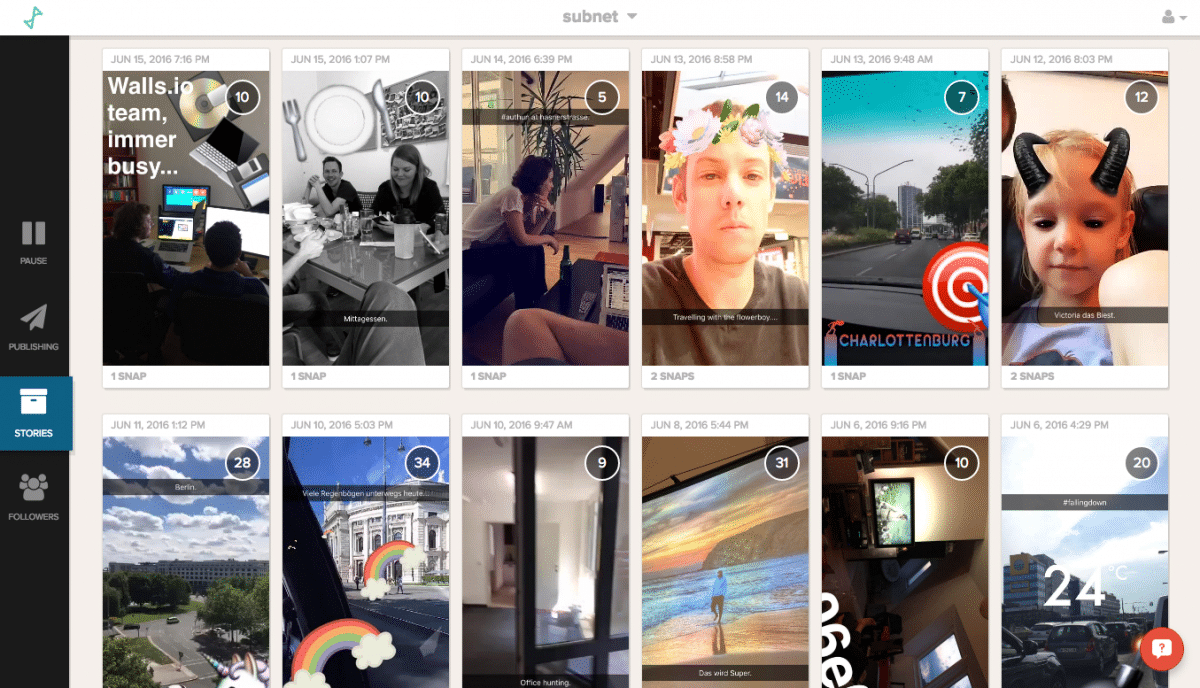 3. From what you know, are your customers using Snapchat?
Michael Kamleitner: Definitely! Naturally, online media & broadcasters were first to start experimenting on Snapchat, for example, German computer magazine CHIP. de. Austrian newspaper Derstandard.at, that only started with daily news on Snapchat a few weeks ago, is doing a great job in terms of storytelling! We also see some of our agency customers starting to do Snapchat campaigns for their clients.
4. I'm assuming that they're also asking for Snapchat support. Does Swat.io support Snapchat? Any future plans in that direction?
Michael Kamleitner: You bet they are! 🙂 We started receiving requests for Snapchat support as early as last year. While I'd personally love to see some Snapchat functionality integrated with Swat.io, we can only refer to the lack of an official API at the moment. Also, the perishable nature of Snaps and chat messages wouldn't work with our ticket inbox and archive very well: imagine a ticket disappearing immediately after you've first opened it! 😉 Of course, scheduling of pre- produced stories in our calendar would, in fact, make sense for many of our customers, as would analytics.
"If Snapchat ever extends their Ads API in terms of features and public availability, I bet we'll be among the first to integrate it with our social media management tool!"
5. What was the most embarrassing snap you have sent/received?
Michael Kamleitner: That's a tough one! Due to privacy reasons I can't comment on the receiving end, and browsing my neatly archived stories shows hardly a snap that is not embarrassing (isn't that the beauty of Snapchat, after all?). However, I got a weakness for the "flowers" lense, it seems. Add one or two after-work beers with the team, and this is what you get… 😉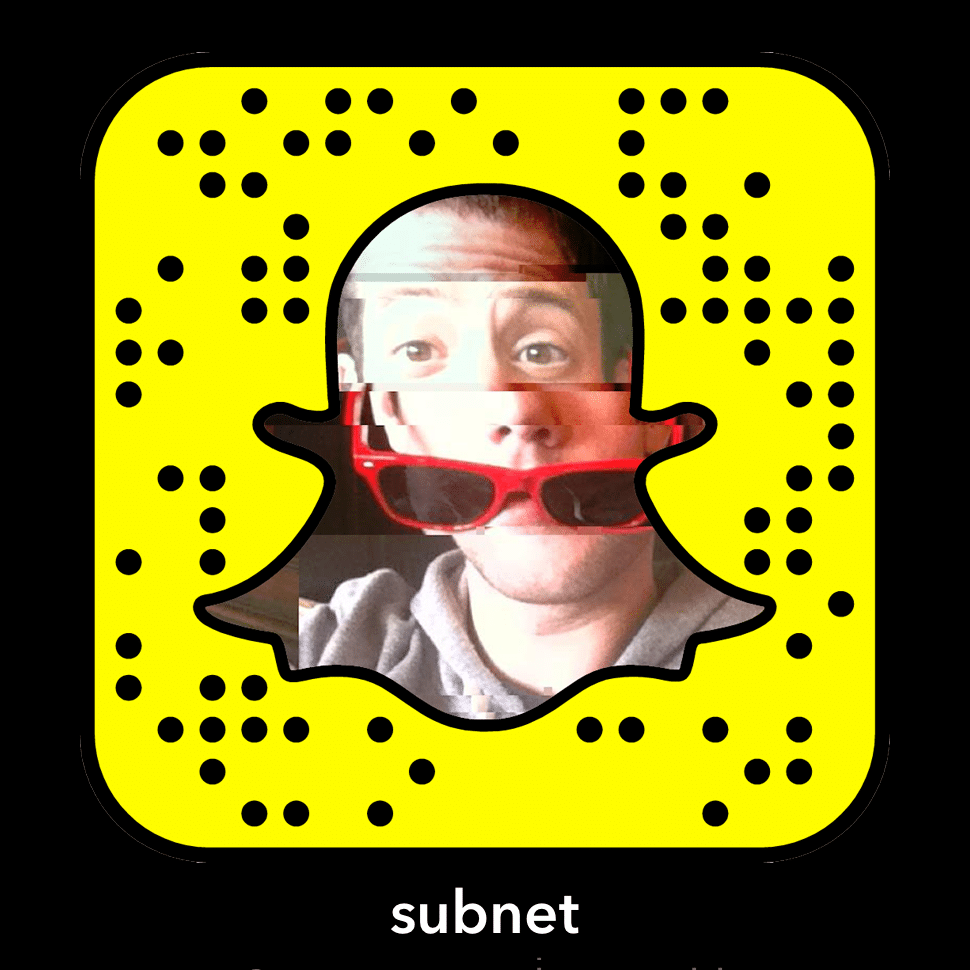 About Michael Kamleitner
Michael Kamleitner is CEO & Founder of "Die Socialisten". The Vienna-based social software- company is currently running two successful SaaS-services, Social Media Management Tool Swat.io & and Social Media Hub Walls.io. The company is also listed in the official "Facebook Marketing Partner" program.
Efficient Social Media Communications With Swat.io