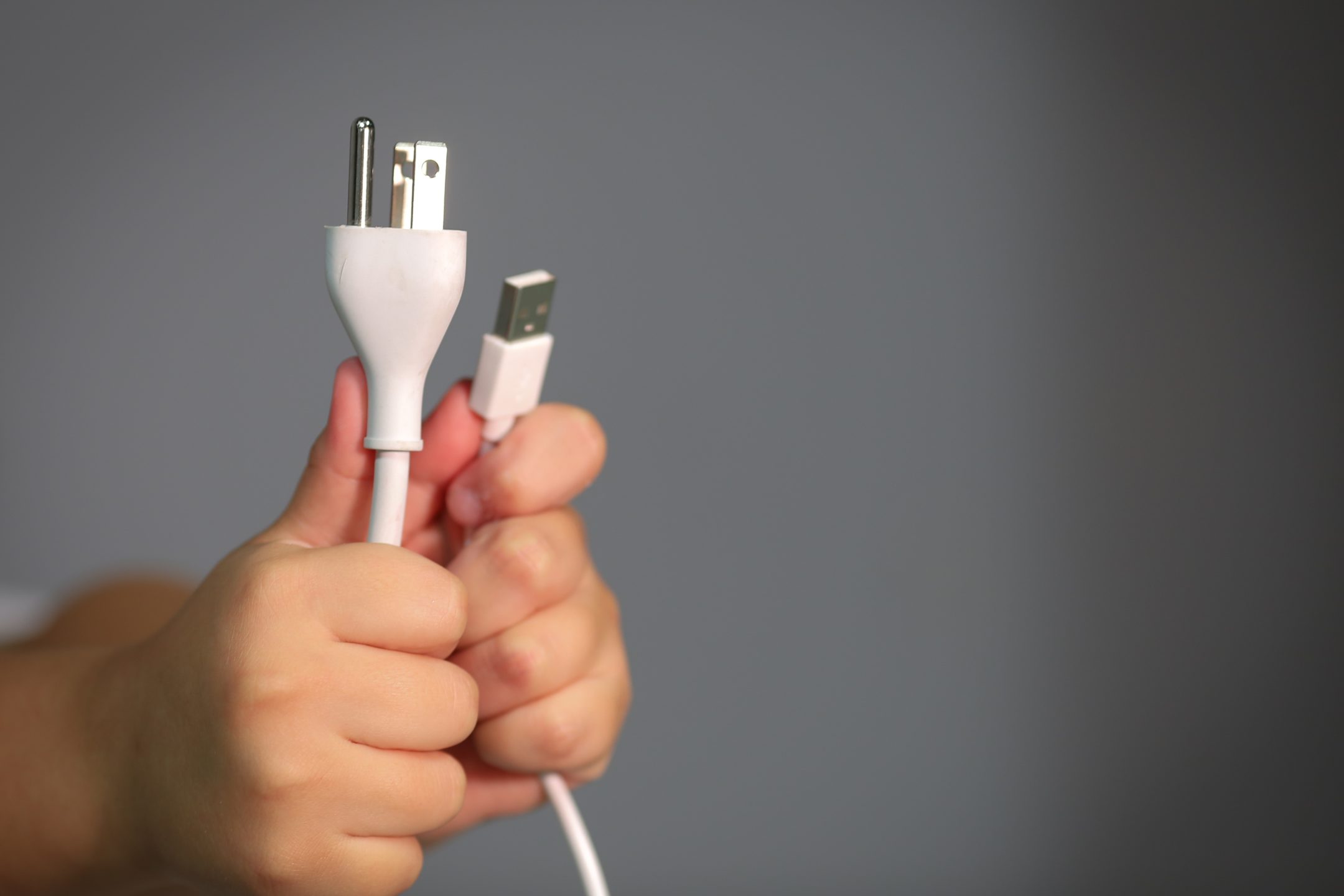 How to Know When to Pull the Plug on a Social Network
So, you want to stop wasting so much time, money, and resources on your social media marketing efforts. But, undoubtedly, you've heard numerous social media "experts" say, "You need to be on every single social network!"Well, that's terrible social media advice, and you should simply ignore it.
While it's a good idea to experiment with various social networks, you also need to make sure you're following your analytics closely to assess if your efforts are aligning with your company's goals, reaching your intended target audience, and actually moving the needle.
So whether you're simply questioning if one of your social networks is really worth your time or are seriously considering pulling the plug on a seemingly under-performing one, here's what you need to know first to decide if the time is right to cut it out of your social media marketing mix.
Set Your Social Media Marketing Goals & Metrics
First things first. You'll never know if your participation in a given social network is worth your time if you never set any goals for what you want to accomplish with it. What do you want to get out of your business' social media participation? Determine which of the following metrics will help you align with your company's goals and prove the success of your social media efforts.
Traffic
If you're a small business just getting started with inbound marketing, a good goal to start with would be to simply drive traffic to your site, from the social networks you participate in. After all, you won't be successful with generating any leads or customers if nobody is even visiting your site from social media to begin with. Additionally, if you're an ad-supported website, you'll want to focus on growing your traffic numbers because more visitors means more advertising dollars.
Leads & Customers
You want to prove that your social media efforts are worth the return on your investment, right? Surely, you also want all those visitors from social media to provide you with their contact information so you can nurture them further down the funnel? Sharing links to your marketing offers and educational content with your audience on social media is a great way to generate leads that you can convert into customers, and establishing lead and customer goals will help you prove the ROI(Return On Investment) of your social efforts as they contribute to the bottom line.
Reach
If you want to continue growing and scaling your social media marketing efforts, increasing your social reach is an important goal to focus on. Think about it: If you're constantly sending your messages to the same folks over and over again and failing to attract new fans and followers that you can convert, over time, your success in generating new leads and customers from your social media marketing efforts will decline. The greater your social media reach, the easier it is to influence other metrics like traffic or leads. If you're looking to grow your overall reach, you'll want to focus your efforts on attracting more fans and followers for your company pages.
Buzz/Engagement
If you're looking to increase brand awareness, buzz is something you should pay close attention to. Are people talking about your brand on social? Are your average number of mentions growing and scaling? Is that hashtag you're using gaining some traction? If you want people referring your brand to their friends on social media, measuring buzz through metrics like mentions, comments, shares, and Likes will be a great focal point for you.
Sentiment/Customer Happiness
Is the buzz you're creating of a positive or negative sentiment? Do people love your marketing, or are they unimpressed? How about your company as a whole? If you're focused on improving customer happiness, take a look at your negative feedback over time in Swat.io, and make it a priority to decrease this number.
Start a free Swat.io trial now and find out how you can evaluate the sentiment!
Efficient Social Media Communications With Swat.io
Keep in mind that, based on your company's overall goals and the performance of each social network as individual assets, you can certainly set more than one goal for your social media efforts.
Experiment With Your Social Media Marketing
So you claim your social media marketing efforts aren't worth the time and energy you put into them. That's a fair concern if you're currently seeing little to no results, but that also doesn't mean you should necessarily cut the cord on a social network if you haven't given it the old college try. By that, I mean you should experiment!
Try out a variety of different forms of content and positioning on your individual social channels to test what works, and what doesn't. Keep in mind that every social network is different — something that works well on one social network might not necessarily do well on another. It's your job to figure out what those nuances are and cater your social media marketing approaches accordingly. Furthermore, don't simply stick to what worked once and do it over and over again, because you'll run the risk of completely boring and wearing out your audience. In social media as a channel in particular, you have to always be innovating, changing, and experimenting.
Providing the right content is essential on Social Media – find out how to create it in our eBook!
The Art of Social Media Content Creation
Download our eBook and learn how to plan, create and distribute your social media content while measuring its effectiveness on your relevant social media channels. To ensure you don't miss out on any big social media content trend or best practice, we've also included interviews of 5 experts in this field. Find out how to master the art of social media content creation using the latest available tools and determine what type of content makes your audience tick!
Try hosting a brainstorming session with some colleagues, creating some fun new images for Facebook, trying out some different tones or positioning in your tweets, or relating to your audience in different ways on Pinterest. Discover what your audience responds well to through gauges such as comments, Likes, shares, retweets, number of visits, lead volume, etc., and take note of any trends you see … but don't only stick to those trends. Keep innovating based on what your audience responds well to. Does your audience tend to prefer pictures of people around the office, or do folks prefer funny memes? Do you get more retweets from your audience when you share blog articles or fun quotes? You can find details about post engagement through Swat.io's analytics section or HubSpot's Social Media tool, and gain a quick overview with Facebook Insights or Twitter Analytics. If your engagement is completely dismal, it's possible that you simply haven't grown your reach enough and have too limited of an audience to entertain and target specific messages to. In this case, it might be time to take a step back and reevaluate your goals.
It's good to get a grasp on what your audience enjoys, but it's also important that your efforts are driving real results. Which leads us to our next step …
Measure Everything to Diagnose & Fix Inefficiencies
Now that you have a general understanding of which particular posts your audience "Likes," let's move on to how you can align these types of content with your company's goals — and measure their success. If your primary goal for social media is to generate leads, you'll want to look beyond what's flat-out entertaining and start looking at what drives real results for your business.
Remember to create and include tracking and campaign tokens for every one of the links you post on your social channels. By including your medium (social), your source (Facebook, Twitter, LinkedIn, etc.), and your campaign (this differentiates between individual initiatives within a channel, such as LinkedIn Announcements vs. Company Pages vs. Groups), you will have much greater insight into what parts of each channel are performing well, and which are simply not worth your time. Here's an example of a tracking token you might tack on to the end of a link might look like: /?utm_medium=social&utm_source=twitter &utm_campaign=inboundchat
Once you start using your tracking tokens on a regular basis, you'll begin to build a database of clicks, leads, and customers over time. Then, you can dig a little deeper and get down to the bare bones of where your issues (or successes) lie. Out of everything you've posted on social media in the past month, how many visits and contacts/leads are you generating? You can find this information through a software, like HubSpot's Sources tool. This is what it might look like: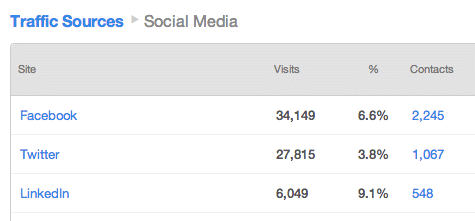 In the example above, we've selected three different social networks to focus on. You can see that Facebook and Twitter are helping to generate a huge number of website visits, and a substantial amount of contacts as well. That's great, but you can't forget about your conversion rates. And you'll notice LinkedIn has a much higher conversion rate than Facebook and Twitter. And while Facebook and Twitter may be the more impactful drivers of visits and contacts in terms of volume, you should also be considering the quality of those visitors and leads. And because a high conversion rate is a clear indication that your messages are aligned better with that particular audience, you definitely don't want to ignore that.
So what can we fix here? Let's work on growing reach, which will help generate more traffic, which will also help to increase lead generation — which aligns with your company's overall goals. But before we jump in, let's take a deeper look at our campaign tokens to understand exactly which initiatives within LinkedIn are performing well, and how you can leverage that to improve for the future.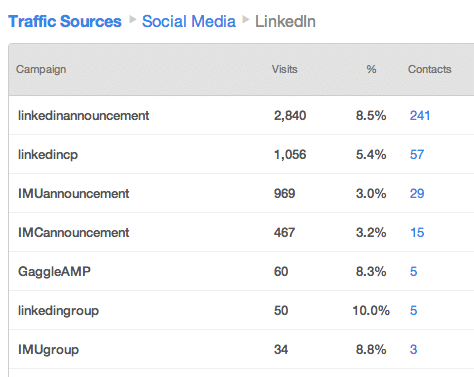 Well – would you look at that! Not only do LinkedIn Announcements generate the most visits and leads, but they also have a high conversion rate, too! And to think … you were considering cutting that social network solely on the account of its low lead volume! Nonsense! Hogwash! Poppycock!
If there's a will, there's a way. Your next step here would be to optimize and experiment with your LinkedIn Announcements to learn what works best with your audience so you can get more bang for your buck. And although this is the biggest opportunity for your brand, you shouldn't ignore those other parts of LinkedIn as lead generation tools. In this example, LinkedIn Company Pages are performing with the second highest number of visits, and the second highest number of leads, but that conversion rate isn't great compared to the conversion rate of announcements. Do you think there's an opportunity to improve that visit to lead rate of your Company Page? I'd say so. So don't knock it until you try it.
Set Benchmarks … and Compare Them
Now that you have an idea of how well your channels performed last month, you can get a much better idea of what to tweak for the future. Keep track of your visitors, leads, and visitor-to-lead conversion rate each month to see how you're progressing:

You'll want to keep track of your progress for each social network over a few months' time so you can get a sense of what's truly working as compared to your target goals and metrics … and what is not.
You should also be careful you're not basing your decision to nix a social network solely on the success of generating leads and customers. Keep in mind that attracting social media fans and followers who won't ever buy for you definitely has its perks. You also have to remember that social channels can work in tandem with your other marketing channels to help make a greater overall impact. So if one of your social channels helps drive a great deal of traffic to your blog, but isn't the greatest for converting leads into customers, this isn't necessarily a bad thing! Think about how you can leverage your social media channels to achieve the greatest overall impact.
Let me explain through an example. To promote a recent blog posts, Hubspot created the hashtag #SocialMediaMyth as a way to track the social promotion of the "30 Terrible Pieces of Social Media Advice You Should Ignore" blog post.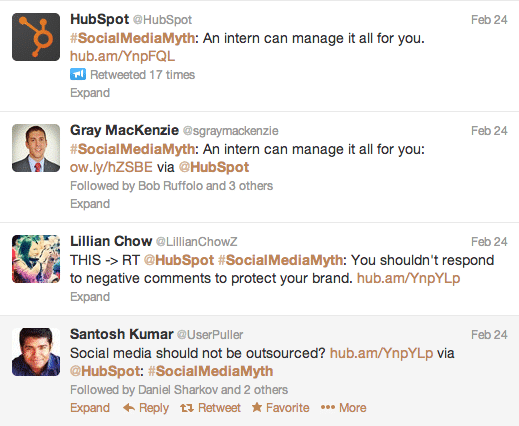 Now, take a look at the impact those social media promotion had on the blog …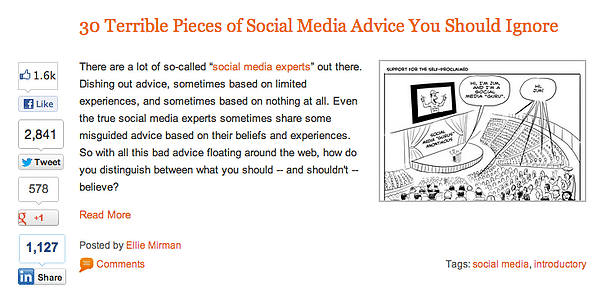 If this is the case for you and your company, try adjusting your goals. For example, you might aim for more leads and conversions on your blog, and more visits from your social channels. Chances are, all that traffic you're generating from social media is helping more visitors to learn more about your company, and getting them in front of the calls-to-action (CTAs) on your blog that will convert them and move them further down your funnel. Maybe your social media accounts are the most effective as traffic drivers, not lead generators. As long as they help you meet your end goal, there's no shame in that.
Make Data-Driven Decisions Based on Your Results
So let's say you've set (and maybe modified) your goals based on what your company needs and based on each social network's true super power. You've also successfully experimented with your social media marketing, month over month, to determine what works and what doesn't with your audience, so you can tailor your messaging from there. Furthermore, you've tried scaling your reach, and you've diligently measured your efforts from all angles, every step of the way to track key engagement metrics, leads, visits, and more. You know exactly what each social network does well, and why. Yet somehow, your results still aren't proving the ROI of your efforts on a particular social network.
If you've done everything you can to try and improve the effectiveness of that social network, it might be time to cut the cord – or at least spend less of your precious time dedicated to it. It's okay. You two have had a good run, but now it's time to move on. Put more time into creating an incredible social machine on your better performing networks, rather than trying to squeeze even the slightest bit of performance out of a network that's falling behind.
Have you ever cut a social network completely from your social media marketing mix? How did you decide it was time to pull the plug?
Efficient Social Media Communications With Swat.io