Just picture the powerful insights you could reap from conversations people are having about your brand and business on social media channels! Social media is the place where prospects and customers praise your products, ask for support, and express their concerns. To shape the way they perceive your brand, you have to become part of the conversation!
This is where social media monitoring and listening comes in. By integrating social media monitoring into your social media marketing strategy, you establish a continuous process to track, assess and respond to user feedback and brand mentions.
In this post we will introduce you to Swat.io's latest feature – social media monitoring with the Ticket Inbox. To make things easier to understand, we came up with a fictional brand example to help you streamline the process.
Read on to find out how to set up your monitoring channels within the Swat.io Ticket Inbox, and prepare yourself to know everything people are saying about you on social media.
Before setting up your social media monitoring strategy, know your keywords
Prior to making your pick and set up a social media monitoring campaign, focus on determining what you should be listening to.
In time, the topics and keywords you wish to monitor will evolve. This will happen, because by actively monitoring social media you'll get a better understanding of the language your audience is using. By listening carefully, you'll learn to hone and adapt your strategy; leading to useful insights that become more and more precise and accurate.
From the very beginning of implementing social media monitoring, these are the most important topics and keywords to track when using an automated tool:
Brand name & product name
Misspelled brand names and brand abbreviations
Competitor brand name & product name
Industry buzzwords
Brand slogan & catchphrase
Names of your company's key people (e.g. CEO)
Names of your company's core competitors' names
To paint a clearer picture and help you choose your keywords and topics the right way, we've come up with a fictional example to put it all into perspective.
In the first part of our example, we will show you how to set up your keyword and topic selection.
In the second part, we will show you how to integrate the keywords into Swat.io's new social media monitoring feature.
Fictional brand example:
Name: Sugar Pie (app development agency)
Description: Sugar Pie is an industry-leading mobile product agency. The CEO's name is John Smith; and the team is made up of 30 award-winning UX/UI designers, mobile strategists, and software engineers; who have delivered over 100 mobile solutions to world leading enterprises and consumer-facing companies.
This is how you set up social media monitoring by tracking keywords and topics:
Part 1: Define Your Keywords
Brand name: Sugar Pie
Misspelled brand name: SugarPi, Suga Pie, SugarPie
Competitor brand name: app development agencies related to you and your company's target audience and geolocation – WillowTree, Dom & Tom, MentorMate
Industry buzzwords: app development UX/UI, mobile app, mobile app strategy
Brand slogan & catchphrase: Sugar Pie – "Sugary apps for your business"
Names of your company's key people (e.g. CEO): John Smith
The Beginner's Guide to Social Media Monitoring
Download our eBook and find actionable advice on how to use social media monitoring to generate leads, provide better customer service, and gain a competitive advantage. The hands-on tips, tricks, and guidelines will help you develop and implement the right social media monitoring strategy for your brand and business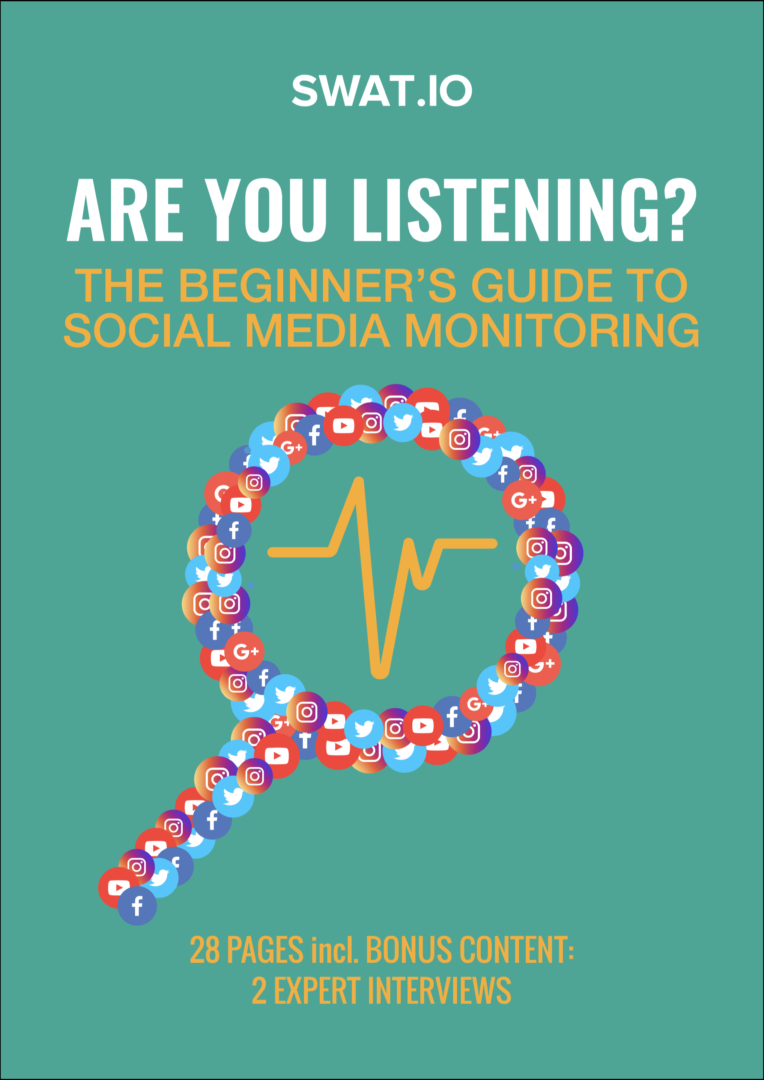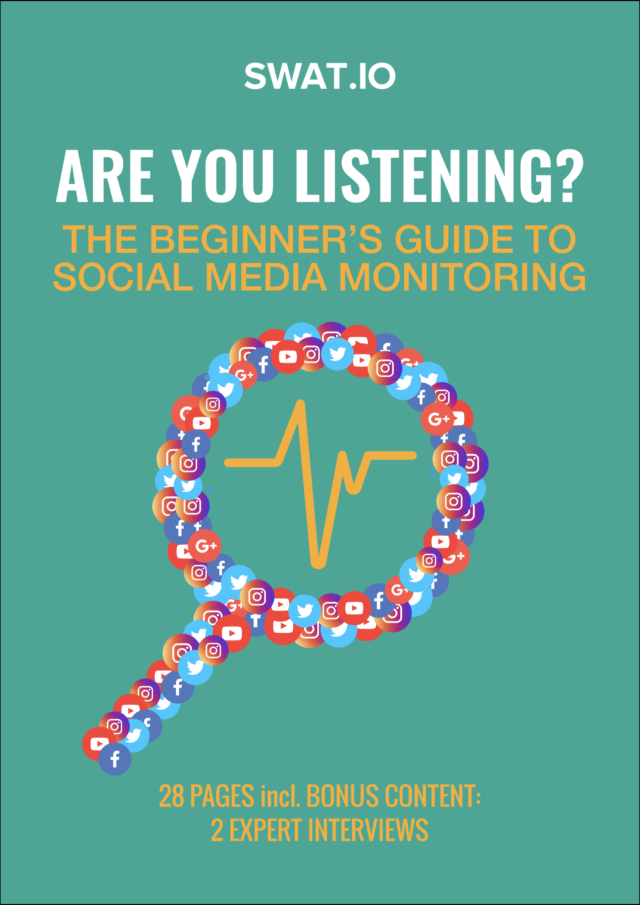 Part 2: Setup Your Monitoring Channel
Now that we've settled on a social media monitoring strategy, we'll now show you how to set up these within monitoring channels.
Go to your Client's Channel settings, click "Add channel" and pick "Monitoring":

Give a name (alias) to your social media monitoring campaign. We called it "Sugar Pie", like the name of our fictional brand.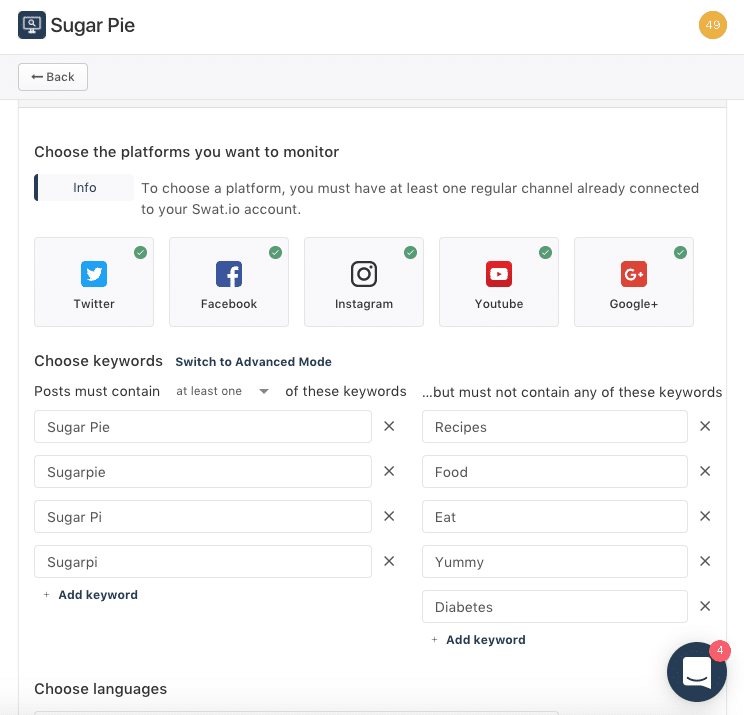 Choose the platforms (Facebook, Twitter…) you want to monitor. We currently support Facebook, Twitter, Google+, YouTube and Instagram. Pick as many platforms as you like, just notice that you can only pick platforms where you've got at least one regular channel connected already!
Choose the keywords you want to monitor. From the drop-down menu, you are able to select one of the following 2 options:

"At least one" – this means that at least one of the chosen keywords needs to occur in a post;
"All" – this means that every single keyword that you have selected needs to occur in a post.

We chose 4 keywords, from which three are misspellings of Sugar Pie – always consider misspellings and different forms of spellings to get a broader overview. Select as many as you think are relevant. Notice that Swat.io doesn't make any difference between uppercase and lowercase letters, so you can use either option. On the other hand, Umlaute ("ö" vs. "oe") have to be considered in separate keywords.
In the right column, you can choose the keywords you don't want to catch. Since Sugar Pie is an app development agency, we don't want to receive tickets related to food recipes. Click on "Add keyword" if you have more keywords you want to ignore.
Next, you can filter results by language. "Choose Languages" let's you pick from 65 available languages.
To monitor your competitors' brand names, we recommend that you set up a second monitoring channel. For example: if the first channel is for monitoring the name of our brand "Sugar Pie", the second channel for monitoring competitors would be called "Sugar Pie Competitors". In our example we've added the names of Sugar Pie's main competitors in the keyword list that match ("Willow Tree", "Dom & Tom"…).
To monitor industry buzzwords we recommend that you set up a third channel. We called it "Sugar Pie Industry Buzzwords".
In the screenshot below you can see that we've added "need app", "issues with app", "recommend me app developer". By monitoring these phrases, Sugar Pie can provide their marketing and sales teams with potential leads on social media.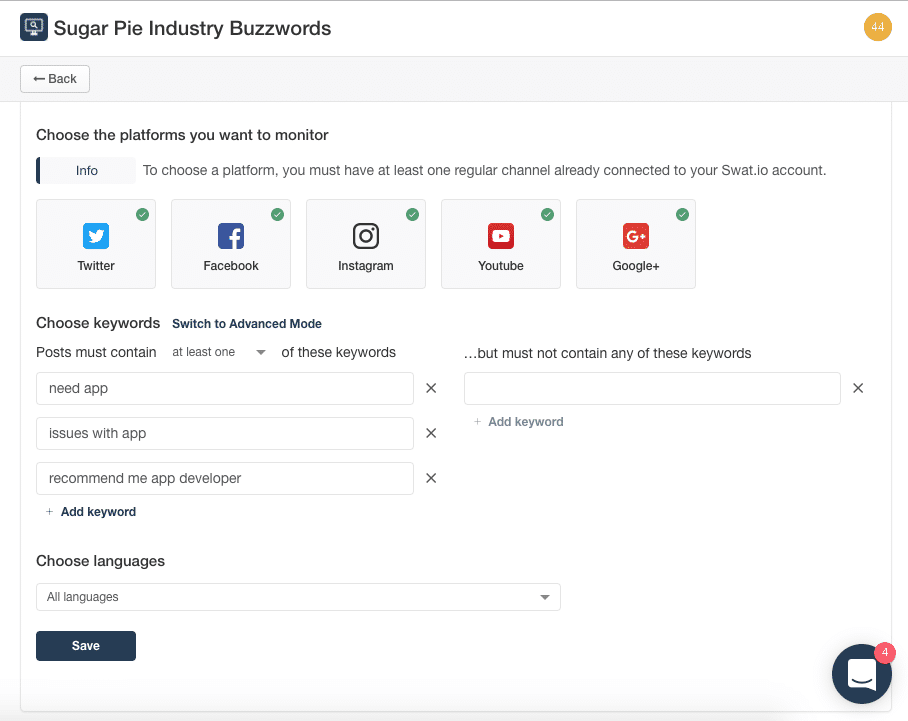 Congratulations! We're done setting up our social media monitoring campaigns in the Swat.io Ticket Inbox! For our fictional example, we have set up 3 different social media monitoring channels:
Brand name monitoring (including misspellings of your brand and negative keywords)
Competitors' names monitoring (including misspellings of your competitors' names)
Industry Buzzwords monitoring
Every time someone publishes a post containing any of your chosen keywords/keyphrases, Swat.io Monitoring will present it as a ticket in your Inbox.
Btw: Monitoring can result in quite a large number of tickets (especially before you've fine-tuned your queries). This is why we've deactivated notification emails for monitoring channels by default. You can enable those in your personal preferences any time you like!
When setting up keywords that are too broad, you risk getting 1000+ tickets every 30 minutes. If this happens, we'll automatically pause your monitoring channel and let you know. If you need help narrowing things down, and selecting different keywords, we would be more than happy to help you. As always, you can contact us at support@swat.io!
Schedule your personal Demo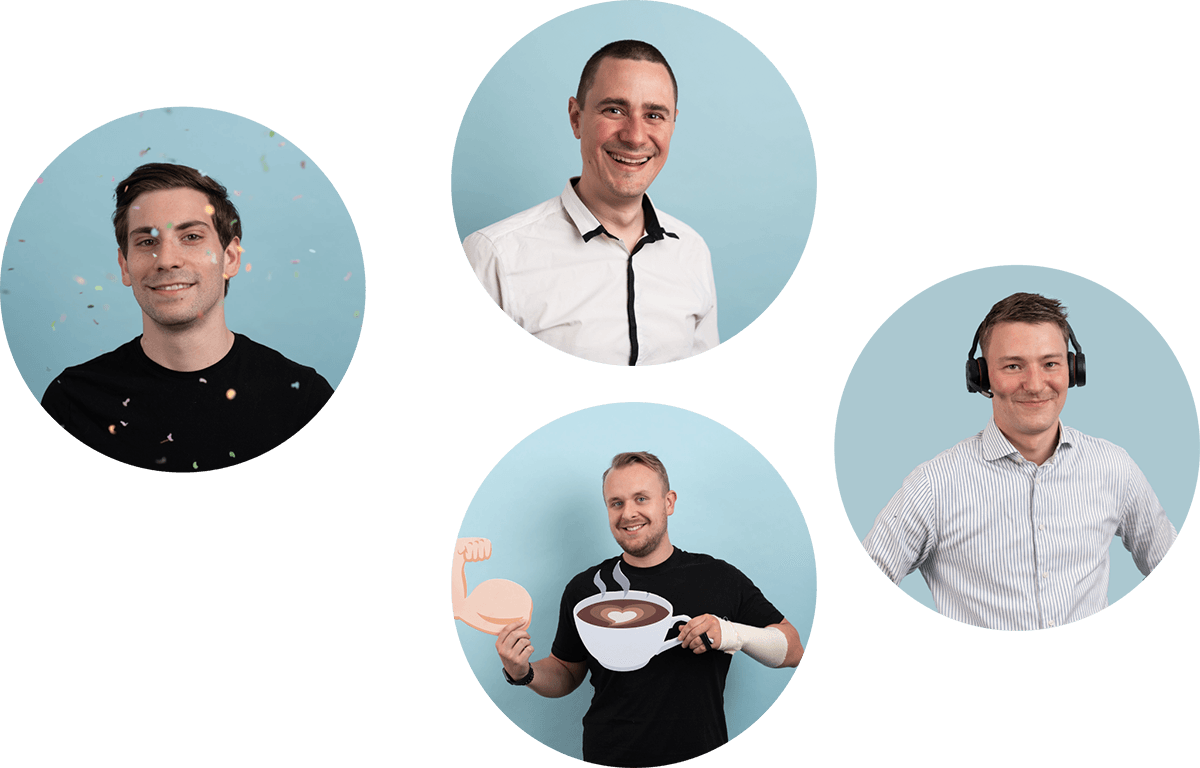 Conclusion
Before setting up your social media monitoring channels, we highly recommend to define your goals first. One goal of Sugar Pie could be to improve brand image. In this case, the company would have to monitor the name of the brand (Sugar Pie); as well as its direct competitors.
By combining our battle-proven Ticket Inbox with the power of social media monitoring, we're opening Swat.io to new, untapped conversations about your brand, products and competitors all around the social web. As you're used to, Swat.io collects all relevant conversations in the inbox and makes it easy to manage even high volumes of interaction and mentions. With the addition of social media monitoring, Swat.io is now an even better companion for your social media marketing team!